PMAR 2018: Brand-building has to be cross-functional: Experts
At the recent unveiling of the Pitch Madison Advertising Report 2018, industry leaders from Dominos, Titan Watches, Nature's Basket and Big Bazaar drew their conceptual learnings on factors that build a retail brand by
Published - 19-February-2018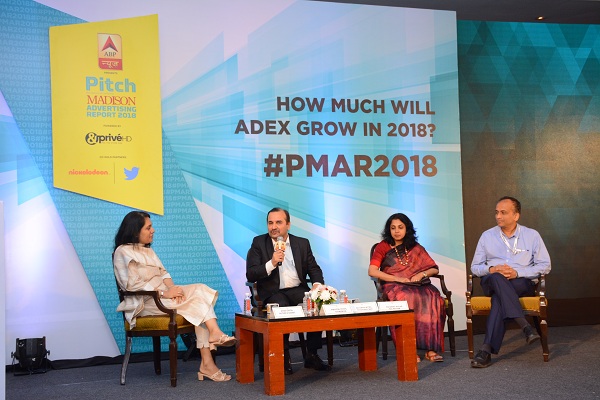 It's no secret that the consumer decision journey is now cross pollinating between the online and physical world. That said, it's becoming imperative for retailers to ensure consistent and high quality brand experiences across channels and points of engagement. Physical retail touch-points, that have the ability to propagate the same exclusivity perception that the brands stand for are of essence. Experts shared their insights on the same at the recent unveiling of the Pitch Madison Advertising Report 2018 (PMAR) held on February 15.

The panel discussion on understanding what builds a retail brand was moderated by Pratik Pota, CEO, Dominos. Panellists for the session were Suparna Mitra, CMO, Titan Watches; Avani Davda, CEO, Nature's Basket and Sadashiv Nayak, CEO, Big Bazaar.

Davda asserted that operating in the retail space is about detail in every aspect of environment and communication that a brand takes up. "The brand has to walk through the consumer journey, engage with them and cannot de-focus," she emphasised. She also made a point that the consumer doesn't have to be overwhelmed with messages. "Not more than two messages are required," she said.

For Mitra, the space is about providing a uniform experience to the consumer no matter which part of the country they're in. Sadashiv Nayak, CEO, Big Bazaar, highlighted retail as an opportunity and how Big Bazaar's un-segmentation has been a building block for the brand. Speaking about retail as an opportunity, Mitra cited an example of Titan Raga's recent collaboration with designer Masaba Gupta and how the brand's customer relationship officers played a pivotal role in making it a big hit. "While our retail presentation was interesting, it was the ability of customer relationships officers to sway people towards buying the product that made it a huge success for our brand and it sold in smaller towns also," she said, reaffirming that retail can be an enabler to a quirky idea. Nayak also shared Big Bazaar's various ways of personalisation. "We personalise at a large scale and include as many people as possible," he shared.

Another central topic of the discussion was pricing. "While price is a very sensitive topic to make a conversation on, it's an integral one," said Davda pointing out that the value it is placing shouldn't be taken lightly.

Experts also made a strong case for how excessive discounting hurts brand equity. "It leads to a situation where there is market share on one side and margin erosion on the other due to excessive discount," said Mitra.

Davda seconded that. "While our consumers are spoiled with the luxury of choice, our challenge as marketers is to maintain a discipline for the brand," she said. She encouraged every marketer to take on the topic of pricing head-on.

Pota said that the game of winning in the retail sector is about focusing on touch-points like discipline, price, training the staff and technology. "The consumer is key and is at the epicentre of everything we do," he said. He also highlighted the importance of using technology as an asset to improve their services. "Brand-building is as much a CEO's job as that of the CMO's," he said. The panellists also echoed the sentiment that brand-building has to be cross-functional to hit all the right notes in the retail sector.