If brands can't differentiate, they can't emerge: Baba Ramdev
Baba Ramdev brought his sharp wits for an interview with e4m where he promised to disrupt more markets and spoke about he the way he created a brand through consistent and selfless work
Baba Ramdev's Patanjali Ayurved is one of the top players in the FMCG market with a turnover of Rs 10,561 crore in the financial year 2017. The exchange4media group took pride in conferring him with the title of IMPACT Person of the Year 2017 Award on Monday evening for shaking up the hegemony of MNC players with his 'Swadeshi' marketing pitch. On this occasion, he spoke exclusively to the Chairman and Founder of the group -- Anurag Batra about his work and the way ahead for his brand. Excerpts.
You are a brand and so is Patanjali. You are so famous in the media, using the advertising tool in the right way and impacting everything. Apart from that, you have also established a business with Acharya Balakrishnan. You've done it all. What's left to do now?
People look at achievement, power, prosperity, success, respect and all materialistic things. All these things are just by-products. I follow the great and inspiring men. As Yogeshwar Shri Krishna God says, there is nothing in this world that is so important to achieve. I'm blessed with unlimited knowledge, emotions and strength so I'm doing it. Has the sun ever asked that in return for the sunlight I give to the world, what will I get in return? So, I've learned that all existence is working for me so my existence is for all. This is my life. This is my truth.

Life is all about balance. On one hand, you preach co-existence of every religion but you are dominating the FMCG space. Isn't co-existence applicable here?

I believe in oneness, co-existence and harmony. But co-existence doesn't mean that don't let any Indian brands work out. Colgate first started warning Indians against using coal and salt on teeth and questioning the use of Babool. Then suddenly one day, an ad from the brand questions 'Kya aapke toothpaste main namak hai?' They first criticised our age-old methods of protecting teeth and replaced it with chemicals. So that's why, I want to tell people today that if your teeth are not in right condition, it's because of your toothpaste.

Four to five years back, when I was in Rajasthan, I met an old man who was around 90-years-old but his teeth were still in good shape. When I asked him about his toothpaste, he revealed that he never used one. I'm not saying that don't look after your teeth's hygiene but if you gargle properly, your teeth remain good. So, in this country, no toothpaste brand has ever been able to stand out and reach heights of success. Dabur tried its best but it was only successful to an extent. After we came up, we strengthened our brand and then toothpaste only meant Dant Kanti.

People talk about technology but what technology does go in creating a soap, shampoo or toothpaste? They have just been fooling you. If any brand from the fairness cream space comes and argues with me and proves that the cream has lightened a dark complexion, I will name Patanjali after him.

We made a conversation about using aloe vera to battle acne. We spent 1 per cent and received Rs. 1,000 crore from the brand we established. We have changed the GRP and TRP philosophy which people talk about. All we wanted to do was to use and sell Indian products and benefit the Indians apart from instilling a confidence amongst fellow citizens that we can also establish a brand. It was my goal, I'm doing it and will keep working towards it. If brands like Colgate and Unilever can spread all over the world then why can't an Indian brand like us? If they do it, its professionalism but if we do it then co-existence is at risk.

You are working since the last 30 years. Many people think that the Modi government has come to power and a wave of nationalism has spread. As the nation is changing, what are the pearls of wisdom you would like to share with brands and industry people?

I would like to tell brands to innovate because if you can't differentiate, you can't emerge. ITC had double financial power than us but still couldn't crack it and is running in loss because they didn't differentiate. We are four times ahead of ITC in the FMCG space. So, I say, if you do something new, you'll be able to gain value out of it. Like when we started our flour product, we gave an extra fibre atta. By the end of 2017, we are reaching 40,000 tons per day. For 2018, we aim to reach to 1 lakh ton per day which we are likely to.

Adani and Ruchi Soya were big brands in oil space. Except for us, no other company had the courage to sell oil on MRP. It gave us a value addition. Everyone was preaching to eat refined to avoid trans-fat. Now all scientists are stating that eat natural oil/ghee. Today, we are the number 1 Kachi Ghani Sarso Tel and with us emerging, we changed the industry.

Everyone was selling biscuits, we started selling biscuits without white flour(maida). On every product, we gave a value addition. We also beat Bournvita by starting Power Vita. We will soon disrupt Horlicks too.

I say that work on value addition. If Modiji would not have walked a different path, would he ever become the Prime Minister? So, you constantly have to do something new. When I started teaching yoga to more than 50,000 people, the yogis were the one to criticize. People started saying that this baba is disrupting everyone. I believe that to create a brand, first differentiate. Second, do something continuously because only then you'll be able to achieve something. You will take a while to build trust. If you use shortcuts and reach, there will still be problems.

Also getting trustworthy people to work with you takes years. Because, these days trust is broken easily. Select the right people and 75 per cent of your work is done. I work on daily closing and personally look at the mapping. People who do weekly and monthly closing can never succeed. So, work on daily closing, retain performers and let go of those who don't meet the targets. Apart from this, to create a brand, you must never compromise whether its quality checks, costs or raw materials.

Environmental air pollution has been a grave issue these days. So, what is Patanjali doing to improve air quality?

In the coming two-three years, in Patanjali, we will not take electricity from outside. In all our plants, we will use solar energy. The surplus electricity, we will sell to the govt. We believe it's our responsibility to work towards environmental wellness. We use the waste we generate in our factories. An example of this is the dish-wash bars we make using them. Apart from this, every year, we also make it a point to plant many trees.

Despite being such a big country, we haven't been able to get medals at Olympics. What would be the reasons?

We use words like the superpower and aspire for India to be No. 1. Tell me about one national news channel at the international level? There is only BBC and CNN. People need to understand that it won't become a superpower in one way. You have to look at it in a holistic, inclusive and collective way. We are working on something which will take five to seven years. We are working on a facility and education for sports and to provide the under-privileged residential accommodation and education as they have immense talent. We aim to create the biggest sports academy in the world.

You went to the Facebook office and more than 13 lakh people came to interact with you live. You are a brand in yourself, so why do you need the media?

In the religious media, we have five channels. I could start a news channel or newspaper myself but didn't. We believe in co-existence so we thought that if we start doing everything, what will the media do? Instead, we have helped many media-houses from declaring bankruptcy.
exchange4media Group Service
A day-long panel discussion series hosted by Firstpost along with other dignitaries discussed how a safer workplace environment can be created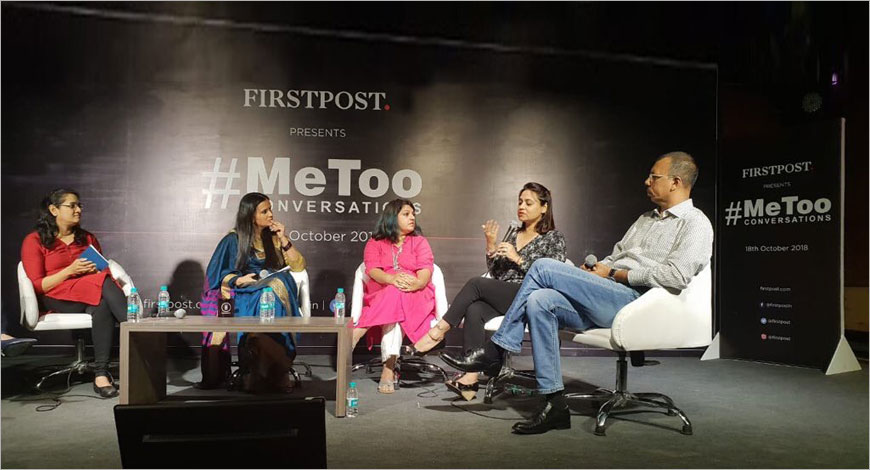 It's amazing how India's #MeToo movement arrived in a cascade of allegations as women took to Twitter to call out comedians, journalists, authors, actors and filmmakers - in the process, they have sparked a debate about consent and complicity. Amplified by journalists themselves, it hit the media hardest! That said, how can a safer, and inclusive work environment be created? #MeToo conversations, a Firstpost initiative witnessed a day-long panel discussion series moderated by award-winning writer Meghna Pant which dived into it all.
The conversations got journalists like Sandhya Menon, Rituparna Chatterjee ,Writer Mahima Kukreja, legal experts like Mrunalini Deshmukh and Vandana Shah, writer/entrepreneur Rashmi Bansal and advocate Rutuja Shinde, among others on board. Deshmukh spelled out the Vishakha Guidelines and explained how employees could seek help. "If the water-cooler conversations are still going to be sexist, then things are not going to change," said Pant, talking about the longevity of the #MeToo movement in India. The conversations also revolved around whether companies are effectively using the Vishakha Guidelines.
"My concern is the companies in the retail sector where you don't have an HR member available constantly," said Deepa Bhatia, who works as a statistician. Menon suggested that media houses should have two reporters dedicated to #MeToo coverage for the next one year.
Advocate Sonal Mattoo, Film Editor Deepa Bhatia, Indira Rangarajan the National Programming Head for Radio Mirchi, and Ramkumar Krishnaswamy the founder of Leadership Centre discussed how companies deal with sexual harassment at the workplace. Krishnaswamy said that workplaces in India need to create stronger support cultures. "The support structures should be well-prepared, and it should be publicised that these resources exist," he said. They contended that in the media industry, the culture in many companies is casual but people must learn what boundaries to maintain.
It highlighted that out-of-office meetings remains one of the places where companies fail to protect women. Speakers maintained that the process of lodging a complaint should be made easier. Krishnaswamy suggested that senior management must ensure that the workplace is a safe environment. "Senior management's creation of a toxic culture is what breeds sexual harassment, not just policy loopholes. You cannot perpetuate boys' clubs," he said.
Bhatia highlighted that after reams of researching on sexual harassment at the workplace, it came to her notice that many of the women who had faced it, would speak of it to their friends, or they would approach HR (instead of the Internal Committee constituted to deal with such cases). "Sexual harassment is a huge challenge for HR departments," she said.
Mattoo opined that simple measures like displaying the contact numbers of resources in women's washrooms encouraged more women to report cases of harassment. "Many women feel powerless because their perpetrators are emboldened and have a clear modus operandi," she said. Krishnaswamy emphasised the need to engage men, as without their participation, the movement won't go anywhere. "The shift (for organisations) needs to be from compliance to culture. Women don't feel safe to come out and talk. The formal structure is not sufficient. We should create support structures where women can come out and talk. Culture is being able to tell people that when you travel don't call a woman to dinner in your room," he reasoned.

exchange4media Group Service
The 4th edition of the e4m Media ACE Awards 2018, was held on 16 October 2018 in Mumbai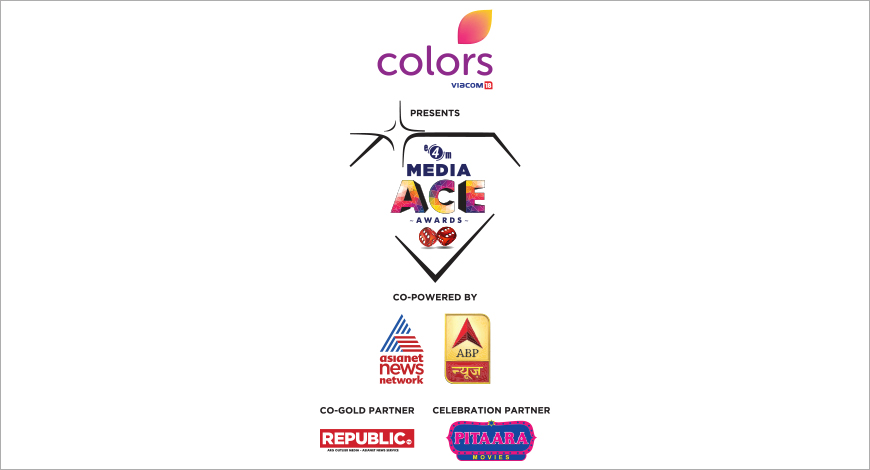 The exchange4media Media ACE Awards recognizes Indian Media Agencies and their People for their work and their contribution to the Industry.
Here are some snapshots from the event: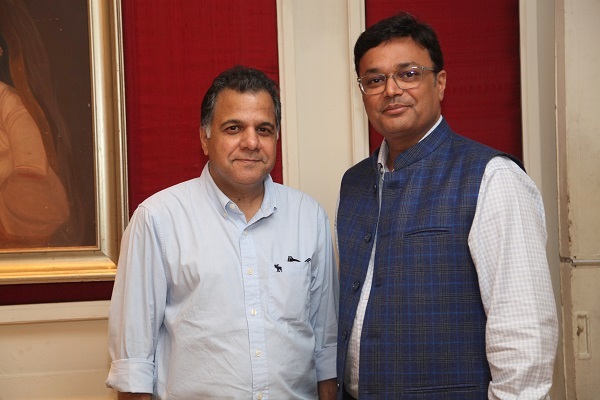 Raj Nayak, Chief Operating Officer, Viacom18 (left) with Avinash Pandey, Chief Operating Officer, ABP News at the e4m Media ACE Awards 2018
Vikram Sakhuja, Group CEO Madison Media (left) with Avinash Pandey, Chief Operating Officer, ABP News at the Media ACE Awards 2018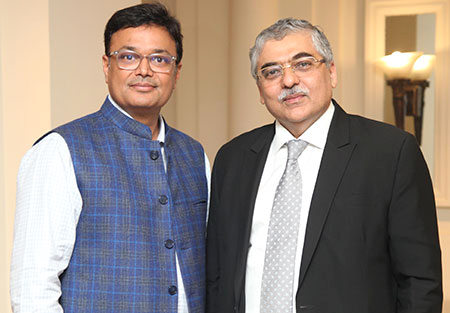 Avinash Pandey, Chief Operating Officer, ABP News with Ashish Bhasin, Chairman & CEO - South Asia, Dentsu Aegis Network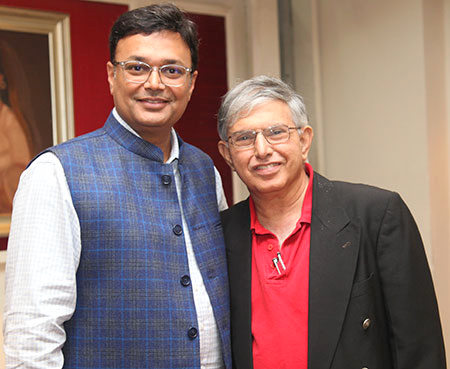 Avinash Pandey, Chief Operating Officer, ABP News with Sam Balsara, Chairman, Madison World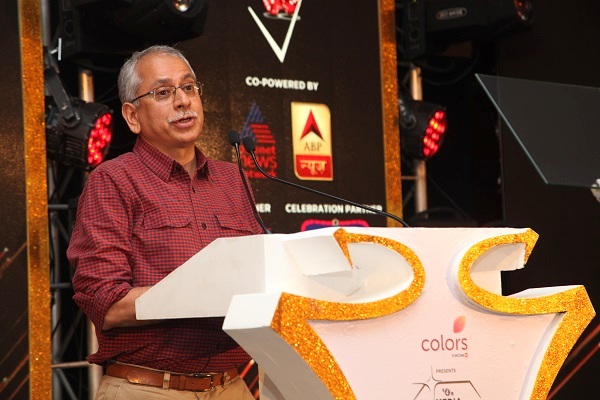 Harit Nagpal, Managing Director and CEO, Tata Sky Ltd, addresses the audience at the Media ACE Awards 2018
Panel discussion: (L-R): Ashish Sehgal, Chief Operating Officer, Zee5, Ajay Kakar, Chief Marketing Officer, Aditya Birla Capital, Ashish Bhasin, Chairman & CEO - South Asia, Dentsu Aegis Network, Vikram Sakhuja, Group CEO Madison Media, Raj Nayak, Chief Operating Officer, Viacom18, Shashi Sinha, Chief Executive Officer, IPG Mediabrands, India and moderator Paritosh Joshi, Principal, Provocateur Advisory.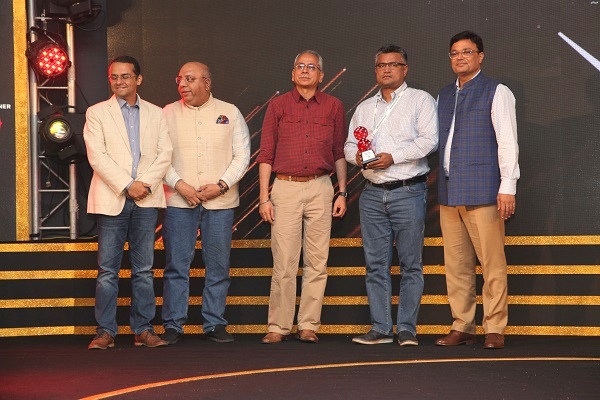 Prasanth Kumar, Chief Executive Officer, Mindshare, South Asia, Africa, MENA (second from right) receiving the 'Agency Head of the Year' award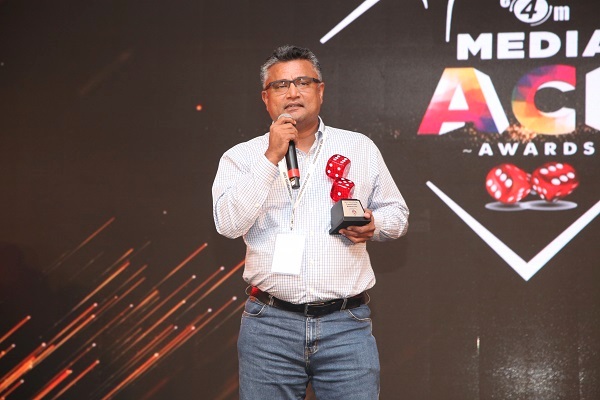 Prasanth Kumar, Chief Executive Officer, Mindshare, South Asia, Africa, MENA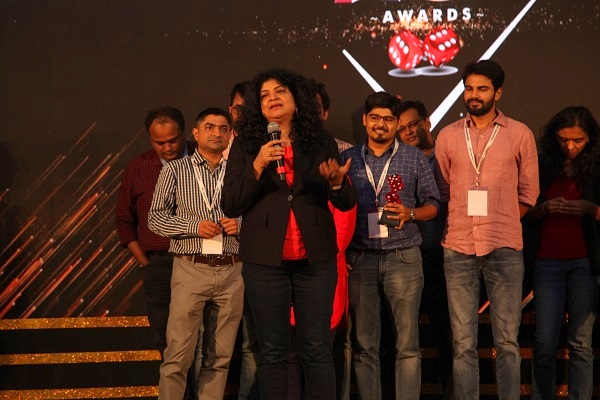 Nandini Dias, CEO, Lodestar UM, India, speaks after winning the 'Agency of the Year' award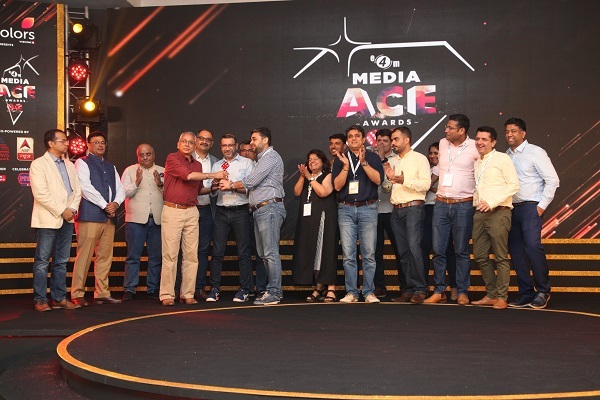 GroupM wins the 'Network of the Year' award
'Network Head of the Year' award (L-R) Nawal Ahuja, Co-Founder & Director, exchange4media Group, Anurag Batra, Chairman & Editor-in-Chief, BW Businessworld, Ashish Bhasin, Chairman & CEO - South Asia, Dentsu Aegis Network, Harit Nagpal, Managing Director and CEO, Tata Sky Ltd, and Avinash Pandey, Chief Operating Officer, ABP News
Ashish Bhasin, Chairman & CEO - South Asia, Dentsu Aegis Network speaks after winning the 'Network Head of the Year' award
2018 Media ACE Award winners: (L-R): Gopa Kumar, Executive Vice President, Isobar, India, Ashish Bhasin, Chairman & CEO - South Asia, Dentsu Aegis Network, Rubeena Singh, CEO, iProspect India, Rajiv Dingra, CEO, WATConsult and Shekhar Mhaskar, VP, Digital Creative & Services Division, Isobar India
exchange4media Group Service
The campaign embodies Piramal Capital & Housing Finance's commitment to enable customers to transform their dreams into reality by embracing a new way of life - 'Think Big'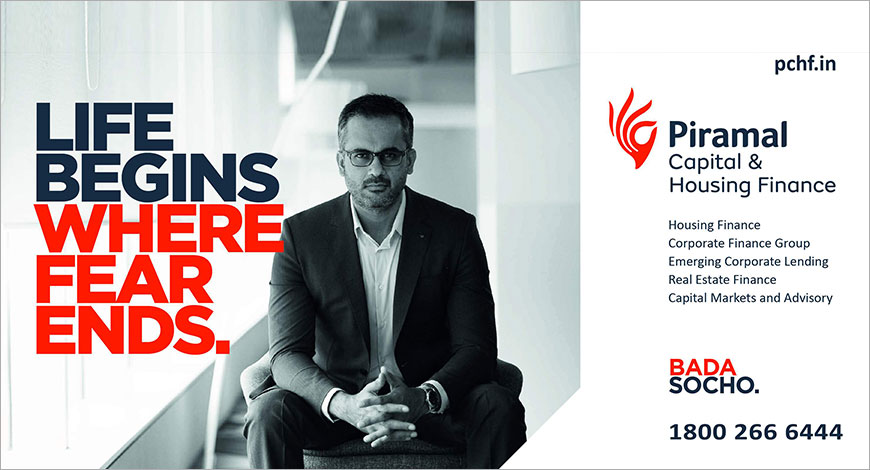 Piramal Capital & Housing Finance (PCHF), the wholly owned subsidiary of Piramal Enterprise Limited, announced the launch of its new brand campaign, 'Bada Socho' (Think Big). The campaign highlights the ethos of the Piramal Group and PCHF - its financial services business, to create long term value for all its stakeholders. Therefore, the essence of the brand campaign is PCHF enabling customers to pursue their goals and transform their dreams into reality by embracing a new way of life i.e. 'Think Big'.
The campaign also brings out PCHF's expertise across diverse sectors as a key differentiator in the industry and its ability to partner with businesses across the value chain - from the promoter to the end customer. 'Bada Socho' is a brand promise highlighting this unique partnership model that allows our customers to pursue their dreams as we support them in their journey.
Speaking at the launch, Khushru Jijina, Managing Director, Piramal Capital & Housing Finance said, "We are excited to launch our brand campaign 'Bada Socho', across our target markets - Mumbai, Delhi, Bangalore and Pune. This 60-day campaign highlights our expertise in the market while showcasing our approach to do business. Our brand promise encourages our customers to 'Think Big' as we extend our support by partnering with them respectively in achieving their goals whether it is to buy a new home or grow their business."
Campaign Brief
The strategy is to reflect the ethos of the Group at large with a specific relevance on the financial services business. The campaign helps establish 'Bada Socho' conveyed through messaging that talks about this mind set. A series of creatives help deliver this message in the context of the brand's different business verticals viz. housing finance, real estate finance, emerging corporate lending, corporate finance group and capital markets & advisory. Visual imagery that is positive, confident and focused lends a strong character and maturity to the campaign. The campaign will run across OOH, radio and digital for the duration of 60 days targeting Mumbai, Delhi, Pune and Bangalore. The messaging will start with brand and then move on to the housing finance communication being retail. The sustenance of the campaign will be supplemented by leveraging on transit/commute and digital platforms.
Credits:
Creative: TAG Vinnatti
OOH: Posterscope
Radio: Vizeum
Digital: ARM Worldwide and Yellow Seed
exchange4media Group Service
Kansal, Brand Director, Jaguar Land Rover India, spoke about 'The Above & Beyond Tour', how Land Rover uses experience to communicate its brand story and driving strategic brand objectives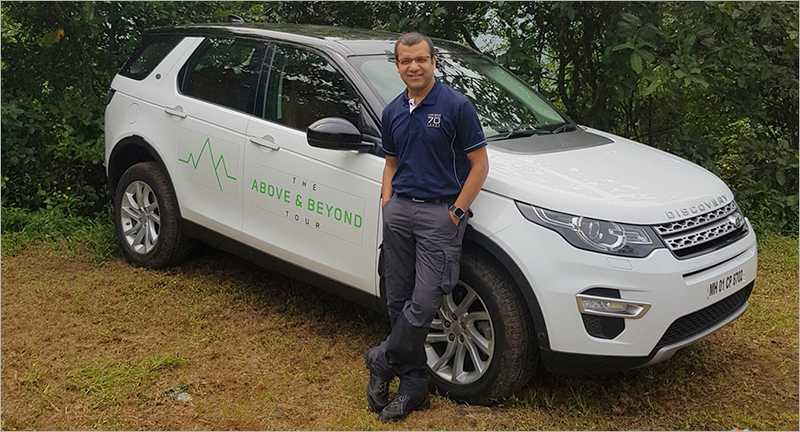 Land Rover recently completed its 70th anniversary globally. Throughout its journey in India, the brand has gained quite a following in the country and is only stepping up its game, as we go foward. At the helm of the brand's growth is Ankur Kansal, Brand Director, Jaguar Land Rover India who chatted with exchange4media on 'The Above & Beyond Tour', how Land Rover uses experience to communicate its brand story, driving strategic brand objectives and how it leverages CRM system, social media channels, and digital targeting.
Edited excerpts below:
What was the starting point of 'The Above & Beyond Tour' and why is it of the essence?
'The Above & Beyond Tour' is a series of drive experience events that are organised with Land Rover vehicles and allow customers to test the true capability of the vehicles under challenging off-road conditions. As such, these events allow us to bring the brand closer to our customers. For any brand to have a sustainable future it is important to build trust and credibility and we do this by delivering the experience events in a safe, authentic, relevant and engaging manner. This also helps us in differentiating the Land Rover experiences. Further, the experience is highly engaging as the customers actually get to drive the Land Rover vehicles over the chosen terrain, while the Land Rover Experience Instructor only guides the customer.
The most important factor, however, is relevance. Given, the road conditions one encounters in India on a day-to-day basis and the unpredictable weather systems that may result in water-logged city roads, 'The Above & Beyond Tour' demonstrates the capability of Land Rover that lends itself perfectly to overcome these challenges. The first such drive experience event was conducted in India in 2013. When we started in 2013, of course, it was limited to a few events in the top cities in India. Since then, we have expanded the reach of 'The Above & Beyond Tour' to Tier II and III cities across a variety of formats. We have smaller formats that we use via mobile terrapods, training programs where customers get to drive several models of Land Rover and then we have international expeditions. The main objective is to maximise reach and take our brand as close as possible to the customers.
How does it impact the brand funnel?
'The Above & Beyond Tour' has the potential to positively impact the entire brand funnel i.e. from creating awareness, building brand appeal to driving consideration. As such, to check the effectiveness of our experience events, we not only seek to measure the sales conversions but also measure impact on the brand, and we are convinced that 'The Above & Beyond Tour' has effectively conveyed the Land Rover brand story to our customers, thus providing a positive impetus to the brand. To further maximise the impact from these events, we curate content and leverage it across social media platforms, thereby extending our reach to a larger set of customers. As highlighted earlier, we closely monitor inquiries and customer feedback that we receive post the events as well.
Is there any activity specifically to promote'The Above & Beyond Tour' and 'The Art Of Performance Tour'?
We rely on our CRM system, social media channels, and digital targeting to promote our events. Further, we leverage our strong network of retailers, who have built strong and engaging relationships with our current and potential customers. On-ground amplification via PR and social media is also deployed to popularize and maximize the reach of our experiential events.
In terms of prominence, which of the two mediums holds more importance for Jaguar Land Rover – television or digital?
The choice entirely depends upon the objective of the campaign e.g. at the launch of a new product, driving awareness might be the objective and hence use of television, if done appropriately, will help meet the objective. However, in case the objective is to build immediate demand, then certain targeted digital actions will provide a more cost-effective solution. Having said this, the relevance of Social Media channels must be acknowledged, regardless of the objective of the campaign, even though the social media channels lend themselves better to driving strategic brand objectives rather than tactical ones. Overall, the media mix will depend upon the objective of the campaign and of course the available budget.
What distinguishes brand Land Rover from its competitors?
Land Rover is known for its 'go anywhere' spirit – designing iconic vehicles with genuine capability and composure at their heart.
What is your digital marketing strategy?
For us, digital and social media are very significant; we are focusing on providing a seamless digital journey, from the discovery of our brands and products to booking vehicles online. As such SEM, SEO, programmatic targeting, etc. are part of our digital strategy and we have a well-defined action plan for each of these. We also have extremely engaging online booking platforms, findmeacar.in for Jaguar and findmeasuv.in for Land Rover, which may be used to search and book, a Jaguar or a Land Rover vehicle of choice. Further, you would have seen our latest campaigns on social media, 'Discovery with a Purpose' and 'Land of Land Rovers'. Such content is extremely effective in delivering the relevant brand stories and we do intend to continue our focus on this aspect.
What according to you are the challenges with operating in the luxury auto segment?
The size of the luxury auto segment in India is fairly small in comparison to the overall passenger vehicle market, and hence finding a luxury customer is like finding a needle in a haystack – extremely challenging. Besides the media landscape, relevant to the luxury auto segment, is changing quite rapidly, especially in digital. And thus, it is imperative to keep the marketing plans dynamic and flexible. We are continuously seeking to create new brand touch points via digital and on-ground initiatives, evaluating them and then tweaking our plans for optimizing the output.
Unified digital communication is a big challenge, so how are you measuring your digital campaigns and their effectiveness?
In today's cluttered media space, understanding the impact of any campaign or communication is extremely crucial. For any campaign to be successful, it is important to define the objective and success measures e.g. if the objective of a campaign is to achieve a particular sales number, then it is extremely pertinent, to look at sales conversions. However, if the objective is to drive awareness and familiarity, then we focus on parameters such as reach, website visitors, time-spent, etc. We have a very robust CRM system and complete integration of our CRM system with our digital channels. This enables us to track the impact of any campaign that we undertake.
What would be the way forward in terms of the brand's marketing and communication plans?
We have campaigns planned to meet the various brand and sales objectives; specific details of these will be known as we activate these campaigns. At the moment, we have our festival season campaigns on and we do intend to continue focus on 'The Above & Beyond Tour'. In terms of content, we have had success with 'Discovery with a Purpose' and 'The Land of Land Rovers' and are in the process of exploring new content opportunities along similar lines.
Correspondent, exchange4media, Mumbai Misbaah reports on advertising industry. Based in Mumbai, she interviews industry leaders in the creative, advertising and marketing space, reports news updates in the ad space. She drives the 'Chillout' section, and regularly reviews ad campaigns. In the past she has reported on mainline news, travel and lifestyle.
The campaign, carried out at Delhi and Bangalore Airports, commenced on October 1, 2018.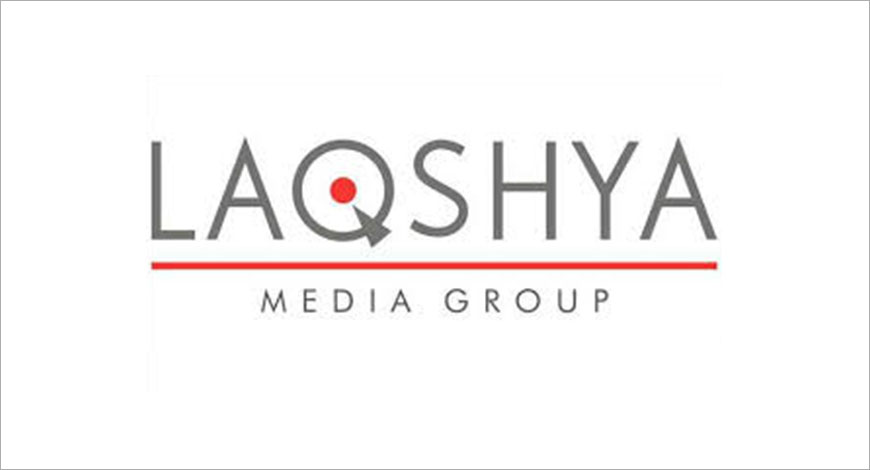 Laqshya Media has bagged the prestigious mandate of conceptualising and executing the outdoor branding campaign for LG Air Purifiers. The campaign, carried out at Delhi and Bangalore Airports, commenced on October 1, 2018.
According to the agency, the main aim was to attract multiple audiences who travel via flights during this festive season.
Laqshya Media installs over 312 digital screens at all terminals of Delhi. The LG Air Purifier commercial was displayed in the digital screens where the commercial used 1/3rd of the space whereas the rest of the space is utilized to display Live Air Quality Index (AQI). Laqshya's scope of work also comprised displaying the product placement and branding in premium plaza lounges; out of which 2 of them were displayed in Bangalore and 4 of it in Delhi. The product is strategically displayed at the food joints and near smoking rooms at Delhi Airports which includes 9 units at Terminal3.
Commenting on the campaign, Amarjeet Singh Hudda, COO, Laqshya Solutions, the agency arm of Laqshya Media Group, said, "It's an immense opportunity to manage and execute the outdoor branding campaign for LG Air Purifier. The brief was well-defined, and it definitely helped us understand the brand, which helped in building outdoor branding communications for LG Air Purifier. The campaign attained high visibility for the brand and attracted lakhs of throngs in and around airports at Delhi and Bangalore. The team seamlessly worked hard and dedicated round the hours to deliver the best for this campaign."
Youngnam Roh, Director Home Appliances & Air Conditioners- LG Electronics India, said "Health and hygiene are key concerns of consumers and they are looking for solutions to improve the same. Air quality has been of pressing concern for consumers, based on this insight we have developed the latest LG air purifiers, with PM 1.0 Sensor. This distinctive feature purifies even super-ultra dust particles from the air."
"We wanted to create an experiential marketing platform and Laqshya media has always shown great expertise in outdoor marketing with their campaigns. We wanted to create an eye-catching installation and believed that Laqshya will fit the bill perfectly. The installation of the air filter by Laqshya Media Group, at Delhi and Bengaluru international airports has now become one of the biggest indicators and has given us an opportunity to celebrate our brand with our customers," Roh said.
exchange4media Group Service
Ashish Bhasin, Chairman and CEO - South Asia of Dentsu Aegis Network was awarded the 'Network Head of the Year'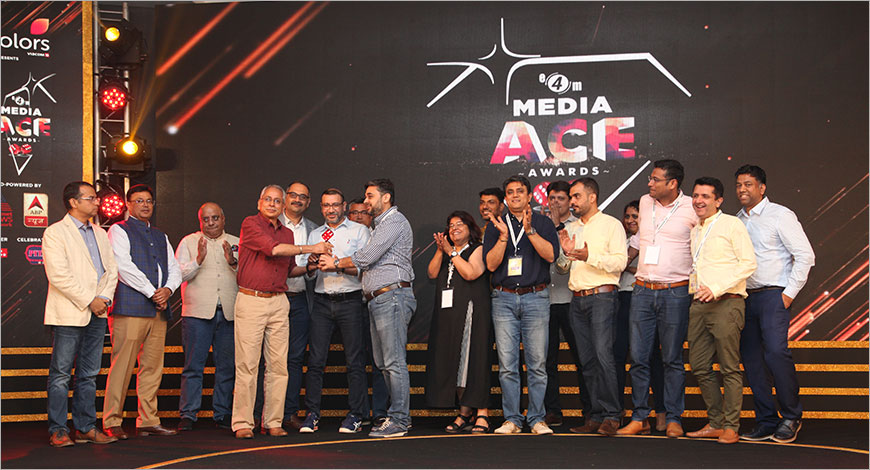 At the fourth edition of Media ACE Awards, GroupM took home the coveted 'Network of the Year' award.
Commenting on the win, Prasanth Kumar, CEO Mindshare South Asia, Africa and MENA, said, "I want to thank the jury for awarding us the Best Agency of the Year and Media Agency Network of the Year. It's truly a fabulous day for us and we are very humbled that the jury and everybody recognises that a lot of effort has been put together to get the best of clients and partners. It's a big moment for all the people in GroupM, Mindshare, and all the winners."
The category award was judged based on the parent network and collaborator that played a pivotal role in development and enhancement of its reputation in the industry, by providing holistic marketing and communication assistance like content creation, digital advertising, proprietary tool development and other essentials. The winner was selected as per the Jury's discretion.
GroupM has won this award for two consecutive years now.
The awards held on October 16 showcased award-winning work for the period July 2017 to Aug 2018. Media ACE recognises Indian Media Agencies for their contribution to the industry and the professionals behind the growth of these agencies.

exchange4media Group Service
Dentsu Aegis Network's Ashish Bhasin bagged the 'Network Head of the Year' award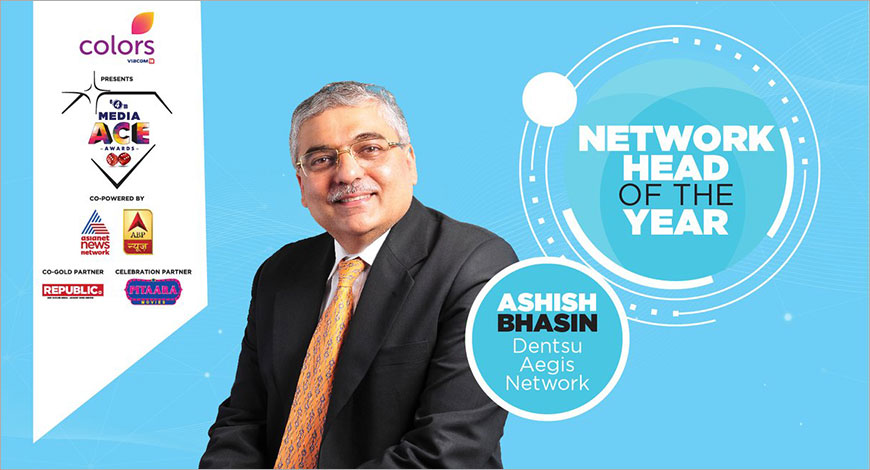 The e4m Media ACE Awards initiative recognizes Indian Media Agencies and their People for their work and their contribution to the Industry. The recently concluded fourth Edition of Media ACE Awards showcased award-winning work for the period July 2017 to August 2018 and people who played a significant part in shaping the media landscape in India.
In the 'People Awards' category, Dentsu Aegis Network's Ashish Bhasin bagged the 'Network Head of the Year' award. This award is for the Head of a Parent network who has contributed critically towards delivering premium service, stimulating growth of the organization and enhancing the industry at large.
While receiving the award on stage, Bhasin said, "First of all, I would like to give thanks to the jury, Nawal (Ahuja) and Anurag (Batra) for this honour. It's been an amazing journey. It started with 45 people to 3500 now."
Speaking on the win, Bhasin later said, "It's an honor and privilege to be selected as the Network Head of the Year and the credit of all this goes to the fantastic network of the 3500 professionals that I lead. I want to thank the jury and everyone for selecting me."
exchange4media Group Service
In the Top 10 Advertisers list only Amazon.in forayed at third spot; there was no other e-commerce portal apart from them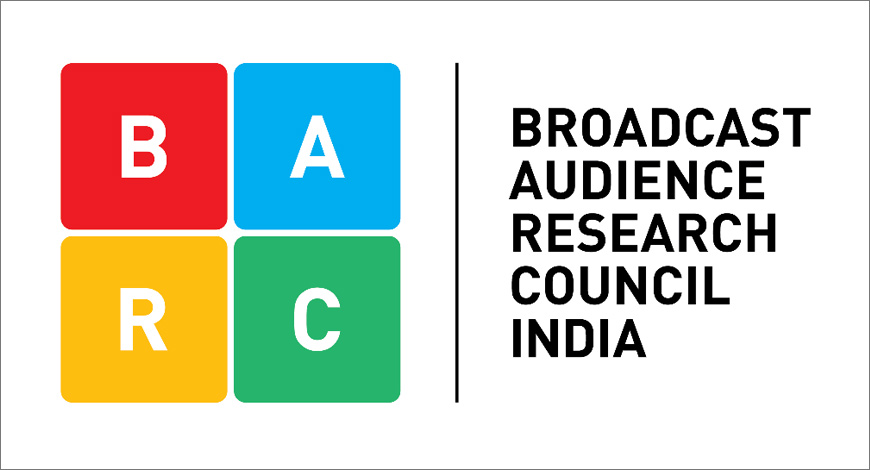 In the list of BARC Top 10 Brands for Week 40 (September 29-October 5), Lizol reclaimed to the top with 14,023 insertions.
Santoor Sandal and Turmeric and Amazon moved up to second and third spot with 13,431 and 12,819 insertions respectively.
Flipkart again made an entry at fourth spot with 11,094 insertions. Trivago and Mahindra Marazzo slipped to fifth and sixth spot with 10,579 and 9560 insertions. Honda Activa 125 and Total Hi-Perf entered at the seventh and eighth spot with 9414 and 8856 insertions respectively.
Dettol Toilet Soaps entered the category at ninth spot with 8803 insertions, whereas Dept of Women and Child Development slipped to tenth spot with 8795 insertions.
In the same week, in BARC Top 10 Advertisers list, FMCG brands Hindustan Lever and Reckitt Benckiser continued to lead at the top two spots with 1,17,018 and 1,11,113 insertions, respectively.
Amazon Online India and Procter and Gamble India climbed to third and fourth spot with 34,028 and 31,392 insertions, respectively. Wipro, SBS Biotech and Brooke Bond Lipton India entered the category at fifth, sixth and seventh spot with 23,607, 21,504 and 18,901 insertions respectively.
Cadburys India slipped to eighth spot with 18,715 insertions. Colgate Palmolive India and Ponds India are other few brands which forayed at ninth and tenth spot with 16,790 and 16,770 insertions respectively.
exchange4media Group Service
Jiggy George, MD, Mojostar, shares some insights about the performance-wear market and how Mojostar is looking at the category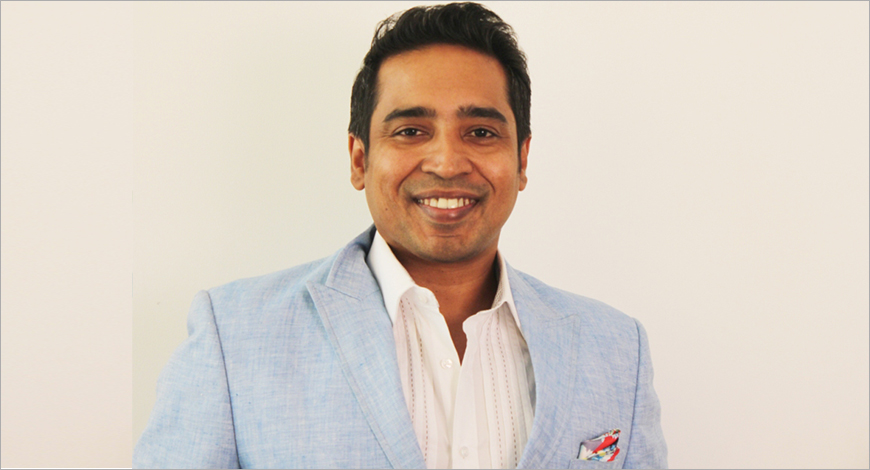 Mojostar is fast emerging as one of the leading performance merchandising brands in the country. According to Euromonitor, the total size of the performance wear market is Rs 44,000 crore and India presents a big opportunity for the segment.
With celebrities such as Tiger Shroff and Jacqueline Fernandez on board, Mojostar is already on its way to leverage the immense opportunity that this market offers.
In an interview with exchange4media, Jiggy George, Managing Director, Mojostar, shares some insights about the performance-wear market and how Mojostar is looking at the category.
Would it be right to call Mojostar a celebrity-driven brand?
I don't believe we are a celebrity brand. How we approach the business is little different. Our objective is not to take a celebrity and build a brand with them; it is to look at white spaces. We look at opportunities that exist which are untapped, for example, most performance wear brands in this country are just focused on men. And, if they serve women, it's a very pinkish, 'skimpish' strategy-- that if I make it for men, I make it smaller for women.
Once we identify the white space or gap, then only do we look at the roster of stars which most authentically drive that promise.
What is the size of the performance wear market and what kind of market share are you looking at in the next few years?
The entire performance-wear space is a Rs 44,000 crore market, according to Euromonitor, growing at a rate of 20 per cent and the top players are just 10 per cent of the market. So there is massive headroom for more brands. We are looking at a turnover of Rs 500 crore in the next six years.
You already have Tiger Shroff and Jacqueline Fernandez on board, by having celebrities on your side, does it make brand building easier?
We are very aware of the fact that if you only look at the celebrity and not care about your product, this is not going to be long-term at all. The biggest advantage of having a celebrity on your side while building a new brand is that you tap into their huge fan following, this phenomenon is particularly popular in the west, for example, what Kayne West has done with Adidas and what Michael Jordan has done with Nike is commendable. So it is a model that works. Jacqueline and Tiger are both partners in the business and they both hold equity in the business, so it is their brand as much as ours.
What are some of the biggest hurdles for the performance wear category in India?
Building brands is a long, hard process overall. In our case, we look at the world of retail through a media and entertainment lens, primarily because we have been a lot in the media and entertainment business. At this moment, the challenges in this category continue to be the retail spaces and distribution. Right now we are exclusively available on Amazon and we have our own websites which have a very decent reach, almost 45 per cent of the traffic that comes to our website is organic. In the coming time, our big focus will be on our offline presence and we would like to opt for an omnichannel approach when it comes to market strategy.
iProspect India has bagged the SEO, paid media and digital mandate for the e-commerce business of KFC India, and will be handled from the agency's Delhi office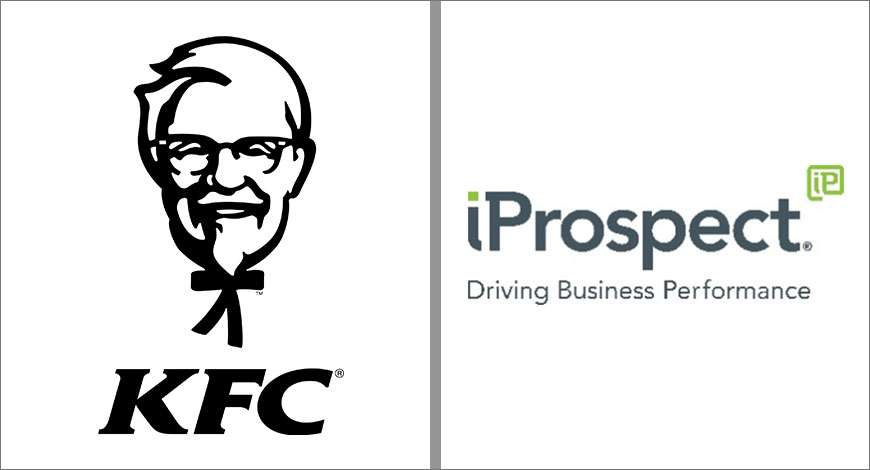 Digital performance agency from Dentsu Aegis Network, iProspect India, has bagged the SEO, paid media and digital mandate for the e-commerce business of KFC India. The American fast food restaurant chain's account will be handled from the agency's Delhi office.
Commenting on the win, Rubeena Singh, CEO, iProspect India said, "The growth in diversity of the client sectors in our portfolio is always welcomed. We are pleased to partner KFC in their growth journey."
On the association, Moksh Chopra, CMO, KFC India said, "Our partnership with iProspect comes at an opportune time as we increase our focus on digital performance marketing. We are confident that our brand marketing strategies, coupled with iProspect's expertise, will yield great results for KFC India. We look forward to a fruitful association with them."
Founded in 1997, iProspect India is a part of the Dentsu Aegis Network. It offers brands an entire spectrum of result-oriented digital marketing strategies.
exchange4media Group Service