Time Outdoor Monitoring analyses category trends for the first two quarters of 2018
Time Outdoor Monitoring tracks OOH spends, monitors outdoor campaigns and tracks the effectiveness of spends. The report is based on PAN India analysis across 42 cities by
Published - 28-August-2018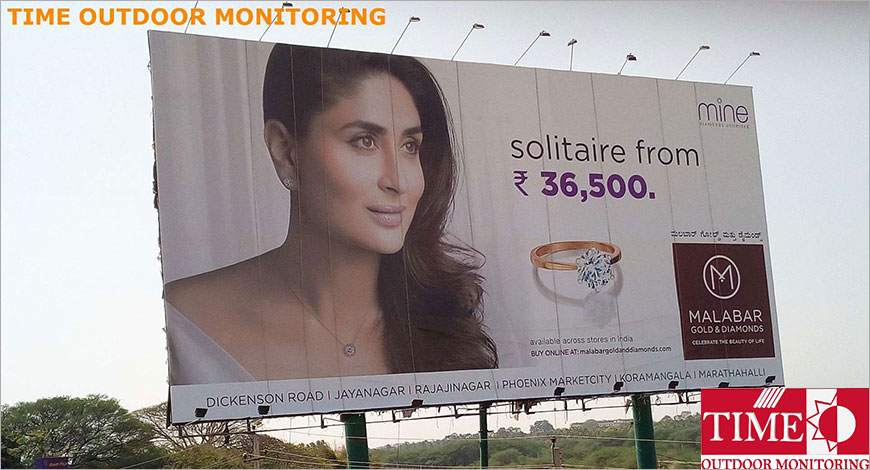 Third party data is the cornerstone for all OOH companies and brands in getting scientific analysis and measurement. Third party monitoring agency, Time Outdoor Monitoring, tracks OOH spends, monitors outdoor campaigns and tracks the effectiveness of spends. The report is based on PAN India analysis across 42 cities.
When analysing OOH spends, it is important to understand which categories are competing in the OOH market. Be it direct or indirect competition, one can obtain a fair perspective regarding the activities of various categories in the OOH space. It can be used as a tool and can be applied in many contexts and at many scales, and may be applied to an individual brand as well as the whole category.
Top categories which highlight themselves in first two quarters as per spends and share of space are showcased below:
TOP 20 CATEGORIES IN THE MONTH OF JANUARY TO MARCH 2018
: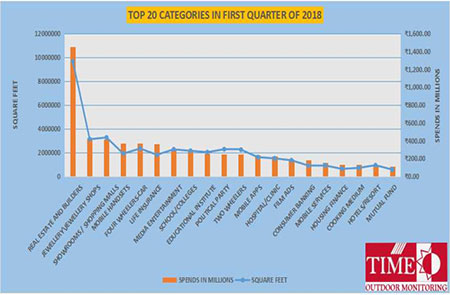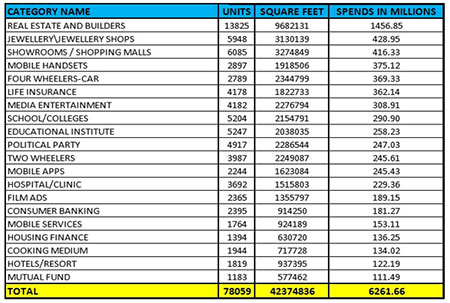 The data does not cover transit media airport, malls, inside railway stations and kiosks. Rates are indicative figure and subject to negotiation.
In the above data chart and table all the categories mentioned are competing in terms of spends and share of space.
Share of expenditure
:
Real estate and builders category with their huge budget is leading the first quarter of the year 2018 with spends of Rs 1456.85 million and with share of space 96,82,131 square feet. Jewellery/Jewellery Shops category taking second spot with spends of Rs 428.95 million and share of space of 31,30,139 square feet. Showrooms/Shopping malls category in third spot with 416.33 million and share of space of 32,74,849 square feet.
Smartphone users are on the rise in India. This has interested a lot of mobile companies around the globe to highlight themselves in the form of OOH media and this is especially true in case of Xiaomi Corporation, one of the most popular Chinese brand among smart phone users in India have never used the OOH medium to market their products and only recently have moved into the OOH space owing to their sheer popularity and customer base in India. Similarly, there is huge customer base for all the car segments from luxury to mid-size to compact cars. Given the vast number of people travelling on road today gives four wheeler companies an opportunity to introduce their new car models or highlight the already popular ones through OOH medium to reach the masses.
January to March being the final quarter of the financial year makes salaried individuals and business houses file their tax returns. This period witnesses a significant increase in life insurance and mutual fund investments. No wonder, life insurance and mutual fund companies maximise their spends during this period.
Overall there are many emerging categories and regular players in the first quarter.
Share of Space (Square feet)
:
As compared to share of expenditure, we can see similar trend followed by categories in the Share of Space segment. Real estate category leads in top position and Showrooms/Shopping malls category taking second position with little more coverage in terms of square feet than Jewellery category.
Remaining category rankings stay more or less similar compared to their share of expenditure.
TOP 20 CATEGORIES IN THE MONTH OF APRIL TO JUNE 2018
: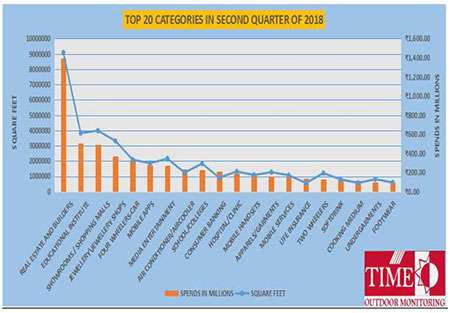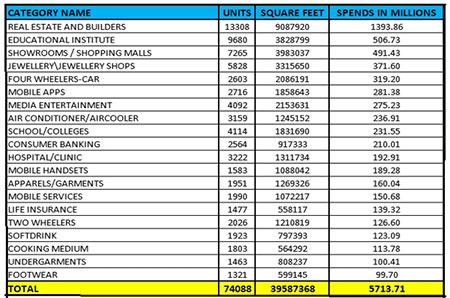 The data does not cover transit media airport, malls, inside railway stations and kiosks. Rates are indicative figure and subject to negotiation.
Compared to previous quarter
:
Spends of the current quarter (Apr-Jun) has slightly decreased from the previous quarter but still in both quarters Real Estate category reclaims its first spot. June being prime time for all the school and colleges to reopen, the education institute category maximises its spends taking a huge leap from ninth to second position moving ahead of Jewellery/Jewellery Shops category from the previous quarter. April and May being the vacation months in India, all shopping malls and showrooms are the frequently visited hence it has retained its third position from the earlier quarter.
Air conditioner/Air cooler, Apparels/Garment, Soft drink, Undergarments and Footwear categories are the new entrants in the list for the second quarter of the year. Political party, film ads, Housing finance, Hotels/Resort and Mutual fund category did not make it to the list.
Industry experts on the growth and relevance of OOH this election despite the growing popularity of digital and social media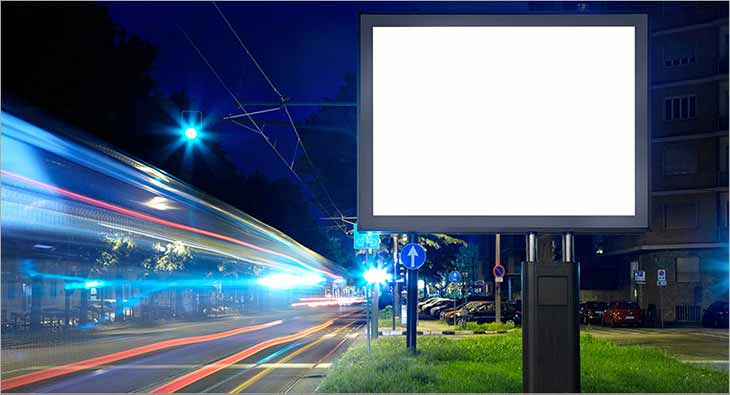 Elections are always quoted as one of the most lucrative times for OOH industry for being the most approachable and larger than life medium for the political parties. As the date for the 2019 General Elections inches closer, campaigning by political parties has started to gain momentum. Parties are expected to spend as much as Rs 400 crore on OOH domain ahead of the elections, according to industry experts.
Out-of-home (OOH) advertising is one of the crucial medium for the parties to connect with voters despite the growing popularity of digital and social media.
"Outdoor has specific nuances, which is physical and locational in nature. It cannot be switched off, skipped or blocked. It is this physical presence that makes it the most transparent of mediums. That's the power of OOH," said Sujit Banerjee, director and CEO, Ecosys OOH.
According to Banerjee, Outdoor ads are expected to feature political leaders with their achievements. He says, "Brands will have a tongue-in-cheek conversation with the client on topical issues. Conversation about national narratives, patriotism, and importance of vote will take place. We will witness bulletin boards kind of contextual conversations in outdoor, which will be heavy on text."
So what kind of growth will the industry witness? "Political spending on outdoor media always helps, March/ April which is comparatively a lean period shall have great occupancy numbers for all the media owners. At an all India level, roughly Rs 350-400 crore is expected to be spent on Outdoor campaigns which is just like a steroid shot for the industry reeling from slow down," said Alok Gupta, director, Graphisads.
However, "Overall growth in 2019 will be as projected around 6 per cent but due to elections a 0.5% extra can be expected across," said Shailesh Soni, Associate Vice-president, Laqshya Media Group.
According to Haresh Nayak, Regional Director, Posterscope APAC & Managing Director, Posterscope Group, the TRAI regulations will also provide an edge to the OOH industry during the 2019 Lok Sabha elections. "As per the new TRAI regulation, the consumers have options to choose the channels of their choice and this will affect the reach of TV. Hence the OOH spending will be doubled," said Nayak.
On asking how the approach of the agencies will be different from that of 2014 elections, Soni said, "At Laqshya Media group, we are all geared up to serve political parties with new age requirements. With our new measurement tool SHARP and all geo tagged inventory across multiple cities we can actually give a comprehensive research based hyperlocal OOH plan. With the help of machine learning we can actually help political parties hit the right cord with the right TG."
"It shall be bigger and better," says Gupta adding, "Digital Outdoor media is also expected to be used significantly by the parties." Whereas Pawan Bansal, COO, Jagran Engage begs to differ, he says, "The format will more or less remain the same. From the planning point of view, 1.5 crore first time voters are there and political parties might target youth. We can witness hoarding/advertisement near malls or the college campuses just so that the parties are able to convey the message to the first time voters. I guess, people will not splurge so much, messaging would be targeted. They might start with the initial burst and might ramp up the campaigns during the day."
According to experts, the OOH industry should expect a good hike this election season. "Political parties have always used OOH as part of their general rallies and in promoting their promises and achievements to the general public but restricted. Since 2014, spends have increased drastically across regions and use of OOH medium is not restricted. Different formats are being used in innovative ways without losing relevance," Soni added.
However, not all the OOH experts agree that this time of the year will be profitable for them. Noomi Mehta, CEO, Selvel Advertisers thinks that elections are not a good time for hoarding owners. He says, "2014 elections were a bad taste in the mouth for several hoarding owners in MP and UP because they never got paid from big political parties. Also, regional parties rarely pay us. Honestly, it is not a good time for us."
Bansal adds, "Since the code of conduct is in place, the spends will go down as compared to 2014 elections. I don't see a rise because last time a lot of political parties started advertising before the code of conduct came into place. The key challenges would be getting permissions from the authorities to put up media. Per say, spends can only go up if lots of parties actually advertise."
Nayak, Regional Director, Posterscope Asia Pacific & Group MD, Posterscope Group South Asia spoke on how outdoor advertising can be optimised with the help of data, technology & infrastructure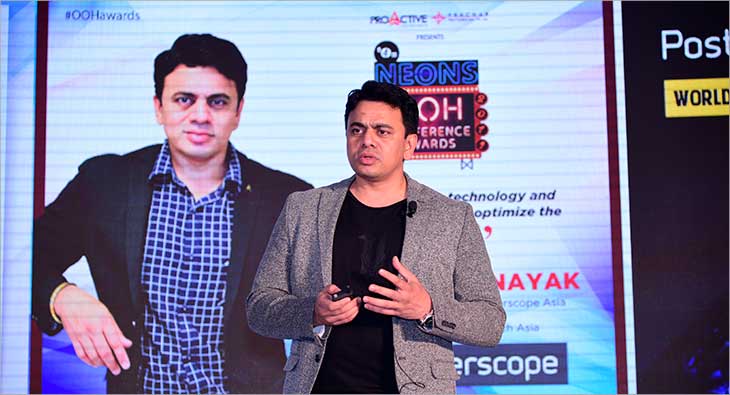 Talking at the NEONS OOH Conference event held in Delhi, Haresh Nayak, Regional Director, Posterscope Asia Pacific & Group MD, Posterscope Group South Asia threw light on how data, technology and infrastructure can optimise the future of the outdoor advertising.
Speaking about the change taking place in the OOH industry and why it is important Nayak stated, "There has been a lot of talk about data and measurement. With technology and a greater infrastructure, we can optimise OOH. Things are changing at a rapid pace. Navigating this change is very essential in our industry. Bringing in new talent and retaining that core talent is essential. We need to see the change that is taking place and imbibe change."
This change is helping clients to navigate in this content clutter world that we are in. "People say that digital is giving one to one ads and clients are expecting personalised ads delivered to the consumers. Technology today gives you leverage to take this medium of OOH advertising to the next level. The important thing of OOH advertising is that it does not have any ad block we need to use this strength of the medium and take it to the next level," commented Nayak.
"Everything is optimised. Technology is controlling how we function. Whereas before we use to focus on Excel sheets and PowerPoint presentations," commented Nayak about the change happening at Posterscope.
How can the OOH medium of advertising be strengthened and taken to the next level? Nayak commenting on this said, "Our ecosystem is getting more and more cluttered there are so many media options and channels. Secondly, we are continuously seeing online sites and new channels are coming in. Today, if you look at the way TV is changing with the latest TRAI notification that has come in play, consumers are looking at media which is on demand. It has become all about OTT platforms, the consumer wants to see only a particular type of content without ads. Coming back to the core aspect of OOH and consumer data there should be an independent study or research. However, there is no research and I'm not sure when the industry is going to drive the research."
There is a lot of currency in digital media, can we transfer that currency to OOH? "Consumers are leaving their digital footprint and personalised information every week online and this data can be optimised. In 2014, the company Myanmar was planning everything from infrastructure to roads because there was no proper data. When they did a manual data they found out that they were not 70 million people but 50 million people who view their ads. Hence the over-investment in a lot of things had to be curtailed," stated Nayak.
Data can be provided to the clients and they can benefit from it. "OOH is generally a dark medium and data is the new light. We can use data which is available in government reports, online, offline or independent data. Our clients are saying that today don't give me your agency report or personal report, give me data which is taken by the industry," stated Nayak.
"Today we are able to bring our brands and consumers together. Infrastructure is needed and in India infrastructure is going to change rapidly. As custodians of the industry, it is very important to look at what kind of infrastructures are available globally and use that. With the right kind of technology, infrastructure and ambience our medium will grow. And if we can give those currencies to our clients, they would spend more and invest in our medium. Greater experiences can be derived and there are so many media options available, there are alternatives where you can engage with the audiences. We can grab their attention by having engagement or activities in a captive domain. We as a country are moving in the right direction, our economy is growing and things are changing. As an industry we all are responsible to make sure that we ask our partners to invest in a right kind of infrastructure and create the right kind of ambience to invest in the medium," concluded Nayak.
Jha, Deputy Commissioner, South Delhi Municipal Corporation, in his special address spoke about Supreme Court's new advertisement policy, which he said has given the OOH industry a new direction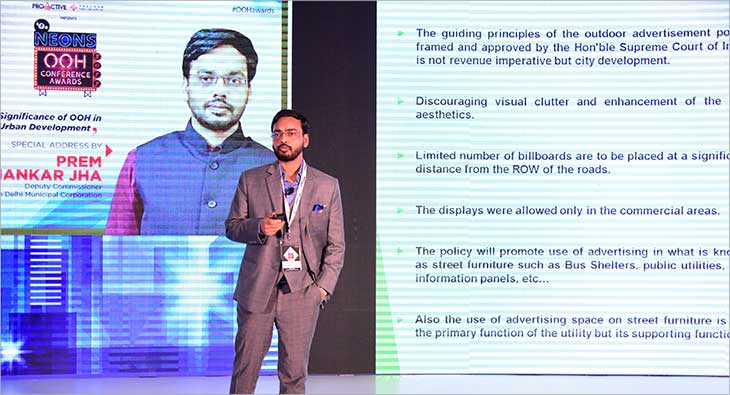 At the recently held exchange4media NEONS OOH Conference and Awards 2019, Prem Shankar Jha,
Deputy Commissioner, South Delhi Municipal Corporation, delivered a special address on the 'Significance of OOH in Urban Development'.

Jha spoke about the Supreme Court's new advertisement policy, which according to him has reduced visual clutter to a large extent and given the industry a new direction.

"In 2017, the Supreme Court came up with a new advertisement policy and the main focus of the policy was to address the visual clutter. Now as a regulator we don't want unauthorised, unregulated and unsafe advertisements. The new policy has addressed all these issues, and with the coming of the new advertisement policy we have also told ad firms to undertake certain kinds of innovations too."

He also stated that the new regulation gives advertisers and brands an opportunity to create better impact than before. "Before the transformation of Delhi there used to be advertisements but they were not giving any mileage to the brands. As far as I know, there are four kinds of stakeholders in the advertisement industry. One is the producer, the other is the consumer, third are propriety firms and the fourth and biggest stakeholder is the city. The long term vision for OOH should be 'Less is More'. When we put up more advertisements, we are cluttering the city rather than beautifying it. So the concept 'Less is More' is going to be the way ahead and we are working towards it," Jha added.

According to Jha, OOH is playing a big role in urban development. He also emphasised that the OOH industry and the government should work in a coherent manner so that there are opportunities for advertising firms, which in turn can also participate in development of cities.

Linking the development of OOH with local commerce, Jha said: "There are four components for smart cities - infrastructure services, citizen services, planning and development of citizen information, and finally how OOH can nurture local commerce."
At the NEONS OOH Conference and Awards 2019 panellists discussed what is the next step in DOOH to attract maximum eyeballs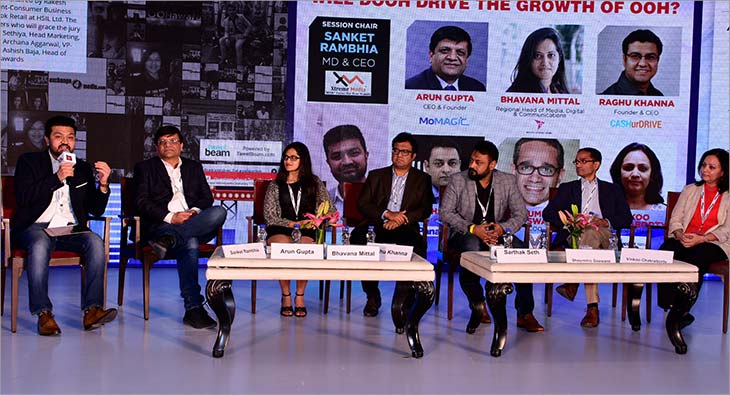 At the NEONS OOH Conference and Awards 2019 an esteemed panel broke down the nuances of digital out of home advertising (DOOH). Sanket Rambhia, MD annd CEO, Xtreme Media moderated and discussed with a six member panel that included Arun Gupta, CEO and founder, MoMagic Technologies; Bhavana Mittal, Regional Head of Media, Digital and Communications, Reckitt Benckiser - South Asia ; Raghu Khanna, Founder and CEO at CashUrDrive; Sarthak Seth, CMO at Panasonic India; Shoumitro Goswami, COO, Vyoma Technologies Pvt Ltd and Vinkoo Chakraborty, Business Head, Rapport India.
Talking about where DOOH stands in the present day Chakraborty said, "Digital as a percentage is current only 3 per cent out of the total OOH media mix. Though the number is not huge we have seen aggressive uptake in the usage of the medium in all our plans that we roll out for our advertisers. We have seen proliferation of digital screen across ambiances especially metro cities."
Rambhia rolled out some quick numbers measuring the growth of the medium. "DOOH is growing at a pace of 25 per cent CAGR but the base is very small," he said.
"The medium is not getting the attention it deserves. In India DOOH has to go a long way in the way it is packaged, sold and consumed by brands so the entire ecosystem has to work towards the growth of digital out of home adverts," added Chakraborty.
Speaking for advertisers Mittal said, "As advertisers most of our spent goes into television. Even when an agency pitches to us OOH comes way later and DOOH is hardly ever pat of the plan. By the time an ad reaches the OOH space the main commercial is already on air. We barely think of DOOH unless it is a place where there is no TV no connectivity."
The opportunity in DOOH is not being explored said Mittal.
According to Goswami innovation and right use of technology is the key to success of DOOH. "We've chosen only transit locations and next we will be seen on toll plazas where numbers are high and t is very measurable. We will sell the audience something unique to the time and space they are sitting in but presently we aren't using the medium enough. There can be so many interactive inputs in DOOH like QR code scan, regular update of information etc," said Goswami.
The panel unanimously agreed that DOOH growth is not only dependent on mindset of consumers or agencies. The biggest barrier in the medium is that there is no national regulation. "The moment there is a national regulator everything will be falling into place," said Chakraborty.
"We should know how to price the medium and innovate. Like for taxi screen which are smaller we have gamified the advertisement and made it interactive so it engages the audience," said Khanna.
Talking of technology that can be brought into the DOOH space Gupta said, "Since we are the technology providers we are eagerly waiting for DOOH to happen in a big way in India. We do data analytics, user profiling etc and that way we know exactly which audience wants what. Technology is growing we are trying to bring that to the table for DOOH. We are not hoping that the same hoardings will be digital but we want to see new OOH space being created and they would be DOOH."
"It's not only about creative it is also about the reach but as soon as you get into digital space the mobile becomes your enemy. Selling of DOOH depends pretty much on prices and ROI. One has to plan that out well to help the growth of DOOH," said Seth.
At the ninth edition of NEONS OOH Conference and Awards 2019 experts took centre stage to discuss issues prevailing in the OOH sector
At the ninth edition of exchange4media NEONS OOH Conference and Awards 2019, held at Gurugram, a panel of industry experts discussed "why brand custodians turn towards OOH in the era of internet". The session was chaired by Jayesh Yagnik, COO, MOMS Outdoor Media.
The distinguished panellists included Archana Aggarwal, VP- Media, Airtel; Jaikishin Chhaproo, Media Head, ITC Ltd; Pavan Singh, National Head Marketing, Amul; Pramod Patil, Associate VP, Kotak Mahindra Bank; Sujeet Mishra, VP & Head Marketing, Zee Media and Sai Nagesh, Chief Strategy Officer, Laqshya Media Group.
Yagnik initiated the discussion and asked whether OOH is here to stay regardless of the invention of the internet in our lives? To which Aggarwal retorted, "Every medium has a role to play in an advertisers' world. I don't see OOH dying, it needs to keep evolving itself, try to meet the new needs of millennials because the biggest challenges OOH is facing that people are busy on their phone, how do you get consumers to start looking up into the outside, seeing the hoardings."
Nagesh believes, "The possibilities are enormous, it's all about placement and context. It's time for ooh also in the country to change how it looks and feel. It will continue to play a crucial role, because millennials are outside from home."
Singh said, "Whether big or small towns, both digital and OOH will continue to make sense and therefore they will be relevant. Digital is the next big way, because the internet has changed it but outside bigger cities, data speed is a major problem. So in a smaller town you put a strategic located static billboard that delivers far better results than digital marketing does. All of them are here to stay."
"OOH media gives maximum touchpoints to connect and most technological ways to engage and attract a target audience," he added.
Patil opined, "When we use outdoor we look for two points one is reach and another is impact, it drives conversion, but that's not the metric we look for. We admit, we look ooh as last broadcast medium, which is too impactful in reach, but should we look toward as conversion medium too?"
Ooh campaigns brings notice in hours, where TV takes time. 80% of visibility comes from ooh, faster than TV. TV takes time, give you higher reach but outdoor builds reach faster," he further said.
Aggarwal also emphasised the challenges OOH medium is facing, "The biggest problem in ooh is measurability which most of the mediums have, but Outdoor doesn't. When we do media analytics, to understand the role of each medium, we look measurability not from a way how will it drive business, but more from a brand perspective. Is it driving top of mind."
Chhaproo feels, "It depends upon a categoty and marketing we are operating. The requirement of medium gets defined by the creative. The placing an ad on digital, as well as on ooh, the time spent is actually similar."
He also said, "OOH is the only medium, where in the audience is zero investment. For OOH, you just need to step out of house, the kind of innovation the medium is experimenting is unbelievable, but nobody is showcasing it."
Mishra said, "As a marketer we look two things from ooh, for us, it's a campaign which has to be successful. What we look forward is the entire integrated approach towards marketing and how this whole integration is going to be benefit me as a marketer. If outdoor is presenting something, how it can leverage digital as a medium to drive engagement."
Rachana Lokhande, CO-CEO, Kinetic India addressed a session on 'Measuring Impact in OOH Advertising: Practical or Impossible?'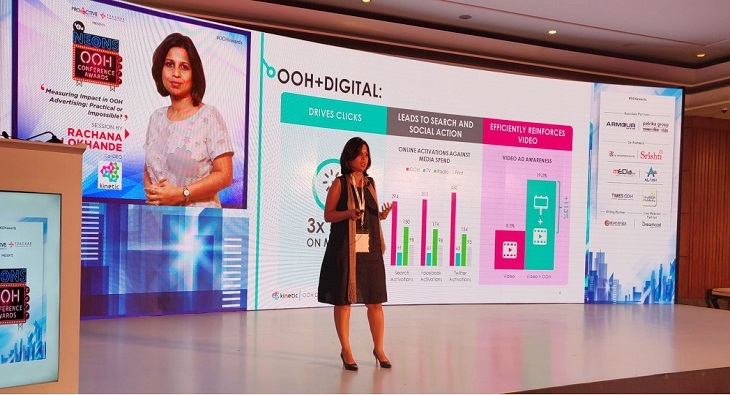 Out-of-Home is going through a big shift; the integration of digital is adding more value for marketers who have often raised concerns about the lack of measurement in the OOH domain. The industry has embraced innovation in all parts of the business to keep pace with where advertising and the consumer are headed. This year, at the ninth edition of the NEONS Awards & OOH Conference 2019, Rachana Lokhande, CO-CEO, Kinetic India addressed a session on 'Measuring Impact in OOH Advertising: Practical or Impossible?'
"Yes, measurement is possible in this era where digital is growing. We came across a BCG study which was released in December 2018, which speaks about the future of Indian media house. It also says that you can talk to consumers at 1 trillion touch points. A consumer looks at his mobile every 2.5 minutes, so an average of 80 times a day, consuming 3-3.5 hours every day and the consumer is 60-70% out-of-home. Out-of-home has the progress of contextually connecting these audiences who are continuously on the move," said Lokhande.
Lokhande has over 16 years of experience in end-to-end business operations and retention, driving large scale revenue and profit gains, and improving organizational performances through investments and account management. She further said, "Paring digital media and OOH investment will improve performance. As mobile is becoming a lynchpin; brands have started putting content on mobile because the audience is always connected to mobile. And what is this mobile data doing? It is actually unlocking the measurability potential against the clients' business outcomes."
She added, "In a lot of studies it has shown that 14 percent of online sales come from people who are commuting and it's not just fashion or retail alone; it includes tourism, finance, insurance etc. Also, in another report, it was mentioned that 70 percent of the audience has said they have bought the item after seeing the advertisement when they were outside."
"When I was given the topic measurement, while we do a lot of measurements and we do not have any other methods, so we use mobile to find out what is measurement. In the past, platforms realised that they needed measurement but they did not jump on to it. In 1994, TV realised they needed measurement because the satellite channels are not able to measure where are the consumers are going, they first came on ADEX- measuring the size of the industry. They got to know what their competition is doing, who is giving ads to which channel etc," said Lokhande who is also the first woman CEO in the OOH industry in South and South East Asia under 40. Under her leadership, Kinetic India's overall business grew by 19%.
Talking about the industry size and if the OOH industry is really growing she said, "While we were 6% three years back, we were 7.9 % a decade back. We are declining. We are not growing to an extent to make a dent in the pie. OOH lacks credibility as we do not have any numbers to share." So what's the solution? According to Lokhande ADEX is, "The first step has to be ADEX, it will bring transparency, rate card to the industry; will give the monetization mechanism because brands, advertisers will also start subscribing to ADEX. And with this, one can also go ahead and conduct research on the industry's behalf. Let's change the practices which make measurement impossible."
Amazon India bags Advertiser of the Year award, while fbb's Fashion Glam Tram wins the award for Campaign of the Year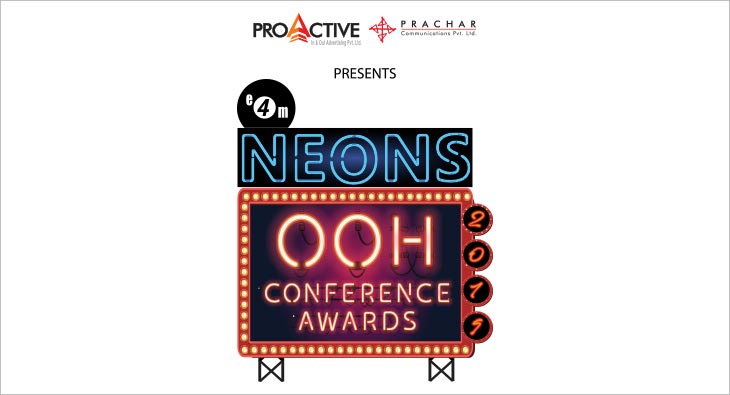 The 9th edition of exchange4media group's NEONS Awards & OOH Conference for outdoor advertising & digital signage was held on March 8 at the Leela Ambience in Gurugram. The OOH Conference & Awards were established in 2011 to reward excellence in outdoor media and seeks a way forward & how the industry can overcome the challenges when it comes to OOH advertising.
At the event, Signpost India won the OOH Media Agency of the Year award, while Amazon India was awarded the Advertiser of the Year.
Alok Jalan, Managing Director of Laqshya Media, was awarded the OOH Person of the Year title and Arminio Ribeiro was bestowed with the Lifetime Achievement Award.
See the full winners list:

Kaul, President- Consumer Business & CEO- Evok Retail at HSIL Ltd will give a valedictory address at the upcoming ninth edition of OOH Conference and Neon Awards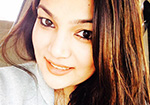 by
Published - 05-March-2019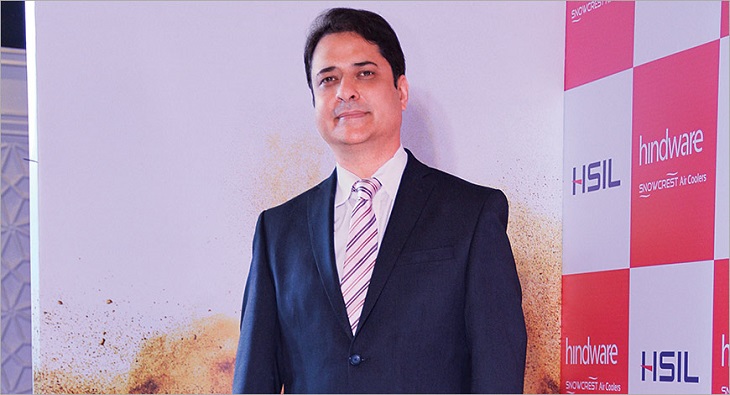 At the upcoming ninth edition of OOH Conference and Neon Awards, Rakesh Kaul, President- Consumer Business & CEO- Evok Retail at HSIL Ltd will give a valedictory address. The award ceremony will be held on March 8, 2019 at The Leela Ambience, Gurugram.
Kaul in his current role is responsible for developing and driving HSIL's Consumer and Retail business. His business acumen, strategic vision, and execution excellence is the force behind HSIL's new ventures in this highly competitive market. Prior to joining HSIL Limited, Kaul had spent five years with Karbonn Mobiles as the Executive Director of the Mobility Business. Under his leadership, the brand for a larger period remained amongst the Top 3 brands in the Indian market in the handset category.
Kaul has over two decades of experience and has worked with leading companies such as The Reliance Group, The Times Group, Onida, Whirlpool and Philips India. He brings to the table in-depth knowledge of diverse sectors and industries such as Consumer Durables, e-commerce, Retail, and Mobility Business.
Kaul holds a Master's degree in Foreign Trade from the Symbiosis Institute of Management Studies. He also holds a Master's degree in Business Administration from The Institute of Management Studies, Kurukshetra and a Bachelor's degree in Science from the Delhi University.
Kaul also chaired the jury meet which took place at the Le Merdian, Gurugram.
The advantages of transit advertising is that it can't be turned off like a television, delivers a varied audience, offers flexibility of ad size and location, and has longer shelf life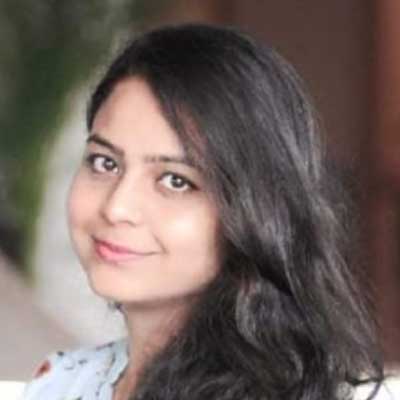 by
Published - 01-March-2019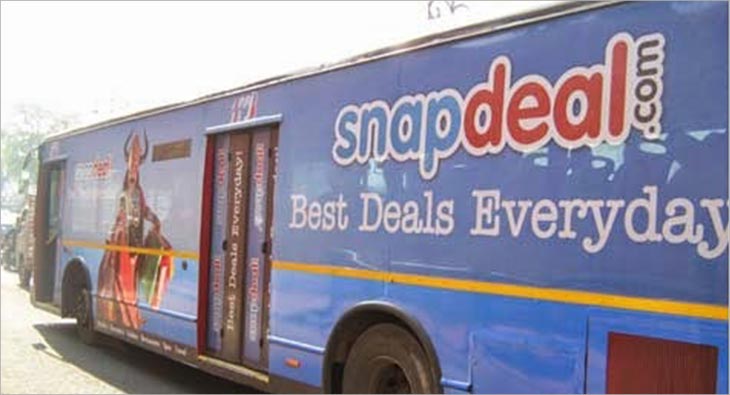 Till now, OOH medium has mostly relied on static billboard advertising. It has flourished in the past and became a mature market. On the other hand, digital innovation has taken place and static billboards are getting replaced by LED billboards, which is still relatively new and developing.
Beside these two, Transit Advertising is making its presence feel in the Out of Home industry. Transit advertising is out-of-home media typically, attached or found on the outside or inside of public transportation vehicles such as buses, subways, taxis, and trains or in the common areas of transit terminals and stations.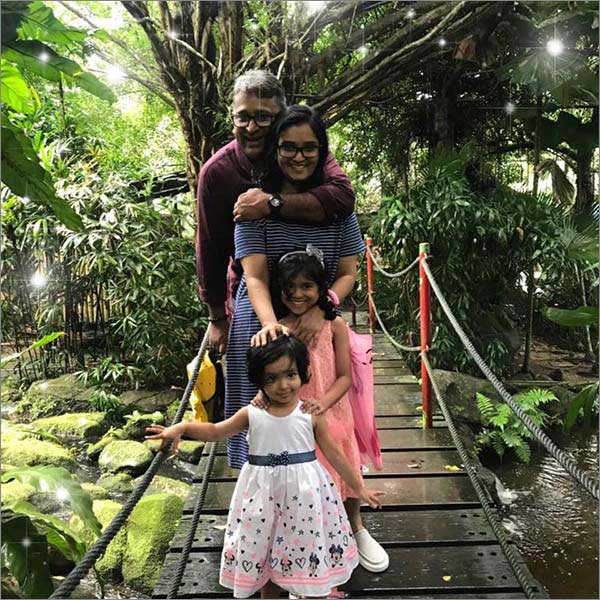 A common misconception is that billboard advertising targets consumers better than transit advertising, but it's not the case. If executed well, transit advertising can deliver better results as compared to static billboards. In fact billboards does not provide full market coverage or the ability to reach at multiple locations.
Haresh Nayak, Group MD, Posterscope South East Asia shares, "Both static and transit OOH are effective in terms of brand awareness, equally important in their space, and usually works best in combination. Ideally static is good for impact and transit is largely good for reach and frequency."
According to Rachana Lokhande, CO-CEO, Kinetic India, "Transit media is a high frequency media and I feel it works best for a brand when it wants to drive footfalls to stores."
She points out, "Every medium brings to life its own uniqueness to add value to the campaign. To measure how effective a campaign is on any medium, we need to analyse how strategically the campaign has been planned based on the objective of each brand."
Earlier, brands tend to shy away from internal transit advertising because of the lack of audience measurement data and perception of how potent it can be. Today, the situation is slowly changing and advertisers are exploring ways to utilise the full potential of transit advertising. Though, it has its own demerits like the time spent by the viewer on the ad is not much, lack of space as compared to billboards and one time communication, which ultimately does not build a relation with the viewer.
But, advertisers are turning these shortcomings in the favour of transit advertising and discovering new ways to attract viewers on the go. One such example is wrapping up the entire metro train and buses. It immediately grabs the attention of travellers and helps the brand communicate its message more effectively.
Other advantages of Transit advertising is that it can't be turned off like a television, delivers a varied audience, offers flexibility of ad size and location and longer shelf life. People usually spend up to 9-11 hours outdoors, leading to exponential growth of transit medium.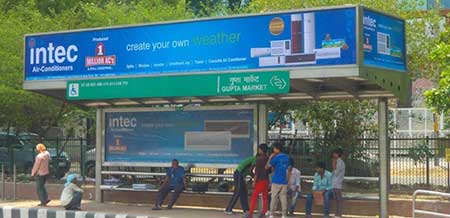 Sailesh Loni, Associate Vice- President, Laqshya Media Group believes, "Both the medium are effective but transit as it congregates people at multi- locations, and demands high dwell time from the audience yields better results. The main benefit of transit OOH is the flexibility. You no longer have to buy the billboard space for a set long-term duration. In moving OOH, content is fresh for a longer time and passers buy don't see the same creative every time they pass by the board."
Though, static billboards still represent more than half of the outdoor advertising inventory in most markets. They have endured as a prime brand awareness medium.
We asked experts, in terms of innovation and experimentation, who is leading the way between the two? Alok Gupta, Director, Graphisads said, "It purely depends on how the creative agency visualises the medium and adapts. Static OOH still has the edge because of the innovative adaptations available."
Nayak describes, "Experimentation has innovation and you can ideally do good experimentation when you are innovative."
Loni defines, "Static allows a lot of innovation till date, but now authorities involved in transit have started understanding the need of the hour, and slowly adapting to innovations."
Moving OOH reaches to a large number of people in a short span of time. Brands have been utilising money and time to get the desire results from Transit. It is great for areas, where static and digital OOH can't reach out to people. Nayak tells, "Transit has great benefit of reaching in media dark areas and also has benefit of creating a halo effect for the campaign."
Noomi Mehta, Chairman and Managing Director, Selvel One opines, "The greatest advantage Transit has is a captive audience. A controlled environment and sharper targeting are also considered valuable benefits. But then the same advantages apply to Malls advertising which cannot be bracketed as Transit."
Tier II and III cities are gaining prominence as transit OOH reaches to spaces where static and digital OOH face issues. It has given the OOH industry a fresh boost to reach out to wider set of audiences.
Though, Gupta believes, Transit media is expensive than static or traditional OOH mediums. "Consumer behaviour is not conducive to receptiveness as people are in a hurry. Target audience it caters to is very limited compared to traditional media. I wonder why clients are willing to pay Rs 700-800/- per square feet for metro stations, whereas outside media is available at Rs 400-500/-per square feet (Delhi Metro vs city media options). Do brand managers feel that consumer gets dropped at his home from metro? For all practical purposes he has to go outdoors to reach the home, then why to settle for smaller target audience at higher cost," he said.
No medium eats any other medium, it's the inability to adapt and serve the campaign objective which kills, both medium are distinct have their own pros and cons.
"Static media formats help in building higher brand recall whereas, high frequency transit helps in achieving more reach and delivering the finer brand messages to audiences. To make any medium effective, it completely depends on how strategically it is being used to provide efficient solutions to brands", concludes Lokhande.
At the NEONS OOH Conference and Awards 2019, Lokhande CO-CEO, Kinetic India will speak on 'Measuring Impact in OOH Advertising: Practical or Impossible'?

by
Published - 04-March-2019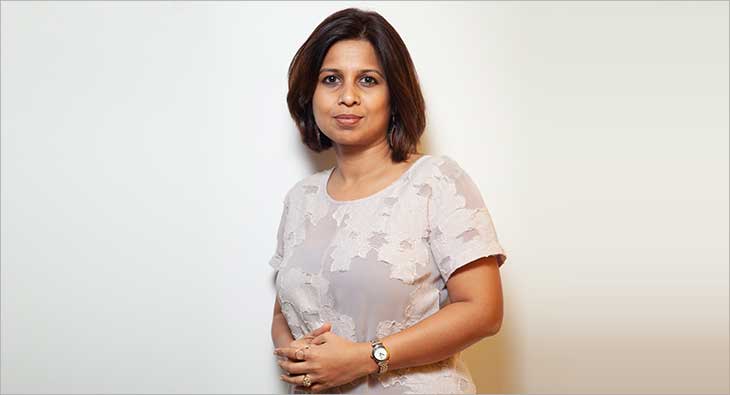 Out of Home is going through a big shift; the integration of digital is adding more value for marketers who have often raised concerns about the lack of measurement in the OOH domain. The industry has embraced innovation in all parts of the business to keep pace with where advertising and the consumer are headed.
This year at the ninth edition of the NEONS Awards & OOH Conference 2019, Rachana Lokhande, CO-CEO, Kinetic India, will be one of the esteemed speakers at the conference. She will address a session on 'Measuring Impact in OOH Advertising: Practical or Impossible?' The event will take place on 8th March, Leela Ambience, Gurguram.
Lokhande has over 16 years of experience in end-to-end business operations and retention, driving large scale revenue and profit gains and improving organizational performances through investments and account management. She is also the first woman CEO in the OOH industry in South and South East Asia under 40. Under her leadership, Kinetic India's overall business grew by 19%.
With a post-graduate diploma in Mechanical Engineering and a bachelor's degree in Mass Communication, Lokhande began her career in the Out-of-Home industry as a media planner and buyer at Ensure Outdoor Advertising.
She is highly skilled in launching businesses from scratch, restructuring organizations and transforming non-performing BUs into top-performers; bringing in 3X growth in HUL & Amazon business in a duration of 4 years in her previous role as business head at Rapport. Lokhande is best known for her efficiencies in streamlining operations, invigorating businesses, heightening productivity, systems & procedures.
Being a tech and innovation enthusiast, she works actively on building centralized functioning with technologies and driving digital innovations.
The OOH Conference & Awards seeks a way forward and aims to address ways in which the industry can overcome the challenges related to OOH advertising. With the first eight editions being highly endorsed by the Industry, this edition will recognise and reward the exceptional work in OOH Advertising and Digital Signage from the period of January 2018 to December 2018.