'Keep growing Wavemaker, and get to No. 1 in India'
Toby Jenner, Global Chief Executive Officer of Wavemaker, spells out his mandate for the agency's South Asia CEO Kartik Sharma on his maiden visit to India after assuming his new role in September
Six weeks into his new role of Global Chief Executive Officer at WPP's Wavemaker, Toby Jenner is busy picking up the nuances of his new job and travelling to each market to learn about the strengths and opportunities inherent in each to formulate the strategy that will help him lead the media, content and technology agency, going forward. A WPP veteran of 23 years and former COO of MediaCom, Jenner is on his maiden visit to India, and talks to exchange4media about growing the agency, mandate for the India leadership and what he wants Wavemaker to stand for.
Here are excerpts from the conversation:

Two years after the merger of MEC and Maxus, how has the new agency Wavemaker fared? What is your assessment of its performance?
I am really impressed with what I have seen so far of the Wavemaker network. I have spent time with Kartik (Sharma) here in India. I met with the Asia Pacific team in Bangkok. I met the CEOs of UK, Germany, France, Italy, Spain, Poland, the US… and I am really impressed with the quality of leadership that we have in our organization. I am also impressed with the scale of the business. We are one of only six WPP businesses that are in excess of a billion dollars in net sales or revenue. I have been very impressed with the local nature and entrepreneurial spirit within the organization. It's important for me to learn and understand the strengths and opportunities. Then, I will look at how we globally align the network, share and reapply the great work that Kartik and his team do in India across multiple markets and vice versa around the world. So, my first six weeks at Wavemaker have really been about meeting people and learning as much as I possibly can to fuel the strategy that we will develop moving forward.

Now that Wavemaker's launch and transition phase are over, what are your top priorities in leading Wavemaker globally and charting its growth strategy in the next couple of years?
At Wavemaker, we have merged two businesses, one that was very strong in Asia, and one that was really dominant in Europe; today it's a powerhouse, and among the top five global networks. When you merge any two businesses, a lot of the time it's quite inward-looking because you have to get the processes and procedures in place, set up the people. Now we have a real opportunity to look forward to what we want Wavemaker to stand for, what is the DNA that makes Wavemaker the business it is. And then what is the product, what is the work that we want to produce on behalf of our clients that underpins the proposition that we create and vice versa - the proposition needs to reflect the work that we produce for our clients. More broadly, I want us to keep growing our clients' business, I want to keep growing our people, and I want us to keep growing Wavemaker as an organization. If we have a really compelling proposition, that Wavemaker stands for, and a really compelling product that supports that, then we will have great opportunity moving forward.

Which are the most promising markets for Wavemaker and where do you see the next leap of growth happening?
All our markets are hugely important. Our markets in South East Asia, India and China, are full-fledged powerhouses within our network. There are import markets and there are export markets. India is an export market. We need to take the very best of the work that we are producing in India and cascade it across the rest of the world. The opportunity is to share and reapply brilliant work wherever it happens in the world. For example, we have an amazing content business in the Philippines, an amazing e-commerce business in Shanghai, China. The size of a market is much more about the capabilities within that market. Even if there are 20 people, who are brilliant at what they do, then it's our job to make sure that everyone has access to that capability. That is a huge opportunity; winning global clients is a huge opportunity. We have been built on lots of very strong local market businesses, and we need to complement that with lots of global businesses around the world.

Most marketers today are looking to get more and pay less. They are tightening their purse strings, and have a short term view of their business, focusing on immediate numbers. How do you deal with that?
There is danger for a marketer if they only focus on the here and now. Anyone can chase sales. I think it's important that you chase sustainable sales. There is absolutely a balance to be had between brand and performance. One of the central roles of our business is to ensure we get that balance right. So, the clients have got great results, both short, medium and long term.

What is the importance of India as a market in the global scheme of things? Where would you place India if you were to rank the markets?
UK, India, France and Italy are our four best-ranked markets. Italy is at No. 1, the other three are at No. 2 position. The overall ranking of our business around the world is at No. 4-5. And in India, it is ranked at No. 2, with 12 per cent market-share. Our global average market-share is about 5 per cent, so it's twice the global number. India is a hugely important business for us. That's before you get into the IP that's produced in India. Going forward, just as it is starting to happen in China, India is a market where clients will need networks externally. Clients that are Indian businesses but growing and looking to expand beyond India… I would really like to take advantage of that as an opportunity for us, moving forward in the next few years.

What are your expectations from Kartik Sharma? What is your brief to him?
Keep growing! Keep growing our staff, our talent. Keep growing our clients. And keep growing Wavemaker. We can over-complicate things as an industry, but we just want to simplify things. We have got a fantastic business here. How we can share and reapply some of those learnings that made the business that Kartik leads so brilliant externally is part of the job. Ultimately, I would say keep growing our clients, keep growing our people, and keep growing Wavemaker, and get to No.1.
Read more news about (ad news, latest advertising news India, internet advertising, ad agencies updates, media advertising India)
For more updates, be socially connected with us on
Instagram, LinkedIn, Twitter, Facebook & Youtube
Mascot Monday: How Pillsbury Doughboy kept the brand proposition fresh
Poppin Fresh AKA the Pillsbury mascot just turned 58 on March 18
Pudgy, squishy and temptingly pinchable – words that describe not only the perfect piece of dough but also the mascot of flour brand Pillsbury. The rotund, anthropomorphic "Dough Boy" has been associated with the flour brand for over half a century. According to Pillsbury lore, the mascot idea was born when a Leo Burnett copywriter was testing the dough in his kitchen. Since then, Doughboy has starred in 600 ads and has promoted over 50 Pillsbury products.
Fresh start
Pillsbury originally sold dry goods, focusing mainly on flour, but eventually diversified to cake mixes, biscuit mixes, pasta, etc. In 1965, it forayed into refrigerated dough products with the launch of Pillsbury Crescent Rolls.
Rudy Perez, a copywriter working for Leo Burnett, was assigned the Pillsbury account for the new product. Perez, tasked with designing a mascot for the brand, pictured a humanoid dough emerging from a can of refrigerated Pillsbury Crescent Rolls can.
Perez envisioned him with a cherubic face, blue eyes, a scarf, and a chef's hat to give him some character. He also imagined letting out a gratified chuckle "hoo-hoo" whenever someone poked his doughy stomach.
The design was brought to life by Milt Schaffer, who also worked for Disney. Perez initially worried about the mascot looking too similar to Casper the Friendly Ghost, given its cherubic appearance and white colour; however, Schaffer ensured that the mascot bore no resemblance to the much-loved cartoon character.
Leo Burnett teamed up with Los Angeles-based Cascade Studios to animate the mascot with stop-motion clay animation.
With a single second of the film comprising 24 shots, it was a tall task to bring the character to life. Only in 1992 did the company replace stop-motion with CGI animation.
Over 50 voice actors auditioned for the role of the legendary mascot, and eventually, Paul Frees was selected.
Fresh facts
Widely known simply as Pillsbury Doughboy, the pudgy little mascot was originally christened Poppin Fresh. He introduces himself in the mascot's first commercial aired on November 7, 1965: "I'm Poppin' Fresh, the Pillsbury Doughboy!"
He is known as "El Masin" in Latin America, "Teigmännchen" in German-speaking countries, and "Efi" in Israel.
The child-like appearance of the mascot was meant to evoke feelings of friendliness, charm and trust among consumers. Over the years, Doughboy's role underwent a change from being just a mascot to a kitchen helper, offering encouraging words to the ladies and lending a helping hand to them. Eventually, in the ads, he went on to explain new product attributes such as resealable packages.
"His durability lies in human involvement ……That's why you have to give him a meaningful role within the context of each commercial as if he were the lead player in a 30-second drama. And it all has to be cute and human," said Leo Burnett about the icon.
Being a mascot for a flour brand may seem like a boring proposition. Still, Poppin has been a dynamic character, donning hats of an opera singer, rapper, rock star, painter, dancer, skydiver, skateboarder and many more. He's even been a cuckoo inside a cuckoo clock.
Poppin endeared himself to the American public. By 1968, he could be picked out by 9 out of 10 people, giving him a recognition factor similar to US presidents. According to General Mills, which owns Pillsbury, the mascot had an 87% recognition factor among consumers within three years of its introduction. With all the years that have passed, the recall has only gotten stronger.
The mascot, who recently turned 58, is listed among the top 10 ad icons in the Museum of Broadcast Communications. In 1999, he was ranked 6 among by the Advertising Age.
He even got a wife "Poppy Fresh", created by Perez's colleague Carol H Williams. She had the same cherubic features as her husband, complete with blue eyes and chubby cheeks. While her husband Poppin was a mascot for the dough products, Poppy endorsed Pillsbury's sweet products like Danishes.
Even back then, the ad executives were aware of the semantics of using a female mascot, and for the sake of consent and Poppy's modesty, she was never poked in the belly like her husband.
The brood eventually increased and the couple went on to have two children: Popper and Bun Bun. Other characters were later added to the Dough Boy universe such as Granmommer (the grandma), Granpopper (the grandfather), Flapjack (the pet dog), Biscuit (the pet cat) and Uncle Rollie (the uncle).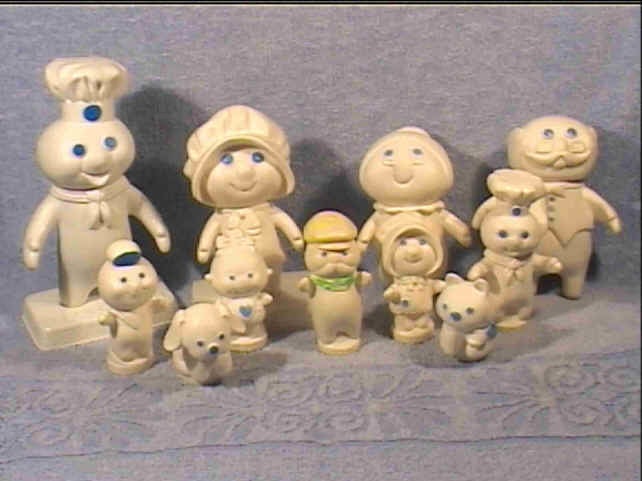 The Fresh family was so beloved by the masses they were turned into vinyl toys in 1972.
Pillsbury comes to India
The brand entered the Indian market in 1996 with Pillsbury Chakki Fresh Atta, becoming the pioneer of packaged wheat flour in India. The product became an instant hit among housewives who loved the convenience of buying readymade atta instead of the long and arduous process of drying and cleaning the grains and grinding them at the "chakki" or flour mill.
A part of the product's success in India can be attributed to the Doughboy who starred in the TVCs, helping housewives make piping hot rotis. Indians were quick to connect with the cute mascot who retained his distinct "hoo-hoo" laugh on being poked in the belly even in the Hindi commercials. More importantly, it created an instant recall for the brand thanks to Poppin's endearing screen presence.
The universally endearing traits of an innocent face, rotund belly and child-like chuckle made Pillsbury Doughboy the icon he is today worldwide. Even more than half a century later, he continues to create instant recall for the brand.
Conflicting stories?
Recently, Chris Richmond, the founder and president of Moving Pillsbury Forward, said that he found an early prototype of the Doughboy, scribbled on a piece of paper at the Springfield plant of the company.
According to Richmond, the drawing was made before General Mills' origin story and could conflict with the company's account. The owners of the plant have hired a patent and trademark attorney to shed more light on the origins of the mascot.
Ref:
The Oxford Companion to American Food and Drink. (2007). United Kingdom: Oxford University Press.
General Mills website
Read more news about (ad news, latest advertising news India, internet advertising, ad agencies updates, media advertising India)
For more updates, be socially connected with us on
Instagram, LinkedIn, Twitter, Facebook & Youtube
e4m Chill Out: Weekends in Goa & next vacation in Japan, says FCB Ulka's Keigan Pinto  
For this edition of e4m Chill Out, we have Keigan Pinto, CCO, FCB Ulka, sharing his love for food, his idea of a weekend and more
Keigan Pinto, the Chief Creative Officer at FCB Ulka, is sure that his next vacation will be in Japan.
In this edition of e4m Chill Out, Pinto speaks about his life outside work and how he spends his 'typical' weekends in Goa with his parents.
Pinto also shares that he loves food but cannot put together a meal.
While he wants to polish his Urdu and pick up more Arabic words, he confesses that he is a grammar nazi.
Watch the full conversation here:
Read more news about (ad news, latest advertising news India, internet advertising, ad agencies updates, media advertising India)
For more updates, be socially connected with us on
Instagram, LinkedIn, Twitter, Facebook & Youtube
Noise's World Sleep Day campaign underscores the importance of healthy sleep cycle
The #GetYourEight digital campaign reiterates the vitality of getting in your eight hours of sleep to ensure productivity
Noise underscores the importance of eight hours of sleep with the launch of their digital campaign #GetYourEight this World Sleep Day. With sleep accounting for nearly one third of our lives, our daily routines and behavior can be impacted without a healthy sleep cycle. The campaign is a visual reminder of what your day will look like sans eight hours of sleep. The social media campaign shows a video of a person walking around lifeless and exhausted like a Zombie, emphasizing further on what one will look like without 8 hours of sleep.
Sleep is an intricate and complex mechanism which has been studied by researchers from around the world. The importance of eight hours of sleep has been emphasized multiple times. Research conducted by Global Council on Brain Health (GCBH) has highlighted that upto eight hours of sleep each day is crucial to maintain brain health, even as one ages.
Keeping in line with this, the Noise #GetYourEight digital campaign, currently live on Instagram with a mix of reels and quirky posts around sleep, is a gentle reminder to get your eight hours of sleep. Furthermore, sleeping for the recommended number of hours is vital, but what's even more vital is how well you sleep. It specifically entails determining how peaceful and restorative your sleep is which can be determined by the duration, continuity and depth of sleep. Noise, with its smart wearable technology helps users track and improve their sleeping pattern and sleep cycle. In addition to Noise's feature-rich smartwatches, the NoiseFit app, one of the top health tracking apps in the app store offers a one-stop solution to meaningful insights that elevate the quality of sleep while closely monitoring sleeping patterns. The app gives users their sleep score based on different parameters informing them about the quality of their sleep while providing inputs on how to improvise them. Not just that, it shows the heart rate variance during sleep which gives the user a complete graph of his heart rate during sleep.
Read more news about (ad news, latest advertising news India, internet advertising, ad agencies updates, media advertising India)
For more updates, be socially connected with us on
Instagram, LinkedIn, Twitter, Facebook & Youtube
Virat Kohli says 'Har Ghar Banega Stadium' in new Star Sports campaign for Tata IPL 2023
The promo has been created and conceptualized by TILT
Ahead of the TATA IPL 2023, Star Sports' latest campaign 'Shor On, Game On' has taken social media by storm with viewers and fans expressing their delight. Upping the ante, the official television broadcaster of the marquee tournament has unveiled its next promo featuring none other than Virat Kohli with a clarion call – 'Har Ghar Banega Stadium'.
IPL brings the whole country together for the love of the game and their favorite teams. Star Sports is celebrating the fans who truly make this game special. This film brings to life the IPL fan cohort called "Shor Squad" who feel that IPL is best enjoyed with grandeur and Shor. They truly live the maxim of 'More the fans, more the Shor, thus more the excitement'.
The promo, created and conceptualized by TILT, highlights the experience and the thrill of watching IPL along with friends and family. King Kohli invites fans to watch the marquee tournament on TV along with friends and family, transforming every house into a stadium.
Speaking about the promo film, Virat Kohli said "The Star Sports 'Shor On, Game On' campaign captures the essence of what makes the TATA IPL so special - the passion, the energy, and the sheer joy of fans watching the game together with friends and families. The campaign encourages fans to be loud and proud as they cheer for their favourite teams, creating an atmosphere that is electric, filled with excitement, and where the passion for the game shines through."
Sanjog Gupta, Head- Sports, Disney Star said, "Fans love watching sports because of how immersive, emotional, and communal the experience is. Star Sports' brand of storytelling focuses on building compelling narratives, bringing fans closer to the heroes, and elevating micro-moments of awesomeness. This, complemented by the ease of access, virtues of viewing on the big screen, and introduction of new features on TV, make Star Sports the most preferred destination for IPL 2023."
"Virat Kohli has personified Star Sports' philosophy of 'Believe' for many years. His long-standing association with the brand is testament to our shared values of determination, excellence, and a relentless pursuit of greatness. His character and drive have inspired a generation of youngsters while his persona galvanises Cricket fans across the country. We are glad to add a new chapter to this association with Virat, which seeks to bring people together to experience the spectacle of IPL in its full glory only on TV" he added.
Star Sports will unveil more films featuring top cricketers like Rohit Sharma, Shreyas Iyer, Hardik Pandya, and Ravindra Jadeja along with winners of #FanBanegaStar contest leading to the start of the mega tournament. TATA IPL 2023 will kickstart on 31st March 2023, with a blockbuster clash between Gujarat Titans and Chennai Super Kings in Ahmedabad at Narendra Modi Stadium. Whether it's cheering for their favourite team or sharing adrenaline-pumping moments with friends and family, Star Sports promises the most immersive and engaging viewing experience on television possible this season.
Read more news about (ad news, latest advertising news India, internet advertising, ad agencies updates, media advertising India)
For more updates, be socially connected with us on
Instagram, LinkedIn, Twitter, Facebook & Youtube
Bank of Baroda shows how to get #LoansWithoutDrama
The campaign has been released during the Women's IPL as the bank is an associate media sponsor
Bank of Baroda (Bank) has announced the launch of the #LoansWithoutDrama advertising campaign that does a humourous take on two popular movie-based characters to communicate the ease with which it is possible to digitally apply for and get approval for a home loan or car loan from Bank of Baroda in just 30 minutes.
The #LoansWithoutDrama home and car loan campaign zeroes in on the insight that buyers typically love to add a little bit of drama as they speak to their family and friends about a recent purchase. In the process, they tend to slightly exaggerate and tell a dramatic story. The ads end with a twist when it is revealed just how easy it is in fact to get approval for a Bank of Baroda digital loan - in just 30-minutes and without any drama or hassle. The ads also convey the rising aspirations of today's customers with a trusted partner like Bank of Baroda by their side.
Given the high anticipation and the eyeballs expected, the #LoansWithoutDrama home and car loan TVCs are being launched during the inaugural edition of the Women's Premier League (WPL). Bank of Baroda is an associate media sponsor of the WPL. Supporting the WPL is in line with the Bank's philosophy to back emerging Indian sporting talent, particularly women, and build a long-lasting partnership. Incidentally, the Bank's Brand Endorser, Shafali Verma, a young, promising talent, is among the star cricketers playing in the first edition of the WPL.
V G Senthilkumar, Deputy General Manager, Head - Marketing & Branding, Bank of Baroda said, "It is generally presumed that applying for a loan is a cumbersome process in which one must go through a long and tedious process to avail the loan. We wanted to break that myth and showcase the simplicity of the Bank of Baroda Car & Home Loan process and do it in an entertaining and eye-catching format to grab the viewers' interest. Customers today are looking for a financial partner that not only empowers them to achieve their dreams and financial goals but also enables them to do it in a quick, seamless and trouble-free manner. And hence, Bank of Baroda's #LoansWithoutDrama is the answer to their financing requirements."
Read more news about (ad news, latest advertising news India, internet advertising, ad agencies updates, media advertising India)
For more updates, be socially connected with us on
Instagram, LinkedIn, Twitter, Facebook & Youtube
Joy Personal Care gets Disha Patani as brand ambassador
The actor has kicked off a digital campaign for the brand
Joy Personal Care has announced actress Disha Patani as an ambassador for its sunscreen category in India. A campaign introducing Disha and the new product range is live across digital and social media platforms.
Disha Patani will be featured in a campaign aimed at promoting awareness for Joy's newly launched product range. As a part of the campaign, a TVC with Disha will also be rolled out in the coming month during the men's T20 cricket league.
Sunil Agarwal, Chairman of RSH Global, said, "The newly launched sunscreen range is an exciting development for JOY, as we continue to provide customers with a wide variety of products that meet their changing needs. Our sun protection range is designed to offer superior protection from damaging UV rays and other environmental pollutants while nourishing and brightening the skin. By further strengthening our sunscreen category, we aim to consolidate our position in the Indian personal care market, providing high-quality sun protection products that are both effective and affordable."
Poulomi Roy, CMO of RSH Global, said, "We are happy to have Disha Patani as the new face of our sunscreen range. Her energy and enthusiasm will be the perfect partner to help us create an engaging campaign that will bring our advanced sunscreen range to life. We have carefully crafted a comprehensive campaign for our newly launched sunscreen range which takes into account the latest trends in skincare technology, customer needs and preferences, and the competitive landscape. We are confident that with Disha on board, the campaign will not only create awareness but also help us reach our target audience and drive sales of our new sunscreen range."
Talking about her association with Joy Personal Care, Disha Patani said, "I'm thrilled to be joining Joy Personal Care family. Protecting our skin from the sun's harmful rays is essential, and Joy's natural sunscreen products are the perfect choice. Their broad range of sun protection products caters to all skin types, making sure everyone can find the perfect product for their needs. I'm confident that with Joy's sunscreen product range, everyone can remain safe and enjoy the sun."
Read more news about (ad news, latest advertising news India, internet advertising, ad agencies updates, media advertising India)
For more updates, be socially connected with us on
Instagram, LinkedIn, Twitter, Facebook & Youtube
Lux Cozi ropes in Vijay Deverakonda as its brand ambassador for south markets
Brings new TVC with the actor titled Super Feel
Lux Industries Limited has roped in actor Vijay Deverakonda as the brand ambassador of Lux Cozi for the South market. To this effect, Lux Cozi is currently running a new television commercial campaign titled 'Super Feel' which features Vijay, emphasizing the comfort that Lux Cozi products provide to its customers of all ages. Yellow Beetle Films has created this 30-second TVC campaign, which is directed by Deven Munjal and Vaibhav Misra.
Ashok Todi, Chairman, Lux Industries, stated, "Lux Cozi has witnessed remarkable growth since its inception and has been keeping a stronghold in the inner garment sector by its constant innovation and marketing strategies to connect with the audience. Being a consumer-driven brand, we believe in appointing brand ambassadors who help our customers connect better with us. We are confident that Vijay's onboarding as an ambassador of Lux Cozi, will help us to collaborate better with our consumers in the South."
Saket Todi, Executive Director, Lux Industries, said, "Lux Cozi has an extensive market presence in the rest of India and under our strategic brand approach, it is now time to focus on capturing around 35% market share in South India in the next six months. Thus, we have associated with Vijay to help establish an instant connect with our target consumers in the south and ensure a deeper penetration and recall of our brand among them. Vijay's dedication to staying fit, healthy, and always charming admirably synergizes with Lux Cozi's brand ethos of ensuring comfort and a durable lifestyle. We strongly 'feel' that the campaign will be appreciated well by our consumers."
The TVC begins with Vijay Devarakonda walking through an ignited walkthrough on a film set wearing a Lux Cozi vest, with the Lux Cozi undergarment strap visible on his waist. He mentions "Super Feel Undi Ro!" to the surprise of the director. This happens two more times, each time on adventurous sets, demonstrating Vijay's effortless machismo and the director's growing confusion. Finally, the director walks up to him and asks what he is talking about. Vijay smirks, spins her around in his arms, and points at his Lux Cozi vest. We see Vijay walk back towards the camera and repeat, "Lux Cozi Super Feel Undi Ro!"
Deven Munjal, Director, Yellow Beetle Films, said "While working on the ad, the only thing we focused on was the word 'feel'. Lux Cozi being an undergarment brand, has always focussed on comforting the consumers with a feel-good factor when one wears it. We curated the TVC keeping that in mind. We thoroughly enjoyed working with Vijay and making the TVC; we hope that it will be loved by every single consumer as well."
Read more news about (ad news, latest advertising news India, internet advertising, ad agencies updates, media advertising India)
For more updates, be socially connected with us on
Instagram, LinkedIn, Twitter, Facebook & Youtube