A desi ad: Do we need it?
Sir John Hegarty loved IPL ads that were Indian. This begs the question: what is Indian and is Indian exclusively desi?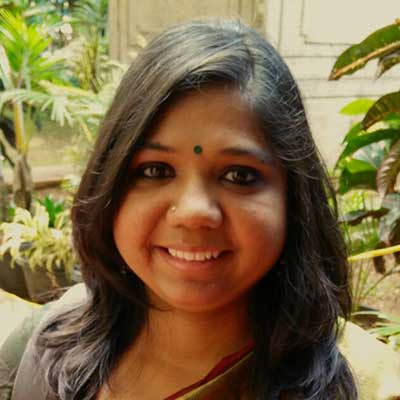 by
Published - 11-June-2018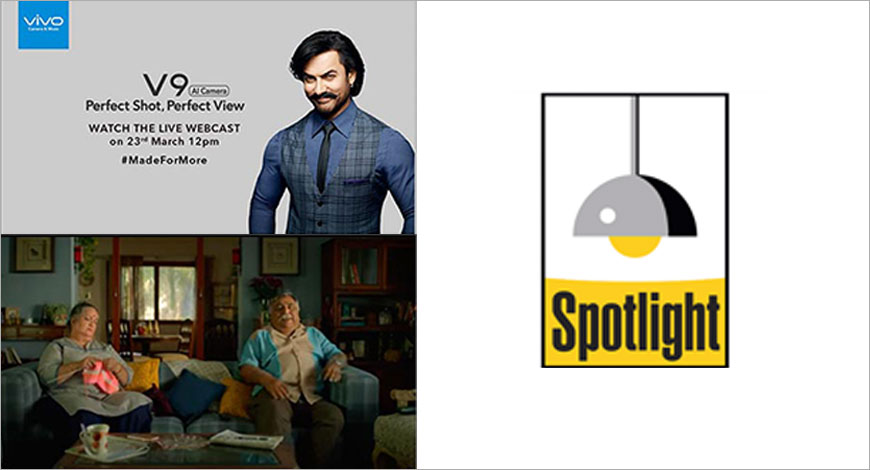 The reach of the Indian Premier League (IPL) is vast. In 2018, it had a combined reach of 769 million viewers with Hotstar contributing 202 million. The final match between Chennai Super Kings and Sunrisers Hyderabad last month garnered 55.6 million impressions. Twenty-two per cent of the IPL viewership came from the regional language broadcasts. Star India promised to go "deeply local" this IPL, launching multiple regional language channels to tap into the viewership from Tamil Nadu, Karnataka, Andhra Pradesh, Telangana, and West Bengal.
The IPL, now in its 11th year, presents a unique platform to advertisers; it garners a loyal viewership across demographics. Brands ranging from FMCG and automobile to paints and adhesives; all jump on the IPL bandwagon cashing in on the annual sporting extravaganza. They all craft a special IPL ad speaking the language the nation is speaking -- cricket. These are India's equivalent of the SuperBowl ads.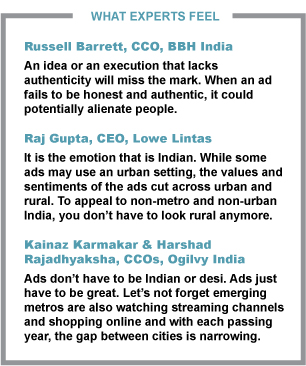 Ad world legend Sir John Hegarty watched these ads and had an interesting observation to share. He said the ads that stood out were the ones that gave him a taste of India. He could count only a handful of ads that truly inspired him and stayed true to the Indian context. This begged the question: what's Indian and is Indian exclusively 'desi'?
Indianness is fairly varied and textured. It's as diverse, in fact, as India herself. But what really connects our audience to the message is authenticity.
An idea or an execution that lacks authenticity will miss the mark, points out Russell Barrett, CCO, BBH India. The Indianness factor aside, Barrett says, what he looks to achieve with his ads is communication that is authentic to the audience the brand taps into."When an ad fails to be honest and authentic, it could potentially alienate people," he says.
Even though the IPL is a media event that gives brands a massive opportunity to speak to various strata of society, "a smart brand will still sharply speak to its core audience," Barrett says. "A really good idea might even use the context of the IPL for a more entertaining and memorable campaign, but you can't forget who your audience is," he adds.
It is all about striking a delicate balance with a clutter-breaking but not niche enough communication that could alienate viewers.
Kainaz Karmakar and Harshad Rajadhyaksha, both CCOs at Ogilvy India (West), say, "Cricket runs in the pulse of the country, irrespective of the socio-economic standing of the cities. So when an agency is briefed on an IPL campaign, the task is exciting and daunting. Your idea and execution has to not just be on the brief but also breakthrough to be noticed. Your humour or emotion cannot be so niche that it excludes anyone watching the match."
Raj Gupta, CEO of Lowe Lintas, believes it is the emotion that is Indian. The IPL ad by Lowe Lintas for Swiggy that encapsulates the promise of no-minimum order with a viewer's desire to sneak in a quick gulab jamun during the ad break has been loved and shared this IPL season.
Ads are also limited by the purchasing power and where it is concentrated in India. Gupta says that while some ads may use an urban setting, the values and sentiments of the ads, like in those of the Surf Excel or the Tanishq ads, cut across urban and rural. "To appeal to non-metro and non-urban India, you don't have to look rural anymore," he believes.
Karmakar and Rajadhyaksha are the creative minds behind the Aamir Khan ad for the latest Vivo phone, which is another favourite this IPL season.
What's not to love about Aamir Khan, a cat, and a dog all in the same fame promoting an unlikely product -- a phone! With a few tweaks, this ad could work in any part of the world. They believe that ads don't have to be 'Indian' or 'desi'.
"Ads just have to be great. Let's not forget emerging metros are also watching streaming channels and shopping online and with each passing year, the gap between cities is narrowing," they say.
Indeed, the gap is narrowing and the aspirations are getting bigger and bigger. Amazon India tapped into that sentiment of small-town India last IPL and this year too.
Amazon India is the one-stop shop that makes everything accessible to the Chonkpur Cheetahs who have big dreams to play in the Indian Premier League. It has all the flavours of small-town India right down to the well-thought-out names and character attributes for each player in the team.
But does this really work for people watching the ad from small-town India?, wonders Prathap Suthan, CCO Bang In The Middle. He feels that this ad may appeal to a different class of people who may already have access to the things Chonkpur Cheetahs are still looking for. And that the small-town viewers may instead have aspirations to be the Aamir Khan in the Vivo ads.
In the end, there is just one thing that matters, and that's not whether an ad was Indian or not. In the wise words of Karmakar and Rajadhyaksha, "If you have created an IPL campaign that has been remembered, recalled and sold your client's product, then you have done your job very well. You can treat yourself to a nice meal."
For more updates, subscribe to exchange4media's WhatsApp Channel- https://bit.ly/2QUdLCK
The campaign intends to promote contactless everyday payments in India

by
Published - 6 hours ago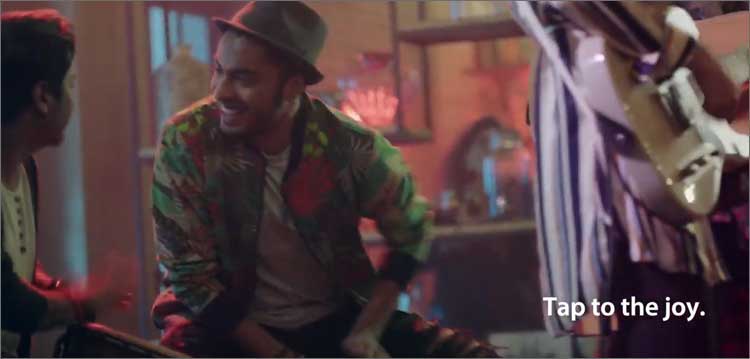 Isobar India, the digital agency from the house of Dentsu Aegis Network, has collaborated with Visa to launch the 'Tap to pay with Visa. Just like that.' campaign. The campaign intends to promote contactless everyday payments in India. Isobar, the core communications and creative partner for this, has not only conceptualised and built the 'Just like that.' platform across TV, digital, OOH and print but has also spearheaded the campaign's ingenious TVC.

Commenting on the launch, TR Ramachandran, Group Country Manager for India & South Asia – Visa, said, "The campaign, 'Tap to pay with Visa. Just like that.' is designed to drive consumer awareness of contactless payments by drawing attention to their simplicity. Through this campaign, we are trying to induce a change in consumer habit, showcasing that payments can be a lot simpler than you think. Visa data shows that the lion's share of face-to-face transactions, about 87%, are of below Rs 2000, also the threshold for contactless transactions. We are constantly working to transform digital payments through technology and a contactless card makes such payments frictionless. The campaign brings to life the thought that a tap, a simple action we inadvertently do every day, can mean much more and can actually help make everyday payments simple."
On the launch of the campaign, Shamsuddin Jasani, Group MD, Isobar South Asia said, "We are very excited and honoured that Visa has believed in us to work on such an important campaign. The work we have done on this campaign reflects our ethos of ideas without limits. I am really proud of the team who have been able to transcend mediums to deliver this project."
Speaking about the campaign, Anish Varghese, National Creative Director, Isobar India, states, "The brief was pretty simple: 'How can we drive the practice of Visa's contactless card for everyday spends?' When we dug deep, we realised that it's a complete behaviour change - from dipping to tapping of the card. We looked for a lingo which millennials can relate to and a behaviour that an older audience can adapt. Tapping has been a part of our culture since ages, be it dance forms like odishi or bharatnatyam, or even playing an instrument like the tabla or a cajon. We even tap a piece of furniture before buying. That's precisely why we weaved this campaign around - the cultural insight of tapping, and narrated it as 'Tap to Pay with Visa. Just Like That.' which is relatable, authentic and captures the brand's unbound spirit."
The TVC focuses on situations that depict the way a person taps in everyday life – like an odissi dancer tapping her feet; tapping a spatula while cooking; double tapping to 'Like' something on social media, or children tapping their feet while playing hopscotch in the streets. It then goes on to show how to make a payment with a Visa contactless card by simply tapping on a payment terminal. It draws from the local colloquialism to convey the simplicity and convenience of making cashless payments through the card and creating a payment experience for cardholders, just like that.
Agency Campaign Credits:
Executive Vice President: Shekhar Mhaskar
National Creative Director: Anish Varghese
Business Head: Prashant Lodaya
Creative Director: Ranjeet Kumar
Account Lead: Varun Mundra
Art Team: Nikhita Sancheti, Mayuri Hukeri, Lekha Kambli & Salman Shaikh
Copy Team: Amrita Dey, Abhimanyu Rathore & Kenneth Keymer
Social Media Team: Saumya Chitravanshi & Percy Karat
Agency Head of Films: Taj Ali Naqvi
Associate Agency Producer: Ronit Deb

Production Team:
Production House: Offroad Films
Director: Azim Moollan
Executive Producer: Khalil Bachooali
Producer: Anirudh Sharma
For more updates, subscribe to exchange4media's WhatsApp Channel- https://bit.ly/2QUdLCK
A global survey to measure conviviality conducted with OpinionWay reveals a world increasingly less friendly

by
Published - 7 hours ago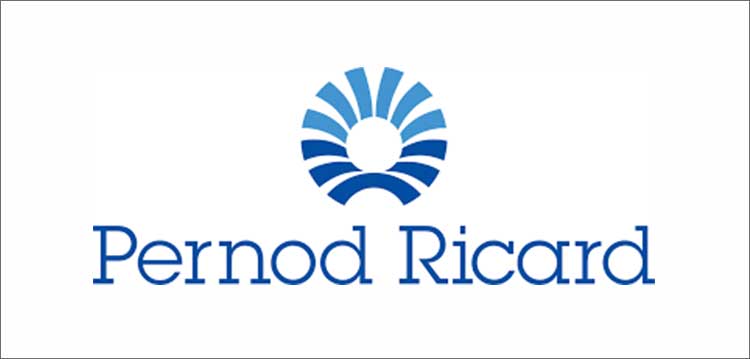 For several years Pernod Ricard has made "creators of conviviality" its vision and signature. Yet today more than ever, conviviality seems to be in decline around the world. These were the findings of a global survey conducted by OpinionWay in 11 countries on 5 continents with nearly 11,500 respondents. The results will form the basis of the group's 360° corporate campaign launch. The campaign is a call to arms to encourage each of us to exercise more conviviality in a world that's becoming less and less like the one revealed in earlier survey results.
If 91% of those surveyed believe conviviality to be a source of well-being,

61% of them believe the world is less friendly than 5 years ago.

Most pessimistic are the French at 82%, followed by Germans at 73%.

More alarming, 67% of millenials (18-34 years) regret meeting their friends less and less, due to social networks.

Today's champions of conviviality are Mexicans, followed in the Top 5 by Spain, Brazil, China and India. France does not appear in the Top 10.
Documentary film captures convivialists catching up around the world
As the campaign's centerpiece, Pernod Ricard is proud to unveil the documentary "The Power of Conviviality", directed by Elephant At Work. Filmed without professional casting, it collates the vibrant testimonies of people of all origins from around the world, evoking the importance of what conviviality means to them; and the shared moments they define as true and authentic, which are a source of honest joy.
The film crew traveled to 12 destinations around the world, recording everything from millennials meeting in a karaoke bar in Shanghai, friends sharing a night out in Marseille, and guests of a chic dinner in New Orleans, to New Year's Eve in Berlin, a beach aperitif in Tulum (Mexico), a Brooklyn bar, and a wedding in Goa. Every occasion underlined the universal need these moments fulfil in a hyper-connected world where we no longer take the requisite time to meet in real life.
Pernod Ricard has collected this content on a dedicated platform, www.theconvivialists.com, for everyone who would like to become a convivialist, that is, people who excel at being friendly, meeting people and sharing. (This campaign is not available in France*.)
Visitors to www.theconvivialists.com will also be able to discover:
The portraits of each protagonistin the documentary;

A manifesto for a more convivial world;

The complete results of the OpinionWay study,

Editorial content that analyses mankind's need to be convivial.
Exclusive partnership with Vice
Pernod Ricard has partnered with Vice to promote and disseminate the conviviality campaign. "The Power of Conviviality" documentary will be promoted on several of the platform's social networks, especially in the United States, the United Kingdom and China. Moreover, with Vice's help Pernod Ricard is developing a series of reports from around the world by reporter Laurence Cornet and photographer Stéphane Lavoué (Niepce Award 2018), who is a portraitist for the New York Times, The Times in the UK, Le Figaro and Le Monde. They use their respective talents in the pursuit of conviviality, meeting people who are true ambassadors for sharing and authenticity within their communities.
Filmed over several months, the journey takes the reader to a small island in Ireland to discover the secrets of a legendary pub, meets a community of surfers lost between the Pacific and the Amazon in Colombia, on to Cuba, where friendliness is a true religion, to a strange kingdom in Italy, and to China among a community of women living on the steps of the Himalayas.
For Alexandre Ricard, Chairman & CEO of Pernod Ricard, "There's a real yearning for connection and sharing in today's world. Convivialité is more than just a corporate value for Pernod Ricard, it's our raison d'être – and it's proudly embodied every day by our 19,000 employees across the globe. This mindset echoes the lifelong motto of my grandfather Paul Ricard, who launched an invitation to all his employees to "make a new friend every day."
For more updates, subscribe to exchange4media's WhatsApp Channel- https://bit.ly/2QUdLCK
Conceptualised by MullenLowe Lintas Group, the film is insightfully crafted to encourage all women who are walking the path of financial independence

by
Published - 8 hours ago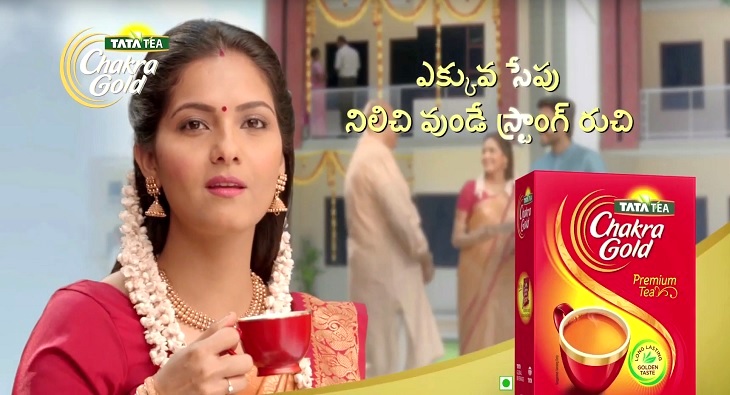 For the first time, a Jaago Re (Meluku) campaign developed specifically for the women of Andhra Pradesh has been launched by Tata Tea's premium brand in the region, Chakra Gold. At a product level, Chakra Gold is known for its strong, long lasting taste and at a brand level, it has always empathised with and been the voice of the South Indian woman's aspirations to be progressive and to stay ahead of her times. Keeping with this legacy, the new TVC endeavours to awaken AP women's strength towards self-empowerment while battling debilitating patriarchy and discriminatory societal norms.
While AP women's attitudes and aspirations have evolved in leaps and bounds, they are still battling against crippling retrograde norms of their patriarchal society wherein society continue to demand supreme sacrifices in the form of unfulfilled dreams like leaving education & jobs especially post marriage. AP women want to break free from this 'over-intrusive' society and feel that 'financial empowerment' is one way to break these shackles. This has been brought alive in the new TVC. Anchored in this insight, Mullen Lintas in association with TATA Tea Chakra Gold, conceptualised the new TVC intended to awaken not just women to tap into their strength, but also to awaken society to acknowledge women's immense potential. The story shows how a resourceful, enterprising Homepreneur who, despite lowly expectations of a patriarchal system, makes a lasting impression by saving the day and ensuring prosperity and well-being of her family.
Commenting on this campaign, Puneet Das, Marketing Head, TATA Global Beverages, said, "TATA Tea Chakra Gold, known for its long lasting taste, is one of the most premium brands in the Tata Tea portfolio. For our latest campaign, we wanted to address the hopes and aspirations of the women in AP & Telangana. We had in-depth conversations with them where they expressed their deep desire to be free from oppressive societal 'restrictions' imposed on them. Hence, the aim was to bring alive these emotions of the women in this region.
The new TVC campaign shows TATA Tea Chakra Gold as a preferred choice for women who always leave a lasting mark on everything they do. This is in line with TATA Tea Jaago Re campaigns that have always been ahead of the curve when it comes to addressing deep rooted societal issues and 'awakening' consumers to such issues. In its first regional appearance in the southern part of India, the TVC aspires to make a strong statement in true Meluku style, and we hope it will resonate with our audience and inspire them towards self-empowerment."
The film tells the story of Kavitha, a housewife, who feels she wants to do something valuable anf contribute to the family kitty, with her time and talent. She has started a business from home. She and her husband want to move on to a higher rung in life – a bigger house. Noticing her husband having discussions about the purchase of the new house with the uncle, she inquires if the deal was closed. Her husband informs her that the owner has demanded an additional 5 lacs rupees. While she wants to help in every way, the retrograde society which is symbolised by the uncle, thinks women shouldn't be a part of financial decisions as they have nothing to contribute. The highlight of the TVC is when Kavitha hands over the cheque for 5 lacs which she had earned through her online business of designing sarees, surprising the husband, and getting a re-appraisal in the eyes of the uncle. All this is set in the inspiring backdrop of Meluku (JaagoRe).
The film is insightfully crafted to encourage all women who are walking the path of financial independence. The TVC reflects the protagonist's strength that leaves a lasting impact on the society, just like the strong long lasting taste of Tata Tea Chakra Gold.
Shedding some light on the film, Amer Jaleel - Group CCO and Chairman, MullenLowe Lintas Group, says, "Tata Tea Chakra Gold has always championed the South Indian woman in its advertising over the years. The shift is now to champion her strong views and actions, by which she awakens a societal and cultural change. That is why, for the first time, we have introduced the stirring emotions of Jaago Re to the Telugu-speaking audience."
TATA Tea Jaago Re, is known for walking the talk with all its campaigns, and with the new campaign for TATA Tea Chakra Gold, the focus will be to enable a positive impact for the women in Andhra Pradesh. The film goes on air on February 16th and will be telecast in Andhra Pradesh & Telangana.
For more updates, subscribe to exchange4media's WhatsApp Channel- https://bit.ly/2QUdLCK
The films bring the company's motto of 'exceeding customer expectations' to life, through the concept of 'Thoda aur khayaal'

by
Published - 9 hours ago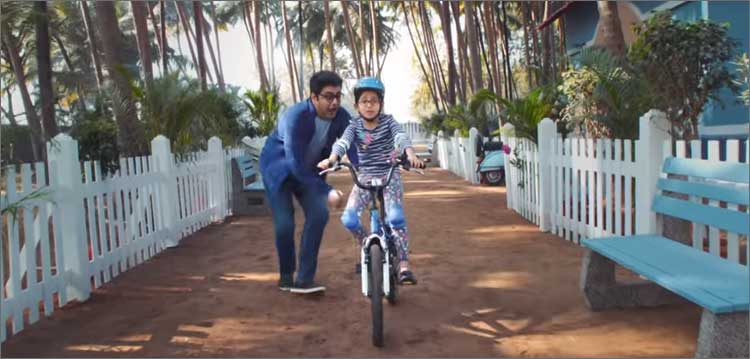 Edelweiss Tokio Life Insurance has announced the launch of its two TV commercials directed by well-known Indian film director Shoojit Sircar and produced by his production house Rising Sun Films. Apart from TV, the campaign will be complemented by robust digital and OOH activation across the country.
The films bring the company's motto of 'exceeding customer expectations' to life, through the concept of 'Thoda aur khayaal.'
Commenting on the launch, Abhishek Gupta, Chief Marketing Officer, Edelweiss Tokio Life Insurance, said, "Edelweiss Tokio Life's Zindagi Plus is truly a unique product and has fast become one of the most sought-after term plans in the market. This product effectively captures our unrelenting belief in relevant innovation to not only meet customer's dynamic expectations, but also exceed them at every turn. We, as a brand, believe that our journey with our customers does not end with paying a claim; it extends much further to protecting those who are enduring the loss of a loved one."
Zindagi Plus is a term insurance plan that offers an optional Better Half Benefit, which enables the policyholder to not just cover her own life, but also provide a cover for her spouse in the event of her death. Simply put, the company will pay a claim to the dependents of the policyholder and additionally provide a life cover to the spouse. This product forms the central element of these films.
With a touch of simplicity, both the ad films showcase how most of us are oblivious of unforeseen circumstances and how they affect the family's stability. The films delve into a family dynamic to bring out the importance of not just securing yourself, but also your spouse to ensure your dependents have a strong back-up.
Commenting on the scripting process, Sagar Mahabaleshwarkar, Chief Creative Officer, Contract India, said, "We were working towards a dual objective - bringing out the core benefit of Zindagi Plus and also demystifying the complexity associated with life insurance in general. It was executed with a light-hearted tonality to deviate from the usual heavy aura that life insurance category uses. We believe this will create a higher acceptance among the audience."
Discussing the concept of the film, Director Shoojit Sircar said, "The script was interesting, yet simple and gave me ample room to work with music and infuse a comical tonality into picturisation. The idea was to succinctly bring out the insight that prompted Edelweiss Tokio Life Insurance to design a product like Zindagi Plus."
"Both the scripts capture every day, relatable stories and we needed somebody to handle them with a fresh perspective. Shoojit Sircar has added his own uniqueness to these films and helped us tell our brand story," Gupta added.
For more updates, subscribe to exchange4media's WhatsApp Channel- https://bit.ly/2QUdLCK
In the second year of the 'Be Fearless' campaign, crafted by FCB India, Horlicks helps kids prepare for their exams and overcome the effects of rote memorisation

by
Published - 11 hours ago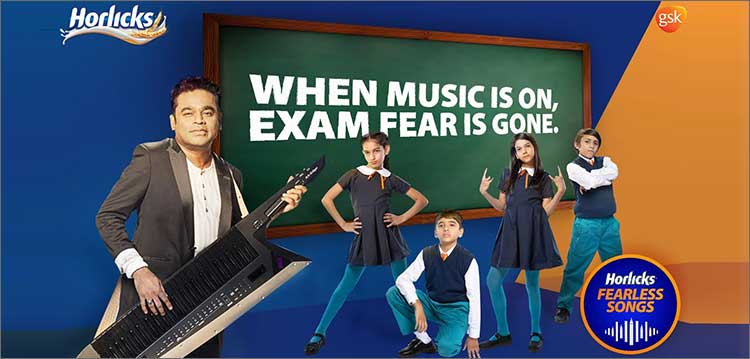 With the exam season looming, Horlicks aims at making learning productive and fun for students with their new campaign 'Fearless Songs'. Introducing a refreshing take on learning, the brand collaborated with music maestro A R Rahman to produce an interactive music video for kids. During exams, kids often lose their ingenuity while learning under the pressure, of performing better. Horlicks recognised this gap and focused on providing alternate learning techniques which could help in better memorisation for kids through music.

'The Fearless Songs' journey, which began in 2018 in West Bengal, collaborated with famous singer – Rupam Islam, to make learning easier for students. In an interactive video, Horlicks and Rupam Islam demystified the intricate formulas of Chemistry by associating them with our daily lives. With a remarkable success and response for the first song, Horlicks introduced the campaign nationally, this year. A nationwide rollout by tying up with possibly the biggest music maestro in India – A R Rahman, who makes a similar attempt with Tenses this time. The maestro explains the Present Perfect tense through his composition with a HPP hack. The selection of topics for the songs (Chemistry formulae and Tenses) is backed by research and these were shortlisted basis the Google search data for middle school children.
With 'Fearless Songs', Horlicks continues to advocate the confidence to tackle exams with better preparation. The idea stems from the fact that music plays a key role in unlocking learning and memorisation. With music, even the most annoying topics can be transformed into enjoyable songs, possibly helping kids to be more attentive and concentrate better. 'Fearless Songs' will help kids to shed exam jitters and greet each challenge with a fearless smile. The film has been created by FCB India.
About the Film:
The story of a kid struggling with learning his English tenses and how he uses music to better understand the topic. The film starts with a kid sitting in a bus dazed and confused while trying to understand tenses from his course book. We then cut to a classroom where AR Rahman appears as an English teacher and tutors the child on a simple hack to remember the topic using music. The film transition through the school with the kid becoming more and more confident as the whole class chimes in to help the protagonist learn. Finally, through a grand finale, the kid understands how tenses are to be used.
The entire film has a musical feel towards it which is highlighted with the presence of A R Rahman.
Vikram Bahl, Executive Vice President Marketing, GSK Consumer Healthcare India said, "We at Horlicks understand the stress that students undergo during the exam season. After laying the groundwork to tackle exams with confidence last year with the 'Be Fearless' campaign, Horlicks endeavors to continue making learning more productive, this time using music. Hence, we collaborated with music maestro AR Rahman, who with his exceptional musical talent, helped us create a composition on Tenses, one of the top searched topics by kids during exam time. He is the perfect fit for the campaign, considering his connect with the masses and with the brand in his growing up years. We want kids to face the exam season confidently, by promoting smarter and alternate learning methods, which we believe help in better understanding and retention of tough topics and therefore make kids more confident to tackle exams."

Rahman on his collaboration with Horlicks said, "I believe it is important for me to connect to the GenNext's cause and the brand, during a collaboration. Horlicks was a part of my childhood, like I grew up with music, and the brand resonates with me. Music brings out the best in children and with "Fearless Songs" we intend to add a musical twist to learning and reduce the immense pressure kids face during the exam season, enabling the journey from fearful to fearless!"

Swati Bhattacharya, CCO, FCB said, "January to March are exam pressure months all over India, that's 90 days out of 365 gone out of a child's life. So, the brief we gave ourselves was how could we bring the childhood back? By using music to help the child prepare for exams, we helped reduce fear and made preparation more enjoyable. The fearless songs were written keeping the curriculum of children in mind, helping them not to memorise, but understand and retain them better."
Credits:
Digital Client: Horlicks India (GSK Consumer Healthcare)
Creative Agency: FCB Ulka
Creative Team: Anusheela Saha, Sumitra Sengupta, Sreya Basu, Swati Singh. Account Management: Debarpita Banerjee, Shreekant Srinivasan, Jyotsana Kaushik, Ishaan Khandpur, Vishakha Khattri
Director (of the TVC): Ken Rolston
Executive Producer: Radhika Joshi, Zina Khan
Production House: Storytellers
For more updates, subscribe to exchange4media's WhatsApp Channel- https://bit.ly/2QUdLCK
Featuring social media influencer & theatre actor Shibani Bedi, the bold and quirky video encourages women to adopt menstrual cups as their go-to feminine hygiene solution
In a bid to encourage women to move past pads and switch to comfortable, convenient, and environment-friendly menstrual cups, Sirona, a menstrual and intimate hygiene products brand, has launched a bold and hard-hitting video campaign. By promoting easy-to-use, stain-proof, durable, and environment-friendly menstrual cups in lieu of sanitary napkins, the digital awareness campaign by Sirona is a much-needed present to Indian women across the country on the occasion of Women's Day.
Featuring popular social media influencer and theatre actor Shibani Bedi, the video aims to uncover the harsh realities of using menstrual pads. Highlighting the numerous benefits of using menstrual cups, the video encourages women to go from 'Down with Pads' to 'Done with Pads'. Through a bold narrative laced with sarcasm, the video campaign sheds light on how menstrual pads prevent women from embracing life during their periods. It highlights the major issues attached with sanitary pads such as rashes, discomfort, and the fear of leakage that plague women while using pads. It also focuses on the negative impact of pads on the environment and how this method of feminine care is already outdated in the first world. The video then goes on to illustrate how easy menstrual cups are to use and how they can change the way women perceive their periods for the better.
The goal of this first-of-its-kind campaign is to encourage women to break out of their 'inherited habit' of using menstrual pads and switching to menstrual cups. Sirona Cups made by using FDA approved cushiony medical grade silicone and are reusable, last for a decade, and extremely comfortable to use. Women who embrace Sirona's breakthrough offering can swim, jog, travel, wear white, and forget worrying about their periods for life. Sirona Cups are already best sellers online on leading marketplaces with raving reviews.
Sirona has been at the forefront of providing women in India with unique intimate and menstrual hygiene products. Driving home the message of 'Rise Up with Menstrual Cups', Sirona is speaking out loud about the complacency that dominates sanitary care in India, and informing women that better, more comfortable alternatives exist for them. Initiating a much-needed discourse around this subject is a step towards ensuring quality feminine hygiene solutions for women across the country.
For more updates, subscribe to exchange4media's WhatsApp Channel- https://bit.ly/2QUdLCK
Dias, co-founder and Chief Creative Officer, finds place along with personalities like Alyque Padamsee and Piyush Pandey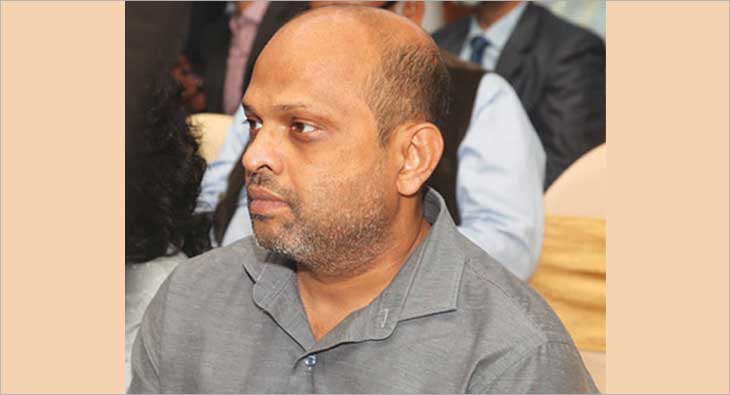 The Advertising Club Calcutta, the oldest advertising club in India, has inducted Agnello Dias, co-founder and Chief Creative Officer - Taproot Dentsu - into its 'Hall of Fame' for the year 2019.

The other famed recipients who have been inducted with this honour include Alyque Padamsee (Lintas), R.K. Swamy (BBDO Advertising), Ram Sehgal (Contract), Simone Tata (Trent Ltd), Mohammad Khan (Enterprise), Mike Khanna (HTA), A.G. Krishnamurthy (Mudra Communications), Arun Nanda (Rediffusion DY&R), Dr. V.J. Kurien (Amul), Roda Mehta (O&M), Aroon Purie (India Today), Ranjan Kapur (WPP India), Sam Balsara (Madison India), Prem Mehta (Lintas), R Balki (Lowe), Prasoon Joshi (McCann) and Piyush Pandey (Ogilvy & Mather).

"It is a privilege to be in the shadow of giants and I am grateful that an institution as respected as the Ad Club of Calcutta considered me worthy of this honour. It feels a tad intimidating to be honest and am truly grateful to the many hands that guided me along this journey," Dias said.
For more updates, subscribe to exchange4media's WhatsApp Channel- https://bit.ly/2QUdLCK
The brand has launched Mikkel Verde, a new evening wear fragrance for men

by
Published - 2 days ago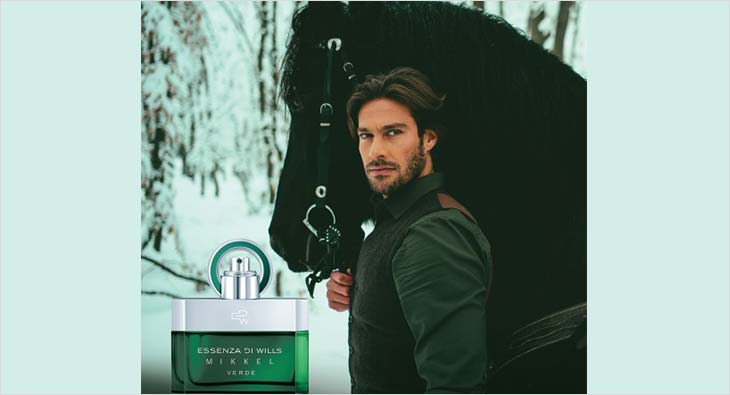 ITC's premium fragrance brand Essenza Di Wills has launched Mikkel Verde, a new evening wear fragrance for men.
The fragrance has been introduced to consumers through a film. The film juxtaposes the real and the breakaway world that the protagonist yearns to explore. The film opens with the protagonist questioning the physical existence of life caged between walls, pillars and posts whilst his soul wants to break free. The fragrance stimulates the mind to escape the rigid reality and begin a journey to discover the wild unknown. In this cinematic ad-film, Mikkel Verde presents a discovery of your true essence and soul!
Talking about the product and the campaign, Sameer Satpathy, Chief Executive, Personal Care Products Business Division, ITC Limited, said, "Mikkel Verde embodies a fine balance between enigma and elegance. This newly launched fragrance is a unique addition to the repertoire of Essenza Di Wills' portfolio of fine fragrances. The experience of Mikkel Verde has been interpreted by Denzil in an intriguing film that explores and celebrates the eternal quest for adventure."
For more updates, subscribe to exchange4media's WhatsApp Channel- https://bit.ly/2QUdLCK
The digital campaign is aimed at encouraging people to embrace the 'health is not a choice' philosophy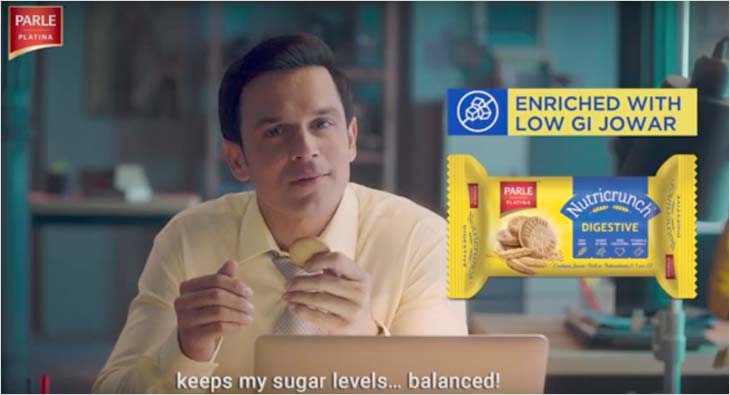 Parle Products is all set to launch a digital campaign - "#HealthIsNotAChoice" for its newly introduced health brand, Nutricrunch under its Platina division. The campaign aims at encouraging people to embrace the 'Health is not a choice' philosophy.
The campaign began with innovative posts across Parle Nutricrunch social media platforms and print advertisements across leading newspapers. All the posts strongly advocate treating one's health and well-being as priority and showcase that one might have options for a lot of aspects in life but one's journey to good health must not be compromised.
As a part of the campaign, three digital films will be launched to build awareness about the health benefits of consuming Parle Nutricrunch. The films showcase Parle Nutricrunch as a versatile product that be consumed by housewives who are the gatekeepers of good health for families as well as fitness enthusiasts, working professionals.
Speaking about the campaign, Mayank Shah, Sr. Category Head, Parle Products, said, "In today's fast-paced world, consumers are constantly looking for different ways to maintain a healthy lifestyle. Nutricrunch offers just that with its diverse variants like Nutricrunch Lite Cracker, Nutricrunch Digestive, Nutricrunch Honey & Oats. Each of these variants have unique health benefits and make for a brilliant healthy snacking option. #HealthIsNotAChoice" campaign is an endeavor by Parle Platina to encourage Indians to stay fit and make an informed decision about their well-being".
Each film has a unique key message that resonates well with a specific target audience. A working professional discussing the stress at work and how Parle Nutricrunch Digestive enriched with superfood Jowar helps in maintaining a proper sugar balance with its antioxidants properties. A housewife talking about how she begins her day on a healthy note with Nutricrunch Lite crackers which has no added sugar, no trans-fat and no cholesterol. A young fitness enthusiast discussing how Nutricrunch Honey & Oats makes for the best pre-workout companion with its high-fiber content.
The company in a statement said, the health biscuit and cookies category has been growing at 12-13% per year and is now a sizeable portion of the market at over ₹1,000 crore giving Parle Products more opportunities to tap into the semi-premium and above segments that fetch high margin.
For more updates, subscribe to exchange4media's WhatsApp Channel- https://bit.ly/2QUdLCK
The campaign focuses on the real-life story of Darpan Inani, who lost his sight due to an illness, and yet bounced back to become the highest rated visually impaired chess player in the country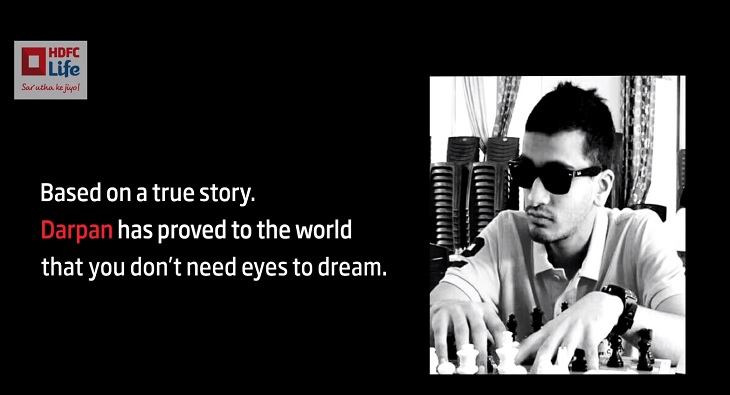 HDFC Life Insurance Company Limited has launched a new brand campaign which focuses on the real-life story of Darpan Inani, who lost his sight due to an illness at a very young age, and yet bounced back to become the highest rated visually impaired chess player in the country.
As a brand, HDFC Life has always stood for pride, encouraging independence through self-reliance. The brand has always highlighted the hard-to-replace-individual who not only provides for his/her family but also enables his/her loved ones to #BounceBack from any challenges they face.
The film showcases the inspiring story of Darpan, whose eyes were affected by the Steven Johnson Syndrome at the age of 3 years, causing him to lose his eye-sight. But this did not stop him from pursuing his dream. According to Darpan, chess is a game of vision and not visibility, thus allowing him the opportunity to compete in the game as any other competitor would. He not only excelled at the game but also went on to become the first visually impaired Indian (in his category) to win the Creon Open Chess tournament, in France in August 2018. Playing a pivotal role in his success, Darpan's family encouraged self-reliance and pushed him to #BounceBack from the situation and to live a life of pride.
Speaking about the campaign, Pankaj Gupta, Chief Marketing Officer, HDFC Life, said, "This story of self-reliance strongly resonates with HDFC Life's proposition of 'Sar Utha ke Jiyo'. Through this ad, we want to leave our viewers with the message that anyone can #BounceBack, despite challenges and limitations. All they need is the right kind of support, encouragement and financial preparedness. Darpan's parents imparted a valuable life lesson on self-reliance, serving as a backbone to his success and empowering him to conquer all odds and achieve his dreams."
Add to this, Rajdeepak Das, MD, India & Chief Creative Officer, South Asia, Leo Burnett, said, "Darpan Inani's story is about human resilience. His spirit of never giving up embodies HDFC Life's 'Sar Utha Ke Jiyo' ethos. This campaign touches upon the very human behaviour of bouncing back, and it is people like Darpan Inani who inspire us to do our best in any situation. This work is purely Humankind and we hope it will move our consumers into the importance of having life insurance."
HDFC Life plans to take its new campaign to the customer through different platforms and intensify the brand experience. Apart from television, the film will be supported by other media such as print, radio, OOH, DTH, cinema, live media with a significant focus on digital and social media.
Prepare your family to #BounceBack with HDFC Life:
For more updates, subscribe to exchange4media's WhatsApp Channel- https://bit.ly/2QUdLCK