Print's power: Meet the industry's revenue & sales chiefs
We look at the heads of ad sales and revenue departments of the country's leading media publications who have been at the forefront of this sector's revival and growth
The Print industry has seen several ups and downs in the past two years, owing to the Covid-induced lockdowns, rising newsprint cost and the subdued marketing spends by several big spenders. However, the sector has bounced back in many ways and a major factor has been jump in ad sales and revenue generation. And the bosses in the print industry are to be thanked for the same.
Today, we look at the chiefs of ad sales and revenue departments of the country's leading media publications who have been at the forefront of this sector's revival and growth.
BCCL
Estimated Ad Revenue: Rs 4,352 cr for FY22
Revenue: Rs 7,394 cr for FY22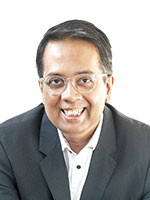 Partha Sinha
President- Response
Partha Sinha joined BCCL in 2020, his primary responsibility is to grow revenue and facilitate the interaction between brands and content. Sinha is an alumnus of IIT Kharagpur, and IIM Ahmedabad. In a career spanning over 30 years, he has been a nuclear design engineer, a banker, the strategy and marketing head of media and internet companies, and an advertising strategist. He has worked with Citibank, Zee, Ogilvy, Publicis, and BBH. He was the Vice Chairman and Managing Director of McCann Worldgroup.
Key individuals
Samir Sainani, Director, West
Sudha Natarajan, Director, National Verticals and Creative Business
Ashok Bindra, Director, North
Deepak Saluja, Director, South and East
Times Of India is the only English Newspaper with 55 editions across India.
HT Media + HMVL
Estimated Advertisement Revenue: Rs 1,600 cr CONSOLIDATED FOR HT MEDIA + HMVL FOR FY22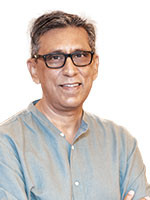 Rajeev Beotra
Executive Director, HT Media
"I strongly believe that today one of the most important responsibilities of a media sales leader is to put together a team that provides business growth solutions to advertisers, and not just ads. We've also observed that customized solutions result in significantly better yields and client retention. Personally, I take pride in having played a role in attracting fresh young talent to HT Media over the years and building a dynamic, passionate team. One of the key challenges in the last few years has been to navigate the entire sales organization through a major digital pivot at HT Media, as well as taking multiple large-scale changes like brand refreshes to market, and expansion of digital platforms from three to more than twenty today."
Key individuals
Rajat Kumar, Chief Revenue Officer – U.P, U.K, Bihar & Jharkhand, HT Media
Neeraj Singh, CRO, West, HT Media Group
Mitesh Desai, Agency Partnerships and Sales Excellence, HT Media Group
Karthi Narayanan, Chief Revenue Officer, South – Digital & Print, HT Media Group
Anil Dua, Chief Revenue Officer – Print & Digital, HT Media Group
Amitava Bhattacharya, Chief Revenue Officer – East, HT Media Group
Neeraj Saraswat, Chief Revenue Officer – Radio & Digital Innovation Businesses, HT Media Group
Dainik Bhaskar
Estimated Advertisement Revenue: Rs 1,182.73 cr overall for FY22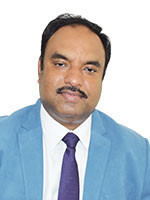 Satyajit Sengupta
Chief Corporate Sales and Marketing Officer
Satyajit Sengupta, Chief Corporate Sales and Marketing Officer, has been associated with Dainik Bhaskar for more than five years. With an experience of nearly 25 years, he has played a crucial role in generating around 35- 40% of the advertising revenue for the organization from across the country. He plays a central role in managing the sales revenue of 24 mega editions across India. Prior to Dainik Bhaskar, Sengupta was the Associate Vice President, The Times of India Group, wherein he led the Metro Response team, generating revenue for all Times Group publications.
"I think my biggest accomplishment has been to build a great team. Our advertising team is seen as the go to team to generate ideas that are innovative, and deliver the best of eye balls and results. I don't think there are any regrets. Unless one talks about the lost opportunity in 2020 and 2021 due to the pandemic. I think the best years for Dainik Bhaskar lie ahead, and I am proud and glad to be a part of this path-breaking organization."
Key individual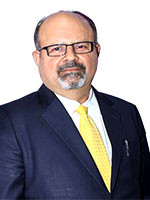 Harrish Bhatia
President Sales and Marketing
Harrish Bhatia has been with DB Corp for more than 21 years. In 2007, he was elevated as CEO of Media/Entertainment and Consumer Durables divisions of DB Corp Ltd (Radio Division). Bhatia was appointed the group's President in 2017, and has since been leading a group of seven COOs across India. In addition, he was in charge of the top line, brand, and HR functions, as well as the team's growth and development.
Dinakaran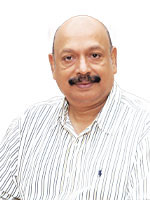 RMR Ramesh
Managing Director
RMR Ramesh has a rich experience of over three decades in the media industry. He played an active role in the initial days of their first video magazine in Tamil, named 'Poomalai' and Suryan FM. He went on to become Vice President - Administration, HR and Projects, Sun TV. He is currently MD of Kal Publications, which owns Dinakaran, Tamil Murasu and Kungumum Group of Magazines.
Key individual
Rajesh Kannan
CGM, Marketing
Anandabazar Patrika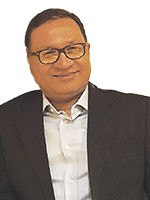 Oommen Thomas
National Head, Ad Sales
"One of my key accomplishments would be the way we have been able to carve out hybrid solutions for clients, leveraging multimedia and providing impact for the advertiser. Another accomplishment was using the Portfolio Approach to grow revenues. Here we provide a client with a plan or package, which adds on other media options like digital, radio, sampling, etc., thereby satiating the requirement of the advertiser. As we celebrate the Centenary year, we take pride that ABP enjoys a lot of advertiser and reader faith and trust. Building on this, we want to continue being the preferred choice of media when it comes to Bengal. Today, we are no longer just a newspaper publisher, but our expertise is across print, television, digital, influencers, radio, and activations."
Malayala Manorama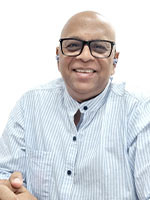 Varghese Chandy
Vice President, Marketing, Ad Sales
"Dispelling some of the myths regarding the Print Industry will be a great challenge. For instance, "print is dying" is something which we keep hearing. Covid definitely disrupted the distribution nationally, however, Kerala had the least disruption due to Covid. We are still operating at close to 2 million copies, and hoping to catch up with 2019 levels. In Kerala, Print gets close to 50% of the total advertising revenue. Despite that, planners tend to give least priority to print in Kerala taking the cue from the national situation. Commoditisation of the media is yet another challenge we are all facing, hence the huge discounts in the rates that the Media buyers are demanding. This has also led to a lot of unhealthy practices where the merit of the media takes a back seat."
MATHRUBHUMI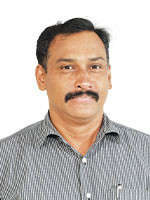 Sudeep Kumar T
General Manager, Advertisement
"I have been part of the management team, which transformed Mathrubhumi from a Print media company to a modern media organisation. We are now into all verticals of media business like Print, Television, Radio, Digital, OOH, activations, exhibitions, events, etc. My professional mantra is to develop the best possible team, and to try understanding the client's business."
Key individuals
Naveen Sreenivasan, Head, TRD Sales
Jayakrishnan N, National Head, Metro Sales- Print
The Hindu
Estimated Total Revenue: Rs 858.89 cr for FY20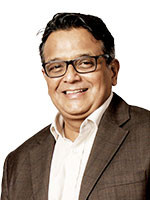 Suresh Balakrishna
Chief Revenue Officer
Suresh Balakrishna joined The Hindu Group as Chief Revenue Officer in 2018. Balakrishna is accountable for all India print advertisement sales (National accounts and South accounts), THEME (Events & Activations), and Brand Marketing & Solutions. His mandate is to build a sustainable, future-oriented high-performance sales and marketing team that delivers performance with purpose on the advertising front across both ATL & BTL activities. Prior to joining The Hindu Group, he was Chief Executive Officer, South Asia and Middle East, Kinetic Advertising India Private Limited, part of the WPP Group. In his 31 years of professional journey, he has acquired considerable experience and expertise in all forms of media (Print, Television, Outdoor), as well as the agency side of the business.
Indian Express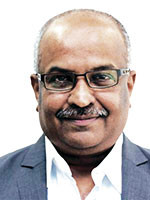 George Varghese
Chief Executive Officer
George Varghese has over 20 years of experience and expertise in Product Marketing and Management, Business Strategy, New Business Development, etc. An alumnus of St. Joseph's Pune, he holds an MBA with specialization in Marketing Sales Management from IMDR, Pune as well. Before assuming his current role, he was working as the President, KEC International Ltd from 2010 to August 2013.
Dinamalar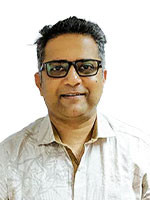 Martin King
National Sales and Marketing Head
Martin King joined Dinamalar as a national sales head in 2013. He is responsible for the ad sales of the Chennai, Coimbatore, Madurai, and Pondicherry editions of the daily. With over two decades of experience, King started his career with Bennett, Coleman and Co. Ltd. After spending 11 years with the Times Group, he joined Radio City as its Regional Business Head before moving to Radio One, Chennai. He is a result oriented senior professional with 25 years of experience and expertise in sales, marketing, and general management. He has proven leadership abilities that include sales, marketing, brand building, team building and performance management. He is good at developing influential and positive relationships with people across levels. King is known to have a well-established and proven track record for delivering corporate objectives using allocated resources and within the allotted time.
Dinamalar was founded by philanthropist T. V. Ramasubbaiyer on September 6, 1951.
Eenadu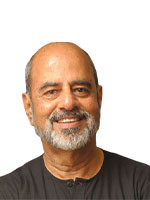 I Venkat
Director
I Venkat joined Eenadu group in 1987, and is currently the Director of Eenadu Television Private Limited. He holds a Bachelor's degree in Science, and has been in the communication field since 1970. He joined the Board of Directors of Ushodaya Enterprises Pvt. Ltd., publishers of Eenadu Telugu newspaper, and the ETV group of channels in 1987. Venkat was the past Chairman of Advertising Standards Council of India (ASCI), and a founding member of the Media Research Users Council (MRUC), as well as the Indian Broadcasting Foundation (IBF). He is also on the Board of Indian Broadcasting Foundation (IBF), International News Media Association (INMA), and Broadcast Audience Research Council (BARC).
Key individual
KV Ramarao, National Sales Head (Print and Online)
Published by The Ramoji Group, Eenadu was first issued in August 10, 1974.
Vikatan Media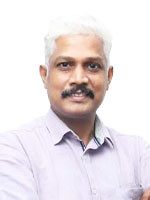 Balamurugan
General Manager and National Ad Sales Head, Vikatan Group
Balamurugan is responsible for the overall ad sales and revenue generation for the group in Print, Digital, Activations, and Awards. Focusing on growing and creating new revenue streams and opportunities, and in turn significantly contributing to the overall growth of the Vikatan Group, he is a highly experienced Sales & Marketing Professional with more than 25 years in Media selling. He has been in all facets of media, Print, TV, Digital, Events & OOH.
"My second stint in Vikatan started in March'21, I have come back to the group after five years. This time, I was given the responsibility of increasing the revenue from the previous financial year. I have successfully executed many awards, such as, the Nanayam Vikatan Business Star Award, V Connect Pinnacle Awards, and VConnect Pulse Health Care Awards. The number of clients have reduced and spends have reduced. Clients prefer electronic media over Print. We identify their challenges and problem statement, and we provide them with proper solutions. We are converting challenges into opportunities, and updating our Digital media. Since the restrictions are over, we are coming out with our marquee properties. Cinema and Nambikkai Awards."
Read more news about (internet advertising India, internet advertising, advertising India, digital advertising India, media advertising India)
For more updates, be socially connected with us on
Instagram, LinkedIn, Twitter, Facebook & Youtube
Magazines remain media's darlings!
Guest Column: Minette Ferreira, General Manager-Lifestyle and Community News, Media24, South Africa, shares how magazines have reinvented themselves in the digital age, more so during Covid
Yes, we can talk about declining print revenues, shrinking readerships and the bruises Covid left on magazines worldwide. It certainly changed how we do business at Media24, South Africa's biggest publisher. However, navigating these initial dire realities are now our inspirator. After digging a little deeper, we found opportunities that keep our innovative teams busy and excited and our communities engaged.
Niche to meet you!
During the Covid lockdowns, we saw a huge spike in consumption of niche content (most of it in print) like puzzles, gardening, knitting and cooking among South African audiences.
We know online consumers are looking to be informed of current events and entertained by escapist content. This is quite an odd mix for traditional media brands – how do we tick all the boxes for our users on one platform without compromising credibility or entertainment value?
Exactly that drove our niche focus – especially in the lifestyle space. All our 14 magazine titles are now publishing brand extensions that focus on special interests within the core markets that fill the gaps the digital world can't necessarily capture locally. And where practical, we have the content available online. We publish more than 100 special interest magazines yearly – serving a multitude of special interest communities.
For example, our leading English female title Fair Lady publishes stand-alone diet magazines that focus on current trends – be it banting or fasting. The one brand extension that really hit the spot recently, is a menopause-focused publication titled HOT. We will also be hosting reader conferences this year on the topic.
Dear reader, show us the money (and your data)
The biggest challenge for traditional media is obviously the change in our business model - advertising revenue from traditional sources has shifted. In answer to this, we re-focussed on our core premise: Content. Delivering compelling, relevant, always-fresh quality content on world class delivery platforms.
Firstly, we increased print products' cover prices quite significantly over the past few years. Our editors had a hard time with this one – they believed paying so much more would shrink our audiences significantly. Yes, the print audience numbers declined, but the trade-off on revenue has been an essential win.
Secondly, we invested heavily in the digital subscription model. PDF copies as well as sharing our brand content on Media24's top digital news platforms, have ensured our communities have a digital home. And it is not for free.
It's no secret: If a user sees value in unique content, they will come and they will pay.
The resistance to paying for digital content was initially miscalculated by digital publishers across the globe. Our focus on delivering trustworthy content delivered seamlessly to audiences is showing positive signs. We have seen successes that include Media24's Afrikaans news paywall platform, Netwerk24, which launched in 2014 and has now almost reached 100 000 subscribers. The success of Netwerk24 has been hugely dependent on our ability to provide compelling, original, and premium content for a very specific audience. We have branched out by providing different content types, including audiobooks, games, short form soapies, and relevant video content. Essentially it is content that is unique, exclusive, and compelling.
Creating centres of content excellence
To ensure we could maintain and even improve the quality of content of our magazines, we introduced a new model in 2020 and outsourced the editorial functions of six of our magazines.
Despite the model being an effective cost management strategy, Covid highlighted the need of our editorial teams to operate more freely. In each case, existing editors established their own media company and created a partnership with Media24. Now Media24 focuses on the business of the business: Advertising sales, distribution, and marketing. And the creatives can focus on what they love – corporate hassles and red tape are no longer part of their lives. They run their own businesses, put together their own teams and most importantly, have more capacity than before to innovate and create content that speaks to their communities. Each of these publications are thriving – creatively and financially.
The more, the merrier!
The transition for our brands from paper to online has been an ongoing process of trial and error over the past two decades. More recently we decided to ringfence a few of our traditional print brand's online presence under a new brand.
SNL24.com (an acronym for soccer, news and lifestyle) launched in September 2022 and is a curated platform providing a home for five titles that have a resonance in the middle black South African market. It includes two soccer titles, a news tabloid, a lifestyle and female title.
The new platform SNL24 appeals to soccer fans and those in search of engaging news and entertaining lifestyle content. Aimed at the middle and upper-middle markets, SNL24 boasts a potential target audience of 3.7 million and, when combined with an established print audience of 2.1 million, offers a comprehensive, integrated, and multi-platform communication opportunity for advertisers. The brands represented on the platform all have significant audience credibility and loyalty and complement each other as a collective, together improving their individual abilities to retain eyeballs.
What SNL24 has taught us is that scale improves our ability to migrate audiences to a digital platform and it takes time to build new brands. The platform uses AI to identify brand lovers and keeps them busy with their preferred content – and will then introduce more content from the other brands based on their reading preferences. Despite its recent launch the unique browser stats are really encouraging. And with a low-priced subscription model, we hope to not only build scale but grow additional revenue in the long run via paying consumers.
(And a side-note – destroying the silos between newspapers and magazines and refocusing content on communities and interest groups, has been much easier than I ever dreamed.)
It's certainly not bad news for magazines. The world is waiting for our darlings.
Ferreira will speak at Indian Magazine Congress on March 24.
Disclaimer: The views expressed here are solely those of the author and do not in any way represent the views of exchange4media.com
Read more news about (internet advertising India, internet advertising, advertising India, digital advertising India, media advertising India)
For more updates, be socially connected with us on
Instagram, LinkedIn, Twitter, Facebook & Youtube
Is AI really going to change our world?
James Hewes – President & CEO, FIPP, shares his experience of putting ChatGPT to test
Building Engaged Communities: How magazines stay relevant in changing media landscape
Guest Column: B Srinivasan, President of AIM and MD of Ananda Vikatan, writes on the strength and significance of magazines
Ever since I took on the responsibility of the President of AIM at the peak of the pandemic in Sep 2020, it has been my dream to showcase the strength and significance of magazines in the media landscape.
Having spent over three decades of my life in the pursuit of keeping myself relevant, I am patently biased towards the magazine media industry, but here goes!
The magazine is a unique medium that has always driven perspective and enabled its communities to draw insights, rather than simply reporting and provoking audiences like most other media. We thrive in digging deep, and then digging wide in our coverage of happenings around us. We groom thinking and discerning communities and that has traditionally attracted our utility as an ideal brand building platform for compelling brand stories.
Yet, in India, magazines are a small fraction of the print media industry- in single digits percentage- while our counterparts in the west, are almost equal the size of newspaper sector! What were the building blocks that enabled this mega size in West, and ones that we have seemingly missed in India. What could we learn from our international peers?
My intrigue was enhanced by the approach of the west when digital became centre stage to our future. They had adapted and adopted best practices by experimenting and chiselling their way through consistently creating engaging communities.
Whilst the typical magazine brands of yesteryear was successful when it was 'broad-based', of 'general interest' and meant 'something for everyone in the family', the magazine brands that succeed now are ones that cater to specific interests of a communities, are utilitarian to their readers and subscribers, represent value not just for money, but more important, for the only irreplaceable component of our daily lives – time!
I had to unlearn and relearn everything I thought I knew about my industry.
All this came to me from my partaking in international seminars like AIM's Indian Magazine Congress, FIPP's World Magazine Congress, FIPP-DZW Digital Innovators' Summit, and so many more. Learnings in these events came not just from the deeply insightful presentations that these world class speakers showcased, but from heated debates and interactions I had on the side-lines of these events.
In a world where readers have also become our competition (influencers), fake news has overtaken relevance over fact checking, ChatGPT has almost crossed the Rubicon of human reportage with machine language (AI/ML), when big tech and governments in vibrant democracies decide what is content ripe for take-down, it is ever so important that we discuss our concerns around policy, technology, distribution, client needs, and most importantly, what our communities expect of us.
That is what we have been fostering under the hood for 6 months now. We are proud to present AIM's 12th Indian Magazine Congress – Building Engaged Communities
The road has been anything but straight and narrow. For starters, we all took giant leaps of faith!
Faith that we could actually pull off such an international event when the market was still bearish, faith that we would make up the costs and contribute to AIM's corpus when we then had no sponsors in sight, faith in our moonlighting skills - agonising over the agenda, curating the best of speakers, getting sponsors to commit, fixing the venue and ensuring that policymakers, clients, agencies, tech partners, international speakers and delegates.
One look at the agenda (aim.org.in/imc12) and any publisher will realise that we are addressing magazines in the post pandemic new reality.
The magazine industry took a crippling hit during the pandemic.
Distributors were crushed under the weight of holding fort their last mile to the customer, while the country was convulsing under unpredictable, successive lockdowns.
Advertisers lost hope that people would ever return to buy goods and services 'the good old way' – while online was clearly becoming a 'tiger by the tail' – more and more opaque, expensive, unrelenting.
Readers, viewers, surfers – communities were creating their own content like never before, opinion makers being hailed as truth tellers, and big media being relegated to ungracious truants.
Our own people were losing morale with the grapevine of losses and job/ salary cuts.
Yet, I can say that in these past 3 years, in this new normal – we have come out stronger, more efficient, more willing to adapt and adopt, constantly growing our revenue streams, listening to our communities, creating engaging content around what matters most, having the guts to go behind a paywall, empathising with advertiser needs and creating marketing opportunities that suit client need and community fulfilment rather than force fitting what we have on offer – in short, we survive by transformation to stay relevant.
The scenario is painfully the same world over, and the answers we have come up with are unique, yet similar.
Please join us for AIM's 12th Indian Magazine Congress, to be held at The Oberoi on Friday, 24th March, 2023 and learn how publishers are pulling up their socks, shedding their weight and transforming to stay relevant with only one commitment – to Building Engaged Communities.

Disclaimer: The views expressed here are solely those of the author and do not in any way represent the views of exchange4media.com
Read more news about (internet advertising India, internet advertising, advertising India, digital advertising India, media advertising India)
For more updates, be socially connected with us on
Instagram, LinkedIn, Twitter, Facebook & Youtube
Unlocking potential of nano communities by diversifying business models
Guest Column: Jean-Paul Reparon, Agrimedia, Netherlands, shares key fundamentals that can help publishers not only survive but thrive in this dynamic environment
New challenges in ad sales
Guest Column: Jim Elliott writes on why one sales approach doesn't work for all publications
In 2023, more than 7,500 magazines are listed in the American advertising industry's reference source, SRDS — 2,839 consumer magazines and 3,814 business publications. Magazines produced by associations may fall into either category. The Elliott Company sells advertising and sponsorships for publishers in all three of these categories. We are reminded daily that no one sales approach can work for all of them.
Today, in the US, and I suspect around the world, selling advertising and sponsorship has become much more complicated than ever before, requiring more skills and more knowledge than just a few years ago. The proliferation of advertising vehicles can be overwhelming to advertising sales teams unless they are constantly learning and evolving.
Competitors are no longer limited to similar media and categories. Magazine publishers must compete for dollars not only with other magazines but also with other mediums; newsletters, podcasts, video, social media, other digital products, and in-person events such as exhibitions, conferences, and summits.
There are many ways to reach a buyer of goods and services today, and astute salespeople learn as much as they can about all of them. Many publishers have broadened their offerings to include additional opportunities. Of course, sellers need to understand how to compete against elements introduced by other media brands. Sellers must know how all the opportunities created by publishers they represent can work together to maximize value to advertisers and sponsors.
There are so many ways to reach buyers — and so many different sellers representing them — that potential advertisers can be overwhelmed and distracted. Sellers must ask questions and listen so that they fully understand exactly the marketer's goals and the best vehicles to help them reach those goals.
One of the most effective approaches our sales teams offer is brand studio work. Advertising is tailored to fit the content in which it appears. Some publishers allow their editorial staff to work with advertisers; others have different writers. The key is for the marketing product developed in the brand studio to mesh with the editorial.
Selling advertising has gotten more complicated, and it promises to become even more so. Artificial intelligence tools like ChatGPT, just now becoming popular, will allow mass customization of outreach. A recent white paper by the data company MediaRadar points out that artificial intelligence will dramatically multiply the number of advertisers a sales team can contact. The benefit is that AI will reduce the time required by ad sellers to do their preparation for marketers and agencies. The downside is that every competitor will have access to similar tools and the volume of "relevant" messages aimed at each marketer and agency will grow exponentially.
Successful sales organizations will need to find answers to challenges like artificial intelligence, just as they are finding solutions to the problem of proliferation of advertising and sponsorship opportunities. Publishers will need to hire salespeople with the curiosity and motivation to stay abreast of constant innovation and the skill sets that enable them to sell in the changing environment.
As Rishad Tobaccowala, Senior Advisor to Publicis Groupe says, "the future will not fit the containers of the past". Nothing could be truer in the world of advertising sales.
Jim Elliott, President, James G Elliott & Co., will be speaking at the Indian Magazine Congress. IMC is all set for a comeback as the flagship event of the Association of Indian Magazines. It is slated to be organised on March 24th at the Oberoi, New Delhi.
Read more news about (internet advertising India, internet advertising, advertising India, digital advertising India, media advertising India)
For more updates, be socially connected with us on
Instagram, LinkedIn, Twitter, Facebook & Youtube
Ditch the clickbait: How prioritizing content excellence pays off
Guest Column: Jan Thoresen, Author and CEO Labrador CMS, writes on ways to make sure your content stands out in the crowded online space
There is a reason why you became a publisher, an editor, or a reporter. You want to publish quality content and take pride in creating the best possible articles about your specific subject. You are committed to producing quality content, and this is why we are in this business.

Over the years, I have seen first-hand the potential and possibilities of online publishing. However, the struggle for profitability and growth can lead to bad journalism - journalism with only one source, with zero sources, or journalism that is under attack from social media, fake news, and synthetic content. I call it disposable journalism. But there are ways to combat this and ensure that you produce quality content that stands out in the crowded online space.

You don't need traffic peaks; you can commercialize them. Sales cannot sell on peaks; they sell predictable ad inventory. Peaks don't retain paid users either. You might convert a few, but they won't stay with you if you baited them in.

At a recent INMA Subscription event in Stockholm, former Chief Economist of Spotify, Will Page, warned publishers against only looking at their own metrics when they optimize their websites. Young people spend most of their time watching videos on their social media, not reading your publication. Your metrics don't know what they see on their mobile, and you don't even know what they read at your competitors. If you optimize for what you already have, you might miss the largest opportunities that you haven't gotten yet.

Firstly, award quality instead of clicks. Traffic will come from direct, social, and search. Instead of focusing solely on clicks, produce quality content that offers real value to your readers. This will not only increase reader loyalty but also attract new readers. Teach your reporters to produce at lower frequencies but better.
Secondly, employ responsible leadership. Keep your eyes on the noble cause of providing quality journalism from your publication. Help reporters, data scientists, and your developers to solve the real problems, how to increase the retention of free and paid users by delivering surprisingly good content. Hold your employees accountable for delivering better. Your readers rely on you to do that.

Thirdly, trust your niche. Your language, geographic location, subject, and expertise have high value for your readers. Embrace it. By focusing on your niche, you can manifest your role as an expert and build a loyal following.
Fourthly, remember that your site is a playlist, not an album. You sell single stories, and people end up on your page from Google or Facebook. They are snacking on your content. Make sure your production quality is visible in a single story. This will ensure that readers know what they can expect from your publication.
Finally, get rid of your 2017 tech stack. In 2023, newspapers and magazines are hosted from the cloud, and the paywall isn't home-built anymore. It's delivered by professionals. That applies to your data tracking, personalization, newsletter, video players, and content management systems as well. We don't build everything in-house anymore, not even in large media groups. What we build is the stuff on top. The shiny stuff that differentiates you from your competitors. That is unique to you.
In Labrador CMS, we spent 13 years fine-tuning our CMS together with hundreds of clients. The basic stuff in publishing is rather complicated and expensive. Our goal is to help editorial publishers gain core functionality quickly, enabling them to grow faster than their competitors. We call it beyond headless.
Jan Thoresen will be speaking at the Indian Magazine Congress. IMC is all set for a comeback as the flagship event of the Association of Indian Magazines. It is slated to be organised on March 24th at the Oberoi, New Delhi.
Read more news about (internet advertising India, internet advertising, advertising India, digital advertising India, media advertising India)
For more updates, be socially connected with us on
Instagram, LinkedIn, Twitter, Facebook & Youtube
Indian Magazine Congress is back; to be held on March 24
The theme for this year's Congress is how even in the digital age, magazines are the most effective medium for "Building Engaged Communities"
The Indian Magazine Congress (IMC) is all set for a comeback as the flagship event of the Association of Indian Magazines (AIM) is slated to be organised on March 24th, at the Oberoi, New Delhi.
The Congress has been an annual affair since 2006, one that brings together the entire magazine publishing fraternity including editors, publishers, digital heads of media houses, policymakers, media owners, marketers, media planners, as well as researchers and industry analysts. It is the forum that connects the Who's Who of the Publishing fraternity.
The association is organising the event after a gap of four years, and at a time when magazine publishing has adopted new paradigms to remain ever more relevant to its readers in the post-Covid era.
This year's Congress theme is how even in the digital age, magazines are the most effective medium for "Building Engaged Communities". The theme is rooted in the empirical evidence that in the digital age, marred by information overload and cluttered digital spaces, the need for highly engaged and involved communities is becoming ever more important, as users feel the urge to break away from the clutter of social media lead content deluge, and find solace and comfort in spaces that align with their interests and with like-minded peers. Magazine brands are uniquely poised to nurture such engaged communities.
The Congress will bring together an exciting line-up of speakers from India and around the world:
Minette Ferriera, Media 24, South Africa
James Elliott, USA
Jean-Paul Reparon, Agrimedia, Netherlands
Jan Thoreson, Aller X, Norway
James Hewes, President, FIPP
Acharya Balakrishnan, Patanjali
Shashi Sinha, IPG Mediabrands
Tarun Rai, Wunderman Thompson
Prasanth Kumar, Group M
Ram Suresh Akella, Maruti Suzuki
Kalli Purie, India Today
Jayant Shriram, Innovation Media Consulting
B Srinivasan, Ananda Vikatan
Anant Nath, Delhi Press
Manoj Sharma, India Today
Dhaval Gupta, Cyber Media
Annurag Batra, Business World
Speaking on the Congress, the president of AIM, B Srinivasan, said: "The magazine is a unique device that has always driven perspective and enabled its communities to draw insights, rather than simply reporting and provoking audiences like most other media. We thrive in digging deep, then digging wide in our coverage of happenings around us, rather than rely on the length and breadth our coverage. In the world where readers have become our competition (influencers), fake news has overtaken relevance over fact checking, ChatGPT has almost crossed the Rubicon of human reportage with machine language (AI/ML), when big tech and governments in vibrant democracies decide what content is ripe for take-down, it is ever so important that we discuss our concerns around policy, technology, distribution, client needs, and most importantly, what our communities expect of us. That is what we have been fostering under the hood for 6 months now, and so we are proud to present AIM's 12th Indian Magazine Congress – Building Engaged Communities."
Read more news about (internet advertising India, internet advertising, advertising India, digital advertising India, media advertising India)
For more updates, be socially connected with us on
Instagram, LinkedIn, Twitter, Facebook & Youtube