Prithvi Shaw: Will more brands bet on the man of the moment?
Prithvi Shaw became the youngest Indian to hit a century in a Test debut against the West Indies in Rajkot on October 4, taking the nation by storm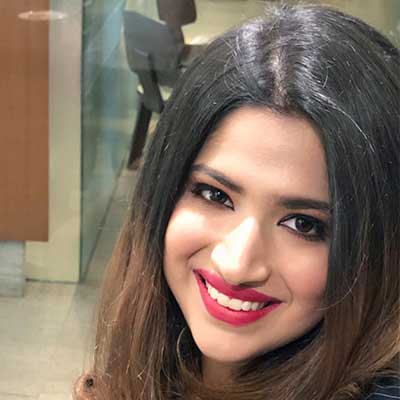 by
Published - 09-October-2018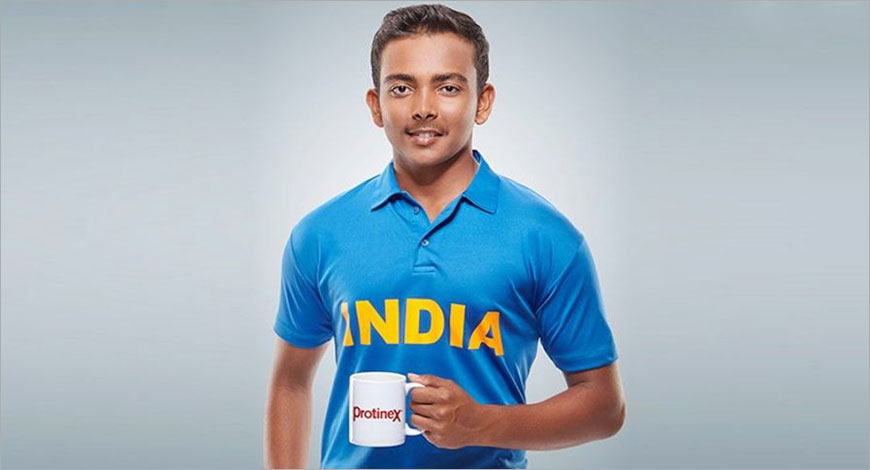 When the 18-year-old cricketer Prithvi Shaw became the youngest Indian to hit a century in a Test debut against the West Indies in Rajkot on October 4, he took the nation by storm. Twitter went gaga after the news broke- after-all Shaw's debut century is the third quickest, after fellow Indian opener Shikhar Dhawan's century off 85 balls against Australia and West Indies' Dwayne Smith who scored it off 93 balls.
Shaw is managed by India's leading sports marketing firm, Baseline Ventures. Even before the squad left for New Zealand and his recent stint, Shaw had two brands backing him, Protinex (Danone India) and MRF Tyres. In the past, MRF had signed similar deals with Sachin Tendulkar, Brian Lara, and Steve Waugh.
So could the prodigy become the next Virat Kohli of the ad-world? After all, he is the man of the moment. Will his brand value shoot up? Ramakrishnan R, Founder, Baseline Ventures says that brands could be a part of his growth story. "Prithvi has always been a hope and promise ever since he was 14. When we work with brands to sign athletes, we always tell them to be a part of his or her growth story. This establishes an emotional connection and is more long-term with him being more loyal to them. The same was with Sindhu when we signed her back in 2013. Shaw had two brands backing him even before his recent stint which speaks for itself. If he performs consistently, brands will bet on him."
Indranil Das Blah, Founding Partner and Co-CEO Kwan Entertainment, opines that Shaw's brand value will take time to increase. "He will need to be consistent and regularly perform on the international level. It is when he does well in tough conditions like our next series in Australia, that his brand can truly evolve. He's likable and relatable, and brands should use those attributes when signing him on," he says. Blah shares that mass brands which use cricket as a medium to reach out to smaller towns and cities will be the brands which might rope him in.
Brand expert Gaurav Gulati is optimistic that the sports star's brand value is definitely going to shoot up. "Prithvi Shaw is the most trending personal brand at the moment. Brands have always experienced it; an athlete's image creates a great connection between a brand and consumer and this why contemporary brands consider this key to success. For marketers, digital trending and buzz have a financial value, and it becomes more precious when it happens organically. Keeping this in mind, undoubtedly Shaw's brand value is going to shoot up," asserts Gulati.
Another point to be noted is that Shaw was one of the big earners of the IPL auction — he was signed by Delhi for Rs 1.2 crore, which was six-times his base price of Rs 20 lakh. Says Harish Bijoor, Founder, Harish Bijoor Consults Inc, "Prithvi Shah is a sensation today. The next three matches will define his brand presence. If this is seen to be a sensation that has arrived, true and blue, his brand price is going to sky-rocket for sure. In the world of brands in India, too many brands are chasing too few cricketers. The birth of a new star is always welcome."
Kanthi D Suresh of Power Sportz, states that from a brand enhancement point of view, Prithvi Shah would be forced to grow faster, with his current success and the promising potential. "I think particularly in a career like sports, keeping focus is of paramount significance. Ignoring the noise and focusing on work would be a better option to adopt, considering the tenure that lies ahead for him," shares Suresh.
For more updates, subscribe to exchange4media's WhatsApp Channel- https://bit.ly/2QUdLCK
Siddharth Sai G on February 14 tweeted to Parle Products requesting the FMCG major to bring back his favourite cola-flavoured candy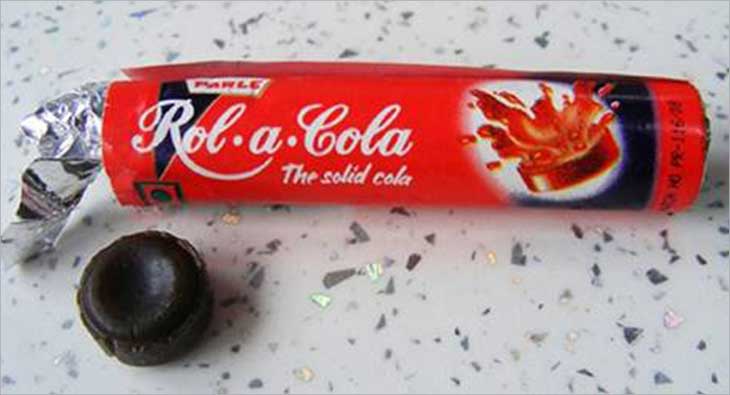 Parle Products is preparing to bring back the 90s candy Rola Cola. Following a tweet from a Rola Cola lover from Kerala, Parle Products tweeted that 10K retweets of its tweet can revive the candy that was last produced in 2006. While the target is yet to be achieved, the company is already working on a market strategy for the candy brand that brings back nostalgic memories of growing up in the 90s.
Confirming that Parle is already planning for producing Rola Cola, B Krishna Rao, Sr. Category Head - Marketing, Parle Products, said that consumers can expect Rola Cola to be back on the shelves in 75 days. Parle Products has set up a team that is chalking out the nitty-gritties of this project. "We are working on sourcing the moulds, where to produce the candy, deciding the price point, distribution and promotion for Rola Cola," said Rao. Even though the production had stopped for the Indian market, Rola Cola has been on Parle's export roster.
While the original target was 10K retweets, Parle is willing to go to production even if the total number of retweets falls short by a few thousand. Siddharth Sai G who first tweeted to Parle Products is eager to have his Rola Cola back. In fact, he wants to gather 10K tweets and has taken up the challenge to crowdsource the tweets. "I have reached out to Netflix, Microsoft, Google and a few airline carriers that are active on Twitter. Even if one of them takes this up, we will be able to achieve the target," he says.
Parle's quick response to Siddharth's tweet and the decision to bring the candy back irrespective of achieving the target tweets is a prime example of how brands can win the love of consumers by being proactive on social media. Giving full-credit to Twitter for being the enabler of conversations between the consumer and the brand, Rao says, "Being willing to listen to the consumer on social media along with quick decision-making are the key ingredients of a strong social media strategy."
Rao has immense praise for the platform. He said that even though Parle Products has received many requests to bring back products by snail mail and email, it is only when a consumer took to Twitter that the request of one person turned into a movement. He said that a single tweet from one person stands for the voice of many more people who love the brand and want Rola Cola to be revived. "We would be really delighted to serve the consumer and bring back an iconic brand like Rola Cola. We are hoping that the brand receives a warm welcome from our consumers across the country," he said.
As this article goes to press the tweet has earned close to 2,300 retweets.
For more updates, subscribe to exchange4media's WhatsApp Channel- https://bit.ly/2QUdLCK
Singapore Tourism Board's Director, Brand (Marketing Group), Lim Shoo Ling and GB Srithar, Regional Director (South Asia, MEA), speak to exchange4media on their focus to attract more Indian tourists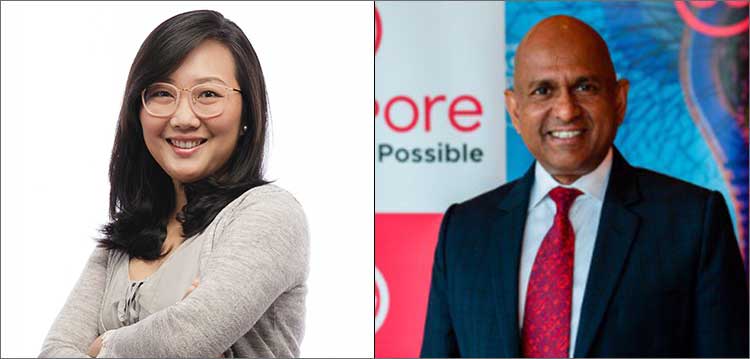 To attract more tourists from India, Singapore is planning to increase its focus on Tier 2 and Tier 3 cities this year. "For India, there was growth from both tier one and tier two cities, due to strong travel demand and increased flight connectivity. In particular, the cruise arrivals from India spiked to 27 % as more Indian travellers took up new cruise offerings such as Genting Dream and Royal Caribbean Cruises' Voyager of the Sea," shares Lim Shoo Ling, Director – Brand (Marketing Group), Singapore Tourism Board and GB Srithar, Regional Director (South Asia Middle East and Africa), STB in conversation with exchange4media.
Edited excerpts :
What are the different layers of storytelling utilized for Passion Made Possible?
Singapore – Passion Made Possible is a brand that captures the spirit of Singapore, a place shaped by its people and their passions, and driven by their passion to constantly pursue new possibilities and reinvention. It celebrates what we stand for as a country and supports the telling of many stories about this destination and its people.
With Passion Made Possible, STB presents, for the first time, a brand that tells a fuller Singapore story beyond tourism and business. We adopted an 'inside out' approach, i.e. it had to resonate with the people at home first. The Singapore story is shared by everyone with a stake in its success – from everyday locals and entrepreneurs to industry stakeholders and businesses and various government agencies.
To business and leisure travellers, we want to inspire them to connect with and deepen their passions through the possibilities Singapore offers. In connecting and communicating with STB's target audience, we looked at their lifestyles, interests, and reasons for travel to form seven "Passion Tribes". This includes Foodies, Collectors, Explorers, Action Seekers, Culture Shapers, Socialisers and Progressors.
Since August 2017, the brand has been rolled out through a global marketing campaign across more than 17 markets through consumer launches, trade events, industry partnerships, and global marketing campaigns featuring campaign films and visuals to bring across the deeper storytelling of our Singapore locals and the authentic experiences of Singapore, beyond our iconic offerings.
As part of bringing the brand to life, STB also continues to support the creation of tourism products and experiences, enabling the passions of travellers and tourism stakeholders to be realised through various possibilities in Singapore, such as is by curating tours and experiences that exemplify the Singapore Passion Made Possible brand and spirit, many of which are already in existence.
In India, the campaign was launched in September 2017 with a multi-pronged approach. There was a media event along with media buys (print, digital, cinema, and television). There were partnerships with key trade partners to promote Passion Tribe experiences – Thomas Cook, Make My Trip, FCM. We initiated media partnerships which enabled us to generate content catering to the specific Passion Tribes along with KOLs from India. We undertook some interesting consumer-facing collaboration such as Paytm and Ola, which gave the Indian audience a chance to experience and sample Singapore's diverse offerings. In the music and entertainment space, we collaborated with Vh1 India for a music video titled 'Unstoppable' featuring International and local artists, which was very well received garnering 4.7 million views on YouTube. There were extensive trade, media, influencer, and consumer outreach so as to promote the brand. One major initiative was the collaboration with St+artIndia and Impresario Group for the Singapore Weekender.
How important is India as a market for Singapore? How has the visitorship been in 2018?
Singapore has always been popular with Indian tourists. In fact, in the last four years, more than a million tourists from India have visited Singapore. In 2017, Singapore received 1.27 million visitors from India with the country recording the highest growth rate of 16% among all the markets. In 2018, 1.44million Indian visitors visited Singapore with an increase of 13% as compared to the previous year. For India, there was growth from both tier one and tier two cities, due to strong travel demand and increased flight connectivity. In particular, the cruise arrivals from India spiked to 27 % as more Indian travellers took up new cruise offerings such as Genting Dream and Royal Caribbean Cruises' Voyager of the Sea.
The Indian outbound segment has been growing steadily over the years. Economic growth, higher disposable incomes, eagerness to travel frequently, attractive and affordable holiday packages and an increase in MICE activity has contributed to the growth of the Indian outbound market.
We are noticing a significant change among Indian holiday-goers. They are more evolved, aware and discerning seeking experiential holidays. Interesting trends include a noticeable shift from an annual vacation to multiple-holidays-in-a-year. Keeping these trends in mind, Singapore has always been focusing aggressively on promoting the destination in India. This has led to the destination becoming one of the most popular among the Indian travellers, witnessing a year-on-year growth in tourist arrivals.
What are the recent and upcoming brand and marketing initiatives planned?
One of the recent initiatives was a partnership with Ola where Ola ran a campaign on its various platforms for its users to win a trip to Singapore. In addition to the campaign, the Singapore Tourism Board's brand of Passion Made Possible was further entrenched through the showcasing of our branded content across Ola's platforms. With technology redefining mobility for the Indian consumers, the Singapore Tourism Board wanted to reach out to India's digital natives on the Ola platform through this partnership.
We are also having the second edition of Singapore Weekender in Delhi, a three-day experiential festival by Singapore Tourism Board in association with St+art India Foundation and Impresario Group. This is the second time that all the three brands (Singapore Tourism Board, St+art India Foundation and Impresario Group) have collaborated for the festival (Singapore Weekender). The first edition of Singapore Weekender took place in 2017 at Sassoon Docks in Mumbai when the Singapore Tourism Board launched the new brand campaign titled 'Passion Made Possible' globally.
This time, the collaboration has been done as a part of the STB's second phase promotions of the Passion Made Possible brand with an aim to highlight the Passion Tribes of Culture Shapers, Socialisers and Action Seekers. In pursuit of their passions, artists from Singapore will be showcasing their work at the festival and in doing so, bring a slice of Singapore to inspire and provoke audiences here to discover/ deepen their passion for art and life. Another interesting initiative which is a part of the Singapore Weekender is Atypical Singapore, an art and augmented reality (AR) technology showcase, which is an interesting initiative undertaken by Singapore Tourism Board as a part of their brand campaign 'Passion Made Possible'. As part of the showcase, Khairuddin Hori, curatorial director and partner of Chan+Hori Contemporary, has handpicked few contemporary artists with different specializations, ranging from performance art, sculptures, painting, gif animation, video art to AR effects.
Since the launch of the Passion Made Possible brand, the STB has embarked on a series of marketing campaigns and activations to showcase Singapore's passions and talents through storytelling and to allow visitors to connect with their passions and discover a deeper side to Singapore as a destination. Singapore Weekender is one such activation aimed at the Indian market.
STB is committed to sharpening our strategy for quality tourism. We want to tell a great authentic Singapore story, target the right fans and adopt innovative marketing practices to create richer and more immersive experiences for visitors and locals. We hope to expand our regional footprint in India with great in-market trade and non-trade partnerships.
How are tourism boards today adapting unique approaches to promote their campaigns?
Indian travellers are becoming more experiential, technologically-savvy and consequently more demanding. While visiting a destination they are not just convinced by visiting the attractions but rather they would want to experience the place and check out its varied unexplored and unique offerings. This is one thing that tourism boards across are taking note of and are trying to come up with strategies and campaigns which incorporates such new and upcoming trends. Our campaign Passion Made Possible is one such campaign which has taken an inside-out approach. It is showcasing Singapore's passion and talents through storytelling and allowing visitors to discover a deeper side to Singapore.
We have done some interesting collaborations and undertaken some initiatives to promote the new brand such as experiential events for the consumers– we did a consumer travel fair in Bangalore last year and also collaborated with St+art India Foundation for the Singapore Weekender where Singaporean artists came to India to showcase their works, and in doing so, bring a slice of Singapore to inspire and provoke audiences here to discover/ deepen their passion for art and life. We have also done tie-ups with major consumer brands like Ola and Paytm so as to promote our offerings to their strong user base through contests, offers, etc. Last year, we also collaborated with Vh1 India for a music video which featured international artists and also Singaporean talents. The song titled "Unstoppable" was an effort to connect with the discerning young travellers from India who are seeking immersive, local experiences. The song urges listeners and viewers to evoke their experience-and-discover spirit by pursuing and living up their passions.
How have you planned your ad spends for 2019?
We are spending significantly on films and their digital distribution. That doesn't mean we will not focus on traditional forms of media, TV, print, radio and outdoors continue to remain an important part of the consumer mix. Moving forward, we will be focusing on PR and digital mediums to reach out to our target audiences.
What would you say has been the biggest shift in the way Singapore is marketed as a tourist destination between now and a decade ago? What are your focal areas as we go forward?
Earlier we were promoting Singapore with more emphasis on the attractions available in the destination. We were talking about the popular attractions that one could visit, what to eat there, where to shop, etc. In the eyes of the global stage, while Singapore's strengths of safety and cleanliness are lauded, more people wanted to know what was different about Singapore and we realized that there was a great need to let the real Singapore story emerge and anchor what Singapore stands for.
Our current brand identity focuses on the attitude and spirit of Singapore in telling a fuller Singapore story beyond tourism. The tagline 'Passion Made Possible' is consumer-focused and reflective of the universal desire to pursue passions. At a tourism level, consumers want to experience what's local and authentic and we want to inspire visitors to connect with and deepen their passions through the possibilities Singapore offers.
For more updates, subscribe to exchange4media's WhatsApp Channel- https://bit.ly/2QUdLCK
Interbrand announces expansions plans in newer markets and new brand wins in 2019

by
Published - 21 hours ago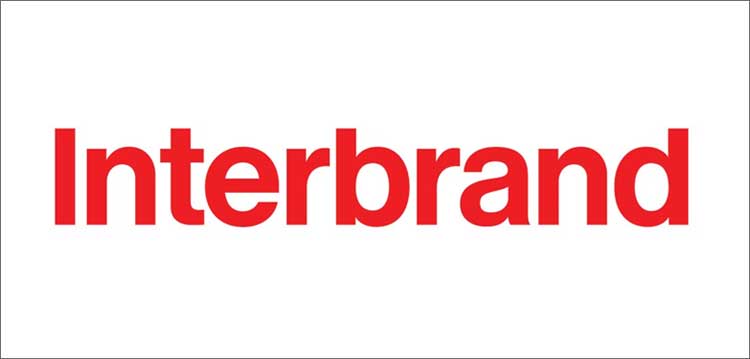 Interbrand, one of the leading brand consultancy, recently completed five years in India. As the market globalises and grows, the consultancy is pushing the envelope with its global best-in-class solutions.
On the occasion, Interbrand revealed decade's top 5 Branding assignments that established its leadership credentials in the market. The list begins with the rebranding of Godrej through which a brand led organisational transformation was illustrated for the Indian market. The next in line was the Mahindra global brand aspiration exercise which can be hailed as the first serious exercise by an Indian brand to rise to a global brand status. The next project perhaps was the biggest branding exercise that the country had seen and will see in years to come Reliance JIO. A brand that by design transcended the category and spawned the Digital Life platform as India's first new age tech brand. The recent years saw Interbrand rebrand the iconic Britannia to reconnect it to its new business ambitions of being a Total Global Foods Company. And lastly its iconic move was in form of repositioning Infosys to help it move upstream in the new technology sector paradigms.

On the occasion, Interbrand announced a slew of new wins as well as expansion into adjacent markets as its new plan to sustain its leadership. Interbrand has already established its business in Sri Lanka with its local partner MND. MND has branded and repositioned many of Sri Lanka's renowned brands that include Aitken Spence Plc, Elephant House, Goodhope Plc, Lion Lager and Ceylinco Life. After the thriving association today, Interbrand's Sri Lanka partner has team strength of 8 people and is working with brands like HNB, LB Finance, DIMO, Softlogic and Nawata among others.
Interbrand is also planning on expanding its business in markets like Maldives and Bangladesh in 2019.
In addition to expanding its business geographies, Interbrand unveiled key account wins in India which includes brands like Haldiram's, Godrej Properties, Britannia Dairy, Ashok Leyland, Jain Farm Fresh and Kansal Nerolac.
Interbrand's India Head, Ashish Mishra said, "In half a decade, Interbrand has built relationships with a third of the country's 40 most valuable brands. We are excited to create some great branding work for our new clients. We see strong, respected businesses in Sri Lanka, the Maldives and Bangladesh. Being the youngest in the global network, this expansion makes us the premier brand consultancy in the subcontinent."
Gonzalo Brujo, Interbrand's Global Growth Officer and part of the network's global leadership team, said, "Interbrand India has shown immense growth by evolving products according to customer needs and by being purpose-driven. We believe this expansion will be a huge success."
Michel Nugawela, Head of Interbrand's partner in Sri Lanka, said, "We are experimenting with new ways to grow; this will be a remarkable journey. Globally, Interbrand has played a leading role in instilling confidence among business leaders through its robust value-based methodology which has grown businesses of the best global brands."
Interbrand has a network of over 33 offices in 27 countries on the recently launched inaugural Interbrand Breakthrough Brands Report in partnership with Facebook, Ready Set Rocket, and the New York Stock Exchange. Interbrand's Best Annual Global Brands report also highlights the guide to the world's 100 most valuable brands and values each brand's financial performance, role and their strength.
Interbrand's portfolio of clients include HSBC, American Express, Credit Suisse, Barclays, Swiss Re, Allstate, Bank of America in financial services, and GE, Shell, IBM, KPMG and Godrej in diversified sectors; and FedEx, UPS, DHL, British Airways , KLM, Thai, Iberia, Lufthansa, Singapore Airlines and Maersk in logistics and transportation; and Unilever, P&G, Nestle, Kraft, Nivea, Knorr and Wrigley in CPG/FMCG; and FIFA, Rugby Football Union, Ryder Cup, USGA and Sochi Olympics in sport branding; Gucci, Prada, Rolls Royce, Cartier, Hugo Boss, Bulgari and Remy Martin in the luxury segment as well as cities, regions, and nations such as Edinburgh, Johannesburg, Manitoba, South Korea, Holland and Chile.
For more updates, subscribe to exchange4media's WhatsApp Channel- https://bit.ly/2QUdLCK
SVG Media, a Dentsu Aegis Network company, will help increase US-based BirdEye's global footprint as the leading customer experience and business reputation platform

by
Published - 22 hours ago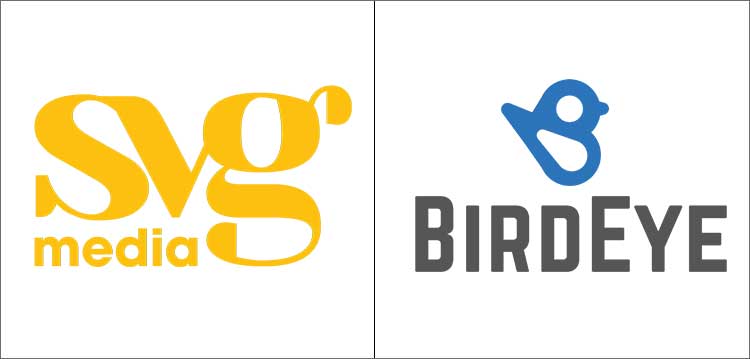 SVG Media, a digital marketing platform with over 150 million unique visitors, has announced a strategic partnership with US-based BirdEye in India.
With BirdEye, businesses can manage their reviews across hundreds of websites and turn customer feedback into revenue growth. SVG Media, a Dentsu Aegis Network Company, will help increase BirdEye's global footprint as the leading customer experience and business reputation platform.

BirdEye gives businesses the ability to hardwire every business decision around the customer and scale revenue growth. BirdEye's all-in-one platform includes review monitoring, review generation, review marketing, customer surveys, social listening, social publishing, social engagement, customer support ticketing, listings, webchat, business insights and competitive benchmarking.
SVG Media will assign a workforce of Digital experts across multiple offices in India and will support BirdEye in working with leading brands all over the country.

"We are incredibly excited about this partnership. SVG brings an unparalleled understanding and execution in the Indian market. This is the reason why the majority of the world's leading companies cherry-pick SVG as their digital partner," said Naveen Gupta, co-founder and CEO of BirdEye.

"The marketing tangent in India is fast evolving and there is a growing need for effective marketing technologies. The BirdEye product suite serves a holistic and focused approach towards revenue contribution across their implementations. SVG would bring its strategic market understanding and sales expertise to grow the business presence in India. We are very excited to be partnering with BirdEye and are looking forward to improving customer experiences in India," said Anurag Gupta, CEO of SVG Media.

Launched in early 2012, BirdEye now serves over 50,000 business from small and medium-sized businesses to Fortune 500 companies. The partnership with SVG Media will further strengthen BirdEye's presence in the Indian market at a time when the company is more than ever advancing its products and services for brands looking to manage their customer experience and online reputation all in one place.

For more updates, subscribe to exchange4media's WhatsApp Channel- https://bit.ly/2QUdLCK
Veteran advertising professional, Praveen Kenneth, along with filmmaker Pradeep Sarkar & musician Dhruv Ghanekar launch 'Ek Desh, Ek Hum' video

by
Published - 23 hours ago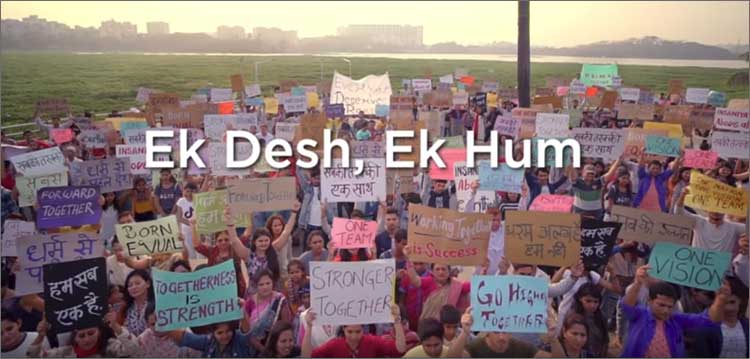 Praveen Kenneth, founder Law&Kenneth, and who retired last year as chairman of Law&Kenneth | Saatchi & Saatchi, has launched a campaign under the platform of 'Ek Desh, Ek Hum'. The platform kicks off with a video that stresses on the theme of 'Stronger Together' theme.
Stating on the intent of the messaging, Kenneth said, "What we are conveying is not new. It's simple, it's obvious. We all know the Magic of India is the amazing diversity of its people, across cultures and religion. Our life is fuller, vibrant, expanded, thanks to our Hindu, Christian, Muslim, Sikh, Jain, Buddhists friends, brothers and sisters. I believe this is the underlying strength of our Nation. The important thing however is that we need to keep bringing this back into the Center stage of Conversation and Consciousness. It's like brushing teeth- it needs to be gotten into our collective Consciousness -always. And this needs to be a on-going and a engaging conversation- Nation Above All. A nations' health and progress is directly proportional to the quality of the collective and inclusiveness of the society- and that's the truth. We all know and have been taught this from school - that only in connection there is Progress/Growth/Joy, and in DisConnection - there is pain, suffering, chaos."
Kenneth said, "In a daily life which zigzags through understandable difference, disagreements, arguments and loud and angry debates - which is the beauty of a democracy and always encouraged - the interest of India and Indians , should and will always be the in the centre. The campaign is an effort to bring back this conversations. This effort will be wasted if this ends up trying to pick up holes and complaining instead, to focus on moving forward, always improving, always enabling , always looking at the bigger picture of Great Progress."
The 'Ek Desh, Ek Hum'— launch video has been directed by noted filmmaker Pradeep Sarkar while the music has been scored by the Dhruv Ghanekar and the lyrics have been penned by Ishita Arun. The video shows a young nation awakening to the need to come together. The narrative of togetherness is spread by people across the country, from every section of society and incorporates India's great diversity.
"Togetherness is strength - this is the singular message that we want to convey," Kenneth said.
The video is accompanied by Twitter push that will be hosted on #Ekdeshekhum. This will be supported by extensive TV and radio support.
"We hope to reach out to people across the political and civil spectrum, taking along all ideologies and views. In the end, everyone wants growth, progress and fraternity – for that, we need to remind ourselves , the very much used adage - UNITY IN DIVERSITY," Kenneth said.
For more updates, subscribe to exchange4media's WhatsApp Channel- https://bit.ly/2QUdLCK
Movement has got support from celebrities like Rajkummar Rao, VVS Laxman and Neha Dhupia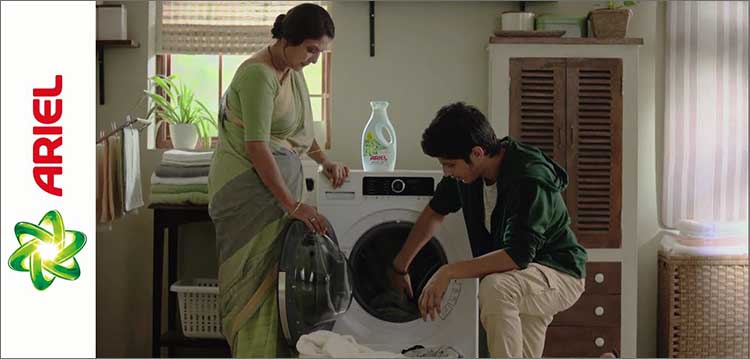 Ariel India's Sons #ShareTheLoad campaign has received over 20 million views. The latest film by Ariel India has started a conversation about raising sons and daughters equally.

Endorsing this thought, Facebook's Chief Operating Officer and founder of LeanIn.org, Sheryl Sandberg said, "We teach our daughters to stand on their own feet. But we don't teach our sons to lend a hand. This is such a powerful ad about how stereotypes get passed on from generation to generation – but now we have the opportunity to change that."

The movement has gained support from celebrities like Rajkummar Rao, Patralekha, Sanjeev Kapoor, VVS Laxman, Neha Dhupia and Soha Ali Khan.

Partnering Ariel in making laundry the face of the movement is Whirlpool. KG Singh, Vice President - Marketing, Whirlpool India, says: "Whirlpool believes in creating happier homes and this is enhanced when family members share household responsibilities. Whirlpool is proud to support Sons #Sharetheload as the campaign's key message is integral to brand Whirlpool's ethos.''

Sharing her views on the early success of the film, Sonali Dhawan, Marketing Director and Fabric care Lead, P&G India, said: "We can see that the campaign is striking a chord. We are seeing an outpouring of personal stories, anecdotes and letters across social media platforms. We garnered 15 million views in just 2 weeks. It goes on to show that the message, the film and the cause are truly resonating with the audience. Ariel is proud to be at the forefront of converted effort in addressing the inequality at home and move the society to a happier, more equal future. This is just the beginning."
For more updates, subscribe to exchange4media's WhatsApp Channel- https://bit.ly/2QUdLCK
Guest Column: Poulomi Roy, Chief Marketing Officer, RSH Global explains why Indian youth need to move from the 'You Only Live Once' philosophy to 'You Also Grow Old' in terms of personal care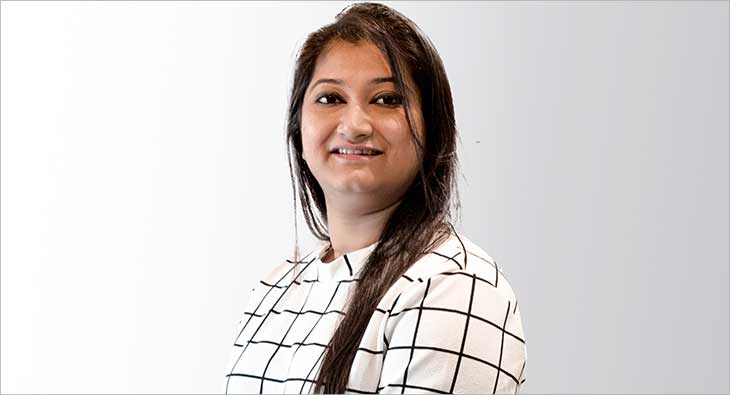 YOLO or 'You Only Live Once'. If there is anyone who has adopted this ethos – it's 'Millennials'. Millennials or Gen Y have a certain carefree attitude and believe in enjoying a fuller life today, but at what cost? And as millennials get older, a new generation is coming of age – the Generation Z-ers, which is not very dissimilar to the millennials. In fact, a Bloomberg analysis of United Nations data notes that Gen Z will comprise 32% percent of the global population in 2019, surpassing millennials by half a percentage.
The millennials and Gen Z need to wake up to another stark reality –'YAGO' or 'You Also Grow Old', and it becomes important for us as marketers to enable this shift in the mindset of the young Indian consumers from the YOLO to YAGO approach.
To be sure, the YOLO to YAGO, as a concept, has long been synonymous with the financial planning sector—and for obvious reasons. But this very idea today has an unmistakable resonance for the personal care industry. Global warming is a serious concern today with 16 out of 17 hottest years being observed since the start of the millennium. Asian countries are rushing to fight toxic air pollution as well. As months get hotter and because of environmental pollution, the Gen Y and Gen Z are increasingly facing skin problems. Pigmentation and wrinkles, for instance, were once a problem that the middle-aged faced. But no longer. Now, even those in their 30s complain of wrinkled or pigmented skin.
In a tropical country like India, summers are the time when a plethora of brands launches their products in an advertising blitzkrieg, often leaving the young consumers bewildered.
The Indian market has been flooded with skin care products that claim to provide instant benefits. What many of the younger generations fail to recognise is that instant gratification comes at a cost, with personal care products laced with chemicals that harm their skin and bodies. It is often tempting for a 30-year-old, for example, to pick an instant gratification product and mask his or her wrinkles. They, however, need to be persuaded into investing in good skincare products with natural extracts. This is one of the areas where marketers could play a key part, making consumers aware of the benefits of better, chemical-free personal care products.
To combat the new-age skin menace, it's important that as personal care manufacturers, we formulate products keeping the YAGO ideology in mind and in the same breath while marketing these products, inculcate the YAGO concept in our approach.
While eating right and healthy is essential, starting a skincare regimen at a much younger age is vital. After all 'You Also Grow Old'.
(The author Poulomi Roy is Chief Marketing Officer at RSH Global, makers of Joy Personal Care and X-Men Personal Care products)
Disclaimer: The views expressed here are solely those of the author and do not in any way represent the views of exchange4media.com
For more updates, subscribe to exchange4media's WhatsApp Channel- https://bit.ly/2QUdLCK
The automobile industry on an average is growing in single digits but the pre-owned car market is growing at more than 15% per annum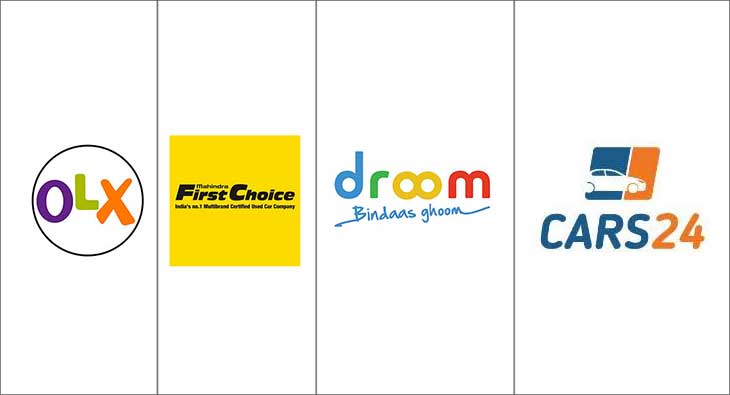 The craze of purchasing used cars is witnessing an upsurge as compared to the desire to buy new cars in India. India is the third largest automobile market in the world, worth close to $300 billion. After e-commerce, India is emerging as a nation that is attracting the most amount of car buyers in the globe.
Despite many products launches in the passenger vehicle segment, the auto sector saw no cheer during the last festive season. But, the used car market is growing at a tremendous pace.
As per the data by Society of Indian Automobile Manufacturers (SIAM) released in 2018, at nearly four million used cars the used car market is 1.25 times bigger than the new car market that saw sales of 3.2 million units last financial year.
Also, CRISIL in its report stated that almost two in every three cars sold in the country are used cars. It further said that the used car market will grow at a steady pace of 15 per cent till 2020.
The major reason behind the growth of the used market could be seen as its table turning into much organised place, and the emergence of new players in the market. CarDekho, OLX, Droom, CARS24, Mahindra First choice and others have shown that there is lot to do in the market.
As the market is on a growth period, it has been noticed that the brands are spending high on advertising to connect with the audience well.
CarDekho incurred advertising expenses of Rs 62 crore in 2016 while CarTrade and CarWale together touched the advertising and promotional expenses to almost Rs 161 crore. Droom spent Rs 20.6 crore for advertising and marketing alone in 2016. Droom last year, allocated 400 crore marketing budget, out of which 150 crore is slated to be spent on digital medium.
But why the used cars are turning out to be better bargains for consumers as compared to new ones? According to Sunny Kataria, Vice President - Auto Category, OLX Group, "Pre-owned cars offer a distinct pricing advantage versus new ones. Data from our platform suggests that pre-owned cars can be almost 20-30 per cent cheaper as compare to the new ones. We came across a trend where users are selling their almost new cars which are barely a year or two old on OLX at a significant discount. Frequent car launches have also made it attractive for users to switch cars."
To expand its business, OLX last year announced its offline expansion in the used car market and has plans to set up 150 outlets in 40 cities across India by 2021.
We reached out to brands and asked them why they are spending big on advertising and what is the opportunity in this sector. Sandeep Aggarwal, Founder & CEO, Droom explained, "In the used segment, only 15 per cent of the cars are sold through the organised channel such as Cars24, CarNation, Mahindra First Choice etc. The remaining 85 per cent is the part of unorganised sector. Whereas for two wheelers its almost 100 per cent organised. In the online segment, we are leading most of the online automobile transactions happening on the platform and for offline it's a combination of Mahindra First Choice, Carnation, Maruti True Value, CashMyCar, Cars24 etc. So looking at the huge opportunity the spend on advertising is completely justified given that India automobile industry is worth 12 per cent of India's GDP."
Aggarwal believes, the opportunity is massive at this current point in the used cars. "The automobile industry on an average is growing in single digits, and the pre-owned car market is growing at 15 per cent + per annum. In 2018, the passenger vehicle market recorded sales of 3.4 million units while OLX alone sold about 3 million cars," he explained.
According to Gajendra Jangid, VP-Marketing, Cars24, the opportunities are huge. The used car market is pegged to grow at 15% CAGR and is touted to be a over $100 billion market by 2025, he said. "The sector is getting more and more organised with new-age tech companies helping consumer with right set of data to make decisions. This is leading to a high confidence index on used car than ever before leading to buying/selling of used cars much more friction-less and transparent. I feel in coming years, consumers will buy used car with as much confidence as a new car," said Jangid.
According to M Sathiyanarayan, Head - Marketing, Mahindra First Choice Wheels, "Advertising in the used car industry should be seen in context of the structure of the industry. The advertising spends are also emerging from players who are trying to create brand recall in their respective domains".
He also revealed, "OLX occupies 77 per cent of market share in India's pre-owned car market out of the market size of 3.8 million units, a large chunk of the car business sellers still sell offline."
Sharing a regional break-up of the car listings, he said, "55 per cent of sales come from tier one markets. The remaining 45 per cent from tier two cities."
According to a media report, Mahindra First Choice has seen 40-50 per cent growth over last year. Small SUVs have registered a tremendous growth rate over the recent years, which is expected to record the highest sales growth in the used car market till 2023.
With 50 per cent growth in the last year, how do experts see the industry flourishing five years from now? Aggarwal said, "We are a part of an automobile sector which is 12 per cent of India GDP or $300 billion annual worth industry. But out of this $300 billion only $1.25 billion is online. In next 5 years, we think this $300 billion will become around $450 billion worth industry and the online share will go up to $20 billion."
Sathiyanarayan, shares, "Used car industry in India is still in its nascent phase with only 15 per cent of the industry being organised. We believe that migration from two wheelers to four wheelers is going to happen through used cars, which means the industry will attract a lot of first time buyers."
Kataria stated, "The industry will evolve at a much rapid rate akin to the developed markets. Offline sellers will throng to online marketplaces to offer their products and the consumer journey will become more seamless. The industry will evolve to offer ancillary products such as insurance and financing as pre-owned car marketplaces become a one-stop shop for all the consumer needs."
For more updates, subscribe to exchange4media's WhatsApp Channel- https://bit.ly/2QUdLCK
Parle Products has promised to revive the childhood candy of kids from the 90s if fans are able to crowdsource 10,000 retweets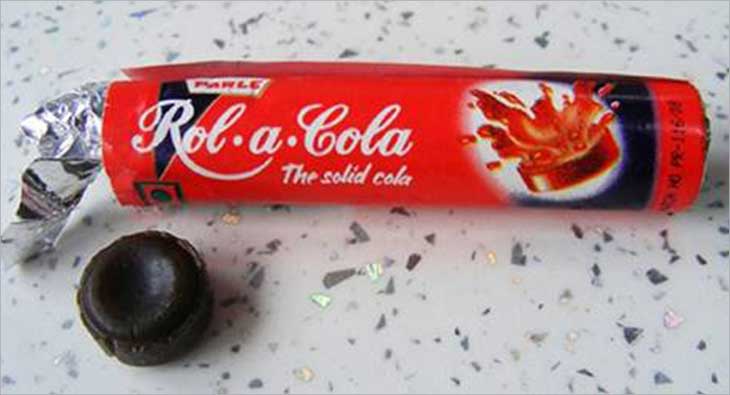 Remember the cola-flavoured candy from the 90's - Rola Cola - that went out of production in 2006? If Twitterati can exert the power of social media and band together 10,000 tweets in favour of the popular candy that is intrinsic to the childhood of every 90's kid, Parle Products has promised to revive this lost candy.
How did all this come to be? Well, Siddharth Sai G from Kerala, a big fan of Rola Cola, tweeted about his love for Rola Cola and how much he misses the childhood treat. Siddharth tagged the iconic brand's maker-Parle Products - with a plea to restart production of the much-loved candy. His tweet said, "how many retweets would it take to bring the candy back in production?"
In a surprising response, Parle Products shot back with a tweet saying that a total 10,000 retweets with the hashtag #BringBackRolaCola would set the ball rolling for Rola Cola's production. That was on February 13, 2018. Within five days, Siddharth has managed 1,200 retweets. He's also brought his campaign to the attention of Google, Netflix, Swiggy and Zomato.
It is unclear if Rola Cola lovers like Siddharth will be able to accumulate 10,000 tweets or how long it would take for the tweets to be amassed. But this incident shows that social media has changed the way brands and consumers interact and has brought about power to make the consumer's voice heard like no other platform.
Love your Rola Cola, why don't you retweet?
If all you need is Rola Cola, then all we need is 10k retweets. #BringBackRolaCola pic.twitter.com/7o3VGhIJav

— Parle Products (@ParleFamily) February 17, 2019
For more updates, subscribe to exchange4media's WhatsApp Channel- https://bit.ly/2QUdLCK
Members of BharatMatrimony can choose to avail matrimonial ads in the print editions of Times of India at a special price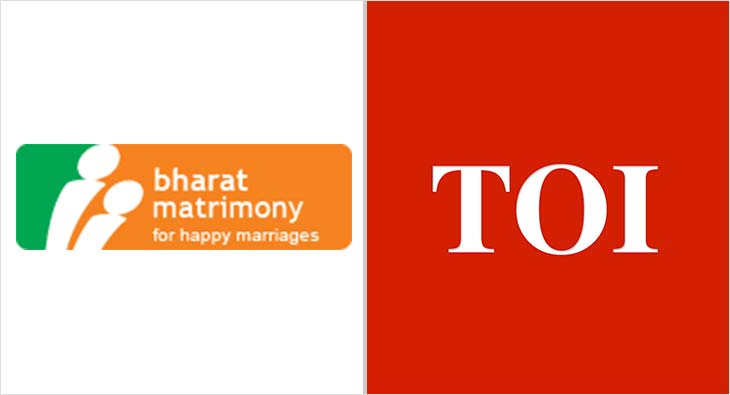 Times of India has announced a tie-up with BharatMatrimony.com. TOI and its franchisees will offer its membership packages at their offices across India.
Consumers can now walk into any of Times of India's network of franchisees and subscribe to BharatMatrimony's matchmaking services. The No.1 and Most trusted Matrimony Service plans to leverage the large network to drive memberships.

As part of the tie-up, members of BharatMatrimony can choose to avail "matrimonial ads" in the print editions of Times of India at a special price.

Talking about the partnership, Murugavel Janakiraman – CEO Matrimony.com said, "I'm happy to say that this is a significant partnership with mutual benefit and leverages the large on-the-ground network of Times of India franchisees together with its large readership."

Sivakumar Sundaram, President Revenue of The Times Group said, "Times Group wants to expand its suite of alliances across print, digital and other properties and serve its customers even better. With this customer centricity in mind, we have forged partnership with Bharat Matrimony for our Times Soulmate advertisers."
For more updates, subscribe to exchange4media's WhatsApp Channel- https://bit.ly/2QUdLCK