Isobar, Duroflex partner to launch digital campaign #ReadyForTomorrow
The digital media campaign focusses on engaging users, by leveraging its commercial on 'offline TV' by
Published - 29-November-2017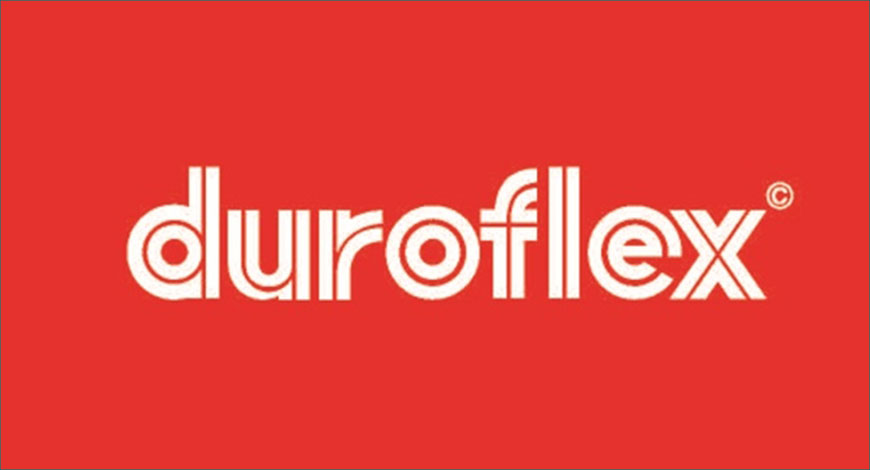 Isobar, the digital agency from Dentsu Aegis Network, has partnered with Duroflex to launch a new digital campaign called #ReadyForTomorrow.
Isobar and Duroflex leveraged Zapr's TV-to-Mobile platform to push this digital campaign across those smartphone users who had already watched the brand's commercial on television. The campaign has been executed across highly engaging platforms such as Facebook, YouTube and DBM Programmatic. The campaign has already engaged more than 49,446 people who exactly fit into the band's requirements and have moved straight to the point-of-sales at a Click-through-rate as high as 3.1%. The video engaged at a view-through-rate (VTR) of 57.11%, indicating that more than half of all the targeted users watched the video until the very end.
The 50-day-campaign utilises Zapr's database of over 40 million user profiles in India through fingerprinting technology to map out those who watch Duroflex and other similar brand commercials on TV. Users who fit brand target group are then identified on Facebook and Youtube, and video ad content is displayed on their home feeds. Target groups are also engaged across hundreds of publishers via DBM programmatic network.
Commenting on the campaign success, Suraj Nagappa, VP, Isobar India stated, "In the past, online video advertising usually meant the transmission of television ads to the internet. What we now have is video advertising that easily adapts to the respective medium. Multi-screen use has been a reality for users for a long time. With the interactive formats we offer an ideal opportunity to approach consumers across the characteristics of all platforms and devices. Across all channels – mobile, online, and connected TV (CTV) – there have been above-average video completion rates (VCR) and a high level of interaction has been achieved. The decision for a true multi-screen campaign has fully paid off. This is evident through the VCRs (Video Completion Rate) that significantly increased across all channels. Together with the interactive elements that Zapr allows, this strategy has led to a substantial increase in reach and consumer response."
On the launch of the new campaign, Arha Padman, Senior Brand Manager, Duroflex commented, "Keeping in mind that TV audiences are no longer glued to a single screen and are often multi-tasking on their smartphones while consuming the medium, it just made sense to layer our TV plan with Zapr. We were curious to see how it would work and it seems to have delivered what we set out to do."
For more updates, subscribe to exchange4media's WhatsApp Channel- https://bit.ly/2QUdLCK
The digital campaign is aimed at encouraging people to embrace the 'health is not a choice' philosophy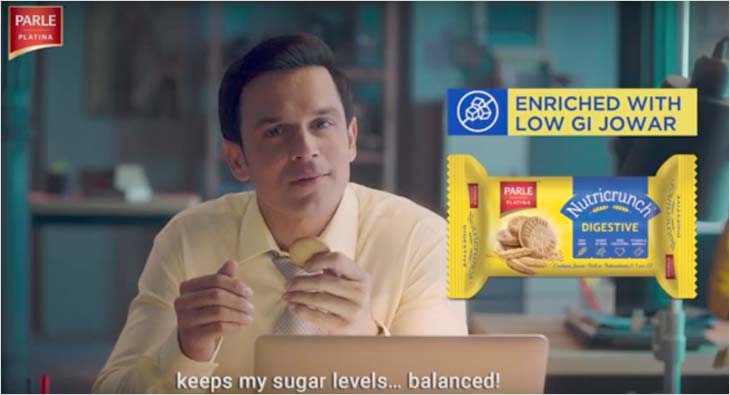 Parle Products is all set to launch a digital campaign - "#HealthIsNotAChoice" for its newly introduced health brand, Nutricrunch under its Platina division. The campaign aims at encouraging people to embrace the 'Health is not a choice' philosophy.
The campaign began with innovative posts across Parle Nutricrunch social media platforms and print advertisements across leading newspapers. All the posts strongly advocate treating one's health and well-being as priority and showcase that one might have options for a lot of aspects in life but one's journey to good health must not be compromised.
As a part of the campaign, three digital films will be launched to build awareness about the health benefits of consuming Parle Nutricrunch. The films showcase Parle Nutricrunch as a versatile product that be consumed by housewives who are the gatekeepers of good health for families as well as fitness enthusiasts, working professionals.
Speaking about the campaign, Mayank Shah, Sr. Category Head, Parle Products, said, "In today's fast-paced world, consumers are constantly looking for different ways to maintain a healthy lifestyle. Nutricrunch offers just that with its diverse variants like Nutricrunch Lite Cracker, Nutricrunch Digestive, Nutricrunch Honey & Oats. Each of these variants have unique health benefits and make for a brilliant healthy snacking option. #HealthIsNotAChoice" campaign is an endeavor by Parle Platina to encourage Indians to stay fit and make an informed decision about their well-being".
Each film has a unique key message that resonates well with a specific target audience. A working professional discussing the stress at work and how Parle Nutricrunch Digestive enriched with superfood Jowar helps in maintaining a proper sugar balance with its antioxidants properties. A housewife talking about how she begins her day on a healthy note with Nutricrunch Lite crackers which has no added sugar, no trans-fat and no cholesterol. A young fitness enthusiast discussing how Nutricrunch Honey & Oats makes for the best pre-workout companion with its high-fiber content.
The company in a statement said, the health biscuit and cookies category has been growing at 12-13% per year and is now a sizeable portion of the market at over ₹1,000 crore giving Parle Products more opportunities to tap into the semi-premium and above segments that fetch high margin.
For more updates, subscribe to exchange4media's WhatsApp Channel- https://bit.ly/2QUdLCK
The campaign focuses on the real-life story of Darpan Inani, who lost his sight due to an illness, and yet bounced back to become the highest rated visually impaired chess player in the country

by
Published - 12 hours ago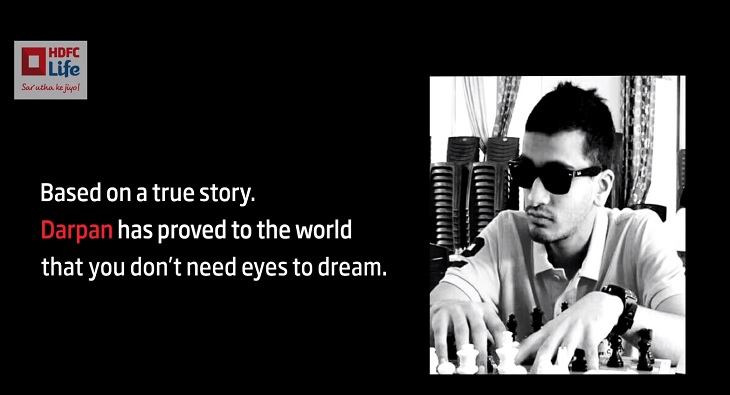 HDFC Life Insurance Company Limited has launched a new brand campaign which focuses on the real-life story of Darpan Inani, who lost his sight due to an illness at a very young age, and yet bounced back to become the highest rated visually impaired chess player in the country.
As a brand, HDFC Life has always stood for pride, encouraging independence through self-reliance. The brand has always highlighted the hard-to-replace-individual who not only provides for his/her family but also enables his/her loved ones to #BounceBack from any challenges they face.
The film showcases the inspiring story of Darpan, whose eyes were affected by the Steven Johnson Syndrome at the age of 3 years, causing him to lose his eye-sight. But this did not stop him from pursuing his dream. According to Darpan, chess is a game of vision and not visibility, thus allowing him the opportunity to compete in the game as any other competitor would. He not only excelled at the game but also went on to become the first visually impaired Indian (in his category) to win the Creon Open Chess tournament, in France in August 2018. Playing a pivotal role in his success, Darpan's family encouraged self-reliance and pushed him to #BounceBack from the situation and to live a life of pride.
Speaking about the campaign, Pankaj Gupta, Chief Marketing Officer, HDFC Life, said, "This story of self-reliance strongly resonates with HDFC Life's proposition of 'Sar Utha ke Jiyo'. Through this ad, we want to leave our viewers with the message that anyone can #BounceBack, despite challenges and limitations. All they need is the right kind of support, encouragement and financial preparedness. Darpan's parents imparted a valuable life lesson on self-reliance, serving as a backbone to his success and empowering him to conquer all odds and achieve his dreams."
Add to this, Rajdeepak Das, MD, India & Chief Creative Officer, South Asia, Leo Burnett, said, "Darpan Inani's story is about human resilience. His spirit of never giving up embodies HDFC Life's 'Sar Utha Ke Jiyo' ethos. This campaign touches upon the very human behaviour of bouncing back, and it is people like Darpan Inani who inspire us to do our best in any situation. This work is purely Humankind and we hope it will move our consumers into the importance of having life insurance."
HDFC Life plans to take its new campaign to the customer through different platforms and intensify the brand experience. Apart from television, the film will be supported by other media such as print, radio, OOH, DTH, cinema, live media with a significant focus on digital and social media.
Prepare your family to #BounceBack with HDFC Life:
For more updates, subscribe to exchange4media's WhatsApp Channel- https://bit.ly/2QUdLCK
The three-film 'Sadak Suraksha Jeevan Raksha' campaign created by Helios Media, was adjudged the Best TV Commercial at the recently held exchange4media's Prime Time Awards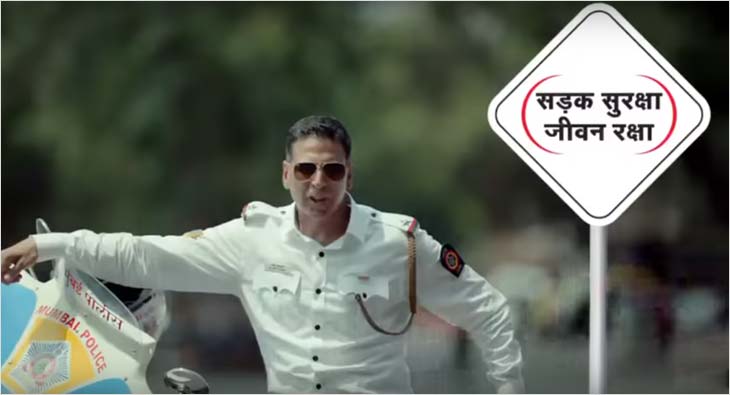 Think of a government ad. What is the picture that comes to your mind? Most likely, it will be a no-frill serious film delivering the message in a preachy way. Not your fault. That's the kind of government ads we are used to watching. Wit, quirk, humour or entertainment are definitely not the features we associate with ads of the government. And so, if a government ad is adjudged the Best TV commercial at the prestigious exchange4media's Prime Time Awards, defeating hundreds of entries, it definitely calls for a thought.
The ad in question is the Transport Ministry's road safety campaign with Akshay Kumar. And most of us who have watched it will surely not disagree with the jury. The three-film 'Sadak Suraksha Jeevan Raksha' campaign was created by Helios Media in collaboration with Bharat Dabholkar, Kiran Vernekar, and Sayali Kulkarni. It was directed by R Balki.
The ad film is a complete shift from the usual serious style of government ads. The films, which see Akshay Kumar turning into a traffic cop, have a very quirky and humorous approach to the serious issue of road safety. And lines such as 'aapke baap ka road nahi hai!' give the coolest of commercials a run for their money and of course leave the audience wondering if it is actually a government ad.
So how did this non-government-like government advertisement come into being?
It wouldn't have happened had it not been for Transport Minister Nitin Gadkari, says Divya Radhakrishnan, Managing Director, Helios Media.
Sharing the story behind the making of the campaign, Radhakrishnan, says, "There was a lot of contribution from Mr. Gadkari. He took a very keen interest. In fact, he approved the script in just 5 minutes. He was very clear that we should not make the ad like a typical government ad. He wanted us to make it like the way ads of brands are made. Working for this ad was a fabulous experience."
According to Radhakrishnan, even Akshay Kumar was a big contributor.
"He gave a lot of inputs. He wanted the film to be made very well so that the message is delivered properly. In fact, he did not even charge for it. All that he wanted was a good director so that the film comes out well. It was he who suggested Balki as the director," she said.
Radhakrishnan feels it is the "sleekness of production and the way the message has been communicated" that make the films stand out.
Remembering the thought process that went into conceptualising the ad, she says the biggest issue was how to bring novelty to a message, like 'wear a helmet', that has already been delivered to people many times.
"When we got the brief for road safety, we tried several concepts. They were all good, but we felt that that the message was not getting through. That's when we zeroed down on humour and cracked the concept."
The campaign has achieved good popularity on social media, receiving 4 crore views. "And this was organic. It was shared just from Minister Gadkari's and Akshay Kumar's handles. This is a one-of-its-kind response," mentioned Radhakrishnan.
The victory at the Prime Time Awards was obviously a sweet moment for everyone involved in the making of the ad. But with a government ad winning an award like this for the first time, it was a special moment even for the ministry.
"It was the first time that an ad made by the government of India has won such an award. It was such a heartening thing for them (ministry) that Mr. Gadkari called us to his office and honoured us."

Truly humbled to share the achievement of receiving the @e4mtweets best TV ad for '18 for Ministry with Hon'ble Minister Shri Nitin Gadkariji ! Thank you for this privilege I share my joy with @bharatdabholkar Kiran Vernekar @sayaliRkulkarni R Balki @akshaykumar & Helios Media pic.twitter.com/HHjThISfnt

— Divya Radhakrishnan (@divyark) February 4, 2019

A campaign that delivers a social message in an entertaining way is probably a campaign done the best way. We hope to see many more such ads in the future, especially from the government.
For more updates, subscribe to exchange4media's WhatsApp Channel- https://bit.ly/2QUdLCK
With its high decibel campaign #PullItOff, Veet aims to resonate with the confident and vivacious girl of today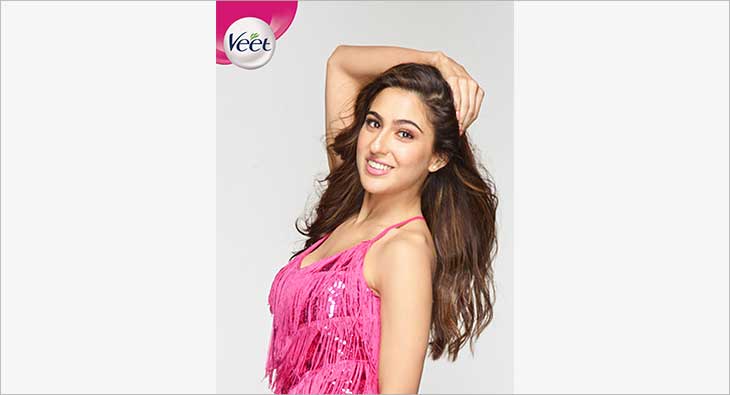 Veet, the hair removal brand today announced Bollywood's new actress and presently the most popular face, Sara Ali Khan as its new brand ambassador. The brand also launched its new campaign #PullItOff that will focus on communicating the ease of a quick three-step process of hair removal. It complements the attitude of a modern girl of today – who dreams big, lives it up, and seeks the best in whatever she does. She is confident, spontaneous and vivacious; qualities that Sara Ali Khan perfectly embodies.
Veet Cold Wax Strips are one of the simplest ways to wax that do not require wax heating since it comes pre-coated with a special GelWax which grips the shortest hair and not the skin making hair removal super-simple, and not a chore anymore. Conceptualized by Havas Worldwide, Sara's first ever TV commercial will raise awareness on the ease of using Veet Cold Wax Strips with three simple steps: Peel-Apply-Pull, it's so easy that anyone can #PullItOff.
Speaking about the new campaign, Pankaj Duhan, Chief Marketing Officer, RB South Asia Health said, "We are pleased to welcome Sara Ali Khan to the Veet family as the brand's newest ambassador. Sara exemplifies vigour and determination of a strong-minded new age woman who is unfazed by challenges. She is young and brings a freshness that will resonate with our target audience. We understand that the consumer today is looking for quick in-home solutions and Veet Cold Wax Strips are the perfect answer that can help achieve salon like finish by following a simple three-step process."
Commenting on her association with the brand, Sara Ali Khan said, "I am thrilled for my first ever brand endorsement with Veet Cold Wax Strips. What makes this even special is the fact that I personally have been using Veet products for the longest time. Veet as a brand has always resonated with me for their spirit of innovation in the hair removal category. Every woman radiates beauty from within. #Pullitoff is not just a product statement for me, it underlines the attitude of a modern girl who takes everything in her stride and makes the best of it."
Sara Ali Khan has created a name for herself with films like Kedarnath and Simmba and is quite popular among the youth. With constant acknowledgment from the audience and her fans, she is an actress who is uniquely expressive and inventive in everything that she does. Hence, Veet believes that young girls of today will relate well with Sara who is ready to make her mark in the industry.
The association with Sara Ali Khan will spin a holistic, 360-degree marketing campaign across print, digital, outdoor and television.
Veet with Sara Ali Khan
For more updates, subscribe to exchange4media's WhatsApp Channel- https://bit.ly/2QUdLCK
'Khayal toh chatpata hai' underlines Kurkure's efforts to recognize the Indian homemaker, who has been the center force in bringing families together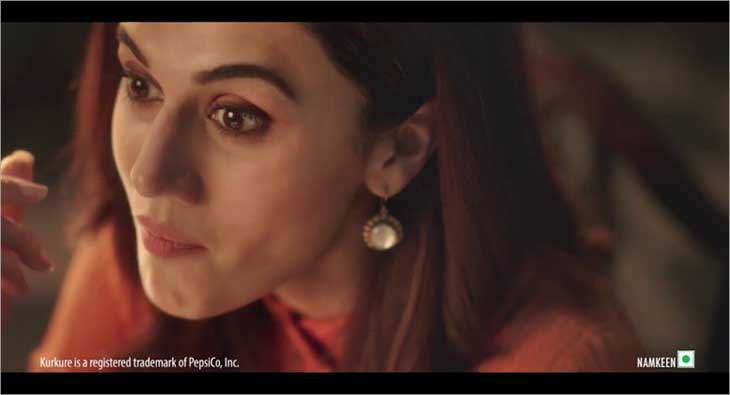 Snack brand Kurkure has roped in leading Bollywood actress Taapsee Pannu as its brand ambassador. The announcement is strategically timed as Kurkure embarks on a new journey with its new positioning – 'Khayal toh Chatpata hai', celebrating progressive thinking that young Indian homemakers bring in to traditional Indian families.
The company in a statement said, "With a promise to add more fun and excitement to family time, the brand rings in a new mantra, together with the boundless energy of Taapsee, who stands synonymous to the essence of Kurkure."
'Khayal toh Chatpata hai' underlines Kurkure's efforts to recognize the Indian homemaker, who has been the center force in bringing families together. The new positioning highlights progressive ideologies that the homemaker holds today; from breaking conventional barriers to new-age thinking which embraces modernity while being anchored in tradition.
Sharing her excitement on coming onboard as the brand ambassador of Kurkure, Taapsee Pannu said, "I am extremely excited to be associated with India's much-loved, and my personal favourite snack, Kurkure. It has been an integral part of my family 'masti' moments back home in Delhi and during my breaks while shooting in Mumbai. I have always admired Kurkure for its family and fun orientation. And, as the brand takes on a new positioning of 'Khayal Toh Chatpata hai', I look forward to an exciting and chatpata journey with Kurkure."
Talking about Kurkure's new positioning and having Taapsee on board, Jagrut Kotecha, Vice President – Snacks Category, PepsiCo India Ltd, said, "As Kurkure enters a new and exciting phase with 'Khayal Toh Chatpata Hai' positioning, we are thrilled to be carrying forward this journey with Taapsee, who resonates well with the brand philosophy. With the new positioning, we aim to celebrate the forward-thinking brought-in by today's women and Taapsee who is an inspiration to them; and has proved her strength and mettle by taking on unconventional roles, in movies or beyond, is a natural fit. We welcome her to the Kurkure family"
Taapsee, who has been reigning in her back to back film successes, through this collaboration will be seen in a series of advertising and marketing campaigns. The first in the series, Kurkure has unveiled a new advertisement campaign featuring the actress in her bubbly and chirpy avatar.
In the film, Taapsee, is seen representing a new Indian homemaker, a bahu, who shares her excitement, with her family, on receiving a job offer. Unfortunately, her excitement meets denial from her aunt, who recommends her to take up a hobby at home. As the bahu battles with the disappointment, Kurkure comes to her rescue, as its spices and flavours become her driving force to encourage the aunt to think beyond the conventional. With every bite of Kurkure, Taapsee is seen taking on the task of convincing her aunt of her professional choices, in a witty and fun manner. The film concludes on a positive and happy note, wherein, the family is seen enjoying a pack of Kurkure and the aunt supporting the bahu to venture out and pursue her career and passion.
For more updates, subscribe to exchange4media's WhatsApp Channel- https://bit.ly/2QUdLCK
Mondelez India has also partnered with Gully Boy, building in co-branded promotions to create high impact digital buzz during Valentine's Day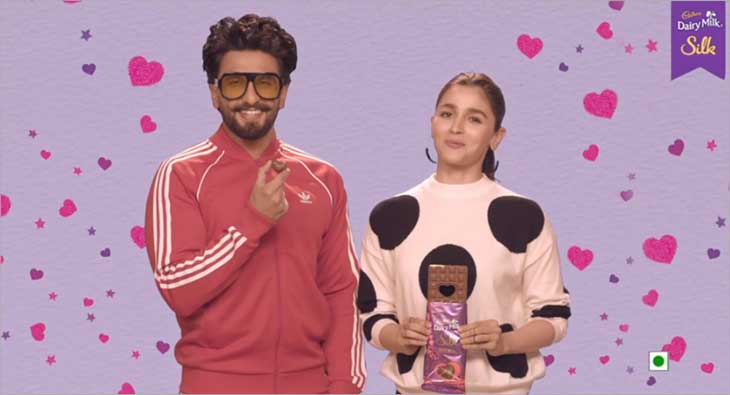 Cadbury Dairy Milk Silk, India's premium chocolate, enjoys a special place in the hearts of consumers. Having created several occasions and represented a plethora of emotions, Mondelez India is geared up with a special offering for this Valentine's Day. By amplifying its existing 'Pop Your Heart Out with Silk' campaign, Mondelez India recently launched a new heart-warming digital film, 'Cadbury Silk Unsaid Stories'.
Talking about the marketing strategy for this Valentine's Day, Anil Viswanathan, Director, Marketing (Chocolates), Mondelez India said, "We received an overwhelming response with the 'Pop Your Heart Out With Silk' campaign which was introduced last year. With the recently launched Cadbury Dairy Milk Silk Unsaid Stories, Mondelez India takes forward the narrative of breaking the hesitation around the expression of love. As leaders in chocolate gifting, we endeavour to identify new occasions and empower customers to convey the right emotion with our products."
Whether it is a school sweetheart, office romance or a travel crush, Cadbury Dairy Milk Silk breaks all barriers, age and cultural urging people to not let any kind of love go unsaid. The TVC opens with a meet-up where members from young to old are shown narrating their love stories, talking about how letting go of that hesitation could have changed the course of their love lives and 'only if they would've expressed to the one they loved, things would have been different. They receive a bar of the Cadbury Dairy Milk Silk Pop Your Heart Out, nudging them to set aside their hesitation and simply say it with Silk.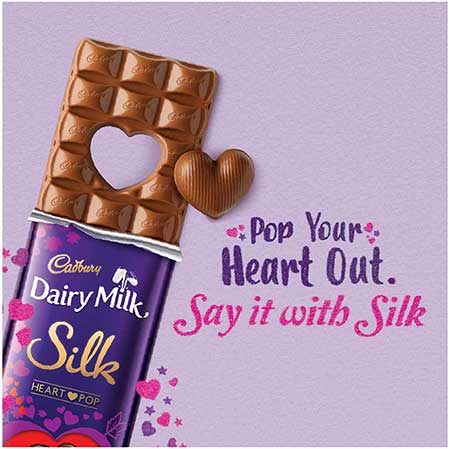 Creating interesting new shopping experiences through personalization, Mondelez India has also introduced an e-commerce exclusive Cadbury Dairy Milk Silk Heart Shaped Valentine Gift Pack which contains 2 bars of Cadbury Dairy Milk Silk Plain, 60gm each and 2 bars of Cadbury Dairy Milk Silk Oreo, 60gm each along with a customised greeting card and a photo frame. The classic taste of Cadbury chocolates offers you the reason to celebrate this occasion with your loved one. The limited edition product can be purchased for INR 650 on Cadbury Joy Deliveries and Amazon.in.
To scale up the heart-pop initiative and support the digital film and the innovative heart-shaped gift pack, Mondelez India has dedicated a 360 degree integrated marketing campaign which includes TV integrations, high impact outdoor activation, on ground, digital and in-store promotions.
Mondelez India has also partnered with Gully Boy, one of the most awaited movies of 2019 building in co-branded promotions to create high impact digital buzz during Valentine's Day. For this occasion, Cadbury Dairy Milk Silk has taken over 40 Café Coffee Days across Mumbai, Delhi, and Bangalore to create visibility. Apart from this, the brand has also undertaken strategic tie-ups with Amazon Store, PVR Cinemas, Ola app integrations to ensure maximum reach. Creating salience with the product, and taking it to the next level by being present across all youth relevant touch points like Snapchat, Tik Tok, music apps like Gaana, Wynk, food apps like Zomato and using celeb influencers are making millions of people Pop their Hearts out!
Cadbury Silk Unsaid Stories
For more updates, subscribe to exchange4media's WhatsApp Channel- https://bit.ly/2QUdLCK
The 9th edition of the awards for Outdoor Advertising and Digital Signage will take place on March 8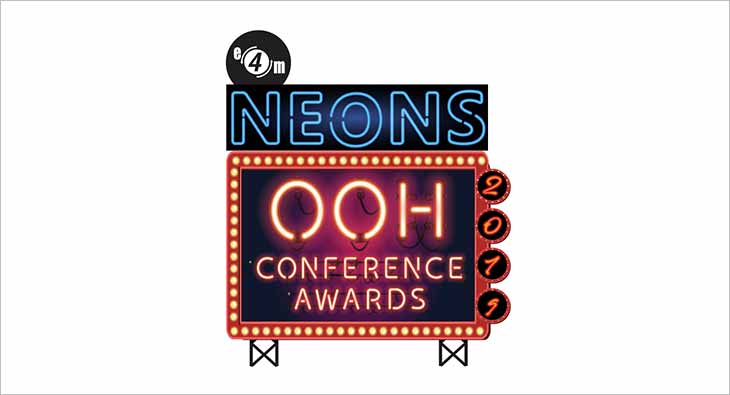 The 9th edition of exchange4media group NEONS Awards & OOH conference 2019 for Outdoor Advertising and Digital Signage is around the corner.

Established in 2011 to reward excellence in outdoor media, this year's 1st round of judging will start from February 15 to 24. Entries will be judged online by all jury members.

The final round of judging will take place on February 28 in Gurugram where the jury will decide the winners.

The jury will be chaired by Rakesh Kaul (Jury Chair), President-Consumer Business and CEO - Evok Retail at HSIL Ltd. The other members who will grace the jury include: Amit Sethiya, Head Marketing, Syska Group; Archana Aggarwal, VP-Media, Airtel; Ashish Baja, Head of Media and Marketing Alliance, OLA; Basant Rathore, Senior VP - Strategy & Business Development, Jagran Prakashan Ltd; Bhavana Mittal, Regional Head of Media, Digital and Communications, Reckitt Benckiser, South Asia; Gajendra Jangid, VP-Marketing, Cars24; Gulbahar Taurani, Director Marketing & Business Head, Philips India; Harshavardhan Chauhan, Central Head of Marketing, DLF Shopping Malls; Pawan Soni, Head - Marketing & Programming, National Geographic India; Prashant Desai, Media Head, Hero MotoCorp; Rahul Pansare, Head Marketing Communications & PR from Fiat Chrysler Automobiles; Rameet Arora, COO - Digital Business, Hindustan Times; Rahul Mishra is GM- Marketing, Shemaroo Entertainment Limited; Srideep Kesavan, Director Marketing – Juices, Coca Cola; Sandeep Shukla, Head Marketing & Communications, Jaquar Group; Sonia Serrao, Global Media Lead & Head Marketing Procurement - South Asia, Tata Global Beverages and Suresh Balakrishna, Chief Revenue Officer, The Hindu Group.
OOH Conference & Awards seeks a way forward for the industry and talks about ways to overcome the challenges when it comes to OOH advertising.

The first eight editions were highly endorsed by the industry. This edition will recognise and reward the exceptional work in OOH Advertising and Digital Signage for the period January to December 2018. The awards night and felicitation will be held on March 8 at The Leela Ambience, Gurugram.
For more updates, subscribe to exchange4media's WhatsApp Channel- https://bit.ly/2QUdLCK
An esteemed group of panelist spoke about how to adapt in the ever-changing media ecosystem at the Pitch Madison Report unveiling in Mumbai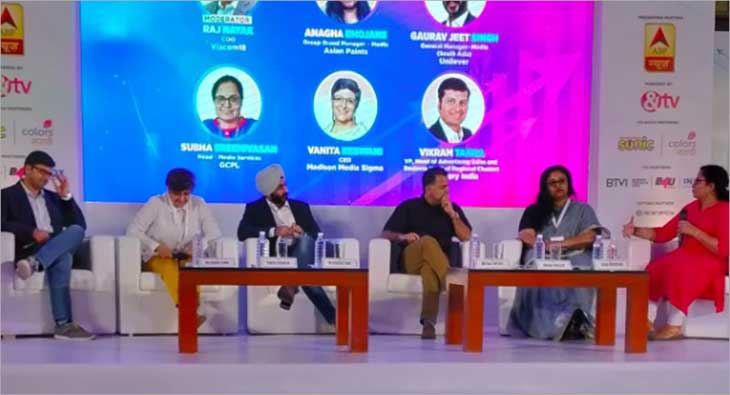 The Pitch Madison Advertising Report, the most awaited report of ad spends in the media and advertising industry was revealed on 13th February 2019. The report was launched by Pitch, in partnership with Madison World.
Sam Balasara, Chairman, Madison World revealed that the growth forecast for the media and advertising industry is 16.4% for 2019. The growth in the media market is at an all-time high and it is time for the media ecosystem to change their strategies and adapt.
The panel discussion with speakers from the advertising and broadcasting sector focused on 'How to improve in the ever-changing media ecosystem'. They also touched on the topic of the relationship between the client and an ad agency.
Moderator Raj Nayak, former COO, Viacom 18 posed a question to the panel about what they think is wrong with the media ecosystem. "We harp so much on accuracy and data. Data is the biggest area of concern for the media industry. As an industry, we still do not have data for mediums apart from TV. A unified system of measurement is required", stated Subha Sreenivasan, Head of Media Services, GCPL. Anagha Bhojane, Group Brand Manager-Media, Asian Paints comments, "We need to look at data of viewers across media platforms. Media integration should be taken seriously. Getting individual data is potent but we need to look at the data as content measurement and not just a platform measurement."
The media industry has been playing it safe and doing what works for them. "No matter what ecosystem we belong to whether it is media owners or ad agencies; we need to invest time to nurture and grow. We need to look back and reflect on how we have grown and how an ad agency can improve their relationship with their client. It's about how much time you invest in the media ecosystem. We need to improvise and come out of our safe zone," remarks Anagha Bhojane.
The key focus area should be consumers. Vikram Tanna, VP, Head of Advertising Sales and Business Head of Regional Clusters, Discovery India says, " Consumers never fail us. Especially with the video platforms growing and attracting consumers. We ought to create a mass ecosystem, develop and overlap the borders of the ecosystem. The sum of the individual parts is going to be much higher than the individual parts. We need to distribute talent as well. Better talent should be all under one umbrella. Integration will attract a larger audience".
Digital is one of the rapidly growing areas in the media industry. But the question arises: How are digital platforms recorded? "It is largely based on what platform it is. But we need to unify the data of broadcast and digital", says Subha Sreenivasan, GCPL. "A lot of money for advertising is going to digital. But it is not that effective. A 90-second Facebook commercial is skipped in one second. On a digital platform, we know that viewers for commercials are very low. It depends on how the business is valued and the new world business depends on the number of users, it is about where the consumers are putting their money and time. The problem arises when we try to pitch one medium against the other. There is a certain comfort of consistency; as long as something is working for us we don't change things. I have data that the majority of people in the morning while commuting is watching Netflix, the data is impossible to be content with. The consumer is also passing by an outdoor advertisement but won't pay attention to it. The data record should be of both the platforms. It depends on what data and platforms are important for media buyers", states Gaurav Jeet Singh, General Manager Media (South Asia), Unilever.
In the media ecosystem, especially in the advertising industry, clients keep moving from one agency to another. What seems to be the issue? There should be a common goal and a strong relationship should be built. Subha Sreenivasan, GCPL, says, "Media houses in the past were about efficacy and efficiency. They were looked at as a service provider. As business started to get competitive the role of an ad agency has changed from a service provider to a partner. If we don't adapt to this changing role, we won't survive. We partner with Madison because we have equal stakes and equal growth. Our brands are flourishing together." "Partnership is essential between the client and the ad agency. In a typical ad culture if you are looking for something which is not a longer partnership but immediate gain, that would ruin a partnership", comments Vanita Keswani, Madison Media Sigma. Gaurav Singh, states, "It is about how agencies are structured in their thinking if there is a team who only works on pitches. agencies are spending money on teams to keep clients. It is quite a relationship. It is about keeping the client". The scenario has become about results v/s rewards, where the clients are at the top and not the consumer. The new emerging platforms are the only thing that is changing in the media domain. The key factors to focus on is content and talent. Lack of data measurement in the digital space should be changed.
Speaking on the relationship between a client and the agency, the more both of the ecosystems match their goals, the more the relationship will strengthen. The common goal on both sides is savings and that should change. Agencies should be partners and not vendors. Commoditizing the partners is where the problem lies. It should be about two partners working in cohesion. "Not everything is hunky-dory in the media ecosystem. We have depended on the ideology that if things are running in a particular way it should remain in that manner and that should be changed", concludes moderator Raj Nayak.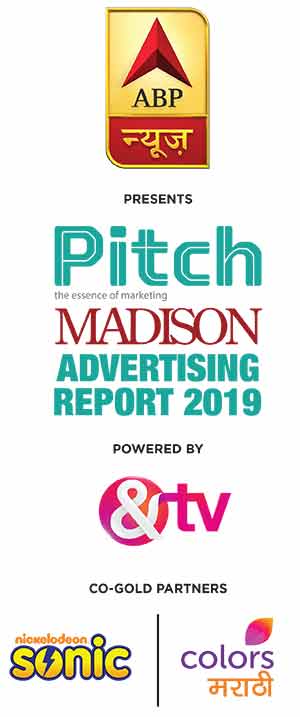 For more updates, subscribe to exchange4media's WhatsApp Channel- https://bit.ly/2QUdLCK
At the Pitch Madison Advertising Report event, Jain, Xiaomi Vice President, MD, talked about building the brand with minimal marketing expenditure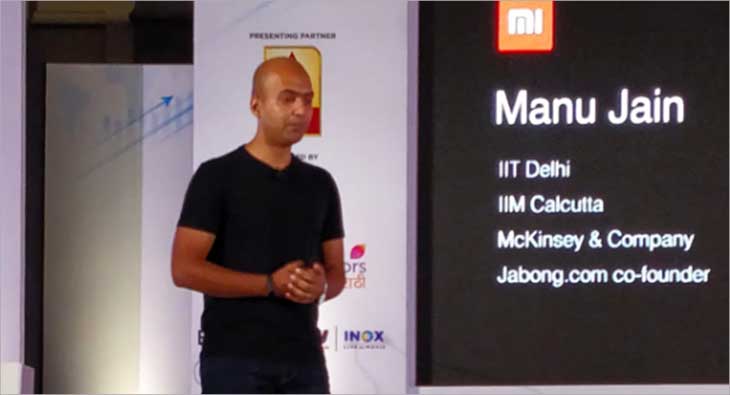 Xiaomi has been a game changer in the world of smartphones ever since it entered the Indian market. Only three years after entering the India marker, the smartphone vendor has a market share of 27 per cent for Q4 2018. While for FY 2018, it is 28 per cent.
Manu Kumar Jain has been leading Xiaomi India since 2014 and the company has achieved a huge success which also results in Xiaomi becoming the India's biggest smartphone vendor. At the Pitch Madison summit, Xiaomi Vice President, MD, Manu Kumar Jain spoke about Xiaomi: Innovation at its best. He also spoke about how they built the brand with their minimal marketing expenditure.
"When we launched this company 9 years ago, we wanted to change how people consumed mobile internet. We started in April 2010 and it started with the biggest statement i.e. innovation for everyone. We wanted to launch high quality products, we wanted to make them accessible so that everybody could enjoy technology. Our business models are lot more evolved, the first product that we built almost 9 years ago was an operating system that we called the MIUI, then we built boost of internet services like MI Entertainment, MI Movies, MI Music etc."
Jain shared three basic principles that the brand follows. "Whenever we think of launching hardware device, these are the three basic principles that we follow: great in specifications, great in quality and honest pricing. Honest pricing doesn't mean that it has to be the lowest selling price, it means that we cut off all the possible costs like distribution, marketing capital, inventory etc."
Talking about brand achievements, Jain says, "We are the second largest market in the world, world largest consumer IOT platform and probably the fastest growing tech company. In 2018, we had set a target for ourselves by shipping 100 million units, and we achieved that. To reach US$ 15 billion revenue Google took 9 years, Facebook took 12 years, Ali Baba took 17 years, Apple took 20 years but Xiaomi reached that in just about 7 years."
"Today, we have more than 100 million internet connected devices. We also have fitness bands, we are the largest fitness device company in the world. Apart from that, we also have smart scooters, smart cycles, smart washing machine, smart TV, probably that is why we were rated as one of the smartest company of the world," he added.
Sharing the insights about Xiaomi India's jouney, Jain said, "Xiaomi India started in July 2014, we started from a very small room with only 6 people. So the first phone that we launched was Mi 3. I remember at that point of time I met a lot of tech experts, telecom experts. And one of the biggest CEOs told me that Xiaomi can never succeed in India. On asking why, he said it was because Xiaomi was a difficult name to pronounce and because we were thinking of selling it online when the entire market was offline. So, the first business plan was very simple of bringing 10,000 phones and selling 10,000 phones. We went through our Facebook page and saw 10,000 people were following us. The first sale was on July 22, 2014, on Flipkart and the site crashed. Flipkart crashed for the first time in its history. About half a million people turned up to buy these 10,000 phones."
Talking about the brand's offline journey, Jain said: "In 2017, we ventured into the offline segment. We launched our first offline store in a 600 sqft store in a mall in Bangalore. On the first day of the launch, we had more than 10,000 Mi Fans and we did around Rs 5 crore sale in one day, that's when we started building a lot of stores across the country."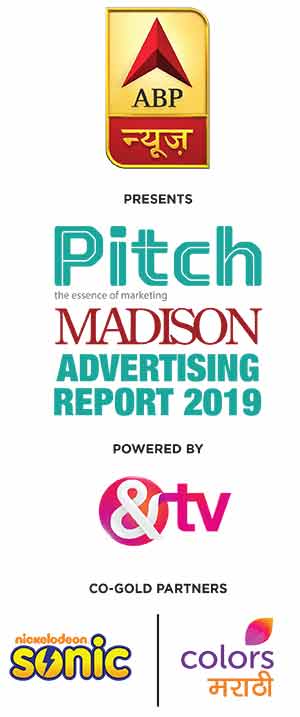 For more updates, subscribe to exchange4media's WhatsApp Channel- https://bit.ly/2QUdLCK
At the launch of Pitch Madison Advertising Report 2019, Vikram Sakhuja, Group CEO, Media & OOH, Madison World, spoke on how media verticals will look in future, 3 disruptive events of the year & more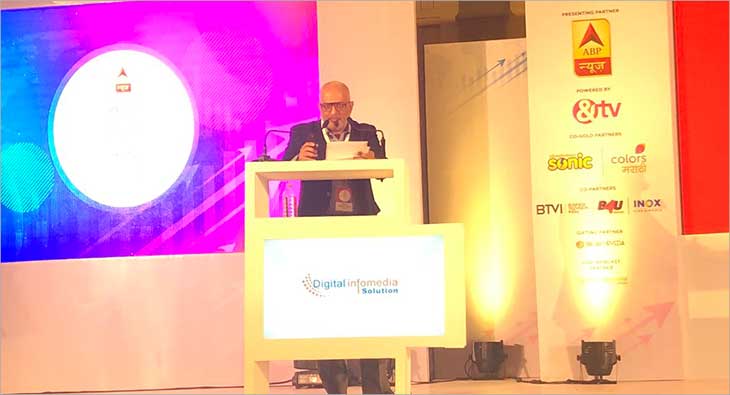 'What's in store for media in the near future,' was the topic that Vikram Sakhuja, Group CEO, Media & OOH, Madison World, shared his thoughts on at the release of the Pitch Madison Advertising Report 2019. He commented that how media will be shaped in the future will depend on how advertisers, media agencies and media owners use the different mediums across the fundamental media objectives.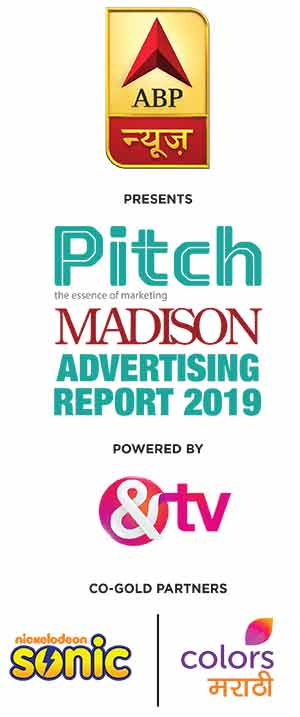 The Media Objectives
Reach: Sakhuja noted that though television's reach is close to 200 million homes, only a handful of advertisers - FMCG, political parties and telecom - are concerned about reaching both urban and rural homes. He says, "Reach has got to be the most important thing to get more trials and more users, but yet, at an India level, we are reaching less than half. The question to ask is whether 60% reach among urban is better or 95% reach in a particular market."
Frequency: On this media objective, Sakhuja raised the point of "do we truly understand media frequency as a concept or is it just belting it out."
Share of Voice: He also raised the question on whether a brand should need a share of voice over a campaign or over the fiscal.
Impact vs Regular: Impact helps break clutter and bring awareness, however it comes at a massive premium. While new advertisers such as start-ups looking to make a quick mark in the Indian market opt for impact strategy, legacy marketers historically have approached impact in a more judicious manner. "The question to my mind is do brands have an impact strategy," he notes.
Weeks on Air (WOA): WOA or continuity, says Sakhuja, is the variable that is traded off the most. It is felt that it is better to have a campaign that is noticed over one that is always on. He says, "There are only a few brands who are always on TV, social, display search and performance, but most TV and almost all print, radio, out-of-home and cinema activities are sporadic and behind specific marketing initiatives rather than always on. I have always wonder why WOA is not given more importance and why WOA is only given importance on search, maybe SEO, TV and performance."
Sakhuja also laid down how each media vertical will look going ahead.
Television: As per Sakhuja, television will continue to be the base medium for building awareness and consideration and more TV channels will launch in the future. He also said that the rates/10 seconds will not increase and may even fall. The fragmentation in the sector will lead to increase in CPRP (Cost Per Rating Point). If one were to look at competitive CPRPs within a genre, it will cost more to reach less. The occasional super premium impact programme, like IPL, will have be a tribal moment to command a value.
Digital Video: Digital video will grow on back of OTT, Youtube, Jio and other video consumption/sharing platforms. Sakhuja says, "Digital video has two roles. On advertising, the TV versus Digital video debate will be of one supplementing or complementing rather than one replacing the other. But when it comes to content, video will have a solo run and will grow as brands embrace content assets. As we embrace more and more content, the entire aspect of using video as scalable assets will grow."
Social Will Overtake Search: Social is seen to be the biggest beneficiary and will grow on the back of content, psychographic targeting and outcome deliverables that have already been established itself in the past few years. "Here again, its growth is only going to be stunted by the brand's ability to create content assets. Search will grow but more modestly as Cost Per Clicks (CPC) go up, the RoI on Search reduces and in the process Social will overtake Search," he says.
Print: According to Sakhuja, Print will have a bumpy ride and will remain the medium for call to action and announcement of new news unless it reinvents itself. This category will bear scrutiny of effectiveness more than any other medium. Comparisons will inevitably be made with digital, and newspapers will struggle to balance yield with outlays.
Digital Display: Digital Display will continue to grow but less than video. With contextual, performance oriented, rich media, tech enhanced nature of banner marketing, digital display will win the battle versus print. He adds that voice will emerge as a display medium.
Radio, Cinema &OOH: Sakhuja says that radio and cinema will grow as outlays remain modest and local marketing importance grows. Out-of-home will grow, courtesy the traffic count measurement which helps planners find out impressions at every site and cost per thousand for these impressions.
Sakhuja states that if current trend continue, by 2021, digital will be the dominant second medium, overtaking Print, with Television remaining the leading medium.
However, he says that three disruptive events - TRAI tariff pricing of channels, digital data measurement & data privacy and two changes in marketing – integrated marketing and increased localisation – will play a role in how advertisers market their brands and will have an impact on the industry.
TRAI Tariff Pricing of Channels: The implementation of the TRAI tariff order will reduce the number of channels a consumer receives from 350 channels to around 150 channels. He says, "Once the extraneous channels that are not selected goes down, the individual channel reach will reduce, the average time spent (ATS) will go up and overall fragmentation will reduce." This could also result in more channels becoming free-to-air and leading to a possible increase in carriage fee. There will also be more consumer experimentation, with consumer opting in and out of channels on a monthly basis. He adds, "Today there is a high degree of substitution possible between channels and media planners could switch channels and get the same reach. In the post TRAI world, we will need a combination of channels to build reach and no two channels will be completely substitutable. Life will also be more dynamic. Using the past four weeks to predict the next four weeks, something that media agencies do, will become very challenging. This is going to be a good time for a media planner to make a difference."
Digital Measurement: Despite the huge growth in digital, this is a medium that still doesn't have a measurement currency that tells advertisers and planners about digital adex, viewership or listenership. The industry big bet, EKAM, is still to be launched and this could give a currency on digital viewership and integrated viewership between television and digital and redefine the Rs 27,000 crore video market. Sakhuja believes that TV and OTT are going to be increasingly interchangeable and there will be a lot of crossover advertising once both are measurable on the same platform. He says, "TV and OTT content ecosystem will actually allow advertisers to move to a scenario that used to be reminiscent of the private producer days where you could collaborate with private producers, take slots and build brands in a completely different way and have free commercial time (FCT) model that used to exist in the eighties and early nineties. This will allow the narrow cast of the broadcast medium as we can choose markets, gender and age and eliminate wastage in TV broadcast."
Data Privacy: Access to consumer data will have a profound bearing on how digital marketing will evolve. However, on privacy, detractors say that global digital media giants have the power and ability to manipulate consumer behaviour and profile them if they control the data. On the other hand, supporters say that consumer data has led to contextual, psychographic, programmatic marketing and made messaging to consumer more relevant. However, the crux of this issue is the difference between marketing and profiling. Sakhuja cautions, "It's ok to target but don't profile, that's the underlying word. The difference is subtle but significant as if you cross the line, you run risk of losing targeting and attribution benefits."
New Marketing Practices:
Integrated Marketing: While integrated marketing has been talked about for decades, the reality is that marketing still acts in silos when it comes to deciding the medium. The focus now is on the consumer journey, the potential media touch-point where consumer is engaged in the activity of listening, viewing, reading, shopping, socialising, learning and gaming. He says, "These are touch-points that brands can exploit and get the consumer to see the brand in a particular way, think about using it, experience and buy the brand or share their views about the brand. Until now 90% of marketing budgets were on brands getting the consumers to see them but increasingly as people start doing journey planning, there will be a point of time where it will be about getting them think about the brand, evaluate and experience the brand." The biggest catalyst to making this happen will be a common currency called Cost Per Thousand (CPT) across media platforms, and Sakhuja says, that the minute you get everything across the consumer journey on one platform, the result will be amazingly different and this can be overlaid on the outcome piece to get the measuring cost for outcome.
Localisation: Sakhuja believes that India's heterogeneity needs to be factored much more in marketing plans. The way forward is for brands to fight through the battlegrounds and go from spray and pray to seek and prey as illustrated by regional brands, such as Ghari detergent that started as a regional brand and went on to become a national brand.
On a final note, Sakhuja says that what's in store for media in the near future is essentially, harder working outcome based marketing. He lays down six forces that will shape how advertising spends market will evolve:
Expansion of the Marketing Funnel: While media planners are used to making trade-offs between mediums and media objectives to get consumers to see the ad, they will now additionally make trade-offs between getting them to see, explore, experience, buy and share across the consumer journey and marketing budgets will be cut up across this. If that happens, Sakhuja says, that television will lose out relatively while others will gain.
Integrated Reach: Integrated reach will be critical as more media touch-ponts will be required to get reach. Marketers will seek an integrated plans as it will be too expensive to use just one medium to get reach and the need will be for combination of mediums to get reach.
Greater Localisation: Digitisation and channel selection will lead to more localisation. Television will be used as a local medium more than it has been done before. Digital, OOH, Radio and Cinema will continue to work in combination much better than in silos. Print will redefine value the local marketer.
Integrated reach, CPT and greater localisation will lead to intelligent media selling: There will be need to find brand building solutions and media will get more integrated when devices get connected.
Data and technology will revolutionise targeting
We will decode how media works: The combination of marketing analytics and real time attribution, will help stakeholders understand the sequence of media and right consumer behaviour for each category.
For more updates, subscribe to exchange4media's WhatsApp Channel- https://bit.ly/2QUdLCK