Complaints against ads of Quaker, Rasna, Jio, Republic TV upheld by ASCI in June 2018
In June 2018, ASCI investigated complaints against 208 advertisements by
Published - 18-October-2018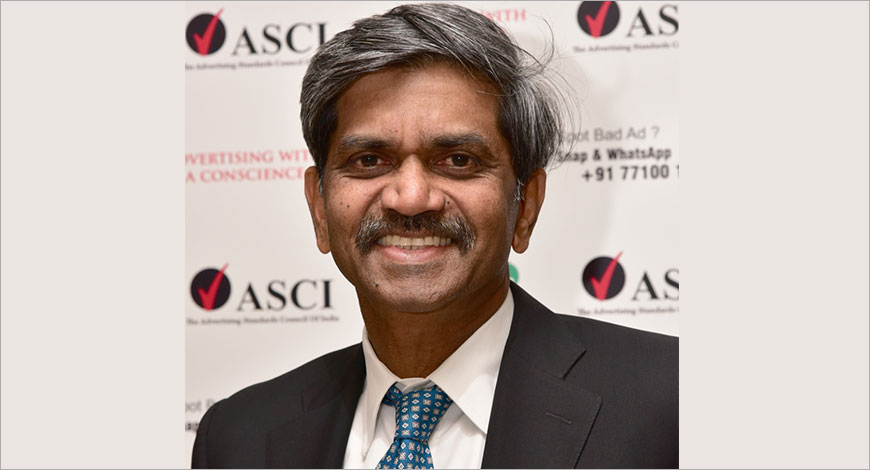 In June 2018, ASCI investigated complaints against 208 advertisements. For 63 advertisements, the advertisers promptly ensured corrective action as soon as the complaints were received. ASCI's Consumer Complaints Council (CCC) upheld complaints against 89 advertisements from a total of 145 advertisements evaluated by them.
The most common reason for upholding complaints was exaggeration of product efficacy and exploiting consumers' lack of knowledge. This was followed by violations of the Drugs and Magic Remedies Act (DMR Act) and the Drugs and Cosmetics (D&C) Rules and advertisements which contravened various ASCI guidelines. Department of Consumer Affairs (DoCA) has engaged with ASCI to process complaints against misleading advertisements.
"ASCI's evolving self-regulatory framework continues to be responsible and responsive to the needs of the consumers, the advertising industry and the regulators. Our focussed efforts towards building awareness and establishing better compliance in the industry, will continue to make a positive contribution to the advertising ecosystem." said Shivakumar, Chairman, ASCI.
Direct Complaints
Complaints against the following advertisements were upheld as the advertisements were in violation of ASCI's Guidelines for Celebrities in Advertising:
PepsiCo India Holding P. Ltd (Quaker Oats): In the advertisement, a lady conveys that being a play school teacher is like doing sprints and sit ups whole day. Celebrity chef Vikas Khanna conveys that Alisha Merchant eats Quaker oats which consists of two times more protein and fibre, immunity supporting micronutrient and nutritious energy that keeps you going. Claim "Quaker Oats me hai 2x More Protein and Fibre" was qualified with a disclaimer "*Per serve comparison with cornflakes. Reference: Atlas of Indian Foods", which was not legible and not as per ASCI Guidelines on Disclaimers (font size, contrast, hold duration). The commercial was considered to be misleading by ambiguity and omission of the direct reference of such comparison in the Voice Over itself. The advertisement's claim "Two times more protein" was misleading by ambiguity and implication and the commercial under reference contravened ASCI's Guidelines for Celebrities in Advertising.
The below two advertisements violated Chapter III (Unsafe Practices) of ASCI Code:
SpiceJet Ltd (SpiceJet): The visual of "a man inserting loose wires into a power socket and getting an electric shock, and also shown repeating this act again", shows an unsafe and a dangerous practice, which manifests a disregard for safety and encourages negligence. It was also observed that dangerous act such as this is likely to encourage minors to emulate it in a manner which could cause harm or injury, and lead to them suffering shocks.
Malayala Manorama: In the advertisement, actor Dulquer Salman is playing the main lead of the driver who provides lift to different people without wearing a seat belt. It was concluded that the scene in the commercial of "a model in a car not wearing a seat belt while driving", shows an unsafe practice. The commercial is likely to mislead consumers by implying that seat belt is not compulsory while driving.
Personal Care:
Hindustan Unilever Ltd (Lifebuoy Soap): The television advertisement when seen in totality creates an impression that Lifebuoy is recommended by doctors. This is emphasized by the celebrity posing as a doctor wherein she states "doctor se suno" and in the last frame of the commercial showing four persons in white coat giving an impression that doctors have endorsed this product. In view of the Code of Medical Ethics prohibiting doctors from endorsing any product and in absence of any market research data indicating that medical professionals in general recommend the advertised product, such visual presentation was considered to be misleading by ambiguity and implication.
RSPL Limited (Venus Crème Bar): The advertisement's claim, Venus crème bar made of natural cream that goes to the depth of the skin", was not substantiated and is misleading by ambiguity and implication.
Food and Beverages:
Kraft Heinz India Private Ltd - Complan: The advertisement's claims, ONLY one cup of Complan has protein equivalent to one egg" and "Other Health drinks provide protein equivalent to half egg only." were not substantiated. "Only Complan" is hyperbolic and the word 'Only' pertains to a comparison with similar products i.e. health food drinks catering to healthy growing children aged between 5 -15 years which are in competition with 'Core Range' of Complan. The claims were considered to be misleading by ambiguity and exaggeration as well as in contravention of the ASCI Guidelines on Disclaimers.
PepsiCo India Holding P. Ltd (New Tropicana Essentials-Fruits and Veggies): The advertisement's claim, "New Tropicana Essentials" did not provide any supporting evidence to show that Tropicana Essentials was a "New" product at the time of publishing the advertisement. The claim was misleading. Moreover, the claim "Why would I eat something which has hair?" read in conjunction with a picture showing "drawing of a carrot" and reference to "all goodness, no excuses", disparaged good dietary practice and selection of options, such as fresh vegetables that accepted dietary opinion recommends should form part of the normal diet. The advertisement contravened ASCI Guidelines on Advertising of Foods & Beverages. Ads of Wild Vitamin Water), Faasos Food Services Pvt Ltd, Britannia Whole Wheat Bread) were also pulled up by ASCI.
Other:
Reliance Jio Infocomm Ltd: The advertisement's claims "Best Network and World's largest mobile data network" are misleading by ambiguity and implication as they refers to only "consumption of data" and not the extent and infrastructure of network. The claim "Best Entertainment" was not substantiated with the superlative claim of being the best was misleading by ambiguity. Furthermore, the claim "Best post-paid offers" was not clear in terms of which aspect of the advertiser's product is being compared with which aspects of the competitor's product. The advertisement is misleading by omission.
Myntra.com: The advertisement's claim, "Here's Rs. 300 on us", is misleading by ambiguity and omission that the offer is only on select products, and that the offer is subject to terms and conditions. The advertiser did not provide the terms and conditions of the offer nor a link showing the same which would have informed the customer about the conditions.
Yatra Online Private Limited (Yatra.com): In the advertisement, the claim offer related to the Fare Type "refundable" was misleading by ambiguity regarding the extent and conditions of the refund, and by omission of a qualifier to mention that it is subject to terms and conditions.
Borosil Limited Glass Works (Borosil): The advertisement's claim, (in Hindi) in the commercial, "Borosil ka glass lunch box, yeh khaane mein chemicals nahin chodtha" was not adequately substantiated. The claim is misleading by ambiguity and gross exaggeration and exploits consumer's lack of knowledge. The words referred to in the commercial, "Plastic paratha", "Gobi Plastic Pasanda", and "Plastic ka Halwa", are misleading by implication that the food has become like plastic by being carried in a plastic container and is harmful for health (as they leach chemicals into food), was inadequately substantiated for food grade plastic material, and unfairly denigrated the entire class/category of containers made of food grade plastics.
Suzuki Motorcycle India Pvt Ltd. (Suzuki Access 125): The advertisement's claim, (in Marathi), "Uttam Mileage Saha" and "Kumi Peete", were inadequately substantiated. The claims are misleading by omission of the basis of comparison and implication that the vehicle gives better mileage than other two wheeler brands available in the market. The seat length data provided was a simple measurement given only in comparison with Honda Activa. The seat storage data provided were snapshots taken from web page of Suzuki and Honda, respectively. No data was provided to justify comparison with just one competing brand. The claims, "Zaasth Lambh seat", "Motay storage" are misleading by omission of the basis of comparison and implication that the vehicle has better features than other two wheeler brands available in the market.

SUO MOTO Surveillance by ASCI
The advertisements given below were picked up through ASCI's Suo Moto surveillance of Print and TV media via the National Advertisement Monitoring Services (NAMS) project. Out of 102 advertisements that were picked up, 49 advertisements were considered to be misleading. Of the total of 49 advertisements, 16 advertisements belonged to the Healthcare category, 16 belonged to the Education category, six belonged to the Food & Beverages category, one to Personal care category, and ten belonged to the 'Others' category.
The below advertisement violated ASCI's Guidelines for Celebrities in Advertising:
Rasna Private Limited (Rasna): The advertisements claim, "Natural Fruit Energy", was inadequately substantiated and is misleading by ambiguity and implication about the fruit content in the product. The visual of celebrity Kareena Kapoor when seen in conjunction with the claim is likely to mislead consumers regarding the nature of product benefit and contravened the Guidelines for Celebrities in Advertising.
Some ads upheld under HEALTHCARE: Fortis Healthcare Ltd, VLCC Healthcare, Samson Slim Care, Cancer Healer Centre, Lokmanya Medical Foundation (Lokmanya Hospital), Shape in Slimming Centre, Apple Hospital & Test Tube Baby Centre.
Education:
The CCC found claims in the advertisements by 16 advertisers that were not substantiated and thus, in violation of ASCI Guidelines for Advertising for Educational Institutions. These include: The Evolving Minds – The Evolving Minds Preschool, Rect Polytechnic College, Lovely Professional University, Pallavi Model School, Vidyamandir Classes and New Gurukul Science Coaching.
Complaints against advertisements of eight educational institutes listed below are UPHELD mainly because of unsubstantiated claims AND/OR misleading claims that they provide 100% placement/ placement assistance AND/OR they claim to be the No.1 in their respective fields.
Koneru Lakshmaiah Education Foundation, Samrat College, Sojatia Classes, Shree Dev Bhoomi Institute of Education Science & Technology, The Vision Education Group – Vision PU College, ITM Group of Institutions- ITM Institute of Hotel Management, Little Wonders International, Haryana College of Fire & Safety Management.
Some ads under Food & Beverage:
Organic India Pvt Ltd (Organic Honey and Organic Ghee): The advertisement's claim, "Organic Ghee", was not substantiated for its organic claim for marketing status and is misleading by ambiguity and implication. The claim, "Organic Honey Wild Forest - Boosts immunity and is a source of good bacteria", was not substantiated and is misleading by ambiguity and implication.
Premium Foods India (Premium Foods Range): The advertisement's claim, "No.1 brand of Kerala", was not substantiated with any verifiable comparative data of the advertiser's product and other brands of instant food products, to prove that it is in leadership position,(No.1 Brand) in Kerala, or through a third party validation. The claim is misleading by exaggeration and implication.
MBS Beverage Pvt Ltd (MBS Cola): The advertisement's claim, "Odisha's No.1 Beverage Company", was not substantiated with any verifiable comparative data of the advertiser's firm and other beverage companies, to prove that it is in leadership position (No.1) in Odisha or through a third party validation. The claim is misleading by exaggeration and implication.
Personal Care:
Lotus Herbals Pvt. Ltd (Lotus Professional PhytoRx Sun Protection Range): The advertisement's claim, "Nature's most effective shield against the sun", was a superlative claim which not substantiated with evidence of product efficacy and with technical tests/trial reports and is misleading by gross exaggeration. The product packaging claims in the advertisement - "SPF 70 PA+++ PhytoRx Ultra Protect Sunblock", "SPF 50 PA+++ PhytoRx Sunblock Mist", and "SPF 30 PA++ PhytoRx UV Screen Gel", were not substantiated with evidence of the claimed SPF/ PA values. The claims are misleading by exaggeration and likely to lead to grave or widespread disappointment in the minds of consumers.

Others:
For six different advertisements of the following Jewellery brands, the claim, "India's Most Preferred Jeweller", was not substantiated with verifiable comparative data / market survey data of the advertiser's product and other competitor diamond jewellers or through a third party validation. The source and date of the claim was not mentioned and the claim is misleading by ambiguity and omission.
Nirvana Diamond Jewellery
Asmi Diamond Jewellery
Nakshatra Diamonds
Gitanjali Jewels
Gili
Sangini Diamond Jewellers
ARG Outlier Media Asianet News P. Ltd (Republic TV): In the advertisement's claim, the disclaimer put by the advertiser for the claim "India's No. 1 Channel" is based on one day data (Period: Week 21 - 2018) and not four consecutive weeks of data and also the data was for week days excluding weekend (Day: Week days) and not for entire week as per Broadcast Audience Research Council (BARC). Therefore, it violates BARC Principles. The subject matter of comparison is chosen in such a way so as to confer an artificial advantage upon the advertiser so as to suggest that a better bargain is offered than is truly the case. Hence, the claim "India's No. 1 Channel" disclaimers in the ad were too small which contravened ASCI's Guidelines on disclaimers
Doms Industries Pvt Ltd: The advertisement's claim, "India's No.1 Brand - 2017", and "India's No.1 Stationery Brand", were inadequately substantiated and are misleading by exaggeration.
Sahara India Commercial Corporation Ltd – RML Sahara Ganj: The advertisement's claim, "The nationally awarded mall", was not substantiated with details of the criteria for granting the award, references of the award received such as the year, source and category. Also the claim is misleading by ambiguity and exaggeration.
Action Footwear – (Action Plus): The advertisement's claim, "Awarded as leading power brand of India", was not substantiated with copy of the award certificate, details of the criteria for granting the award, references of the awards received such as the year, source and category. The claim is misleading by omission of disclaimer to qualify this claim.
The new campaign for Alpenliebe Chatpata has been conceptualised by McCann Worldgroup and is being aired across leading TV and digital channels

by
Published - 16 hours ago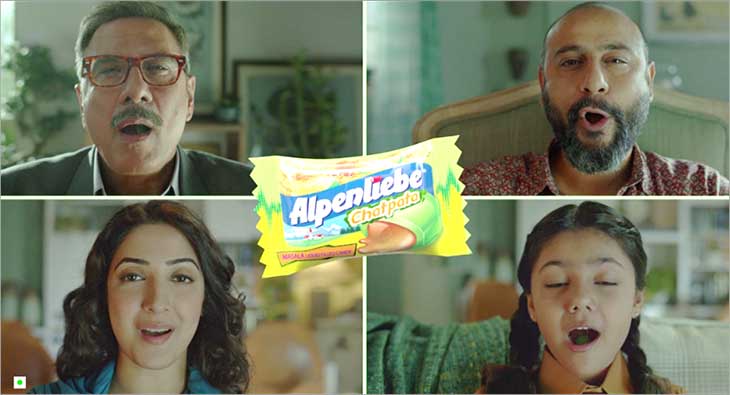 Perfetti Van Melle India has entered the tangy (Chatpata) fruit candy segment with the launch of 'Alpenliebe Chatpata'. The launch of Alpenliebe Chatpata marks yet another innovation by Perfetti Van Melle, the market leader in the Indian confectionary market. Available at Re 1, the new variant has a slurpy chatpata mango shell and liquid filled core leading to a burst of tangy flavour. The new campaign for Alpenliebe Chatpata is being aired across leading TV and digital channels.
The communication idea for Alpenliebe Chatpata builds on Alpenliebe's strategy of communicating to the entire family, in line with the brand's purpose of bringing hearts closer. Light-hearted banter, wit and a 'chatpata' twist add moments of laughter to the great Indian family's everyday moments!
Actor Boman Irani reprises his role as the family patriarch. In this story, he pops an Alpenliebe Chatpata, and then proceeds to nonchalantly pull his son's leg after the latter tries to take credit for the granddaughter's good grades.
Speaking about the new launch, Rajesh Ramakrishnan – Managing Director of Perfetti Van Melle India said, "Perfetti Van Melle has always been about innovating in the confectionery category. I am excited that we are entering a large & growing market segment with our power brand Alpenliebe. We believe we have a winning proposition and we are backing it with a powerful 360-degree campaign."
Speaking about the new product and TVC, Rohit Kapoor - Director Marketing of Perfetti Van Melle India said, "As we celebrate our 25th year in India, we are proud to welcome the newest member, 'Chatpata', to the Alpenliebe family. The Alpenliebe Chatpata product and the new communication have received extremely positive reaction so far, and we're looking forward to a successful addition to our portfolio. The new communication plays up the typical chatt sound, which highlights the consumption ritual associated with tangy flavour and triggers a chatpata spin to the story."
Commenting on the campaign, Kapil Batra, Creative head, McCann Delhi, said, "The name is Chatpata, the taste is Chatpata. It called for an idea that's Chatpata too. That's how 'Chatpata Khol Chatpata Bol' was born. To bring this idea alive, the Alpenliebe family is back. And so is the banter between Boman and his son. In sync with the previous Alpenliebe campaigns, this one too has the family sharing a light moment together with Alpenliebe at the centre of it."
Credits:
Agency: McCann Worldgroup
Creative team: Prasoon Joshi, Kapil Batra, Gourav Verma, Jeet Kalra
Account Management team: Richa Bhatia
PH Credits
Production house - Early Man Film Pvt Ltd
Director - Abhinav Pratiman
EP - Anand Menon
Producer - Amarjeet Phukan
DOP - Tanay Satam
Music Director - Abhishek Arora
The campaign idea was to take the surprise thought further in this year's TVC where actor Kriti Sanon shows that style & comfort can co-exist in the new range of Bata 9 to 9 collection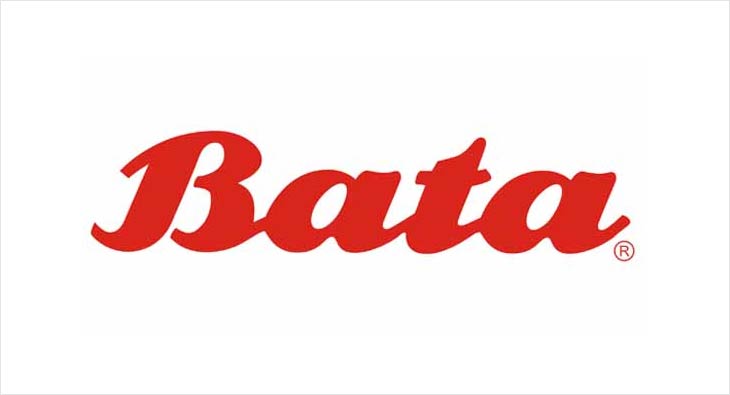 Footwear brand Bata has come a long way since its inception. From being the 'most comfortable' footwear brand, it's now giving people the best of both worlds in terms of style and comfort. In line with the same philosophy, Bata has now launched its recent campaign for the new 9 to 9 collection which has a complete package, offering both style and comfort.
"Bata's new '9 to 9' campaign is aimed at India's young, working women who don't want to compromise on looking chic and stylish yet are practical enough to look at the comfort factor when they buy shoes. In our consumer research, we heard how non-stop comfort from morning to evening was important for them. Our new 9 to 9 collection consisting of Bata Comfit, Naturalizer, Hush Puppies and Bata contemporary styles offers non-stop comfort from 9 am to 9 pm. For all those early morning meetings to post-work dinner dates with friends, Bata's new collection makes sure no woman has to compromise on style or comfort now," said Anand Narang, Vice President – Marketing, Bata India, on the launch of the new campaign.
Vineet Mahajan, Head of Art, Contract India, added, "When we started working on Bata, we created the platform of 'Surprisingly Bata'. The idea was to communicate Bata's range of stylish merchandise that people were unaware of. This time, Bata wanted to launch a range of comfortable shoes. Now 'comfort' is a quality that is already associated with Bata. So, the challenge was to communicate comfort as a benefit within the 'Surprisingly Bata' platform. Kriti Sanon, the face of Bata's women range wanted to solve her friend's problem and surprised her with the new 9 to 9 collection.The idea of the film was to let people discover the delight of wearing something that's comfortable and surprisingly stylish too."
The campaign idea was to take the surprise thought further in this year's TVC where Kriti shows that style and comfort can surprisingly co-exist in the new range of Bata 9 to 9 collection. The campaign touchpoints include digital, website, social, influencers, retail, print, outdoor and Bata's CRM channels.
The latest campaigns depicts how Gits Instant Mixes are a saviour in every occasion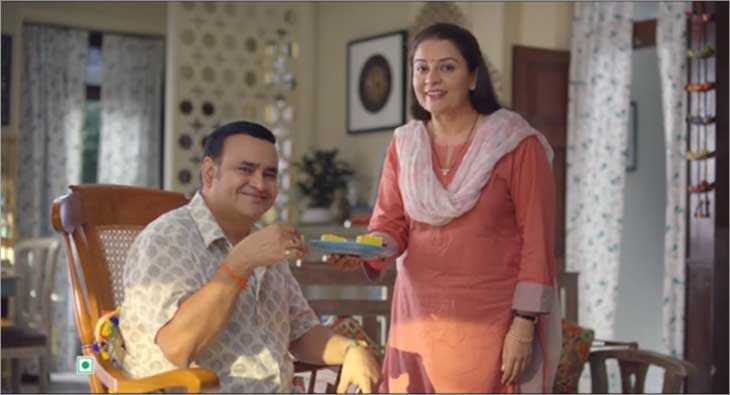 Gits Food Products Pvt. Ltd, founded in 1963 a pioneer of convenience food in India, has unveiled their latest 'Sawal hi nahi banta, yaha banta hai Gits!' campaign. Conceptualised by Lowe Lintas, the new TVCs contain two delectable stories centered on their Breakfast and Snack Mixes.
The TVCs emphasise on the day-to-day problems faced by families and Gits mixes make life stress free. Authentic recipes are one of Gits's strongest pillars, thus the TVC showcases regional ethnicities to establish this.
Commenting on unveiling the new TVCs, Sahil Gilani, Director – Sales and Marketing, Gits Food said, "We launched our new packaging and communication tagline – Sawal hi nahi banta, yaha banta hai Gits, during Diwali 2018 with our Dessert Mix TVC. We are carrying forward this communication and tagline to our other two mixes categories – Breakfast and Snacks. The TVCs are very relatable and highlight the humorous frustrations life throws at us, the films will certainly leave a smile on viewers faces!"
Gits Food mixes are available across India in retail outlets, supermarkets and e-commerce platforms.
Agency credits: Team Lowe Lintas
The campaign starring actor Jacqueline Fernandez has been launched across TV, Print and Digital for 60 days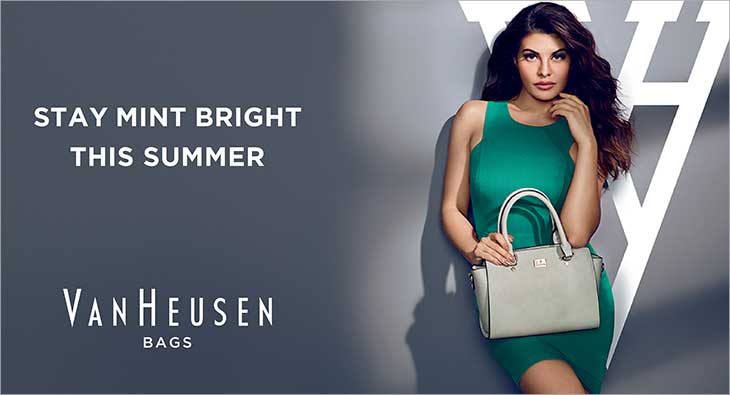 Van Heusen, the power dressing brand from Aditya Birla Fashion and Retail Ltd. has upped its marketing plan with a host of initiatives to build a strong connect with its consumers. The brand has launched a comprehensive `Carry your World' campaign featuring India's leading Bollywood star Jacqueline Fernandez across 60 cities for two months. The campaign will be featured in multiple mediums such as television, print and online as well. A 40-second video will be launched across digital channels and movie screens and will be supported through diverse print and TV promotions in the coming months.
The commercial symbolically puts the spotlight on the Van Heusen Woman who is an independent and a modern woman, willing to define life on her own unique terms and make her mark on the world. Armed with a sprightly attitude and a fresh perspective, she uses fashion as a means to show her passion. Recently, Van Heusen announced actress Jacqueline Fernandez as the Face of Van Heusen's handbag segment.

Speaking on the campaign Abhay Bahugune, COO, Van Heusen said, "The newest 'Carry Your World' campaign celebrates the effortless style that resonates the independent and empowered woman of today. The premise of the campaign seeks to explore the brand's identity through language and emotion, to shine a spotlight on our newest handbag collection where fashion and functionality meet mobility in every piece. We are proud to associate with Jacqueline Fernandez as she personifies with the brand personality."

Conceptualised by Famous Innovations, the TVC showcases the actress, who embodies the easy spirit, charm and elegance of the Van Heusen Woman. The TVC highlights how the Van Heusen bag remains her constant companion at different settings be it the workplace, at social meetings or for a fun night out. The frame opens with a vivacious Jacqueline donning multiple roles as she juggles many worlds and personas during the day. Her Van Heusen bag therefore compliments her different looks in which she literally carries her world. The shot closes with the actress looking gorgeous and vibrant as she straddles her handbag with enthusiasm, passion and liveliness expressing her free-spirited individuality. The stunning visuals in the video are accompanied by a catchy background score.

Commenting on the video launch Raj Kamble, Founder & CCO, Famous Innovations said, "A power figure, a fashion icon and a go-getter, Jacqueline Fernandez perfectly embodies the ethos of Van Heusen Woman. Our brief was to bring alive the functionality of Van Heusen's hero bag, which is designed keeping in mind the modern woman's lifestyle. We started with the insight that the ambitious woman of today is always on the go and the long, dynamic days mean that she needs to be prepared for anything. Therefore, she carries her world with her. We've portrayed the same in the film in a visually interesting manner."
The idea behind the campaign is to build brand awareness around the elements that inspire flawless design signature of the brand that is consistent across Kia's product portfolio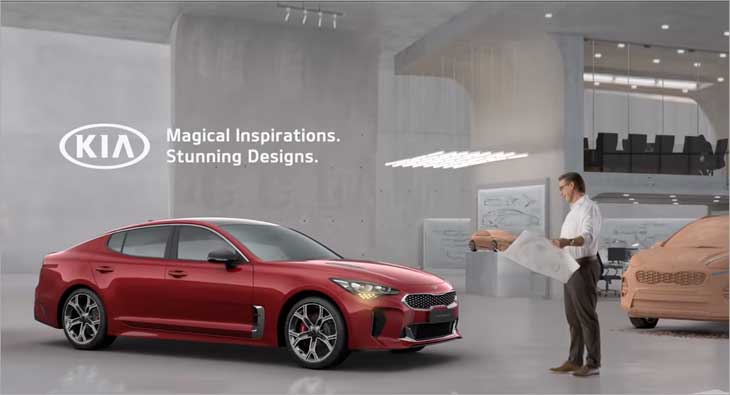 Kia Motors, the world's 8th largest auto manufacturer, launches its first brand campaign for India, to introduce the brand in the country and further strengthen its connect in the market. This high decibel campaign lead by the TVC reiterates Kia's design philosophy and aptly brings out the importance of design in the Kia ecosystem.
The campaign 'Magical Inspirations, Stunning Designs', have been made on the deepest insight that there is an inspiration behind every great design and there are unique inspirations behind the design of every Kia car.
The idea is to build brand awareness around the elements that inspire the flawless design signature of the brand that is consistent across Kia's product portfolio. Kia has always been at the forefront of cutting-edge design, a philosophy that's resulted in some of the most iconic cars of this generation.
The campaign that started by piquing people's curiosity with teasers of an astronaut and a tiger around a Kia car, reaches a big reveal as apart from the astronaut and the tiger, seven other magical inspirations came together to form a Kia car. Be it the enduring astronaut symbolising Man's first step on the moon; the firefly representing the most luminescent form of nature; the slinky spring where science meets playfulness; the swift yet stable Humming bird; the Ballerina with unmatchable precision, poise and grace; the agile skill and control of a footballer; quirk of Felix the cat and finally the Tiger forms the most magical inspiration set leading to an amazing Kia car.
Speaking about the campaign, Manohar Bhat, Head – Sales and Marketing, Kia Motors India said, "This brand campaign establishes Kia's emphasis on design and how it changes the design rule-book with every car it introduces in the market. Right from the world's heart throb Stinger to the latest sensation Telluride all Kia cars have their unique identity with a common design language that stands out. We wanted to take a fresh approach through the campaign that rightly highlights the importance of design at Kia and the inspiration that drives us to make stunning cars that we are globally known for. Staying true to the brand philosophy of 'power to surprise' there's more to come via the TVC so, please stay tuned!"
The campaign aims to create a lasting impression on the discerning new age automobile customer leading up to the launch of the SUV from Kia. This multi-media campaign will be supported by a uniquely designed digital campaign, which will engage with the evolved Indian consumer.
Ahead of the launch of its first car in India in the second half of 2019, Kia is aggressively implementing its marketing plans with an aim to be amongst the top 5 automakers in India within three years. Being ahead of its schedule, the company recently announced the commencement of trial production at its state-of-the-art manufacturing facility in Anantapur, in Andhra Pradesh.

The campaign highlights 9 unique inspirations showcased in the TVC. These inspirations include The Astronaut, The Tiger, The Ballerina, The Humming Bird, The Slinky Spring, Fireflies, Felix the Cat and The Footballer and leaves a surprise element in the end.
The Astronaut: Technology meets Innovation and Endurance
The Tiger: Power meets Presence with the iconic Tiger nose grille
The Ballerina: Precision meets Grace and Elegance
The Humming Bird: Speed meets Stability
The Slinky Spring: Playfulness meets Science
Fireflies: Brilliance meets Luminescence
Felix the Cat: Creativity meets Young at Heart
The Footballer: Control meets Agility and Skill
Showcasing illustrations of the lovable Minion characters, the new Cadbury Dairy Milk in Lickables highlights the Minions range and comes with 55 exciting Minions toys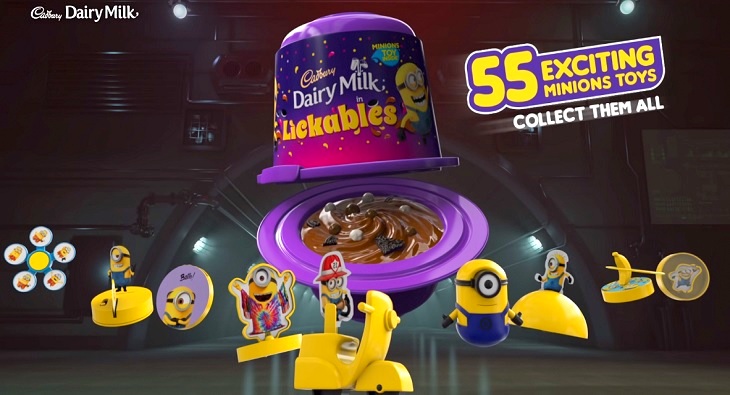 Mondelez India, the market leader in the chocolate category has rolled out Cadbury Dairy Milk in Lickables and Cadbury Gems Surprise in association with the Despicable Me franchise. Showcasing illustrations of the lovable Minion characters, the new Cadbury Dairy Milk in Lickables highlights the Minions range and comes with 55 exciting Minions toys. Cadbury Gems Surprise will also benefit from the Minion makeover.
Commenting on this association, Anil Viswanathan, Director - Marketing (Chocolates), Mondelez India said, "We are witnessing great demand for spoonable chocolates, a trend that is catching up swiftly under this segment wherein the toy is an important category driver. Recognizing this scope and the consumers' affinity towards the Minions characters, the association with the franchise is a fitting one. With this association, we endeavour to transcend the brand love of Cadbury Dairy Milk to our donor segments products like Cadbury Dairy Milk in Lickables and Cadbury Gems."
This is a part of Mondelez India's strategy to recruit the future, with the aim of making Cadbury Dairy Milk the first taste of chocolates for Indians. With a strong innovation pipeline and several global firsts, the company has been introducing newer eat formats, catering to the changing consumer tastes and preferences. Cadbury Dairy Milk in Lickables, the company's made-in-India innovation, which has the delectable Cadbury chocolate in a spoonable format, has been received exceptionally well by all age-segments especially the younger set since its launch in 2017.
This association will be supported with a new TVC along with digital activations, in-store visibility in modern trade and traditional Ttade stores. The Minions range of Cadbury Dairy Milk in Lickables and Cadbury Gems Surprise are priced at INR 40 each and are available in all traditional trade & modern trade retail outlets as well as e-commerce sites.
The collaboration between the two brands has been curated by NBC Universal Brand Development Group's licensing partner, Black White Orange.
Cadbury Dairy Milk Lickables Minions - Hindi:
Conceptualised and executed by the DDB Mudra Group, the ad campaign gives a humorous take on the laws of physics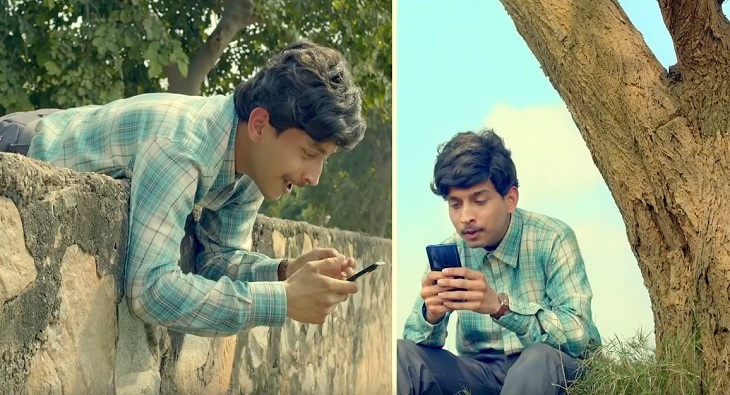 Hotstar, India's largest premium video streaming platform, has released an entertaining new TVC for its VIVO IPL 2019 campaign, '#KoiYaarNahiFar'. Conceptualized and created by the DDB Mudra Group, the film features a stereotypical Indian family whose twins are accidentally jinxed to 'magnetically repulse' each other. The family makes several failed attempts to bring the twins together. The VIVO IPL 2019 season adds to their woes when the twins lament the fact that cricket is more fun when watched together, something they sadly can't. Until Hotstar comes to their rescue with its first-ever social cricket-watching experience, allowing the twins to watch the live matches together on a single platform. The ad film has been rolled out in three languages, Hindi, Tamil and Telegu, and is also available across Hotstar's digital platforms.
Since its release, the film has garnered over 134,276 views on YouTube alone.
This year, with 'Koi Yaar Nahi Far', the streaming giant will bring people together irrespective of their location giving viewers the opportunity to invite their friends and family to Hotstar, watch the matches, and participate in the Watch 'N Play game together. Fans will be able to compete and see where they stand against their friends and family through the new social leaderboard.
They will also be able to make their voices heard by chatting about the match or their Watch 'N Play experience, not only with their friends and family but also with experts and celebrities. In an interesting product integration, winners of the Watch 'N Play games will be able to redeem their points courtesy the exclusive partnership with Amazon Pay. Furthermore, with the intent to take this experience deeper and wider into India, Hotstar will stream the matches across 8 languages, targeting an unprecedented reach of 300 mn viewers.
Commenting on the ad campaign, Hotstar spokesperson said, "The joy of watching cricket is multiplied manifold in the company of friends and family, something that's becoming increasingly difficult to do today. We wanted to introduce something special to protect that ethos and added the interactive, social layer to enhance the cricket watching experience. The TVC showcases this essence beautifully. We hope it will help our viewers connect to the idea and make them explore all the interesting features we've added to Hotstar this year for VIVO IPL 2019."
Talking about the TVC, Shagun Seda, Executive Creative Director, DDB Mudra said, "The general belief is that screens divide and disconnect us from our loved ones. That's not true if you're watching IPL. It is best enjoyed with family and friends. But there are many things that could keep you away from watching the game along with your loved ones – work, responsibilities, travel, and in this film's case, magnetic repulsion. It's always a challenge to create work that stands out in the noise of IPL advertising. True to the brand's tone of voice, this year's Hotstar IPL campaign needed to be quirky, irreverent and entertaining. We wanted to create something that's clutter-breaking. So we decided to start by breaking the laws of physics."
To reinstate the idea of #KoiYaarNahiFar, the Hotstar and the DDB Mudra Group are scheduled to release another film soon.
Koi yaar nahin far | VIVO IPL on Hotstar:
Experts speak about the rise of social media in poll campaigns, the challenges the Election Commission will face in implementing the code of conduct and the sense of distrust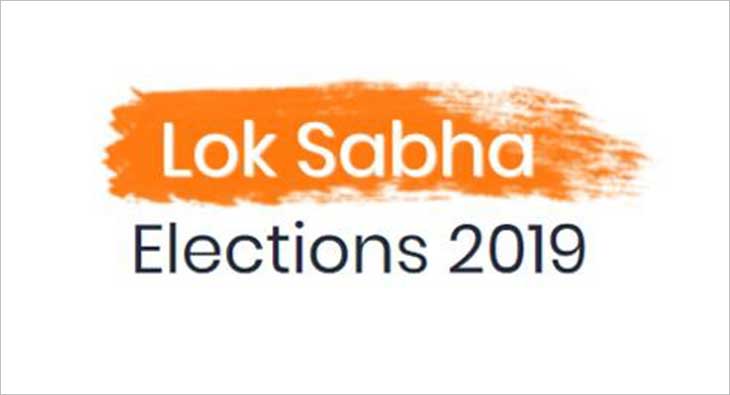 With the Election Commission (EC) announcing the schedule for the upcoming Lok Sabha elections, political parties across the board have got busy strategising poll campaigns and reworking their narratives to appeal voters.

Major political parties like the BJP and Congress have sounded their battle cries. While BJP is going all guns blazing with their latest campaign — 'Main Bhi Chowkidar', the Congress has kick-started the 2019 election campaign from the PM's home turf Gujarat and Rajasthan.
See blow some of the recent tweets on the handles of PM Modi, Amit Shah and Rahul Gandhi:

Your Chowkidar is standing firm & serving the nation.

But, I am not alone.

Everyone who is fighting corruption, dirt, social evils is a Chowkidar.

Everyone working hard for the progress of India is a Chowkidar.

Today, every Indian is saying-#MainBhiChowkidar

— Chowkidar Narendra Modi (@narendramodi) 16 March 2019
जिसने बनाया स्वच्छता को संस्कार...वो है चौकीदार। #MainBhiChowkidar

कहो दिल से #ChowkidarPhirSe pic.twitter.com/jLqn6atvXR

— Chowkidar Amit Shah (@AmitShah) 17 March 2019
You can keep trying Mr Modi, but the truth cannot be extinguished.

Every Indian is saying it. #ChowkidarChorHai

P.S: Do force Sushma ji to add "Chowkidar" to her handle. It's looking very bad.

— Rahul Gandhi (@RahulGandhi) 17 March 2019
A number of regional parties have also begun their poll campaigns and the premise ranges from fighting corruption to job reservations and better governance. While the poll campaign gains steam, we spoke to some experts to understand the trends shaping the ongoing poll campaigns and the political narratives behind them.

According to Jawahar Goel, Editor-in-Chief, Zee Media Network and MD Dish TV DTH, "If we look at how political parties are looking at traditional media platforms, this year too we will see the trend of traditional media spends going down and this is primarily because of the rise of social media platforms. As far as poll campaign trends are concerned, it will depend on the narrative that is being pushed by political parties. Normally, the trend is that people vote to penalise governments and very few vote for the good work that has been done. So we have to wait and watch to see how the trends will shape up eventually as we get into full campaign mode."

Harjot Singh Narang, President Dentsu One, sees this political atmosphere like any other marketing campaign where parties are after their own differentiators. He spoke about the growing distrust in social media and its impact on the upcoming election campaigns.

"The distrust in social media and what it puts out is one thing that will play in this election. At the same time, it will empower because if you spend enough on it, it has the possibility and capability to generate recall value," Narang said.

Priya Sehgal, Senior Executive Editor, News X said while the BJP has got its tag line ready 'Namumkin ab Mumkin Hai', showing Modi as the one man who can do the impossible and solve all of India's problems, the Congress still has to get its act together.

"BJP is continuing its 2014 theme, essentially showing Modi as the man with the magic wand. In 2014, the Congress tried to highlight the megalomania of this campaign by using 'Main Nahin Hum' as their tag line to show a leader who believes in team work. This time round it will have to come up with a line showing stronger and decisive leadership because in this narrative of nationalism that is being played out on poll eve, it's the need of the hour," said Sehgal.

She also spoke about the Election Commission (EC)'s challenges to implement the Model Code of Conduct. "In the age of social media, it is difficult to enforce this rule, though the EC has made it a point to mention social media this time round. But while they may be able to enforce some rules on Twitter and Facebook, how will they handle WhatsApp?

Speaking about the ongoing political narratives, Senior Political Analyst Sameer Kaul said,"The BJP has raised the political stakes in all respects. They will derive an advantage from a splintered opposition and absence of a primary contender for the Prime Minister's chair."

"All said and done, this poll campaign is going to be about accusations and counter-accusations, claims and counter-claims. My personal take being that din and rhetoric leading up to poll dates would surely confuse the voters than clearing the dust. And that's what would make the results most awaited. I do feel the ruling benches may just have that upper hand that is needed to scamper the finishing line," said Dr Sharad Kohli, Founder and Chairman KCC Group, Economist, Business, Finance and Tax Commentator.

According to communications expert Roma Balwani, the coming of 1.5 crore new voters will impact the upcoming poll campaigns to a large extent. "We have a whole new breed of under-20 who will be part of the electorate for the first time. The new breed of voters are looking for more 'call to action' and they have to be convinced," stated Balwani.

For Dr Kirti Sharma, Assistant Professor Marketing, MDI Gurgaon, purely from a political advertising standpoint the 'product' and the 'brief' is the most important component of a successful campaign. BJP has clearly defined the face of the party (product) and they have given a structured brief too.

"With the recent Pulwama attack and the counter attack by India, the wave of patriotism will help to shape the BJP campaign in their favour. Further, the various government-led schemes will definitely be an integral element in the campaign. It seems the BJP will have an upper hand in the upcoming elections in terms of designing and running a successful campaign," she added.
Gopa Kumar, Executive Vice President, Isobar India said, "In this year's election campaign, Digital would be one of the main platforms where all major political parties will be active. Social media will continue to be the main stay. While guidelines have been put in place, it will be interesting to see how many will adhere to the same. Use of video, WhatsApp and messaging platforms will see a rise as 'use of voice' is becoming mainstream and people are getting comfortable with the same. I see many of these parties trying to use voice in different ways to reach out to the voters."
The TVC has been created by the creative agency Brand Bazooka and is live on multiple digital platforms like YouTube and Facebook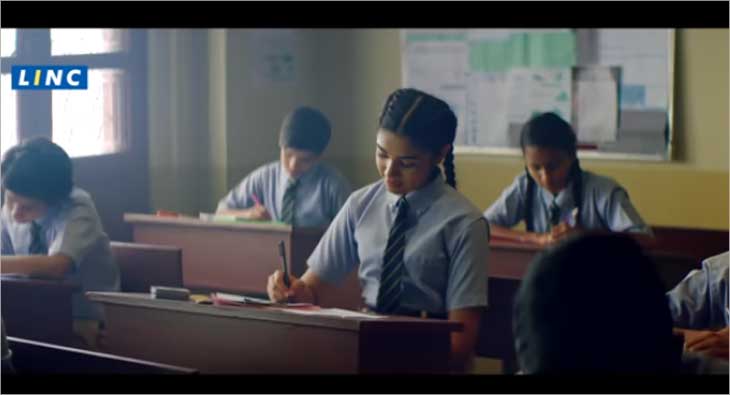 Linc Pen and Plastics Ltd. has lauded the resolution and hard work of students who are taking their board exams this year with their brand-new advertising campaign endorsing Linc's product Pentonic.
The new ad campaign for Pentonic during this exam season touches the emotional chord of all its connoisseurs, celebrating a vital phase of student life by eulogizing the virtues of their mental strength during exams with the valiance of a soldier fighting in the country's battlefield.
According to a statement issued by the company, 'Pentonic – 'Write the future' is designed to be an advanced writing instrument for the Gen-Z and Gen-Alpha, keeping in mind their avant-garde needs and demands. With this differentiating ethos Linc has embarked upon an idea that inspires and challenges the future with its boldness.
Their latest ad campaign showcases a focused school girl getting ready to sit for her school ongoing examinations. She gears up by preparing herself mentally for the war up ahead. Moving through the emotional journey of a student's resilience during the exam at school and a soldier's never-say-die spirit on the battlefield, the film captures the different moments while getting battle ready, be it in a classroom or combat zone. The film ends with the girl letting out a war cry ready with her battle gear with her weapon of choice: "Pentonic".
The ad film tries to take one through the mindset of a student which is confident and believes in conquering her battleground. Linc showcases their faith in Pentonic and establishes their focus in enabling India's students to 'Write the future'.
The TVC has been created by the creative agency Brand Bazooka and is live on multiple digital platforms like YouTube and Facebook. It has already gained wide appreciation for their passion inducing storyline and garnered over 12,000 hits on YouTube and likes on over 64,000 views on Facebook.
Speaking on the campaign, Deepak Jalan, Managing Director and CEO, stated, "Pentonic has to be one of the best offerings from the stable of Linc. With its effortless smooth writing and unique ink flow system, Pentonic enables the students to write their exams with command and confidence. We at Linc, differentiate with innovation, delivering the best possible writing experience for all our consumers at all price points. The new ad campaign is dedicated to the exam warriors who have put in their hard work to achieve success in academics like the spirited soldier of a nation at the battlefield".
Sadhana Karwal Co-Founder & CEO Brand Bazooka Advertising Pvt Ltd., added, "We decided to set aside the tangible benefits and features of the pen and instead create a communication that appeals to the psyche of a student preparing for the exams. From the initial feedback from the market, the film has been very well received."
Created by Ogilvy Mather, it is a 360-degree campaign which includes outdoor, digital and TVCs
With an objective to liberate customers from their current confusions, content distribution platform Tata Sky has launched its latest campaign, 'No Compromise' to explain why it is necessary to choose Tata Sky to fit an individual's budget and content needs. Featuring Gajraj Rao, the campaign highlights the core message of 'No Compromise' on entertainment needs via tailor-made packs and instant pack modifications available on Tata Sky.
Gajraj Rao will star in three Tata Sky ad films helping the customers understand why there is no reason or 'Rishtedaari' (relation) that should make one compromise between their content of choice and budget. The campaign urges customers to make that all important and long impending move to Tata Sky. At a time when change is inevitable and mostly seems painful, Tata Sky assures that its high-end technology will provide answers to all the consumers needs.
Through this campaign, Tata Sky addresses the change brought about by the current pricing regime and offers assurances of never letting any customer compromise between either content or budget.
The ad campaign delights with Gajraj Rao playing the adamant husband & son-in-law unwilling to change with time, leading to unhappy family members. A smile is rest assured, as you relate to these day-to-day scenarios from our lives.
Film 1: The first ad film opens inside a local shop, where the conversation between the father-in-law and son-in-law (played by Gajraj Rao) is around why the same set of channels are now costing more. Since the son-in-law doesn't budge on his argument, the father-in-law ends up finding Tata Sky as the solution to his problems. But since the 'rishtedaari' must be maintained he reluctantly has to step back and compromise on his choice of packs fitting his budget.
Film 2: In the second film, the wife tells her husband, (played by Gajraj Rao) she is unable to watch her favourite shows, as the desired channels are unavailable in their selected pack. When her husband dismisses her plea, she tries calling Tata Sky for a switch. But is unable to complete her selection as she feels conflicted about straining her 'Rishtedaari' with her husband thereby compromising on her choice of channels.
Film 3: The brother-in-law – Saleji, asks his Jijo (Gajraj Rao), if he can add his favorite sports channel for just a few days. But his Jiju refuses saying it's not possible to add or drop channels whenever he asks. Saleji decides to book a Tata Sky connection online. Precisely then he remembers his 'Rishtedaari' with his sister and Jijo and compromises on his choice to add or drop his desired channels as he wishes.
Talking about the campaign, Anurag Kumar, Chief Communications Officer, Tata Sky, said, "Tata Sky remains committed to providing subscribers with quality entertainment using easy and simple steps. The 'No Compromise' campaign captures the pain that TV viewers across the country are facing today for something as critical as their daily dose of content viewing. Tata Sky is here to resolve the same. With Gajraj Rao's immense popularity and Ogilvy & Mather's creativity put to test we are glad we could deliver a campaign that addresses this pain in a humorous yet relatable manner."
Speaking on the new campaign, Sukesh Nayak, Chief Creative Officer, Ogilvy Mather, said, "A compromise in relationships is inevitable. This campaign humorously depicts the compromise one must make in relationships. Luckily for majority of customers out there, who are un related parties, they can just switch to Tata Sky and watch their entertainment with #NoSamjhauta."
With an aim to connect with the viewers and address all relevant concerns, the campaign is a 360-degree campaign which includes outdoor, digital and TVCs. To further build awareness and connect with people across the country, Tata Sky has created the advertisement in 8 different languages which includes Hindi, Marathi, Bengali, Odia, Kannada, Telegu, Malyalam and Tamil.