India uses OOH in a really quirky and fun way: David Payne
David Payne, Global Head of strategy & operations at Mediakeys, talks about their strategic partnership with Laqshya Media Group, India's OOH market and more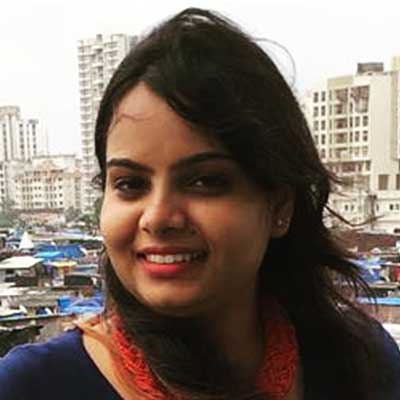 by
Published - 20-November-2018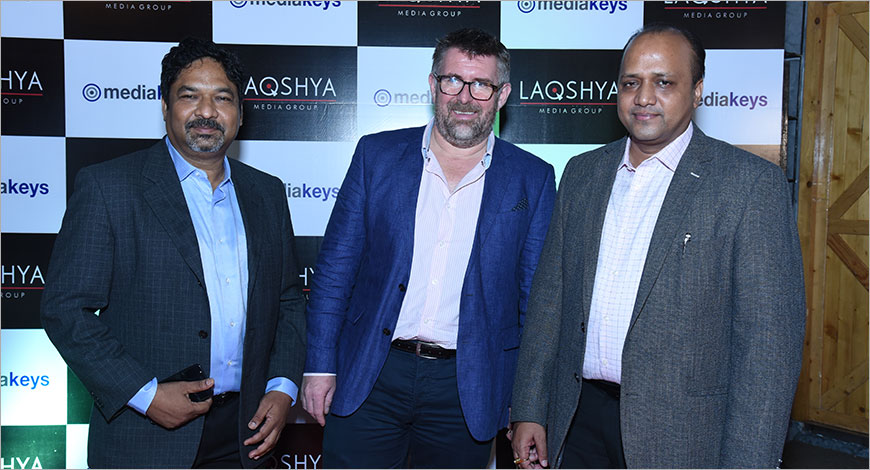 Former CEO of WPP Kinetic David Payne recently took over as Global Head of strategy & operations at independent international out of home media company Mediakeys, owned by Comkeys. Comkeys has now entered into a strategic alliance with Laqshya Media Group (LMG) to launch Mediakeys in the Indian market.
Payne was in India recently and exchange4media caught up with him to talk about the alliance with Laqshya Media, India's OOH market and much more.
Watch the video here or read the edited excerpts:
On strategic partnership with Laqshya Media
We work with brands all over the world, delivering solutions for them largely in the world of out of home (OOH), although we do cover all media. So, for us, it's quite a narrow and small market. But we are the biggest in that sector. So, on the international scale, India is becoming increasingly attractive for us.
There is obviously an increase in the number of Indian brands that are looking to talk to consumers outside India. So, India is becoming more important for us in terms of sales and outbound. Also, it's becoming more important for us as brands that work with us globally want to come into India. We have been thinking long and hard about our strategy for the Indian market. We wanted to accomplish something where we get to work with the best in class, both in sales and execution. And we bring exactly the same to India as well. It's a complementary relationship where we can work with them to drive sales from India, and we can bring business for them into India.
It's just two like-minded companies working together to jointly invest in the future of the business.
India vs global OOH industry
I have come to India many times in my career and I am always fascinated by the out of home scene here. It has a huge potential as many changes that we have seen in other parts of the world have not taken place here.
It is prime for consolidation and capital investment. If you match that with what's going on in this country from an infrastructure point of view (with new airports, new roads, new railways and new metros), there is a huge potential for development. Actually, India is yet to establish itself alongside more established & developed markets such as Germany, UK and France. But I think once that acceleration starts, it's going to be a much quicker transition.
There is no real measurement here yet and so it's not quite as accountable. But it's still quite dynamic and creative. What we are yet to see in India is real use of data to bring audiences. But I think that's coming quite fast.
Digital impact on OOH industry globally
I think it's a competitive threat, particularly in India where digital is highly accessible. Smartphone penetration has bypassed all aspects of larger screen penetration and it's very high. Therefore, digital mobile is very accessible and it's measurable and accountable. And that is what outdoor is not yet here in India.
It's a big competitive threat to a number of media channels in India. It's also a really nice business opportunity because out of home in other markets is becoming increasingly technology-driven, where you have digital screens. However, to talk about programmatic buying of digital screens will be a stretch.
Also, it's very interesting to see non out of home media companies beginning to acquire out of home businesses, something that you are not seeing here. But certainly it's a big trend in the US and the UK at the moment, and possibly in Germany where you are seeing the likes of Google, and Ali Baba in China.
On Indian OOH market's creativity
India is really progressive in that. I think India uses out of home in a really quirky and fun way. It is often used as a backdrop in special events or for special demonstrations or activations. I have always felt that India does that quite well.
What India needs is to carry on doing what they are doing well and invest in capital expenditure and infrastructure. Work in partnership with government and public authorities so that the quality of out of home does not just benefit the advertiser but benefit the community.
Future projects
Mediakeys is agile and quick-moving. We make decisions quickly on our strategy. We are able to test and get things done fast, and we are very entrepreneurial. I am looking for the 2019 immensely. We have got a lot of exciting things happening next year, and a couple of major global announcements. We will be able to talk about it after Christmas.
For more updates, subscribe to exchange4media's WhatsApp Channel- https://bit.ly/2QUdLCK
Its the first programmatic DOOH campaign at a national level, with location-based, day & time targeted content optimization and amplification

by
Published - 4 days ago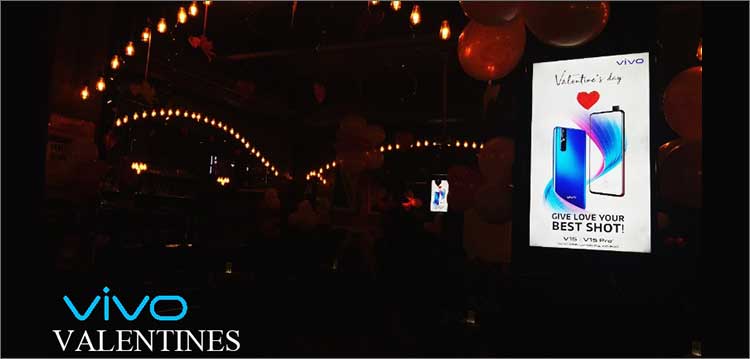 On Valentine's Day, Vivo Smartphone set a new benchmark by wishing thousands of couples a Happy Valentines Day' in realtime on TagTalk. As thousands of couples across the country celebrated this special day and broadcasted their photographs and boomerang videos on TagTalk at their favorite pubs and cafes across the country, Vivo Smartphone wished them in real-time on a personalized location-based Instagram enabled branded frame. The system auto-detected a couple photograph using AI and published a real-time message over the photograph shared.
Celebrating Valentine's Day, VIVO Smartphone also introduced a pre-launch campaign of its new handset Vivo V15 Pro on TagTalk which is all set to launch on 20th of February in India. Communication highlighted new handset features and a Valentines Day personalized creative.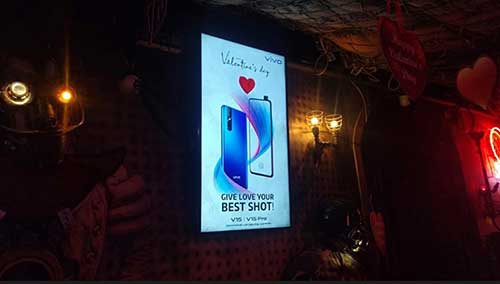 Vivo Smartphone partnered with TagTalk as Exclusive Smartphone Partner. Vivo has been driving innovation in DOOH, last year for the very first time, user-generated content was integrated on DOOH in India. From location-based User Generated Content using Instagram, to integration of photographs shot on Vivo by leading Indian Photographers and Social Media Influencers, the campaign generated exceptional amount of engagement and traction online, amplifying brands social media assets by over 205%, With the OOH media landscape going through major digital transformation, convergence of offline and online worlds has been on the center stage, the campaign was the first such example where data and high online traction was achieved using Out of Home medium.
Its the first Programmatic DOOH Campaign at a national level, with location-based, day & time targeted content optimization and amplification. The real-time client dashboard not only optimizes ad content delivery but also enables real-time tracking campaign performance at the hyperlocal level.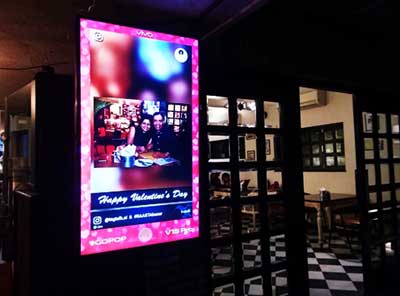 Speaking about the association, Gautam Bhirani, Founder & CEO TagTalk.ai said, "Our network connects with a highly sociable audience that likes to socialize and at the same time spends over 3 hours a day on the internet making them the major driver of user-generated content. Connecting places they go to with things they do online, we integrated a built a content-driven modern network that truly connects with today's digitally driven millennia's and helps brands connect with them in the context in an intrusion free and a delightful way. We are delighted to have Vivo on board again and as our exclusive smartphone partner, they understand our ecosystem and the audience very well which gives us the freedom to innovate using our technology and set new benchmarks in evolving OOH media landscape. Valentine's Day integration was special and delightful, thousands of couples across the country were delighted with the real-time greeting popping over their selfies. Personalized communication using technology and experience will play key a role in breaking the visual clutter and we live in and DOOH will be the major driver that play a key role in building connections."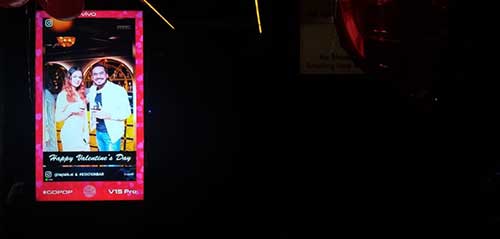 TagTalk is a Hyperlocal Modern Digital Out of Home Network, built on IoT (Internet of Things). Connected Realtime across leading F&B chains, TagTalk is an In-venue customer engagement platform that enables push of location-based POS real-time offers, personalized greetings, and user-driven live photographs and video broadcast using location-based social media channels. (Instagram & Facebook). One of the fastest growing network's, TagTalk currently connects with over 5 Million digitally driven Millennial's at places they love across Delhi, Gurugram, Mumbai, Pune, and Bengaluru. TagTalk made news for building the first Social TV Network, that has enabled content broadcast for over 400 leading social media influencers and has 1,50,000+ unique user posts from locations it is present in
For more updates, subscribe to exchange4media's WhatsApp Channel- https://bit.ly/2QUdLCK
Display Metrics India Private Ltd, MGE Data and IPSOS unveil measurement of display

by
Published - 18-January-2019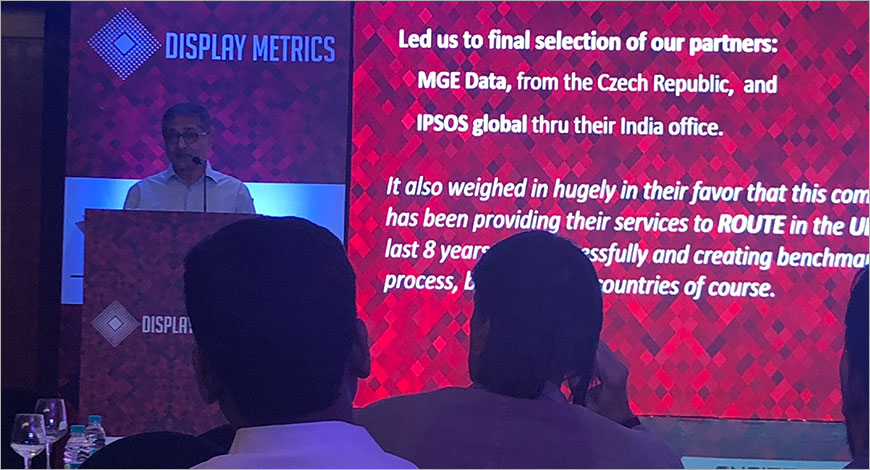 Over the last decade, data has fast become a new currency for advertisers. Its intrinsic value lies in the ability to offer advertisers a more granular understanding of audiences, enabling them to drive revenue through more effective targeting. Today, the vast majority of advertising capitalises on data to some degree.
The Outdoor Advertising Industry, which is currently estimated to have a national revenue of about INR 4,200 crores with an average y-o-y growth of about 9% p.a. does not have any established and recognized analytics to measure or record its deliverables, usage or efficiency like other forms of advertising (print and TV) already have.
Display Metrics India Private Ltd. (DMPL), a start-up in the business of data analytics for outdoor advertising industry, MGE Data and IPSOS on January 17 unveiled the measurement of display (M-O-D). Noomi Mehta, president, IOAA, said "The significant point is that planners don't want to buy media but audience. Why is it so difficult for us to give numbers? "
Indrajit Sen, Director, DMIPL shared that the idea of implementing M-O-D could kick off starting from the top 10 cities. "We would be starting off with Delhi NCR and the Bombay cluster. One year will be dedicated to the first two clusters," said Sen. The revenue model will be a usage-based one, not a blanket subscription model. He said that it will take off slowly and there will be a travel habit survey conducted before the implementation."
Sen revealed that it will be taken to the metros and airports and malls could also be a part of the plan but as an add-on project. " We will conduct a traffic and travel survey spread to identify seasonalities, differences that will come in, etc. Once that pattern is set, it will be an ongoing exercise thereafter." The group plans to leverage visibility-adjusted contact numbers and start off with on-road static displays with multisensorial capabilities that will help monitor the efficacy of OOH campaigns and the ROI on them.
For more updates, subscribe to our WhatsApp Channel - http://bit.ly/e4mWhatsApp
For more updates, subscribe to our Newsletter - http://bit.ly/2Qu7OIs
For more updates, subscribe to exchange4media's WhatsApp Channel- https://bit.ly/2QUdLCK
Bhandula, Executive Chairman, JCDecaux India believes that OOH industry in India still has a long way to go to match the standards of matured markets such as the US and China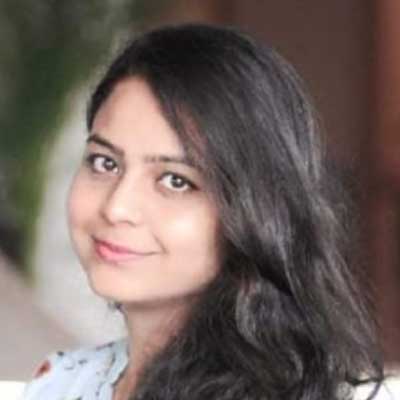 by
Published - 25-January-2019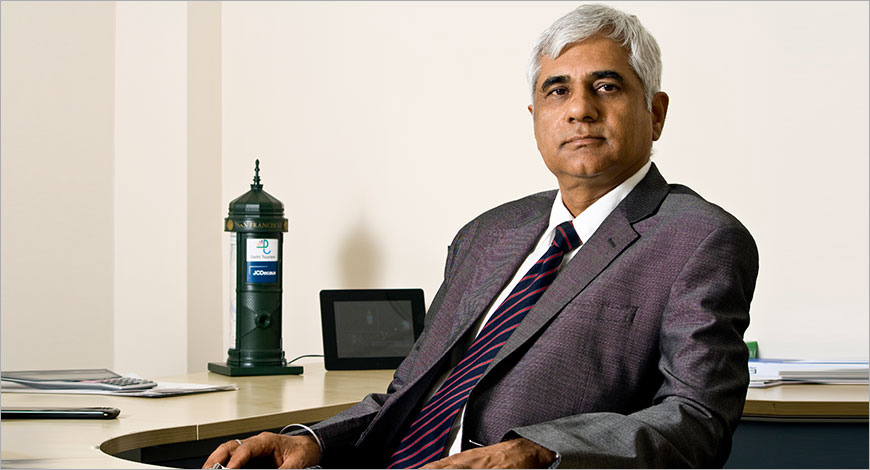 A veteran in the Out of Home industry, Pramod Bhandula, Executive Chairman of JCDecaux India has a strong experience of 35 years.
Under his leadership, JCDecaux launched the Indian subsidiary back in 2006. Since then, the company has executed some of the iconic campaigns in India.
In a chat with exchange4media, Pramod Bhandula, Executive Chairman, JCDecaux India spoke about the issues concerning the OOH industry, lack of innovation, growing trends and more.
How would you compare the growth of the OOH sector in India with global developed markets such as the US and China?
We have a long way to go to match matured markets, first, the basics fundamentals such as uniform policies across the country are key and need to be discussed and finalised for better growth of the medium.
According to you, where are we lacking in terms of innovation?
Innovation is related to the secure environment, once it is in place, innovations will be a part of the routine and more creative campaigns will be seen.
What is the foremost trend the OOH industry is witnessing and what new can we expect this year?
The most important is governing principals of the industry, which I feel are on the rise, this year some of the cities might finalise their approach towards OOH and the operations will be carried out more sensibly.
When it comes to business, how would you differentiate JCDecaux from rest of the outdoor agencies?
Our core values and the trust that our partners have in us is what makes us grow in the market.
What are some of the notable outdoor campaigns you admire?
Amazon prime video, Jeevan Saathi, are among some of the highly visible campaigns.
With so much hype around DOOH and Programmatic, do you think, the industry is still leveraging the full potential of both?
It's just a start, it's eventual, I am sure it will accelerate its pace in the coming time.
With the growing demand for accurate audience measurement, how JCDecaux copes up with industry expectation?
We are a part of the industry in India, industry bigwigs have started working towards it, in coming years we will have measurement tools of its effectiveness.

For more updates, subscribe to our WhatsApp Channel - http://bit.ly/e4mWhatsApp and Newsletter - http://bit.ly/2Qu7OIs
For more updates, subscribe to exchange4media's WhatsApp Channel- https://bit.ly/2QUdLCK
Industry pundits call it the most valuable outdoor asset offering guaranteed eyeballs to a huge number of people at a geographical location of a few hundred hectares

by
Published - 28-December-2018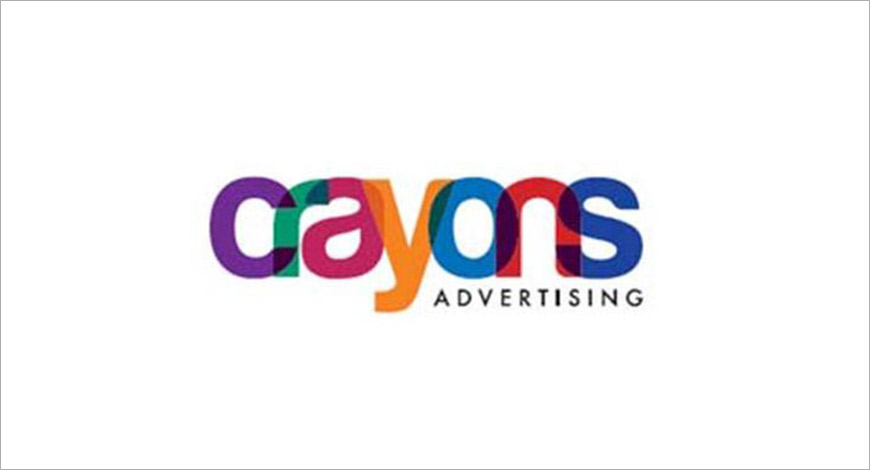 Crayons Advertising, following a multi-agency pitch, has won the exclusive rights of 700 Outdoor sites of Kumbh 2019 at Prayagraj, an event expected to be visited by more than 12 crore people from across the globe. The outdoor sites are spread across the length & breadth of the city at prominent locations in the ideal dimension of 20 x 10 sq. ft. Sources at the Mela Authority say that by far these sites are the best outdoor properties as they are in large numbers located at the most visible points and are in ideal shape and size.
Kumbh Mela is scheduled to last for a period of 50 days (15th January 2019 to 4th March 2019), though the gathering of people at Kumbh starts much earlier & lasts much later than the Mela period. Religious Akharas from across the country assemble at the Kumbh Mela with their followers much before the Mela period.
Industry pundits call it the most valuable outdoor asset offering guaranteed eyeballs to a huge number of people at a geographical location of a few hundred hectares. Outdoor campaign at Kumbh has been one of the most sought-after brand building activity by national & international advertisers as there is no other similar opportunity anywhere in the world.
Speaking on the development Raghu Khanna, CEO Crayons Outdoor Division - AmberOOH Said, "With the exclusive rights of the best outdoor properties of Kumbh 2019, We have the advantage of offering unmatchable branding opportunity covering key entry points of Mela, railways station, bus stands. Brands will have good visibility on all roads leading to Kumbh Mela to get the maximum exposure & recall."
Industry sources and officials of many leading brands have confirmed to have finalized the deals with the agency for the outdoor sites& lot of them say that talks with Crayons is in advanced stages to finalize the deal to display their campaigns.
For more updates, subscribe to exchange4media's WhatsApp Channel- https://bit.ly/2QUdLCK
Most of the screens are cloud-based that enables ease and flexibility in campaign management

by
Published - 05-December-2018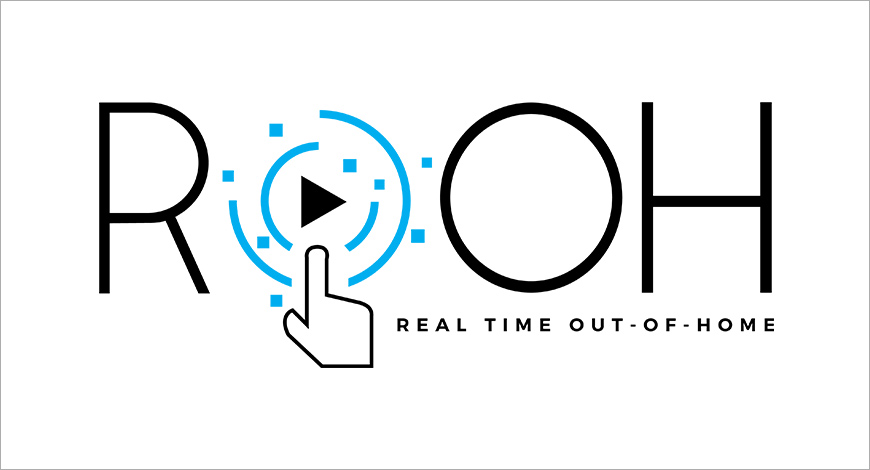 Posterscope India, the out-of-home specialist from Dentsu Aegis Network, has announced the launch of ROOH (Real Time Out Of Home), a unique planning-buying platform (including programmatic) for digital OOH inventories.
With billings from digital OOH estimated to grow at a rate of 60% by 2019-end, this latest tool will only help Posterscope to further strengthen and bolster its real-time capabilities in India.
Based on the extensive use of APIs (application programming interface), Posterscope's ROOH uses a wide variety of data feeds to create customised and targeted advertising. This, in turn, allows advertisers to exercise direct control over the content that is being played on screens without the need to access the media owner systems, individually. Most of the screens are cloud-based that enables ease and flexibility in campaign management.
Now, with the launch of ROOH, Posterscope India has collated and brought together more than 60,000 digital screens on a single platform. This tool not only uses analytics around the screen when consumers frequenting the location but also exploits Dentsu Aegis Network's research, insights and planning tool – CCS (Consumer Connections Study Planner) along with Dan Explore (a tool that examines consumer passion points) to arrive at the right screen mix for the brand to help optimise the plan.
Haresh Nayak, the Group MD, Posterscope Group South Asia, said, "The ability to deliver dynamic content in real time, driven by highly relevant data and optimised to audience type and audience mindset, represents an enormous leap in the power of the OOH medium. I am certain that it will attract new advertisers to the medium, particularly those that need highly flexible and agile brand communication."
Deepak Kumar, Senior Vice President, ROOH, said, "Over the last two years, we have worked across 2500 towns, dealing with over 50 key media owners, to develop this tool. This has helped us in understanding and curating ROOH. The flexibility of ROOH will enable some interesting campaigns and will make OOH truly a dynamic medium. The Posterscope Group predicts that the year 2020 will be a defining year for Real Time Out Of Home."
Currently, BFSI, mobile, ecommerce and automobile categories are at the forefront of usage of this tool.
Also, only accessed by its planning team now, Posterscope will soon extend ROOH's access to its clients and partners. ROOH will provide insights and data to them - right from the brief stage juxtaposed against consumer analytics that will help then detect and decipher the apt triggers for their campaign. Human intervention, then, will be limited and utilised only if necessary.
For more updates, subscribe to exchange4media's WhatsApp Channel- https://bit.ly/2QUdLCK
CMO, Kotak Mahindra said, brand ambassador responsibility is to espouse the brand's values, bring them alive and guarantee attention of the prospective consumers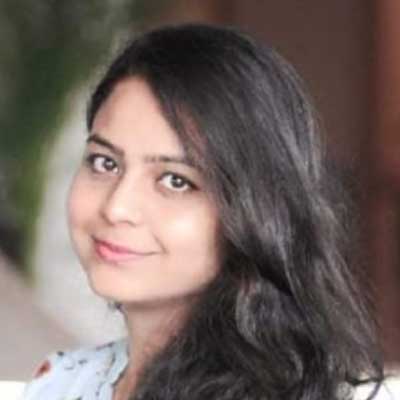 by
Published - 04-December-2018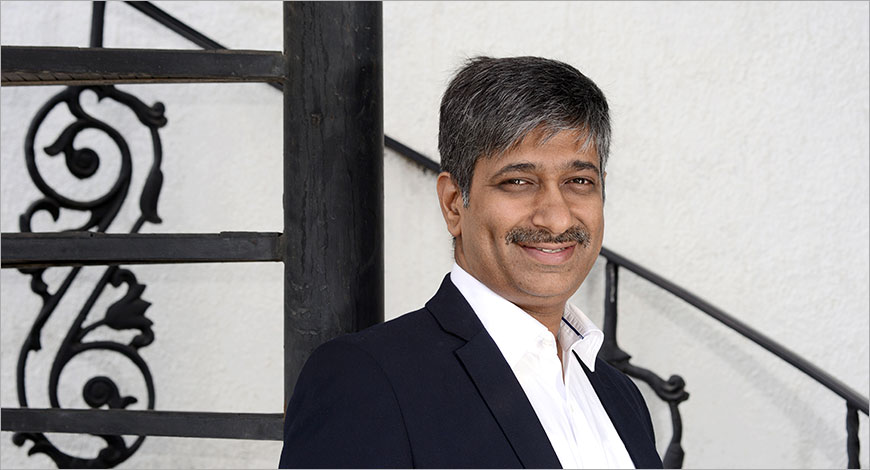 BFSI sector brand Kotak Mahindra is rapidly increasing its focus on digital media in the last few years. The brand hired actor Ranveer Singh as the face of the brand and is also the crowd puller for the #IndiaInvited campaign.
The brand was recently in the news for its latest campaign 'Card Mila Kya' amidst the wedding of Singh and actor Deepika Padukone. The campaign was applauded for its humour and creative idea.
In an interview with exchange4media, Karthi Marshan, Chief Marketing Officer, Kotak Mahindra Group, spoke about the role of brand ambassador in communication, idea behind the 'Card Mila kya', overall marketing strategy and more.
Hiring a brand ambassador in banking sector is very difficult because it's all about 'Trust and Faith'. Do you think Ranveer Singh fits the bill here?
Banking is about trust and faith, this much is absolutely true. But that is not a task we can abdicate to a brand ambassador, the brand itself must answer for that, by its conduct, and the conduct of its leadership as well as its foot soldiers, in every single interaction it has with its stakeholders. A brand ambassador for us has a very different responsibility. It is his job to espouse the brand's values, bring them alive and guarantee attention of the prospective consumers. If the ambassador's public persona and the brand's values are in sync, that's a huge bonus for the brand, as every sighting of the ambassador will be tantamount to a sighting of the brand. For instance, we recently launched a teaser campaign for our Ranveer Singh Debit card which has no Kotak logo on it, and yet social media was abuzz with talk about Kotak's coup.
When you incorporate humour and creativity in marketing, the results are definitely going to grab eyeballs and the same happened with the recent campaign 'Card Mila Kya'. How did the idea come about?
There's a cliché about good luck happening when opportunity meets preparation. I think in this case it was definitely so. We were on track and fully prepared to launch a Debit Card with images of Ranveer Singh on it, when news came of his wedding. Social media was already in hyper drive discussing all aspects of the imminent nuptials. When we saw the couple publish their wedding announcement card on Twitter, and then share pictures with the select invitees receiving their invitation card, we thought it was too good an opportunity to miss. We quickly (practically overnight) revised the creatives to reflect the idea of a humorous take on the Wedding Card that was in reality the announcer for our Debit Card, and it really grabbed the imagination of the viewing public.
Being a financial brand, how you define your target audience on digital and how do you strategize to reach out to them?
Everybody has a relationship with money, and in that sense everybody is a target customer for us. However, everybody's money needs are somewhat different, and that is where customisation and segmenting comes in. On digital, it is possible to precise target consumers not only based on their demographics but also their interests, needs and burning questions. This is what we use effectively to target multiple micro-segments on digital.
What is your media mix? What has been the role of digital medium in communicating with the consumers? What part of your marketing spends are allocated to the digital medium?
We still love traditional media like TV and OOH for the emotional impact they have. We use digital selectively for buzz and engagement, and we also use digital dominantly for performance campaigns. We communicate on digital with prospects, to persuade them to consider our products, and we also communicate with customers already banking with us, persuading them to consider other products that are relevant and appropriate for them at various points in time.
What role does outdoor medium play in the overall marketing strategy?
Traditionally, outdoor has been approached as a reminder medium, one that encapsulates a brand campaign's message into one visual, one line and the brand's logo. At Kotak, we have never limited its utility to that. We have very often used outdoor for its unique ability to be topical, hyper local, impactful etc. We have done bold things like run ads on hoardings minus the brand logo, confident that the message would reflect the brand on its own. We have gone hyper local with messages on bus shelters and hoardings in the vicinity of our branches, inviting customers of neighbouring banks to cross the road to get more for their money. During our Kona Kona Kotak campaign, we deliberately switched around visuals, celebrating the Guntur customers in Mumbai, Bangalore customers in Ranchi, Goa customers in Cuddapah and so on. This seeming incongruity got people's attention, and we got a lot of messages about how we must have made mistakes in dispatching the wrong artworks to various cities. But slowly, the penny dropped, and Mumbaikars appreciated that if we had branches in places like Guntur, we probably had branches in many places of India.
Do you see greater reason to drive OOH advertising for deepening your brands consumer connects?
Absolutely. OOH has enormous flexibility because we can change messaging based on location, as well as based on topical relevance. So sites near our branches can have one kind of message, while sites near the competitors can have another. Sites relevant to my category like malls and cinemas can have a specific type of message. Outdoor is a lot like finely targeted digital advertising. We also believe good outdoor design is a nuanced craft. David Ogilvy prescribed '12 words or less'. Most billboards tend to have a lot more clutter. Kotak actually operate with the maxim of 6 words or less.

For more updates, subscribe to exchange4media's WhatsApp Channel- https://bit.ly/2QUdLCK
The campaign's message was that BBC News has expanded in new languages, offering the knowledge and perspective that helps audiences to progress by
Published - 14-November-2018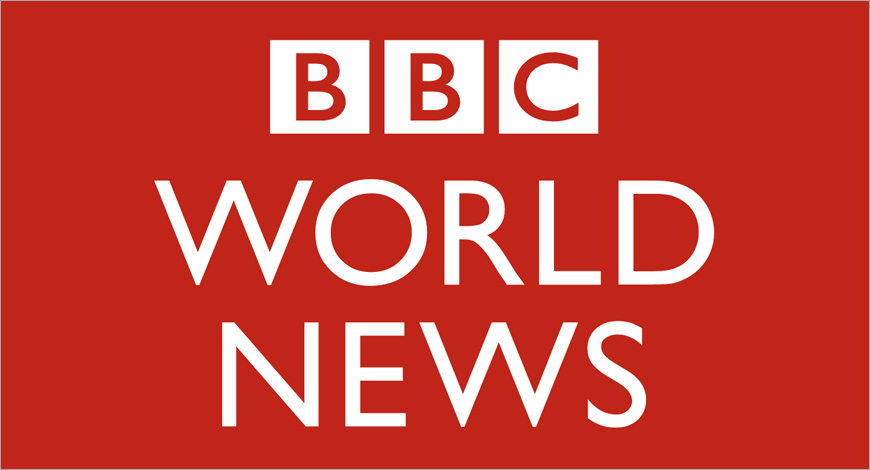 BBC News, along with its OOH agency Headsail Media Services Pvt. Ltd. rolled out an innovative campaign in Pakistan, Bangladesh and Kenya in September 2018.
The key objective of the campaign is to drive reach and position the BBC News as a news provider that offers something unique for audience in their local language and showcase how BBC news helps people make more of their world compared to other news providers. The key message was that BBC News has expanded in new languages, offering the knowledge and perspective that helps audiences to progress and grow in life. The campaign shone a light on the BBC's unique offering and gave a positive voice in a country buoyed by progress. A key challenge was to get the attention of audience and understand that BBC News with its new languages is the go-to destination for news and information.
The OOH plan was spread across South Asia and East Africa - 6 major cities across 3 countries - Pakistan (Lahore, Karachi, Islamabad & Rawalpindi), Bangladesh (Dhaka) and Kenya (Nairobi). Larger-than-life digital screens/billboards and wall wraps were deployed across markets at main arterial routes, nodal junction, key connectors and trade areas, which created significant interest and impact.
Also, this year India was the host country for the World Environment Day summit and it was particularly relevant for BBC World Service to make a huge splash on the day and mark the launch of their 'Make More of Your World' brand campaign.
An on-ground marketing event campaign was developed in-house by BBC Creative, who worked in partnership with the renowned graffiti writer turned artist INSA. As part of the campaign in India, the BBC Marketing commissioned the task to manage this on-ground event to Headsail Media.
Tejash Kothari – Marketing Manager Asia Pacific (BBC News), said "This is a key campaign for us at BBC News and we wanted to align all our efforts to effectively reach out to our global audience. The campaign was spread across demographics, geographies and time zones and we wanted to activate the campaign on all media platforms on the same day across all the 4 countries. We are extremely glad we were able to successfully execute the campaign with support from Headsail Media Services and team."
Vijay Jain - Founder & CEO, (Headsail Media Services Pvt. Ltd), said, "We took a data-backed approach on OOH and used heatmaps of cities to create dominance through Digital Billboards keeping the essence of creative into consideration. Our footprint in South Asia and East Africa enabled us to plan and flawlessly execute a campaign of such scale which transcended international boundaries."
Team Credits:
Client Servicing – Viral Gohil
Media Planning – Kavita Sabherwal
Creative Director – Rajesh Khanna
Media Execution – Smita Patade
Buying – Chirag Jain
For more updates, subscribe to exchange4media's WhatsApp Channel- https://bit.ly/2QUdLCK
Ranveer Singh came on board as Kotak Mahindra Bank's brand ambassador in June 2018 and is the face of its #IndiaInvited campaign by
Published - 13-November-2018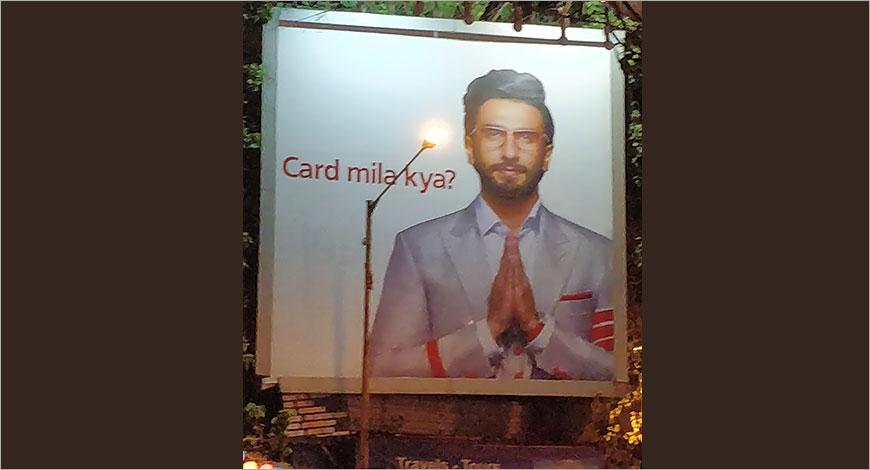 If you have crossed certain key areas across Mumbai you just can't miss hoardings of Bollywood star Ranveer Singh with folded hands, asking, "Card Mila Kya?" And no, he is not talking about his wedding card. With Singh's wedding to longtime girlfriend Deepika Padukone just around the corner, this ad by Kotak Mahindra Bank first needs applause for its impeccable timing. What the bank has done is featured its brand ambassador Singh in its limited edition debit cards.
The celebrity image debit card, a first-of-its-kind in the country, gives the bank's customers and fans of the actor the option to choose from six images of the Bollywood star. The card will be available for customers to order for a limited period till December 31, 2018.
Puneet Kapoor, Senior Executive Vice President, Kotak Mahindra Bank, said, "This limited edition debit card gives Ranveer Singh's legion of fans a fantastic opportunity to own a personalised card featuring the actor. We are very conscious of the fact that our customers have diverse interests and our approach at Kotak is to offer a range of exclusive, customised and innovative products and services that provide both emotional and transactional value to our customers."
The OOH duties are being handled by Kinetic India and Madison OOH. This teaser campaign in Mumbai has been executed by Madison OOH.
Ranveer Singh came on board as Kotak Mahindra Bank's brand ambassador in June 2018 and is the face of its #IndiaInvited campaign. The campaign champions inclusive banking and features people from all walks of life, across age, gender, profession, religion, physical appearance, including an acid attack survivor, among others, alongside Singh.
The Singh-featured debit card is linked to a savings account which comes with a number of benefits including up to 6 per cent p.a. interest. In addition, customers get a host of attractive offers/discounts on the debit card across a select set of merchant establishments and ecommerce sites. Furthermore, based on their card spends, customers also stand a chance to meet the superstar.
For more updates, subscribe to exchange4media's WhatsApp Channel- https://bit.ly/2QUdLCK
Kerala Floods and BBMP ban on hoardings are playing spoilsport for South OOH industry this Diwali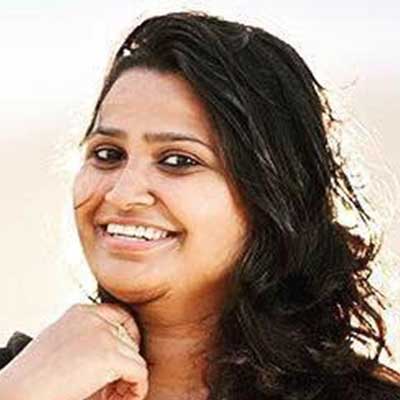 by
Published - 29-October-2018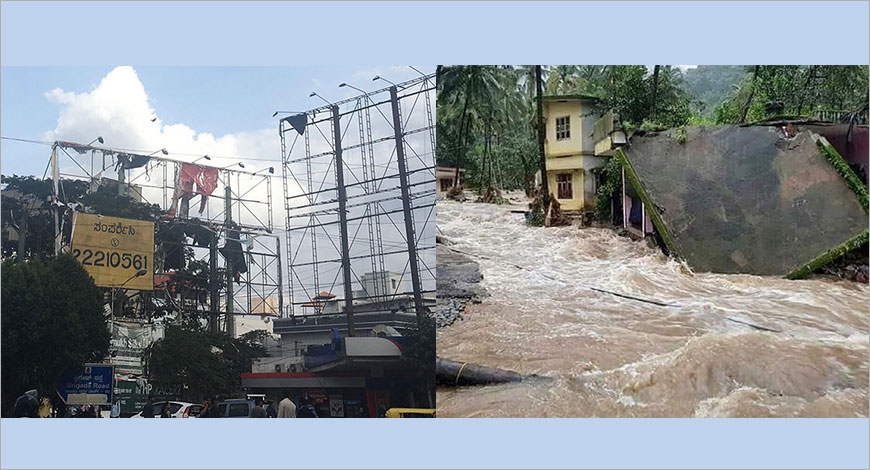 The festive spirit has set in all across India and the media industry is getting busier day by day be it TV programming, increased ad spends and even new campaigns just to coincide with the season's joyous mood. But, the same can't be said about the South OOH industry. Hindrances faced by them started with Onam when Kerala was distressed due to floods and now comes the recent ban of hoardings in Bangalore.
"For us this Diwali period is lull and compared to last year, there is a significant downturn. Though we are seeing some very positive consumer sentiments elsewhere, which is translating to good revenues, South has suffered overall and, this festive season is not good for us and I am sure it is the same for others too," said Naresh Bhandari, COO, OMI, the OOH agency arm of Laqshya Media Group.
Double whammy: Kerala floods and BBMP bylaw
The OOH industry in Kerala has been adversely affected by the floods, which wreaked havoc across the state. Just in the months of July-August alone the state's OOH industry suffered a loss of almost Rs 60 crore. According to experts, the industry is estimated to have incurred a loss of Rs 200 crore overall as it is taking a few months now for the business to be back on track completely.
"The market is bad and around 45% of the inventories are vacant this Diwali season, this is because the advertisers have a perception that Kerala is totally devastated after the floods. We are now on revive-mode," said Chithra Prakash of Chitra Painters, an OOH player based in Kerala.
The OOH players in Kerala are hopeful that with Christmas season approaching and the state of Kerala getting back to normalcy, they can bring down, if not completely obliterate, the losses by getting back to business as soon as possible.
Coming to Bangalore, the BBMP (Bruhat Bengaluru Mahanagara Palike) council has approved a new draft advertising policy titled 'BBMP Outdoor Signage and Public Messaging, 2018' that calls for a ban on all illegal commercial billboards and hoardings in the city. The proposed advertisement policy seeks to benefit advertisers using bus shelters, gantries and skywalks by banning all other sorts of outdoor advertising.
"The ban has affected all of us as the move came in during the onset of festive season which would have otherwise contributed us well. The matter is still in court and we aren't very clear on the way forward," said Bhandari.
Lukewarm hopes
Diwali is a time of cheer everywhere in South but it's even more prominent in Bangalore due to the cosmopolitan crowd. The recent BBMP ban has hampered the festive spending which is typically around 30-40% of most of the brand's annual budget. During Onam, Kerala gets high on brand visibility and spends, which unfortunately wasn't great this year because of floods. So, it is now Hyderabad and Chennai that would be hopefully driving spends of OOH in South India this Diwali.
Speaking about expectations this Diwali season, Bhandari said, "Our expectations aren't high because Bangalore contributes the maximum to South revenues and this move by BBMP has hit the South OOH Industry at large. Onam, which is another big occasion, turned sour because of the floods. Chennai with media assets restricted to street furniture would not be very successful to add a fortune to the total South industry pie. Hyderabad seems to be in action but, not sure how would it compensate the losses faced by Bangalore and Kerala. So, overall, our expectations are low."
"Our festive specific strategy is to be visible at all key shopping hubs for our retail brands and we also have created customized festive creatives for their OOH campaigns. We have been doing consumer experiential festive campaigns at the Hyderabad Airport too," said Bhandari, speaking on festive strategies given the double whammy of floods and BBMP ban.
For more updates, subscribe to exchange4media's WhatsApp Channel- https://bit.ly/2QUdLCK
Conceptualised in-house and executed by Zenith Outdoors, the billboards bring to life the shows' content theme and gives the audience a sneak-peek of what to expect when they tune-in by
Published - 24-October-2018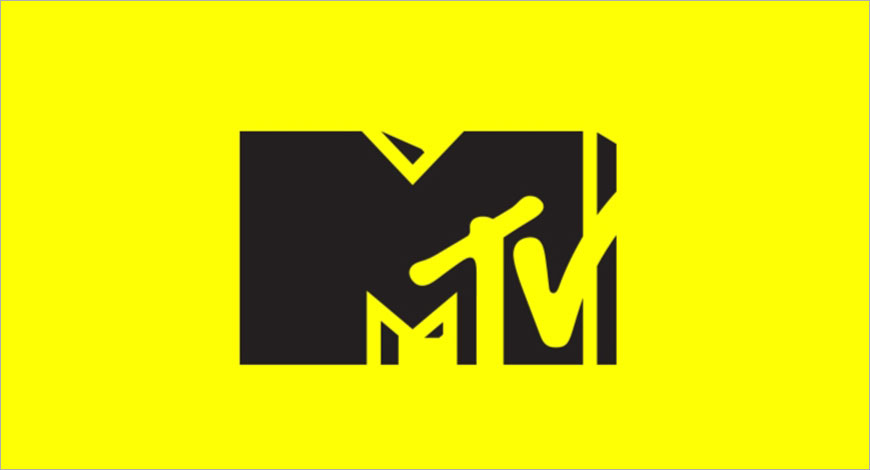 Building on its quirk, wit, and innovation, MTV recently launched a clutter-breaking concept based marketing campaign for two of its latest shows, Ace of Space and Elovator Pitch.
Conceptualised in house and executed by Zenith Outdoors, the billboards bring to life the shows' content theme and gives the audience a sneak-peek of what to expect when they tune-in.
Speaking about concept-based outdoors, Ferzad Palia, Head – Youth, Music and English Entertainment, Viacom18 said, "Innovation is core to MTV and It's a way of life for us. With both Ace of Space and Elovator Pitch, we have pushed the envelope for innovative content. Hence, for marketing these unique shows, we have built a concept-based advertising campaign and utilised the high impact medium of billboards that stand out and give a real-life slice of the show's content."
For the show Ace of Space, the live billboards showcase real people enacting the scenes of being trapped in a small room. Specially designed to bring alive the uniqueness of the show, the billboards went live on October 19 between 5-9 pm and 4-6pm on Sunday at a strategic location in Mumbai.
The hoardings have the anchor Vikas Gupta, shrinking the room with the press of a button causing panic and mayhem amongst the contestants, much like the show 'Ace of Space'.
The billboard for Elovator Pitch anchored by Gaelyn Mendonca makes for an interesting and thought-provoking visual as well. In line with the show's concept where 10 boys try to woo one girl with quick creative thinking while riding a lift between two floors, the hoarding features Cyrus Sahukar in different avatars across each level. Sahukar is a visual reflection of the 10 participants who fight it out for their dream girl's attention.
For more updates, subscribe to exchange4media's WhatsApp Channel- https://bit.ly/2QUdLCK