Auto industry growth seen at 6-7% in 2017; Ford to grow in line or faster than sector: Rahul Gautam, Ford India
Ford India has set its 2017 vision in action by rolling out a new ad campaign. The company has also allocated Rs 25 crore purely for its digital marketing in a bid to wrestle with its competitors head on. In an interview with exchange4media, Rahul Gautam, VP, Marketing Ford India shares his views on Ford India new aggressive stance and more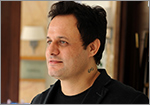 by
Published - 19-January-2017
Ford India has set its 2017 vision in action by rolling out a new ad campaign. The company has also allocated Rs 25 crore purely for its digital marketing in a bid to wrestle with its competitors head on. In an interview with exchange4media, Rahul Gautam, VP, Marketing Ford India shares his views on the company's new aggressive stance and more.
What kind of an impact did demonetization have on the auto industry?
Demonetization is a bold step and has resulted in short-term headwinds in November & December with Industry and consumer sentiment weakening. We believe the impact would continue into the entire quarter one if not beyond. Therefore the early implementations of reforms like GST which will lead to administrative ease of doing business are the need of the hour.
Tell us about the marketing strategy that Ford will be adopting in 2017 and how will it be different from last year?
Ford has been continuing on a growth 2.0 strategy, focused on product led innovation, delivering differentiated customer experience and busting the myth of cost of ownership. Our recent brand campaign delivering the 'Feels Like Family' promise is paying rich dividends. A measure of our success is the fact that in FY 2016, we have grown faster than the Indian automotive industry. We will continue to stay focused on bringing our strategy pillars to life through some innovative and disruptive communication in the year ahead.
Ford cars are perceived to be high on maintenance, tell us about the new campaign that Ford has rolled out to address it?
Perception is often different from reality and we aim to correct it with the new campaign. One of the key focus areas for Ford's India strategy is busting the myth of cost of ownership. We, as a company, have been working on improving the overall value of ownership across our portfolio. With over 800+ sub assembly levels of parts, we have broken big assemblies into sub-component, thus enabling substantial savings for customers. Also, we have empowered our customers to know the cost of their service as well as parts with the help of an online calculator on our website even before they step into the dealership. This is not where it stops. We have also strengthened our parts availability through a vast network of authorized parts distributors across the country. These distributors supply genuine Ford parts to retailers and roadside garages - to assure that Ford genuine parts are readily available to you no matter where you go.
What was the idea/inspiration behind rolling out the new campaign?
In most situations, human beings tend to blindly go by hearsay and form perceptions - which may or may not be true. While Ford is known for proven safety and quality, some sections of consumers perceive that the cost of ownership of a Ford vehicle is high. However, the truth is exactly the opposite. The campaign, therefore, aims to bust the myth of high "cost of service" by use of a disruptive creative hook and challenge perceptions to state facts like the annual scheduled maintenance of a Ford EcoSport in its fifth year or 50,000 kms being as low as Rs 3,662.
What do villains signify in this current campaign or why did Ford choose villains as their cast?
We wanted to create a 'disruptive' hook to the communication for people to take notice. To bring the concept of misdirection or myth-conception alive, we relied on well-known on-screen 'villains' – Singham fame Prakash Raj, bad man Gulshan Grover, and small screen vamp Sudha Chandran. All antagonists in the campaign highlighting how they have also been stereotyped as bad in real life too due to their evil appearances in cinema/ television. As seen in the treatment, the assumption of the villains perceived to be indulging in a villainous act being proved wrong will make people take notice. This will help Ford make a point to customers on not getting misdirected by half-truths and myth-conceptions.
Share the total digital spend and target of the campaign?
For the launch phase of the campaign covering television commercial across GEC, sports and movie channels along with corresponding digital and communications efforts will see Ford spend close to Rs 25 crore.
What is Ford's sales vision for 2017?
2016 has been a year of growth for Ford in India. Our strategy of product led innovation, delivering differentiated customer experience. In CY 2016, the industry grew 6-7% while Ford grew 12% year on year. For 2017, we expect the industry to grow by a low single-digit (6-7%), and Ford is expected to grow in line with or faster than industry, thanks to the youngest product portfolio and the promise of 'Feels Like Family'.
You can watch the videos here:
For more updates, subscribe to exchange4media's WhatsApp Channel- https://bit.ly/2QUdLCK
Members of BharatMatrimony can choose to avail matrimonial ads in the print editions of Times of India at a special price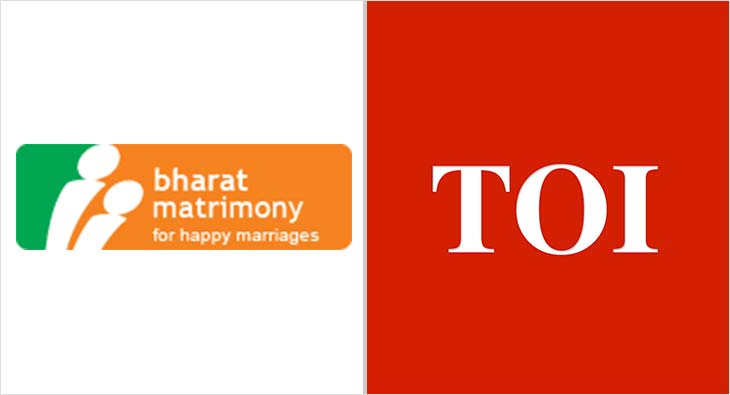 Times of India has announced a tie-up with BharatMatrimony.com. TOI and its franchisees will offer its membership packages at their offices across India.
Consumers can now walk into any of Times of India's network of franchisees and subscribe to BharatMatrimony's matchmaking services. The No.1 and Most trusted Matrimony Service plans to leverage the large network to drive memberships.

As part of the tie-up, members of BharatMatrimony can choose to avail "matrimonial ads" in the print editions of Times of India at a special price.

Talking about the partnership, Murugavel Janakiraman – CEO Matrimony.com said, "I'm happy to say that this is a significant partnership with mutual benefit and leverages the large on-the-ground network of Times of India franchisees together with its large readership."

Sivakumar Sundaram, President Revenue of The Times Group said, "Times Group wants to expand its suite of alliances across print, digital and other properties and serve its customers even better. With this customer centricity in mind, we have forged partnership with Bharat Matrimony for our Times Soulmate advertisers."
For more updates, subscribe to exchange4media's WhatsApp Channel- https://bit.ly/2QUdLCK
Recently launched by Future Consumer Ltd, Think Skin aims to influence consumers to upgrade from using a soap to a body wash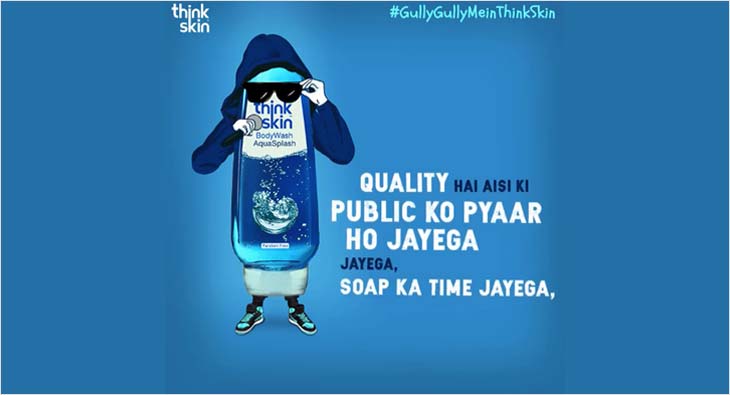 As the entire nation chants 'Apna Time Ayega', Future Consumer Ltd. (FCL) the FMCG 2.0 company creates a rap for its body wash brand 'ThinkSkin' in the 'Gully Boy' style. Rapped to some extremely catchy lyrics ThinkSkin communicates the benefits of using body wash instead of the age old soap. Recently launched by FCL, Think Skin is a contemporary brand that aims to influence consumers to upgrade from using a soap to a body wash.
Keeping it fresh and meaningful, the rap is sung by a budding rap artist Gaurav Khullar and worded by lyricist, Shreya Singhania from Flying Cursor. FCL launched the body wash with the objective of making body washes even more accessible to all consumers by purchasing it at the price of a soap. Think Skin body washes are aromatic, hygienic, free from carcinogenic causing chemicals like paraben and provide long lasting freshness.
Speaking about the rap Keshav Biyani, Head – Home and Personal Care, Future Consumer Limited said, "As a contemporary brand we try to engage in a way that is more relevant to our new age consumers. Rap music is in vogue and is a language that connects with people instantly. ThinkSkin democratises body wash and the rap communicates this in a musical and crisp manner."
ThinkSkin also invites its fans to unleash the rapper in each one of them. Consumers need to share their own lyrics to complete the lines 'Swag aisa hai #ThinkSkin ka, jis se soap bhi darr jayega...' and stand the chance to win hampers worth up to Rs 10,000. Contestants need to share their entries on ThinkSkin Facebook and Instagram handles.
Think Skin product range includes refreshing body washes available in eight variants like Aqua Splash, Active Sports, Wild Rose, Sandal Clear, Lemon Fresh, Moisturising, Glycerine and Neem available at the price of a soap, starting from Rs 39 to Rs 79 only. The body wash is available in braille packaging and can be purchased from Big Bazaar, Big Bazaar GenNXT, Nilgiris, Heritage, EasyDay, Nykaa.com and other general trade stores in the country.
For more updates, subscribe to exchange4media's WhatsApp Channel- https://bit.ly/2QUdLCK
The live billboard, conceptualised by MTV and executed by Zenith, was placed at a thrilling height of 35 feet in Chitrakoot area in Andheri, Mumbai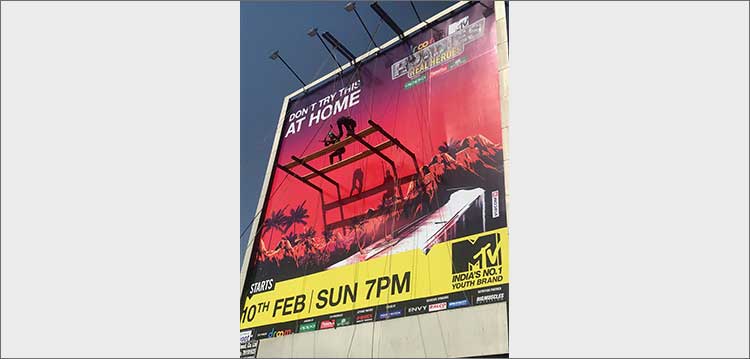 Youth brand, MTV, continues to be the frontrunner in the category and has upped the ante with a stunt on a billboard that was created on February 9. Setting a perfect parallel, the live billboard, conceptualised by MTV and executed by Zenith was placed at a thrilling height of 35 feet in Chitrakoot area in Andheri, Mumbai.

Continuing its leadership in ground-breaking consumer-engagement initiatives, MTV provided a unique experiential activity to the Roadies fanatics with a popular task, inspired from the fifth season of the iconic franchise. The billboard gathered a huge crowd of fans who were given a chance to accomplish the task live and compete head on. The very first to be elevated on the staggering height and compete were actors and reality show stars, Divya Agarwal and ex- Roadie, Varun Sood, who will also be seen in the journey of Roadies Real Heroes on MTV's digital platform.

Commenting on the successful execution of the live billboard task, Navin Shenoy, Marketing Head –Youth, Music & English Entertainment, Viacom18 said, "Roadies epitomises fierce competition and audacious challenges for thrill seekers. So, we owe it to the fans to add to the thrill factor on Roadies year on year. The team cracked a really audacious idea- an iconic Roadies task performed live on a billboard. It's definitely a first in India. We are committed to maintaining our innovative, disruptive streak as brand MTV."

The breath taking live billboard stunt was a complete breakthrough in redefining the passion and boldness that Roadies espouses for. The 16th season of Droom.in MTV Roadies Real Heroes powered by Oppo and co-powered by Frankfinn Institute of Air Hostess Training and Woodland is up for a lot more action and quirky stunts with the auditions episode on every Sunday, 7 pm only on MTV.
For more updates, subscribe to exchange4media's WhatsApp Channel- https://bit.ly/2QUdLCK
Tathaastu sitcom consists of six episodes that revolves around employees and their bizarre & humorous encounters in delivering happiness & fulfilling the wishes of their customers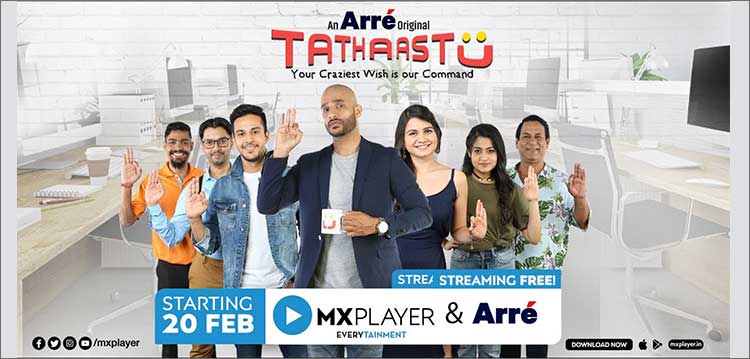 How often do we hear of people or organisations that promise happiness to their customers by fulfilling their dreams and wishes? MX Player brings you a story about an Indian start-up called Tathaastu that claims to make your craziest wishes come true.
The six episode series taps into unique situations that will have this company scramble to make it possible for their clients. The story further revolves around six skilled employees of Tathaastu and their strange, bizarre and humorous encounters as they keep on their promise of delivering happiness and fulfilling the wishes of their customers.
The sitcom stars Shivankit Singh, SurbhiDhyani, Pranay Pachauri, Aekansh Vats, Pragya Bhardwaj and Rajendra Chawla.
Viewers can watch Tathaastu for free on MX Player from February 20, 2019.
For more updates, subscribe to exchange4media's WhatsApp Channel- https://bit.ly/2QUdLCK
Localised campaign is custom made; hoardings have been put up at several key points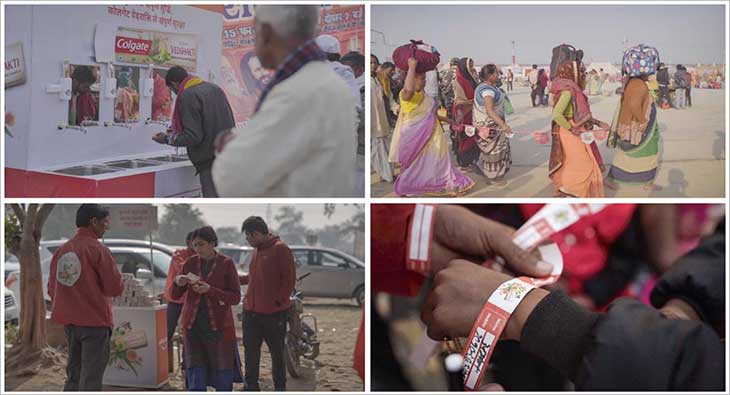 Colgate-Palmolive (India) Limited, the market leader in Oral Care, has launched 'Kumbh Se Sampoorna Shuddhi, Colgate Vedshakti Se Sampoorna Suraksha' campaign at the ongoing Kumbh Mela in Prayagraj, Allahabad.
The localised campaign is custom-made to provide all-round protection to pilgrims through a range of Kumbh activities and utility elements like brushing stations for pilgrims, oral care importance drives to spread the awarness of good oral hygiene, free, large-scale sampling of Colgate Vedshakti, Suraksha wristbands for children to write or wear their emergency contact details, Sampoorna Suraksha ropes given to big groups and families to hold on to.
Issam Bachaalani, Managing Director, Colgate-Palmolive (India) Limited said: "At Colgate, we work towards providing superior oral care and protection to all Indians, and towards caring for our communities. The Kumbh Mela gives us an opportunity to achieve both these objectives with our key target segments at an unprecedented scale. Our theme at the Kumbh is Complete Protection or Sampoorna Suraksha, as part of which we are offering millions of visitors free samples of Colgate Vedshakti toothpaste that provides sampoorna suraksha to the mouth. But that's not all - we are also extending to our consumers ways and means to ensure complete safety of their families, as they wade their way through the Kumbh Mela by handing out suraksha ropes - for families to walk together, and suraksha wristbands - for children to have an emergency contact number on their wrist."
Colgate Vedshakti's hoardings can be seen all over the consumer touchpoints at Prayagraj, while the sampling activity is carried out right from the transit points - at 21 highway pit stops, 9 key railway junctions and several bus stations, inside the main Mela grounds, including the akharas, rein-baseras, water point junctions and the Colgate Vedshakti branded brushing stations.

For more updates, subscribe to exchange4media's WhatsApp Channel- https://bit.ly/2QUdLCK
Campaign based on fictional character Leslie Knope a hit on Instagram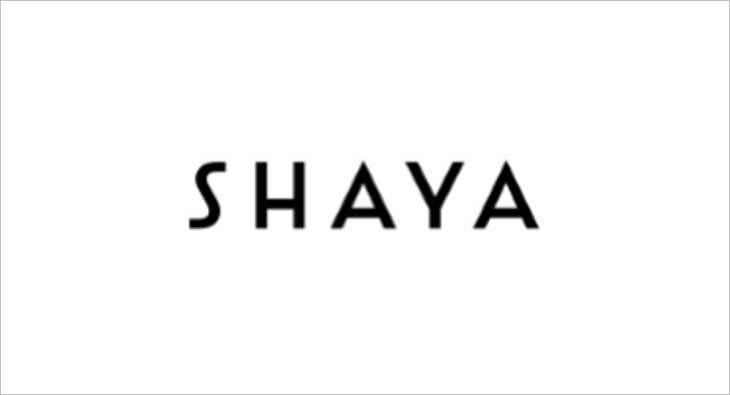 Shaya, the silver jewellery brand by CaratLane, has launched a Galentine's Day campaign, inspired by the fictional character Leslie Knope from popular sitcom Parks & Recreation.
The campaign was live on their social media pages from February 4 to 13 and has invited women who are the main inspiration behind Shaya to engage with the brand by reposting the video on their own social media page to win a special gift from Shaya.
The digital film has received on Instagram 88,110 views, 20,000 reactions and 15,000 engagements.
CaratLane - a Tanishq partnership - started Shaya in September 2018. It was established on the basis of inputs from CaratLane's customers, many of whom were frequent silver buyers.
They wanted designs that resonated with their personal style and they wanted
more choices. Shaya was conceived to address these needs.

For more updates, subscribe to exchange4media's WhatsApp Channel- https://bit.ly/2QUdLCK
Frankfinn's campaign was split into three phases, each with its own strategy and KPIs. For the pre-launch phase, Xaxis View was used with niche audience targeting to create brand awareness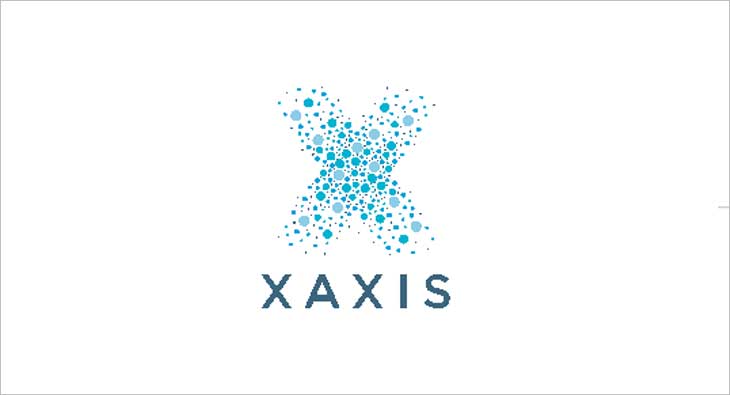 Xaxis, the Outcome Media Company and GroupM's advanced programmatic arm, today announced results from a recent campaign for Frankfinn Institute of Air Hostess Training. The challenge for Xaxis, in partnership wtih m/Six, was to increase awareness of Frankfinn Institute of Air Hostess Training (Frankfinn) as the world's top air hostess training institute.
"For our first-ever digital brand campaign, we needed a strategy that connected our new brand communication seamlessly with our target group. Data and insights being the core of our strategy helped us achieve 50% brand uplift," said Kulwinder Singh Kohli, Founder and Non-Executive Chairman, Frankfinn Institute of Air Hostess Training.
Frankfinn's campaign was split into three phases, each with its own strategy and KPIs. For the pre-launch phase, Xaxis View was used with niche audience targeting to create brand awareness. In the launch phase, Xaxis TV Premium (OTT) product was activated to increase reach and brand recall, while also retargeting audiences exposed in the pre-launch phase. In the sustenance phase, a call-to-action button was enabled for retargeted audiences exposed in previous phases along with a Zeotap (telecom) data layering on Hotstar (OTT platform).
Saket Sinha, Senior VP, m/Six said, "In partnership with Xaxis, we used telecom data and targeted video platforms, the largest being OTTs and YouTube, to help Frankfinn reach a younger audience.This strategy proved fruitful, as our campaign was extended by an additional month and Frankfinn's search trends reached a three-year high."
Bharat Khatri, Country Lead, Xaxis India said, "Having the right insight, creativity and ability to scale are critical to creating a successful media strategy. With our advanced technology offering and deep consumer insights, we customize each plan according to the client's desired business outcomes to create a personalized approach that will deliver the most value to them. Now more than ever, our clients are looking to us for dependable advice as they revamp their business models in order to keep pace with the ever-changing commercial environment and new technology. We are proud to offer a complete service that empowers them to embrace these changes and achieve tangible results beyond what they thought possible."
For more updates, subscribe to exchange4media's WhatsApp Channel- https://bit.ly/2QUdLCK
The 20 under 20 campaign was executed by Buzzoka, a influencer marketing company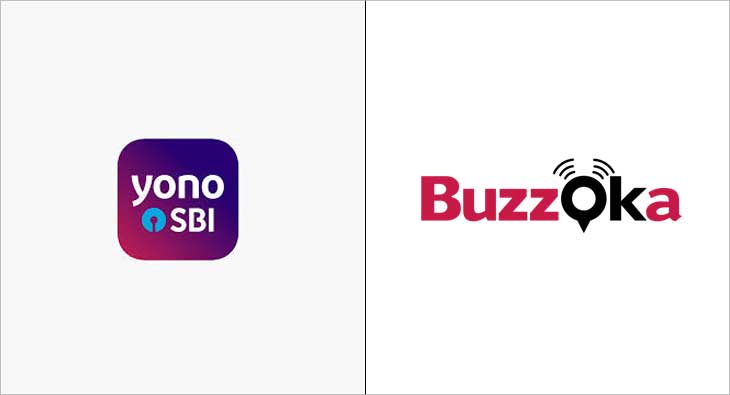 YONO SBI, an integrated digital banking platform by State Bank of India launched their recent campaign 20 Under 20 to felicitate young leaders. Interestingly, YONO SBI took an unconventional route to reach the masses by working closely with over 2000 content creators across India citing the young audience they connect.
YONO SBI has been a new age brand from the house of SBI and is disrupting the integrated digital banking ecosystem with a fresh approach.

The 360 degree influencer marketing campaign saw influencers from every walk of life coming together in support of the 20 under 20 initiative and propagating the larger message of the campaign. Platforms like TIKTOK, Instagram, Facebook and Twitter were all used in a strategic way to reach the masses and the vote share is a clear indication of the success story.
Over 1.7 lakh people voted for 60 nominations across 10 diverse categories, who were shortlisted by eight eminent personalities such as actor Dia Mirza; sports journalist and author Boria Majumdar; Sashi Sreedharan, MD, Microsoft India; Dilip Asbe, MD and CEO, NPCI; and Mallika Dua, social media influencer, among others. Finally 20 winners were selected basis votes casted by people across the nation.
The campaign was executed by Buzzoka, a influencer marketing company which was responsible for end to end management of the campaign.
Dinesh Menon, Chief Marketing Officer, SBI said, "YONO SBI is the first and only one of its kind comprehensive, digital only platform that brings together not just banking, financial products, but lifestyle products and services as well. In its initial phase, we deployed a digital-only advertising campaign. Besides using our own social media platforms for distributing relevant content, we took to Influencer Marketing, Twitter First view, among others."
Ashutosh Harbola, CEO, Buzzoka said, "It's a pleasure to work with the amazing team of YONO SBI and I wish them lots of luck for their path breaking approach. The campaign truly reflects the connect that YONO SBI cracked with the audience hence making this campaign a truly awesome case study" I am sure a lot of brands will see this as an aspiration in coming years. Also, it is one of the biggest influencer lead campaigns in the history of Indian advertising and we are glad to empower it 360 degree."
Meghna Chettri, Senior Manager Digital Marketing at SBI said, "Initially, we were apprehensive to approve influencer marketing. However, keeping in mind our agenda as well as the need to garner votes from the youth, we agreed upon fixing this. Post which, the entire flow was discussed, drafted and executed in collaboration with the influencer agency partner, Buzzoka, we were convinced with their execution plan. And today, I can happily talk about the numbers we generated. We were able to reach an exceptional number of people through these influencers, who already possessed an impressive follower base."
For more updates, subscribe to exchange4media's WhatsApp Channel- https://bit.ly/2QUdLCK
The association with Kartik Aaryan is in harmony with hummel's cheerful approach of inclusiveness

by
Published - 11 hours ago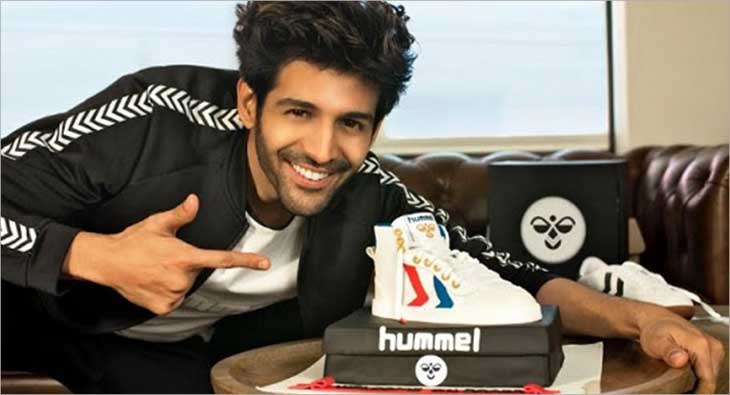 Danish sportswear major hummel signed Bollywood actor, Kartik Aaryan to represent the brand in India, the company said in a statement.
Commenting on the association, Soumava Naskar, Director hummel India said, "We are very happy to be associated with one of the most talented stars in Bollywood. He has made his own mark via sheer hard work and talent. His persona perfectly resonates with the cheerful hummel approach of inclusiveness."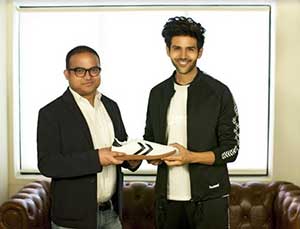 Soumava Naskar, Director hummel India and hummel brand ambassador, Kartik Aaryan
Speaking on the tie-up Kartik Aaryan said, "hummel needs no introduction. I have always been a big fan of the brand and now when it is in India, I am super excited to be its face. hummel appeals to my style sensibilities, it is bold, fashionable, creative, youthful and I am looking forward to flaunting the cool chevrons."
hummel is a sportswear brand based in Denmark. Founded in 1923, hummel has over 95 years of proud history. hummel is all set to launch its physical stores across multiple cities in India and its e-commerce website: www.hummel.net.in.
For more updates, subscribe to exchange4media's WhatsApp Channel- https://bit.ly/2QUdLCK
The software, called SHARP, uses machine learning to deliver AI-optimized metrics and recommendations

by
Published - 14 hours ago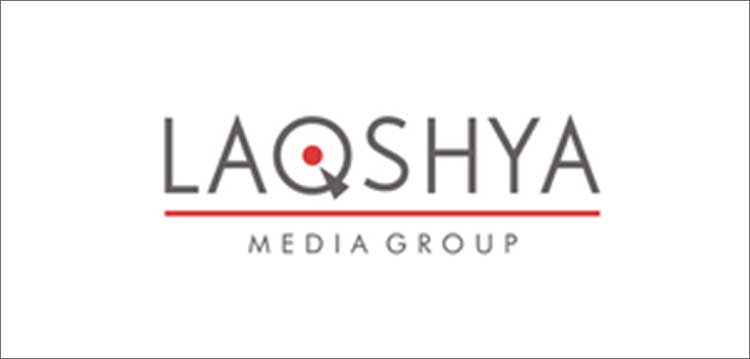 Laqshya Media Group (LMG) has launched 'SHARP' (Strategic Hyperlocal AI-powered Reach Planner), a first of its kind state-of-the-art planning tool for measuring the effectiveness and media value of Outdoor campaigns. This is India's first ever measuring tool, developed in-house by LMG, that allows brands to target the right audiences with Reach or Budget as an objective for an OOH campaign.
The OOH tool uses machine learning to deliver AI-optimized metrics and recommendations. The system is fed with data received from more than 50,000 geo-tagged sites comprising of Billboards, BQS sites, Mall facades, Pillars and Poles across 26 cities, the company said in a statement.
SHARP combines diverse data points including geotagged OOH locations across formats, a traffic measurement study by a global research agency, multiple databases to map and measure the current profiles of resident & transit population and panel rating points and various other site factors with the data on thousands of sites across multiple OOH formats. Each site is geo-tagged and cross-linked with google-map APIs to indicate various relevant points of interest like Banks, Auto showrooms etc. from the site. SHARP is also coded to differentiate between multiple (stacked) billboards at the same location with indicative pricing per site.
Talking about the software, Alok Jalan, Managing Director, Laqshya Media Group, said, "As an industry leader, it was but natural that we had to resolve client concerns about the lack of measurement metrics in the OOH Industry. SHARP has been the outcome of months of hard work & is unmatched in its ability to give a scientific rationale for an OOH campaign."
"A massive immersion of data & technology has been done to generate the right algorithms for Machine Learning. In addition, APIs of numerous consumption economy platforms have been integrated with the software to have a dynamic tracking of consumer interest points. While planning marketing budgets for a campaign, OOH usually gets a lower share of the pie; SHARP is set to change this. With better data and targeting, brands will be better assured of return on OOH investment, which in turn has the potential to alter the share of wallet for the medium," Jalan added.
Sai Nagesh, Chief Strategy Officer, Laqshya Media said, "SHARP was developed in response to the growing demand by brands who wanted quantification of Results delivered by an OOH campaign. The Software relies on Machine Learning to deliver AI-optimized recommendations for the most effective results in a client defined Target Audience. Allowing clients to identify locations with the highest audience density in order to reduce spill-over, an OOH campaign's Reach and effectiveness is now quantifiable. Apart from providing valuable campaign optimization opportunities, it lists the touchpoints available within the neighbourhood of an OOH asset as per Google defined touchpoints available on the Google maps API. The days of gut-feel & assumptions are over!"
For more updates, subscribe to exchange4media's WhatsApp Channel- https://bit.ly/2QUdLCK