Wild Stone launches new Edge range
The company has recently launched a new campaign to introduce the latest Wild Stone Edge collection, titled, #JustFriendsNoMore
The House of McNROE with its brands Wild Stone and Secret Temptation, has announced their plans to strengthen their product portfolio and launched a shower gel, hair gel, face wash and shaving foam under it 's Wild Stone Edge Series.
McNROE has enjoyed being one of the market leaders in the fragrance category with approx 10% market share and now with the launch of four new product categories for the very first time, the brand is planning to reach out to its brand loyalists with more of Wild Stone products to choose from. Until now, the brand has been available in the deodorant, perfume, after shave lotion, talc, shaving cream and soap segment under the various Wild Stone fragrance series.
Speaking about the new range, Narendra Kumar Daga, MD, McNROE, "WIild Stone has emerged as one of the preferred home grown fragrance brands and we realized that our loyal consumers were wanting more from the brand, they wanted to extend their brand experience with newer categories and thus we decided to launch new products to meet this demand. We are confident that we will make our presence felt and we will be reaching out to newer and emerging set of consumers across the country with our new range." With this launch, the Wild Stone Edge Collection now features a set of seven products such as Perfume, Deodorant, Shower Gel, Face wash, Hair gel, Shaving Foam and After Shave Lotion.
The company has recently launched a new campaign to introduce the latest Wild Stone Edge collection, titled, #JustFriendsNoMore, which revolves around a young boy-girl who start off as childhood friends and stay #JustFriends until the girl's starts getting attracted to the boy, with a change in his personality and looks – as he starts using Wild Stone Edge, and the campaign continue to holds the original tagline 'log to notice karenge'.
The new Edge Collection has an intense aromatic woody fragrance, which gets the user to stand out from the crowd and showcases him as a dynamic and a powerful personality.
McNROE also launched Compact Pocket Body Perfumes in the 18 ml size category in three variants each for Wild Stone and Secret Temptation. The 18 ml segment is perfect for on the go usage. The Wild Stone 18 ml fragrance variants are Blast, Charge and Fresh; and Secret Temptation 18 ml fragrance variants are Lush, Bloom and Alive.
exchange4media Group Service
Juggernaut Selects, a programme of the Juggernaut writing platform, will identify and develop five new writers every month
Juggernaut books has launched a new programme for emerging writers called Juggernaut Selects. Juggernaut Selects, a programme of the Juggernaut writing platform, will identify and develop five new writers every month. These writers will be provided all the benefits of a publishing house, and Juggernaut will strive to form long-term relationships with them.
These five authors will be edited by Juggernaut's in-house team of highly experienced editors and copyeditors, their book jackets designed by Juggernaut designers, and their stories promoted by the marketing team. These authors will also receive a certificate and a creative toolkit, but the most exciting part of the programme is that they will be able to pitch their novels or work in progress to Juggernaut commissioning editors. Writers who publish on write.juggernaut.in are able to publish their stories and design a book cover for their stories as well.
Juggernaut Books Writing Platform
The self-publishing platform allows writers to showcase their work by simply uploading the text and designing a cover. The platform gives aspiring authors access to 1.5 million readers on the Juggernaut app and website. New writers get editorial feedback from other authors on the writing platform, and also stand a chance to be commissioned by Juggernaut. Select stories from the writing platform are also pitched to film and TV studios: recently, Rensil D'Silva has acquired the rights to writing platform author Neeraj Chawla's story The Last Poisoners of 6. The platform was launched in May 2017 and Juggernaut has contracted 30+ new writers since and organised 50 + writing workshops and webinars.
Chiki Sarkar, Publisher, Juggernaut Books, says, "My dream is to give an amateur writer not just a platform but also some of the things that publishing houses could provide - feedback, interaction with editors, the opportunity to be showcased alongside famous writers they admire. And above all, an effortless way to get discovered, and Juggernaut Selects will do exactly that."
Parth Mehrotra, who is Juggernaut non-fiction commissioning editor and handles film rights, says, "The stories from the writing platform are generally from authors who haven't been discovered or published yet. The concepts and ideas they come up with are truly original, and we are so excited to find more such writers."
Says Sahana Ahmed, author of Combat Skirts, "My story 'Zeenat Aman Is Not a Soldier' was a finalist in the inaugural Juggernaut Love Story Contest. The editors loved the milieu — the story was set in a military Special Train — and asked me if I would like to write "a love story, set in the army. That's how 'Combat Skirts' was born, and my publishing journey began."
exchange4media Group Service
Apart from details about rituals, app to provide bathing dates, map for navigation, weather updates & info about medical facilities  
Shemaroo Entertainment Limited has curated a special section on Shemaroo Bhakti App for the devotees going to Kumbh Mela. The app will provide information on the history of Kumbh Mela, the upcoming events, travel and stay options and services available at the Mela for its subscribers.
Shemaroo ventured in the devotional category a decade ago tapping the religious beliefs of Indians. The app has received an overwhelming response from subscribers across the globe. It was recently awarded the Most Innovative Mobile app category at the Drivers of Digital Summit 2018.
The users of Shemaroo's Bhakti App will have information ranging from introduction to Kumbh Mela, its mythological significance, rituals of Kumbh to the bathing dates and weather updates.
The rituals will highlight all the important events that will go on during the Kumbh Mela. The bathing dates section will have all the dates which can be added to your mobile calendar as a reminder. The app is also equipped with a map for easy navigation during the Kumbh in Prayagraj along with medical facilities at the venue.
The Shemaroo team will be creating content for Kumbh Mela darshan, which will be made available on its DTH & digital platforms.
Additionally, this year's Kumbh Mela will see an extravagant experience zone created by Shemaroo wherein the devotees will get hands-on experience of Shemaroo's devotional services.
The Shemaroo Bhakti App can be downloaded through Google Play Store or by giving a missed call on 8824022011.
exchange4media Group Service
'Mr and Mrs Chinnathirai' to test the strength of the couples; show to be launched on Jan 20  
Vijay Television has got in fresh content into the Tamil television industry with its new show 'Mr and Mrs. Chinnathirai'. The show features real pairs of the Tamil television industry.
The couple celebrity who is talented and has multi-tasking capabilities will win the Title 'Mr and Mrs. Chinnathirai'. The rounds in the show will test the strength of the couples. The show will witness the joy and ruckus between the husband and wife when their roles get swapped. Untold stories of celebrity couples will also be told on the show.
The show has seen several exciting rounds. The couple celebrities who will be competing are anchor Manimegalai-Hussain, KPY fame Nisha-Riyaz, Actor Sankarapandian-Jayabharathi, Singers Senthil-Rajalakshmi, Actor Dhiraviyam-Rithu, Siricha pochu Comedian Thangadurai- Aruna, Singer Anthony-Daasan-Reeta, Actress Priya-Prince, Actress Farina-Rahman and Actor Subarnan-Priya.
'Bigg Boss' Actress Vijayalakshmi along with Actress Deva Dharshni and anchor Gopinath will be judging the show
The show is slated to be launched on January 20 and will be aired every Sunday at 6.30pm. The winner of the show will be crowned as Mr and Mrs. Chinnathirai 2019.
exchange4media Group Service
Cast includes actors Vikram and Thanuja; show to be telecast from Mon to Sat at 6pm
Vijay TV has started strengthening its fiction line-up with various genres of fiction.
Vijay TV is all set to launch another new fiction 'Siva Manasula Sakthi', from January 21, every Monday to Saturday at 6pm.
The story revolves around Siva and Sakthi, the two people of opposite ideologies who eventually share such an intense love story and become each other's protector.
Siva believes in the spiritual world, believes the way to happiness is to follow the rules.
He is calm and composed unless someone disrespects his beliefs. On the other side, Sakthi is a girl who believes the way to happiness is to follow your heart. She is stubborn in a lovable way. Shiva falls in love with Sakthi and believes that she is born for him and forcibly marries her.
Actor Vikram plays the role as the male lead Siva. He has done pivotal roles in Kannada films and actress Thanuja plays the role of the female lead Sakthi. She is a popular television actress in the Telugu television industry. Both actors are debutants in the Tamil television industry.
The fiction has been directed by Basheer.

exchange4media Group Service
Star Vijay programme to showcase comic talents from Tamil industry 
Tamil comedy show 'Kalaka Povathu Yaru', telecast on Star Vijay, is set to launch its Season 8 on January 19.
With a varied set of contestants showcasing their comic talent on stage, the show will be telecast every Saturday and Sunday at 9.30pm.
The show has witnessed great talents right from the beginning. This year the show will have ace actress Radha and ace comedian-turned-actress Kovai Sarala as the judges.
The show will be anchored by Erode Mahesh and Balaji. They will also be the mentors for the contestants.
exchange4media Group Service
The Instagram Ad film service will help brands and agencies to cater to the audience missing out on TV and newspaper promotions
Buzzoka, the disruptive influencer marketing company, has forayed into Instagram-Ad films which will be led by Influencers. This initiative will now allow Buzzoka to create more meaningful content for digital and social first audience that rely on social media influencers for new products and services.

The introduction of Instagram Ad films is the need of the hour as there has been a paradigm shift in the consumption pattern and brands and agencies are gearing to capitalise on the changing landscape. India has currently over 71 million monthly active users (Statista) on Instagram and a lot of them rely on social media influencers for their daily dosage content. As per Buzzoka's recent report – Influencer Marketing Outlook 2019, Instagram leads as the primary choice of brands and 77 per cent brands see it as a huge potential in 2019.

Instagram Ad Films will be a good fit in the media mix, as video has established itself as the most engaging platform. With Jio and other telecom companies at a war over providing cheapest data to the next billion video consumption has spiked significantly.

While influencers play the important role of being the thought leader in their respective domains and act as advocates for the relevant brands, it is time now to cash on their fan base going the ambassador route and promoting the brands in professionally shot Instagram Ad Films.

Ashutosh Harbola, co-Founder and CEO of Buzzoka said, "Instagram is a perfect channel for Brands and Marketers to capitalize on digital and social first audience in the age bracket of 20-35. Instagram is a platform that is hosting this major chunk of audience, which is going away from TV and newspapers as their primary daily news medium. Hence, missing out on a lot of promotions and offers. Instagram Ad Films will be that one promotional tactic that we feel will be driving the next media wave in India."
As per a recent report from Instagram in June 2018, Instagram reported a landmark with over 1 billion monthly active users (MAUs). This grew from 800 million MAUs in September 2017 with over 60 per cent users logging back almost every day.
exchange4media Group Service
The #JFWCalendar2019 features celebrities, Aishwarya Rajesh, Taapsee Pannu, Shriya Saran, Regina Cassandra, Andrea Jeremiah, and Raiza Wilson
JFW's Calendar of 2019, with six leading actresses from the South Indian film industry gracing each month in a mix of high fashionable shots, has gone viral. The celebrities featured in the calendar are Aishwarya Rajesh, Taapsee Pannu, Shriya Saran, Regina Cassandra, Andrea Jeremiah, and Raiza Wilson who have shared the pictures on their respective social media handles and it has gone viral already! With a combined total of 15 million followers for the artists, the images have garnered over 2 million likes on Instagram, making the buzz word #JFWCalendar2019.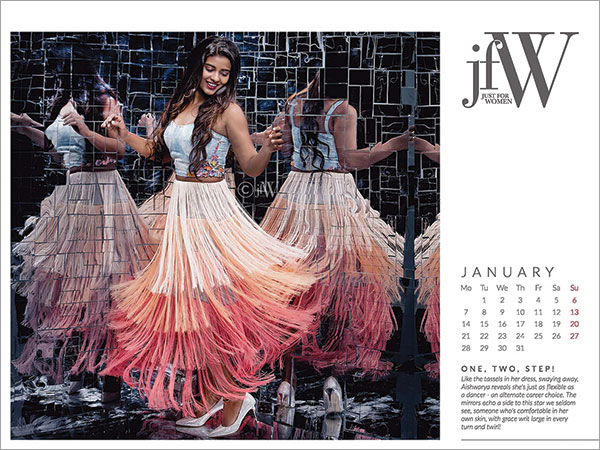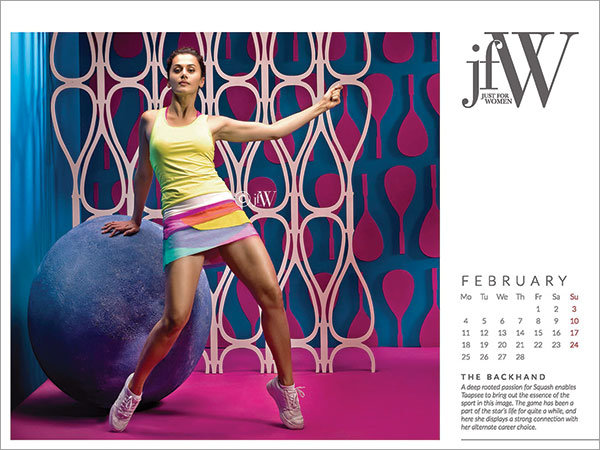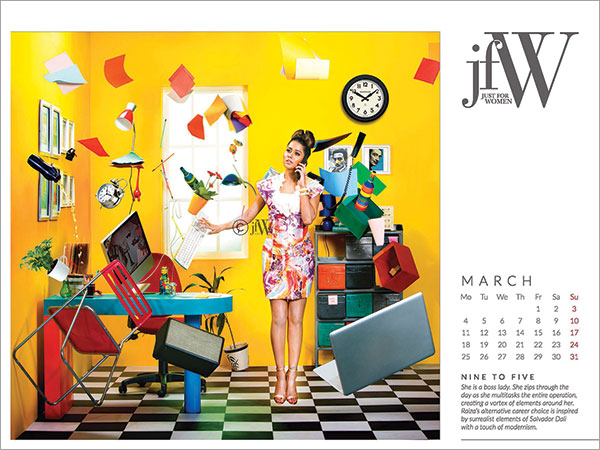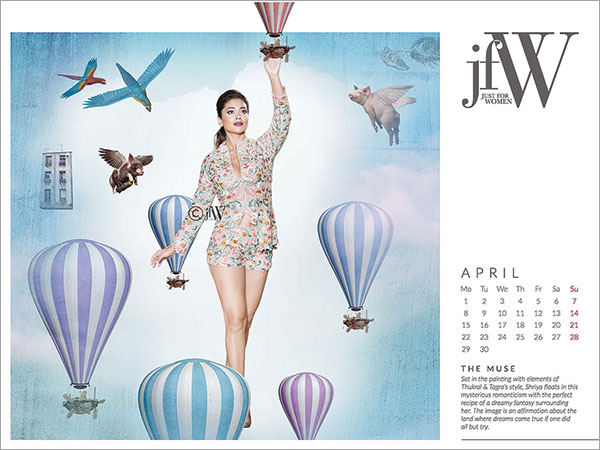 Ringing in 2019, popular women's lifestyle brand JFW ideated a one-of-a-kind calendar with photo shoots based on alternate career choices and impactful power women roles they love. The stars have dressed up in different looks with each of the looks bearing significance to pop culture elements and strong &feisty roles, juxtaposing it with fantasy and magic realism. The artist behind the lens is photographer Sunder Ramu, whose vision for each frame translated into the star giving her best. Working as the backbone of each look were the sets, intricately conceived and executed by celebrated art director Rajeevan Nambiar.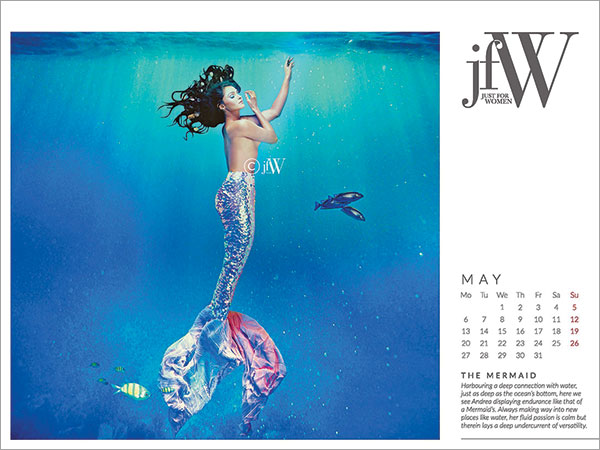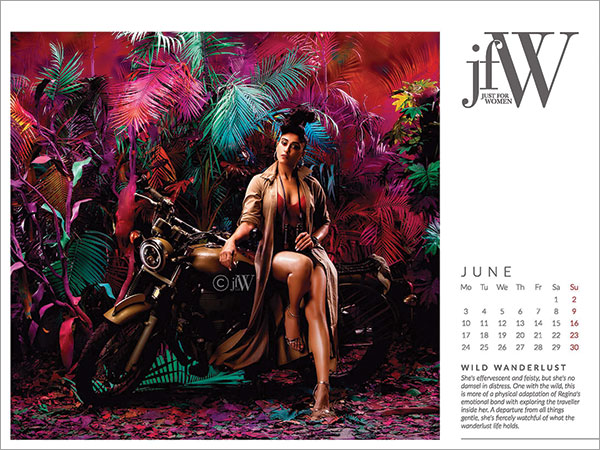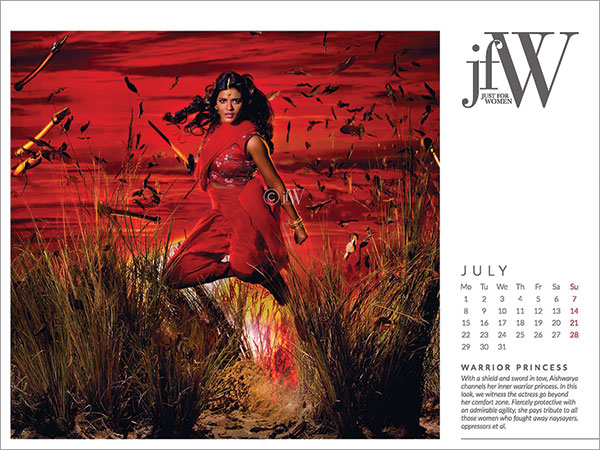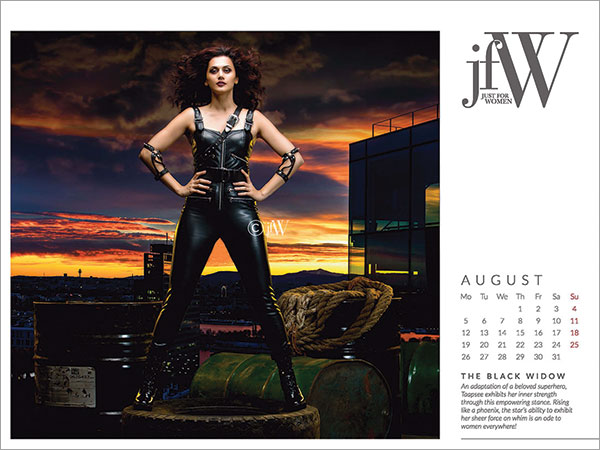 Popular stylists and designers, Chaitanya Rao and Shilpa Vummiti weaved in each of the stars' fantasy with reality by their deft work. The JFW 2019 Calendar is more than just a chronology for the New Year; it's about bringing more fantasy into your life, celebrating it in style.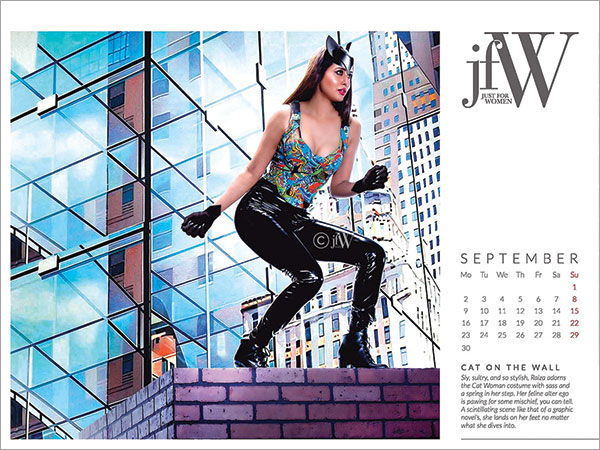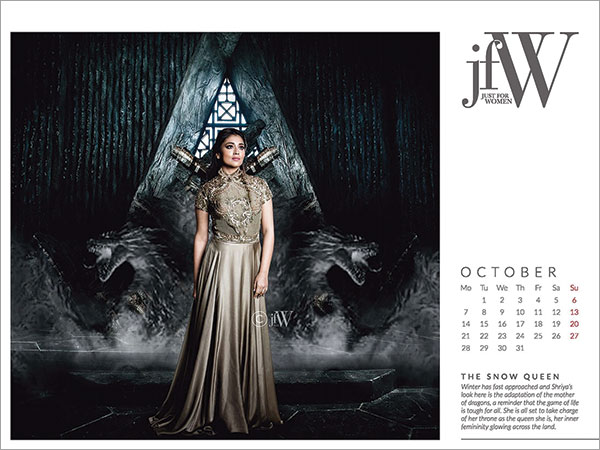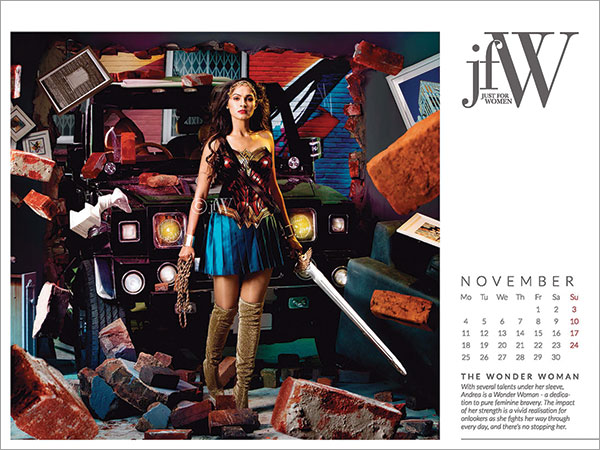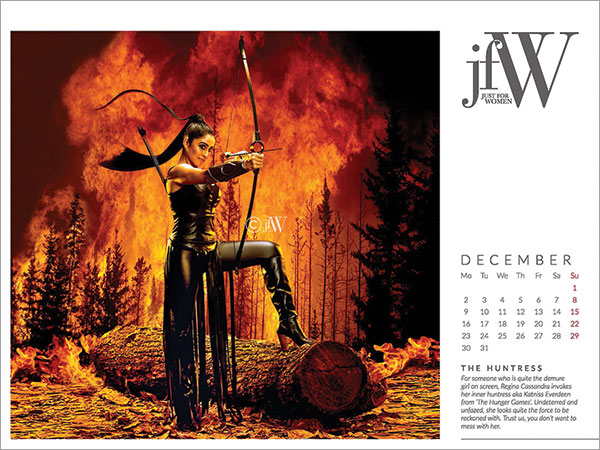 Commenting on the calendar and the viral trend, Bina Sujit, Editor-in-Chief, JFW said, "We had the best of talents working behind the scenes for this calendar. It was exciting coming up with interesting concepts for each artist and planning the elaborate and colourful sets to give the calendar a one-of-a-kind look. It was a challenge putting it all together, but the amazing images make it all worth the effort. With our focus on the digital platform, we had planned a digital release for the calendar. For the first time ever, we had the six artists releasing their respective images on their social media handles simultaneously. We are delighted to see our initiative become a viral trend".
exchange4media Group Service
The first centre has been opened in Mumbai in partnership with KLAY Schools
In continuation of its gender-inclusive policies such as a 36-week maternity leave and flexible work arrangement, Viacom18 has announced the launch of Viacubs – a child day-care service for Viacom18 employees. Viacubs is a part of Viacom18's WAVE initiative which focusses on safety, wellness, life events and career development of employees. By providing a reliable support system, Viacom18 aims to empower the working parent to focus on and balance both career and parental duties.
On launching Viacubs, Abhinav Chopra, Chief Human Resource Officer, Viacom18, said, "WAVE was introduced with the aim of encouraging women to grow and take on more leadership roles to promote gender equity and inclusion at the workplace. Our women employees should not be in a position where they must choose between their careers and family. Viacubs will ensure a smooth transition for the returning mother with the assurance that her child will be well attended to, in a nurturing environment."
"At Viacom18, we aim to provide the best of both worlds to our employees – fulfilling careers and quality family time. We understand the concerns that parents face when there's a new addition to the family. Therefore, Viacubs opens its doors to new fathers, as much as to the new mothers, towards supporting their parenting journey," Chopra added.
Launching the first centre in Mumbai in partnership with KLAY Schools, Viacubs is spread across 2,500 square feet. This dedicated space for children will have facilities including an infant room, toddler room, nursing room, play areas, cozy-corners to read, a pantry area, etc. Depending on the child's age group, fun and learning activities have been designed as part of the curriculum. Employees with six-month-old infants to six-year-old kids can avail of the various facilities being provided at Viacubs. A backup care facility is also available for parents who need to use the service for shorter periods in case of emergencies. Viacubs will provide a home away from home for employees' children with adequate learning, enjoyment and expert care, the company said in a statement.
Providing the right support, safe environment and care for kids is the prime motto of Viacubs. Adequate caretakers will be present at the center to ensure best care. Caretakers will be present at all time to ensure the demands and requirements of the kids are met. The staff (caretaker) to child ratio is 1:2 for infants, 1:3 for junior toddlers, 1:5 for senior toddlers and pre-kindergarten and 1:8 for after school children. To ensure a secure environment, an online CCTV monitoring facility as well as an emergency doctor on call is also available.
Viacubs has currently been launched in the Mumbai office and will be subsequently launched in all Viacom18 offices across India.
exchange4media Group Service
Launching on 26th January, MTV Unplugged will have artistes such as Sonu Nigam, Diljit Dosanjh, Guru Randhawa and Rekha Bhardwaj
Having impressed music aficionados for seven years, MTV Unplugged is back with yet another euphonious season of soulful renditions and musical mastery. Launching on 26th January, 8 PM, MTV Unplugged in its 8th edition will have artistes such as Sonu Nigam, Diljit Dosanjh, Guru Randhawa, Rekha Bhardwaj, the Kakkar sisters, Jonita Gandhi, Amit Mishra, Dhvani Bhanushali, Shahid Mallya, Bhuvan Bham, Arjun Kanungo and many others serenading their way into our hearts.
Launching the eighth season of MTV's much-loved musical property, Ferzad Palia, Head, Youth, Music and English Entertainment, Viacom18, said, "With Royal Stag Barrel Select MTV Unplugged, we have been successful in curating a musical experience that connects with India's music loving youth. The last three seasons of the show garnered about 100 million TV views in India, a testament to the show's resonance with its audience. In Royal Stag Barrel Select we have found a partner that has been by our side for 7 seasons in a row and has supported us in creating a unique musical experience. With artist such as Sonu Nigam, Rekha Bhardwaj, Guru Randhawa, Neeti Mohan, Diljit Dosanjh, amongst others, we have a platform for music lovers of varied genres."
To give it a momentous start, the channel is rolling out a 360-degree integrated campaign including radio, print, digital, cinema and brand associations. Over the years, MTV Unplugged has secured a forte in offering innovative musical formats to the audience and celebrating music in its rawest ever. From Guru Randhawa's stripped-down acoustic version to Rekha Bhardwaj's tribute to Gulzar, this eighth season promises to raise the bar higher.
Commenting on Royal Stag Barrel Select MTV Unplugged Season 8, Kartik Mohindra, Chief Marketing Officer, Pernod Ricard India, said "Royal Stag Barrel Select MTV Unplugged has become the symbol of perfection and we are proud to have raised the bar with each season. This season too, we extend this perfect stage to celebrate musicians who will explore music in its purest form. We are delighted to extend our long-standing association with MTV and hope to continue enthralling the Indian audience and bring alive the brand's philosophy of "Make it Perfect" in every way."
The network in a statement said, "The latest season of Royal Stag Barrel Select MTV Unplugged will take perfection a notch higher featuring a unique and beautiful confluence of soul stirring vocals and interesting musical arrangements in their purest form because 'Pure is perfect."
The theme for the eighth season is 'Unique Acts' where every artiste will create a set which is unlike any other done by her/him. The audience will see musicians performing unplugged renditions of their popular songs that have captured the hearts of audiences all over for legions of fans.
exchange4media Group Service
In association with Santosh Shetty of 'We all Connect', the initiative is part of the 3rd leg of Radio City's popular 'Kar Mumbaikar' campaign
Radio City has strengthened its commitment towards developing sustainable, pollution-free cities with the launch of the third leg of its popular 'Kar Mumbaikar' campaign. Through this 4 weeks long campaign, Radio City RJs Salil and Archana will visit nooks and corners of Mumbai city each week and plant trees. Radio City's latest initiative, 'Hara Hai Toh बरं आहे' in association with Santosh Shetty of 'We all Connect', will help replenish the green cover over Mumbai's concrete jungle by conducting plantation drives across Mumbai.
During their popular morning show 'Kasa Kai Mumbai', the RJs will urge listeners to nominate their societies/areas for this initiative and conduct a plantation drive, while broadcasting the on-air show from the same location.
Extending his support to Radio City's Kar Mumbaikar 'Hara Hai Toh बरं आहे' initiative, Thackeray actor Nawazuddin Siddique said, "Mumbai is facing several environmental problems that are on the rise and the receding green cover is one of the key aspects amplifying this issue. Promoting tree plantations in our own vicinity is a basic but vital step towards the preservation of the environment which in turn will positively impact the health and safety of citizens. Radio City's 'Hara Hai Toh बरं आहे' initiative, led by RJ Salil and RJ Archana is a great step towards raising awareness towards this cause. I hope that the initiative will highlight the significance of planting trees and drive every individual to take a step in the direction of developing a green, pollution free city."
Commenting on the launch of the third leg of the 'Kar Mumbaikar' campaign, Radio City's RJ Salil and RJ Archana said, "With the city observing a rapid environmental decline, plantation of trees is a crucial task, and through this campaign, we want to urge Mumbaikars to take this issue seriously. In tandem with our brand philosophy, Rag Rag Mein Daude City, we hope that our campaign will inspire citizens to bring back Mumbai's green cover and set an example for other cities to become a cleaner, greener space to live in." The campaign spanning on-air, on-ground and digital platforms, hopes to bring about a change in the mindsets of citizens by illustrating how small and achievable changes can bring about a significant difference in society."
For the uninitiated, Mumbai's tree cover, which was more than 35% in the 1970s, is less than 13% today, as per a study conducted by the Indian Institute of Science Bangalore. The IISC scientists emphasized the need for any region to have at least 33% green cover to ensure adequate oxygen to its citizens. Through the first two phases of the 'Kar Mumbaikar' campaign, Radio City has addressed various issues plaguing Mumbai such as the pothole menace faced by citizens during the monsoon season and 'StreeDum' campaign that raised awareness against the objectification of women. True to its brand philosophy of 'Rag Rag Mein Daude City', Radio City will continue to leverage the power of radio to bring about a positive change in our society.
exchange4media Group Service