Viacom18 Consumer Products and Nickelodeon launch exciting back-to-school range
Th new campaign #SchoolKiMasti focuses on making going to school even more fun by adding beloved favourite Nicktoons characters to the daily lives of children by
Published - 11-April-2018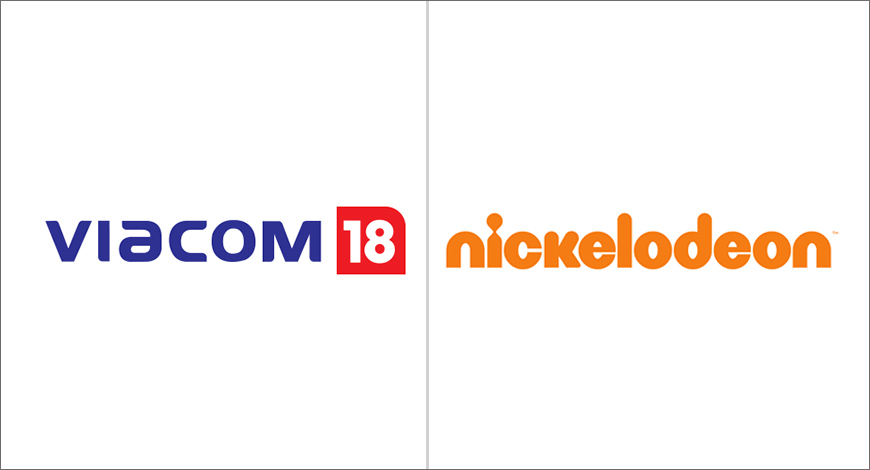 Nickelodeon is all set to drive away the back-to-school blues as Viacom18 Consumer Products returns with their new range of exciting kids' products. The range of products for school-going kids features famous Nicktoons – Dora the Explorer, Motu Patlu, Superkid Shiva and Peppa Pig. Those with a passion for sports can also opt to choose from an exciting new range of back-to-school products from FC Barcelona.

Kids can eagerly look forward to a new term at school, and to make this fun, Viacom18 Consumer Products is all set to kick start its new campaign #SchoolKiMasti under the brand Nickelodeon. The brand is geared up to take interactivity and engagement with their audience to a whole new level with their latest back-to-school product range. As a part of this campaign, Nickelodeon is all set to make school time "masti time" by bringing their favorite Nicktoons straight out of the television and Voot Kids app, making them a part of their daily lives by becoming their best friend and companion on multiple occasions.

The campaign is about how school is the reason behind this 'masti' season for kids all over the nation. The entertaining duo Motu Patlu and Dora the Explorer will be seen on school bags, pencil boxes, lunch boxes and water bottles, are available at kids' favourite stores: Hamleys, Toys R Us, Big Bazaar, and Tupperware & Amazon.

The campaign showcases the variation of the new range of back-to-school products and at the same time represents multiple styles for kids according to their preferences. The new collection includes fresh designs which reflect the passion and love for Nicktoons among children. From the colorful and vibrant Motu Patlu bags, to impressive lunch boxes and water bottles by Dora, to fun and stylish merchandise from FC Barcelona for pre-teens; there is something for everyone.

Speaking about the launch for the upcoming season, Saugato Bhowmik, Head, Viacom18 Consumer Products and Integrated Network Solutions said, "It's our constant endeavour at Viacom18 Consumer Products to understand the pulse of our young audiences. Given that the Nicktoons are extremely popular amongst children, our Back to School range helps in bringing alive the world of their favourite TV characters. Apart from our flagship brand: Dora the Explorer, Peppa Pig and FCB we have experienced remarkable success with huge offtakes of our back to school range and toys range".

He further added, "We have also added a wide array of products in the Motu Patlu back-to-school range. We are hoping the kids will love our products as much as we love bringing the same to them".

With a focus on making going to school even more fun, the Viacom18 Consumer Products back to school range of products are now available for consumers across key retail stores and e-commerce websites.
The show has 12 boys and 12 girls from varied backgrounds and different cities, serving us a delectable platter of diversity

by
Published - 11 minutes ago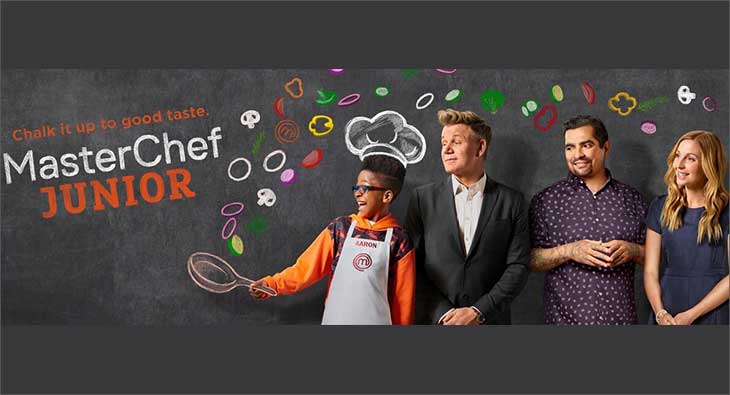 Ever spotted a kid wunderkind who knows how to whip, glaze, sear and garnish like he has been cooking since the day he was born? Aged between 8 and 13 years old, 24 such kids are all set to turn the MasterChef kitchen upside down, for the title of MasterChef US Junior as the seventh season which has made its way to India on Star World, every Sunday at 9pm.
The show has 12 boys and 12 girls from varied backgrounds and different cities, serving us a delectable platter of diversity. It's an once-in-a-lifetime opportunity for all the participants to exhibit their culinary compassion in front of the A-listed celebrity chefs such as - Gordon Ramsay, the award-winning celebrity chef and restaurateur who is also known for Hell's Kitchen and MasterChef amongst many others. Christina Tosi, owner of Milk bar who too has appeared in MasterChef and The Mind of a Chef will be joining Gordon along with another award winning restaurateur and Chef Aarón Sánchez.
As the series progresses, one season after another, the challenges become more creative for the chef-testants who never know what to expect. Once they win their white aprons, it is a long but joyful way ahead for these pre-teen contestants. The past winners and contestants have imbibed major skills and are currently doing wonders with upcoming books, YouTube channels, cookery classes and the list is never ending.
The show kick-started with a 2 hour special episode on 24th March, which showcased the culinary abilities of the little chefs through an array of delicious challenges. That's not all! The season gets more entertaining while increasing its difficulty levels as the young cooks attend and prepare a meal for 51 circus performers, create a restaurant-quality fish dish and compete to see which team finishes first in rolling out a perfect sheet of pasta to 24 feet; all this while powering through the fan-favorite pop-up restaurant challenge.
From restaurant takeovers to creating some of the most lip-smacking and visually appealing dishes, MasterChef US Junior is certainly going to be a feast for audience's eyes.
The epic historical saga will be produced by Artists Studio, part of Endemol Shine Group, in partnership with Endemol Shine India and new TV packaging company DoveTale Media

by
Published - 6 hours ago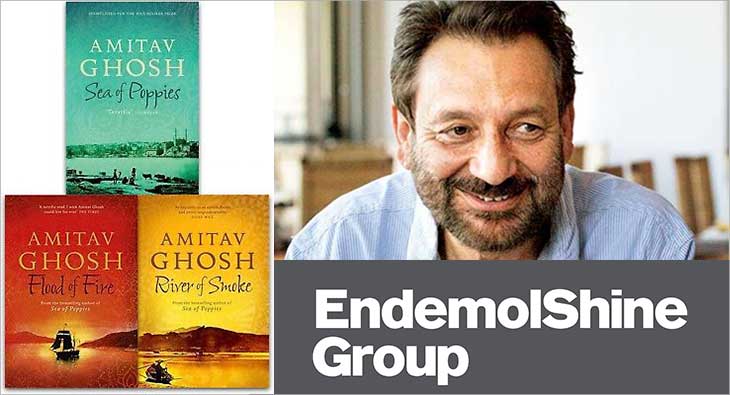 Global content creator, producer and distributor Endemol Shine Group announced the development of a high-end production for the international market. Shekhar Kapur, the award-winning film director behind 'Elizabeth' and 'Elizabeth: The Golden Age' as well as Bollywood smash hits 'Mr. India', 'Masoom' and 'Bandit Queen' has signed a deal with Endemol Shine Group to bring to life the trilogy of best-selling novels by acclaimed author Amitav Ghosh.
Ghosh's masterpiece, which begins with 'Sea of Poppies', continues with 'River of Smoke' and concludes with 'Flood of Fire', has already achieved classic status and is seen as a landmark of twenty-first century literature.
The agreement also brings together Endemol Shine Group companies, Artists Studio ('The Fall') and Endemol Shine India ('Test Case') who will produce the drama in partnership with TV packaging consultancy service DoveTale Media who initially acquired the rights to the books.
Justin Pollard, whose credits include the blockbuster 'Pirates of the Caribbean' franchise as well as hit television series 'Vikings' and 'The Tudors', is on board as Historical Consultant and Story Editor. Set in mid-nineteenth century Asia, the series will interweave the lives of vividly drawn characters against the backdrop of the opium wars between Britain, India and China. The team is in the process of lining up a lead writer.
Abhishek Rege CEO, Endemol Shine India said, "We at Endemol Shine India have been focused developing quality content not just the Indian market but something that would elicit curiosity from a global audience. This is the first step in that direction. The Ibis Trilogy project will be an amalgamation of the best global creative and production talent, including Endemol Shine India, Artists Studio, Dove Tale Media, Amitav Gosh, Lars Blomgren and Shekhar Kapur."
Kapur adds, "I have always been fascinated that the drug trade was the engine for the Industrial Revolution. Amitav Gosh's books brilliantly bring out the vast epic and emotional tale of opium, from its beginnings in India where it is grown and onto China where it is pushed by drug lords. The story also follows the journeys of indentured labour from India to colonies around the world and tells the intriguing tales of people from India, America and China at a time when modern history was being formed. I'm very much looking forward to collaborating with Endemol Shine in this gripping series that could run into many seasons."
Lars Blomgren, Head of Scripted for EMEA at Endemol Shine Group said, "Our ambition is to create a major high-end franchise for the international market, matching the scale and epic sweep of the Ibis novels. This deal represents our Group collaborating at its best, creating an exotic, never before seen tale with wide audience appeal. Shekhar Kapur completes the exclusive package and we're expecting great interest in bringing this to the global audience."
The chat show is being presented by Nestlé KitKat and has been co-powered by OLX

by
Published - 23 hours ago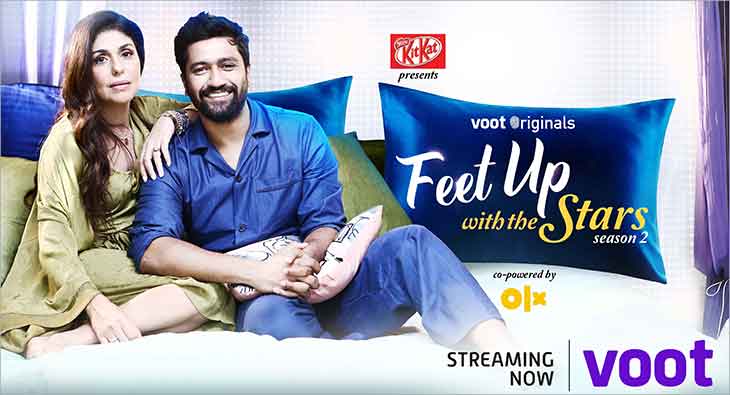 Brace up for some quirky bedside conversations, saucy revelations and celebrities at their naughtiest best on Season 2 of the VOOT Original 'Feet Up with the stars' Presented by Nestlé KitKat and co-powered by OLX .
The chat show will be hosted by Fashion Director Vogue Anaita Shroff Adajania who will invite the stars to get all their sass, candour and designer pyjamas along. So get ready for some delicious secrets, provocative conversations and unending laughter between the sheets, streaming now on VOOT with a new episode every Sunday.
Known for its intimate and personal conversations, the VOOT Original Feet Up with the Stars – Season 1 redefined the genre of chat shows. Gone was the red carpet look, the couch and the gossip, only to be replaced by celebs in nightwear, talking about themselves, their lives and their bedroom fetishes.
Season 2 raises the bar even higher with the current hot favourite of Bollywood, Vicky Kaushal bringing his `josh' in bed for the opening episode. From crunches to seducing in chaste Punjabi, Vicky is a revelation on the show. Taapsee Pannu shares her favourite fantasy and the newest kid on the block Siddhanth Chaturvedi a.k.a MC Sher sings an original composition only for Anaita and the fans of Feet Up with the Stars.
All set to launch the second season, Monika Shergill, Head of Content at Viacom18 Digital Ventures (VOOT) said, "Voot is a young platform with a huge skew of younger audiences that are constantly craving for cool, trend setting original content. Feet UP with the Stars in its first season really cut through the clutter of chat shows due to its intimate atmosphere and for the first time very personal and cosy, in bed conversations with the Bollywood stars. Season 2 will take the sassiness of this VOOT Original to the next level with the superlative line up of new stars and their candid conversations."
Commenting on the comeback of the show, Anita Horam, Director of Video at Conde Nast India said, "With Feet Up with the Stars, we have used our unique vantage point and access to Bollywood A-listers to create a never seen before chat show format that gives viewers a chance to get to know a whole new and naughtier side of their favorite bollywood A listers. Season 2 gets even bolder and better."
Commenting on the association, Nikhil Chand, General Manager, Chocolate and Confectionery, Nestlé India, said "We are delighted to associate with 'Feet up with the Stars', a show that resonates with the KITKAT's belief of taking a break from the grind. With an array of stars, we are confident that Season 2 of the show will be loved by all."
Apoorv Pandey, Lead Digital Marketing and Customer Lifecycle Management at OLX said: "OLX's new brand logo and tagline - SET HAI is conceptualized to attract millennial population of India and therefore, VOOT becomes an ideal choice for its captivating content and growing viewership.
"With this integration, we unravel some really interesting aspects of the lives of some of India's youth icons. Such integrations help us capture long lasting mind space of online video audiences. Original content in form of web-only series are extremely popular with the youth today and through this integration, we aim to seamlessly explain the concept of our new brand language effectively."
Now streaming on VOOT, the second edition of 'Nestlé KitKat Presents Feet Up with the Stars Co-Powered by OLX', promises to be more spicy and chic with its fun , new line up of Bollywood stars.
So get ready to catch these stars put their feet up, bring some oomph and indulge in unfiltered Bollywood drama in the latest VOOT Original 'Nestlé KitKat Presents Feet Up with the Stars Co-Powered by OLX'.

The documentary, which brings to life the legends of Krishna, will premier on March 27 at 9 PM

by
Published - 1 day ago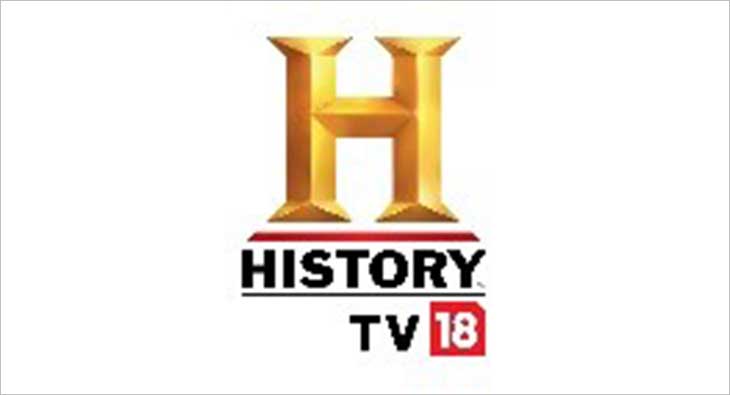 In an ancient land where river meets sea, faith and fact converge. Where once stood a legendary kingdom lost to the waves now stands the temple of its great lord. Watch the story of Hinduism's sacred site Dwarka, its presiding deity and the love of His people in 'Dwarkadhish: Kingdom of Krishna' premiering 27th March at 9 PM on HISTORY TV18.
The one-hour film brings to life the legends of Krishna, the stories of Dwarka, of Dwarkadhish temple and the devotion of the faithful. Renowned mythologist and author, Devdutt Pattanaik decodes the appeal of Krishna, beliefs, practices and ritual worship. The film also counts down to Dwarka's biggest annual festival - Janamshtami, the celebration of Shri Krishna's birth. Here we see Dwarka and its grand temple transformed, amidst special ceremonies, community prayers and grand celebrations. The excitement is palpable ascolour, light, pomp, symbolism and faith hold sway.
The characters in the film straddle tradition and modernity. Their lives revolve around the temple and its precise routine – a young dancer and tattoo artist, a girl from a Pujari family, a tailor, a priest and pilgrims. The film travels back and forth, through ancient past and modern day, between what history knows and faith believes.
Thus each year, Dwarka and its faithful renew their bonds with their patron deity. Each year, Dwarka much like the rest of India, moves forward another step into the future with its faith resolute and firmly rooted in the traditions of the past.
Avinash Kaul, MD A+E Networks | TV18 and COO Network18, says, "At HISTORY TV18 we've always put forth best-in-class content that's riveting, contemporary and most of all relevant for our viewers. 'Dwarkadhish- Kingdom of Krishna' is truly a one-of its kind documentary which celebrates the spirit of India with all its ancient splendor coexisting beautifully with youth and modernity."

'Insidious: The Last Key'is part of the ongoing property Scary Mornings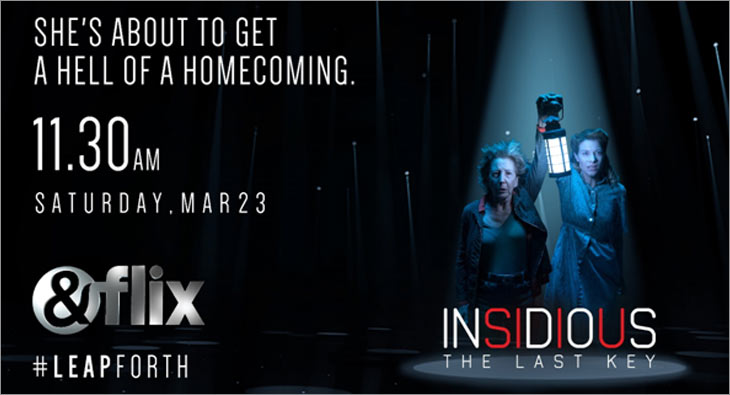 &flix is all set to air 'Insidious: The Last Key' as a part of the ongoing property Scary Mornings. The film will be telecast on March 23 at 11am.
It is a daunting story of parapsychologist Dr. Elise Rainier who visits home to perform an exorcism. Elise was known for her work in the town, but little did anyone know about her past. When she got a call from a troubled person about evil spirits, Elise picked up her bag for a journey to cleanse the vicinity. To her dismay she must go back to her dreadful past, a place where it all began. As Elise moves to solve the mysteries of a demonic spirit, she comes across a secret doorway which is the root cause to all her problems. Is she ready to open the doors to her past and face the demons from beyond? Will she get it right?
The film will be telecast on &flix on Sunday, March 24 at 1 PM and 9 PM, on &PrivéHD on March 24, 3 PM and on Zee Café at 2 PM on the same day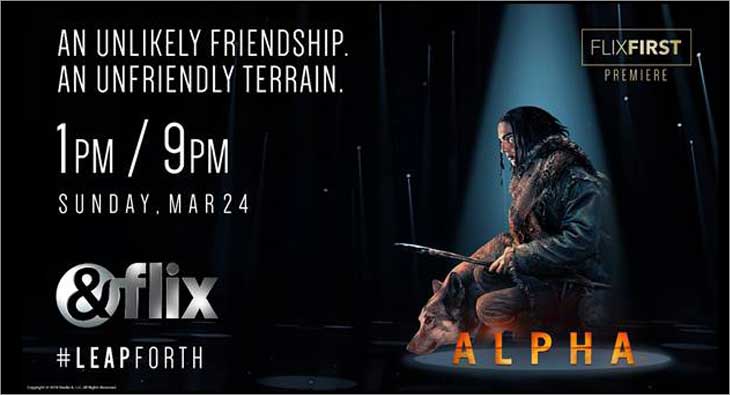 Amidst the vast wilderness, the survival of the fittest truly determines life and death. But what happens when your fight for survival brings with it the dangers of the wild? Witness a young boy unleash his inner warrior and struggle as he travels through treacherous landscapes in the epic-adventure film Alpha.
For the first time on television, &flix, the destination for the biggest Hollywood hits, is set to premiere the adventure-drama film Alpha, this Sunday, March 24, at 1 PM and 9 PM. The film will also be telecast as a part of Club Privè, a property of &PrivéHD on March 24, 3 PM and on Zee Café at 2 PM on the same day.
Directed by the award-winning filmmaker Albert Hughes and supported by a powerful performance by Australian actor Kodi Smit-McPhee, the film gives you a chance to #LeapForth into a world where 'life is earned and not given'. Join a young man's unflinching determination to a journey back home.
Set against the backdrop of prehistoric Europe, Alpha traces the life of young Keda who is separated from his tribe during his first hunt ever. Naïve yet fearless, Keda takes it upon himself to find his way back home and unite with his family. Barely surviving alone, the poor chap encounters a life-defying attack from a pack of wolves with him barely making it through. Injured and lonely, he chances upon an abandoned and ailing wolf and reluctantly tends to him. Enemy-turned-ally, Keda soon befriends the wolf and together they meander through the caves and trek through a harsh and unforgiving landscape to make it home before winter. Will they succeed in this mission?
Witness the heart-warming bond between a man and wolf, as &flix is all set to air Alpha on Sunday, March 24 at 1 PM and 9 PM
The new show will be launched on March 25th, from 6:30 PM to 7:00 PM, only on Zee Telugu and Zee Telugu HD.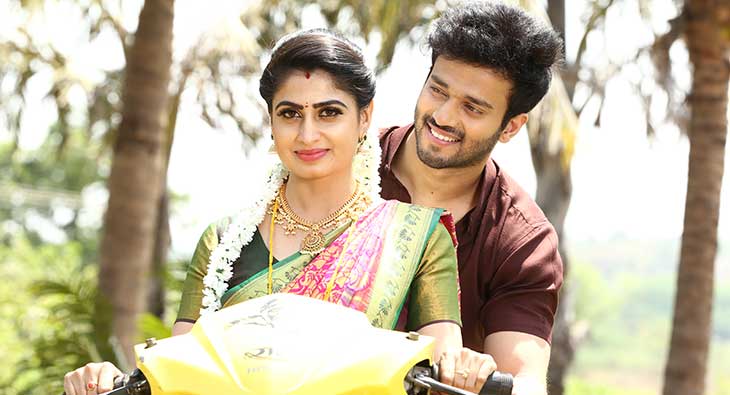 In tandem with Zee Telugu's promise to encourage women to take a lead in their life, the channel is launching a new fiction show, Akka Chellellu, a story on two independent twins with contrasting personalities, and yet leading their lives together under the same roof. The fiction show is starring Chaitra Rai, who is known for her act in That is Mahalaxmi, as both the twins, Sravani and Dharani. The story beautifully captures the lives of two tenacious women in their journey of life. The new show will be launched on March 25th, from 6:30 PM to 7:00 PM, only on Zee Telugu and Zee Telugu HD.
Sravani and Dharani, twin sisters hail from a lower middle-class family, where their father works several odd jobs to give them a better life. Sravani is a self-centred and ambitious girl who has no worries. While Dharani is considerate in nature as she recognizes the challenges and sacrifices made by their father to educate and raise them. Dharani forfeits her education and other comforts for Sravani to pursue her higher studies and lead a comfortable life, in order to lessen the burden of their father. Sravani grows up to achieve all her dreams and become a criminal lawyer.
Watch the story unfold as Sravani and Dharani are destined to live under the same roof even after their marriage.
Adjudged by music director Santhosh Narayanan and singers Ananthu and Shakthishree, 'Singing Stars' offers a platform to aspiring singers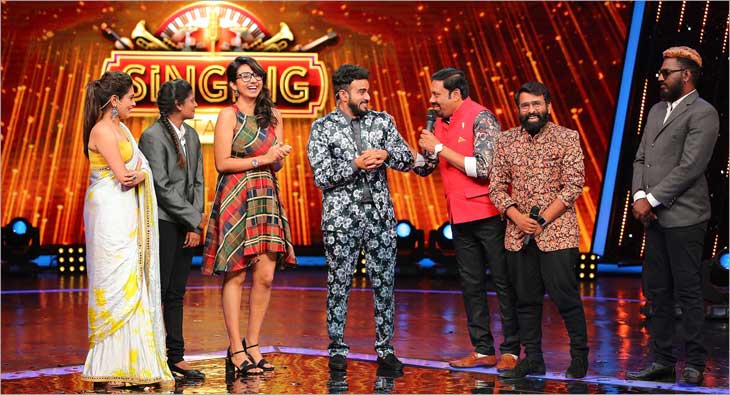 'Singing Stars' is all set for its next episode this weekend on Colors Tamil. The show that pits aspiring and talented pairs against each other showcases a unique but challenging concept, requiring the two singers to perform in unison.
The pair, either family or friends, will be required to render hit numbers ranging from Rock to Kuthu, from Rap to Gaana from 8pm to 9.30pm on March 23 and 24.
Adjudged by music director Santhosh Narayanan and singers Ananthu and Shakthishree, 'Singing Stars' offers a platform to aspiring singers to showcase their talent. Brought to television screens for the first time in India, the show also offers a visual extravaganza through augmented reality.
8MM will premiere on Zee Kannada and Zee Kannada HD on March 24, at 3:00 PM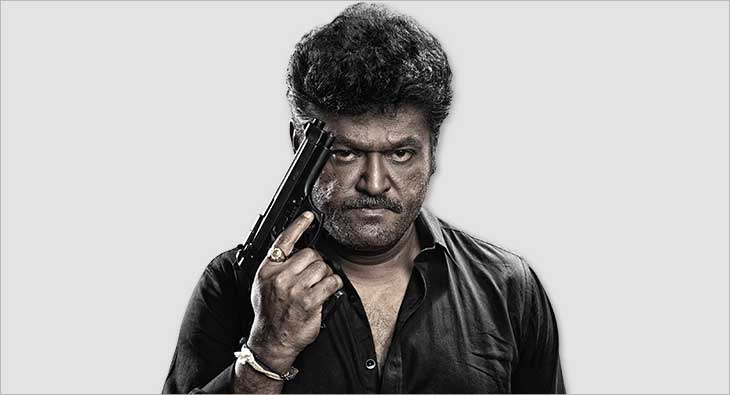 With the popular dialogue, "put kanglish version here", the film 8MM showcases the versatility of Navarasa Nayaka Jaggesh who is popular for his comedic roles, by presenting him in a never-seen-before avatar. Tune-in to watch this blockbuster film on the small screen for the very first time this Sunday on March 24, at 3:00 PM on Zee Kannada and Zee Kannada HD.
The film revolves around Karthik, a sincere and honest police sub-inspector, who faces an unusual challenge in life when his gun goes missing. How the gun falls into the hands of Murthy – a cold-blooded murderer, and the subsequent consequences, forms the crux of the story. Gaining wide appreciation from critics and the box office, the film is sure to satiate the entertainment needs of the Kannada audiences around the world.
Directed by Harikrishna, the film - 8MM is well-known for its excellent characterization and the thrill element. With Jaggesh in a character with a negative shade, Vasishta Simha as a police officer, Mayuri as a journalist, the film also presents Adi Lokesh and Rockline Venkatesh in pivotal roles. Don't miss the World Television Premiere of 8MM on March 24, 2019, Sunday at 3.00 PM on Zee Kannada.
The video is an exclusive Times Music release and is available on Times Music YouTube Channel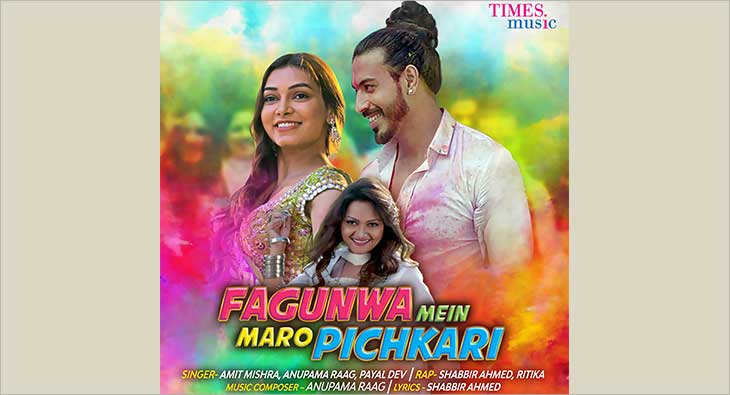 Times Music has released 'Fagunwa Mein Maro Pichkari' for Holi. The song has been composed by Anupama Raag. She is also the lyricist of this track with Shabbir Ahmed.
The song has been sung by Anupama along with Amit Mishra and Payal Dev. The rap in the song is in the voices of Ritika and Shabbir Ahmed.

The video of the song features a young couple, celebrating Holi with a group of friends and dancing their hearts out. The colours, the closeness of the couple, the secret glances of adoration - creates a little bit of nostalgia, as confessing love during Holi is so quintessential to Holi music videos.

"This song is an ode to the colours of Holi and a celebration of love. The aim was to create a youthful song that people will remember for many Holis to come. Many extraordinary musicians came together to create this song. It was our way of wishing the country, a very happy and prosperous Holi," said Anupama Raag.

'Fagunwa Mein Maro Pichkari' is an exclusive Times Music release and is available to watch on Times Music YouTube Channel.