How companies are tapping into WhatsApp for brand-building
While HBO and Vodafone India try to break into the encrypted walls of WhatsApp, industry experts are still on the fence about its feasibility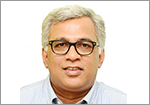 by
Published - Jul 5, 2017 7:59 AM Updated: Jul 5, 2017 7:59 AM

With a billion users worldwide, WhatsApp holds immense potential for brands. While it can be the least campaign-friendly platform, WhatsApp was recently utilised for one of the biggest movie premieres 'Suicide Squad' on HBO. The Suicide Squad takeover was a three week long activity which engaged and updated fans on a daily basis, garnering over 2000 daily views on the status, over 10,000 chats and also a whopping 1,00,000 messages.





WhatsApp's latest feature 'The New WhatsApp Status,' was capitalised by the brand by sharing content with fans on a real-time basis. "For the premiere of Suicide Squad, we wanted to break away from the clutter by taking the Suicide Squad characters into the audience's personal and informal space where we weren't selling or pushing. Instead, we were just letting them have fun with the Suicide Squad. Hence, we got them engaged to the platform they give priority to and turned TV viewing into a more social experience," reveals Devin Kewlani, National Creative Director – FoxyMoron.





Experts from the digital space say that WhatsApp as a promotional platform offers massive potential. "I think WhatsApp is one of the best tools for customer support and lead generation as most people these days prefer messages instead of direct calls. Bulk WhatsApp is good too if one wishes to send marketing information to several people in one go. Additionally, it gets responses only from interested leads and not just automatically generated emails," says Sudeep Shukla, Director, Communications, Golinopinion. Sanjay Mehta, CEO, Social Wavelength hints that it all boils down to the content strategy. "Until WhatsApp officially opens up, it has to be some sort of creative usage and an interesting approach that can enable the brand access a large reach," he says.





Apart from HBO India, Vodafone India has also collaborated with WhatsApp to let customers chat in a language of their choice. The brand built customised pages in various Indian languages (Hindi, Marathi, Bengali and Tamil, among others). The interface on the page is built with an animated step-by-step approach displaying the option of changing to different Indian languages while chatting. This makes setting up the local language option for WhatsApp on Vodafone a matter of few clicks. "We believe that local language support is a clear area of focus for us and we see this campaign with WhatsApp as a step in the right direction," says Sandeep Kataria, Chief Commercial Officer, Vodafone India.





Some experts from the digital space believe that brands and marketers are approaching WhatsApp as an experimental platform and they still need to work harder to generate consumer engagement on a platform where users don't prefer intrusive advertising. "For marketers, WhatsApp has been a tough medium to crack. To reach out to potential customers, there are methods provided like no ads, no media buying options or communities," says Manveer Singh Malhi, Digital Head & Partner – iGenero.





Mihir Mehta, Director - Display Media and Affiliates, iProspect India, says that a lot of brands have not yet warmed up to this medium from an advertising point of view. "It could be the best way for smaller brands like small businesses, retail outlets, restaurant chains and franchise stores to use WhatsApp for brand promotion, communication and in general building loyalty among users in case of new launches, flash sales, etc. It would be interesting to see when they open WhatsApp APIs," he says.


For more updates, be socially connected with us on
WhatsApp, Instagram, LinkedIn, Twitter, Facebook & Youtube