"This bride has many suitors," says Dr. Subhash Chandra
Dr. Annurag Batra, Founder & Chairman of exchange4media group, in conversation with Dr. Subhash Chandra, Chairman, ZEE & Essel Group, on Zee's plans ahead.
Two days ago, Zee Entertainment Enterprises Ltd (ZEEL) announced that its promoters will sell up to 50 per cent of their stake in the company to a strategic partner. The stake sale is being done for disruptive technological advancement and to transform the company into a media tech firm. The promoters currently hold 41 per cent stake; which means they will divest up to 20 per cent of Zee's equity. The market is abuzz about Zee's plans ahead. The company, which recently announced its financial results for FY18 Q2, posted a strong 24.9 per cent jump in the operating revenue in this quarter. Not just that, its OTT platform, launched earlier this year, is believed to be doing extremely well.
In the backdrop of all this, Dr. Annurag Batra, Founder & Chairman, exchange4media group, spoke to Dr. Subhash Chandra, Chairman, ZEE & Essel Group, about Zee's plans ahead.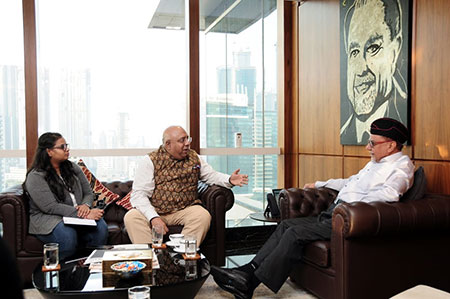 Excerpts:
Dr. Chandra, you are a pioneer. You see things before anyone else sees it. So if Dr. Chandra decides to sell a part of his company to be future ready, it becomes headlines. Are you seeing something that others are not?
I definitely believe that others are not yet seeing what I can see. But I am sure they will see that slowly. I understand that it's not only this medium, but virtually every single business is going to change because of the way technological developments are happening in every single field. Even a construction company will have to rework their entire organisation and the working structure because of technology.
For example, call centres have a very simple job. My prediction is that five years from now, nobody will be working at call centres. There will be robots and machines answering calls. In the next 5-8 years, one billion people will be rendered jobless globally. So everybody has to reskill now. Even the education system should be restarted with a fresh approach. As a member of the Upper House, I am going to raise this issue. The education has to be future ready.
Tell us specifically about media content.
Coming to media again, because of augmented reality and virtual reality, there will be a convergence of mobile, computer and other screens. It will not be just an audio & video medium in future. It will be a full-fledged market. And you will get whatever you need in this marketplace.
So you are saying content will be the glue that will create commerce, and services will be distributed using mobile screens.
Right, that's exactly what will happen.
Tell us about Zee5. In the last 12 months, it has touched the 50 million-plus subscriber mark. You have said one of the reasons to do this (stake sale) is to be able to work with technology partners to go global and increase ARPUs. Let's say, if a tie-up happens in the next 6-7 months, what will be the new ZEE like? What will be different from what we have now?
We know how to make the best of content at the best of price. And this doesn't mean that the popular perception of Zee spending less on content is true. It's not true. Zee knows the expenses; the cost of equipment and the cost of artistes and studio. Our mindset and DNA is of a content maker, whereas the Netflixes and Amazons of the world, Amazon particularly, have a trading mentality.
Our people did an analysis of Netflix's Scared Games in one of the monthly presentations, and concluded that the same show with the same artistes would have been done by us 40 per cent cheaper. And yet my producer would have had 15-20 per cent growth. We have managed to do it in the international market. Today, we are running 12 foreign language services in the international market. In Germany, which is a very mature market, we already have 1.5 per cent market share with our content from India repurposed and redirected with subtitles and dubbing. We have also started producing half an hour of original Russian content and two-hour per week content in Arabic language in the Middle East. We are doing every bit.
Zee will look at the partnership to get converged into a techno media company which has a global presence, catering to American, Spanic, Brazilian and other major foreign languages. And this will include OTT. In India, we have 500 million Zee5 subscribers and we feel we can add an equal number of people internationally with the partner. I would say we will add 100 million-plus South Asians, and in the next 7-8 years, another 400 million mainstream video watch on OTT. So it will be an unbeatable and unparalleled media distribution company which will get the kind of value that we can never get in India.
So, are you saying that you will get listed abroad at some stage?
Yes. Why not? That's why I am saying it will be a very different company 7-10 years from now. I can see that happening.
There is a huge speculation about who will be your partner. Various names are going around. Would you like to share? Also, what would you look for in the partner?
I would say that this bride has many suitors. We know what we want; we want a technology partner with technology superiority and the mass & muscle to help us fulfil our dream of becoming a global media company.
The chemistry between two people doing business is very important. Have you already found this chemistry?
We have bankers; and one of them is international banker Goldman Sachs and the other is American banking advisor LionTree. So we have had this discussion. If it's American cooperation, we have to agree on a business model on the basis of what both of us expect 5-10 years from now. Once we figure that out, it's easier for this marriage to succeed. If you see our past record, we have had good partnerships.
You said American, so is it Amazon or Google?
No, I am saying that if it's American, we will have do the same exercise of agreeing on the direction again. An American cooperation would have a separate kind of expectation from future whereas a Russian company has a separate set of thinking. We have to align, and once it's done, there is no problem, particularly with Amit (Goenka) and Punit (Goenka) mostly running the company.
During discussions with me, you have always looked at two companies, Disney and Discovery.
Discovery is a traditional media company and has vast distribution globally. And I love the company for that reason. We are one step behind them in terms of the number of eyeballs globally. They have 1.5 billion and we are at 1.3 billion. On the other hand, Disney has a vast array of offering that nobody has in India. They have amusement parks, cruise ships, children programming and much more.
What do you think about Rupert Murdoch partnering with Disney?
Their objective was that 'I can't fight with this big techno media company who is spending billions in programming'. But my feeling is different. He would be the single largest shareholder of Disney with 5 per cent holding and he has the right to choose the successor of Bob Iger. He is a smart businessman. To my mind, he has bought Disney rather than selling.
What do you have to say about Jio and its strategy of buying all distribution companies?
As a telecom company, they have done really well. Even their competitors say 'we never thought the way Jio thinks'. They admire them.
What if Mr. Ambani and Mr. Chandra come together?
You never know what would happen. I will not name any one. It's early.
Few predictions for future?
Technology will change the business. By 2055, India will become a 100-trillion dollar economy and number one globally, because the demographics are in its favour. It will surpass China and America and that will be hell of a lot for any kind of business.
(With inputs from Sonam Saini)
Annurag Batra is a serial entrepreneur, media mogul, a journalist and an eternal optimist rolled into one. He is a B. Tech in Computer Sciences, a degree, which he acquired before joining Management Development Institute MDI Gurgaon (Now its Gurugram), one of India's leading Business School. He is a first generation entrepreneur and after acquiring the iconic business media and magazine brand BW Businessworld. a 35 year strong media brand as well as most respected business publication in the country.
A conference will be held with cable TV industry representatives on December 18
The Ministry of Information and Broadcasting (MIB) is organising a conference of cable TV industry representatives (MSOs) on December 18 to discuss providing broadband services through cable TV networks.
The meet will discuss various issues, including feasibility, affordability, ubiquity, infrastructure, modalities of payment and segregation of revenue earned from broadband activities.
According to a ministry notice, detailed deliberation will be held on: (i) willingness of the operators to invest in the infrastructure required. ii) The payment of 8 per cent Adjusted Gross Revenue (AGR) as the fee to DoT, whether to be paid only on the broadband services or on overall revenue earned in respect of both the businesses. iii) Whether separate entity needs to be created for the broadband activities for segregation of the revenue earned on it. iv)All other issues related to the delivery of broadband services through cable TV network.
The notice mentions that the conference will be held at Gulmohar Hall, Habitat Centre, Lodhi Road, New Delhi, and will see participation from major MSOs, officials from MIB, DoT, TRAI and Broadcast Engineering Consultants India Limited (BECIL).
exchange4media Group Service
The results of assembly election in Telangana along with other four states, Madhya Pradesh, Rajasthan, Mizoram, Chhattisgarh will be announced today
The results of assembly election in Telangana along with four other states, Madhya Pradesh, Rajasthan, Mizoram, Chhattisgarh will be announced today. The election results are considered to be the semi-finals to the 2019 Lok Sabha elections.
A grand alliance of Congress, Telugu Desham Party (TDS), Communist Party of India (CPI), Telangana Jana Samithi (TJS) named Prajakootami (People's front) was formed with an objective of defeating the ruling TRS in the elections. Bharatiya Janata Party (BJP), All India Majlis-e-Ittehadul Muslimeen (AIMIM) are the two other parties on the battlefield. Sixty is the magic number required to form the government in the 119 member Telangana assembly. The state recorded a turn out of 73.2 per cent of voters and if the numbers are in favour of TRS, then K Chandrashekar Rao will return to power and form the government.
The various news organisations have released exit poll survey results prior to the counting day.
CNX - Times Now, India TV, Axis My India - India Today and Aaj Tak, Republic Jan Ki Baat, CVoter - Republic TV are few of the exit poll surveys and these surveys have revealed mixed results for Congress and BJP.
The channels across the country have lined up extensive programs for the counting day with live updates and in-depth analyses of the election results.
CNN-News18 launched numerous shows to bring latest developments throughout the elections – the campaigning phase and the polling day.
Under the channel's programming 'Reporters Project', their reporters travelled across Telangana to capture the ground realities, assess issues and record the sentiments of the people at the center of the story.
With comprehensive reportage to bring the fastest and most accurate results, first reactions and a 360-degree view of the final picture, the programming will commence at 6 AM on CNN-News18. Offering a combination of live coverage, real-time updates on seat tally, the programming on the channel will not only keep a close track of the trends but also provide in-depth analyses and implications of the results.
With the entire News18 Network's team of journalists across the states bringing in up-to-the-minute updates on the results, the channel will bring to the viewers unparalleled access to the latest happenings.
On CNN-News18, Executive Editor Bhupendra Chaubey along with Deputy Executive Editor Zakka Jacob and Deputy Executive Editor Anand Narasimhan will also be joined by a panel of the prominent journalists and the finest political analysts like Swapan Dasgupta, Sanjaya Baru, Vir Sanghvi, Surjit Bhalla, Ajoy Bose, Rasheed Kidwai and Advaita Kala to bring a comprehensive analysis of the results of the assembly elections.
The regional players in Telangana have also lined up programs for the state's D-Day. The channels also have hiked their advertisement rates for the day. On the other hand, a few channels are planning to go for limited advertisement space telecast.
According to industry experts based in Hyderabad, the channels have raised their advertisement rates by 20-80%. "The channels have come up with premium package for the advertisers on the counting day. There will be a huge rise in the advertisement rates and there will a high demand for advertisement space in the morning slots. There will be a spike of more than 20-60 % from the actual advertisement rate," said a senior media planner based in Hyderabad.
Talking to exchange4media, Srinivas Murthy, VP, Marketing TV5 News Network said, "TV5 will be starting live telecast from 6 am. We have deployed 50 OB vans and reporters covering all the counting centres. There will be a change in screen layout for tomorrow and we are doing a 360-degree coverage of the counting day."
"There will be a huge rise in the TV viewership today. The viewership on the counting day will double than compared to the normal days," added Murthy.
The channel will be conducting an in-depth analysis of the election results.
"We have a premium package for advertisers for the day and have hiked the advertisement rates by 25%," said Murthy.
Another major player in South India TV9 is providing non-stop coverage of the counting day with special bulletins and live telecasts. The channel started their live telecast at 6 am.
"Today we will be allotting very limited advertisement space and there are premium advertisement packages for today," said Clifford Pereira, Director, TV9. "The TV viewership will be phenomenal and a rise of 100% in terms of viewership will be achieved easily today," added Pereira.
The Telugu News channel NTV is also doing an extensive coverage of the counting day. "We are doing a marathon live on this D-Day. We have deployed reporters and contributors across the counting centres. The advertisement space will be limited for today at the same time we expect a rise of 80-90% increase in terms of viewership," said Hari Krishnan, Chief Copy Editor, NTV News.
"The Telangana elections are very crucial for the political parties and the channels also reap benefits during the election period in terms of revenue and viewership. The high amount of competition in the TV space will force the players to provide unbiased reportage of the events. In terms of advertisement rates, there will be a spike of almost 80%. In terms of viewership, the local channels will have a massive rise," concluded, a senior media planner.
Neethu reports on media, marketing and advertising industry. In the past she has reported on start-ups, education and health sector for over 6 years.
However, industry veterans emphasised on the need for creating public awareness on the TRAI order for its better implication
Amidst speculations of BARC (Broadcast Audience Research Council) not releasing ratings for two months in the backdrop of TRAI rating order, industry sources told exchange4media a concrete decision on this is expected in a meeting of stakeholders later this month.
Senior industry sources also confirmed that there were "premature" discussions around it during meetings held few weeks ago. However, nothing concrete has been decided as of now. "It was discussed as one of the possible options to deal with the scenario as most of us are trying to find ways to tackle the issue," said a senior industry source.
Industry veterans however emphasized on the need for creating public awareness on the TRAI order for its better implication.
A senior executive said, "The meeting was scheduled to take place tomorrow. However the meeting has been rescheduled because many board members were not available. Only in that meeting we will come to know whether it's going to happen or not. Also there is no mention of this in any agenda. As of now this is only word of mouth."
Another senior industry expert said, "The suggestion has some logic because when there will be disruption of this magnitude nobody should be in a position to take advantage showing ratings in this phase." Going by the information the meeting will happen in next 15 days.
This kind of a blackout has happened twice - in 2012 when the government had asked for the mandatory switch from analogue to digital cable and second time in 2015 when the industry moved from TAM to BARC.
As per our sources, there is a lot of uncertainty on the implementation of the Tariff order post January 1, 2018, due to the pending petitions in court and DTH/cable operators expecting to get a stay order; there is a higher probability that the implantation date of this order will be pushed ahead further.
The order
Early this year, Star had approached the Apex court questioning TRAI's jurisdiction to frame tariff order on the grounds that the authority has no jurisdiction on content as that actually comes under Copyright Act and not TRAI Act.
The appeal was filed against the fractured judgement passed by a two-judge Bench of Madras High Court comprising Chief Justice Indira Banerjee and Justice M Sundar. The bench had given a split verdict. Justice M Sundar had ruled in favour of Star. Commenting on the judgement delivered by Justice M Sundar, the Supreme Court order stated, "I am unable to agree with the conclusion of M. Sundar, J. that the provisions of the impugned Regulation and the impugned Tariff Order are not in conformity with the TRAI Act. In my view the impugned provisions neither touch upon the content of programmes of broadcasters, nor liable to be struck down."
"However, the clause putting cap of 15% to the discount on the MRP of a bouquet is arbitrary. The said provision is, in my view, not enforceable. In my considered view, the challenge to the impugned Regulation and the impugned Tariff Order fail," the order read further.
The 2017 Regulations prevented the mixing of pay channels and free to air channels in a single bouquet. The Regulations restricted placing high definition format and ordinary format of the same channel in the same bouquet. Another restriction was that a bouquet of pay channels should not contain any pay channel where the Maximum Retail Price is more than Rs 19.

exchange4media Group Service
BARC India won the award in the Service- Medium-sized enterprise category at the 5th CII Industrial Innovation Awards. It was also recognised as one of the Top 25 Most Innovative Companies in India.
BARC India was adjudged the 'Most Innovative Company in Service – Medium Enterprise Category' at the CII Industrial Innovations 2018 Awards. The company has also been recognised as one of the 'Top 25 Most Innovative Companies in India'. The announcement was made in a ceremony of the 5th CII Industrial Innovation Awards 2018 held in New Delhi on December 3, 2018.
The Industrial Innovation Awards identify and celebrate innovative Indian enterprises across various sectors. The award has been instituted by the Confederation of Indian Industry (CII), and is one of the most coveted innovation awards in India, BARC said in a statement on Monday.
The winners have been decided after a four-stage process, spanning across eight months. This also included an assessor visit to understand BARC India's robust technology set up on the back of some path-breaking innovations and a presentation in front of an eminent jury.
The company said that the award is a validation of the rigorous and credible measurement system that BARC India has established in a short span of three years. With its robust methodology and constant tech innovations, BARC India has developed a world class system for the TV industry. It can also be recalled that BARC India's BAR-O-Meters were developed indigenously at 1/6th the cost of globally available meters. This ensured scalability as well as ensured that the meters could handle the weather/power/telecom fluctuations which is unique to the Indian market, the statement mentioned.
The other innovation which has helped BARC India achieve the status of Most Innovative Companies is the Panel Management System (PMS). This indigenously developed system has helped in bringing efficiency in the field force that installs, manages and trains the panel homes. This has played an important role in ensuring reporting from the panel homes at par with global standards.
The third innovation is the BIO suite of products which is a visualization tool that provides interactive UI, 90 per cent reduction in output time and helps in faster and better decision making.
Shashi Sinha, BARC India Technical Committee Chairman and CEO, IPG Mediabrands, said, "BARC India was set up with the aim to give the industry a measurement system that it deserved, and this could not have happened without having a strong technology backbone. The team at BARC India has been able to give the industry a technology marvel which is capable of providing the industry a representative data that helps them take better business decisions. The CII Industrial Innovation Award is proof of the great work done by the team."
BARC India Chairman Nakul Chopra added, "BARC India has been a key-change agent in the viewership measurement space, and its initiatives have already started to redefine the industry. Since its inception, BARC India has tackled several challenges. But, considering we work in a dynamic industry, these challenges are never-ending. The key to success is to constantly keep innovating and be the change-maker. BARC India has been successful in doing so. We are now looking at implementing some key future projects such as Unified Video Measurement and Return Path Data, which will bring another paradigm shift in the industry."
BARC India CEO Partho Dasgupta said, "In future, technology will disrupt every single business, be it cement, retail, telecomm, e-comm or media. It is therefore important to keep pace with the changing technology. As is said, in tomorrow's world, the big fish will not eat the small fish, but a fast fish will eat the slow one. We at BARC India firmly believe that innovation is imperative and not a choice. We also believe that it is important to be the fearless first to inspire change and not be a mere follower. I am delighted to see that our efforts have been recognised by CII. We shall continue to empower the industry with our robust measurement."
exchange4media Group Service
The Company is launching television soap, 'Chandrakumari' on December 10, 2018
Radaan Mediaworks, promoted by actress Raadhika Sarathkumar, has decided to offload nearly 25% stake to former Stanchart head honcho, Jaspal Singh Bindra's M/s. JBCG Advisory Services Private Limited, say reports.
As per the deal, Radaan will issue 17.5 million equity shares of Rs.2/- face value on preferential basis to at a price of Rs.2/- per share to JBCG Advisory that is aggregating to Rs.3.5 Crore.
Radaan Mediaworks was founded as a proprietary concern in the early 90s and converted into a listed entity in 1999.
The Company is launching television soap, 'Chandrakumari', being aired in all four South Indian languages starting with Tamil version on Sun TV from December 10, 2018.
exchange4media Group Service
The Chief Growth Officer of ZEEL on the dissolution of Zee Unimedia, TRAI tariff order, key focus areas for 2019 and more
Last month, Zee Entertainment Enterprises Ltd (ZEEL) promoted Ashish Sehgal (former Chief Operating Officer of ZEE Unimedia) to the position of Chief Growth Officer, ZEEL. The change of designation came following the dissolution of Zee Unimedia, a vertical that was set up by the broadcast network in 2016 to boost ad sales monetisation. Before being shifted to Zee Unimedia, Sehgal, who has been associated with the network for over a decade, handled sales at ZEEL as the Chief Sales Officer .
exchange4media caught up with him to talk about the dissolution of Zee Unimedia, Trai tariff order, key focus areas for 2019 and more.
Excerpts:
Why exactly was Zee Unimedia dissolved within two years of its creation?
Zee as an organisation is gearing up to the take the next leap in the media & entertainment space as a 'global media-tech player'. Hence, we are consolidating all our units.
From a business point of view, the objective of Zee Unimedia was to offer a synergistic solution across ZEEL, ZMCL & the digital business. And this continues in the new scenario. Hence, effectively, there is no change in the functioning of the team.
What are the key challenges before you in the new role as Chief Growth Officer?
As market leaders, the key challenge is to not only grow the market but also garner higher shares in this highly fragmented & cluttered environment. Hence, as the Chief Growth Officer, it is imperative that we evolve newer modes of revenue opportunities that provide effective & efficient solution to the brands as well as help us maintain above-the-market advertising revenue growth rates for ZEEL & ZMCL, which currently is at 20 per cent & 30 per cent, respectively. In this endeavour, our core focus would be to proliferate newer segments of advertisers across the length & breadth of India.
How will the new TRAI tariff order impact the industry?
The demand-supply equation has shifted in the favour of consumer. Hence, brands that are constantly evolving, connecting & delivering compelling content and satisfying the entertainment needs of the consumer will sustain in the long run. Having said that, it's too early to predict the impact as it's a challenge for broadcasters, LCOs, MSOs & DTH players to educate the consumer about this new beneficial structural change. The backend for this change is a huge challenge for all distribution platforms.
When it comes to business, I don't think it will have an impact in the near term. In the long term, it will only help me grow my advertising revenue. How? While BARC will keep giving its ratings, I, through distribution, can find out which channels are in demand. Also, it will benefit niche channels. My assumption is that this may finally lead the conversation towards CPT. Eventually, then the advertising industry will grow.
How has 2018 been for the industry?
The year has been good. The industry has grown in double digits; I think 13-14 per cent. However, my perspective is that the overall industry could have grown better.
What are your plans for 2019? How does the next year look like for the broadcast industry? Going forward, what will be the key focus areas for you?
2019 looks like a great year. It will be another year of growth as there are three big properties—state elections, general elections & cricket world cup. This will attract advertisers and increase the TV advertising pie.
From our perspective, our key focus areas for 2019 are very clear- south, rural & cinema genre.
We are seeing a change in market focus from pan-India to region specific. Advertisers are creating customised market-specific communication plans. South as a region has seen high economic growth, fuelling consumption across categories. Television medium is at an advantage with almost 100 per cent penetration. As a dominant player, it will be our endeavour to correct the price point in line with the economic contribution to the national GDP.
Cinema genre continues to be undervalued in comparison to GEC, despite closing the gap in terms of the impressions delivered. We believe, there is ample room for growth.
Thirdly, the rural viewer is under-indexed compared to his urban counterpart in terms of advertising rates. This is despite significant growth in his personal consumption & contribution across categories.
Sonam reports on the broadcast media and Out of Home (OOH) industry. She has worked across television and cable industry, and in the past has written for travel and lifestyle magazines.
Newly launched Kannada news channel now available on all MSOs, by the end of 2018 it will be available on 3 DTH platforms
Powersmart Media Pvt Ltd launched its Kannada News channel, Power TV, in October.
"We are positioning ourselves as a channel which brings truthful and unbiased news to the people of Karnataka. Delivering accurate, uncompromised news to the audience will be our top priority," said Manjunath TR, CEO, Power TV.
"We always want to be a pro-people channel, whether it is about bringing social issues to the forefront or taking people's might and plight to the lime light," he added.
He said that the channel's programmes are designed with utmost passion to cater to all sections of society.
"A dedicated young team is well equipped to work industriously to reach out to the people of Karnataka," said the CEO.
"Just like the name, Power TV will always thrive hard to empower, protect and educate women, youth and people of all walks of life. After all, credibility and our people matter the most to us."
The channel telecasts programmes namely Power Yoga, Power Café, Ladies Power, Filmy Power, Chintus Power, to name a few.
Available on all MSOs (Multiple System Operators), by the end of 2018 it will be available on 3 DTH platforms. Viewers can also watch live updates on www.powertvnews.in
Neethu reports on media, marketing and advertising industry. In the past she has reported on start-ups, education and health sector for over 6 years.
Sony Pictures Networks India's channels are back on Tata Sky after two months
Early October, Direct to Home (DTH) operator Tata Sky removed SPNI's 22 channels along with TV Today Network's channels which were officially distributed by SPNI.
SPNI spokesperson confirmed the news and said, "Yes, the Sony Pictures Networks channels are back on Tata SKy"
The operator had faced a lot of backlash by its subscribers on social media after removing the broadcaster's channels. Tata Sky requested its subscribers to bear with them and assured that they are committed to working in the interest of its subscribers.
"Commercial negotiations with the broadcasters broke down as what they were seeking would have forced us to hike our prices. Hence we have had to drop a few channels while keeping the popular ones on. We request our subscribers to bear with us, as we are doing this in their best interest," said Harit Nagpal, CEO & MD of Tata Sky said in October.
exchange4media Group Service
The first and second matches recorded 14.8 million and 13.3 million impressions, respectively
The third match of the ongoing India- Australia cricket series has garnered the highest viewership so far. The November 25 face-off, which was won by India by six wickets, recorded 18.1 million impressions, according to BARC data.
The first and second matches had recorded 14.8 million and 13.3 million impressions, respectively
The matches are being aired on five channels-- Sony Six HD, Sony Six, Sony Ten 3, Sony Ten 3 HD and DD Sports.
The series, being telecasted with English and Hindi commentaries on Sony Ten 3, started on November 21, 2018 and will go on till January 18, 2019.
In Week 48 of BARC data, Star Sports First bagged the first slot in the sports genre with 115 million impressions, followed by Sony Ten 3 on the second spot with 110 million impressions and Star Sports 1 Hindi on the third position with 79.0 million impressions. Sony Ten 1 and Sony Six grabbed the fourth and fifth spots with 75.2 and 75.1 million impressions respectively.
exchange4media Group Service
Sudhanshu Vats, Chairman of National Committee on Media & Entertainment and Group CEO & MD, Viacom18, delivered the theme address at CII Big Picture Summit 2018
Sudhanshu Vats, Chairman of National Committee on Media & Entertainment and Group CEO & MD, Viacom18, spoke at CII Big Picture Summit 2018 on Thursday. Vats delivered the theme address on 'Changing M&E landscape - from convergence to transformation'.
Here's his full speech:
Namaskar ladies & gentlemen, many thanks for investing your valuable time with us at the CII Big Picture Summit. It is my privilege to host all of you, over today and tomorrow to discuss, debate and deliberate on the rapidly changing media and entertainment landscape in this country.
The first CII Big Picture event I attended was in 2012, I believe it was also the first edition of the event. As a regular learner at these events, I can say with utmost certainty that a lot of the issues we discussed back then – ambitious revenue targets, radio auctions, TV measurement, digitization and so on – a large chunk of it – while still relevant – are in various stages of development today. And that's only fair – such is the nature of the beast we ride. Also, this trend of convergence and consolidation – the 2 'Cs' – is a universal one – taking place all over the world. That brings me to the theme of this edition of Big Picture – from convergence to transformation.
This is an interesting thought, convergence is a reality – one that is here to stay. It's being driven by consumer needs and industry's response to those needs – meaning that it'll be a long-lasting phenomenon. Transformation is a much bigger – and more daunting – phenomenon. That said, what do we mean by 'transformation'? It's a big word. I'm going to do what my professor at university used to do when we asked her the meaning of a 'big word' – throwback two bigger words – MORAL DILEMMAS.
On a serious note, I want to take this precious opportunity to share a point of view that may not make headlines like aggressive industry targets do, but is, in my humble opinion, even more important.
If you step back and introspect about all that is happening with our industry across the world, you will agree that we are battling several changes - and most of them are a result of moral dilemmas and our response to them. If we can tackle these dilemmas successfully (and defining success is the hardest part), we can believe that we have transformed.
Interestingly, our rich cultural heritage is a treasure trove of insights when it comes to handling moral dilemmas. I recently had a young director from the South approach me with what he called was a 'modern adaptation of the Mahabharata – told from the perspective of the Kauravas'. It was an interesting thought and we're testing it - but that's beside the point. We all know about Dharamraj Yudhishtira and his half-lie – when he told Drona - on Krishna's counsel - that Ashvathama is dead. Yudhishtira was referring to an elephant who had died in battle – knowing that Drona would mistake Ashvathama to be his son of the same name. On hearing that 'Ashvatahama is dead', Drona put down his arms and was killed by Dhrishtadyumna. Was Yudhishitra right in doing what he did? It's a debate that divides many till date.
I gave this example to showcase the greyness of moral dilemmas. Let's look at our industry and the moral dilemmas we will have to face or are facing –
How do we deal with the power we have? What do we do if we find out that our reach and credibility is being used to influence electoral processes across the world?

How do we ensure fairness in the terms of availability of our content to our consumers and parity across distribution platforms? Especially in a foreseeable future when convergence is going to dial up vertical integration across value chains.

As consumption moves online, our access to data will increase. In many ways, data will be a competitive advantage and drive advertising revenues and personalized user experiences – what processes do we put in place to ensure it is not misused – how and where do we draw the line differentiating personalization versus privacy?
Human resources – our people- are our biggest asset – on screen and off it – how do we react when their individual, personal behaviour questions the fabric of the society we want to create? Think of this especially in light of the recent issues around diversity and inclusion that we've experienced. It's important for everyone, but especially so for our industry.
The list of moral dilemmas is endless. We need to be cognizant of these dilemmas – as organizations, industry bodies, policymakers and governments - as we look to scale up our businesses.
I've always been an ardent supporter of data and its importance in driving decision making. In this address, I have not used a single data point – because I believe that the course we take over the next decade will be determined more by these fundamental issues of values and how we tackle moral dilemmas than just commercial considerations. Driving consensus will be difficult yet more important than ever before. This is even more so given that India is today amongst the world's largest 'open' media markets and home to a multitude of players from all over and of all sizes.
Yudhishtira had to spend a day in hell to make up for his half-lie. He was willing to spend a lifetime there to atone for his sins. I'm not sure that we are as brave as him. We must tread carefully, follow our dharma in the toughest of times and be patient. Only then will we have truly transformed.
exchange4media Group Service