#MeToo movement exposes the cracks in media and advertising worlds
Some agencies and media organisations say they are looking into the allegations made against their employees.
The #MeToo movement rocked the Indian media and advertising worlds on Monday. Senior journalist Prashant Jha stepped down as HT Bureau Chief & Political Editor following allegations of inappropriate behaviour. Popular comedy collective All India Bakchod (AIB) announced that two of its Co-founders - Tanmay Bhat and Gursimran Khamba - will be stepping away from the organisation after it emerged that Tanmay Bhat did not act on the allegations of sexual harassment against comedian Utsav Chakrabarty who was once associated with AIB.
In a related development, Hotstar has cancelled the production of the current season of On Air with AIB in light of the incidents and reports on sexual harassment. On Air with AIB is in its third season currently and began airing on Hotstar two weeks ago. So far, a total of seven episodes have been broadcast online.
In another case of a journalist, Mayank Jain, who has been named in the #MeToo movement, the Business Standard issued a statement noting that due process and an inquiry has been initiated into the allegations against the reporter.
In addition, as many as six senior advertising executives and ad agency founders have been accused of sexual misconduct by multiple women colleagues. These women took to Twitter and blogging site Medium to share their experiences, recounting in detail their encounters with these men at workplace, work-related events and sometimes in private on the pretext of work. One of the women who called out a creative director for sexual misconduct said she wrote about her experience to "make the advertising industry realise that it cannot get away with it just because it's so small and tightly knit. The whole industry needs to clean up its act."
Two agencies - Publicis India and DDB Mudra - associated with two men accused of sexual misconduct have told exchange4media that they are in the process of verifying the allegations and taking appropriate action. exchange4media has been informed that iProspect too will look into the accusations made against one of its employees who was hired very recently.
Famous Innovations replied to exchange4media's query, saying the agency is "shocked" to hear the accusations and is "very conscious about such matters." But the agency spokesperson did not respond to our specific query about whether or not the allegation against the agency's head is being investigated.
In its response to exchange4media, Creativeland Asia, whose Founder has also been called out by multiple women, did not mention if an investigation has been launched into the allegations. The agency noted that it has "a robust system completely independent of the management to redress, assist and support, complainants having the employees interest at its heart."
exchange4media asked the agencies, whose employees have been accused of misbehaviour, if they have an Internal Complaints Committee (ICC) as stipulated by the Vishakha Guidelines. Dentsu Aegis Network (DAN) was the only one to inform us about the existence of a Women's Council led by Rajni Menon, CEO, Carat India, that not only looks into complaints of sexual harassment but also welfare of women employees.

Sunil Seth, Head - HR Business Partner, Dentsu Aegis Network South Asia, said that employees are informed about the ICC during induction, through online training modules which is mandatory for all employees to go through once a year, as well as through posters and other communication materials displayed in the office from time to time. He added that DAN carries out "a complete campaign encouraging people to complete the online course which details out the element of behaviours which can be termed harassment. And to re-emphasise, it has situational quiz at the end of every module."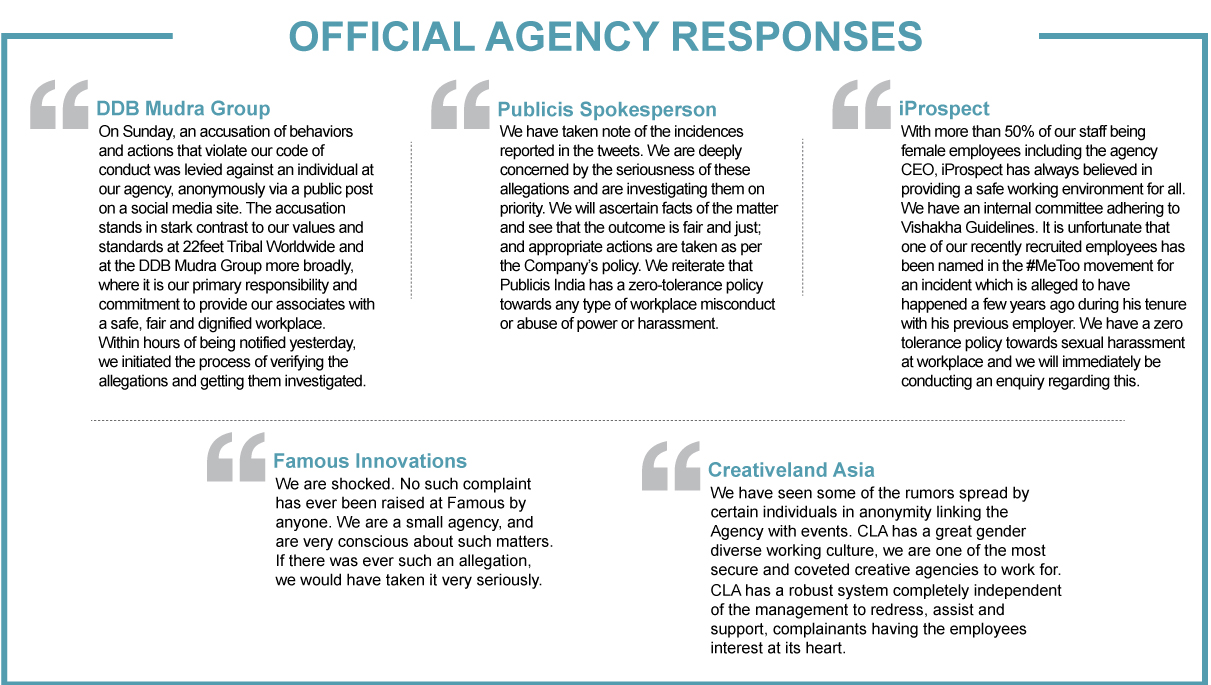 Meanwhile, Women & Child Development Minister Menaka Gandhi has said that irrespective of when a complaint of sexual harassment has been filed, action must be taken. On Monday she reportedly said, " it is important that all the women coming out to call out perpetrators under the #MeToo movement are heard."
Of Mad Men and Inappropriate Behaviour
The world of advertising has always been a 'Boy's Club'. Those who use inappropriate sexual innuendo and are sexist are most often never chastised, and it is shrugged off with a "chalta hai" attitude. Women who complain against such behaviour are told that they are "too soft for the industry."
One of the women who wrote a post on Medium detailing her experience at a leading digital agency notes that there was a "trend of sexualising women" at the agency. "Our physical appearance was currency and our attractiveness or the perceived lack of it could decide our value in this company. I know of women who were asked if they were wearing tight clothing because they had a client meeting," she writes.
One of the agencies belonging to a large advertising holding company that has claimed to look into the allegations levelled against its employee is yet to reach out to the woman who has made the allegation. The inappropriate behaviour of the person was brought to light on October 5 around 10.30am. The woman who named a person from the advertising industry as a "habitual predator" was yet to hear from the agency as of 6pm on Monday.
A woman ex-boss of one of the men accused on Monday confirmed to exchange4media that she too had experienced instances when the person used inappropriate sexual innuendo. "But I believe those remarks, though unprofessional, were made in jest. Knowing that it was unprofessional, I have reprimanded him when he was an employee with us," the agency head told exchange4media on the condition of anonymity.
Of all the names that were mentioned by women on Monday, Omkar Sane's (ex-copy creative director, Dentsu Webchutney) is the only one who seems to have suffered the consequences of his alleged behaviour until now.

"Omkar Sane worked with us at Dentsu Webchutney between 2014 and 2015. During his time here, we received official complaints about his behaviour from two employees. Post the investigation, which started the next day, he was let go from his position and the office, immediately," Sidharth Rao, CEO and co-founder Dentsu Webchutney told exchange4media. He added that the company hasn't worked with him in any capacity since then.
In contrast, some of the other people whose names have surfaced over the last few days and have been allegedly known to be repeat offenders, have not received any serious rebuke and have instead risen up the hierarchy within agencies, the women accusers say.
And in at least one case where the woman had brought the issue to the notice of her seniors, her experience was "dismissed." She was made to meet a senior woman employee who asked her if she wanted to file a formal complaint with the ICC. "But in that same conversation that I had with her, she discouraged me to complain as it would be a whole thing and that I should move on with my life," the complainant told exchange4media on the condition of anonymity.

An executive from agency What's Your Problem has also been accused of sexual misconduct. exchange4media will update this report after reaching out to the agency.
Globally, the #MeToo movement began about a year ago when allegations against Hollywood producer Harvey Weinstein encouraged many women, and in some cases men as well, to speak out about their experience of sexual harassment at workplace or being exploited or attacked sexually by men in power. In India, the #MeToo movement began with actor Tanushree Dutta speaking out about her experience with actor Nana Patekar.
Susmita is a digital marketing reporter at exchange4media. She writes on latest developments in the ever-changing world of digital media and in-depth stories on all things advertising.
Gupta passed away on Friday following a brief illness
Marketing veteran Nabankur Gupta, popularly known as 'Nobby' Gupta, has passed away following a brief illness. According to media reports, Gupta (70) breathed his last on Friday.
Gupta was a marketing master with over three decades of experience in the industry. He had been associated with companies such as Raymond, Videocon Industries and Philips. He was serving as an independent director on the boards of several companies.
Gupta was the first Indian to have been conferred the tittle of 'Marketing Superstar' by Advertising Age International, New York, in 1995. He retired as Group President of Raymond in 2005, after which he started his management consultancy, Nobby Brand Architects & Strategic Marketing Consultants.
exchange4media Group Service
The 3rd season of Brand Factory Free Shopping Weekend will be held from 12th to 16th December 2018
While the rest of the world is going gaga about the Black Friday and Single's Day Sale, Indians will not feel left out, courtesy Brand Factory by Future Lifestyle Fashions. Announcing, Free Shopping Weekend (FSW) with a tongue in cheek humour, Brand Factory tells its customers #DontShopAtFSW if they like being rewarded only with discounts.
FSW is every shopaholic's dream as they get to shop for more than 200 National and International brands for FREE! The 3rd season of Brand Factory Free Shopping Weekend will be held from 12th to 16th December 2018.
The last two years of Free Shopping Weekend saw great success, with lakhs of customers queuing up outside the stores. The wait this year was palpable, resulting in more than 1 lakh RSVPs online, on Day 1 itself. Brand Factory rolled out a 360-degree integrated campaign where #DontShopAtFSW campaign received an overwhelming response of over 1.2 million views on Facebook. The campaign is supported by print, TV, digital, OOH, radio along with corporate and student community tie-ups. This year, the event will be held on a scale larger than ever before with the increased store presence in Tier II and Tier III markets.
Speaking about the scale of the Free Shopping Weekend, Roch Dsouza, CMO, Brand Factory says, "This is one of our biggest property and we wanted our communication to not only be direct but also fresh and exciting. #DontShopAtFSW is not just an attempt to break the clutter but it's backed by solid consumer insights. We took this route for our digital campaign and both the films bring out the true customer experience when they hunt for deals online or during EOSS of full price retailers. They are as direct and convey the message spot on. We backed this idea with content and we are already witnessing some crazy response."
FSW is India's only national ticketed shopping event conducted in 88 stores and 37 cities. Given the scale of the event, shoppers need to pre-book their entry passes at a minimal cost of Rs.250 (Premium passes for two: for early entry to the store from 8 am) and Rs.100 (Classic passes for two: for entry post 11am). Tickets can be booked via on brandfactoryonline.com, insider.in or by visiting the nearest Brand Factory store. You can also redeem the value of your pass on your next purchase during 18th to 31st December.
During the Free Shopping Weekend, you shop for MRP worth Rs.5000, pay just Rs.2000 and get that back too, in the form of free apparel worth Rs.500, gift vouchers worth Rs.1200, and another Rs.300 in your Future Pay wallet. Nobody would want to miss a shopping experience as big as this. Shoppers across the country unite, here's an experience you cannot afford to miss!
Campaign video:
exchange4media Group Service
The Indi platform will enable Dhoni's fans to become brand ambassadors for his Seven by MS Dhoni line of footwear, apparel and accessories while earning revenue on sales they generate
World-class cricket player, Mahendra Singh Dhoni, has partnered with Indi, a digital word of mouth engagement and monetisation platform, to extend and enhance relationships with his global fan base.
The Indi platform will enable Dhoni's fans to become brand ambassadors for his Seven by MS Dhoni line of footwear, apparel and accessories while earning revenue on sales they generate.
"Dhoni's reputation and ability to inspire 1.3 billion Indians has always amazed me. We are truly impressed with his motivation to give back to the fans who have given him so much. The chance to become a brand ambassador for Seven is a privilege indeed, and we are honored to be powering this groundbreaking opportunity for millions," said Indi CEO Neel Grover.
Seven by MS Dhoni offers a range of quality lifestyle and athletic apparel at affordable prices. Fans, athletes and gym goers find a unique range of daily wear to cricket-specific products ranging from cricket shoes to sweat-resistant tees. The latest technology, classic designs and highest quality materials are crafted into the Seven catalog.
"It's a special opportunity to be able to empower my fans and Seven by MS Dhoni customers with opportunities to not only engage with my label but to also increase their income by earning referral fees on sales they make across social media," Dhoni noted.
The Indi Brand Ambassador program for athletes offers a range of options for enhancing fan engagement including sponsorships, advertising, product recommendations, branded merchandise and two-way video on demand. The platform also provides detailed information on the athlete's Indi fan base, social traffic and income generation.
Another way athletes can engage their fans on Indi is through challenges where fans create and post videos and photos. Challenge winners are then selected based on criteria such as the "best" post and the most Indi Buzz generated by those posts.
Arun Pandey, Chairman and MD of Rhiti Group, stated, "While we continue our aggressive push in growing the number of stores to 100 by end of this year, I am thrilled that we are in association with a leading brand like Indi in the digital space. I look forward to working with Indi.com and the founder's wealth of experience at such a promising time in India's e-commerce landscape to promote a healthy and fit lifestyle which Seven by MS Dhoni embodies."

exchange4media Group Service
Diana Penty will feature in skincare and makeup campaigns across digital and in-store platforms
Skincare, makeup and fragrance brand, Estée Lauder has announced actress and model, Diana Penty, as their Brand Ambassador for India. Penty will feature in skincare and makeup campaigns across digital and in-store platforms. Her first campaign will be for Estée Lauder's Advanced Night Repair.
"We are thrilled to welcome Diana to Estée Lauder India as our first Brand Ambassador. Her independence, confidence, sophistication and radiance reflect the modern Indian woman today and will bring a fresh attitude to our brand legacy and style. We're excited to reveal our first campaign with Diana and truly believe she will help connect our brand with female consumers around the country," said Rohan Vaziralli, General Manager, Estée Lauder Companies India.
Commenting on the announcement, Penty said, "It is an honour to be the first face for Estée Lauder in India. Being the first Indian woman to represent this iconic global brand is a dream come true. I think confidence and inner happiness makes one beautiful and I hope that I can inspire other young women to bring out the beauty in them."
Penty will front the Advanced Night Repair and Pure Color Love Lipstick campaigns in India. She will also lead the DoubleWear Stay-in-Place Foundation campaign, joined by local influencers representing diverse backgrounds and skin tones.

exchange4media Group Service
Industry leaders take a guess at who will walk away with the title tonight
D-Day is here and the spotlight will shine on the winner of the 14th IMPACT Person of the Year award at the Grand Ballroom of Taj Santacruz, Mumbai tonight. Just before the moment of truth, however, industry leaders share their top picks on who they think is the most deserving winner among the nine nominees this year.
This year, the nominees for the award are Naveen Tewari, Founder and CEO, InMobi; Nadia Chauhan, Joint MD & CMO, Parle Agro; Sanjay Gupta, Managing Director, Star India; Deepak Iyer, Managing Director, Mondelez India; Rajan Anandan, Vice President, South East Asia and India, Google; Ritesh Agarwal, Founder, Oyo; Sanjiv Mehta, Chairman & MD, Hindustan Unilever Limited (HUL); Piyush Pandey, Executive Chairman and Creative Director, Ogilvy South Asia and Prasoon Pandey, Director, Corcoise Films; and Sriharsha Majeti, Rahul Jaimini, Nandan Reddy, Co-founders, Swiggy.
Here is what some senior industry leaders have to say about the nominee of their choice and why they think he or she should win the coveted IPOY 2018 title.
Raj Nayak, COO, Viacom18
Most of the people who have been nominated are my friends. Also, all the nominees are super-achievers in their own right. This makes it very difficult to pick one name. However, there are two or three people who have done fabulous work for their organization. Sanjiv Mehta of HUL had a great turnover and great story this year. Sanjay Gupta of Star TV has played a key role in the Star TV's fabulous performance, with the acquisition of IPL, and the company that it has evolved into. I also think Nadia Chauhan is deserving because she's taken Parle Agro to a completely new level.
Amer Jaleel, Group Chairman and Chief Creative Officer, MullenLowe Lintas Group
For me it's 100% Swiggy because they've changed the game in my house the most. It used to be a task thinking of a place you want to order your food from, but now whatever you want, you call Swiggy and you get it. In my family, Swiggy has had the biggest impact and if there are many families like that, then it has to be the biggest impact anyone has ever made.
Jyoti Bansal, CEO, PHD India
My vote goes to Sriharsha Majeti, Rahul Jaimini and Nandan Reddy of Swiggy for what they've done for office lunches and the way India orders its food today.
Santosh Padhi, Chief Creative Officer & Co-founder, Taproot Dentsu
Nadia Chauhan should win because of the aggressive work that she and Parle Agro have done so wonderfully for some of the Parle products, despite a few ups and downs in the category. They have still emerged in a strong way and she's the one who has been fronting the brand and deserves to win the IPOY title, among the nominees that have been listed.
To know more about the event, please click here: https://e4mevents.com/ipoy-2018/
exchange4media Group Service
Weed will leave the FMCG giant in May next year. Unilever has not confirmed who will be stepping up to take on the top marketing role.
Chief marketing officer of Unilever, Keith Weed has announced his retirement from the business. He spent nearly four decades with Unilever. As CMO, he was responsible for the marketing, communications and sustainable business functions at Unilever.
Wow! Where did the last 35 years go? Time has flown. I've had the pleasure of working with super people in Unilever & beyond. It's with a happy and heavy heart that I've decided to retire from Unilever in April It's been over a year in planning with exciting challenges 2 follow pic.twitter.com/IMcuyBNMkN

— Keith Weed (@keithweed) 6 December 2018
Weed will leave the FMCG giant in May next year. Unilever has not confirmed who will be stepping up to take on the top marketing role.
His departure follows on from Alan Jope being appointed to the position of chief executive, taking over from outgoing exec Paul Polman.
Weed said in reports: "I have had a hugely enjoyable time with the company, with a range of positions in different countries. As the world's second largest advertiser, we have been able to leverage our scale for effectiveness and efficiencies, and we have also been able to leverage our scale for good, leading for greater responsibility, transparency and accountability in the advertising and digital industry."
Weed joined Unilever in 1983. He was appointed to the role of chief marketing and communications officer in 2010.
Over the last few years, Weed along with P&G's Marc Pritchard, has been working with agencies and platforms to stop advertisers losing money to issues like ad fraud and opaque digital measurement. This year at Cannes he called for the industry to put a stop to influencer fraud.
exchange4media Group Service
11,000 B-school students applying their minds to create sustainable solutions for plastic packaging & recycling
As part of their journey to attract talent and empower the youth, PepsiCo India has conceptualised a campus challenge called 'Change the Game'. The initiative, now it its third edition, provides young talent a platform to share creative solutions to real-life problem situations, with a chance to work with the company.
This year, PepsiCo's 'Change the Game' challenge has become bigger as the India winners will compete with winners from other regions for a chance to meet and present their business case to PepsiCo's CEO Ramon Laguarta and the global leadership team in New York, the company said in a statement. Additionally, PepsiCo will also grant the winners a fund of $100,000 for bringing the winning idea to life, along with an international job offer.
Speaking about the initiative, Suchitra Rajendra - VP Human Resources India region, PepsiCo India, said, "The main objective of the 'Change the Game' challenge is to spot the brightest sparks of talent by inviting them to develop sustainable and viable solutions to real issues. This year's challenge is focussed on finding creative solutions to attaining PepsiCo's Performance with Purpose goals for sustainable plastic packaging and recycling. We have already received an overwhelming response from India and continue to be impressed with the diverse range of creative business plan submissions we have received. We hope deserving talent from India will go on to win at the next level too."
The third edition of 'Change the Game' has received a phenomenal response – with 11,000 students from top B schools in India putting their minds to make the world a better place by presenting solutions for sustainability.
The challenge is open to undergraduate and postgraduate individuals, as well as working professionals with up to three years' experience, giving them an opportunity to make their mark globally.
The winning teams from the three PepsiCo regions -- India Region, Asia Pacific Region (Philippines, Korea, Thailand and Pakistan) and Middle East & North Africa Region (Egypt, Jordan, Lebanon, Kingdom of Saudi Arabia and UAE) -- will be eligible to travel to Dubai where they will compete at the finals. They will also get a year-long international experience or a two-month international internship.
The regional first runners up will receive either a local job offer or an opportunity to 'Shadow a Senior Business Leader' for a week. Regional second runners up will receive an opportunity to shadow a senior business leader for a week.
exchange4media Group Service
This takes the overall funding of Amazon Seller Services to Rs 75 billion crore so far in this fiscal year
E-commerce giant Amazon has injected Rs 22 billion of new funding into Amazon Seller Services, its marketplace unit, according to media reports. This takes the overall funding in the unit to Rs 75 billion so far in this fiscal year.
The new funding comes at a time when it is believed that Amazon India is almost on par or has outdone its domestic rivals in terms of gross sales on its platform.
However, the burn rate continues to remain at a higher level as e-commerce giants have set their aim to conquer the underpenetrated tier-II and tier-III type of markets that require a different approach.
exchange4media Group Service
At the ninth edition of India PR & Corporate Communications Conference 2018, the topic for the second session is 'Crisis management and Brand management two edged sword'
The ninth edition of exchange4media's India PR & Corporate Communications Awards 2018 is the most extensive and exhaustive awards to recognise the contribution and success of the PR Industry. With five categories and 22 sub categories, IPRCCA 2018 is the path breaking initiative to salute and recognise the contribution of PR Consultancies and Corporate Communications.
The event is scheduled to be held on December 13 at The Leela Ambience in Gurugram.
The event will also witness an all-day India PR & Corporate Communications Conference 2018. The theme for the conference this year is 'The importance of integrated communications and its challenges'.
The topic for the second session of the conference is on 'Crisis management and Brand management two edged sword', wherein our esteemed speakers will discuss how corporate contain and manages the crisis, especially when social media channels spread information like fire, how do brand contain information sensitivity and consumer sentiments. How to make brand communication most friendly for the media and consumers. How to tackle fake news, trolling shaming and manage brand image. Market risk are synonym with brand loyalty. Stakeholders are key influencers in business growth and it is imperative to mitigate risk factor. Especially in crisis situation, what should be the communication strategy for stakeholders to dovetail their decision making factor and market sentiments?
To answer the above questions will be our esteemed speakers Rohit Bansal, Group Head of Communications, Reliance Industries and Jitendra Vashistha, Head- Corporate Communications, JSW Steel.
Bansal is a media leader and influencer. He is an alum of Harvard Business School and St Stephen's College. He is a multiple TEDx speaker and a Distinguished Fellow at India's premier think tank, the Observer Research Foundation (ORF). He serves on the National Executive of the Federation of Indian Chambers of Commerce & Industry (FICCI) and three national committees of the Confederation of Indian Industry (CII) on i) services, ii) skill development iii) media and entertainment.
Bansal is a British Chevening scholar. He has undertaken short professional programmes at University of Westminster, The Times Centre for Media Studies, and The European Journalism Centre, Maastricht. He served on the boards of Network18 Media & Investments, TV18, IBN Lokmat TV, Viacom18, HS18, Panorama, Prism, and News Broadcasters Association; Fellow, Institute of Competitiveness; Mentor, JioGenNext; as Resident Editor of The Financial Express, New Delhi; Managing Editor (and later COO) of Independent News Service; Editor-Business, Zee News; Special Correspondent, Television 18; and Senior Business Correspondent, The Times of India.
In collaboration with law firm Hammurabi & Solomon, Bansal advised CEOs across the spectrum on policy and the media. He served as Treasurer of The Editors Guild of India and the Foundation of Media Professionals, was on the board of a hospital company and two start-ups in Essel Group. He served as Trustee, St Stephen's Alumni Foundation Trust. His expertise is at the intersect of Government and Regulation, Media/Social Media, Reputation, Corporate Communications, Strategy, Alliances, and Legal Affairs.
Jitendra Vashistha spearheads Corporate Communications function for India's largest integrated steel plant - JSW Steel Ltd. and is based at their flagship plant of Vijayanagar, Karnataka. He possesses comprehensive multi-industry experience in the areas of Corporate Communications & PR, encompassing internal & external communication, marketing communications, and CSR for over two decades with the multinational and blue-chip organisations in the industries covering FMCG, Financial Services, IT, Manufacturing and Telecom. He's a seasoned corporate communications' professional with hands-on exposure, experience, and expertise in leading strategic communications for the leading multi-national brands in the likes of Fidelity, RPG Enterprises, Amway, Fidelity, HSBC, and Vodafone.
Vashistha has cut his teeth in the entire gamut of corporate communications in establishing & developing communication function, mentoring teams, relationship building and strategic engagement with external and internal stakeholders for delivering strategic, effective & measurable communication in a global change-environment.
He was the first communication executive from India to earn a seat at HSBC's Executive Council – EXCO, of Global Technology. He was instrumental in partnering & deploying one of the largest Change Communications' programmes of HSBC Group, impacting over 30K employees worldwide. He curated and led some interesting PR properties at Amway Corporation, which helped him steer the challenging & intriguing crisis communications management programme. At the moment, his primary thrusts are on safety communication and to find inclusive communication threads to build employee and media relations in an era; engulfed by social media, digitalisation and disruptive interventions.
Ad Factors is the presenting partner of the IPRCCA and is co-Powered by Media Mantra & MSL. The gold partner is Kaizzen, PR Pundit & AvianWe. The urban mobility partner is Uber. The dgital media partner is Media Value works. Policy Bazaar is the knowledge partner and is co-partnered by Text 100, The Publicist & Kommune. The lifestyle PR partner is ActiMedia, TV partner is NewsX, creativity partner is Webershandwick. The partner For IPRCCC is Pearl Academy.
To know more, click here: https://e4mevents.com/iprcca-2018/

exchange4media Group Service
The series is based on the real-life story of 21 soldiers of 36th Sikh regiment of the British Indian Army which defended an army outpost at Saragarhi in the North-West Frontier Province in 1897
With the aim of bringing untold and unique stories to audiences all over the country, Contiloe Pictures, premium broad-based entertainment content production company, has introduced a show based on the bravery 21 soldiers in British Indian Army – '21 Sarfarosh: Saragarhi 1897'. Having wowed audiences on television, the show is now streaming on online streaming giant Netflix.
The show has 65 episodes and stars Mohit Raina and Mukul Dev in principal roles.
"Battle of Saragarhi is considered as one of the bravest day in the Indian history. It was a pleasure telling a story of such importance and creating something at this scale. Having run all episodes on Discovery Jeet, a platform like the Netflix will only help widen the audience, reaching out to global netizens," says Abhimanyu Singh, Founder, and CEO of Contiloe Pictures.
The series is based on the real-life story of 21 soldiers of 36th Sikh regiment of the British Indian Army which defended an army outpost at Saragarhi in the North-West Frontier Province against an onslaught by over 10,000 Pashtun and Orakzai tribals in September 1897.
The production house has won multiple awards for the show in various categories including Best Teleplay, Special-Visual Effects for Television, Art Direction (Fiction) and Background Music (Fiction).


exchange4media Group Service