Flashed Yesterday: GroupM announces portfolio reorganisation; Maxus, MEC merged
Maxus will continue to operate as an agency brand in India with the support of the newly formed global agency as well as the GroupM network by
Published - 02-June-2017
GroupM has announced a portfolio restructure to improve service and delivery to clients. The company is committing to the expansion of Essence, its digital-first agency, by adding traditional media capabilities and a larger geographic footprint to the agency's existing media and creative credentials. In time, Essence will also lead several key GroupM client relationships as part of this restructure.
GroupM is also merging the global operations and teams of its agencies MEC and Maxus into a new, billion dollar revenue, media, content and technology agency under the leadership of MEC's CEO Tim Castree.
Maxus will continue to operate as an agency brand in India with the support of the newly formed global agency as well as the GroupM network.
GroupM's portfolio will now comprise three successful global media agency networks -- Mindshare, MediaCom, and the new company – each with more than one billion dollars in annual revenues, plus an innovative digital-first agency, Essence. GroupM also plans new investments across all of its agencies and its [m]PLATFORM data and technology capabilities.
"We're committed to improving our service to clients. These moves will give us greater focus, help us innovate, and improve our speed of delivery," said Kelly Clark, Global CEO, GroupM.
Since Clark became global CEO in October 2016, GroupM has made a number of organisational changes. Clark recently appointed Lindsay Pattison as GroupM's Chief Transformation Officer to lead a range of transformation initiatives.
GroupM acquired Essence in November 2015. "The leadership team at Essence is excited about the opportunities this creates for our clients and our people," said Christian Juhl, CEO, Essence. "Our mission is to make advertising more valuable to the world; with this infusion of talent, capabilities and markets, we can do this now on a bigger stage."
Clark named Castree CEO of MEC in November 2016. "Maxus and MEC share common values and ambitions. Both networks have a strong local market presence and entrepreneurial drive. Together, we believe we can create an exciting new media, content and technology agency which we look forward to introducing soon," said Castree.
"We've clearly signaled our ambition to transform, and we mean business," said Pattison. "This allows us to more meaningfully invest in each agency's future – retaining and attracting the best talent with inspiring and rewarding workplaces, creating differentiated cultures and approaches, and sharing in a focus on helping clients win."
Rajasthan Royals to sport pink jerseys, signifying their Pink City origin and sport the logo of JK Lakshmi Cement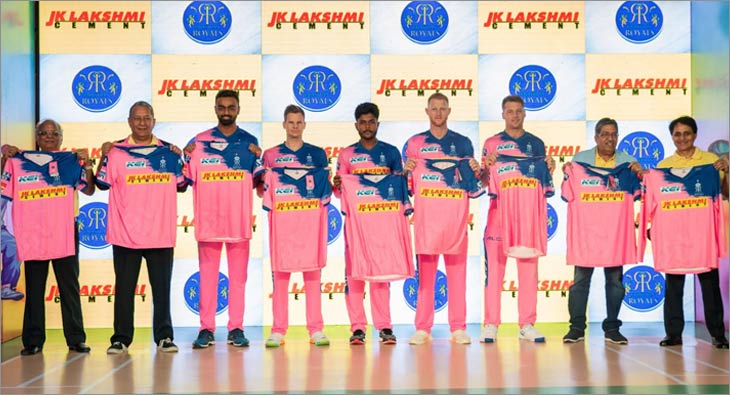 After making a refreshed entry back into the IPL last season, Rajasthan Royals are with new pink jerseys - signifying their Pink City origin - with the logo of JK Lakshmi Cement for the second consecutive season.
Rajasthan Royals is all set for a cracking show under the steward-ship of Ajinkya Rahane.
Speaking on the renewed association with Rajasthan Royals, Dr. Shailendra Chouksey, Whole Time Director, JK Lakshmi Cement Ltd. said, "It has been a power-packed journey for us as well as the Royals and the decision to continue our association was but natural. While both JK Lakshmi and Rajasthan Royals hail from the state, the aspiration of both partners is to constantly strive to rise, improve and scale newer heights."
Inspired by the association with Rajasthan Royals during IPL 2018, JK Lakshmi Cement launched a new brand named as JK Sixer Cement – a product which attributes the winning strokes to all class of constructions like the most scoring shot in cricket.
The theme of cricket captured in the JK Sixer cement was well appreciated in various markets. In this season's renewed association of JK Lakshmi with the Royals; logos of JK Sixer will flash on the back of helmets and caps of the squad.
The team's inherent strength, killer instinct, Buland Soch coupled with fast improvisation in its strategy is in sync with the philosophy of JK Lakshmi Cement Ltd., Dr Chouksey asserted.
"Rajasthan Royals have shown the unmatched temperament last season and in this year it will come forth as stronger contender in the championship," he said.
Ranjit Barthakur, Executive Chairman, Rajasthan Royals said, "We are delighted to have JK Lakshmi Cement our last year's sponsor back this season again. This consistency in collaboration I am sure will strengthen the performance of Rajasthan Royals and JK Lakshmi as a brand."
The Royals' team which had experimented with pink during practice sessions and even played a game last season has now switched to the colour this season from its blue jerseys in the last season.
"This is an exciting change for us and comes as a response to the fantastic reaction from the fans to our training kit and of course inspired by the colour of our state that has a touch of pink everywhere," Barthakur said.
To be aired every Thursday and Friday, along with celebrity chat show with critic Anupama Chopra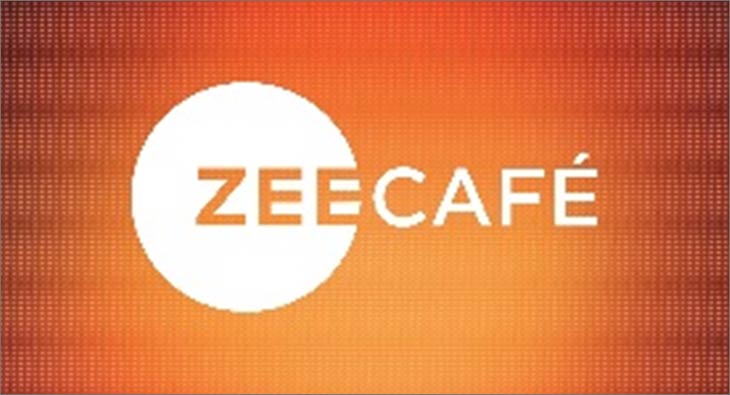 Royal Stag Barrel Select Large Short Films will now be available on Zee Café. In its new offering, Zee Café will air short stories every Thursday and Friday at 10.30PM only on Zee Café. Also, see these master story tellers in conversation with Anupama Chopra on Saturday nights at 10.30PM.
The films telecasted include titles like Maya, Amma Meri, The Last Chapter, Ladoo, Churri, Shame, Playboy and Waterbaby, amongst many others.
The filmmakers behind these masterpieces include names like Aniruddha Roy Chowdhury, Sujoy Ghosh, Anusha Bose, Samir Sadhwani, Pia Shah, Mansi Jain and Sandeep Verma.
For this short-format series, Zee Café has entered a strategic association with Royal Stag Barrel Select Large Short Films to narrate stories through the voices of Bollywood's ace storytellers.
With a specially curated library that will air nine original, powerful and perfect short films, Zee Café will take its fans on a captivating journey.
Speaking on the association, Kartik Mohindra, Chief Marketing Officer, Pernod Ricard, said, "We are delighted to associate with Zee Network, a brand that has always been curating new-age content for their audiences. The short film industry has been growing dramatically owing to the changing viewer habits. Our platform Royal Stag Barrel Select Large Short Films has become the torchbearer for original, powerful and perfect content. This partnership is a great opportunity for us to reach out to a wider audience and showcase our content on television."
Kartik Sharma, CEO, Wavemaker, South Asia, said, "Royal Stag Barrel Select Large Short Films is an established, much loved property. It was a natural extension for it to expand it to a much wider, more efficient medium like television. Since the content on Large Short Films is diverse we partnered with Zee Network to leverage its strength as a network catering to different kinds of audiences through a large presence across genres. PRI as a client has always been exciting to work with & it has always provided us opportunities to explore and push our boundaries. "
Ashish Sehgal, Chief Growth Officer, ZEEL, said, "Short-films as a format is fairly underexposed. With audiences increasingly looking out for fresh content, these short films truly serve as a popular medium to showcase interesting works of budding and established filmmakers. Through this exciting association, Zee Café and &Pictures HD together provide the perfect platform for Royal Stag Barrel Select Large Short films to give their content a wider reach and visibility. Additionally, clients today are looking at engaging with their audiences in more than one way."
TVC featuring Fatima Sana Sheikh and Siddhant Chaturvedi will be played throughout IPL season on ground and digital platforms

by
Published - 8 hours ago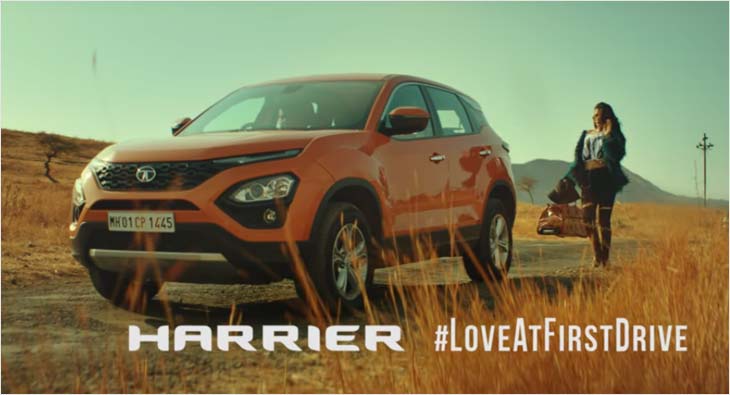 Tata Motors has announced a TV campaign comprising a 'Mini-Series' of TV ads that hinges on the story of 'Love At First Drive'.
After an extremely successful partnership last season, Tata Motors will showcase its newly-launched, flagship SUV – Harrier at the vaunted tournament this year.
Depicting the superlative quality of the Harrier, the Mini-Series will feature Bollywood talents Siddhant Chaturvedi from 'Gully Boy' and Fatima Sana Shaikh of 'Dangal' fame.
Scheduled for a nationwide release on March 23, this campaign is set to add a further dash of glamour to the Harrier and tell the story of how the SUV with its stunning and bold design, impressive road presence and performance creates an impression which is beyond 'love at first sight'. Highlighting the company's association with the league for the second consecutive year, these TVCs will be played throughout the 50 days of the IPL season, well supported on ground and digital platforms.
Tapping on the pan India following of the game, this campaign will be advertised across Star Sports network of 21 channels (National & Regional) to ensure the brand resonates with the audiences across the country. Conceived by 82.5 Communications, the films for the TVCs have been produced by Storytellers.
Vivek Srivatsa, Head - Marketing, Passenger Vehicles Business Unit, Tata Motors, said, "The first year of our association with the IPL proved to be a game changer for our much celebrated, compact SUV, the Tata Nexon which won many hearts and is now one of the leading players in its segment. We are confident that the 12th season of the IPL will be much bigger in terms of viewership and spectators at the stadiums. Through the 'Love at First Drive' campaign for the Harrier, we want to capture the audience's attention in a manner that is both clutter breaking and eye-catching.
Furthermore, Siddhant and Fatima embody the spirit of the Harrier and lend their individual style and appeal to the campaign. We are confident that the TVCs will project the right imagery for the Harrier and will help the brand to capture the imagination of a billion plus audience, just like the IPL itself."
Anuraag Khandelwal, ECD, 82.5 Communications from Ogilvy Group, Mumbai said, "The Harrier is one outstanding SUV. We wanted to do something disruptive. Not only in the category but across categories. So, we came from a simple observation, that when one saw the Harrier, one fell in love with it. More so after test-driving it! Hence the idea #LoveAtFirstDrive."
As an official partner, the all-new Harrier will be showcased across stadiums. As part of this association, Tata Motors will continue to strengthen its existing IPL properties the 'Harrier Super Striker' and 'Harrier Fan Catch'. Harrier Super Striker Award is for the player with highest batting strike rate in every match. In addition, the Harrier Super Striker of the season will drive home the all-new Harrier at the end of the season. The Harrier Fan Catch award of Rs 1 Lakh is for the fan who takes a single-handed catch of a six during the match. Also, one lucky fan who wins the most popular Harrier Fan Catch of the season will drive home a Tata Motors car.
As part of the campaign, Vodafone customers have an opportunity to win an iPhone X every match 

by
Published - 9 hours ago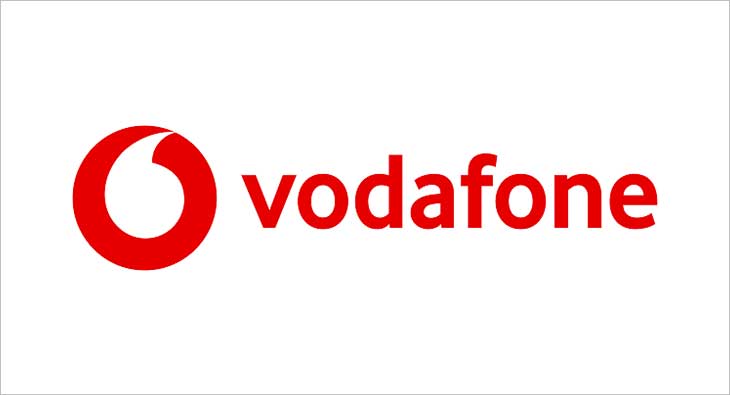 Vodafone is back with its 'Unofficial Sponsor of Fans campaign', adding to the excitement and taking the cricket fever a notch higher. Following its belief of celebrating the fans of the game, Vodafone has launched this national campaign that goes live on Saturday.
As part of the campaign, Vodafone has announced Vodafone FANtastic Breaks Contest that gives the customers an opportunity to win an iPhone X every match, by answering few simple questions during the month-long cricket season.
The FANtastic Breaks Contest is part of the campaign Vodafone Unofficial Sponsor of Fans. It tests a person on cricket and general trivia. To participate during the match ad breaks, Vodafone consumers can visit the Vodafone website or MyVodafone app, log on to Vodafone Zoozoo Facebook page or dial *202# and answer simple questions. They will stand a chance to win exciting prizes every ad break and iPhone X every match.
Kavita Nair, Chief Digital Transformation Officer and Brand Officer, Vodafone Idea said, "Vodafone has always believed in celebrating the spirit of the fans and adding to the excitement of the sport. Launched last year, 'Unofficial Sponsor of Fans' was a huge success as it was led by consumer insight and emotions and helped us engage with our customers in a meaningful way. This year, we are making a bold move and going digital only. A lot of our audiences are on the digital medium and a lot of conversation happens on the social media platforms, making it an obvious choice for us. We hope that we are able to delight our customers as we always endeavor to."
Fans will get behind-the-scenes updates and chance to show support through Augmented Reality Lenses, Our Stories and more

by
Published - 10 hours ago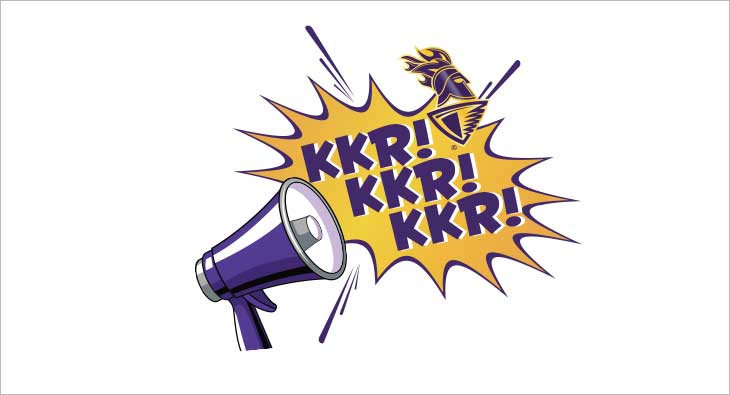 Snapchat has teamed up with Mumbai Indians, Rajasthan Royals, Chennai Super Kings and Kolkata Knight Riders for this IPL season.
The partnership will bring fans at home and in the stadium behind-the-scenes updates and the chance to show their support for their favourite team on match days through creative Augmented Reality Lenses, Our Stories and more.

Follow your team
Follow Mumbai Indians @mi_platan, Rajasthan Royals @rajasthanroyals, Chennai Super Kings @yelloveforever and Kolkata Knight Riders @kkrsnaps on Snapchat where they will be posting updates and behind-the-scenes highlights to their Official Account's Story and receive notifications when they post.

In addition, CricTracker and Sportskeeda will launch on Snapchat's Discover providing up-to-date news on all things IPL through their own Publisher Stories.

Get creative
Fans will also be able to celebrate key moments and show their support in creative ways by wearing their teams' colours with special augmented reality lenses and by adding creative touches to their snaps with a range of custom filters and stickers.

There will also be Our Stories around the opening weekend games in Chennai, Mumbai, Jaipur and Kolkata, celebrating the best submissions from fans across India, with the first going live on March 25.
Raina will be the face of the company across all its brand communication campaigns starting March 2019 ahead of IPL 12 and ICC Cricket World Cup 2019

by
Published - 11 hours ago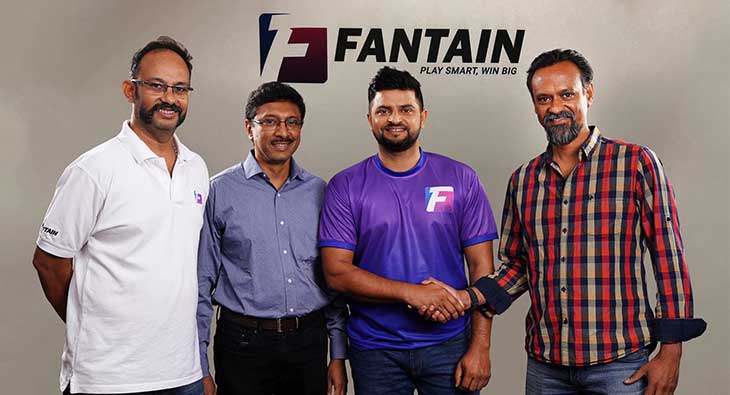 Fantasy sports and fan engagement company Fantain Sports, today announced the appointment of Indian cricket star Suresh Raina as its brand ambassador. The left-handed batsman will be the face of the company across all its brand communication campaigns starting March 2019, ahead of the 12th season of the Indian Premier League and ICC Cricket World Cup 2019.
Suresh Raina is the first Indian batsman to score a century in all three formats in international cricket and was a significant part of India's winning squad at the World Cup in 2011. He is the leading run scorer across IPL's 11 seasons and a critical team member of the three-time winner and defending champions Chennai Super Kings. Raina is also only the second youngest player to don the captain's hat in the ODI format for India.
Commenting on the partnership, Anand Ramachandran, Co-founder & CEO, Fantain said "Suresh Raina is a legend in his own right and we are delighted to be associated with him. His sheer talent, teamwork, and energy have won several matches for India and CSK. He always plays the game with a straight bat and this partnership is a perfect fit for us, as we build a platform based on trust and transparency. We wish Suresh the best of luck for this IPL and beyond."
Speaking about the association, Suresh Raina, cricketer and brand ambassador for Fantain, said, "Fantain offers a great way for sports fans to experience fantasy sports. I am delighted to be associated with a company that provides a fantastic opportunity for sports enthusiasts to come closer to the game. The passion and energy that the Fantain team brings to the table have been a key driver in forging this partnership. I look forward to collaborating with them and engage with fans on a more personal level."
Fantain will unveil its marketing campaign #GameHaathMein which is a call to every fan to become an active one by following his/her favourite sport on their mobiles. Along with the campaign, Fantain will launch a new version of the app that will include exciting new features like multi-match fantasy, block-chain security, additional player statistics, additional payment options and enhanced cricket content. The campaign will also target the vast customer base of BookMyShow, with a host of exciting free giveaways. BookMyShow is a strategic investor in the Chennai-based firm.
OTT players react to FICCI-EY 2019 report and assert Television will not lose either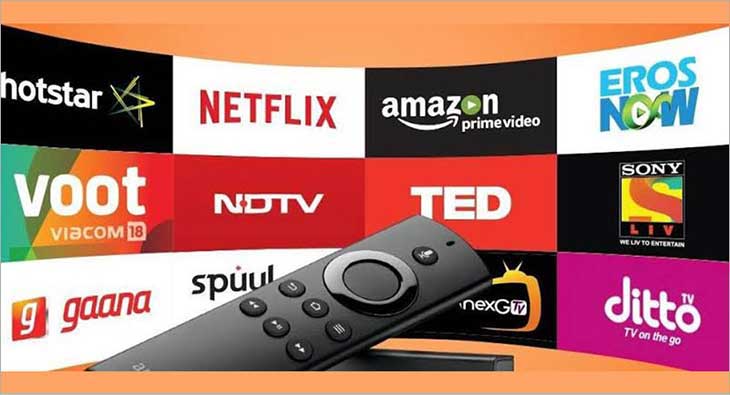 TRAI's New Tariff Order (NTO) has become a major topic of discussion. With the final date of March 31 drawing close, more and more facets of this new order are pondered upon.
The FICCI-EY 2019 report titled 'A billion screens of opportunity' suggests a few scenarios pertaining to NTO which might become a reality in the coming days. As per one scenario, OTT platforms are sure to benefit due to increased parity between television and OTT consumption – both in terms of content choice and costs.
As per the NTO, the power lies in the hands of the customers who can pick and choose channels of their choice. Under the order, DTH providers can only charge subscribers a maximum of INR 130, excluding the applicable GST, for a set of 100 channels, while letting the customers to further opt and pay for the channels of their liking, separately.
We spoke to OTT players to understand if the NTO can have an impact on the OTT platform. Many of the OTT players are also key broadcasters and they believe there will never be an either/or situation.
Uday Sodhi, Business Head – Digital, SonyLIV, Sony Pictures Network India, told exchange4media, "I don't see the correlation between the two. The order is part of the evolution of television ecosystem. The digital ecosystem is anyway a fast growing one and if you look at the ENY report also, it shows that the digital ecosystem is growing at a fast pace. As it is the business has enough momentum so I don't think that NTO will really impact it in any substantial way in the long run. There might be temporary impact on the market for a while."
Manish Aggarwal, Business Head, ZEE5 India, admitted that they have observed higher than usual numbers of streaming but asserted that TV will never lose its dominance. "We are witnessing higher than usual numbers for streaming daily TV soaps as viewers are aligning their cable TV packs and channels may have blacked out. Having said that, more than cost, OTT drives a significant traffic due to the convenience it offers to the users. Television has its own audiences and in spite of rapid growth in digital consumption, TV remains to have its dominance in India due to various factors and will continue to coexist with OTT in the long run," said Manish Aggarwal.
Karan Bedi, CEO, MX Player, however, believes that the new pricing regime for broadcast channels can drive OTT consumption. "It's the content and the availability of better payment pipes that are the main drivers for entertainment today. The flexibility and varied subscription models that come with OTT platforms appeal to audiences who no longer want to be restricted to a single TV screen. The new pricing regime for broadcast channels should further drive OTT consumption and I believe there will be experimentation on both platforms, across verticals like never seen before," Bedi explains.
In an earlier interaction with exchange4media, Nina Elavia Jaipuria, Head - Hindi & Kids TV Network, Viacom18 had informed that there will never be an either/or situation. "OTT is a trend that will compliment broadcast. I totally believe that two can co-exist. From Viacom's perspective, we feel whichever screen consumers prefers to watch, Viacom will be present. Viewers can watch the same content on Voot that they missed on broadcast. To me, TV is the future of TV. Today, penetration of TV is only 66%. We have gone to 196 million households now. But there are 266mn households we can expand to. To me both will grow and both will complement each other. It will never be an either-or situation," Jaipuria insists.
Bruno, who joined Netflix in 2015, is set to join MGM as its Chief Marketing Officer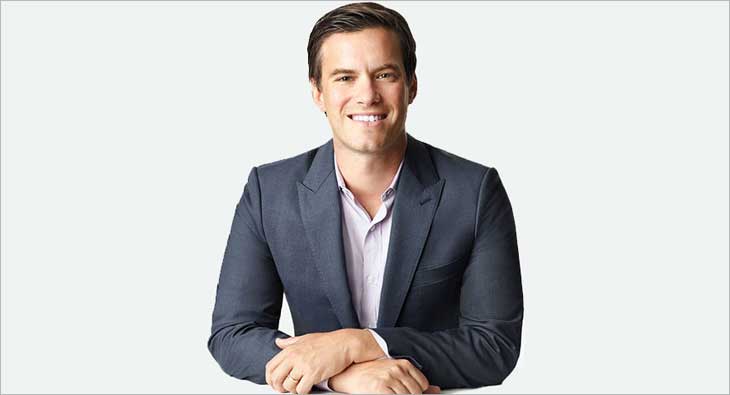 The news of Netflix Global Marketing Chief Stephen Bruno's exit has been confirmed. This comes in over two weeks of the departure of Netflix CMO Kelly Bennett who had been with the streaming giant for over seven years.
Bruno is all set to join MGM as its Chief Marketing Officer. He had been associated with Netflix since 2015. Bruno oversaw global campaigns for series like 'Stranger Things', 'The Crown' and 'Narcos', as well as features like 'Bird Box', 'Mudbound' and 'To All the Boys I've Loved Before'.
These high profile exits have come after recent reports of Netflix planning to dissolve its entire global brand marketing team.
According to reports, Bruno's exit is bound to raise questions about long-term marketing strategy for Netflix film and series. Netflix on its part has not commented on Bruno's replacement so far.
Mudaliar, CMO, Dream11 says sporting leagues have realised the importance of how fantasy sports in particular increase fan engagement & drive higher stickiness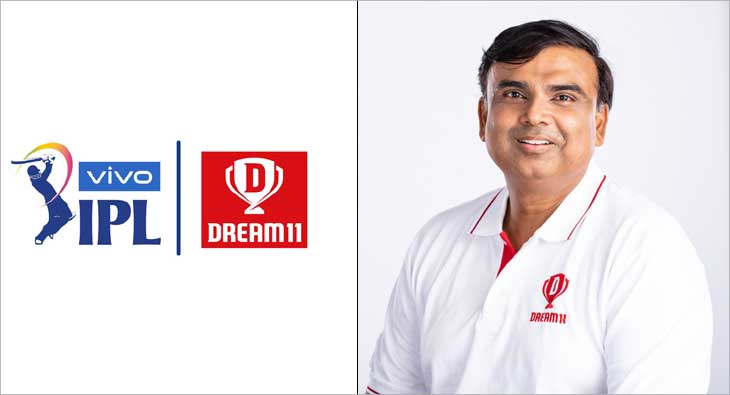 Last week, BCCI announced Dream11 as an official partner for the upcoming Indian Premium League season kick starting tomorrow, March 23. The association will be of four years. Additionally, the official fantasy game of the IPL will also be powered by the fantasy gaming platforms. The gaming platform will help increase the popularity of the game amongst cricket fans online.
exchange4media spoke to Vikrant Mudaliar, Chief Marketing Officer, Dream11 on their long term association and the kind of ROI the brand is expecting from this partnership.
Mudaliar said their association with IPL till last year was extended only to advertising, this year it will bring more brand visibility along with live broadcasting. "We have seen a great fit where a tournament like IPL has a maximum growth. Last year, we witnessed significant growth Pre vs Post IPL and, we are anticipating that level of growth to happen this year as well. Therefore, from a ROI perspective, we are extremely confident that it will justify in terms of a marketing spends we are allocating for IPL tournament. There are different ways to look at ROI, whether it is an improvement or in overall Brand Health Metrics, market share or acquisition of customers. All of these will see significant increase so that's how we will measure the ROI," Mudaliar explained.
Sharing, what kind of marketing mediums the brand will opt to communicate to its target audience? He replied, "Our significant amount of spends have been on digital mediums. In the last 12 months, we also have started using TV medium for the advertising. Majority of spends will be on digital, it will be largely split into two buckets, what we called as 'Performance and brand advertising' and Television. For this period, the ratio of digital and TV will be 70:30."
The brand has not restricted itself to just IPL in fact, it has partnered with ICC, ISL, PKL, NBA and others.
When quizzed, was it a pre-planned strategy and how successful it has turned for the brand, Mudaliar stated, "Yes, It is a conscious strategy to try and partner with like- minded sports league. IPL is the latest addition. That's part of an overall strategy; we are talking to the same user base, who is interested in sports. All the leagues have realised the importance of how fantasy sports in particular increases fan engagement and drives higher stickiness to their own Sports Leagues for the tournaments. It is highly synergetic in nature and has a symbiotic relationship between sports league and fantasy sports platform."
"There was a lot of research done by us and the data suggests whenever a particular Sports League gets offered on a fantasy platform, there is a higher level of engagement that tends to give overall benefits to sports ecosystem. Such associations have worked well for us and will continue to seek more partnerships in the future," he added.
According to him, the fantasy sports category in India has grown excessively in the last four years, "We currently have a user base of 52 million, although the category has become competitive with the entry of more players but we still have a predominant market share, close to 90 per cent. The digital infrastructure is one of the reasons where fantasy sport is increasing; the high internet penetration has helped the category. Consumers are becoming familiar to apps; there is an overall momentum in the ecosystem. The emergence of Sports Leagues not just cricket but other games has increased. Though, cricket still dominates the lion's share as far as sports viewership and consumption in India but other sports league have also contributed to the overall growth in the fantasy ecosystem."
As far as reach across geographies is concerned, he defines, "IPL season gives maximum reach, and we are deeply integrating with the IPL, which is set to grow from its 1.4 billion TV impressions and 200 million online viewers in 2018. This will also help Dream11 to achieve their goal of growing their customer base from 51 million users to 100 million users in 2019."
In a 2018 IFSG-AC Nielsen survey report, India has almost 300 million sports fans who consume cricket online. Fantasy Cricket is also the most widely played online fantasy sports game, the survey reported.
"In terms of Sports Leagues and cricket, nothing is bigger than IPL globally. In Indian context, the partnership works very well for us. The brand exposure will happen through various touch points," he concluded.
The alliance will be the centre-stage for the launch of GRADO's Cotton Collection

by
Published - 2 days ago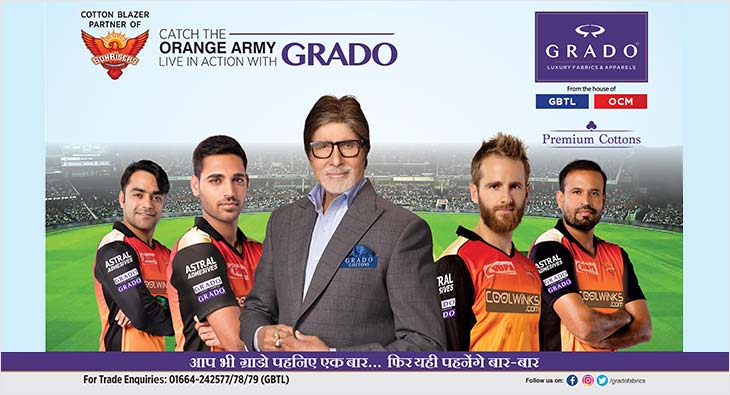 One of the leading names in the fabric and apparel Industry, GRADO from the House of GBTL and OCM joins forces with Sunrisers Hyderabad (SRH) as their Principal Sponsor and Cotton Blazer Partner for 2019. In addition to the blazing performances on-field, will also mark the launch of GRADO's Cotton Collection, with fabrics created to beat the heat and still be comfortable and fashionable.
The format of the association will be of GRADO being SRH's Principal Sponsor with logo presence on their jersey, on perimeter board, visible branding on the giant screen and collaterals for cheering at the stadium. Along with this, there will be a stand named as 'GRADO' reserved for ardent Sunrisers fans on their home turf. An experiential space will also be created for the cricket aficionados. While there will also be tickets for the team's channel partners, the sixer of this collaboration is GRADO's tie-up with key SRH players, namely Kane Williamson, Bhuvneshwar, Vijay Shankar and Yusuf Pathan. Along with making numerous runs on-field, the team members are all set to bowl us over via a shoot in stunning Cotton Collection fabrics from GRADO.
The GRADO Cotton Collection will comprise of modish fabrics in vibrant shades and patterns which include solids, checks, stripes, micro and macro structures and much more. At the epitome of comfort and style, this Collection has been crafted with impeccable quality, collation of consumer insights and industry trends.
Speaking about the association, Rajendra Agarwal, Mentor, GRADO, said, "The opportunity to collaborate with Sunrisers Hyderabad as their Principal Sponsor was a momentous stride for us. Our brand and SRH have a lot in common – team spirit, hard-work, well-synced functions and continued dedication. These synchronicities also abetted the launch of our Cotton Collection. The SRH team perfectly dovetails into our brand ethos of simplicity and sophistication."
Delighted about this alliance, K Shanmugham, CEO, Sunrisers Hyderabad said, "We are delighted to welcome Grado as the principal sponsor with Sunrisers Hyderabad for the forthcoming season Grado is a prestigious brand in the luxury fabric segment and their philosophy resonates with ours. This is an important season for us and we're looking forward to having their valuable support for what promises to be an exhilarating, and hopefully in our case, a triumphant journey ahead."