Deepika-Ranveer: Will we soon see brand 'RanDeep'?
As Ranveer Singh and Deepika Padukone get ready to tie the knot on November 15, would we get to see them coming together for brand endorsements?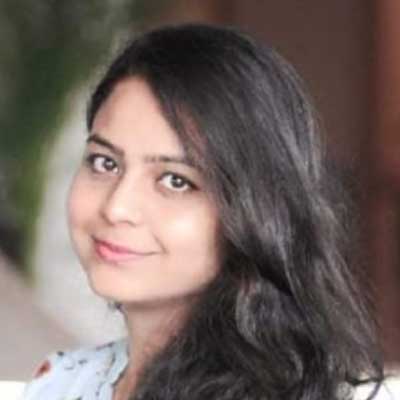 by
Published - 14-November-2018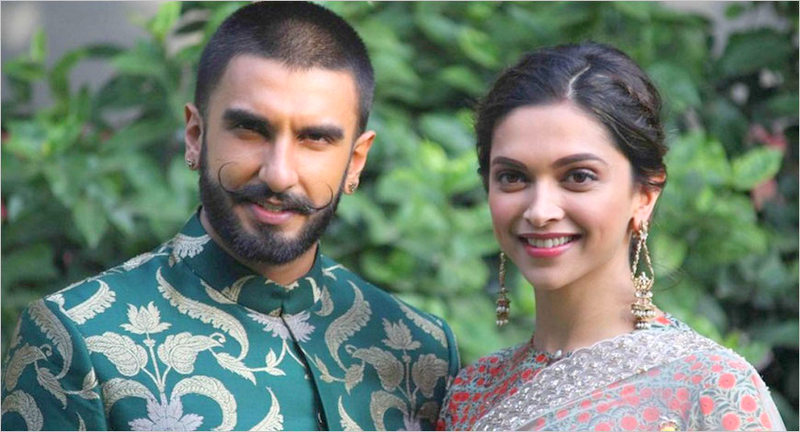 One of Bollywood's hottest couples Deepika Padukone and Ranveer Singh have become the talk of the town as they are all set to tie the knot on November 15.
Well, it is no secret that marriage between celebrities only adds to their brand value. Saif Ali Khan & Kareena Kapoor as 'Saifeena' or Virat Kholi & Anushka Sharma as 'Virushka' are already proof of the success of a couple's brand value in India.
So, could we see Deepika and Ranveer following suit? While everyone is trying to find out any possible information about the much-talked-about wedding, we thought of checking out the brand value of the two stars and understand the difference that the union will bring about.
Celebrity endorsement has always been a hit among brands and over time, we have seen an increase in the number of couples joining the race. These couples are said to charge a hefty amount for endorsing brands and products together.
In the 2017 report by Duff and Phelps titled 'Rise of the Millennials: India's most valuable celebrity brand, Ranveer Singh was valued at $42 million. The actor has been the brand ambassador of around 20 brands. It is estimated that he currently charges around Rs 3-4 crore per deal. According to the Forbes list of Top 100 celebrities for 2017, the actor made Rs 62.63 crore during the year, reportedly from brand endorsements.
On the other hand, Deepika Padukone has the highest brand endorsements in her kitty among actresses. She is currently endorsing 18 brands. Padukone charges around Rs 1-5 crore per deal. According to a media report, she quoted a whopping Rs 8 crore for a three-day shoot to endorse an airline brand.
Aman Abbas, Co-Founder Commwiser Consultants, believes, "The Deepika-Ranveer wedding creates a big opening for brands that want to attract young married couples and youth alike. We expect to see associations in clothing, jewellery, accessories and beauty categories to some fun and aspirational brands in travel and tourism, fitness, luxury and home products."
He adds, "A lot of brands now look for more than just endorsements in ATL campaigns. They are keen to showcase how they are an intrinsic part of these influencers' personal lives. Wedding being a very personal affair is the opportunity for brands to generate that visibility and trust which is far more valuable than a typical TV commercial."
However, what's interesting is that some brands that Ranveer endorses are in a direct competition with brands that Deepika endorses, like Vivo & Oppo, Head & Shoulders & L'Oreal Paris, Adidas Originals & Nike, and Kotak Mahindra Bank & Axis Bank. It would be interesting to see what new strategy these brands adopt after the marriage.
Ranjeet Kumar, CEO Team Pumpkin. "For the movie frenzy millennial, DeepVeer will surely become the next couple sensation after Virushka. Both Deepika and Ranveer have strong individual imprints on young consumers; this wedding will undoubtedly scale up their brand power as a couple. Our agency plans to optimize the added value Deepika and Ranveer will bring together, especially for the brands targeting young couples."
Brand Expert, Nupur Krishna shares, "Looking at brand Deepika and Ranveer I'd say that the whole is greater than the sum of its parts. So far, Ranveer's eclectic and effervescent style and Deepika's fresh and modern independent woman image, endeared them to their fans mostly from the younger demographic. However, marriage would lend both of them a persona of maturity and responsibility which would open them up to many more product categories. Also, I don't think it would have any adverse effect on them currently endorsing rival brands as individuals. If anything, it would add a bit of buzz as fans would speculate about the differing taste of married couples".
According to N Chandramouli, Brand Expert & CEO of TRA, "When two personalities as different as Ranveer and Deepika come together, it does not have the same context as several other celebrities. In this case, they endorse brands which are competing, banks, phones, paints etc". "I think both of them will continue to maintain individual brand personalities after their marriage too and not look at common endorsements as brand conflicts are significant and will not add to their endorsement value," he adds.
"You may see them endorsing brands together only after a couple of years. I think they can extract more value as individuals than as a couple for now," Chandramouli explains. Both the stars are on the top of their respective games and have now entered the club of 'power couples'.
And when it comes to endorsements, power couples of Bollywood have always been the first choice of advertisers. Recently, 'Virushka' made headlines when they featured in Manyavar Mohe TVC. In the past also we have seen many Bollywood couples sharing screen together for a brand.
Shah Rukh Khan and Gauri Khan appeared for D'décor, while Aishwarya Rai Bachchan and Abhishek Bachchan came together for Prestige and Lux. Kajol and Ajay Devgan have done many TV commercials together, including Whirlpool, Lifebuoy and Alpenlibe.
It will definitely be interesting to see how this power couple takes over the advertising world and what marketers and advertisers plan for them. The two are endorsing almost 40 brands together.
For more updates, subscribe to exchange4media's WhatsApp Channel- https://bit.ly/2QUdLCK
'Zindagi wins' campaign is an initiative by MY FM to honor the spirit of survivors to beat the disease with the support of their family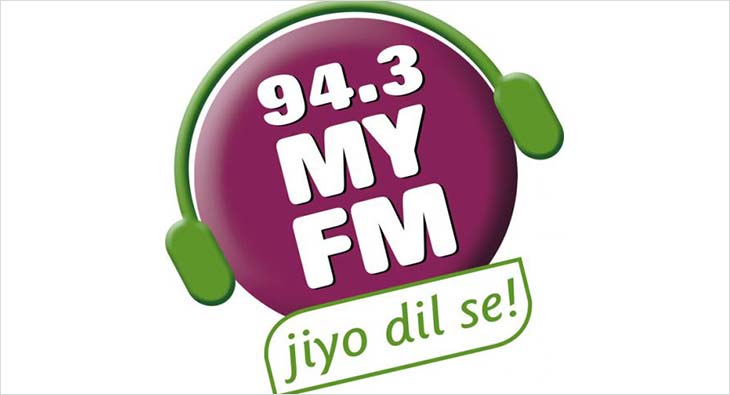 On World Cancer Day, MY FM launched 'Zindagi Wins' campaign, where the cancer survivors and their families were invited to the show and talks on their journey to win over the disease were initiated by the RJs. The survivors shared how they triumph the hard disease with their strong will power, family support and positivity towards life. The campaign was run across the cities like Indore, Bhopal, Raipur, Ahmedabad, and Rajkot.
'Zindagi win' campaign is an initiative by MY FM to honor the spirit of survivors to beat the disease with the support of their family. The fight with this disease is not as easy as the biggest side effect of the treatment is hair fall which affects the self-esteem of many patients and instills a sense of fear in them. A lot of patients use "wigs" in this phase but quality wigs are expensive. Also, there is a lack of awareness about how these wigs are made and how a common individual can help in such a cause.
To spread the awareness on the same MY FM in association with "Hair for Hope" and Madad NGO urged listeners to come forward and donate their hair which will be used for making "wigs" for cancer patients. Also, RJ's of MY FM also motivated the listeners to come forward and support the campaign. Mansvi Joshi, 12-year-old from Indore was one of the youngest donors who heard about the campaign and wanted to bring a smile on someone's face by donating her hair. Rashmi Sagar, 56-year-old from Bhilai donated her hair as she paid a tribute to her mom whom she had lost to this deadly disease.
Irene George, 38-year-old did her bit as she had seen her close relatives battling the disease and the going through the anxiety of hair loss. Pojaba Sodha, 23 yr old form Ahmedabad was from a traditional family where she could not even trim her hair without parent's consent but once she shared her desire to contribute her hair for this noble deed, her parents supported her and she donated all her hair for wigs of cancer patients. Around hundreds of individuals contributed to the campaign. Not only the individual but MY FM's RJ Anjali from Indore also donated her hair during the campaign.
Expressing his feeling on the campaign, Vinay Manek, Programming Head said, "Looking at the increasing rate of cancer patients, MY FM initiated 'Zindagi Win' campaign with the aim to salute the spirit of the survivors & their families, spread the awareness around the disease and also swell encouraging stories of them. 'Zindagi win' is MY FM's small initiate to do our bit for these real heroes. Also, with this campaign, we wanted to increase the awareness of hair donation in India and also educate society on how individuals can contribute to helping them fight this hard disease. It has been heartening the way the listeners have responded in large numbers and their response coupled with our RJs efforts have clearly created a resonance for the campaign."
For more updates, subscribe to exchange4media's WhatsApp Channel- https://bit.ly/2QUdLCK
The brand has roped in stand-up artistes Rahul Subramanian and Kumar Varun for the campaign

by
Published - 5 hours ago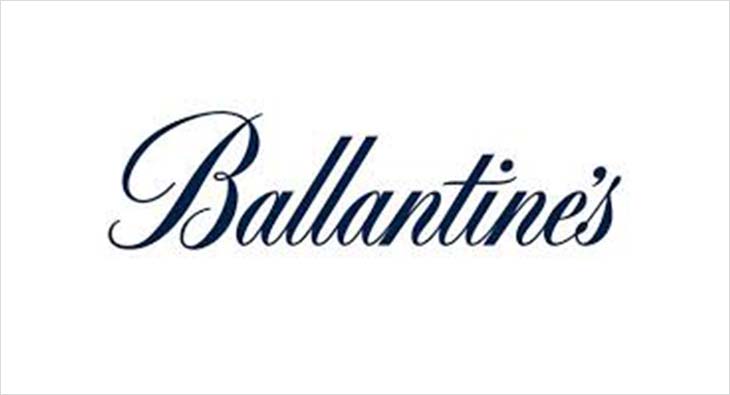 Ballantine's India has announced the launch of its on-ground multi-city campaign – Unofficial Evenings-- in the country. In line with the brand's philosophy of staying true to one's self and not conforming to prevalent norms without questioning them, Unofficial evenings would discuss the current state of affairs in the corporate world, albeit in a lighter vein.
Ballantine's India has roped in stand-up artistes Rahul Subramanian and Kumar Varun for the show. Interestingly both ventured into this genre after quitting their corporate jobs, to follow their passion. The performances would be witnessed in the key cities across India. Bengaluru hosted the first Unofficial Evening on the 15th of February.
Speaking about the launch of the Unofficial Evenings, the company's International brands head Girish Patil, said "As a brand, Ballantine's ethos lies in being true to one's self. We strongly believe that success is no longer restricted to those in the corner office. With this launch, we intend to bring together and celebrate those who believe in themselves, let go of their inhibitions, question the norm and do things the way they feel would help them secure their goals and ambitions. As a brand we would continue to create platforms which would bring together these people in a fun and convivial setting."
For more updates, subscribe to exchange4media's WhatsApp Channel- https://bit.ly/2QUdLCK
Brands such as Ola, Durex, Dairy Milk Silk, Zomato, Sunsilk, Netflix and even Mumbai Police, have all been using 'Gully Boy' memes to entertain the audience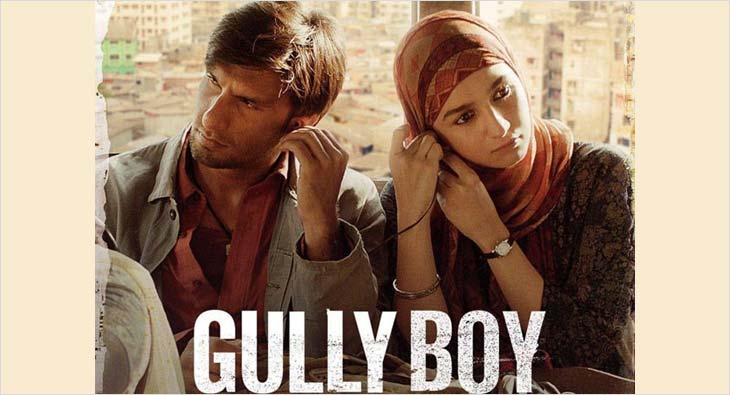 Remember the Rajdoot GTS 175 from the 70s? Yes, it is the same bike that was nicknamed Bobby. It has been close to 5 decades now but the Rajdoot GTS175 is still sometimes remembered as the "Bobby bike" from Rishi Kapoor's popular 1973 film Bobby. That's the power of Bollywood in India. The romance between Bollywood films and brands have only grown stronger over the years and director Zoya Akhtar has made sure she makes the most of it with her film Gully Boy. This new Bollywood release starring Ranveer Singh and Alia Bhatt has taken in-film brand placements and brand integrations to newer heights making it a case study for a mutually beneficial proposition for brands as well as films to follow.
Some prominent in-film brand placements have been done by brands such as true Caller, JBL, Adidas and Social Offline. The brands have been subtly blended with the film plot, but also smartly enough to make them stand out. True Caller, for instance, is used by Alia Bhatt to find out who was texting her boyfriend Ranveer Singh. Protagonist Ranveer Singh on the other hand who plays the role of an upcoming rapper from Mumbai's ghetto area in a scene is overwhelmed with the experience of shooting his first music video and giving him the feel of how professional music is recorded with premium speaker brand JBL. The new star of rap from Mumbai in the course of the film also receives a gift of the premium active wear shoe brands Adidas. Lastly, playing a very important part of the film is the concert where Singh gets his big break, which takes place in the Social Offline Café.
However, it is not just in film promotions. From brands like Ola and Durex to Dairy Milk Silk and Sunsilk, from Zomato to Netflix and even Mumbai Police, all have been using 'Gully Boy' memes to entertain the audience.
"The brands have multiple effects on the popularity of the film. While the film does its promotion, each of the brands they have associated themselves with also actively promotes the film in their advertisements across media be it print, outdoors, television or digital. This adds up to the buzz being created around the film and in a situation like this, both the brand and the film gain from the situation leveraging each other's popularity," said brand expert Harish Bijoor, CEO, Harish Bijoor Consults.
Some of the brands who ran campaigns and offers around the film included JBL, Social Offline, and Ola. While SocialOffline has painted Gully Boy graffiti's across 10 of their outlets in India to bring about the rap battle scenes from the movie shot at Todi Mill Social and also designed a special Gully Boy, speaker brand JBL has started a contest where winners stand a chance to meet the cast of the film on buying their speakers.
The film that has its own app allows users to record their rap and send in entries to win prizes also has a partnership with Ola. Rap recorded on board an Ola cab and uploaded on Ola's Facebook, Twitter, or Instagram page also stand a chance to win prizes.
Breaking it down further film trade analyst Atul Mohan said, "Depending on the air time given to the brands a certain amount of charge is agreed upon. All of these brand integrations put together, bring down the production cost by a certain percentage. The concept is an old one. In recent times, Koi Mil Gaya is a film that used brand integrations a lot with getting Nescafe, Pepsi, Bournvita and other brands on board. But Gully Boy has used the tool a lot more effectively and aggressively. This trend will only pick up more from here,"
For more updates, subscribe to exchange4media's WhatsApp Channel- https://bit.ly/2QUdLCK
The Head of Marketing at VIP Industries Limited says that Caprese's primary TG is the young and married women who wish to indulge in the latest fashion trends at an affordable price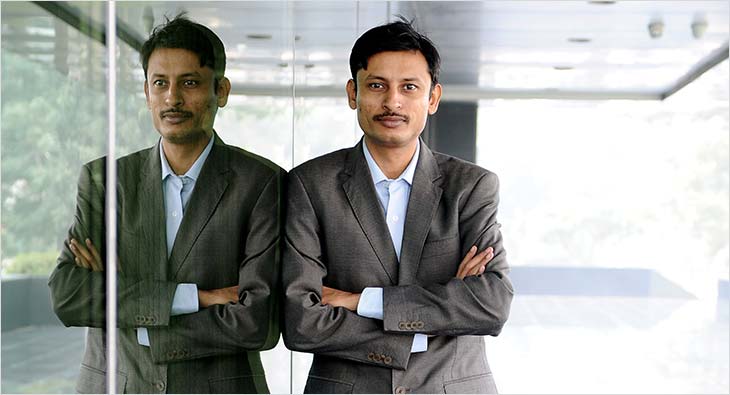 Caprese, the handbag brand from VIP Industries, recently launched its Summer Resort '19 collection 'Qo'shilish' in collaboration with fashion designer Payal Singhal at the Lakme Fashion Week. Anirudh Pandharkar, Head of Marketing at VIP Industries Limited, says that Caprese's association with Lakme Fashion Week has grown stronger over the years and with every passing season, the brand's engagement has become increasingly synergistic and integral.
"The association has a lot more to it beyond launching the season's collection at the Lakme Fashion Week. The association has evolved to incorporate on-ground activation programmes to connect with the fashion audience frequenting the event," he says. He adds, "The association has definitely helped us position Caprese as a premium, fashionable and accessible brand to our target consumers. Since fashion week is a hub for fashion from all around the world, our association with them has helped establish the fashion credibility of Caprese."
Another long association the brand has had is with actor, Alia Bhatt – Caprese's brand ambassador since 2014. Commenting on how the brand has leveraged this partnership, Pandharkar says, "Alia is our Caprese Girl. She has an extremely inspiring sense of personal style, which further helped us launch the CapreseXAlia collection. She is the best fit for the brand as she embodies the style of today's modern woman."
Defining the TG, he says that the primary TG for Caprese is the young and married women. Being an affordable fast fashion brand for the young, Caprese's marketing and communication is centered around the young woman who wishes to indulge in the latest fashion trends, and seeks fashionable goods at an affordable price.
Building on the TG preferences and consumption patterns, he says, "A Caprese consumer prefers flaunting her bags as per the occasion and thus needs to buy an eclectic range of handbags suitable for every occasion. This insight plays a crucial role in establishing a consumption pattern. We are a mid-premium brand catering to precisely these needs of the consumer. Our media mix is a good combination of TV, print, online and social media."
Talking about the challenges in reaching out to the TG he says, "From the brand's lens, our target audience is tremendously media savvy, and traverses multiple media vehicles comfortably. For Caprese, finding the right mix of influencers, media vehicles and their genres proves to be slightly challenging at times."
The brand has seen strong growth with a CAGR of above 40%, as result of diversification of product mix and advertising. The overall growth has also benefitted from increase in the number of working women, increase in disposable income, increased exposure caused by the internet, development of retailing and specialty stores and growing acceptance of handbags as a lifestyle product.
For more updates, subscribe to exchange4media's WhatsApp Channel- https://bit.ly/2QUdLCK
The RS series will have multiple drops throughout the year, with each telling their own stories of reinvention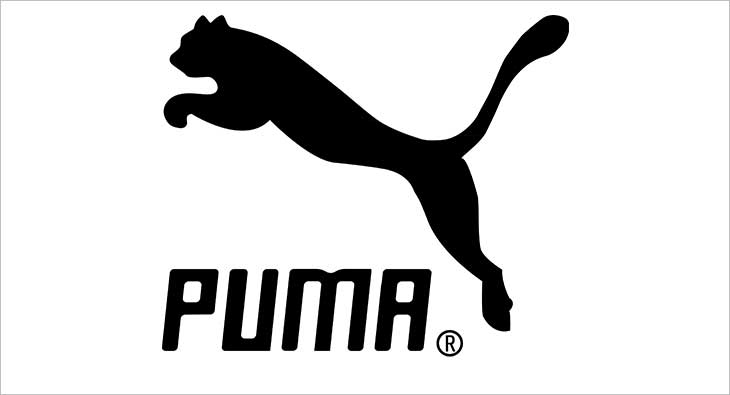 Puma India kick started the season with an exclusive launch for their new RS-X range at Khar Social in Mumbai on Saturday 9th February. Nodding to the '80s, the experiential pop-up space showcased the rebooted PUMA RS (Running System) range of sneakers while narrating stories of extreme reinvention. The exclusive event was attended by celebrities, sneakerheads, press, and industry movers and shakers.
The event saw not just the reinvention of PUMA's RS shoe but of a unique movement in sneaker culture by partnering with influential, individuals and institutions that push culture forward. Celebrating reinvention and retro-futurism, PUMA created a space that epitomizes "old meets new". With musical performances, art displays, gaming consoles and more, PUMA India has elevated the RS-X experience.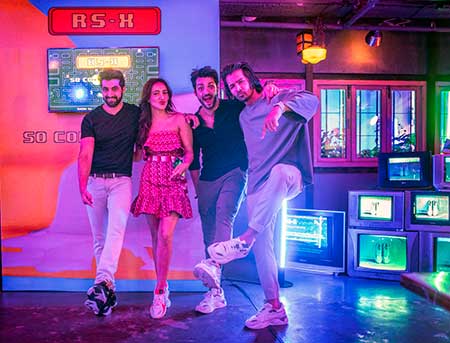 L-R: Akshay Oberoi, Neha Sharma, Karan Wahi and Harshvardhan rane
Khar Social was revamped with RS-X sneaker art, installations, quirky photo booths, and surreal projections. Taking the attendees back in time with cool retro experiences, PUMA had a claw machine filled with Hot Wheels toy cars and a DDR music video game.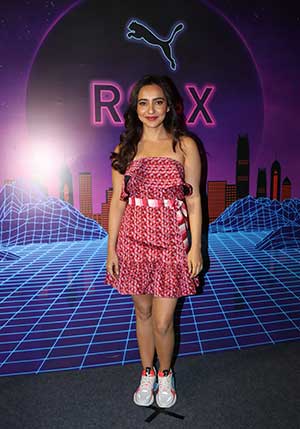 Neha Sharma
Adding further to the experience, PUMA, played host to artists such as Priyesh Trivedi a.k.a Adash Balak, Nishaant Fogaat, Tejas Niar, Big Fat minimalist- Anniruddh Mehta who created their artistic rendition of the RS-X shoe, which were displayed in capsules and audio-visual units around the venue.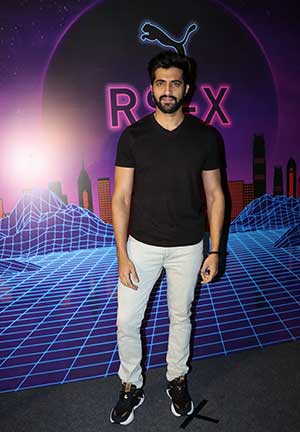 Akshay Oberoi
The mezzanine floor of Khar Social was what created the most noise with a display of the all-new RS-X drops. A centre table displayed the immensely popular and much – awaited RS-X Hot Wheels collection on a very cool Hot Wheels track. A trophy wall cabinet proudly showed off the RS-X Trophies and a super slick wall installation dangled the RS-X Toys sneakers. An augmented reality photobooth added an interactive element to the display. A stack of nine televisions brought to life the RS-X OG sneakers. The 'So Collectables' Pac- Man video, based on the original 1980's phenomenon, streamed a game in which Pac-Man was on a mission to snap up all the RS-X kicks in the maze. Guests were treated to live performances by Major C followed by Aniruddh and Tejas.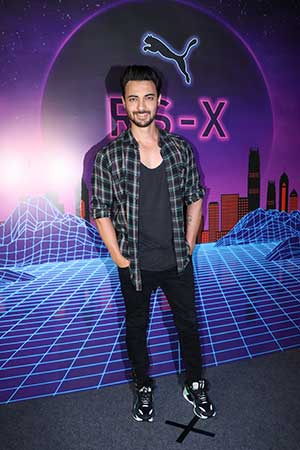 Ayush Sharma
Back in the '80s, the original RS (Running System) was PUMA's innovative, high quality cushioning technology. Today, the brand has rebooted the RS design to create the RS-X – inspired by sport but made for the street. X marks extreme, exaggerated, remixed. The RS-X tells stories of reinvention to the extreme with its bulky design, material mixes, and bold color palette. With RS-X, PUMA takes its collab game a notch higher by partnering with brands that echo the same language with exciting iterations of the RS-X.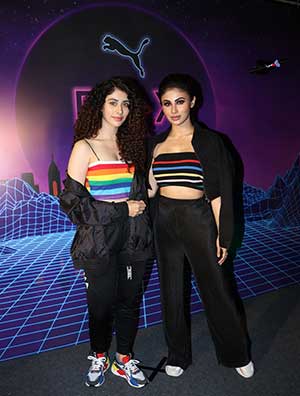 Warina Hussain and Mouni Roy
The RS series will have multiple drops throughout the year, with each telling their own stories of reinvention. Stay tuned to @pumaindia on Instagram for more cool updates on the RS-X collabs dropping next. Available at PUMA.com and PUMA stores across India.
For more updates, subscribe to exchange4media's WhatsApp Channel- https://bit.ly/2QUdLCK
Priced at Rs 7390, it also allows listeners to enjoy a personal collection of songs by plugging in a USB drive or running songs from your phone via Bluetooth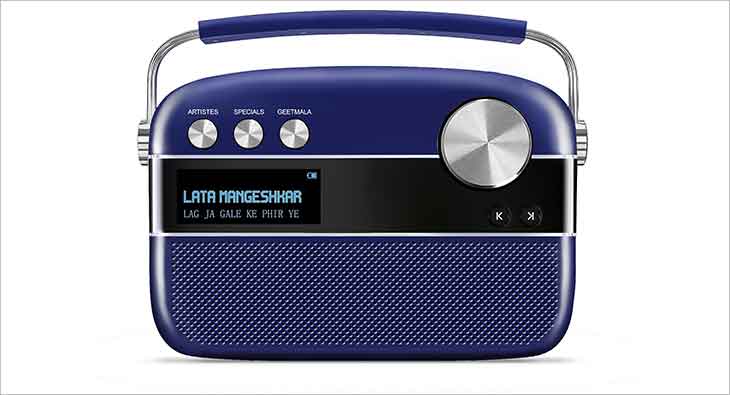 "Aae meri Zohra Jabeen" or "Tujhe Dekha toh ye jaana sanam.." Don't these melodies refresh memories of love and romance? There is no better way to express love than music! And if it is old Bollywood melodies, it just adds cherry to the cake. Make this Valentine's evening all the more romantic with a gift of love this year– gift Saregama Carvaan.
No matter what age bracket you fall in or how many years you have been together, an expression of love is always important to make your life happier and Saregama Carvaan is a perfect gift that becomes part of both of your lives and keep the love quotient alive.
Pre-loaded with a curated selection of 5000 evergreen Hindi songs, Saregama's Carvaan Premium brings all-time favourites – right from Ameen Sayani's Geetmala to R.D. Burman's lively hits, to the popular tunes of Kishore Kumar, Lata Mangeshkar, Asha Bhosle, Mohd Rafi and Mukesh – each category will surely take listeners down a nostalgic memory lane into the golden era of music. It also has the charm of the old-world radio which enables you to switch to your favourite station.
Priced at Rs 7390, it also allows listeners to enjoy a personal collection of songs by plugging in a USB drive or running songs from your phone via Bluetooth. Whether It is your girlfriend or mother, husband or grandfather, express love to everyone this Valentine's Day with Saregama Carvaan!
For more updates, subscribe to exchange4media's WhatsApp Channel- https://bit.ly/2QUdLCK
New Protinex Lite promises to cater to today's health conscious consumers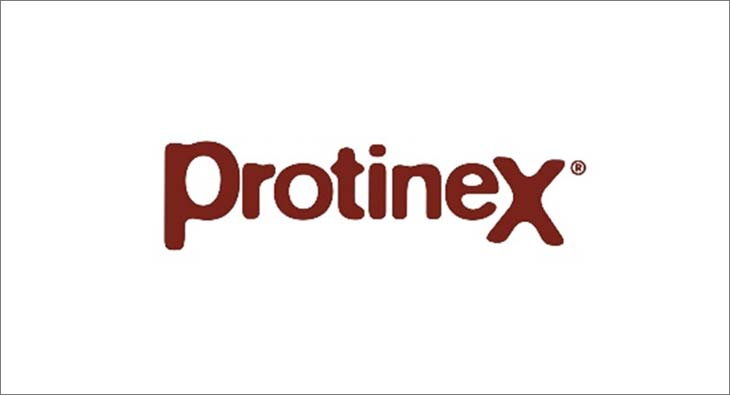 Protinex launches high protein nutrition drink with zero sugarNutricia International Pvt Ltd (Danone India), with its mission 'to bring health through food', has introduced to its nutrition portfolio Protinex Lite.
New Protinex Lite promises to cater to today's health conscious consumers who seek the benefit of both High Protein and zero sugar. Protinex Lite comes with a formulation of Zero Sugar, Low GI, High Fibre and 27 vital nutrients with an aim to address protein deficiency among adults in India.
Himanshu Bakshi, Director - Marketing and HCNS, Danone India said, "Food companies have a vital role to play in enabling healthier lives through healthier food choices. We strive to meet the needs of Indians through health-focused product offerings responding to today's and tomorrow's food trends. Launch of products like Protinex Lite answers to the ever-expanding consumer need landscape with compelling, differentiated USP of Zero Sugar & High Protein."
Nandan Joshi, Head – Nutrition Science & Medical Affairs, Danone India said, "Some people believe that Protein supplements are only for specific medical conditions, which is not true. While some may be more suitable as per one's health needs, not many people are aware about the right amount and type of protein to consume. This is important because meeting one's daily protein requirement is essential to maintain good muscle health. In special cases, such as, diabetes and obesity, it becomes necessary to consider options that have no added sugar."
"Protein is an important nutrient of my daily diet and with the new Protinex Lite, I am positive that not only will I be able to meet my daily protein requirement but also do it in a better way with 'no sugar'. I am truly proud of my association with Protinex and I hope to continue to spread the message of protein rich diet for active lifestyle & good health amongst the masses," said Protinex brand ambassador Mahesh Babu.
"Danone is making concerted efforts to build the importance of Protein in Muscle Health, we truly believe that poor Muscle Health is a big health concern that Indians need to focus on. Protinex recently launched its new campaign #ProtinexForMuscleHealth to establish the importance of protein for good muscle health among Indians," Himanshu Bakshi said.

For more updates, subscribe to exchange4media's WhatsApp Channel- https://bit.ly/2QUdLCK
The Valentine's Day posts soon got a #PlotTwist with both of them revealing the identity of their true love - beverage brand Pepsi®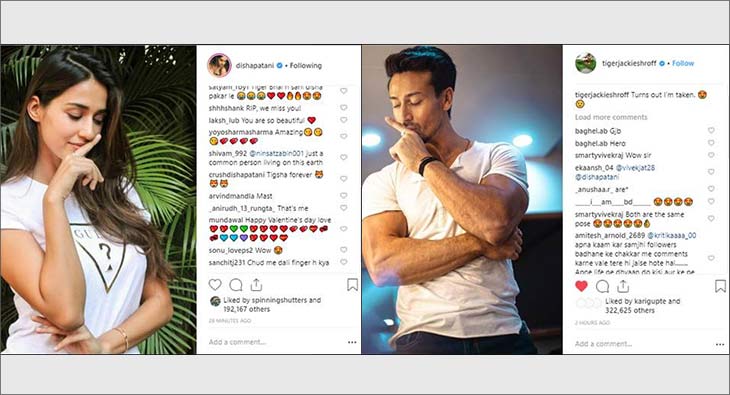 It's that time of the year again when Instagram is full of Valentine's Day photos. But two pictures in particular took social media by storm today. Bollywood's favorite stars of the new generation, Disha Patani and Tiger Shroff took to Instagram to share pictures of their rings.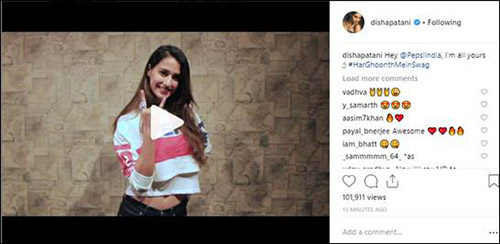 Disha captioned hers' 'Someone popped the question, and I said yes', while Tiger's post had the caption 'Turns out I'm taken'. The Valentine's Day posts soon got a #PlotTwist with both of them revealing the identity of their true love - beverage brand Pepsi®.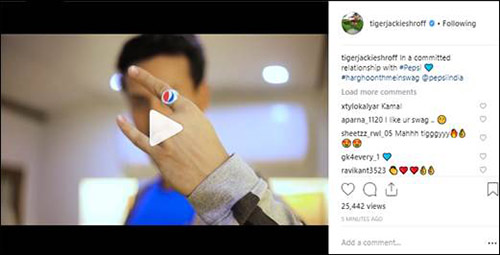 Disha declared her love for the brand through a post which said "I'm all yours", while Tiger confessed he couldn't get enough of the brand's swag.
For more updates, subscribe to exchange4media's WhatsApp Channel- https://bit.ly/2QUdLCK
The handbook will be sold on Amazon and Flipkart, and at select  Café Coffee Day outlets
Britannia's Little Hearts biscuit brand is making an industry-first move by unveiling its one-of-a-kind Heartbreaker's Handbook.
Building on the existing brand message that encourages teens to break some hearts, the illustrated handbook is a step-by-step guide to breaking hearts like a pro.
The Heartbreaker's Handbook will be available for purchase on Amazon and Flipkart. Teens can also find the Handbook at select Café Coffee Day outlets across the country.
The illustrated Heartbreaker's Handbook provides the do's and don'ts of casual dating, witty comebacks that portray confidence and break up inspiration. The Handbook is the perfect companion for India's savvy, digital-first generation.

Ali Harris Shere, Vice President – Marketing, Britannia Industries Limited, says, "Little Hearts is not just a biscuit, it is an emotion. The unique heart shape of the biscuit has been evolved its messaging for today's teens by encouraging them to break some hearts. Hence, taking a leaf out of this thought is our Little Hearts Heartbreaker Handbook. This is one book which doesn't give the same stale-mushy love and relationship advice. We decided to take on the challenge — kill all the mush and give teens a 101 guide to breaking hearts."

Priya Shivakumar, National Creative Director, JWT, said: "Little Hearts wanted to reconnect with their audience with a fresh new take on love. The time was right for a different conversation to capture the imagination of today's too lucky in love generation - " Break some hearts".
To help decode this cool new language, we designed the heartbreakers handbook. #Breaksomehearts 101 – a step-by-step guide to breaking hearts like a pro. It's a light breezy and funny guide to navigating relationships today with pointers on saying no without being rude, tips on friendzoning, rebuttals for pick-up lines, ways to get out of dates with fun things to do and discover on each page - break-up cards, stickers, songs with a twist and lots more."
For more updates, subscribe to exchange4media's WhatsApp Channel- https://bit.ly/2QUdLCK
Social Offline has painted Gully Boy graffitis across 10 outlets in India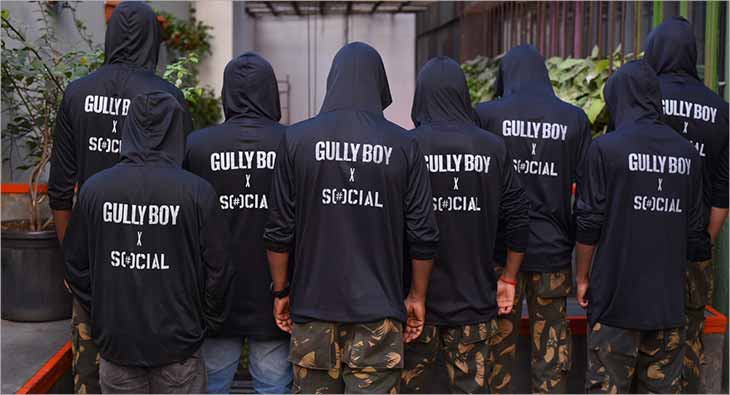 Social Offline has collaborated with 'Gully Boy'. To take the association to a different level, SocialOffline has painted Gully Boy graffitis across 10 outlets in India (Mumbai, Delhi, Bangalore, Chandigarh and Pune) to bring about the rap battle scenes from the movie shot at Todi Mill Social.
They will also have a special Gully Boy menu, including Mumbai's famous street food like Rapchik Pao Bao, Keema Dhamaka and Ekdum Mast Momos. The staff will also be donning the Gully themed hoodies.
For more updates, subscribe to exchange4media's WhatsApp Channel- https://bit.ly/2QUdLCK