Sony MAX2 launches Season 3 of 'Timeless Digital Awards'
The channel celebrates the foundation of Hindi cinema and calls out to vote for their 'Sadabahar' stars from the 50s and 60s
Sony MAX2 'Timeless Digital Awards' is back with its third season showcasing an era of Hindi cinema that is evergreen till date. The 'Sadabahar' 50s and 60s gave birth to several inspiring masterpieces with legendary actors and films that became the voice of the common man dealing with societal issues, characters that allured us with enchanting romance and songs and stories that evoked compelling emotions. Sony MAX2 is commemorating this glorious era by giving due reverence to what Indian Cinema started with.

Launched in 2016, the digital awards have seen stupendous growth year on year. What started with an audience voting of eighty thousand in its inaugural year, grew to four lakhs in its second year. With new additions, the third year packs a punch with exciting new categories and fun engagements online to keep participants entertained throughout. This year the channel celebrates the many firsts of Hindi cinema that make for #IndiaKiShaan in the Timeless Digital Awards Season 3.

To participate, viewers will have to login to the microsite via Facebook, Twitter or a verified Email ID. The digital awards will be conducted through a specially curated microsite https://max2awards.sonyliv.com/ giving fans a chance to vote across eleven 'Sadabahar' categories that include Sadabahar Child Artist, Sadabahar Actor, Sadabahar Actress, Sadabahar Director, Sadabahar Comic Artist, Sadabahar Thriller, Sadabahar Music Director, Sadabhar Prem Kahani, Sadabahar Epics, Sadabahar Critics and Sadabahar Star. Voting lines are open to users from March 20. The winners across all categories will be judged based on maximum user votes and will be honoured on a digital Wall of Fame across the channel's social media pages.

While the microsite will be buzzing with votes from fans, viewers can immerse themselves in nostalgia and read all about the films of the 50s and 60s on the #TimelessTales page. Moving with today's generation but keeping the essence of the yesteryears intact, Sony MAX2 is putting together a platform where fashion meets icons. The channel is collaborating with the fashion influencers of today to recreate the #SadabaharLook from the era. Apart from that, fans will also come face to face with that era's moving memory, the SadabaharScope, the channel's 360-degree interactive format created especially for the fans.

Vaishali Sharma, Senior VP, Marketing & Communications, MAX2 said, "Sony MAX2 has always believed in celebrating the greatness and richness of Indian cinema. Timeless Digital Awards are an innovation and a step in that direction. Given the colossal success of the first two seasons, we thought it to be apt to launch Season 3 and celebrate the 50s and 60s era that witnessed the building of Indian cinema's foundations. This era holds a special place in the hearts of many and we hope to bring alive India's artistic pride. Our intent is to create a platform where we engage, entertain and interact with our fans and followers off-screen. We look forward to our viewers participating and making it yet another successful year for the Timeless Digital Awards."
exchange4media Group Service
The movie will premiere under the Flix First Premiere on Sunday, November 25 at 1 p.m and 9 p.m on &flix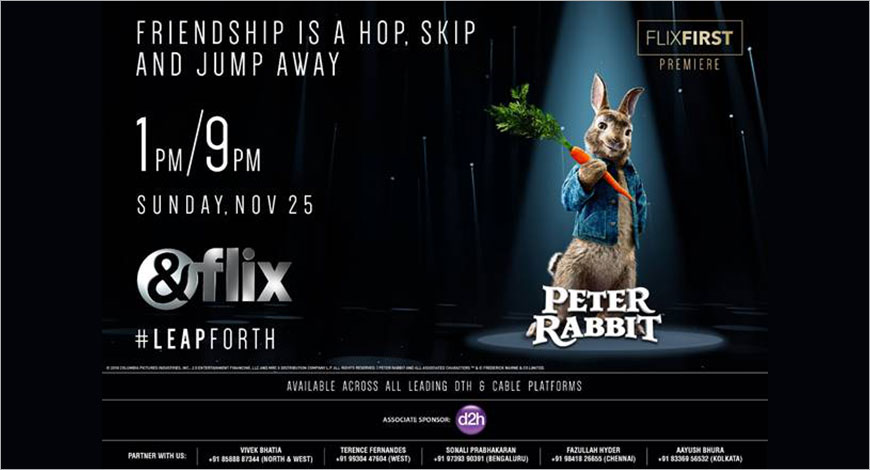 Hippity skippity hop, is the garden really yours, Peter? We think it is not! Beatrix Potter's adored anthropomorphic bunny Peter Rabbit makes his debut under the Flix First Premiere for the first time on television this Sunday, November 25 at 1 p.m and 9 p.m on &flix.
To give more of the mischievous rabbit, the movie will also be telecast as a Club Privé property of &Privé HD and Zee Café. Directed by one of the finest directors in Hollywood Will Gluck, Peter Rabbit is exceptionally funny and full of excitement featuring the likes of James Corden and Margot Robbie.
The animated movie is about Peter Rabbit, his cousin Benjamin Bunny and his three sisters Flopsy, Mopsy, and Cotton-Tail who enjoy spending days in Mr. McGregor's vegetable garden. The fun times comes to a standstill as Thomas moves in the house after Mr. McGregor's demise.
While fighting the rabbit, Thomas is smitten by pretty, bunny-loving artist Bea. Needless to say, the relative is least thrilled to find the animals flocking the house and garden and then starts the real tiff between them without Bea noticing it.
The movie showcases an epic battle of survival between the rabbits and Thomas and how both find their way out of the traps laid by each other.
exchange4media Group Service
The tournament aims to spread the vision of football as a global sport that brings people together from different backgrounds and cultures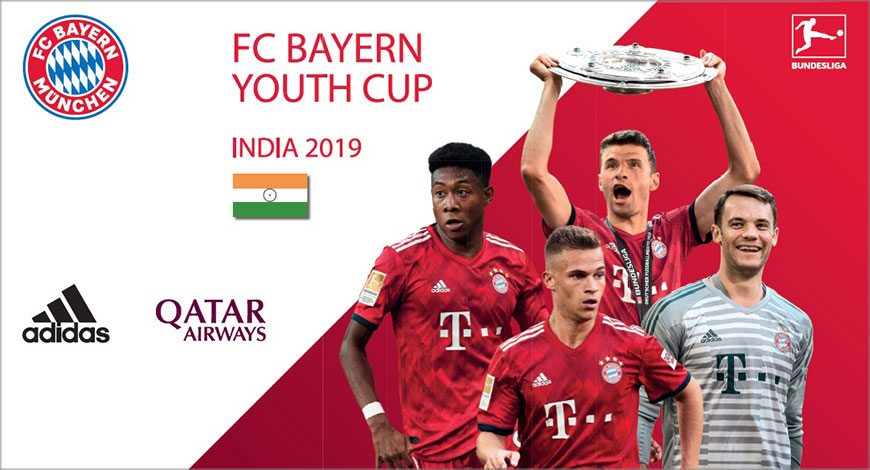 Qatar Airways, in association with German football club giant FC Bayern München AG and Adidas, are proud to announce the sixth edition of the FC Bayern Youth Cup India 2018-19, taking place from the end of November until 3 February 2019 at Adidas, the Base – Plaza in New Delhi, India.
The FC Bayern Youth Cup is an under-16, seven-a-side inter-school football tournament that will pitch elite school teams from New Delhi, Mumbai, Bangalore, Kolkata, Chennai and Srinagar to compete against each other, giving the budding footballers a platform to showcase their talent to win a dream trip to represent 'Team India' and compete in the FC Bayern Youth Cup World Finals, taking place in Munich in May 2019.
The prestigious tournament aims to spread the vision of football as a global sport that brings people together from different backgrounds and cultures. Selected players will also get a chance to watch a Bundesliga match at the iconic Allianz Arena in Munich.
Speaking on the launch, Salam Al Shawa, Qatar Airways Senior Vice President of Marketing and Corporate Communications, said, "Qatar Airways is thrilled to support the FC Bayern Youth Cup 2018-19 in India, further inspiring future generations in sports. Football as a sport has grown tremendously in India over the last decade, and with the recent FIFA U-17 World Cup tournament held in India, the sport is poised for further growth in terms of both participation and interest. "We look forward to engaging with the club and the fans to enhance upcoming talent and make a positive difference to the growth of football in India. Sport is a key pillar of the long-term vision of the State of Qatar, and as Qatar's national carrier, we welcome the opportunity to use sport as a means of bringing people together. It will be an honour to fly the winners of this tournament to the world finals in Munich in May 2019."
Football legend and former FC Bayern München AG player, Bixente Lizarazu is due to visit Delhi for the national finals taking place in India in February 2019 ahead of the world finals, to encourage participants and give them a glimpse of what is in store for the winning team. Lizarazu has earned varied accolades during his career which includes six times championing the German league, winning the Champions League 2001, the World Cup 1998 and the European Champion 2000 with France.
Commenting on the sixth edition of the FC Bayern Youth Cup India, Bixente Lizarazu said, "India has surprised everybody with the talent it has produced in football, despite entering the football scene at a much later stage as football isn't a main league sport in the country. It's such an honour to be able to monitor the progress of these young teams, impart my learnings to the best possible extent and watch these budding talents amaze me with their skill set."
Adidas India Senior Marketing Director, Sean Van Wyk, added "Adidas, as a global leader in football, has been constantly taking initiatives to nurture football in India and to introduce new avenues to inspire the youth to partake in the sport. The FC Bayern Youth Cup is one of the key initiatives that reaffirm the brand's constant efforts to promote and nurture football at a grass root level in India. It is an opportunity for young talent to compete and test their skills in an international environment. This year, the winning school team from the tournament will represent 'Team India' at the World Finals, and I am sure this will encourage the school teams to put in their best to secure a truly memorable experience that awaits them in Munich."
Qatar Airways holds an extensive global sports portfolio, sponsoring some of the biggest teams around the world. In addition to its existing partnership with the German football club giants FC Bayern München AG, for which it is a Platinum Partner, Qatar Airways also recently revealed multi-year sponsorship agreements with Italian football club AS Roma, and with Argentinian football club Boca Juniors, which saw the award-winning airline become the Official Jersey Sponsor for both teams. In addition, Qatar Airways is the Official Global Airline Partner of The South American Football Confederation (CONMEBOL).
The multi-year agreement will provide Qatar Airways with maximum exposure in South America, while further strengthening the airline's global sponsorship portfolio. Qatar Airways also sponsors the NBA's Brooklyn Nets and the team's home, Barclays Center in Brooklyn, New York – a venue that hosts many of the world's most exciting entertainment and sporting events. In May 2017, Qatar Airways announced a ground breaking sponsorship deal with FIFA, which saw the award-winning airline become the Official Partner and Official Airline of FIFA until 2022.
The partnership, one of the biggest sporting sponsorships in the world, will give Qatar Airways extensive marketing and branding rights at the 2022 World Cup Qatar™, with an expected audience reach of more than two billion people. The agreement sees Qatar Airways become the Official Airline Partner of the FIFA Club World Cup™, the FIFA Women's World Cup™, the FIFA Under-20 and Under 17 World Cups™, the FIFA Beach Soccer World Cup™, and the FIFA Interactive World Cup™.
exchange4media Group Service
The channel will mark the occasion with a selection of its best and most appreciated shows which will run from 1 pm onwards on 19th November 2018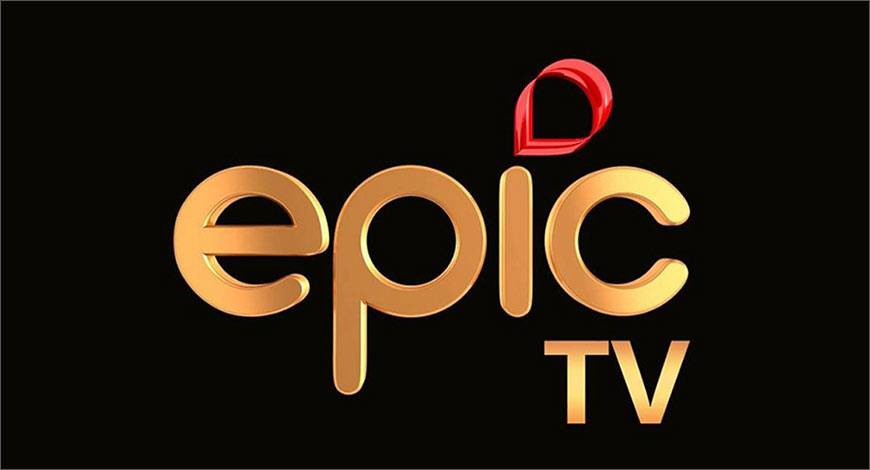 Launched on November 19, 2014, Epic celebrates the completion of four years on the air, in which it has set aspirational benchmarks for Indian TV content. During this short run, it has already accrued a formidable reputation as a premium content hub with signature shows such as, Stories by Rabindranath Tagore, Devlok with Devdutt Pattanaik, Tyohaar Ki Thaali, the Raja Rasoi series, Umeed India and its latest offering – Regiment Diaries, which is a never before attempted comprehensive series on the Indian Army.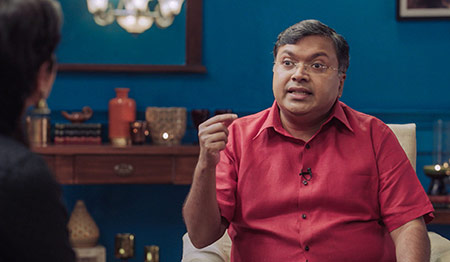 Devlok with Devdutt Pattanaik
Showered with critical acclaim and a loyal following for its array of innovative programming, the channels content has found resonance and support from some of the most recognizable, and respected personalities in the country including Javed Akhtar, Mahesh Bhatt, Virender Sehwag, Devdutt Pattanaik, Sakshi Tanwar, Juhi Chawla, Radhika Apte, Naseeruddin Shah, Rasika Dugal and Ranveer Brar.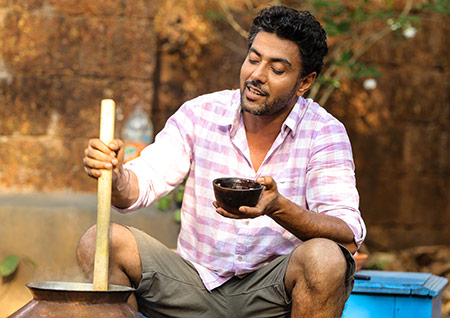 Raja Rasoi aur Andaaz Anokha
Speaking on the occasion, Aditya Pittie, MD, EPIC Channel, said, "Over the last 4 years our aim has been to break through the clutter of the Indian television space and bridge the gap in Indian infotainment. We have evolved since our entry into the space and we are thrilled to have carved a strong identity as quality and original content creators. Our viewers have been our primary focus and we are thankful for their loyal support and constant appreciation, as we continue our run in creating quality content for Indian infotainment".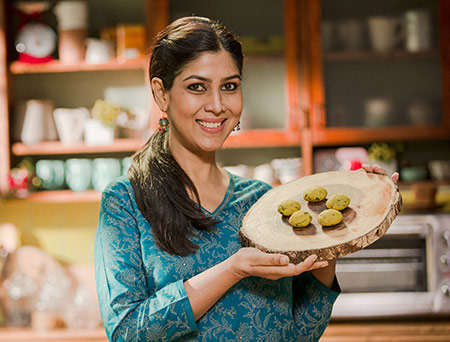 Tyohaar Ki Thaali
On the eve of its 4 year anniversary, the channel has also won the prestigious Indian Telly Technical Trade and Programming Awards for its shows Raja Rasoi Aur Andaaz Anokha and Umeed India reinforcing the fact that it has created landmark content in just 4 years and promising to introduce more breakthrough content for Indian TV audiences.
Previously for its other shows, EPIC has won ITA Award for Best Mini-Series for Stories by Rabindranath Tagore, Promax India Awards Best Innovative use of Digital for Khwaabon Ka Safar, amongst others. The channel will mark the occasion with a selection of its best and most appreciated shows which will run from 1 pm onwards on 19th November 2018.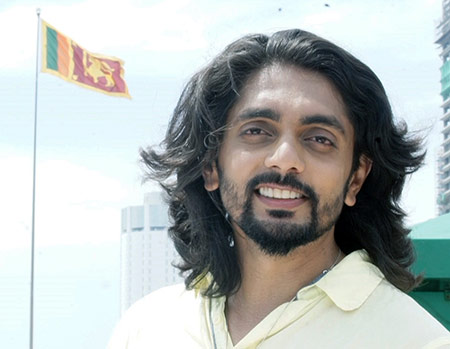 Ekaant with Akul Tripathi
Shows which will air during this course include EPIC Ke Dus - which explores the top ten thinkers of India, Adrishya – a story on the real lives of ancient Indian spies, followed by popular shows Raja Rasoi Aur Andaaz Anokha, Stories By Rabindranath Tagore, Tyohaar Ki Thaali, Indipedia, Sanrachana, Umeed India and Ekaant Sarhad Paar.
exchange4media Group Service
The 3-month program opens on 15th November with an online call-for-entries in 8 languages including Hindi, Bengali, Marathi, Punjabi, Tamil, Telugu, Kannada and Malayalam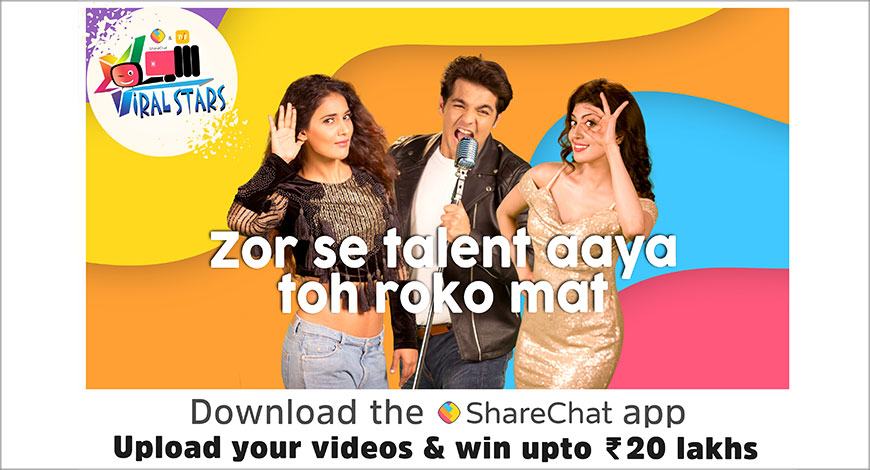 It's a great time to be talented in India – with high-speed internet, smartphone cameras and practice, anyone can become famous fast. Homegrown social media platform "ShareChat" and digital entertainment pioneers "TVF" are launching the first ever and largest all-India, digital-first talent discovery platform called The Viral Stars.
The initiative will give millions of Indian youth across the country an opportunity to showcase their unique talent and become India's next generation of Viral Stars. They will also have the opportunity to win multiple cash and other prizes along the way. The 3-month program opens on 15th November with an online call-for-entries in 8 languages including Hindi, Bengali, Marathi, Punjabi, Tamil, Telugu, Kannada and Malayalam.
Users can participate by recording a short video (up to 30 seconds) on ShareChat across categories including humor, music, dance, fashion, beauty or ajab-gajab. Contestants can continue posting videos as a creator till 15th February. A digital leaderboard that will track audience reactions, engagements and votes on each video will determine the winners.
Speaking about the inimitable concept behind the latest offering, Karan Chaudhry, President & COO, TVF said, "As Indians, we love video content - 9 in 10 Indians watch videos on their phones, across the major Indian languages. Humour, music, beauty, dance or reality are amongst top short-form genres that India loves to watch online. A new generation of digital stars is emerging with new styles of content created for their dedicated fan-bases from Shimla to Salem, from Daman to Digboi, The Viral Stars was conceptualized to provide a unique opportunity to these emerging creators to pursue their unique talent for life, aligned to our philosophy of being a platform for digital creators. Singers, dancers, writers, performers, or just talented creators with a smartphone camera are now just one viral video away from making it to the mainstream."
The Viral Stars program will visit 50 cities and engage with youth at over 200 colleges to shine the spotlight on emerging and hidden talent across campuses. The program will include on-ground activations featuring popular digital celebrities and youth influencers like Ashish Chanchlani, Mukti Mohan, Pranitha Subhash and more.
The Viral Stars program participant submissions will be live on Sharechat app in the "The Viral Stars" category and will also be presented in a 200-episode series on TVFPlay's "The Viral Stars" channel with a special focus on the youth from colleges.
Commenting on the initiative and the partnership with TVF, Sunil Kamath, Chief Business Officer at ShareChat said: "We are extremely pleased to be associated with The Viral fever to launch India's first ever all India hunt for the next Viral Stars. ShareChat is India's #1 regional social networking app developed keeping in mind the needs of Indian audience to communicate in their native languages. ShareChat has always endeavoured to provide a culturally relevant and truly Indian social media application for the country's evolving internet users. Being a truly India social media app, we understand that our country is a pool of hidden talent that can be found in every nook and corner of the country. Through this association, we want to provide our users with a platform where they can showcase their talent and get an opportunity to become the next digital stars. As of now, we are a community of 50+ million people and we believe that our search for the next generation viral star would be a huge opportunity for our community."
Commenting on the partnership with ShareChat, Rahul Sarangi, Global Head of Business & Content Development, TVF added, "ShareChat & TVF share the vision of thousands of new creative faces finding their audience – language & genre no bar. Through a strategy covering digital content, social influence and live experience, we're using our expertise to encourage more creators and rewarding great content with the recognition it deserves. With the range of our culture, geographies, and languages, Viral Stars will foster an environment of content creation with the youth."
The Viral Stars program will be supported by a nation-wide campaign "#ZorSeTalentAaya" that will roll out by mid-November. With TVF's creative acumen and ShareChat's deep reach, and strategic creator programme, Viral Stars is poised to be the widest ranging talent hunt ever created on the internet in India.
Video:
exchange4media Group Service
The #SocialForGood FB Live-athon will take place on 27th November 2018 from 12 noon to 4:00 pm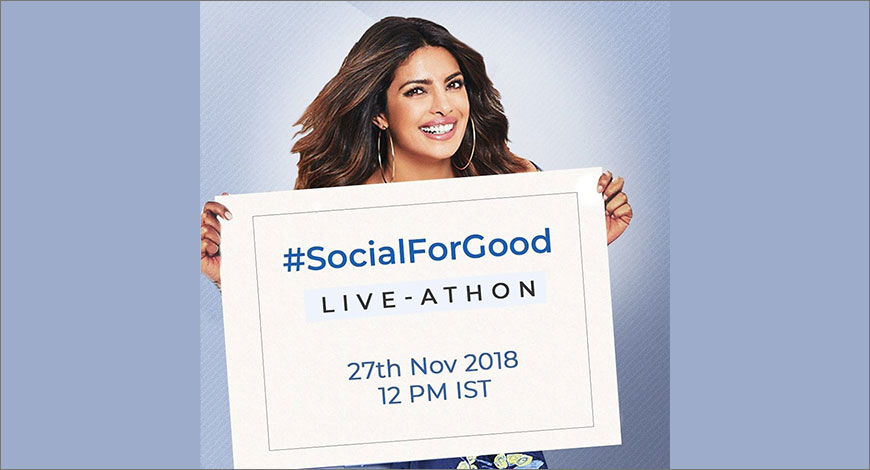 Facebook India and Priyanka Chopra are coming together to introduce the first-of-its-kind Live-athon called - #SocialForGood.
With this 4-hour Live event, on November 27, Facebook and Instagram plan to bring together some of the biggest names in popular culture. This carefully curated list of people are those who believe in the power of social media – they have used their voices to educate supporters, inspire advocacy and put people at the center of the issues they care most about.
Speaking on the collaboration, Saket Jha Saurabh - Head of Entertainment Partnerships, Facebook India said, "Social Media has been playing a pivotal role in recent times to bring awareness to issues that affect minorities, local communities and even matters of national importance. With #SocialForGood, our endeavor is to shine a spotlight on some of the fantastic work our community of public figures and socially-responsible volunteers have been doing to bring positive change, not just on the internet but our everyday lives. With a global force like Priyanka Chopra joining hands with us, this mission to spread the message of Social For Good will definitely make a huge impact".
The #SocialForGood FB Live-athon will take place on 27th November 2018 from 12 noon to 4:00 pm (IST). This live-streamed event will be power-packed with some of the biggest names from films, sports, music, etc. Driven by Priyanka, these conversations will range from Mental Health Awareness and Standing Against Cyber Bullying to Celebrating Women Entrepreneurship and Making a Difference, one contribution at a time.
Commenting on the partnership Priyanka Chopra – Actor, Producer, Humanitarian and UNICEF Goodwill Ambassador said, "There is no denying the power of Social Media. It is a force which once unleashed, is difficult to control or stop. Its force comes from the huge influence it wields and recognizing that means, using it well, to do some good. I have personally witnessed the positive effects of social media in bringing awareness and action to many of the causes I hold dear to my heart. The right content can make all the difference. To use it to bring awareness to causes that matter, celebrate some real-life stories and also inspire people to do their bit for the community, is a fantastic idea. I am looking forward to this partnership with Facebook. May the Force to spread the good, be with all of us #SocialForGood"
exchange4media Group Service
The Bade-Chote skill for Alexa will allow users to interact with the characters through voice commands.
Bade-Chote have a new hangout! In addition to entertaining viewers on television, 9XM's popular duo will also be able to give you a good laugh with their jokes on all Alexa-enabled devices.
Launched on Monday, the Bade-Chote skill for Alexa will allow users to interact with the characters through voice commands. The skill can be accessed on Amazon Echo smart speakers, Alexa built-in devices such as Harman Kardon Allure smart speakers or iBall Decibel headsets, as well as the Alexa app for iOS and Android devices.
Commenting on the launch of 9XM's Bade-Chote skill for Alexa, Dilip RS, Country Manager for Alexa Skills, Amazon India, said "We are constantly on the lookout for skills that not only provide information but also entertain our subscribers. With Bade-Chote jokes, we are sure to turn up the entertainment quotient for our users - from youngsters and kids, to the entire family."
The Bade-Chote skill will enable users to find the humorous Bade-Chote jokes with a single voice command. To listen to Bade Chote's infamous Bakwaas Bandh Kar Jokes, a user has to say "Alexa, tell Bade Chote jokes" or "Alexa open Bade Chote jokes" or "Alexa launch Bade Chote jokes". The device will start playing the jokes till the user says "Alexa, stop" or "Alexa, pause". A library of 100 jokes is already a part of the skill for users to enjoy. New jokes will be uploaded on a regular basis to keep the library refreshed.
Speaking on the occasion, Kapil Sharma, SVP Marketing and PR, 9X Media Pvt Ltd, said, "9XM is a preferred destination amongst the youth and we engage with our viewers across platforms which are popular youth hangouts. Over the years, Bade-Chote have connected with audiences on platforms including malls, cafes, multiplexes, IVR calls, mobile games, Facebook messenger chatbots, etc. Our decision to build an Alexa skill is an extension to reach out to our audiences where they hangout. We are confident that the skill will resonate with Alexa users and Bade-Chote fans across the globe and keep them hooked for more!"
The Bade Chote skill on Alexa will be promoted across television and digital communities of 9XM.
exchange4media Group Service
The fast-paced thriller starring Paoli Dam, produced by Parambrata Chattopadhyay premieres on ZEE5 on 13th November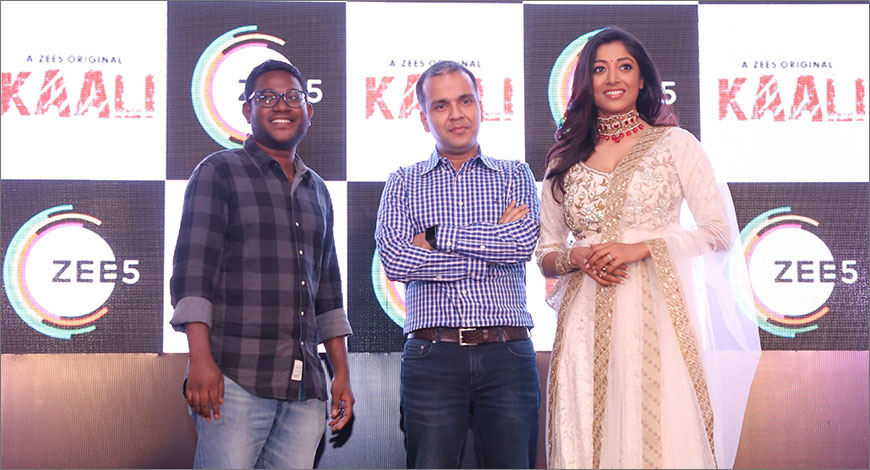 After the stunning success of Aranyadeb, ZEE5, the OTT platform has announced the launch of a ZEE5 Bengali Original and the first Bengali web series on the platform titled 'Kaali'.
With an aim to broaden its regional premium content offerings, Manish Aggarwal, Business Head, ZEE5 today at an event in Kolkata announced that the eight-episode thriller will go live on ZEE5 on 13th November.
Also present at the event were the stellar cast and crew of the show, including director Korok Murmu, actress Paoli Dam, music director Nabarun Bose and cast members. Kaali is a story which takes you on a cliffhanger ride where a mother has one night to save her son.
Produced by Parambrata Chattopadhyay who is known for acting in and directing brilliant and entertaining films, Kaali delves into the unseen underbelly of Kolkata which is usually spoken about in hushed tones. Filled with hope, courage, danger and betrayal, Kaali is a multi-layered show that will give you jitters as it progresses towards the climax.
Speaking about the launch, actress Paoli Dam said, "This is my first web series and I am hugely excited for the launch. Working with Param and Rahul has been enjoyable as always. I am keen to see the response of the viewers to the show – ZEE5's wide reach will make sure we are in a large number of handhelds."
Parambrata Chattopadhyay, Producer, commented, "We have put together our heart and soul into the making of Kaali. Performances by Paoli Dam, Rahul Banerjee and Shantilal Mukherjee are praiseworthy. Backed with a strong story and unchartered reach of ZEE5, we are certain that Kaali is going to be one of our best creations till date."
Manish Aggarwal, Business Head, ZEE5 India, added, "ZEE5 consistently strives to deliver edgy and engaging content to its viewers. With rich cinematography and virtually stunning scenes, Kaali is a testament to the rapidly evolving Bangla film industry as also the audience preferences. The show is a thrilling piece from our regional bouquet that will redefine popular perception about the role of women in society. Growth of Bengali content is integral to our regional strategy and Kaali's launch just ticks all the right boxes to make a perfect entertainment package for our audiences."
Besides dubbed versions of ZEE5 Originals, the platform has been digitally premiering blockbuster and acclaimed Bengali movies such as Drishtikone, Sonar Pahar, Purnimar Chand and many interesting titles for its subscriber base.
exchange4media Group Service
Britannia and J Walter Thompson have produced a digital film that inspires every homemaker in India to realise their untapped potential and take that first step towards doing more and being more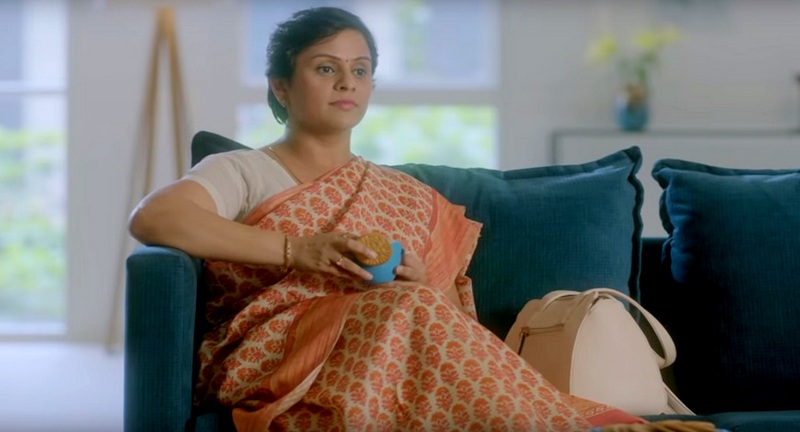 As homemakers are shifting mindsets and searching for more outside of household obligations, Marie Gold looked to dig deeper.Britannia's Marie Gold biscuit, a classic favorite, promises to be the fuel for everyday athletes – homemakers.
Britannia and J Walter Thompson have produced a digital film that inspires every homemaker in India to realise their untapped potential and take that first step towards doing more and being more.
The film interviews four homemakers from different walks of life along with their families. The family members were first asked how they like to spend their holidays and after which the same question was asked to the homemakers. The content piece moves slowly into homemakers describing their unfulfilled aspirations and the families reacting to it almost in awe.
Campaign video:
exchange4media Group Service
The campaign launch is marked by an emoji activated by the #PowerOf18 hashtag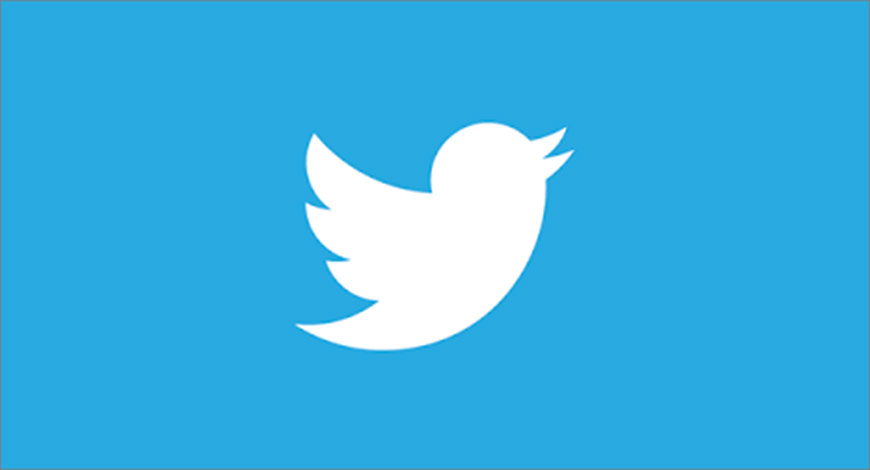 Voting rights emerged as the top response when asked what people would consider the power of turning 18 years old, according to a new survey from Twitter India. With this empowering insight, Twitter is launching a social initiative called #PowerOf18 aimed at encouraging the youth of India to contribute to public debate and participate in civic engagement in the upcoming election season.
Supported by Twitter's mission to serve the public conversation, the initiative was launched by Jack Dorsey, CEO & Co-Founder, Twitter and Maya Hari, Vice-President & Managing Director, Asia Pacific, Twitter in a Townhall chat with the students of IIT Delhi. The campaign launch is marked by an emoji activated by the #PowerOf18 hashtag.
Thank you IIT! pic.twitter.com/2Jk8J3TL0N

— jack (@jack) 12 November 2018
Tweet the change you want to see with #PowerOf18. pic.twitter.com/t1eVQwp83E

— Twitter India (@TwitterIndia) 12 November 2018
The research conducted with over 3,600 respondents aged 18 - 30-year-olds, comprising Twitter and non-Twitter users, focused on people's attitude in India in shaping the political and social environment.
The survey found an overwhelming 94% of respondents indicating that they would vote in the upcoming elections. 87% of Indians surveyed believe that voting makes you a responsible citizen and more than half (53%) are voting because they want to make a difference.
The study also pointed to the rising importance of social media for information consumption. Fifty-seven per cent of youth surveyed would turn to social media to find out what's happening in India and around the world, a percentage higher than all other mediums including newspapers. Sixty-nine per cent of Twitter users surveyed always stay up to date with political news and events versus 44% of non-Twitter users. Additionally, the survey found Twitter users more engaged in civic discussion versus non-Twitter users. Fifty-nine per cent of Twitter users actively engage with and raise concerns to the government on issues that affect them or their community versus 37% of non-Twitter users.
Two in three Indian Twitter users believe that they are contributing to the public debate by posting on Twitter. In relation, Twitter India aims to encourage the youth of India with #PowerOf18 to leverage the platform for public conversation and vote for the future they seek.
As part of the initiative, Twitter is kickstarting the initiative with an online video series on @TwitterIndia featuring young personalities across India such as Indian singer Jassie Gill (@JassieGill), Indian boxer Nikhat Zareen (@Nikhat_Zareen), writer, poet and #MeTooIndia voice Mahima Kukreja (@AGirlOfHerWords), sharing about their inspirations and their view of #PowerOf18. Twitter seeks to work with more like-minded partners and personalities to create awareness of the importance of voting.
Will be at IIT Delhi today to meet students and have a conversation. Ask your questions using the hashtag #powerof18

— jack (@jack) 12 November 2018
In light of India's rapidly transforming online news & social networking infrastructure- what role should twitter be playing as a market leader & trend setter- in addressing the crucial questions of enhanced economic & social access? @jack @TwitterLive #PowerOf18 @edciitdelhi

— ABHISHEK AGRAWAL (@abhiiitdelhi) 10 November 2018
@jack @Twitter #powerof18 though social media has been a game changer it has introduced a new kind of addiction making people glued to their cell & constant need for likes & followers your views on the same?

— hartejsethi (@sethihartej) 11 November 2018
Given the upcoming 2019 general elections in India, what steps are social networking giants taking to curb the spread of fake news? #PowerOf18

— shivang seth (@sseth_07) 11 November 2018
Announcing the initiative at IIT Delhi today, Maya Hari, Vice-President & Managing Director, Asia Pacific, Twitter said, "Our philanthropic mission is to make the world a better place by harnessing the positive power of Twitter. Our company embraces this mission by focusing our support where we can make the greatest impact. Today, we launch #PowerOf18 to encourage the youth of India in taking your place as changemakers and join the most important public conversation for the country - the state and national elections." The #PowerOf18 campaign launch at IIT Delhi concluded with a Q&A round where students had the opportunity to submit their questions to Jack with #PowerOf18.
Several questions focused around Twitter's role in shaping society and culture, youth activism, upcoming general elections and the importance of voting were raised during the Townhall at IIT Delhi
Twitter will be fuelling #PowerOf18 conversations through @TwitterIndia as part of this initiative. #PowerOf18 will serve as a resource for all young Indians to find more information about the elections, support social causes they are passionate about, and join the public conversation. The platform aims to engage more young people in India to contribute to public debate and work with like-minded partners that share the same objective of encouraging civic engagement among the youth. The nationwide survey was conducted with 3,622 youth respondents from India between 24 September - 19 October 2018. The survey methodology qualifies the respondents as minimally secondary literate, aged between 18 - 30 years old. Follow #PowerOf18 and @TwitterIndia to be a part of the conversation and community.
exchange4media Group Service
The digital ad film brings to life the essence of this spectacle with hand-drawn illustrations and slam poetry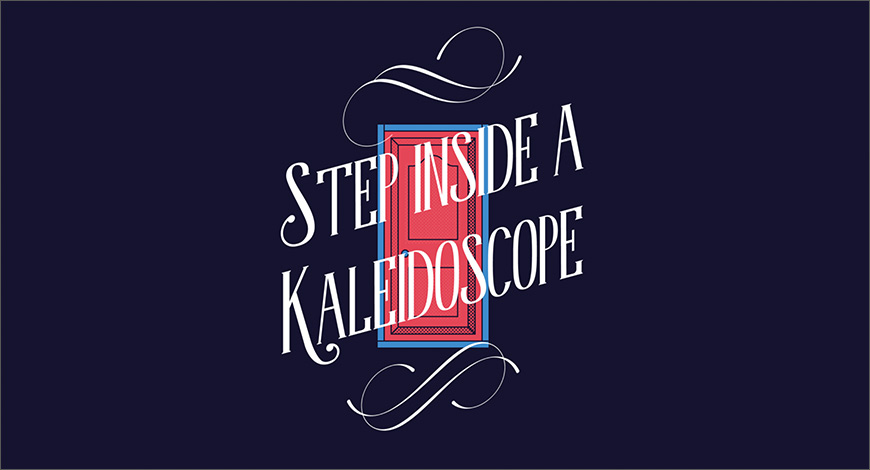 BookMyShow and BBH India have teamed up to welcome Bazzar, the newest original production of the live entertainment leader Cirque du Soleil, to India with a new digital ad film.
The digital ad film brings to life the essence of this spectacle with hand-drawn illustrations and slam poetry. The result is a 'trippy' film that will blow your mind.
Speaking on the association, Marzdi Kalianiwala, SVP- Marketing and Business Intelligence, BookMyShow said, "Cirque du Soleil Bazzar is about infinite creativity that they bring alive through their unbelievable performances. This immersive theatrical experience is a brilliant mix of state-of-the-art costumes, captivating music and impressive staging which is something that has never been seen before in India. We wanted to bring alive this creativity through an innovative digital ad film while staying true to the nature of the show."
Russell Barrett, Chief Creative Officer & Managing Partner, BBH India added, "Cirque du Soleil Bazzar, is a mind-blowing entertainment extravaganza and we needed to communicate that in an animation film. Nothing can equal the brilliance of actually catching a show, but we wanted to capture how people who watch the show would feel, or describe it. The slam voiceover helped in creating the mood and gives the film a unique Big Top announcement feel."
Video:
exchange4media Group Service