ITW Playworx Music, Indie Music Label and Sony Music India collaborate for 'Aye Zindagi'
The song composed by Vishal Mishra, the song is one of a kind multi-artist collaboration featuring Asha Bhosle, Suresh Wadkar, Alka Yagnik, Abhijeet Bhattacharya, Shaan and Sonu Nigam by
Published - 28-September-2018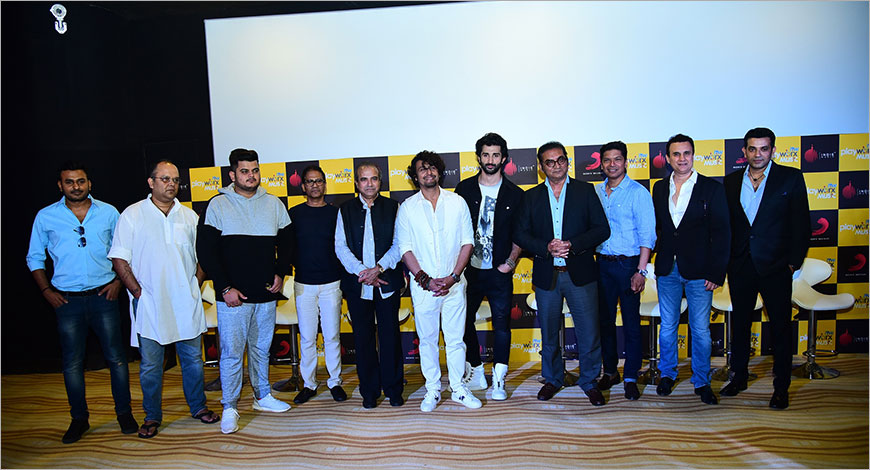 ITW Playworx Music, the music talent management arm of Entertainment, Media & Communication specialists ITW Playworx, collaborated with Indie Music Label in association with Sony Music India and announced the multi artist collaboration new single 'Aye Zindagi'. The single produced under the aegis of ITW Playworx Music, will have music lovers regaled with the soulful single 'Aye Zindagi'.
The song was launched today at The View, Andheri in presence of Suresh Wadkar, Abhijeet Bhattacharya, Shaan, Sonu Nigam (Director, ITW Playworx Music), Vishal Mishra (Music Composer), Sidhant Gupta (Lead in the video of the song), Rashmi Virag (Lyricist), Gaurav Kumar Bajaj (Producer) and Geet (Director). Also present were Sidharth Ghosh (CEO, ITW Playworx), Neeraj (Bunty) Bahl (CEO, ITW Blitz & Playworx Music), Naushad Khan (Managing Director, Indie Music Label) and Jay Mehta (Director, Sony Music India).
Composed by talented musician Vishal Mishra, "Aye Zindagi" is one of a kind multi-artist collaboration and truly unique as for the very first time the audience can savor the same song in 6 incredible voices of, Asha Bhosle, Suresh Wadkar, Alka Yagnik, Abhijeet Bhattacharya, Shaan and Sonu Nigam.
Sonu Nigam, Director, ITW Playworx Music said, "I have been in the music industry for a very long time and very rarely you come across a song like Aye Zindagi. All of us at ITW Playworx Music then decided to give the song it's due respect like no other song in the past has ever received. The result is for all of you to see. Someone yesterday, very aptly defined this song as the Avengers of Singles. Asha Bhosle, Suresh Wadkar, Alka Yagnik, Abhijeet Bhattacharya, Shaan, Sonu Nigam, Vishal Mishra, Rashmi Virag and Sidhant Gupta, part of the same song, isn't it the most spectacular single ever?"
Suresh Wadkar said, "After a long time I have sung a very melodious song "Aye Zindagi" composed by a really talented person Vishal Mishra. A heartfelt thanks to Sonu Nigam and Vishal for this beautiful song and their love. Best Wishes."
Alka Yagnik said, "This song is very close to my heart as it flows beautifully and has a lot of depth with each singer bringing in their own flavour to it. It's a universal song and I feel it holds good for everyone."
Abhijeet Bhattacharya said, "That's called healthy competition with perfect harmony. In the autotune era, we are still very lucky to be among the best."
Shaan said, "The song is first of its kind in many ways. To have six voices interpreting the emotion of the same song in their unique style goes to prove that every individual looks at life differently. For me, it is a great honor to be part of such a coveted bouquet of the best ever voices of our industry."
Commenting on same, Sidharth Ghosh, CEO, ITW Playworx said, "We are very happy to announce the first song from the house of ITW Playworx Music. We look forward to the partnership with Indie Music Label in association with Sony Music India for this single and confident that the song will get the right platform to reach out to the audiences."

Neeraj (Bunty) Bahl, CEO, ITW Blitz and ITW Playworx Music said "All the fans of these great artists are in for a treat as this is a special number with all the variations which are hallmark of each of the artists involved with the song. The idea behind having multiple singers singing the same song is that the song can interpreted by people differently - depending on their phase of life or their mood."

Naushad Khan, Managing Director, Indie Music Label said, "Aye Zindagi has this endearing quality which grows on you each time one listens to it. We are confident that the song will leave an indelible mark on the audiences across the globe. Glad to collaborate with ITW Playworx Music who share the same zeal and passion when it comes to music which has the potential to break all boundaries."