Balaji Telefilms to capitalise on India's digital growth and maintain TV leadership : Nachiket Pantvaidya, Balaji Telefilms
Nachiket Pantvaidya, Group COO, Balaji Telefilms, shares the financial strategy for his movie business, how he plans to capitalize on India's rapid digital growth and maintain TV leadership.
It is nearly four months of Nachiket Pantvaidya being promoted as the Group COO of Balaji Telefilms and things are speeding up on all fronts. Its digital platform ALTBalaji announces new series and partnerships every now and then. It continues to retain its leadership as a production company and plans to launch new series post IPL. Balaji Motion Pictures is underway with movie releases and is geared up on the same. In a chat with exchange4media, Pantvaidya shares the financial strategy to ramp up the films, how he plans to capitalize on India's rapid digital growth and maintain TV leadership.

Getting show business on track
Following recent setbacks with 'Great Grand Masti' and 'Kya Super Cool Hain Hum 3' and a legal tussle with the film certification board over 'Udta Punjab,' Balaji Motion Pictures put their movie business on hold after only one release last year. Pandvaidya confesses that 2017 wasn't a good year but it's likely to get better with big upcoming releases like 'Veere Di Wedding,' and 'Laila Majnu'. Getting it back on track financially is definitely the top priority over here; the Group COO had no qualms about it.
With the digital age creating a huge secondary market for developed films where they can send digital rights of the film, Pantvaidya is tapping into that. He shares the financial strategy, "We want to get into a mode where we are focusing on pre-sales and distribution and choosing subjects that fit the strategy. We will cover 50-60 per cent of the costs at least before we invest in a film. It's not a high risk game for us right now. We are at maximum medium risk level."
In the future, the production company wants to create films that can be watched easily on digital and get those pre-sales.

Digital at the forefront
ALTBalaji had reported revenues of Rs 1.1 crore for the quarter that ended on December 31, 2017 which is a marginal dip in comparison to Rs 1.2 crore in Q2 FY18. However, this didn't include the Vodafone deal, informs Pantvaidya. But he is confident that in the coming quarter, revenues will surge four to five times as it will include big deals with Vodafone, Reliance Jio and others.

From the marketing and distribution perspective, partnership with more than 40 players across telecom, e-wallets and cab aggregator's entertainment service like Vodafone, Reliance Jio, Paytm and Ola Play further gives ALTBalaji access to an increasing number of subscribers. How does it work? The content is available for free on Vodafone Play app for the Vodafone consumers. ALTBalaji is in turn paid by the telecom. "We are changing our strategy with the intent to serve mass media. By offering free internet, telecom players have opened a huge market. (Each telecom player does not want to be an elite serving service).They are subsidising our marketing cost."

The digital service, available at Rs 300 per year, is looking to break-even in three years. The strategy is to lure in increasing number of 'Indian-content-loving-audience' consumers to its shows. Pantvaidya has set a target. "We should start inching towards 8-10 million paying subscribers mark in three years.We want to take our subscription base to the high volume low ARPU (average revenue per user) game."

By end of this financial year ALTBalaji is eyeing 1 million subscribers which will secure its position as the top player (in terms of paying subscribers), Pantvaidya claims.

With their regional content in Tamil and Bengali, ALTBalaji has drawn in international audience as well from Singapore, Malaysia, Sri Lanka and Bangladesh. "We are getting larger play outside the country Tamil content. We have got good traction from Sri Lanka, Bangladesh, Middle East and Singapore."

In the year two, Pantvaidya wants to explore the international market by dubbing their original content in Bahasa and Arabic languages.
He adds, "We want to be the number one repository of original content with plans to make 40-50 shows by end of next year."

Maintaining it's TV game
On the television front, Balaji Telefilms will bring in 8-10 shows post IPL, starting June first week. There are also talks of the production house bringing back the second season of its popular K-series 'Kasautii Zindagii Kay' which ran for nine years. When asked about it Pantvaidya didn't deny it. He answered "At appropriate time we will make those announcements of what we are bringing."
He ensures, "We will be capitalising on the digital growth in India both from ALTBalaji and maintain leadership in the TV segment."
Going ahead, Pantvaidya wants to create television shows that can be possibly used to carve out digital rights.

Understanding the digital consumption trends
In this 11 months journey of the digital platform, Pantvaidya noted several consumption trends including different audience segments. He lists out, "Per capita consumption is equal in tier-2 and 3 cities like Surat, Jhansi and Kolhapur as tier 1 cities because of our local Indian content. We have an equal split of male and female viewing. It's 52 to 48 for paid male and female viewership respectively. We have discovered three kinds of consumers. They wants to see an upgraded version of television. So they come on to stories where we have television stars Ram Kapoor and Sakshi Tanwar in digital shows like 'Karrle Tu Bhi Mohabbat'.' We are taking stories which are little more urban-centric, edgy and consumed by 18-30 audience like 'Dev DD.' We have a different audience for 'Bose' and 'The Test Case.'"
He further mentions that this last segment of audience is rejecting even cinema today. "Cinema is not fulfilling the need which 'Bose' today fulfills."
The Group COO is content with the reception from the right kind of audience. He shares, "We are able to resonate with audience from middle India i.e. tier-II cities. 'Dev DD' is from Jaipur which pulls in a lot of people. We are not Western in our expression."
Madhuwanti reports on marketing, OTT and radio with a focus on trends. Based in Mumbai, she has worked across lifestyle, culture, television and retail industry.
Business Standard is the only publication in India selected for the programme
Social media giant Facebook has tied up with the Business Standard as part of its subscription programme. The announcement was made by Facebook on Friday. Facebook said it had added a total of 28 such partners globally. Business Standard is the only one from India, according to media reports.

The development follows Facebook's announcement last year that it was developing a paywall for subscription publishers to use in 'Instant Articles' with the goal of improving subscriber acquisition from the social media site.

Some of the other publications that Facebook has partnered with include, The Washington Post, The Los Angeles Times and The Boston Globe.

exchange4media Group Service
Rajan Anandan on winning the IMPACT Person of the Year award, the scale at which Internet users are growing in India and new consumer behaviour trends
Rajan Anandan, Vice President, Southeast Asia and India, Google, took home the IMPACT Person of the Year 2018 Award, instituted by the exchange4media group to recognise excellence in the advertising, media and marketing domain.
He won the award for driving Internet adoption across India, especially in Tier II and Tier III towns, through several initiatives including 'Navlekha', Google's platform for users in India who are not conversant with English, 'Internet Saathi', an initiative to bring more rural women online, and the Indian Railways high-speed Wi-Fi project, providing free Wi-Fi to consumers at railway stations across the country. He has also been responsible for accelerating innovation in India and Southeast Asia for Google. Under Anandan's leadership, the company saw its profits increase from Rs 306.6 crore in 2016-17 to Rs 407.2 crore in 2017-18, with a total turnover of Rs 9,337.7 crore.
Watch Anandan's speech here and scroll down to read:
Commenting on his win, Anandan said the recognition isn't about him but about the incredible Internet users in India. "It's very humbling to win this award. I congratulate all the other nominees. But this recognition isn't about me. It's a recognition for the incredible Internet users in India and the recognition of the amazing products that Google has and of the amazing team at Google as well as the ecosystem partners we have been fortunate to work with. From the bottom of my heart, I'm truly appreciative of being at Google," he said.
Anandan remarked that India is at an interesting time when it comes technology.
"When it comes to consumer Internet, what we are seeing in India is unparalleled; something that we haven't seen in the history of Internet. We have witnessed a scale of growth and consumer behaviours that we haven't seen before. And this makes it very exciting. There are 400 million Internet users in India and we're adding 8-10 million Internet users every month. As data is becoming more affordable, all of these users are spending more time online," he explained.
Anandan shared that the average consumption per user per month has crossed 10 gigabytes. "Two and a half years ago, that number was less than one. So we've seen 20x growth in Internet consumption."
Shedding light on the emerging Internet user behaviour, he said it is largely being driven by voice. "The new Internet user wants to speak to the Internet and doesn't want to type." He revealed that India has the highest online video market in the world and also pointed out how going vernacular is another trend the brand has taken note of.
"There are over 300 million online video users with watch time growing rapidly. And users today prefer accessing the Internet in their local language," Anandan added.
Making a case for what Internet is doing for the masses, Anandan spoke about how it is enabling world-class facilities at their fingertips. "What excites me the most is what Internet is enabling for the real India. Today, there is an app that uses AI to deliver world-class diagnostics even in the most tiny, remote villages. People can also easily get access to education with many online courses and programmes at their disposal."
Speaking about Internet Saathi, Google's initiative to bridge the online gender divide in India, he said, "As we started working on it, we learnt that only 10 per cent Internet users in rural area were women. The digital gender divide in rural India was worst."
Anandan acknowledged that this stemmed from constraints such as no access to smartphones, societal pressure and lack of understanding of what Internet could do for them. Google decide to give them a smartphone and show them how to use the Internet apart from giving them a stipend, he said. In the process, they trained over 20 million women. Through this initiative, he shared, Google gathered insights on what these women actually wanted.
"They want to get access to education for their families, they want to know how they can make more money and want healthcare of their families. Internet is bringing the best of the world to India and is extra-ordinarily relevant to India," he asserted.
Anandan shared how the power of the Internet converted some of these 'internet saathis' into rural entrepreneurs. He highlighted how they didn't know what Internet was able to do for them. But as they learnt how to start a business, they started making 10 times more than what they did earlier.
He left the audience with an interesting question. "I want you'll to think where would India be when every single Indian will be online?".
exchange4media Group Service
Experts shared insights on how technology and digital creativity are changing the media and advertising landscape and creating new opportunities for agencies to grow their business.
At the second edition of the Google India Partners Summit, experts shared insights on how technology and digital creativity are changing the media and advertising landscape and creating new opportunities for agencies to grow their business.
Themed on 'Agency of the Future', the Google India Partners Summit centered around four sessions, that covered media and advertising industry trends, and how advertising agencies will need to adapt to be future ready. 'Building Tech Capabilities' discussed how embracing automation and improvements in technology can drive better client and customer results.
'Breakthrough the clutter with storytelling', talked about reaching the right audience through the right formats and rethinking creative approach moving from traditional to emerging story arcs.
'Building the right team' brought in former Indian cricket captain, Sourav Ganguly, to share insights into developing a great team that can compete internationally and understands the key principle around attracting and retaining top talent.
Speaking on the sidelines, Shalini Girish, Director - Google Marketing Solution, Google India said, "The consumer landscape is evolving rapidly, and the advertising industry must adapt quickly to continue delivering value to brands. Through the Partners Summit, we want to enable our partners to be future ready and rethink their approach for a digital-first world. Together with our agency partners, we want to create better opportunities for brands to understand customer journey, predict marketing outcomes and personalise the customer experience."
exchange4media Group Service
Over the next year, the ZEE5 app will be made available on all Zeasn enabled devices, offering Whale Eco consumers access to ZEE5's premium content.
Close on the heels of its global launch, ZEE5, Zee Entertainment Enterprises Ltd's digital entertainment platform today announced a key strategic alliance with Zeasn, the leading home digital entertainment service provider. The partnership will make ZEE5 available on millions of Zeasn devices across Asia, the Middle East and Africa.
"Asia, Middle East and Africa are among the fastest growing markets in the world for online entertainment content and are key markets for us, given the huge South Asian diaspora, and the universal love for Bollywood content even among the locals there. By enabling over 2.5 million Zeasn users to access our unparalleled content library, this partnership further underscores our commitment to bring the best of language entertainment to viewers across devices of their choice," said Archana Anand, Chief Business Officer – ZEE5 Global.
"Bollywood content has a large number of fans around the world and it is a very important part of the world's cultural treasure. The strategy partnership will enable the consumers to enjoy wonderful Bollywood content efficiently on their smart TV devices, that will greatly help enrich the content of family digital entertainment system," said Jason He, Chief Executive Officer – Zeasn.
Available across 190+ countries globally, ZEE5 offers multi-genre and multi-lingual content across English, Tamil, Hindi, Malayalam, Telugu, Kannada, Marathi, Bengali, Oriya, Bhojpuri, Gujarati and Punjabi. ZEE5 comes packed with 1,00,000 hours of On Demand content, including Movies and TV Shows, Music, and Health and Lifestyle videos along with a slew of Originals, across 12 languages. It also has an extensive Live TV offering with 60+ popular Live TV channels.
With over 2.5 million Zeasn connected device users now being able to watch ZEE5 across any screen of their choice, this partnership further strengthens ZEE5's international reach, while giving Zeasn users access to the largest library of over 1,00,000 hours of language content across genres. Over the next year, the ZEE5 app will be made available on all Zeasn enabled devices, offering Whale Eco consumers access to ZEE5's premium content.
exchange4media Group Service
The top moments of this year's Year In Review were determined by gathering a list of the top keywords by volume mentioned in a single day on Facebook between January 1 and November 11, 2018
Facebook has announced its 2018 Year in Review, highlighting the top ways people came together on the platform to talk about some of the year's key events with their family and friends. This information combines the top single-day moments throughout the year with the top ways the Facebook community used the platform to come together around these moments.

The moments that people discussed most in India in 2018 were:
Festivals ruled the roost: India set Facebook buzzing on festivals in 2018 with Krishna Janmashtami, Eid al-Adha, Thai Pongal, Navratri driving the most conversations on the platform, as Indians took to Facebook to celebrate the biggest of occasions with their friends and family.
Community Connect: The community came together on Facebook to lend support and offer help as Kerala was affected by torrential floods. Facebook features such as Safety Check tool, Live, creating Page, and raising funds enabled people to reach to their near and dear ones, seeking help and informing of their safety.
Bereavement: The demise of Atal Bihari Vajpayee, former Prime Minister of India was a reminder of impact that his leadership had in serving the nation with many Indians expressing their sadness, but also sharing tributes by sharing his poetry and inspiring stories of his life.
Sports bring India together: Nothing unites India like sport does and 2018 was a year that saw a flurry of high octane, exciting, global sporting events.

Cricket continued to rule to hearts of Indian sports fans on Facebook as it was one of the most popular topics driving conversations on the platform.

Millions of Indian football fans also came together to support their favourite teams and players as FIFA Football World Cup 2018 showcased the best in class footballing action and talent to fans worldwide.
Globally the events that were most talked about on FB were:
International Women's Day:

For the second year in a row, International Women's Day on March 8 was the #1 most talked about moment of the year. But in 2018, IWD conversation was about more than the day itself. Women and men around the world discussed a wide range of topics, issues and causes related to women.

March for Our Lives:

Survivors of the violence in Parkland, Florida announced the March for Our Lives movement on February 18, which drove conversation and action around the world. Over the next month, more than 1 million people showed interest in attending a Facebook Event for March for Our Lives, and more than $2.5 million was raised through Facebook Fundraisers.

Civic Engagement:

The Brazilian Presidential Election on October 7 and the US Midterm Elections on November 6 were top moments for conversation about voting and elections.

World Cup:

More than 383 million soccer fans from around the world took to Facebook to cheer on their favorite teams through 2.3 billion posts, comments, reactions and shares. France's World Cup victory on July 15 and England's Semi-Final match against Croatia on July 11 were two of the top most-discussed moments of the year.

Super Bowl 52:

The Philadelphia Eagles secured their first Super Bowl win against the New England Patriots on February 4. More than 62 million people turned to Facebook following Tom Brady's incomplete Hail Mary pass at the end of the game, and Justin Timberlake's halftime performance paying tribute to Prince.

The Royal Wedding:

The much-anticipated nuptials between Prince Harry and Meghan Markle on May 19 connected 42 million people on Facebook who about posted about the ceremony, the newlyweds, and the pomp and circumstance.

Nelson Mandela 100:

July 18 marked 100 years since Nelson Mandela was born, and millions of people came to Facebook to celebrate Mandela's life of dedication to human rights and social justice.

Keeping Legacies Alive:

The world lost many influential and inspirational people in 2018. From musical icons Aretha Franklin, Avicii, and Dolores O'Riordan of The Cranberries, to scientific visionaries like Stephen Hawking, influential storytellers like Anthony Bourdain and Hollywood stars like Burt Reynolds. People around the world shared millions of posts on Facebook to memorialize the global impact and work of these individuals.
The top moments of this year's Year In Review were determined by gathering a list of the top keywords by volume mentioned in a single day on Facebook between January 1 and November 11, 2018. To identify which topics were unique to 2018, Facebook compared these keywords to the previous year's maximum single-day volume. This means that keywords like Mother's Day and Halloween, which typically represent the top moments every year, do not repeatedly appear at the top of the list.
exchange4media Group Service
The VP, Southeast Asia and India, Google, recognised for being a change-maker in India's digital ecosystem, growing Internet adoption and making 'Internet for every Indian' his mission
Rajan Anandan, Vice President, Southeast Asia and India, Google has won the IMPACT Person of the Year, 2018 Award, instituted by the exchange4media Group to recognize excellence in the Advertising, Media and Marketing domain. He wins the award for driving Internet adoption across India, especially in Tier II and Tier III towns, through several initiatives including 'Navlekha', Google's platform for users in India who are not conversant with English, Google 'Internet Saathi', an initiative to bring more rural women online, and the Indian Railways high-speed Wi-Fi project, providing free Wi-Fi to consumers at railway stations across the country. He has also been responsible for accelerating innovation in India and Southeast Asia for Google. Under Anandan's leadership, the company saw its profits increase from Rs 306.6 crore in 2016-17 to Rs 407.2 crore in 2017-18, with total turnover of Rs 9337.7 crore.
On winning the IPOY Award, Rajan Anandan, Vice President, Southeast Asia and India, Google said, "I am truly honoured that I have been given this award. In fact, I am thrilled and speechless. So, thank you to the jury, to IMPACT and also to everybody in the ecosystem; most importantly my team, as well as all our clients and our partners."
Commenting on the IMPACT Person of the Year 2018, Annurag Batra, Chairman and Editor-in-Chief of the exchange4media Group, said, "Rajan Anandan is the scale man, always thinking big and executing big. Global MNCs have strong tailwinds. Yet for building a Rs 10,000 crore revenue company in India, leading it well with continuity, supporting the right causes, navigating the regulatory environment well, creating and nurturing an ecosystem of entrepreneurs, being the go-to man for digital and entrepreneurship in India, Rajan Anandan is richly deserving of the IMPACT Person of the Year award."
The other nominees for the award this year were Naveen Tewari, Founder and CEO, InMobi who led the Bangalore-based ad tech major to become India's second most profitable unicorn in 2017, making an impressive entry into the digital advertising club; Nadia Chauhan, Joint MD & CMO, Parle Agro who revamped popular brands, Frooti and Appy Fizz and led the company to report a turnover of Rs 2,800 crore in the Rs 4,500 fruit drink category last fiscal; Sanjay Gupta, Managing Director, Star India who was responsible for Star India winning the telecast rights for IPL last year and scripting Hotstar's success story, and under whose leadership the company has grown over three times in revenue; Deepak Iyer, Managing Director, Mondelez India who has led the company to consistently report double-digit revenue growth for four straight quarters, while growing Mondelez India's rural business significantly; Ritesh Agarwal, Founder, Oyo, a 24-year-old college dropout who, by virtue of turning Oyo into a $5 billion company with plans to become the largest hotel chain in China, has turned his dream into reality; Sanjiv Mehta, Chairman & MD, Hindustan Unilever Limited (HUL), a visionary leader under whose leadership HUL's market capitalization has overtaken ITC's for the first time in 13 years, while also surpassing FMCG disruptor Patanjali Ayurved with steady double-digit growth in the last three quarters; Piyush Pandey, Executive Chairman and Creative Director, Ogilvy South Asia (now Global CCO, Ogilvy) and Prasoon Pandey, Director, Corcoise Films, the brothers who made the Indian advertising industry shine on the global map by becoming the first Asians to win the prestigious Lion of Saint Mark this year, the highest honour bestowed by the Cannes Lions International Festival of Creativity; and Sriharsha Majeti, Rahul Jaimini, Nandan Reddy, Co-founders, Swiggy, who together led the food delivery platform to become one of the fastest entrants into the billion dollar club of start-ups, making good on their promise of 'changing the way India eats'.
Past winners of the IPOY award – now in its 14th year - include Baba Ramdev of Patanjali Ayurved, Vijay Shekhar Sharma, Founder and CEO of Paytm, Arnab Goswami, then President & Editor-in-Chief, Times Now and ET Now, Punit Goenka, MD & CEO, Zee Entertainment Enterprises Ltd; Vineet Jain, MD, Times Group; Ambika Soni, then Minister for Information & Broadcasting; Agnello Dias, Founder, Taproot India, Haresh Chawla, then Group CEO, Network18 and Viacom18; Uday Shankar, CEO, Star India; Raghav Bahl, Founder, Network18 and Rajdeep Sardesai, then Editor-in-Chief, CNN-IBN.
The IMPACT Person of the Year 2018 award was presented by Colors and exclusively powered by Zee News, with Nickelodeon, 9X Jalwa, Shemaroo Entertainment and Republic TV as co-gold partners, empowered by Colors Infinity, with Sakal Media Group and Discovery as associate partners and Radio City and BTVI as co-partners.
exchange4media Group Service
Digital video comprises merely 8 per cent of total ad revenue as against 92 per cent of TV video in India
Digital revenue is moving at a much slower pace than eyeballs in India, as observed by the BCG-CII report titled 'One Consumer, Many Interactions.' As shown in the diagram below, digital video comprises merely 8 per cent of total ad revenue as against 92 per cent of TV video in India. Digital video consumption takes around 18 per cent compared to TV's 82 per cent.
UK has the highest per cent of dollars moving into digital as it takes 27 per cent of the ad revenue. It levels up with digital video consumption, which is at 28 per cent. China follows UK where digital video consumes up to 20 per cent of ad revenue as against 80 per cent of TV's.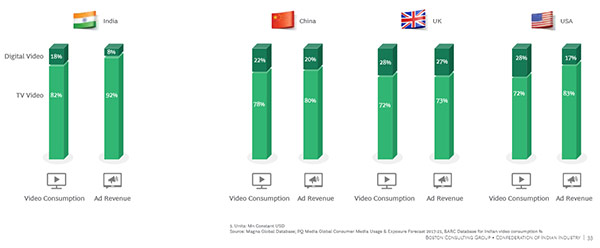 Even though digital media is currently the big thing, there are real questions about making the media portfolio work as pointed out by the report. It said, "While on one side digital offers a solution-based approach, new ideation, sharper targeting and return metrics, on the other side there are unanswered questions around measurement of ROI and impact, and rethinking multi-platform advertising strategies. This is one of the reasons why monetization of digital media has been a challenge and dollars have moved slower than eyeballs."
On metrics the common complaint is they are self-reported and there's no independent trustworthy third party. Then there's also the problem of brand safety. Measurement is another issue (difference between view for three and five second).
What marketers really want is a converged offer that is anchored cross platform and brings in sharper targeting as well ideation and storytelling. The media houses of the future will need to create this converged offer bringing in personas, higher attribution and weaving in narratives and content native to the platform across advertising.
exchange4media Group Service
At the inaugural day of the CII Big Picture Summit, experts discussed challenges and opportunities involving streaming platforms
At the ongoing 7th CII Big Picture Summit in New Delhi, a panel discussion on 'Game Changers in Media and Entertainment (M&E) Landscape' saw experts debating about challenges and opportunities that are shaping the M&E sector.
Speaking about the rise of streaming platforms and their growing relevance, Karan Anshuman, Director of Web Series, Mirzapur said, "There are several reasons and several factors that are at play over here. One of the reasons could be the medium itself, such as the rise of the short format online. Also, you see some of the best talent in writing, directing and acting gravitating towards television and streaming shows."
Sharing that streaming platforms offer more ground for experimentation and that has become its biggest force multiplier, Anshuman added, "Everyone is trying to crack the formula when it comes to films, over here (online) there isn't any fixed notion of what works or what does not work, so one can be a lot more experimental with what one is doing. This is also giving voice to the bunch of new generation of writers and filmmakers who want to express themselves."
Commenting on the rise of streaming content platforms and whether it was forcing big filmmakers to rethink about their business model, Shobu Yarlagadda, Producer of the iconic Baahubali franchise said, "The big-budget films will dominate the theatre market. For people to go to theatres, they need big films like Baahubali which can be enjoyed in theatres. But romcoms, dramas, and slice-of-life films are meant for more intimate viewing and can be enjoyed as a personal experience. So they are more conducive to the streaming services and online platforms." "There is going to be segmentation of what kind of content is going to be placed where. The big ticket events will go to the big screens. Also, we don't have enough screens in India and for the rural population the easiest option will be mobile phones," he added.
According to Neeraj Roy, MD Hungama Digital, streaming consumption will continue to grow since traditional entertainment platforms have an inherent content overlap. "If you look at television, it is not that we have a shortage of channels, we have almost 950 channels, but when you look at the programming that is being done, there is almost 80 per cent overlap.
In the last two years, we have seen 1500 per cent increase in streaming consumption and it is set to grow further." When asked if there are there enough revenue models to justify the growing number of streaming platforms, Hiren Gada, CEO, Shemaroo Entertainment said, "At this point, the real challenge that digital is facing is the monetization model, because the base is not yet big enough for big bucks from advertising to kick in. The paid ecosystem on top of that is below one per cent from what we hear see and understand."
"Television is a very high-value service because for 300 rupees you get 400 channels and India is a very value-conscious market, so that is why TV is a deterrent for the digital ecosystem to grow," he added.
@columbia Drop Out, @e4mtweets, @BWorldOnline... Past @timesnow, @htTweets, @timesofindia
According to YouTube, India has "truly became a 'video-first' country" with the platform reaching over 245 million monthly active users
Wrapping up the year 2018, YouTube on Thursday released its annual ads leaderboard for India. The YouTube Ads Leaderboard captures ads that receive the maximum views, shares, and love from audiences across India.
This year, India truly became a 'video-first' country with YouTube reaching over 245 million monthly active users, the company said in a statement. Brands capitalised on YouTube's popularity by creating engaging ads that people truly loved. Cumulatively, the following 10 ads have clocked an incredible 18 million hours of watch time, 88 per cent of which came from mobile devices.
Building on the trend of emotional storytelling, the top two ads are themed on bonds between family and friends. Topping the charts this year is Hyundai's 20 years of Brilliant Moments ad, focusing on family bonds and moments that are treasured for a lifetime; followed by Samsung's #voiceforever campaign themed on their first personalized AI voice assistant can help Motor Neuron Disease patients. Together, these ads have clocked 423 million views.
Here's the list of most watched ads on YouTube this year:
1. Hyundai: Celebrating 20 Years of Brilliant Moments
2. Samsung India: Samsung Bixby Voice Assistant-MND mother helps daughter with #VoiceForever
3. Indiabulls Dhani: Get Phone se loan in 3 simple steps directly in your bank account
4. Honda 2 Wheelers India: Honda New Corporate TVC
5. Garnier India: Makeup off in 1 swipe with Garnier Micellar Water
6. Tata Motors: Reach For A Dream; #ChaseTheSupermoon
7. Kwality Wall's: New Kwality Wall's Family Packs
8. Apple India: #8 iPhone — Unlock — Apple
9. Uber India: #MoveForward with Uber - Badhte Chalein Feat. Virat Kohli
10. OPPO India: OPPO F7 - Real Support Makes Real Hero

exchange4media Group Service
The allegation has been made by a British parliamentary committee that is investigating online misinformation
Facebook has been accused of using user data to favour certain partners by giving them access to its platform while cutting off others. This was claimed by a British parliamentary committee that is investigating online misinformation, according to media reports.
The reports claim that the committee released internal Facebook emails and other documents to establish the charge. The documents pertains to the period from 2012 to 2015.
The documents reportedly show that Facebook treated data as the company's "most valuable resource" and used it for its advantage. It has been claimed that Chief Executive Officer Mark Zuckerberg and Chief Operating Officer Sheryl Sandberg were involved in such decisions.
The release of the internal documents will add to Facebook's woes. The social media giant is already grappling with issues of privacy and spread of misinformation.
Facebook, meanwhile, issued a statement, saying that the documents had been selectively chosen to be embarrassing and misleading as part of a "baseless" lawsuit.
"Like any business, we had many internal conversations about the various ways we could build a sustainable business model for our platform," media reports quoted the company as saying. "But the facts are clear: We've never sold people's data."
Zuckerberg posted his response on Facebook, saying the company had limited its access to certain apps and made other changes to prevent abuse of its platform.

exchange4media Group Service