The Q India appoints Sakal Media's Krishna Menon as Chief Revenue Officer
Menon will be responsible for increasing advertising sales, boosting digital channel and mobile platform revenues by creating new opportunities for monetisation by
Published - 06-November-2018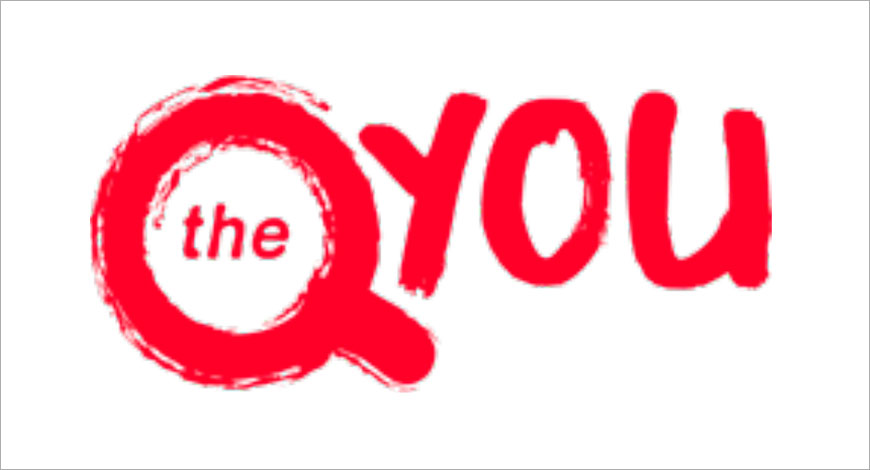 QYOU Media Inc. has appointed Krishna Menon as their Chief Revenue Officer of The Q India (aka: The Q). Based in Mumbai, Menon will drive the advertising and sponsorship revenue in one of QYOU Media's fastest-growing markets.
He will be responsible for increasing advertising sales and boosting digital, channel and mobile platform revenues by creating new opportunities for monetisation. Menon will also oversee The Q's expansion into influencer marketing initiatives.
Menon has nearly two decades of sales and marketing experience in the Indian media and entertainment industry. Prior to joining The Q India, he served as Chief Marketing Officer at Sakal Media Group and General Manager at Network 18 Media.
The Q has established itself as a go-to destination for the best original digital-first content in India, with audience reach of 230+ million mobile subscribers across Tata Sky and Jio TV. Menon's appointment is part of a number of exciting growth announcements for the company, which include naming former Sony Pictures Television Networks President Andy Kaplan as non-executive chairman of the board and the debut of The Q mobile app on the Google Play store. In April 2018, the company announced plans for accelerating growth in India given vast opportunities in the world's fastest-growing mobile market.
Sunder Aaron, General Manager at The Q, said, "The Q India business is growing quickly, and we're excited to build on this momentum by bringing Krishna onto our executive management team. Krishna has a proven track record of growing media and mobile businesses in the region. He's also someone who knows how to fashion and cultivate a brand and will serve as a key player as we further grow The Q into the leading channel and programming brand for young Indians aged 20-30 years old."
Commenting on the appointment Menon added, "I am thrilled to be joining The Q India team. I look forward to helping build The Q into a premier entertainment brand for young Indians and capitalizing on new opportunities to maximize revenue potential through ad sales, channel distribution and influencer campaigns with partners."
QYOU Media Inc. is a fast-growing global media company that curates and packages premium content from leading digital video creators for multiscreen distribution.

Cloudtap is a new AI-powered water purification system

by
Published - 28 minutes ago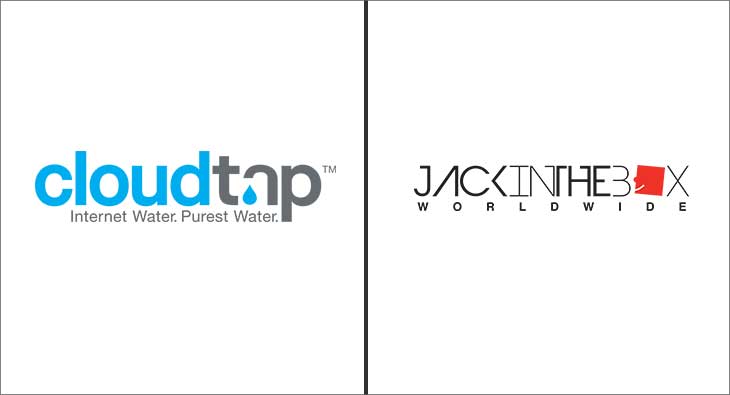 Cloudtap, a new AI-powered water purification system, has signed on Jack in the Box Worldwide, a part of The 120 Media Collective, as its digital and creative partner.

Cloudtap uses the power of the internet and AI to supply pure drinking water 24x7 while reporting its purity and performance in real-time. Along with Jack in the Box Worldwide's content marketing capabilities, Cloudtap takes Internet water to market.
Commenting on the win, Roopak Saluja, Founder & Chief Executive Officer, The 120 Media Collective, said, "In this business, it's not often that we encounter true innovation that typifies Blue Ocean Strategy. Cloudtap's 'Water as a Service' is truly revolutionary in this regard and it's super exciting for us at Jack in the Box Worldwide to have the opportunity to bring the various parts of The 120 Media Collective together to create content and other collaterals that will deliver real business impact for them."
Remarking on this selection, Cloudtap's CEO, Ankur Parikh, said, "We at Cloudtap are very excited to be working with Jack in the Box Worldwide. Their in-depth understanding of how to engage with consumers and audiences in the digital space combined with their film/video expertise is something that will help us establish Cloudtap as the market leader for commercial water purifications solutions."

Creative agencies showcase prowess with maximum representation of 14 winners on the list

by
Published - 19 minutes ago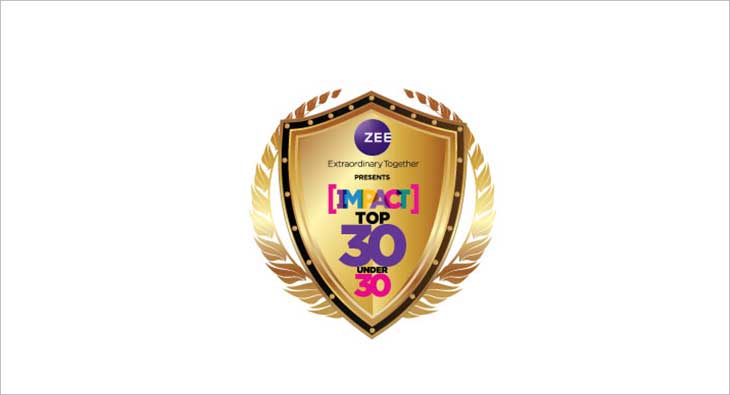 The sixth edition of IMPACT's 'Top 30 Under 30' initiative to pick the 30 most talented individuals under the age of 30 from the Indian Creative, Media and Digital agencies has just been released. While this year's list has representation from all three streams, what's interesting to note is that high achievers from creative agencies have an overwhelming presence. In a show of woman power this year, the list comprises 16 female and 14 male achievers. While the age of the winners varies between 24 and 30 years, there are seven winners aged 29, and the youngest to make it to the list is a 24-year-old.
The Top 30 Under 30 list is presented by Zee Entertainment Enterprises Limited.
This year, the list has only got wider and more diverse with winners from close to 20 different agencies making it to the top. From copy-writers to media planners, creative strategists, art directors, visualisers, client servicing executives and CEOs as well as CCOs, there are winners from across the spectrum.
Among the agencies that topped the list with maximum winners are Ogilvy, FCB Ulka and Mindshare with three names each, followed by BBH India, Leo Burnett India and Madison Media, with two names each to their credit. Creative agencies such as Wunderman Thompson Mumbai and L&K Saatchi & Saatchi also bagged single nomination each. Media agencies such as Madison Media and Publicis Media followed closely, making the cut. While mainline creative and media agencies would always be first to dominate the list, various digital powerhouses like Indigo Consulting, Adlift Marketing, Schbang, Social Kinnect, Dentsu Webchutney, Isobar India, WittyFeed, Amnet India, Ideosphere Consulting and SoCheers made their presence felt this time.
THE SELECTION PROCESS
A high-powered jury led by Vikram Sakhuja, Group CEO, Media and OOH, Madison, as Jury Chair, met in Mumbai in February, 2019 to select IMPACT's Top 30 Under 30 for the year 2019. The other members of the Jury were Abe Thomas, CEO, Reliance Broadcast Network Ltd, Ashish Chakravarty, Executive Director and Head of Creative, India McCann Worldgroup, Bhaskar Das, Group President, Republic Media Network, Govind Pandey, Chief Executive Officer, TBWA India, Himanka Das, CEO, Vizeum India, Kranti Gada, COO, Shemaroo Entertainment Ltd, Megha Tata, then COO, BTVI, Meghana Bhatt, Chief Strategy Officer, Scoopwhoop, Neena Dasgupta, CEO & Director, Zirca Digital Solutions, Prathyusha Agarwal, CMO, Zee Entertainment Enterprises Ltd, Rahul Mathew, National Creative Director, DDB Mudra Group, Sandeep Sharma, President, RK Swamy Media Group and Shavon Barua, Chief Client Officer, PHD India.
The jury was presented with a database of 100 shortlisted profiles from more than 300 obtained through online submission of entries. The jury members went through a rigorous jury process to arrive at the final list of the industry's Top 30 Under 30 for the year 2019.
Here is the much awaited final list of 'IMPACT's Top 30 Under 30 list 2019':
AASHNA IYER
REGION LEAD – MUMBAI,
IDEOSPHERE CONSULTING
AKHIL MENON
PLANNING DIRECTOR,
OGILVY
AKSHAY GURNANI
CO-FOUNDER & CEO,
SCHBANG
ARZAN ANTIA
COPYWRITER,
LEO BURNETT INDIA

BINAIFER PATEL
DIRECTOR,
THE EXCHANGE, MINDSHARE

CHANDNI SHAH
CO-FOUNDER & COO,
SOCIAL KINNECT
DEEP CHHABRIA
CREATIVE PARTNER,
BBH INDIA
ESHA TIWARI
SENIOR COPYWRITER,
ISOBAR INDIA
HEMANGI CHATTERJEE
CREATIVE SUPERVISOR,
DDB MUDRA GROUP
HEMANT MENON
DIRECTOR, PROGRAMMATIC,
AMNET INDIA
HIMANISH ASHAR
CREATIVE STRATEGIST,
LEO BURNETT, MUMBAI
ITI KAUL
SENIOR DIRECTOR,
MINDSHARE
KRISHNAKANT MISHRA
CONTENT LEAD,
OGILVY
MAHIMA MATHUR
SENIOR COPYWRITER,
DDB MUDRA GROUP
MEHUL GUPTA
CO-FOUNDER & DIRECTOR,
SOCHEERS INFOTECH
NADIA MIRANDA
STRATEGIC PLANNING DIRECTOR,
OGILVY
NAMITA KULKARNI
DIRECTOR-THE EXCHANGE,
MINDSHARE
NEHA SINGH
ACCOUNT DIRECTOR,
J. WALTER THOMPSON, MUMBAI
NIRALI HINGWALA
ASSOCIATE DIRECTOR, DATA, INSIGHTS AND ANALYTICS,
INDIGO CONSULTING
PARVEEN SINGHAL
CO-FOUNDER & CCO,
VATSANA TECHNOLOGIES
PRIYADARSINI GP
BRAND STRATEGY PARTNER,
L&K SAATCHI & SAATCHI
PUJA KANKRANIA
DIRECTOR,
PUBLICIS MEDIA
RAHUL GUPTA
ART DIRECTOR/CREATIVE HEAD,
ADLIFT MARKETING
RISHAB AGGARWAL
SENIOR PLANNING MANAGER,
MADISON MEDIA
SANJANA DORA
COPYWRITER,
FCB ULKA
SANKET AUDHI
ASSOCIATE GROUP HEAD – COPY,
DENTSU WEBCHUTNEY
SARITA CRASTO
ACCOUNT MANAGER - INTEGRATED MARKETING COMMUNICATIONS,
MADISON COMMUNICATIONS
SHAMBHABI RAHA
SENIOR COPYWRITER,
FCB ULKA
VINESH NANDIKOL
SENIOR BRAND PLANNING MANAGER,
FCB ULKA
YOHAN DAVER
CREATIVE DIRECTOR,
BBH INDIA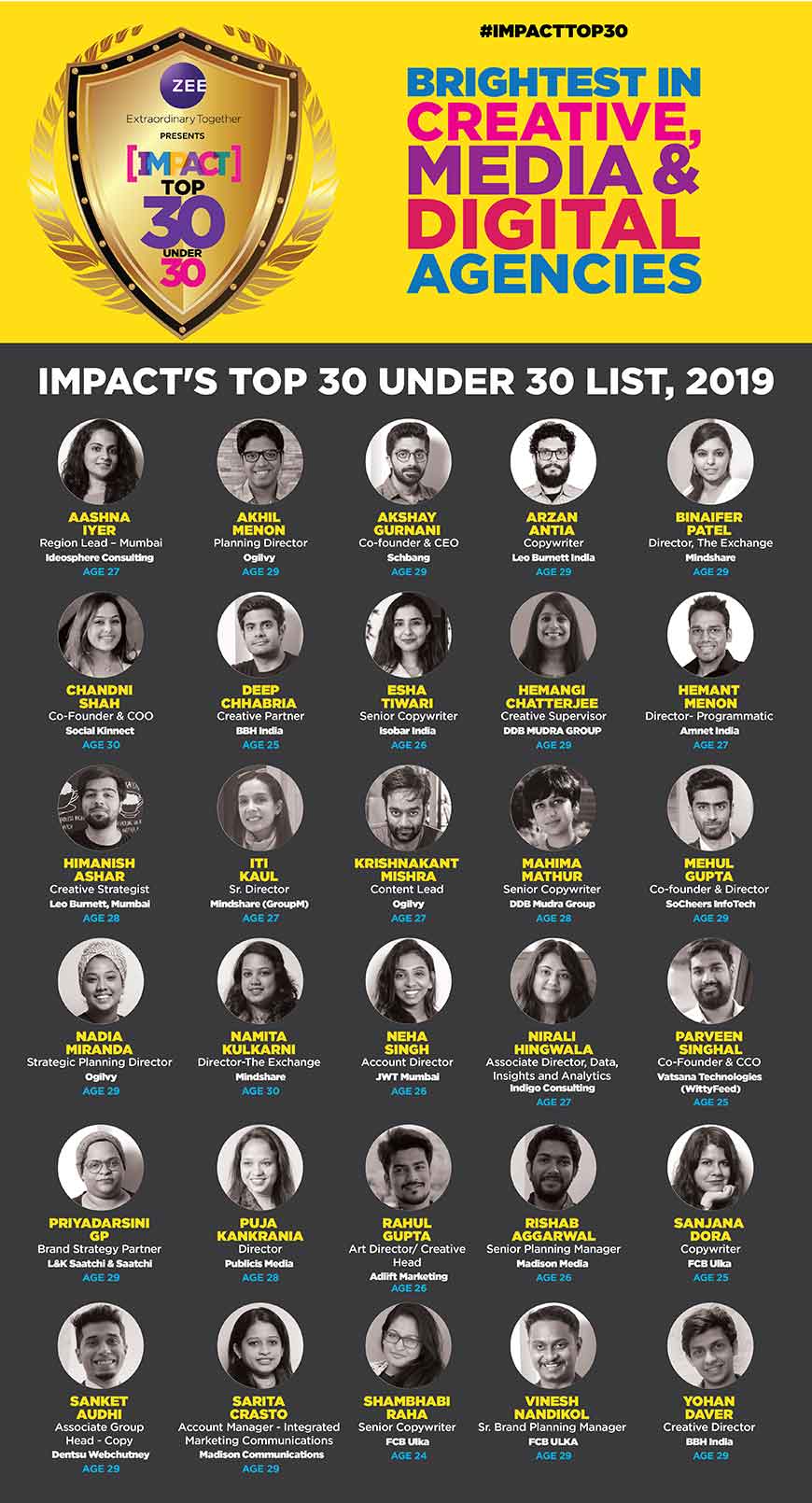 91springboard is a co-working community created for start-ups, while Medusa is an India-based beer brand

by
Published - 3 hours ago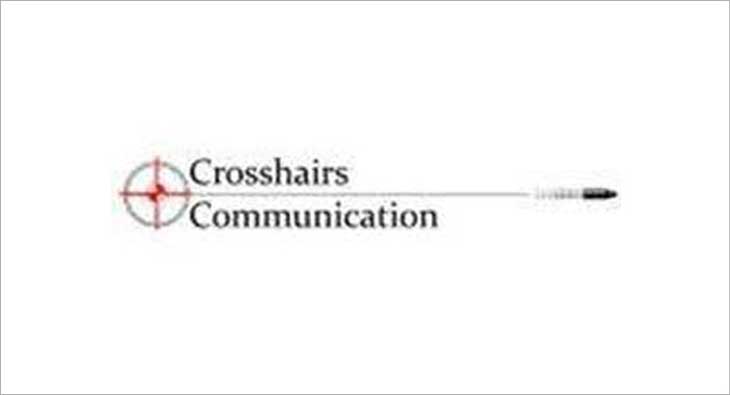 Public Relations (PR) agency Crosshairs Communication has bagged two big mandates this month, from two very different sectors. The first being co-working space 91springboard and the second beer brand Medusa. The two brands in the kitty will strengthen the core expertise of Crosshairs Communication.

91springboard is a vibrant co-working community created for start-ups, freelancers and business owners with a start-up mindset. Team Crosshairs Communication will be handling PR for the brand.
Medusa, meanwhile, is one of the fastest growing beer brand in India. The brand was born in 2018 with the objective to support the millennial consumers who are looking out for new taste and flavour in the Indian market. It is an India-based beer company with a strategic marketing division and a quirky and contemporary packaging. Crosshairs Communication will be managing PR for this account.

Stuti Jalan, Founder, Crosshairs Communication, is excited about signing up the two new accounts. "Crosshairs has always loved a good challenge and now we have got two! As an agency, we have always tried to deliver more than what is expected from us. We hope to extend our support to the brands address their communication goals, press coverage and brand expansion possibilities," said Jalan.


In her long stint with Ogilvy, Kamath managed the HUL's Tea portfolio and Personal Care and Laundry business. She spent her last couple of years at Wolfzhowl as a knowledge and business custodian

by
Published - 4 hours ago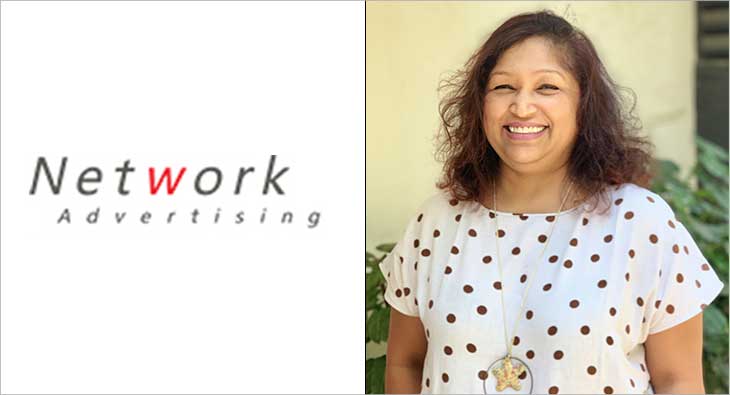 Shilpa Kamath joins Network Advertising as Senior Vice-President, Client Services. Kamath comes with an experience of over 18 years of leading the communication duties of several prestigious FMCG brands.

In her long stint with Ogilvy, Kamath managed the HUL's Tea portfolio (Red Label, Taj Mahal and 3 Roses) to begin with, and then moved on to manage the Personal Care and Laundry business, namely, Dove, Comfort and Sunlight.
She led the Indian mandate for Dove (Haircare, Skin Cleansing & Deos) and Kimberly Clark (Huggies and Kotex). As a business leader she played a major role in navigating these global brands while focusing on local realities. She takes pride in winning several effectiveness awards for Dove, both at the domestic and international platforms.
Kamath spent her last couple of years at Wolfzhowl, a strategic consultancy firm where she played the role of a knowledge and business custodian.
At Network, Kamath will head an independent business group managing the FMCG brands of Jyothy Laboratories like Henko, Margo, etc.
Vinod Nair, managing Director of Network Advertising said, "We are glad to have Shilpa back on board with Network and it is like welcoming her home. We look forward to her leadership on all the prestigious brands of Jyothy Laboratories that we handle."
Kamath said, "Handling the communication requirements of FMCG brands has always excited me and making a success of the Jyothy Laboratories portfolio with Network is something that I am really looking forward to."
Nair will help drive growth and build on the agency's fully integrated service offering spanning creative, technology and data services

by
Published - 6 hours ago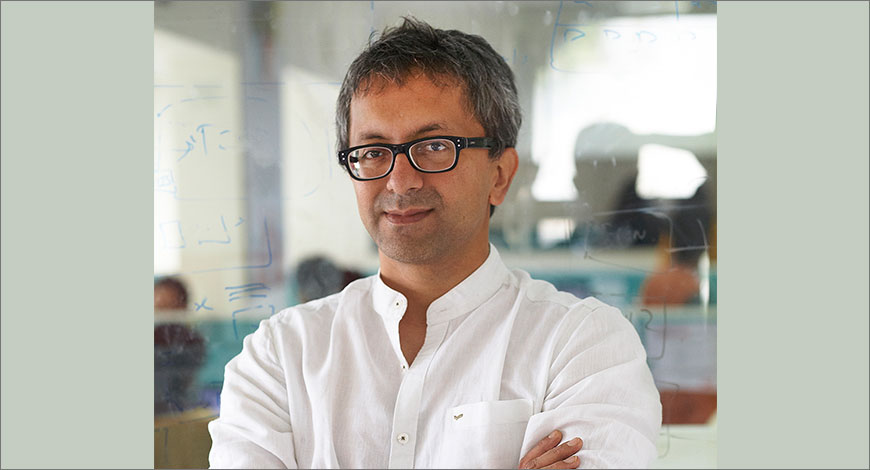 Law & Kenneth Saatchi & Saatchi India's Anil K Nair appointed as CEO of VMLY&R India. He will be based out of the Mumbai office, and will report to VMLY&R Asia Co-CEO Tripti Lochan, who is based in Singapore.
At VMLY&R's India operation, Nair will help drive growth and build on the agency's fully integrated service offering spanning creative, technology and data services.
Prior to this, Nair was the CEO and Managing Partner for Digital Law & Kenneth Saatchi & Saatchi India. He was part of the founding team at Law and Kenneth (L&K) Communications in 2002. He is recognised for his role in helping build Law & Kenneth Communications from the ground up into India's largest independent agency, prior to its merger with Saatchi & Saatchi in 2014. Before Law & Kenneth, he was a Brand Planning Director with Lowe Lintas.
Commenting on Nair's appointment, Lochan said, "We are committed to cultivating truly connected brands that generate real ROI for our clients and their clients. Anil comes to us with the right vision and experience to make this happen, marrying strategy with an understanding of the brand, digital and commerce. He boasts an exemplary record for driving agency excellence and innovation while exhibiting a deep understanding of the Indian marketplace. This is an exciting time for VMLY&R as we continue to flourish in India, and I can think of no one better to lead the way."
"At a time when consumer behaviour and demand continues to evolve in line with advancing technology, VMLY&R with its 'marketing-company meets creative-agency' rigour, represents a breath of fresh air for its clients via a service offering which is arguably the most relevant, necessary and contemporary in the market today," Nair on his appointment.
Few weeks ago, Kevin Lobo was appointed as the Executive Creative Director, VMLY&R India, and Sujay Kar as Commerce Group Lead, VMLY&R SEA & India.
Rakesh Biyani re-appointed as joint managing director for three years

by
Published - 7 hours ago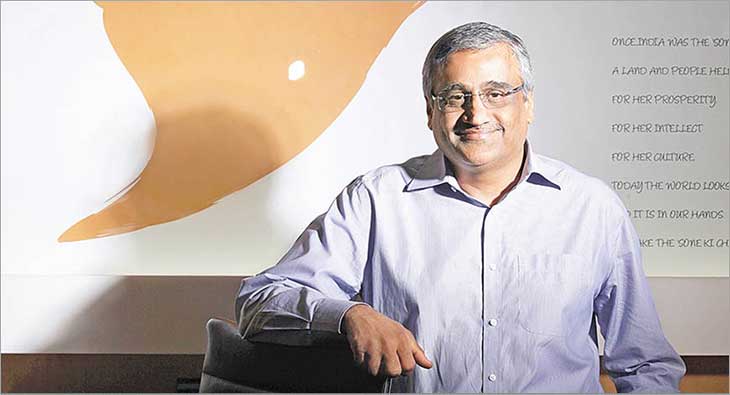 Future Retail has re-appointed Kishore Biyani as managing director and Rakesh Biyani as its joint managing director for three years, as per media reports.
These will come into effect from May 2 for three years, Future Retail said in a BSE filing.
The decisions will, however, be subject to approval from the company shareholders, Future Retail said.
Future Retail is part of Future Group that was founded by Kishore Biyani.
Rakesh Biyani has been with the Future Group for more than 23 years and leads the management in expansion of Big Bazaar, Central and fbb.
Nanchahal will be reporting to Viraj Chouhan, Chief Communications Officer, PepsiCo India

by
Published - 9 hours ago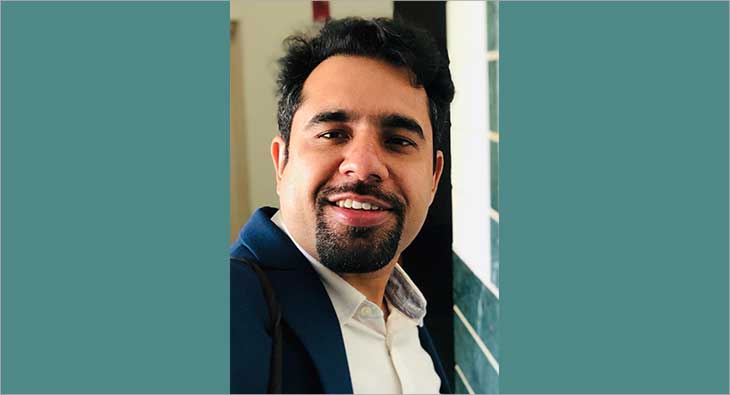 Amit Kumar Nanchahal, former Manager, Corporate Communications and PR at Ola has joined PepsiCo as Senior Manager Communications.

Sources have confirmed this to exchange4media.

In his new role, Nanchahal will be reporting to Viraj Chouhan, Chief Communications Officer, PepsiCo India.

Nanchahal has over 15 years of experience on the Communications domain. An alumnus of Symbiosis Institute of Business Management, Nanchahal was earlier Manager, Corporate Communications and Sustainability at SABMiller India.
He will report to Atin Wahal, Executive Vice-President and Head of BBDO's Mumbai operations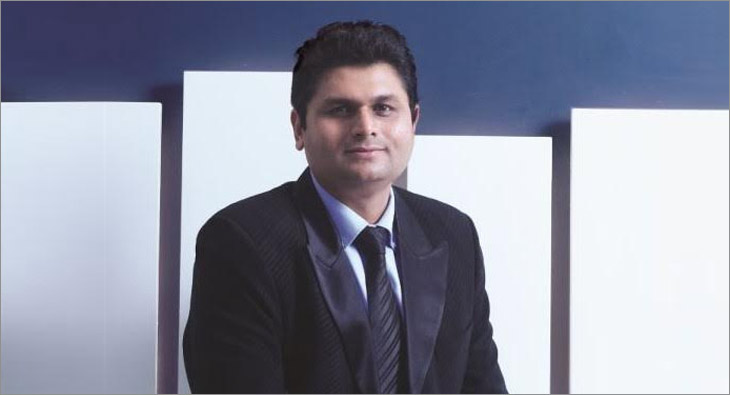 BBDO India has appointed Kunal Solanki as Vice-President for the Mumbai office. He will report to Atin Wahal, Executive Vice-President and Head of BBDO's Mumbai operations.
Solanki began his career in advertising more than 18 years ago and joins us after 11 years working in the Middle East (Dubai). He has experience across various categories including Telecom, FMCG, Automobile, Banking, Electronics and Durables working on different brands such as Hutch & Vodafone, Marico, Sony, LG, Heinz, Kimberley Clark, Hyundai, Westside (TATA), Cox and Kings. Over the last few years, he has helped develop the digital arms of agencies in Dubai, with a focus on integration and content creation.
Speaking on his new role, Solanki said, "In this day and age, when consumers have so much content thrown at them, it is imperative that brands get the context right and present it in a way that the consumers can relate too. BBDO's work over the years has done just that and this is what resonated with me. I am delighted to join the BBDO family and look forward to my journey ahead."
Commenting on his appointment Atin Wahal said, "Kunal is a rare breed of advertising professional who understands the communication needs as well as the marketing problems for the clients. His experience with varied categories and regional exposure will surely be an asset for the agency. We welcome him to the ever-energised BBDO Ashram."
The scope of the mandate will see Lowe Lintas conceive a sharp advertising campaign for Cricbuzz during the heavily anticipated Cricket World Cup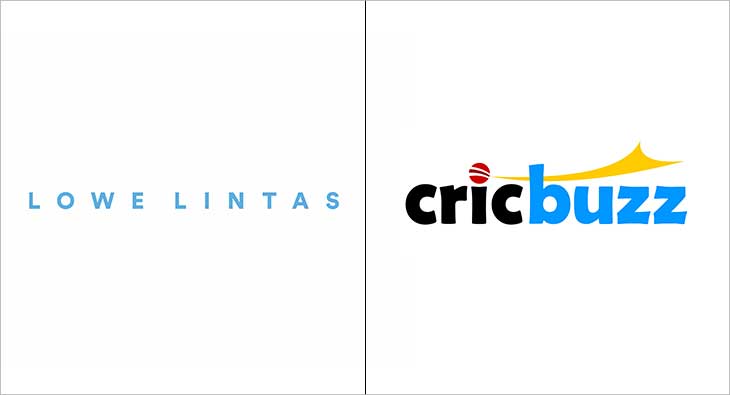 Cricbuzz has appointed Lowe Lintas to handle their creative duties ahead of the Cricket season. The scope of the mandate will see Lowe Lintas conceive a sharp advertising campaign for Cricbuzz during the heavily anticipated Cricket World Cup.
Thanks to the meteoric rise in the number of smartphone users, supported by falling costs of internet bandwidth in India, viewers will experience the game way beyond television sets this World Cup. Needless to mention, there is expected to be a surge in cricket-related content, in multiple formats - ranging from videos to blogs to memes. To thrive in the midst of a storm of similarly-themed content will be a challenge that a lot of brands are likely to face, the agency said in a statement.
Talking about the appointment, Ajith Ramamurthy, Business Head – Videos, Cricbuzz, said "Being the No. 1 cricketing platform in the world, it's time for us to promote the latest offering from the brand. We were looking for a creative partner to deliver a high-impact campaign promoting the video content during the world cup and found an able partner in Lowe Lintas. We are excited about this partnership and look forward to working with the Lowe Lintas team."
With Lowe Lintas onboard, Cricbuzz aims to attract a lion's share of user attention for its video content uniquely crafted around the Cricket World Cup. In order to flick a Sixer, it will be prudent for Cricbuzz to grab considerable mindshare even outside the boundaries of a live cricket match.
Commenting on the win, Hari Krishnan, President, Lowe Lintas said, "What Cricbuzz has achieved already is quite amazing. It is India's largest platform for everything cricket. The video content on Cricbuzz is far superior and insightful compared to what the viewer is used to. We are excited about this opportunity, being cricket buffs ourselves".
The Bangalore office of Lowe Lintas will handle the account.
The account will be handled by Dentsu Webchutney's Bengaluru office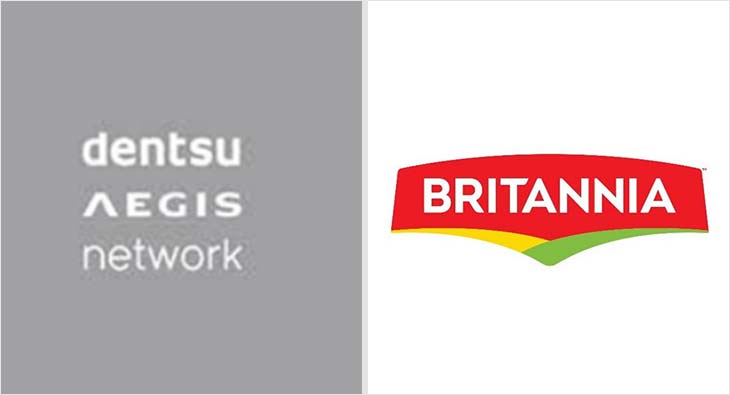 Dentsu Aegis network's digital agency Dentsu Webchutney has won the social and digital mandate for Britannia Timepass, following a multi-agency pitch. The account will be handled out of their Bengaluru office.
Commenting on the development, Jayant Kapre, VP- Adjacencies Business, Britannia, said, "Taking forward our vision of being a 'Total Foods Company', we are entering the salted snack market for the very first time with Britannia Timepass. It's a cluttered market, filled with players from both the organized and unorganized sectors. Our content needs to break through the digital noise. The need of the hour was to find a partner that not only shared our vision for the brand but would further it with their own thoughts, points of view and ideas."
Prashant Gopalakrishnan, Sr. Vice President, Dentsu Webchutney, said, "We are talking about one of the most iconic companies this country has ever seen. The team is thrilled to partner with Britannia on this journey - one we hope is just the start of a longstanding relationship. The brand Timepass itself comes with tremendous inherent creative potential, and a client team that we already have built great synergies with."