Mid-Day rides on the comedic magic of Jamie Lever in its digital ad
Lever pulls off ace mimicry of leading celebrities in the ad
Every marketer worth his ROI knows that pulling off a humorous advertisement is no cakewalk. If it goes wrong, it can lead to the brand getting embroiled in a big controversy. No wonder, brands are now latching on to the format of stand-up comedy and leveraging stand-up comedians in their ad campaigns. On these lines, Mid-Day released an ad where Indian comedian and daughter of one of the most noted Indian comic star Johnny Lever, Jamie Lever took center stage.
In the video, Lever mimicks various Bollywood stars such as Sonam Kapoor, Kareena Kapoor Khan Khan, Johnny Lever himself, among others and towards the end makes the case for people to read Mid-Day. Lever's spot-on act and perfect comic-timing seem to have hit the right spot as the post has gained immense traction with numerous people sharing it on social media.
Brands like Hyundai, Tata Motors, PayU, Durex, HDFC life, Aegon Religare have also roped in comedians for their ads. Heineken teamed up with the Indian comedian Rudy Singh for the campaign called "Generations Apart" that went viral and gained over 1,66,000 views on YouTube. Kanan Gill, Kenny Sebastian, Tanmay Bhat, and Kaneez Surkha have featured in several ads during the last few years.
These comedians have a large say in influencing the digital audience today which makes brands ride on their popularity to curate lighthearted content for the digital space. Naturally, marketers noticed people gravitating towards them. Needless to say that creative collaborations like these, have a finger on the crowd's pulse.
https://www.facebook.com/101982830708/posts/10156566847495709/
Misbaah reports on advertising industry. Based in Mumbai, she interviews industry leaders in the creative, advertising and marketing space, reports news updates in the ad space. She drives the 'Chillout' section, and regularly reviews ad campaigns. In the past she has reported on mainline news, travel and lifestyle.
The campaign has been conceptualised by GREY Bangalore
GREY group India has created a new campaign for Britannia Treat Crème Wafers. The campaign has been conceptualised by GREY Bangalore.
When you get caught in a sticky situation, a dash of quick thinking and some delicious Britannia Treat Creme Wafers can help smooth things over. That's the premise of the new films created by GREY Group India. Wafers have long been a light snack that made evening breaks interesting for kids. And Britannia Treat Creme Wafers' alternating layers of crunchy wafer and delicious cream kindle the mischief that is inherent in children.
Speaking on the launch, Jayant Kapre, Business Head, Adjacencies and New Business says "Britannia is diversifying into more categories in macro- snacking, and with the introduction of 'Crème Wafer', we offer a quick on- the- go snack. We aim to expand the market and take a leading position over time."
The films begin with kids getting caught in sticky situations. One look at the pack of Britannia Treat Wafers gives them inspiration on how to get out. With one lie after another, they explain away their mischief and create a Britannia Treat Creme Wafer in their imagination. In the end, they make peace by offering their antagonists the wafer that formed in their head.
Speaking about the films, Gautam Bhasin, Group Creative Director, Grey Bangalore says, "The idea for the films came from the insight that children are great at spinning yarns. Their imagination is akin to the product attribute of wafers, one layer on another. So, in the films we let the kids create layers of fun, drawing a parallel to the structure of the wafer."
Britannia wafers are targeted at children within the age group of 7 to 13 but are available to all those who are young at heart and want to enjoy its delicious flavours.
Britannia Treat Creme Wafers Diary
Britannia Treat Creme Wafers Library
exchange4media Group Service
<
This national health initiative is titled EYE4Future and is conceptualised by IAA in partnership with All India Ophthalmological society
International Advertising Association (IAA) in association with the All India Ophthalmological Society (AIOS) is providing a platform for all advertising and marketing professionals in India to showcase their creativity for a cause during the upcoming International Advertising Association World Congress in Kochi in February.
IAA is inviting entries for creating a campaign to drive awareness on 'Diabetic Retinopathy'. This national health initiative is titled EYE4Future and is conceptualised by IAA in partnership with All India Ophthalmological society.
Punit Goenka, President IAA (India Chapter) said, "The ethos behind the campaign is that IAA has always believed that communication should be a force for good. The India Chapter has an excellent track record of supporting good societal causes."
Adds Dr S Natarajan, President Elect of the AIOS, "The diabetes pandemic is sweeping across the country. There are 62 million people with diabetes in India and another 77 million people estimated to be pre-diabetic. These and all those who have not yet been diagnosed as diabetic are facing grave risk, including those of Diabetic Retinopathy and hence there is a need to build mass awareness about this issue. I am glad the IAA is supporting this much needed initiative."
The campaign will be judged by an elite jury for creativity and simplicity. IAA will support the winning team to produce the campaign, and invite two members of the team to Kochi. The campaign will be unveiled in the presence of renowned speakers and celebrities at the IAA World Congress on February, 22, 2019. The last day to send in entries is January 28, 2019.
The winning campaign should be produced in a period of not more than 15 days. No extension of deadlines. No entry fee.
For queries, you can email at: execseciaa@gmail.com
exchange4media Group Service
<
The campaign is running in 7 cities across Tamil Nadu with 60 hoardings in Chennai, Coimbotore, Madurai, Salem, Pondicherry, Vellore, Tirunelveli and Trichy
This year, Britannia's Milk Bikis, Tamil Nadu's Beloved biscuits, is celebrating the harvest festival of Pongal — a major festival of South India with a 14-day campaign. With this campaign, the brand hopes to bring back 42 years of fond memories with TN consumers.
The campaign is running in 7 cities across Tamil Nadu with 60 hoardings in Chennai, Coimbotore, Madurai, Salem, Pondicherry, Vellore, Tirunelveli and Trichy. Also launching is a new heart touching TVC conceptualised by Lowe Lintas that shows the coming together of children to celebrate the festival with an old man from the village. Falling short of milk to cook the celebratory Pongal, the two are then fulfilled by a pack of Britannia's Milk Bikis.
Video:
exchange4media Group Service
<
McCann Worldgroup India, HUL, Ogilvy and The Womb on winning big at EFFIE Awards India 2019
Prasoon Joshi and his team once again led McCann Worldgroup India to victory at the The Advertising Club (TAC) India's EFFIES after a stellar performance in 2018. The agency which had a total of 63 shortlisted entries won six gold, 13 silver, and 18 bronze EFFIES on Friday night. The award night resulted in a nail-biting finish with McCann Worldgroup India commandeering the EFFIE stage.
Ogilvy India which gave a very close competition to McCann India won the Grand Effie, once again second time in a row. The Womb, which was the only independent creative agency to make it to the top five list won four gold, two silver and three bronze EFFIES. Hindustan Unilever Limited was adjudged as the EFFIE Client of the Year.
On winning the Agency of the Year title for the second time in a row Prasoon Joshi, CEO and CCO McCann Worldgroup India and Chairman McCann Worldgroup Asia Pacific said, "There is no winning strategy, it is the strategy that wins. Therefore, I think it is important to plan the right strategy for your brands. Eventually we don't do work to win awards; awards are by-products. It is very good to win but the work is done to build brands and if that work also gets awarded it's great. There is no formula; you have to constantly keep reinventing yourself. If you are not reinventing yourself, something that worked for you three years back will not work for you again. It is important to take cognisance of the changes which we are living with."
He further said that the work done for IKEA, Nestle, Coca Cola, and the National Skills Development Corporation were all responsible for the win on Friday night. "The IKEA campaign worked. It was a great idea. It was not just promotional advertising. It was a virtual reality experience which redefines the way you think. Even the skilling campaign for the National Skill Development Corporation worked well. It is tough to share the message of what the government is doing among the clutter of schemes. A lot of work that the government does for the people gets lost and people don't take benefit of it because the communication is not right. I feel very happy to see that our communication has reached out to people and people have taken benefit of the scheme."
"We are really happy that our work has been recognised. The main reason we won is because we focussed on what the consumers are looking for and going after the insights that make these campaigns work," said Priya Nair, Executive Director of Home Care for Hindustan Uniliver Limited.
The coveted Grand EFFIE was won by the Ogilvy India Group for the Fevikwik Campaign – "Getting the fixer at home to fix more". Commenting on the win, Kainaz Karmakar and Harshad Rajadhyaksha, Chief Creative Officers - Ogilvy India (West) said, "This is an evening we all look forward to. While we have a plethora of creative awards, this one has its own special place because it is creativity combined with effectiveness that we all look forward to."
The Womb emerged as the only independent agency in the top five for its work for Saregama Carvaan. Speaking to exchange4media, Navin Talreja, Founder, The Womb said, "We are really excited about the win. In total, we are 20-22 people in the agency. We have won 10 Effies which is 2 Effies per person. We also made it in the top 4. Our client- Saregama emerged runner-up in client of the year. So we are really happy with the win."
The annual EFFIE awards celebrates and honours brand innovators and thought leaders for their pioneering brand and media strategies.
exchange4media Group Service
<
The deadline to apply for the programme is January 25
Cannes Lions has invited application for its See It Be It programme. It is a one-to-one mentoring and intimate networking programme for women in the creative space.

The deadline to apply for the programme is January 25.

"See It Be It is an exclusive programme of learning, one-to-one mentoring and intimate networking that changes careers and forges friendships for women en route to creative leadership. In 2019 join a select group of rising female creative directors from across the world at Cannes Lions," the organisation said in a statement.

Talking about the deadline, they said, "We have now extended the entry deadline to Friday 25 January. Apply to the scheme and share with your friends. Competition is fierce, but this could be the best thing you ever do."

exchange4media Group Service
<
The series of humorous campaign films feature Bollywood actor Suniel Shetty and ace cricketer Zaheer Khan
In the spirit of the country's love of cricket, Ferit Cricket Bash (FCB), India's independent league for amateur cricketers, has unveiled an exciting campaign 'Bade Ziddi' to promote the launch of their new venture. As part of it, three commercials, humorously invite enthusiastic cricketers to participate in the upcoming league. What makes the campaigns more riveting is that they feature its co-founders, cricketing legend Zaheer Khan and Bollywood superstar and sports enthusiast Suniel Shetty.
The central theme of these commercials highlights how cricket lovers from different facets of society, go about their lives, and how cricket plays a central role in every action they take. They masterfully encapsulate the various unique ways in which one's love for cricket could cause them to react very differently to certain situations, with charming and entertaining results. The commercials end with a power-packed invitation by Suniel Shetty and Zaheer Khan to men of all ages, who are as passionate about cricket as the protagonists, to sign up for the FCB tournament.
This campaign, which is the brainchild of Founder Jasmeet Bhatia and Co-founders Mitesh Sharma, Suniel Shetty, Zaheer Khan, focuses on how deeply cricket is ingrained into the psyche of Indians, and how effortlessly it manifests in certain situations. This makes it not just relatable, but very compelling for an audience who lives and breathes this sport. FCB itself is a unique venture that brings elements of grandeur and professionalism into amateur cricket and provides talented players from across the country, once-in-a-lifetime opportunity to get to experience cricket at the highest standards. Renowned stalwarts in their respective fields like Suniel Shetty and Zaheer Khan have been part of the FCB endeavour since day one, which has added to the high-octane spirit of the campaign.
Commenting on the campaign that is swiftly winning the hearts of many a cricket fan, Zaheer Khan, cricketing legend and co-founder of FCB said, "As someone whose life has revolved around cricket, it is simply endearing to witness the impact of our endeavour via the Bade Ziddi campaign. As an independent cricket league that recognises and rewards amateur talent across the length and breadth of the country, I am elated to have been part of the FCB family with Suniel, Mitesh, and Jasmeet. Ferit Cricket Bash presents an opportunity to all Indians to be a part of a bigger platform and play with fellow enthusiasts.
Suniel Shetty, Bollywood actor and Co-Founder of FCB said, "I am delighted to witness the wide reach of our campaign. Being a sports enthusiast, it has been an exciting journey for me ever since the four of us- Jasmeet, Mitesh, Zaheer and I conceptualised and came together for this tournament. Therefore, I am looking forward to the massive participation of amateur and talented 'ziddis' of all age-groups across the country, and to bring this Indian cricketing talent together on a national platform."
Jasmeet Bhatia, founder of FCB said, "Cricket is worshipped like a religion in our country. The power, respect, and admiration the game commands in the country are truly heart-warming, as is the passion that millions of amateur players display on and off the field. Through this campaign, we hope not only to promote FCB as an exciting league for cricket lovers to enjoy and cherish, but also to galvanise the nation's love and respect for cricket in a light-hearted, yet profound manner."
With FCB's Bade Ziddi campaign already picking up with rapid registrations across the country, and the advent of the league just months away, 2019 will undoubtedly be a historic year for cricket lovers in India.
Campaign video:
exchange4media Group Service
<
The move is in line with the company's continued efforts to bolster transparency in political advertising ahead of the 2019 India General Election
As the 2019 India General Election looms near, Facebook, in an effort to bolster transparency in political advertising, is set to appoint an Election Integrity Head, according to media reports.
Taking note of the recently conducted state elections in India and elections in Brazil, Bangladesh, and the US mid-term elections, the company revealed that it is yet to see any coordinated behaviour in relation to the sharing of misinformation by multiple parties, but noted that such incidents are more likely to occur closer to the election.
The social media giant also noted that in its efforts to strengthen transparency for political advertisements it is also necessary to strike a balance between protecting users' privacy and letting people know who is posting political ads.
Facebook also said that they may work with native language speakers to understand the context of content surrounding the election, as they did during the election in Brazil.
exchange4media Group Service
<
The trailer of the movie received 20 million+ views on YouTube, and the official teaser which was released on December 12 garnered 14 million+ views
Superstar Rajinikanth's Pongal release movie, 'Petta', underlines one fact that the actor is unstoppable even at the age of 68. The legendary Rajini is back with swag in his 165th movie and the 2 hour 52 minute movie is a pure tribute to the star which has many fan boy/fan girl moments. The movie was released on January 10 to a huge response from fans and celebrities across the globe. The film directed by Rajini fanboy-Karthik Subbaraj has an ensemble cast including Nawazuddin Siddiqui, Vijay Sethupathi, Simran, Trisha, Sasikumar, Boby Simha etc.
The movie was made at a budget of around Rs 161 crores and has already raked in millions in terms of satellite, distribution, and audio rights. The reservation for the movie started on January 5 and reportedly it has fetched around $315,000 at US Box Office through pre-sales. The distribution rights for the movie in Tamil Nadu is reportedly sold for Rs 55 crores and the overseas distribution rights for Rs 40 crores. The distribution rights for Kerala and Karnataka stood at Rs 12 crores and Rs 8 crores respectively. As per reports, the audio rights were sold for Rs 3.5 crores. Reportedly, the Telugu version of the film has done a pre-release business of Rs 25 crores. According to media reports, the digital and satellite rights of the movie is sold to SUN TV for a whopping Rs 45 crores.
Brand Association and Promotions
Asian Paints is associated with the movie and the brand has released a 30 second video on Asian Paints Royale Health Shield with few scenes from the movie.
The hash tags #petta, #Pettatomorrow, #getrajinified #rajinikanth, have been trending on social media platforms prior to the movie release. The trailer of the movie which was released a week ago has received 20Million+ views. The official teaser which was released on December 12 garnered 14 million+ views on YouTube. The song 'Marana Mass' from the movie got 31 million+ views on YouTube.
Tata Sky too did an engagement post on their social media handles.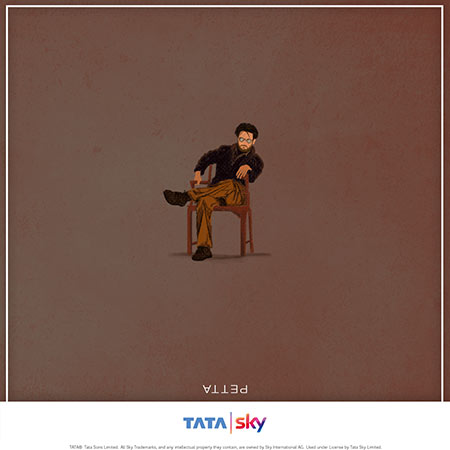 The producer of 'Petta' - Sun Pictures on their official Facebook page came up with few promotional initiatives. A post from them asked the audience to show their excitement about the release of the movie by taking a picture of the ticket and sharing it with them using #PettaParaak.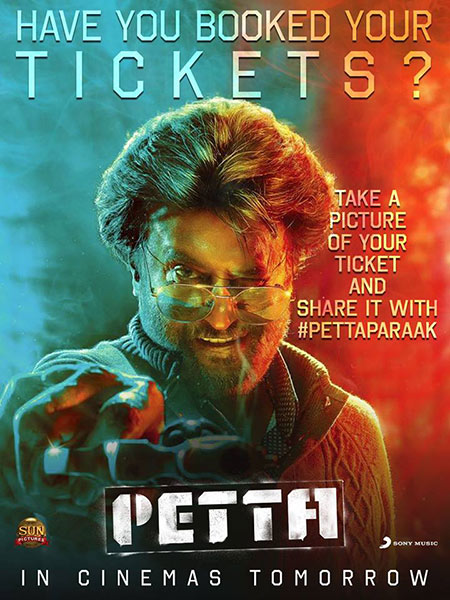 Sun pictures introduced Petta Filter and asked the audience to share the video with #pettafilter as part of promotional activities.
They also released WhatsApp stickers and it is available on Google Play store.
Petta Gifs were also available on Twitter, Facebook, and WhatsApp
Local fans and celebrities have reached out to social media platforms to express their love for Rajini. A video of actors Dhanush and Trisha hooting and clapping while watching 'Petta' at a movie theatre has also gone viral.
Neethu reports on media, marketing and advertising industry. In the past she has reported on start-ups, education and health sector for over 6 years.
<
Hrithik Roshan, who has been the face of several brands in his 18-year career, turns 45 today
Hrithik Roshan, who topped the list of world's most handsome actors of 2018, turns 45 today. One of the most talented and highest paid actors in Bollywood, Roshan made appearances as a child actor in several films from 80s. His debut as a leading actor was in the 2000 movie Kaho Naa Pyaar Hai. Roshan is considered to be one of the most bankable Bollywood actors and he has established himself as a style icon in India. Roshan has been associated with several brands and in 2013 he launched his clothing line, the casual wear brand HRX.
From Coco-Cola to Hero Honda, Roshan has been the face of several brands in his 18-year career. He signed on for endorsement deals with Coca-Cola soon after his debut. In 2016, Duff & Phelps (global valuation & corporate finance advisor) estimated Roshan's brand value to be US$34.1Million. In 2018 Tata Motors has signed-up Hrithik Roshan as the brand ambassador for its sedan, the Tata Tigor. He has also been roped in as the brand ambassador of Donear brand of suiting & shirting.
On his birthday, let's take a look at some of his brand associations.
Coco-Cola
Hero Honda
Mountain Dew
Donear
Nirma
Oppo Mobile:
Tata Tigor
HRX
exchange4media Group Service
<
Barrett, CCO, BBH India, has said that any further uncorroborated and slanderous posts about him 'will attract legal action' 
Late Wednesday evening, BBH India CCO Russell Barrett responded to the allegations of sexual misconduct against him. He has called the allegations completely baseless and has said that any further uncorroborated and slanderous posts about him "will attract legal action".
Barrett has written an email to Sandhya Menon who had first shared the account of a woman who accused Barrett of sexual misconduct. In the mail Barrett writes: Any further uncorroborated and slanderous posts about me will attract legal action. This is not a threat but an intimation to you of what I will be forced to do to protect my family and myself from wild and baseless accusations like this.
Sharing a copy of that email with exchange4media, Barrett wrote: I would appreciate it if you can take the time to go through this mail and do the right thing in response to a completely baseless accusation made by Sandhya Menon. I also hope you will, with the same diligence, publish the other side of this story.
Full Text of Barrett's Mail to Sandhya Menon:
Sandhya,
I have been a huge supporter of the MeToo movement from its inception, given my respect for women in general, and more specifically, at the workplace – something I am confident all my colleagues, peers and friends who have worked with me over my 22+ year career will vouch for.
Given this, yesterday's tweet falsely implicating me in a fictitious and anonymous MeToo complaint shocked and saddened me to say the least. While this is a much required movement for genuinely aggrieved women, I take grave offence to a malicious rant quoting my name, as it not only causes irreparable and irreversible damage to my goodwill and reputation, but also causes pain to my family whom I hold very dear to me.
Sandhya, while freedom of speech is a given right to the Press, is it not also your corollary responsibility to check facts before you mindlessly forward something on social media which can harm another individual, much less a professional who has always strived to ensure that women are given their due respect and rightful position in their careers?
Recently the Indian judiciary has held that 'Forwarding a message is equal to accepting the message and endorsing the message.' In light of that, did you pause to ask yourself the following questions (leave alone doing some due diligence on it) before you posted the message. Where did the incident occur? When and under what exact circumstances did it occur? Who are the so called 'friends' she spoke to about the incident (which in no way presupposes that it ever happened) at the time? Can they corroborate that she did actually speak to them at the time she claims she did?
If not, then isn't posting this message amount to irresponsible journalism on your part? What if you were the person whose reputation was so callously smeared? Would you stand by and do nothing if it was you being wrongly accused?
The fact that you have withdrawn your damaging tweet within hours of its first appearance, in no way lessens or reverses the harm inflicted by it. The least you can do is post an apology to help repair the damage you have caused me personally and professionally. Any further uncorroborated and slanderous posts about me will attract legal action. This is not a threat but an intimation to you of what I will be forced to do to protect my family and myself from wild and baseless accusations like this.
exchange4media Group Service
<