Brands celebrate Children's Day by embracing newer perspectives
From applauding the recent SC verdict against Sec 377 to teaching boys to cook, here are few Children's Day campaigns that caught our attention
November 14, the birthday of India's first Prime Minister Pandit Jawaharlal Nehru, is celebrated as Children's Day across the country. Brands make the most of this day by rolling out inspiring campaigns that not only engage children but also evoke a rush of nostalgia among adults. Children, afterall, are increasingly becoming the decision-makers in households. So it only makes sense for brands to cater to them just right. Brands, this year, have evolved their communication game, creating mature conversations around gender roles and sexual orientation of children. Soaring imagination with a different outlook, here are some Children's Day campaigns that caught our attention.
Godrej Appliances
This Children's Day, Godrej Appliances has released #LetsStartRight, a campaign questioning the prevalent mindsets in Indian society in terms of set gender roles and emphasizing the need to break free early. Gender stereotypes are often formed at an early age, in our everyday setups. Take the kitchen for example – the birthplace for some awesome food but awful stereotypes, one being - the kitchen is meant for girls. Conceptualized by CreativeLand Asia, the campaign is set up in the familiar construct of a home, capturing a simple moment between a grandmother and her grandchildren. It does not rely on histrionics and melodrama but nudges us subtly to rethink.
NBA and McDonald's
The National Basketball Association (NBA) and McDonald's today announced a partnership to introduce NBA-themed promotions and interactive NBA Experience Zones in select McDonald's locations in 39 cities across India. From Nov. 14 till Dec. 12, McDonald's will give away an NBA-branded basketball with every family meal purchase at any McDonald's restaurant in the West and South region while stocks last. McDonald's will also introduce NBA Zones in more than 30 outlets, providing fans the chance to experience the atmosphere of being at an NBA game through a range of interactive experiences.
BookMyShow
This Children's day BookMyShow has a special message for all parents. Conceptualized and executed by BBH India, this children's day film beautifully addresses the stigma that many Indian parents continue to face regarding the sexual orientation of their children. In consonance with the recent Section 377 verdict, it strikes an emotional chord and urges parents to love their children for who they are, regardless of who they love.
exchange4media Group Service
With digital coming in, creativity has become far more complicated than it used to be
The last two weeks have witnessed a number of Chief Creative Officer (CCO) movements. Ajay Gahlaut recently quit as chief creative officer of Ogilvy North and deputy chief creative officer, Ogilvy India. Gahlaut is expected to join Publicis, replacing Bobby Pawar who is slated to join Havas Media in January. Ashish Chakravarty quit Contract India to join McCann India as creative head while Sagar Mahabalaleshwarkar has taken on Chakravarty's place at Contract.
The question here is, what has changed all of a sudden to lead to such a large-scale churn? As per the owner of a manpower search agency specializing in ad and media hiring, "It is a result of ad firms trying to reinvent themselves to keep pace with the rise of digital, which have upended the marketing business."
With digital coming in, creativity has become far more complicated than it used to be. Agencies, regardless of their respective sizes, need to keep reviewing how they are coping (or not) with the digital wave. Hence, overhauling existing creative teams is one of the priorities, points out a former CCO turned independent ad-man. "Digital has, of course, changed a lot. Agencies are now creating hundreds, if not thousands pieces of creative, a month. This rise of social media and platforms in general has meant that creativity is more targeted than ever. So most large agencies are constantly re-evaluating the positions and talent pool."
Dr. Sandeep Goyal, former President of Rediffusion and ex Chairman of Dentsu India remarks that there is paucity of talent at that level. "Most creative directors of certain seniority and stature set up creative shops of their own in recent years leaving fewer and fewer talent available for employment by agencies. " Goyal opines that the bigger problem is that these creative satraps also invariably carry some creative followers into their new agencies. So a lot of attrition and turmoil all around. "Network pressure today is simply how many global awards you pocket, how much new biz you win. Earlier it was not easy to quantity and compare. Now it is. Laggards are always under pressure. Quitting 'for better prospects' is the easy way out," he explains.
The job-list of a CCO entails supervising the creative team, directing their output, developing design concepts that further the company's identity to anticipating the future direction of the industry using research and insight and bringing the company in fore of that trajectory.
Industry sources share that one of the biggest shifts has been the network-pressures, which can also be attributed to the high churn rate. "Agencies today are angling to ingrain themselves deeper within client's businesses, to centralize themselves closer to the bottom line. The revenue streams are being attacked on various fronts which does lead to cost-cutting. One being given the polite exit signal under a cost-cutting mission is the 'new' normal in the business," shared an ad-agency co-founder on condition of anonymity.
Another source argues that in case anything goes wrong, a CCO is one of the most visible heads. Besides, a CCO who merely handles ad campaigns and branding consistency is a missed opportunity. "CCOs today end up being easier scapegoats if the business isn't doing too well. Infact, this person needs a seat at the table when executive business plans are being created and the leverage to present big interruptions and lead the team through strategic brainstorming too. This remains one reason they're likely to want to quit or switch their work culture," said the source.
Misbaah reports on advertising industry. Based in Mumbai, she interviews industry leaders in the creative, advertising and marketing space, reports news updates in the ad space. She drives the 'Chillout' section, and regularly reviews ad campaigns. In the past she has reported on mainline news, travel and lifestyle.
The campaign was conceptualized by Taco Bell's agency on record Ogilvy Delhi.
The #foodie millennial generation in India has been flocking to Taco Bell stores in India all year to relish new twists to their favourite food, such as the Naked Chicken Taco and the Crispy Potaco. For its third product launch in India, Taco Bell went bigger and bolder; and leveled up the customer's food experience from the standardized fast food burgers, sandwiches and wraps.
Taco Bell announced the launch of its latest product innovation 'Chickstar Wrap', a unique form of star-shaped tortilla, filled with crispy chicken, delicious veggies and signature sauces from the house of Taco Bell. This new product innovation has already proved to be a hit with anyone who enjoys a good burger or sandwich.
The Chickstar Wrap is unique right from its shape to the taste to the ingredients, that it deserved a launch campaign that was unlike any other food type. The brand has joined their consumer base in facing the unshakeable personal small-talk question of "Aur bata, what's new?".
The campaign was conceptualized by Taco Bell's agency on record Ogilvy Delhi.
Speaking on the campaign, Sidharth Shukla, Vice President & Head of Digital, Ogilvy Delhi said, "Our insight was based on the fact that for our target audience trying out experiences is essential. It comes out of a 'want' to discover new things and equally from a realization that there is nevertheless a certain rut which has seeped into day-to-day life. An embodiment of these feelings, we felt, was reflected in the numerous "What's up?" or "Aur Bata" questions that we receive as we go about our day – The Chickstar Wrap here is the symbolic answer, counter and come back to this question – putting a new spin from both a format and a taste perspective to a food item which has largely remained unchanged since we have known it. The film remains true to the Taco Bell style that we are now so familiar with – slices of life, witty, young, all of which add to making it very relatable to the audience we wish to engage with".
Campaign video:
exchange4media Group Service
The series of 30 videos will be released daily, starting from November 23rd till December 23rd.
Dentsu Webchutney, the digital agency from Dentsu Aegis Network, has launched Platinum Days of Love's new season's collection with the campaign #LoveSoRare, a series of 30 digital films inspired by the design story of the collection. The complimentary design of each pair of love bands is brought to life by 30 films that arise from the insight of togetherness amidst individuality.
With evolving times, couple's relationships and their expectations from love are also seeing a change. Modern relationships born out of this change now demand a better understanding of each other, respect for what each person brings to the dynamic, and a sense of individuality that doesn't stop them from coming together. This ability to be oneself while being together is highly sought after and aspirational for young couples, but it isn't easy to achieve. In fact, it's rare.
The Friends:
Platinum Days of Love celebrates this very kind of modern love, one that is progressive, equal and rare, and their new collection is a reflection of this ethos.
This kind of rare love brought alive through these 30 films, is seen in very relatable differences between couples. She's an environmentalist, he likes to burst firecrackers; he's watching his weight, she tempts him by bringing home delicious desserts. Will it come in the way of love? With wit and gentle humour, the 30 films of togetherness demonstrate how those who have a rare connection don't see differences as something that comes in the way of love, they look at it positively. They know that despite the differences, what they share is rare.
The Cat-Lover:
To introduce this idea of rare love, the agency created a Love Score, a test that encouraged people to test their love based on their differences. Ultimately, it was revealed that these differences should be celebrated and will not push you and your partner apart when you share a #LoveSoRare. Once intrigue was built, the agency launched 30 films inspired by the 30 designs that symbolize rare love.
Commenting on the campaign, Pravin Sutar, Executive Creative Director, Dentsu Webchutney said, "In a world where brands tend to look at relationships and love with rose-coloured lenses, it was refreshing to create a campaign that adds to the conversation in such a unique and honest way. Through #LoveSoRare, we're asking viewers to rethink what makes their relationship truly unique."
Aalap Desai, Senior Creative Director, Dentsu Webchutney added, "Each pair of rings from the collection has a unique design story that that marks the rare bond between a couple. Our 30 days of togetherness is a perfect reflection of this very love."
The Baby Conundrum:
Sujala Martis, Director- Consumer Marketing, Platinum Guild International said, "Today's generation is very pragmatic, we can't attempt to sell them a fairy tale that is removed from their reality. But working with today's truths & creating a value system that is aspirational, progressive & yet differentiated is what we aim for. Love needs to be based on a true partnership with openness, honesty & real acceptance of each other's individuality at the heart of it. Putting this into practice, however, is hard and rare to find. A rare love like that deserves an equally rare metal platinum."
The Biryani War:
This campaign will also give couples an exciting opportunity to win a special dining experience or wedding photoshoot on a purchase of platinum in-store.
The series of 30 videos will be released daily, starting from November 23rd till December 23rd.
The Hoarder:
exchange4media Group Service
The campaign focuses on innate characteristic of young Indians who challenge the status quo and set things right for the common good.
Veedol has launched a new campaign for its flagship brand Take-Off. Lowe Lintas Kolkata, the agency-on-record for Veedol, has conceived the advertising campaign. Take-Off specifically caters to 2-wheeler riders in the country.

According to the Society of Indian Automobile Manufacturers (SIAM)'s report for FY2018, the Indian two-wheeler industry has crossed the 20-million unit sales milestone for the first time - registering a growth of approximately 15 per cent over the previous financial year. The road ahead for the two-wheeler industry looks very exciting and promising. Riding on the fast-growing two-wheeler industry, Veedol's launch of a new campaign for Take-Off appears to be particularly opportune.

The campaign film focuses on the innate characteristic of young Indians who challenge the status quo and set things right for the common good. The narrative is woven around these purposeful youth of today who see themselves as agents of change, with the inherent power, confidence and intent to make a difference to the society as a whole. Positioning Veedol as a modern, youthful brand, 'For The Young Engines of India' acts not just as a new advertising slogan but celebrates India's energetic youth who equitably represent the brand's values.

Commenting on the campaign, R N Ghosal, Managing Director, Veedol India, said, "The campaign showcases Veedol's full range of motorcycle and scooter engine oils in an upbeat, youthful ambience with an over-riding sense of purposeful action built into the narrative. This would go a long way in enhancing Veedol's imagery, in step with several other brand interventions we have undertaken recently like the launch of the new international packaging. I believe that this campaign is an important milestone in positioning Veedol as a vibrant and youthful brand of choice for emerging consumers".

Janmenjoy Mohanty, Regional President, Lowe Lintas, said, "While tuning into the larger India story, we were looking for a youth truth that would suitably reflect the current dynamic. Our search led us to the fact that young people are self-starters, who will not wait for things to happen, but effect change themselves. That is what makes them the 'young engines' of a fast-changing India. A belief we reflect in the new communication for Veedol."

D K Guha, Executive Director, Lowe Lintas, added "Veedol's new international packaging, as well as the introduction of high-performance oils, provided the perfect moment for launching the new campaign. Set against the backdrop of a young and restless India, the campaign captures the youthful energy and attitude of the millennials - the driving force behind the nation."

The campaign is being actively promoted online and offline.
CREDITS:

Agency: Lowe Lintas
Creative: Janmenjoy Mohanty, Abhishek Deshwal, Surajit Chakraborty
Account Management: DK Guha, Subhabrata Roy, Nibedita Ghosh
Account Planning: Anurag Prasad, Punit Singh
Production: Finger Print Films
Director: Rajay Singh
exchange4media Group Service
The experiment showed almost 110 traffic violations per signal / per hour. The initiative further educates viewers to maintain road discipline and become agents of change
If you are living in any big megalopolis in India, the odds of you witnessing or even being subjected to rash driving or lawlessness on the roads is pretty high. Be it a two-wheeler or four or even the bulkier ones, each one seems to be in some hurry or the other to reach a destination of their choice with little regard to traffic rules and pedestrian safety. From jumping the red light, to ignoring traffic signs, to over-speeding and lane cutting, virtually every rule in the book is broken when it comes to driving across major roads in India.
In a unique experiment, Renault India partnered with its creative agency Law & Kenneth Saatchi & Saatchi, and decided to monitor the driving habits of motorists across a few important locations. The team installed cameras across key sites and monitored the traffic violations that took place every hour. This experiment was limited to the cities of Mumbai and New Delhi, usually the hub when it comes to evaluating driving patterns of people on the roads.
Titled 'Who are India's Worst Drivers?', the experiment throws the spotlight on a cross-section of vehicle owners spanning bikes, auto-rickshaws, taxis, buses, trucks, etc. Each owner is seen presenting their own assessment on who are the worst drivers on the road with hardly anyone pointing a finger to him/herself. The experiment threw up startling findings that showed there are almost 110 traffic violations per signal / per hour. The initiative further goes on to educate viewers to maintain road discipline and urges them to become agents of change via #RespectTheRoad.
Commenting on the initiative, Virat Khullar, Vice President and Head of Marketing, Renault India said, "Renault stands for 'Passion for life' which in a way means easy life for our customers. But for an easy life with cars, one important aspect is to follow the rules defined for driving these cars on road. In India we all face huge traffic issues and true to our nature, all externalise the fault. This campaign is an attempt to portray reality that the traffic situation can only improve if we change ourselves and respect the road."
Sharing his views, Charles Victor, Executive Director, L&K Saatchi & Saatchi said, "This initiative - Driving Smiles, is a wonderful initiative by Renault where we try and give back to the world we sell to. From lighting up villages during Diwali to lighting up smiles at an orphanage during Christmas, the initiative has always tried to take a step towards change. What better change to expect than to change the way Indians drive. This little social experiment aimed at showing us that the change needs to begin with us."
A two part series, the films have been launched only on the digital platform and serves as an educational tool. While the first film questions people on who are the traffic offenders, the second film goes on provide answers to the questions and how we all need to become agents of change.
CREDITS:
Client: Renault India
Team: Virat Khullar, Hardik Shah, Kautuk Malviya
Agency: L&K Saatchi & Saatchi
Creative: Kartik Smetacek, Thomas George
Client Servicing: Jay Mehta, Shazia Shaikh
Planning: Snehasis Bose, Ankur Kapoor
Production House: Prodigious
Director: Gaurav Gandhi

exchange4media Group Service
Conceptualized by Mullen Lintas, the 30-second ad film features ace Indian cricket captain, youth icon and fitness enthusiast Virat Kohli
Guiltfree Industries Limited, the FMCG division of the RP-Sanjiv Goenka Group, has launched its latest TVC showcasing the all-new Too Yumm! Karare. With an emphasis on health and without any compromise on taste, the brand has scored yet another sixer with its latest TVC aptly tagged as 'Bahar se Tedha, Andhar se Seedha' starring Virat Kohli.
Conceptualized by Mullen Lintas, the 30-seconder features ace Indian Cricket Captain, youth icon and fitness enthusiast Virat Kohli. The opening scene of the TVC captures a lady walking into an airport lounge, where she notices Virat Kohli also waiting, and munching on a snack. She sits next to Virat Kohli, and opens her own packet of fried snacks and starts eating it. Each describe the taste of the snack they are eating as tasty and crunchy, this makes the lady slightly curious. Putting the suspense to rest, Virat finally reveals that his snack is the new Too Yumm! Karare exactly like hers, but not fried only baked.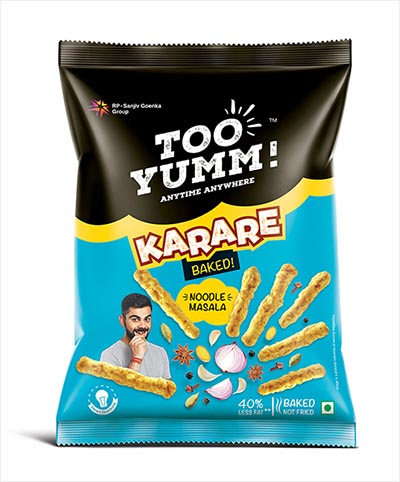 Too Yumm! Karare- Noodle Masala
Anupam Bokey, VP Marketing (CMO) RP-SG FMCG said, "We are absolutely thrilled about the new Karare launch. This is the 6th innovative product from the house of Too Yumm, which effortlessly marries taste with health. Consumers are more receptive to products that they can relate to. This has driven us to introduce Karare, where we have pushed the taste to a higher level, while still staying true to the core promise of Too Yumm! which is 'baked not fried'. Our campaign idea of 'Bahar se Tedha, Andhar se Seedha' captures the thought of being tasty from outside while still being healthy from inside, very succinctly. We believe this will make our product offering more mainstream and appeal to a much wider set of consumers."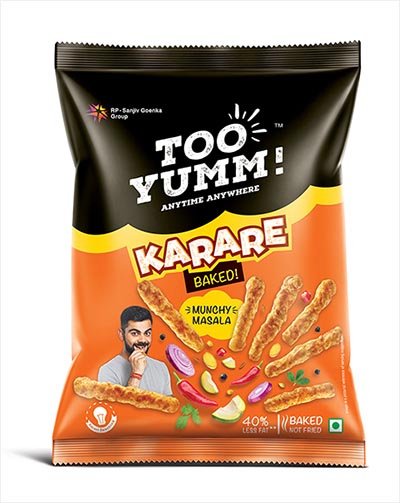 Too Yumm! Karare- Munchy Masala
Available in unique flavor combinations like Chilli Achari, Garlic Peri-Peri, Munchy Masala, Noodle Masala and Southern Spicy, Karare promises to live up to every craving without sacrificing on flavour. Karare is a step forward in Too Yumm!'s journey in catering to the increasing number of consumers who are on the constant lookout for tasty yet healthy snacking options. Baked, rather than fried, exalts the brand even higher as its increased competitiveness in offering a healthier and tastier snacking option.
Reflecting her views on the brand's new product Garima Khandelwal, Executive Creative Director, Mullen Lintas said, "With the launch of this new snack in the portfolio, we are taking the competition head-on. To land Too Yumm's differentiated benefit of being baked and healthier but as tasty as its fried competitive product, we drew reference from the category for the advertising and arrived at the campaign idea - 'Bahar se Tedha, Andhar se Seedha'. We wanted to land that Karare is as twisted and tasty as the competition, but there is only goodness inside."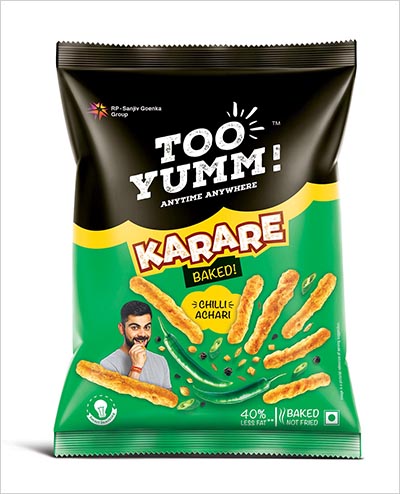 Too Yumm! Karare- Chilli Achari
Adding to that, Priya Balan – Sr. Vice President, Mullen Lintas said, "Too Yumm Karare campaign is based on a simple insight of how consumers rationalize their unhealthy snacking choice and are cynical about healthier new products because they believe it won't be quite the same palette experience. Our brand ambassador, Virat Kohli charmingly debunks this myth with the line 'Bahar se Tedha, Andhar se Seedha'. That's because Karare is the product format that is a big favorite with consumers but with a key health differentiation by virtue of it being baked, not fried. We are looking forward to exciting times in the category.
Campaign film:
exchange4media Group Service
Three new TVCs conceptualised by J Walter Thompson take forward the 'Pran jaaye par Pulse na jaaye' narrative
Pass Pass Pulse, the candy from DS Group, has rolled out another set of three commercials. This takes forward the 'Pran jaaye par Pulse na jaaye' narrative that was introduced with the release of the very first TV commercial.
The TVCs have been conceptualised by J. Walter Thompson Company and the three commercials being released are titled, Astronaut, the Swing & the Bedroom. Each commercial showcases how the protagonists upon seeing a Pulse Candy in their proximity reach out to grab it, even in unfavorable situations.
Speaking on the brand, Shashank Surana, VP, New Product Development, DS Group, said, "The Pulse candy has retained number one position, second year in row due to its irresistible taste heightened by a tangy twist. The communication of Pulse is hinged on the temptation to seize a Pulse candy, whatever the circumstances. This three film campaign also highlights the extend people go to get one in 'Pran jaaye par Pulse na jaaye', situations presented in comical and eccentric plots.''
Sundeep Sehgal, Executive Creative Director & Vice President, said, "The content consumption nature of consumers has changed and Pulse is a brand which is very conscious of this. As a result for this next round of communication we've created short crisp 10 second commercials that are snackable content for the consumers and also work well from an attention perspective. However the challenge remains to deliver an impactful piece of communication without losing the essence of the brand and I feel this is one such example."
Creative Credits
Campaign elements: TVC/Digital
Director (of the films): Shirish Daiya
Production House: Jamic Films
Creative Agency: J. Walter Thompson Company
Planning:
Vice President & Execute Planning Director:
Shujoy Dutta
Planning Director: Debasish Das
Creative Team:
Executive Creative Directors: Sundeep Sehgal
Creative Director: Nishant Nanda & Kshitij Chandel
Film Department:
Account management:
Vice President: Mukund Raina
Account Manager: Naman Joshi
exchange4media Group Service
#PutItOnTheTable campaign has been conceptualised by Famous Innovations
Bag & accessories brand Baggit has launched its autumn winter campaign titled #PutItOnTheTable with Shraddha Kapoor as a part of their association for the year 2018 & 2019. While the first half of the campaign focused on encouraging women to express their own opinions by putting the issues on the table, the second part of the campaign showcases the fun element of how women sometimes reach a decision or make up their minds when there are multiple options available. The campaign again encourages women to be true to their self.
The campaign will be led with a TVC (20 & 30 seconders) that will be launched on GEC channels followed by hoardings in metro cities. This will be supported by a diverse print and an innovative digital campaign in the coming months that will engage the target audience on a deeper brand level, the company said in a statement.
While the campaign has been conceptualised by Famous Innovations, the TVC has been shot by Curious Films and the print campaign has been shot by ace photographer Prasad Naik.
Commenting on the campaign Nina Lekhi, MD & Chief Design Curator, Baggit, said, "Our first ever TVC received immense love and support from all our customers and the industry at large which was very heartening and encouraging. With the second part of our campaign we continue to extend the concept of #PutItOnTheTable and encourage women to take decisions in their own hands – however difficult or fun they might be. It is their choice, and no one said they can't have fun while making it. The added fun element makes this one endearing."
Adding on to it, Shraddha Kapoor, Brand Ambassador, said, "The Baggit campaign has been immeasurably satisfying to be a part of. The conversation that it has put focus on has helped women take control of the narrative of their individual story. The next part of the campaign deals with a lot of fun that can also be a part of decision making for women. Especially when it is concerned with fashion, I encourage women to have fun with it and don't apologise for it. Be a part of it. Fearlessly. Unapologetically."
The TVC, print and outdoor campaign will be launched in the month of December.
exchange4media Group Service
The campaigns have been done by Maitri Advertising Works.
Kerala's fourth international airport, Kannur International Airport, will be inaugurated on December 9. Spread over 2,000 acres in the northern district of Kannur, it is owned and operated by Kannur International Airport Limited.
With one day remaining for the inauguration, the campaigns centring the airport is garnering rave reviews. The campaign uses everyday scenarios featuring the local people of Kannur to capture their emotions on the momentous change that is to come about in their lives. The films in the campaign focus on the dream and various development aspects such as passenger facilities, boost for trade and tourism, and convenient homecoming for NRIs. Hence it has the theme—'Kannur gives Kerala new wings'.
The campaigns have been done by Maitri Advertising Works.
The logo for Kannur International Airport has been designed by Hammer Advertising. G Sreenath, Managing Director, Hammer India, said, "In 2011, when Hammer was assigned to design the logo for Kannur international Airport, our creative object was clear. It was to synergize the glory of Kannur's heritage with that of a world class, most modern airport. Seven years hence it is a proud moment for us as Kannur International Airport launches."

Raju Menon, Director, Operations, Maitri Advertising Works said, "We wanted to communicate that this is not just another opening of an airport, but a massive infrastructure project and one of the biggest development initiatives undertaken in the state. It will open up a huge corridor in the North Malabar region and take Kerala to never before heights. We also wanted to spread some positivity among the people after the deluge of 2018."
"The pre-launch phase of the campaign kicked off on 28th November 2018, with the films being aired on television and simultaneously going live online. The theme song for the airport sung by Kannur's favourite son, Vineeth Sreenivasan, was released on 5th December," Menon said.
"The aim of the campaign was to get an organic reach and create anticipation in the minds of the people for the opening of Kerala's fourth international airport. It has achieved this and more, with the films going viral and being talked about in India and abroad. Potential passengers are now aware of the opening of a state-of-the-art airport in Kannur, and also its proximity to places in Karnataka such as Kodagu and Mysuru. People don't see it as just another modern airport, but as the perfect gateway to North Kerala and South Karnataka," concluded Menon.
Kannur international airport is the second greenfield airport to be built on a public private partnership (PPP) platform in Kerala.
The Team
Client: Kannur International Airport Limited
Agency: Maitri Advertising Works
Digital: Winningwayz
Project Head: Raju Menon
Executive Creative Director: Venugopal Ramachandran Nair
Concept & Script: Pooja Prasad
Art Director: Siva Prasad
Client Services Director: Sumit Raj
Senior Account Executive: Sujin Varghese
Production House: CREDAYA
Visualization & Cinematography: Tanu Balak
Project Director: Sreenath
Editor: Aswin G Ashok
Music: Anand Madhusoodanan
CG: Arun
Post Production: Omlight Creative Studio
Colour Grading: Black Maria
Production Controller: Aravindan Kannur
Art Director: Baiju Krishna
Associate Editor: Geo Alex
Camera Team: Sushanth, Mukesh, Aji
Helicam: Shinu Koshy
Unit: Dynasty, Calicut
Production Managers: Binukumar VS, Biju
Neethu reports on media, marketing and advertising industry. In the past she has reported on start-ups, education and health sector for over 6 years.
The new TVC, featuring Hershey's India brand ambassador Tara Sharma, primarily focuses on how this delightful chocolate enables endearing everyday moments of bonding and affection with loved ones
Hershey India Pvt Ltd, a part of The Hershey Company, a leading global snacking giant and the largest producer of quality chocolates in North America, has announced the release of the first ever India TVC for its recently launched iconic and globally-loved 'Hershey's Kisses' chocolate.
The new TVC, featuring Hershey's India brand ambassador Tara Sharma, primarily focuses on how this delightful chocolate enables endearing everyday moments of bonding and affection with loved ones. It celebrates the unique shape and wrapping of Hershey's Kisses that makes every single one perfect for sharing with dear ones.
Speaking about the product launch and the brand's marketing plans, Herjit Bhalla, Managing Director, Hershey India said, "We leveraged The Hershey Company's rich chocolate heritage and expertise of 125 years, with the launch of the iconic Hershey's Kisses chocolates. Hershey's Kisses is a global symbol of affection and we have brought this alive in the new TV campaign."
Sarosh Shetty, Marketing Director, Hershey India, shared his view on the new TVC saying, "In India, we have created a strong and consistent Hershey's brand that is now a leading player in every category that it is present in. The Kisses launch film is an extension of the Hershey's brand promise in India. It celebrates the unique product proposition of Hershey's Kisses. This delightful chocolate enables one to build a special bond with their loved ones. It is often about those simple, everyday ways to show you care – which often isn't only words"
The TVC will be played on leading southern channels. This campaign will further be reinforced by an extensive 360-degree campaign across mediums. The Hershey Company brings almost 125 years of quality chocolate-making expertise to the launch of Hershey's Kisses in India.
Today, it is a Fortune 500 company with world-class manufacturing and innovation capabilities to deliver great tasting chocolates. The company makes nearly 70 million Hershey's Kisses every day that are loved by consumers in nearly 60 countries.
Campaign video:
exchange4media Group Service