Open Magazine appoints Mohit Hira as CEO
Hira was promoted as CEO, Hungama Digital Services in January 2014
Mohit Hira has joned weekly current affairs and features magazine Open as CEO. It may be recalled that earlier R Rajmohan had resigned from the position of Publisher at Open.

Hira's last stint was with Hungama Digital Services. He was the Head of JWT Group's digital initiatives. He left the JWT group in August this year.

He had joined JWT in November 2012 as Senior Vice-President and Regional Business Director. He was given charge of JWT India's digital operations in April 2013. He was then promoted to CEO, Hungama Digital Services in January 2014.

Hira is an advertising Creative Director turned Netvangelist, with a career spanning over two decades with rich and diverse experience across advertising, marketing, journalism and digital media. Prior to joining JWT, he had worked with NIIT.

Hira has worked in the print business earlier with Times of India as Vice President. He has also worked in Contract advertising as Creative Director.

'Viewspaper' will hit the stands in Delhi NCR and Mumbai on 26th January
Eight years after Firstpost.com became the go to destination for the argumentative Indian, Network18 will be launching its first weekly newspaper – Firstpost.
B V Rao, Editor, Firstpost says, "By taking the viewspaper from the virtual to the physical world, we are signalling two things: Firstly, there is a market opportunity in the weekends for deep, thoughtful and reflective journalism, the kind that allows us to step back from the cacophony of the moment and analyze events calmly. Thus, the difference between the two products is not the quality of the content, but the kind of content.
Secondly, content is platform-agnostic, especially good content. The digital consumer reads a lot but not necessarily the best. Reading the best becomes somewhat of a lottery, dependent on whether they open the right links from among the dozens they are dumped with every day. Firstpost print content, arranged to enable quick access in one place, will provide that reading pleasure to digital readers as well. Existing digital readers can access the content free for a limited period and then signal their readiness to put a premium on the content they cherish."

According to Praveen Swami, Group Consulting Editor, Network18, "Firstpost is a new kind of newspaper. Instead of the usual, mundane recounting of events already well known to readers through digital media and television, every single article aspires to exceptionality: to offer a unique perspective; to excavate new information; to bring to life a new story."

Positioning itself as the last word on news, Firstpost will be a 20-page broadsheet appearing every Saturday and shall cater to readers in Mumbai and New Delhi. Aiming to change the way in which the consumer perceives newspapers, Firstpost emphasises on narrative, long-format journalism with a focus on national politics, culture and art and being a mix of hard and soft feature news.

With a strong and vibrant design, the newspaper has been designed by Jacek Utko.
Speaking on the launch, Rahul Kansal, Business Head, Print & Brand Advisor, Network18, said: "I am extremely proud to be a part of this milestone in the journey of Network18's growing news prowess. Firstpost sees itself as a 'viewspaper' with a focus on politics and will offer a ringside view of the complex democracy and society of our multi-dimensional nation. The offering will serve discerning readers looking for an intelligent read, many of whom feel that Indian newspapers have dumbed down in their bid to capture the mass market."
exchange4media Group Service
Maheshwari was previously working as Senior Vice President at DB Corp
Sakshi Media Group appoints Vinay Maheshwari as Executive Director and CEO. He was previously working as Senior Vice President at DB Corp.
On this new appointment, Sakshi Media Group Chairperson, YS Bharathi Reddy said, "We are a young media Group which has witnessed rapid growth in the last ten years. Vinay Maheshwari brings with him rich experience in the print business and we believe that he will bring in a fresh perspective to the organisation. We have ambitious plans for Sakshi and in Vinay we found the capabilities to strengthen our already formidable team."
Sakshi Media Group has its presence in print, TV and digital media across the states of Andhra Pradesh and Telangana and is celebrating its 10th anniversary this year. Sakshi from its inception has created new records in the print industry in India in many areas ranging from being the first newspaper in the country to launch 23 editions simultaneously to its recent distinction when Sakshi's 22 printing press were admitted to the prestigious WAN-IFRA quality colour club.

exchange4media Group Service
The launch is expected to be on Republic Day- 26th January 2019, marking the media conglomerate's foray into the newspaper domain
Network18 will be launching its very first weekly newspaper – Firstpost. Expected to be launched on Republic Day - 26th January 2019, the newspaper will mark the media conglomerate's foray into the newspaper domain.
The Network appointed Praveen Swami as the Group Consulting Editor a few months ago. Along with BV Rao, the Editor of Firstpost, he will lead the editorial team of Firstpost newspaper. Rahul Kansal, Network18's brand advisor will also be seen in the role of Business Head of the newspaper.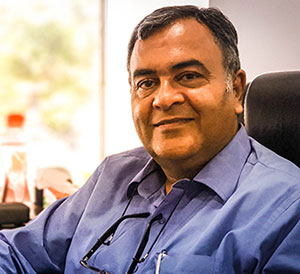 Rahul Kansal
A veteran of media marketing, Rahul Kansal was earlier the Executive President of Bennett Coleman, serving as the business head of The Times of India.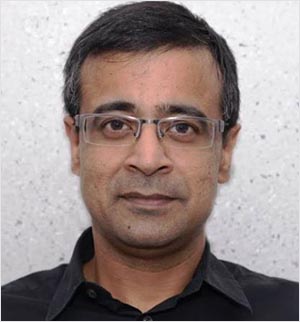 Praveen Swami
Praveen Swami has earlier held key editorial positions at The Indian Express, The Hindu, and The Daily Telegraph, London.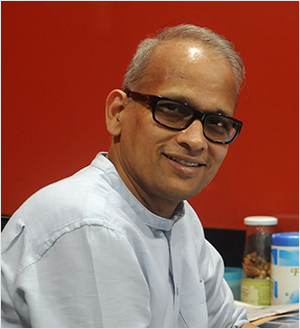 B.V. Rao
B.V. Rao comes with an extensive experience of 33 years where he has led newsrooms across various brands, formats, and platforms. A roster of some of the biggest Indian and international columnists will write for the paper; anchored by a talented team of journalists, cherry-picked from India's leading newsrooms.
Read more:
Network18 to launch its first newspaper, Firstpost, on Republic Day
https://www.exchange4media.com/media-print-news/network18-to-launch-firstpost-newspaper-on-republic-day-93948.html
exchange4media Group Service
English daily to target audience looking for long format news content
India's most diversified media conglomerate Network18 is all set to launch its first newspaper — Firstpost.
The English language contemporary newspaper will allegedly see its official launch on this Republic Day.
Propelling Firstpost.com's success and reader engagement, Firstpost newspaper will target that segment of audience that looks for intelligent, detailed, long format news content. A formal announcement is expected next week.

exchange4media Group Service
The last such revision had taken place in 2013 when an increase of 19% had been announced over and above the rates of 2010. 
Ministry of Information & Broadcasting has taken a decision to revise the advertisement rates for print media by announcing a hike of 25 per cent over and above the existing rate structure for advertisement in print media by the Bureau of Outreach and Communication (erstwhile DAVP).
A press release uploaded on the website of the Press Information Bureau of India said that the decision will be effective from January 8 and will be valid for a period of three years. The last such revision had taken place in 2013 when an increase of 19 per cent had been announced over and above the rates of 2010.
This decision has been taken based on the recommendations of the 8th Rate Structure Committee constituted by I&B Ministry which took into account several factors, including the increase in price of news print, processing charges and other factors which go into the computation of advertisement rates.
The press note also sad that this decision benefit especially the medium and small newspapers including a large number of such papers in regional and vernacular languages.
exchange4media Group Service
Purie, the Vice Chairperson and MD of India Today Group, does away with Group CEO assumes that role and elevates division heads of various Group businesses as Chief Operating Officers
India's diversified media company the India Today Group, has undergone changes in terms of restructuring the organisation. The Chairman and Editor-in-Chief of the India Today Group, Aroon Purie, announced in an email to the Group stating that he wanted 'a flat, efficient organisation' and that various Group businesses will now be operated by Chief Operating Officers reporting to Kalli Purie, Vice Chairperson and Managing Director, India Today Group.
The new appointments were Rahul Shaw elevated as the COO - Television; Salil Kumar as the COO - Digital and Manoj Sharma as the COO - Magazines. Kalli will continue to report directly to Aroon Purie.
Here is a full text of the mail from Aroon Purie, Chairman and Editor-in-Chief of the India Today Group:
"I am happy to announce a new organisation structure for India Today Group effective January 2019. The new structure recognises the fact that the Group has strong and effective leaders across businesses. This has been demonstrated by continued leadership and growth in our company.
Over the past year, with a new managing director I am happy to see new energy, focus and speed which is so essential for modern businesses. I would like to see the Group grow judiciously but aggressively in the coming years. Keeping all this in mind coupled with the fact that I would like to have a flat, efficient organization, following is the new reporting structure on the business side.
The new structure envisages various Group businesses to be operated by COOs (Chief Operating Officers) reporting to Kalli Purie (Vice Chairperson/ Managing Director). This new structure will empower COOs and give them an opportunity to run their businesses with more independence.
Following will be COOs of TV, magazine and digital businesses that will report to KP.
Rahul Shaw (COO - Television), Salil Kumar (COO - Digital), Manoj Sharma (COO - Magazines). Kalli continues to report directly to me.
She will be supported by Group CFO Dinesh Bhatia in all strategy related matters of the Group and some additional group functions - HR, Administration, Security and IT will report to him. Dinesh will continue to report to Kalli with a dotted line to me.
New Year is a good time for new beginnings and I think this is a good way to start 2019.
Looking forward to an exciting New Year."

exchange4media Group Service
While the Indian Readership Survey results gave print media its biggest high in 2018, issues like fake news and paid news marred its credibility at other times
In 2018, print media in India witnessed its fair share of ups and downs. While the Indian Readership Survey (IRS) results gave the print players their biggest high, issues like fake news and paid news raised debates regarding news credibility and the role of print media in addressing it.
Year 2018 began on a high note when the Indian Readership Survey was released after a hiatus of four years. The results pointed to a 9% growth in total newspaper readership in the last four years.
The survey also highlighted that the readership for English dailies has increased by 10% in the last four years and touched 2.8 crore, compared to the last IRS figure of 2.5 crore. Meanwhile, the Hindi readership stood at 17.6 crore, up 45% from 12.1 crore, as released by IRS 2014.
According to Anant Nath, Director, Delhi Press and Editor of The Caravan, the new IRS survey was one of the biggest highlights of 2018 and reiterated the reach and strength of the print media in the digital age.
"The release of the Indian Readership Survey after a gap of almost four years was one of the biggest highlights of the year. The new IRS reiterated the reach and strength of print in the digital age. Most publications have shown a substantial rise in their numbers, and overall as a medium, it has remained resilient," Nath said.
According to Harish Bijoor, brand expert and CEO, Harish Bijoor Consults, "The most defining moment for print in 2018 was not due to its own making but instead due to the undoing of digital media. The digital media drew flak as it placed advertising in digital books along with companies the brands did not want to be seen with. This prompted advertisers and global MNCs to respect the value of print."
The print players also witnessed some big debates around issues concerning fake news and paid news. The I&B ministry even proposed stringent punishment for journalists disseminating "fake news". However, the order was rolled back eventually.
The rise of the issue of fake news might have become shrill in 2018, but it impacted digital more than the print shares, said Bijoor.
"The fact that digital media was full of fake news, hate and vitriol further deepened the trust in print, which is a curated medium, as opposed to the anarchy of digital micro broadcasts. These were indeed print's moments of reflected glory," he added.
According to veteran journalist and Padma Shri Alok Mehta, the rise of regional media players to the top of the print pyramid has been the biggest highlight of 2018. "In my opinion, the report released by the Audit Bureau of Circulation (ABC) proves that circulation of print media has increased by millions and Hindi dailies have managed to reach the top spot. Also, defence deals from Rafale to Agusta created new waves in the media and generated awareness among a large number of readers. Normally, defence does not receive such attention."
"I wish and hope that in 2019 defence and judiciary will open more doors and windows for the media," he added.
From the advertisement standpoint too, print players benefitted from the IRS numbers and the faith in the reach of print. The regional media, especially, witnessed a sharp rise.
Even the Pitch-Madison 2018 report, which was released earlier this year, had predicted a good growth for the print media. The report had stated: "In 2018, the print advertising market is expected to grow by 5% to come close to Rs 20,000 crore, with regional publications leading the growth.
@columbia Drop Out, @e4mtweets, @BWorldOnline... Past @timesnow, @htTweets, @timesofindia
Rathore said this in Lok Sabha while replying to a question raised by Trinamool Congress leader Dinesh Trivedi
The government does not have data on the number of journalists attacked or murdered since 2014, Minister of State (independent charge) for Information and Broadcasting Rajyavardhan Singh Rathore has reportedly informed the Lok Sabha.

Singh has said that the data is not available with the government as the National Crime Records Bureau does not compile data on the basis of professions. However, the government is in the process of collating this information, he reportedly said.

According to media reports, Singh said this in reply to a question raised by Trinamool Congress leader Dinesh Trivedi.

Trivedi is also said to have asked if the government was aware of the fact that India is ranked 138 in the 2018 World Press Freedom Index published by international organisation Reports Without Borders. He further asked if the Press Council of India has carried out any study to find out the reason behind the poor state of press freedom in the country.

Responding to the questions, Rathore said the government has come across media reports regarding the World Press Freedom Index, but added that the Press Council of India had raised concerns about the authenticity and credibility of the reports.

exchange4media Group Service
The event will be held in Visakhapatnam on December 21 and 22, 2018 and will bring together chief ministers, senior politicians, film stars, industrialists and entertainers all on one stage
The third edition of the India Today Conclave South promises to be a power packed event with chief ministers, along with top ministers, industrialists, entertainers, and film stars, all on one platform deliberating on key issues the nation is facing. The two-day conclave will be held in Visakhapatnam on December 21 and 22, 2018.
This year, the India Today Group celebrates the power and potential of the six southern states at the India Today Conclave South in Visakhapatnam. The event is aimed to underline the economic resurgence, artistic heritage, political legacies and cultural engagement of the region. Andhra Pradesh, Karnataka, Kerala, Puducherry, Telangana, and Tamil Nadu have a combined GDP of over $400 billion and when put together are among the top 30 economies of the world, contributing over 22 per cent of India's GDP and 28 per cent of India's employment. They account for 20 per cent of India's population and contributed almost 30 per cent of India's tax revenues. By 2020, it is projected that South India will become a $1,200 billion economy. With human development indices of the south higher than the rest of India, it is clear the higher the south rises, the better India will do.
The third edition of the India Today Conclave South will see N. Chandrababu Naidu, Chief Minister, Andhra Pradesh, and V Narayanasamy, Chief Minister, Puducherry setting the tone for the growing importance of their states both as a political and economic powerhouse. Other political heavyweights such as Ram Madhav, National General Secretary, BJP, Thomas Isaac, Finance Minister, Kerala, Bhuma Akhila Priya, Tourism Minister, Andhra Pradesh, SA. RA. Mahesh, Tourism Minister, Karnataka, Priyank Kharge, Minister for Social Welfare, Karnataka, Jayadev Galla, TDP MP from Andhra Pradesh and Madhu Yaskhi Goud, Former MP will be coming together to share, discuss and critique the burning questions faced by the southern states. In addition, prominent local politicians are also expected to liven the sessions with their presence.
Among the film stars, Arvind Swami, will be speaking about balancing the real and reel, while Aditi Rao Hydari, will be talking on working across cultures. One of the most anticipated sessions planned for this edition of India Today Conclave South is #MeToo to #WeToo, which will see actors Rakul Preet Singh, Varalaxmi Sarathkumar and Padmapriya Janakiraman along with the journalist, Sandhya Menon engage in riveting discussion on the country's most sensitive movement.
Since 2002, the India Today Conclave has been at the forefront of intellectual engagement and thought leadership. Over the years, the India Today Conclave has hosted global leaders, presidents, prime ministers, sports icons, writers and movie stars. The Conclave has been at the cutting edge of new ideas, innovations, and experiences. The platform has showcased the finest global minds, triggered heated debates and always made headlines. It has been in constant conversation with the times we live in, sometimes anticipating change and often precipitating it.
exchange4media Group Service
While Dainik Bhaskar topped the charts, Dainik Jagran ranked second
Data released by the Audit Bureau of Circulation (ABC) for January-June 2018 period shows the Indian dailies have got considerable growth in their sales as compared to the previous year.
According to the figures released by ABC, Dainik Bhaskar topped the list as the highest circulated daily among ABC's member publications. The average sales growth for Dainik Bhaskar in the January-June period was 4,251,236, a considerable jump compared to 3,758,949 during the same period in 2017.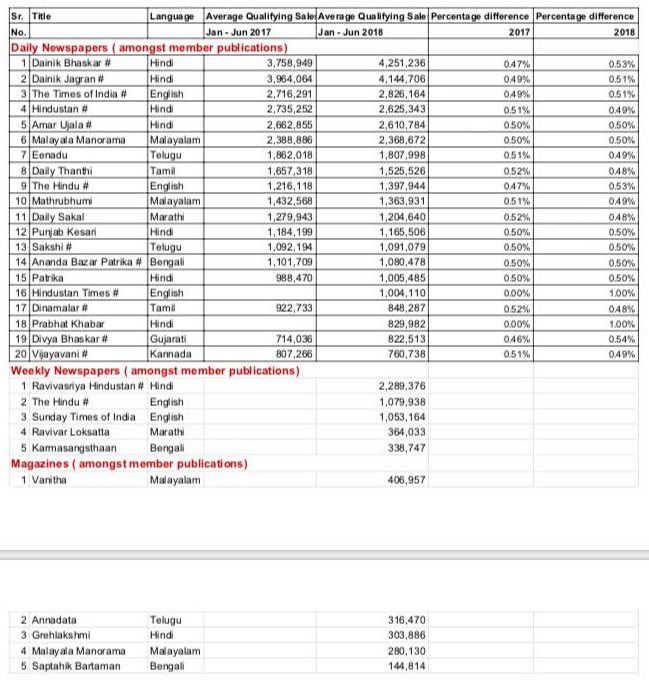 Dainik Jagran which was at the first position last year has dropped to the second rank with an average sales growth of 4,144,706 compared to 3,964,064.
While English daily The Times of India clinched the third spot at 2,826,164, the other English newspaper Hindustan Times has come 16th with 1,004,110. South India-based English Daily The Hindu has climbed one spot, claiming the 9th position with 1,397,944 as compared to 1,216,118 during the same period in 2017.
Hindi daily Hindustan came fourth with 2,625,343. Amar Ujala has been ranked fifth with 2,610,784.
Telugu Daily Eenadu came seventh with 1,807,998 and Tamil newspaper Daily Thanthi clinched the 8th spot with 1,525,526.
With an average sales growth of 2,368,672 in this period, Malayalam Daily Malayala Manorama has ranked sixth, while the other Malayalam Daily Mathrubhumi has stood tenth at 1,363,931.
Tamil Daily Dinamalar came 17th with 848,287. Telugu newspaper Sakshi which was at the 15th spot in 2017 has now claimed the 13th rank with 1,091,079. Kannada Daily Vijayavani claimed the 20th spot with an average sales growth of 760,738.
Bengali daily Anand Bazar Patrika which was at the 16th spot last year has risen to the 14th spot with an average sales growth of 1,080,478.
Marathi newspaper Daily Sakal with 1,204,640 claimed the 11th spot and Gujarati Daily Divya Bhaskar which was at the 20th spot climbed one rank to claim the 19th position with an average sales growth of 822,513 against 714,036.
While the Hindi Daily Punjab Kesari came 12th with 1,165,506, Hindi daily Patrika which was at the 17th spot last year now stands at the 15th with 1,005,485 against last year's 988,470. Hindi daily, Prabhat Khabar, has come 18th with 829,982.
exchange4media Group Service