Why is DHL emotionalising its brand campaign?
Sandeep Juneja, Vice President - Commercial, DHL Express India, talks to exchange4media about the challenges of advertising a logistics brand to consumers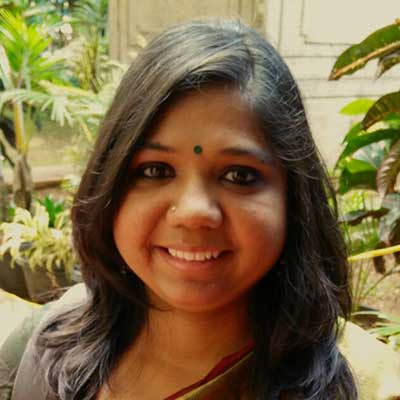 by
Published - 19-February-2019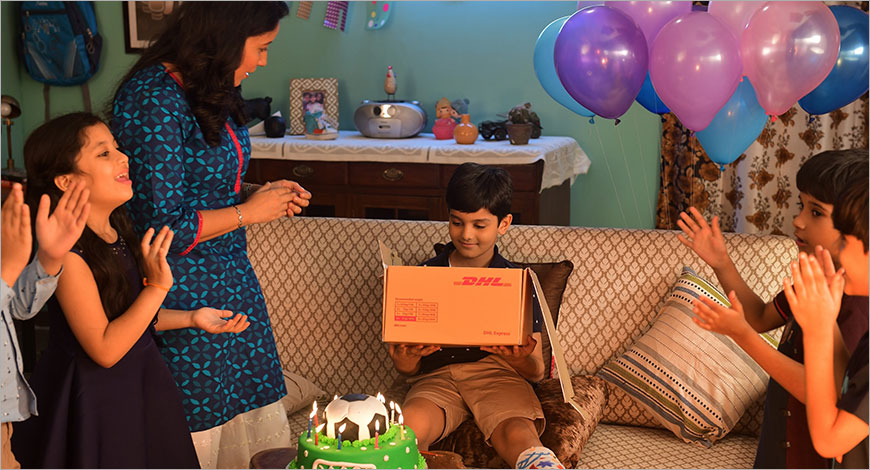 Leading logistics brand DHL has has turned sentimental to develop a deeper connect with consumers.
In its ad campaign during the Indian Super League (ISL), the brand spoke right to the end consumer to highlight how DHL not only delivers shipments but also delivers joy, delight and most importantly hope. The brand's communication moved from 'Right place, right time' during the 2017 ISL to 'Where there is a will, we are the way' in 2018.
Explaining the insight behind the new approach, Sandeep Juneja, Vice President - Commercial, DHL Express India, said, "Today with e-commerce, the consumers are intricately connected with the shipping experience as they eagerly await their packages. Our current campaign allows us to directly connect with the emotions of these e-commerce consumers." The brand has taken this emotional route in a quest to drive a deeper connect with consumers.
In fact, DHL is not the only logistics brand to craft communication around the joy of receiving packages. FedEx too used the same insight for its September 2018 campaign 'We deliver possibilities'. Logistics companies struggle with communicating their brand promise to consumers because they "don't have a physical product to sell. It is a service and thus an experience that we are selling," says Juneja. So the approach for a logistics brand is to convey "imagery of the experience and our brand promise."

DHL ISL 2018 Ad:
FedEx 2018 Ad:
DHL ISL 2017 Ad:

Juneja spoke to exchange4media about the logistics market, the challenges of communication, and compared associations with cricketing events versus non-cricketing sports like football.
Here's the edited excerpts of the conversation:
Tell us a little about how your marketing activities have evolved over the last 2-3 years, both in terms of media mix, tone and tenor of communication.
Up till two to three years ago, our media mix largely consisted of print and television. The mix has now moved towards digital. We're present across the digital landscape through search, programmatic, social, phygital and more. Our sponsorship baskets too have changed and today include an array of properties ranging from football and rugby to new age sports like drone racing and electronic sports.
In terms of our marketing and communications strategy, we have always kept 'Excellence, simply delivered' as a fundamental element of our proposition. Also, the very reason of 'being' a DHL employee hinges on how we 'connect people and improve lives', which as you can see gives us a purpose of being in business.
In the last few years, we have veered towards taking our promise to the living room of our customers and connecting with them at an emotional level. Our latest campaign is an extension of 'Excellence, simply delivered', wherein we are emotionalising the brand and connecting with real and basic human emotions. Thus the extension 'Where there is will, we are the way' was born!

The latest ad campaign during the ISL took a rather sentimental route. Does the core value proposition of a brand take a back seat in this content-driven communication approach that many brands are trying to use?
If we observe the business that DHL Express is in, we are delivering emotions with every shipment. When we deliver important component across many seas, machines can run and aircrafts fly – thus we deliver Delight. When we deliver a medical shipment for a patient, we deliver Hope. When we deliver a gift to someone, we deliver Joy. The list goes on and on. The campaign is therefore aligned with our purpose of 'Connecting people and improving lives', and our key message of 'Excellence, simply delivered', remain fundamental to our core proposition.
We have chosen to emotionalise our brand in order to develop a deeper connect with consumers. And this is something we do in reality all the time, when we deliver shipments and the emotions that are tied to them. This is a perfect segue in to our latest campaign 'Where there is a will, we are the way.' Our core values of speed, passion, team work and can-do spirit are also woven in the campaign. So, we are extending our core proposition in an emotional approach.
Today with e-commerce, the consumers are intricately connected with the shipping experience as they eagerly await their packages. Our current campaign allows us to directly connect with the emotions of these e-commerce consumers. Fact is, in an increasingly globalised world, where millions of consumers are shopping across borders, DHL makes the shipping experience superlative – 'Where there is a will, we are the way'.

What are the main challenges of marketing a logistics brand to consumers?
In my view, the main challenge for a logistics brand is that we don't have a physical product to sell. It is a service and thus an experience that we are selling. For consumers who have used logistics services, or DHL Express services, and to those who may utilise our service in the future, we are trying to create an imagery of the experience and our brand promise.
It is not about controlling the experience within four walls of a factory, where the product comes out after a quality control check. It is about providing an experience in a big global world of more than 220 countries and territories. And our customers are a part of our production cycle, as we are picking up, processing, navigating complex customs in various countries, flying the goods and delivering in far off countries. As we are manufacturing our product (aka service), the consumer is simultaneously using our product. Hence, to market services and that too complex international logistics services, becomes a challenge.
Thus our communication vehicle has to be simple and impactful. This helps us build a powerful imagery. So you see 'Excellence, simply delivered' or 'Where there is a will we are the way' as routes for us to communicate our proposition and also create trust at an emotional level with our customers. The other benefit is, these routes also become great motivators for our employees too.
In 2018 and 2017 you were associated with a sporting event like ISL. For a brand that wants visibility, are sporting events, even if they are not cricket-related, the only best bets?
We embrace the spirit which sports celebrates – the determination to perform and to achieve the best results. There is no doubt that cricket is the number one sport in India. However, we also see a growing number of kids playing football, taking football lessons, or talking about international and Indian football clubs. This is where kids also determine what runs on the television when they go back home. Therefore, it is a great alternative for us to be associated with football globally.
Beyond our most prevalent global football partnership with Manchester United, DHL Express works closely together with a number of high-profile clubs and leagues around the world. This includes FC Bayern Munich, Copa Libertadores, Leicester City (England), Chinese Football Association Super League (CSL), and Football Association of Ireland.
Brands can use multiple mediums to garner visibility through television, digital, OOH et al. But sports sponsorships like ISL not only help get the eye balls but also help deliver experiences, thus creating affinity for the brand.
How do you compare the ROI of money spent on associating with non-cricket sporting events vis-à-vis cricket events?
It is a fact that non-cricket sporting opportunities like football are far less cluttered in India. There are huge potentials for us to be associated with football – which appeals to the international audience.
Let me tell you some facts that we have observed closely from our association in our last season (Season 4) of ISL vis-à-vis the earlier season. With around 683 hours of exposure on air, it helped us reach out and create visibility amongst its 200 million+ TV viewers and in-stadia audience. There has been a jump of approximately 51% in our ROI.
As football is increasingly growing in popularity pan-India, ISL is a perfect platform for us to collaborate with, to build brand visibility among our intended audience.
What is the size of the logistics market in India and what's the rate of growth of the industry?
The Indian express industry is the fastest-growing market globally. According to the report 'Indian Express Industry – 2018: A multi-modal play in building' by Deloitte, the ecosystem is expected to grow at a CAGR of 17% and reach a size of Rs 48,000 crores in the next five years. This growth will be primarily driven by the growth of cross border e-commerce and a significant demand from SMEs.
What are the developments that have spurred growth in the industry in India?
The logistics sector in India has witnessed a steady growth trajectory over the years. There have been various factors that have fuelled the growth of the sector. The revival of the manufacturing sector and an overall growth in the economy has given a boost to the express industry.
The introduction of Goods and Services Tax (GST) has made India one nation. With growing global trade, people want to shift their supply chains from warehousing and supplying to just-in-time supply chain. DHL Express' services and extensive global network make us the ideal service provider, enabling the express industry to grow faster.
Now let us take the example of e-commerce. It is the world's buzzword. Typically you would have people visiting countries, setting up processes and warehouses. But today, a small businessman sitting in the corner of a street can start shipping to more than 220 countries because e-commerce has opened up so many doors. But who does he use for shipping? The delivery promise is speed. The presence of the express industry in a network is in turn building the fortunes for many as the global e-commerce industry booms.
Urbanization and increased disposable income levels have led to rapid growth in the e-commerce industry. The Deloitte report states that e-retail has been one of the key growth drivers for the Indian express industry in the past five years. It has transformed the express industry landscape due to the distinct nature of operations for e-retail order fulfillment as compared to the traditional deliveries and the fast-paced growth of the sector.
Express delivery players have evolved their business models, to better engage with consumers and to provide a varied range of value-added services. Additionally, the advent of social media, e-commerce, digitization and affordable data has provided consumers with greater buying choices and bargaining power. To meet customer expectations and to increase visibility over their supply chain, businesses are increasingly adopting express services.
Guest Column: Shrenik Gandhi, Co-Founder & CEO, White Rivers Media explains how the hashtag has changed the way we communicate in the digital age and how it can be effectively used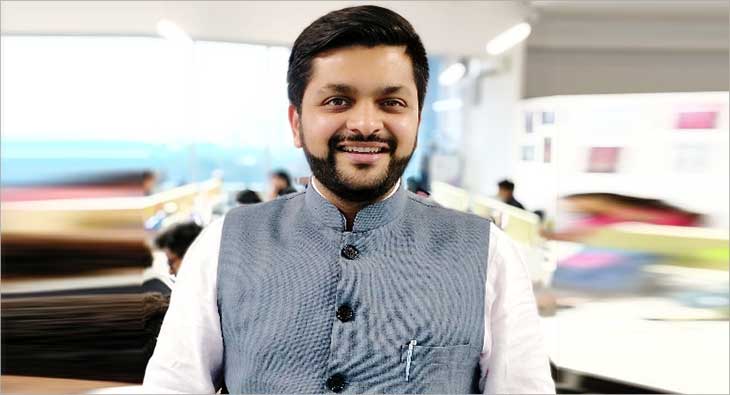 The pound sign or hashtag was first used as a metadata label by the Internet Relay Chat in 1988. Since then, the hashtag has had a consistent purpose — to categorise messages and online content.
19 years later (August 2007), blogger Stowe Boyd officially coined the term 'hashtag' in his blog. Chris Messina, a social technology expert, is credited to have created and used the very first hashtag on Twitter. He posted the hashtag #barcamp in August 2007.
Soon after that, any word or phrase preceded by the pound symbol became hyperlinked on Twitter. Users have since been able to search Twitter for a hashtag, to find and navigate through tweets that employed said tag.
Today, the use of hashtags has expanded beyond Twitter, to Pinterest, Instagram, Google Plus, Facebook, Tumblr, and now YouTube.
The modernisation of hashtags
Apart from numerous social media platforms, unique hashtags are used for almost every TV show, movie campaign, celebrity & influencer campaign, political campaign, sporting event, breaking news, etc. You cannot go anywhere anymore, without seeing a hashtag that promotes something. You can individually promote these hashtags to interact with your audience, form a group, raise anticipation, and view related news connected to a product or an event.
Do you know how to use hashtags accurately for better-targeted marketing campaigns?
When used strategically, hashtags give you a ton of benefits. They get your content a bigger audience, raise awareness about your brand, boost your SEO, and use hot trends & topics to your advantage, among other things.
What does a Hashtag do that nothing else can?
A hashtag is the most significant clickable search tool that helps a user search and follow content from a particular category or source. It helps in increasing brand awareness, reach and visibility. It makes tracking and quantifying content a simpler process, increase followers/ engagement and aids as an excellent promotional tool.
To get more out of hashtags and build better marketing campaigns, one should do the following:
1. Boost the organic reach of your posts
Ever since Instagram has implemented its latest algorithm, it is now tougher for brands to expand the organic reach of their posts. In order to help Instagram, categorise your content, and place it in front of your intended audience, hashtags emerge as the best weapon in your arsenal!
2. Create branded hashtags
This is probably the most crucial thing you can do for your campaign. Branded hashtags, as the name indicates, contain the name of your brand. They might also contain your company's slogan, the name of a specific product, or one of your campaigns.
3. Join trending topics
Trending topics can benefit your marketing efforts to a significant extent since they engage many readers. The top hashtags for a trending topic can get your product, service, and brand in front of a fresh audience outside your core digital community.
When put into perspective, endless factors play a role in making a perfect hashtag campaign. Learning from the campaigns of the past, we at White Rivers Media had created a customised checklist that helps brand avoid past mistakes and ups your hashtag game. It comprises everything a marketer like you should know about hashtags.
Link: http://whiteriversmedia.com/eBook
(The author Shrenik Gandhi is Co-Founder & CEO, White Rivers Media, a full-service digital agency)
Disclaimer: The views expressed here are solely those of the author and do not in any way represent the views of exchange4media.com
OPPOMobile India's #SeizeTheNight Twitter campaign enabled users to virtually experience the holiday season in different destinations whilst keeping the product – OPPO R17 Pro- in focus

by
Published - 3 hours ago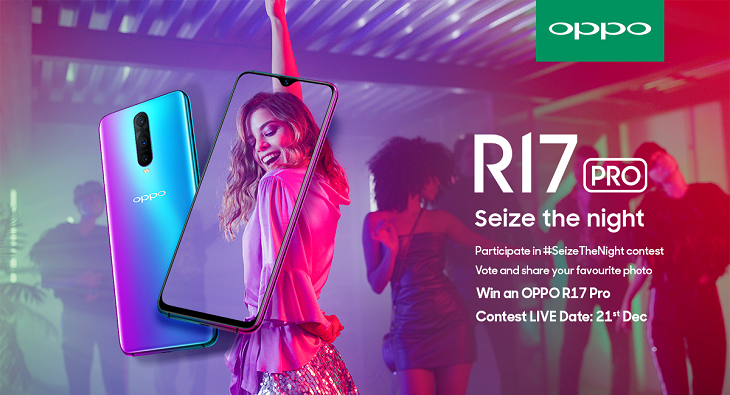 With the #OPPOR17Pro being launched in early December 2018, OPPO Mobile India (@oppomobileindia) engaged with people by leveraging the holiday season to create interest around their new smartphone. Based on the understanding that Twitter timelines light up with festive cheer during the last year of the month, OPPO Mobile India came up with their own innovative interpretation of driving engagement around the key feature of the #OPPOR17Pro: the Camera. The campaign took place from 22nd December 2018 to 31st December 2018.
The main objectives of this campaign using Twitter:
Create awareness and drive engagement around the newly launched #OPPOR17Pro.
Position #OPPOR17Pro as the smartphone with the best camera capabilities by associating it with festive celebrations around the world.
The main strategy of OPPOMobile India's #SeizeTheNight campaign enabled people to virtually experience the holiday season in different destinations across the world whilst keeping the product – OPPO R17 Pro- in focus.
The campaign used a Conversational Card to invite people to choose the destination they would like to #SeizeTheNight in during the holiday season, with the promise of the most engaging Tweet winning an #OPPOR17Pro. People could pick one of the four options: Barcelona, Milan, Singapore, and Malaysia. On Tweeting their destination choice, people were in for a surprise as they received a response from @oppomobileindia, featuring images of their chosen destination decked up for the festive season, clicked on #OPPOR17Pro mobile phones.
The personalised experience was crucial to the approach taken for the campaign as people who tweeted using the country/city specific hashtags had an opportunity to engage with the content clicked by OPPO R17 Pro. People who engaged with the Tweet, received an auto-response Tweet from the brand handle consisting of country/city specific pictures for OPPO Mobile India phones, thereby giving OPPO an opportunity to not only to engage with their target audience but also showcasing R17's power camera.
Best Practices:
Clear and actionable call out: Use of a Conversational Card to prompt people to engage with the Tweet by choosing one of the four options led to high engagement due to a clear Call to Action.
Personalisation is the key: Personalised experience for the people on engaging with the Tweet helped establish a deeper relationship with fans. "People come to Twitter with a discovery mindset and are very receptive to targeted brand messages. Through their #SeizeTheNight campaign, OPPO Mobiles India succeeded in being a part of the festive conversations by developing a campaign in sync with the holiday season. By providing personalized responses to fans who interacted with the Conversational card, the OPPO R17 Pro #SeizeTheNight campaign took the engagement level to a new high while creating an exciting and immersive user experience which is possible only on Twitter." said Kanika Mittal, Business Head, LCS, North and East, Twitter India.
Lyngdoh, Co-Founder, Tripoto says their plan is to expand their supplier base, and deepen partnerships with brands to strengthen Tripoto travel community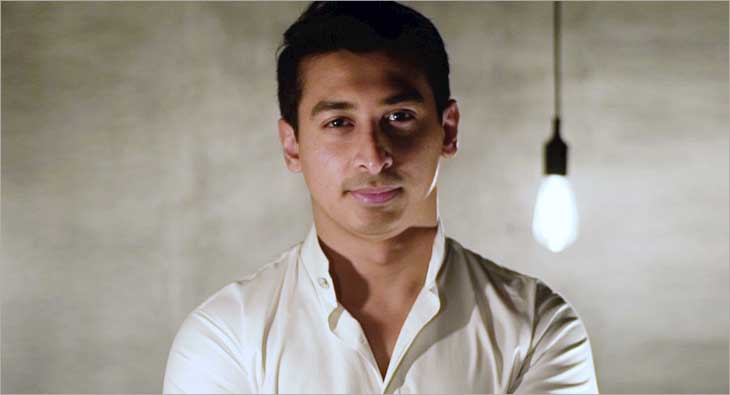 Travel community Tripoto has partnered with British automaker MG Motors, now owned by the Chinese- state owned automotive company SAIC, to boost awareness and sustain interest about the brand before their official launch in India.
Talking about the collaboration, Michael Pargal Lyngdoh, Co- founder, Tripoto said, "The brand is present across the world and before their launch in India, they wanted to let communities experience the local culture of countries they have been a part of. The goal for us during this campaign has been to bring the MG community feel to the Indian audience through storytelling so they can understand and identify with the brand. Through World of MG: An Indian Abroad, we aim to build a connection for Morris Garages (MG) India amongst our strong and active community of more than 25 million+ travellers."
He explains that many brands are leveraging community based platforms to reach out to their target audience, an interesting way to reach the consumers, but opines the lines between marketing and social media platforms is diminishing. "The brands leveraging community based platforms are ahead of the curve in setting marketing trends. A lot of our brand partners fall under this category. The lines between marketing and social media platforms are now blurred. Consumers no longer want obvious in-your-face advertising. The digital renaissance in our country has triggered the youth to turn to the internet for alternative and shareable content. They want to be told a story, feel a connection and part of a community while choosing a brand. This is the future of marketing," he said.
When asked at a time when travel has taken an upsurge in Indian market and many travel communities are coming into the business, how Tripoto is different from others, Lyngdoh said, "Ninety per cent of our content is user generated; these are real travel stories written by people who want to share their stories, to inspire and connect, with others within and beyond their social network. Users love our interface and the organic reach of our platform, makes Tripoto distinctive."
Believing in the power of influencers, Lyngdoh shares, "We rely on influencers and advocate to grow organically. This way we know that we are bringing kindred spirits excited about travel and adventure into our tribe."
When asked, it's been six years since the launch of the brand and still no engagement at the marketing front, he replied, "You will see more brand partnerships in the future but our users will continue to be our strongest evangelists."
Throwing light on the future plans, he elaborated, "We started as a platform for travellers to share their stories. As we've grown, our community wants to be able to convert inspiration from reading travel stories into a bespoke holiday at the click of a button. This is why we started building the flight, hotel and holiday marketplace last year. This year, the plan is to expand our supplier base so that there is something for everyone. Our other priority is to forge deeper partnerships with brands to strengthen our community."
The competition is intense in the travel space, so what's the strategy to deal with the competitors, Lyngdoh answered, "The competition has always been intense and there is only one strategy, to keep innovating and evolving our product to suit the needs of our users and clients. For instance, we have entered the non-fiction travel video space and are creating multiple web series which currently no other travel platform is doing."
Tripoto has come up with a web series featuring Amol Parashar in various countries before culminating in India before the national launch of MG Motors. The series will capture Parashar's unparalleled adventure and culinary experiences across seven countries.
Starting 20th March, Hotstar VIP will give audiences access to exclusive new shows, serials before TV and live sports at Rs 365 a year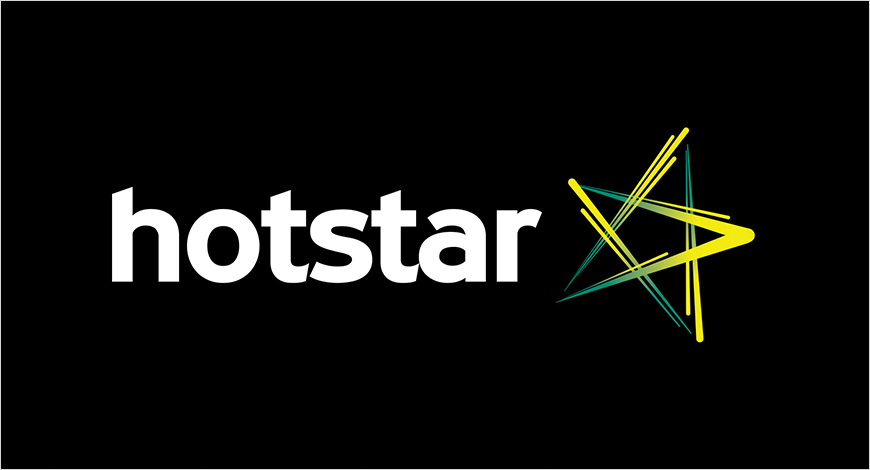 Hotstar has launched 'Hotstar VIP' - a subscription that offers audiences the best of content at just Rs 365 per year. The new subscription plan gives audiences the choice to watch exclusive new content under the Hotstar Specials label, their
Star network serials before television at 6am, and the best of live sporting action, including VIVO IPL, ICC Cricket World Cup, Premier League and much more.
Speaking about the launch of 'Hotstar VIP', Varun Narang, Chief Product Officer, Hotstar, said: "It is our endeavour at
Hotstar to delight customers with content that they resonate with, at the same time give them the power of choice at an affordable cost. Hotstar VIP is aimed at providing users accessibility – be it with the introductory price or the ability to watch exclusive new shows in multiple regional languages. It is a value proposition built with the Indian audience at the heart of it."
A key feature of the Hotstar VIP service is 'Hotstar Specials' – a label that will bring bold and authentic stories made by the biggest storytellers of India to crores of consumers across India. The launch of Hotstar VIP coincides with the release of the first Hotstar Special 'Roar of the Lion', a story on Chennai Super Kings amazing comeback under the leadership of MS Dhoni.
This show will be followed by Criminal Justice, City of Dreams, Hostages and many more shows under the Hotstar Specials label. For the first time ever, an OTT platform will allow customers to have a 'pay by cash' option.
This is being done as a test initially, where users can subscribe to enjoy the Hotstar VIP benefits immediately with cash to be collected from their doorstep in the next 48-72 hours. Adding another layer of convenience for customers, the platform will now allow phone number logins. Existing subscribers of Hotstar All Annual Sports plan will automatically be upgraded to Hotstar VIP, on a complimentary basis with no additional charge, and can also enjoy access to Hotstar Specials and Star serials before TV.
Hotstar Premium subscribers can avail of the benefits under Hotstar VIP along with the latest American shows, blockbuster Hollywood movies and award-winning content from International studios.
Hotstar is India's largest premium streaming platform with more than 100,000 hours of drama and movies in 18 languages, and coverage of every major global sporting event.
Launched in early 2015, it is one of India's most downloaded apps and has attracted more than 350 million followers on the back of a highly evolved video streaming technology and high attention to the quality of experience across devices and platforms.
Hotstar has appropriated top spots on the Google Play Store as well as the Apple App Store, consistently named among the most popular apps on both platforms since its launch.
In the two-week long campaign, Radio City's RJs Ginnie, Divya, Yuvi, Aadi and Manav discussed cases of cybercrime and human trafficking with experts and Delhi officials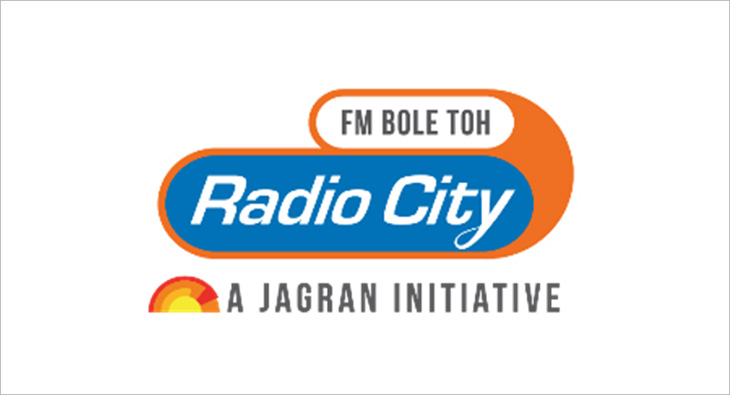 Radio City has completed another season of 'Dilli vs Crime', a campaign which aims to create awareness amongst Delhiites about the rising crimes in the city.
After a great response to the first season, Season 2 took up issues of cybercrime and human trafficking, which have been plaguing the capital city for quite some time. UNICEF India provided technical support to the campaign. The association is in line with UNICEF India's #ENDViolence campaign, which creates awareness on of violence against children.
In the two-week long campaign, Radio City's RJs Ginnie, Divya, Yuvi, Aadi and Manav discussed cases of cybercrime and human trafficking with experts and Delhi authorities. They made the listeners aware about the modus operandi of criminals and how to prevent falling into the trap, and steps one should take in case they feel they have fallen prey.
Kartik Kalla, Chief Creative Officer, Radio City, said, "As per the report released by the Delhi Police, the crime rate in Delhi witnessed an upsurge of 6.01 per cent by the end of 2018 as compared to 2017. To combat the increasing rate of crime in the city, Radio City with this initiative, 'Dilli Vs Crime' Season 2 is proud to be a catalyst of change to free the society from various horrendous issues like human trafficking and cybercrime. Associating with an influential body like the UNICEF India undoubtedly took our initiative a notch higher, yet again making it a successful campaign for two years."
Radio City's RJ Ginnie said, "While India is turning digital, there is a surge in the cases of cybercrime. Season 2 of 'Dilli vs Crime' offered Radio City's listeners solutions and precautions to tackle this problem. From understanding how frauds are done, how we can stay protected and the banks liability against these crimes – our experts went through the whole spectrum on-air. We also spoke about information being hacked on social media, phones, laptops, etc. and actually had hackers discussing this on-air. Simultaneously, we also dealt with revenge porn, blackmail and picture morphing to generate awareness and precaution for our listeners with real life case stories and expert opinions."
The RJs and experts took up the issues of three prominent types of cybercrime, including net banking frauds with elderly, revenge crimes with women, and cybercrime against children in the first week of the campaign. They also talked about the do's and don'ts on social media. In the second week, issues pertaining to human trafficking were brought to the fore by featuring nerve-wracking case studies, survivor stories and taking an account of increasing human trafficking cases in the city. Trafficking is a violation of children's rights and poverty alone does not lead to the same but also factors like social marginalization, dysfunctional family background, neglect, abuse and domestic violence combined with economic strife make children particularly vulnerable to trafficking.
As part of the digital plan, various awareness generating videos were amplified across Radio City's social media handle. A video with popular ethical hacker, Sanket Modi and RJ Ginnie, showcasing how a phone can be hacked in just 20 seconds, garnered an overwhelming response.
Radio City has always been a forerunner in ensuring the safety of its city and citizens. Dilli vs Crime, first season won many accolades at the Golden Mikes and New York Radio Festival awards 2018. With campaigns like Dilli vs Crime, Radio City will continue to leverage the power of radio to address issues and bring about a positive change in the society.
Conceptualised by Ogilvy, the campaign includes TVCs and digital content for customers across India

by
Published - 17 hours ago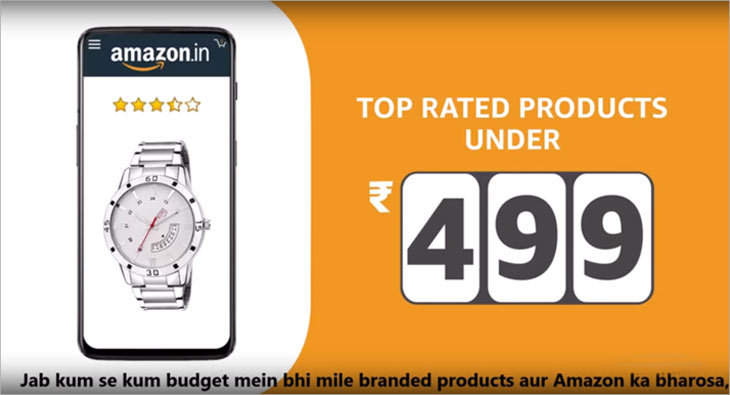 Amazon India has unveiled its first campaign of the year "Kitne Mein Mila?" The campaign revolves around leveraging value for money as a key factor to engage with customers.
The campaign features quirky insights and went live on Tuesday. Each scenario showcases various situations of customers who have purchased quality goods in their budget, provoking family and friends to ask 'Kitne Mein Mila'. The series of TVCs visually narrates the surprise and disbelief of people looking at high quality products when they ask this question. The intent behind the campaign is to highlight products across categories, including mobile phones, consumer electronics, appliances and fashion products, available at an affordable price along with Amazon's quality assurance.
Conceptualised by Ogilvy, the 'Kitne Mein Mila' campaign dovetails perfectly with Amazon India's intent of making customers aware about the vast selection on Amazon.in at an unbelievable price with fast and reliable delivery. The campaign includes TVCs and digital content for customers across India.
Ravi Desai, Director Mass and Brand Marketing, Amazon India said, "As customers, we all seek value for our hard earned money. We all operate within a fixed budget and seek quality products within it. Keeping in mind this insight, the 'Kitne Mein Mila' campaign showcases how Amazon.in understands this customer need and offers a wide selection of quality products making shopping more affordable, accessible and within the reach of everyone's budget."
Kiran Ramamurthy, Manager Partner, Ogilvy South said, "'Kitne mein mila' is the ubiquitous phrase that captures two quintessential things about a product that has just been bought – its quality and its price. It is the first inevitable question that is asked when you see a friend or acquaintance with a new product that appeals to you. So, when Amazon wanted to convey that a wide selection of products was available at great prices, there was no better phrase than 'kitne mein mila' to anchor the thought of fantastic value that customers get on Amazon. The essence of this campaign is the genuine surprise that is evoked in people when they discover that the product that they thought was expensive is available at jaw dropping prices on Amazon."
The Master Jury will consist of 12 esteemed creative legends and innovators who have been game changers in the category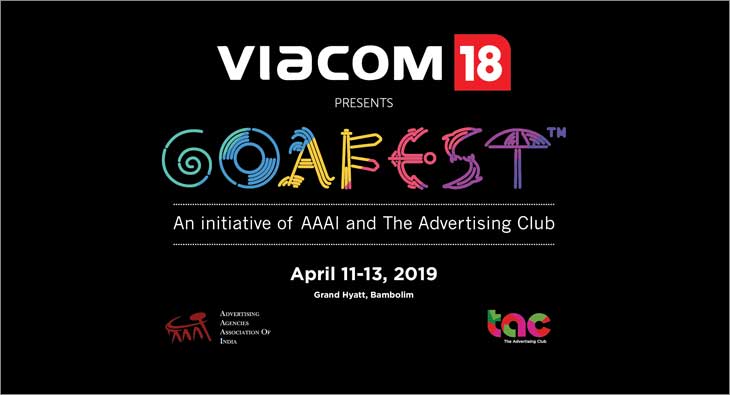 The gold standard in advertising awards - ABBY Awards 2019 - that celebrates creative excellence in the category has announced an illustrious master jury for the upcoming edition.
Introduced last year at the ABBY's, the master jury is reposed with the responsibility of judging pioneering work that deserves the ABBY. The Master Jury boasts of 12 esteemed creative legends and innovators who have been game changers in the category.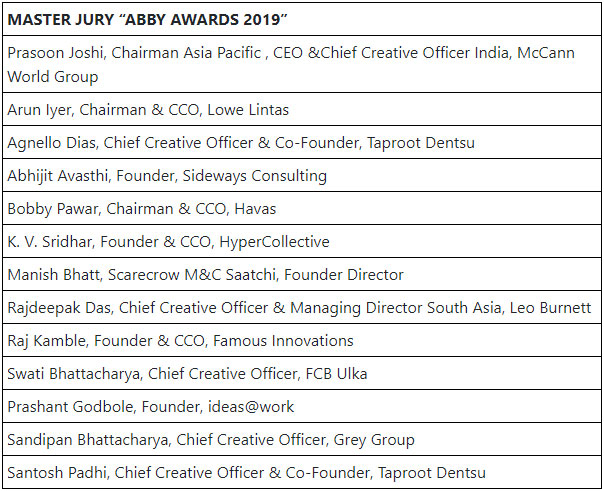 Speaking about the Master Jury for the upcoming edition of the ABBY's, Shashi Sinha, Chair of the Awards Governing Council, ABBY Awards 2019 said, "We have always believed that awards are as credible as the jury. We have hence curated a master jury constituting of the best creative minds and thought leaders from the industry, each of who have been icons in their area of work. The versatile and visionary jury will ensure that only the most deserving, ground breaking and effective campaigns emerge victorious. With such veterans at the jury panel, we are all set for an inspiring and ingenious edition of the ABBY Awards 2019."
The Master Jury will be judging all the creative entries received across 7 verticals and 8 categories across two rounds. Round I of the judging process will be held online followed by a combined deliberation in Round II.











With the tagline 'Be Loud, Be Proud,' the consumer electronics brand is focused towards being the first choice of millennials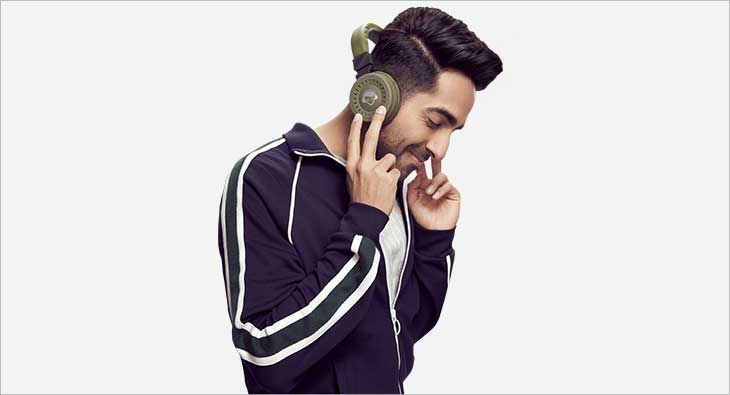 Recently launched lifestyle consumer electronics brand, Vingajoy has appointed Bollywood heartthrobAyushman Khurrana as its first brand ambassador to steer the brand to its targeted audience. With the tagline 'Be Loud, Be Proud,' the brand is focused towards being the first choice of millennials and offers products such as earphones, headphones, speakers, travel chargers and premium rugged cables that seamlessly integrate into the youth's style statement.
Commenting on the occasion, Vingajoy's Co-founder Mandeep Arora said, "Ayushman is the perfect face for our brand, he is dynamic, young, and stylish, and a person who has left his own mark in the industry, making him the perfect expression of Vingajoy. We're delighted to welcome Ayushman to the Vingajoy family and are confident he will inspire our consumers to feel proud to be associated with a brand like ours".
Commenting on the association actor Ayushman Khurrana said, "An individual's choice of gadget, should be user-friendly and has to resonate with their style factor, and Vingajoy is the perfect blend of both. It offers the right technology, blended into an attractive design. I am delighted to be associated with the brand as the products are mind-blowing, the sound quality is commendable and the design is millennial-friendly. It's loud, and will definitely make one proud."
Leo Burnett's mandate is for the corporate campaign and subsequent project launches across NCR, MMR and Bangalore markets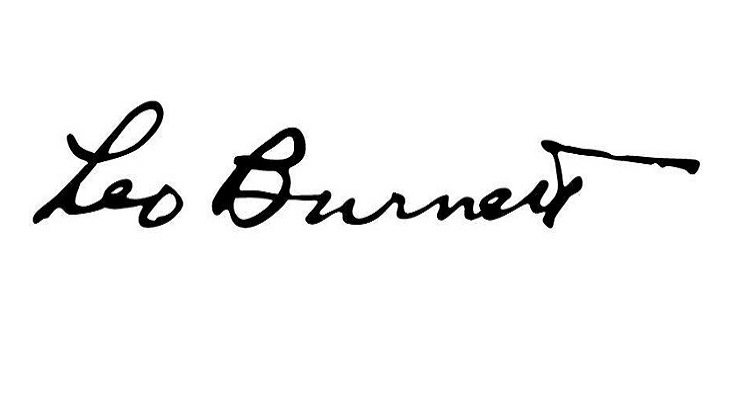 The Birla Group recently announced its foray into the real estate business with the launch of Birla Estates. Leo Burnett, who won the advertising mandate for Birla Estates in a competitive multi-agency pitch in September 2018 has been working closely with the team and has launched its first campaign Lifedesigned.
Putting the consumer at the heart of the process; Birla Estates, endeavours to create new global benchmarks of planning, quality, design and most importantly ethical practices. This unique approach is called Lifedesigned. A space is Lifedesigned when you design around life. And the design for life. To make the brand stand out in a crowded environment and also to create a brand differentiator the Birla Estate Design philosophy was branded as Lifedesigned and the campaign aims to bring this alive.
Speaking about the announcement, Rakesh Hinduja, Chief Operating Officer, West, Leo Burnett, said, "We are very excited to have been chosen to be a part of the Birla Estates team. The brand name Birla itself evokes the feeling of trust, commitment and innovation and we are excited to have been given a chance to build on this legacy for brand Birla Estates. Brand Birla is actually a perfect fit with our Humankind philosophy, which puts people at the heart of everything we do and we look forward to embarking on a positive and impactful journey together starting with the launch of the LifeDesigned campaign."
Talking about the campaign Prajato Guha, National Creative Director Leo Burnett said "With the challenges of rapid urbanisation across India and the fact that Birla Estates is a relatively new entrant in the category, we had to find a credible value proposition. In LifeDesigned, we have found a unique way to bring their brand philosophy alive".
Adds Sachin Kamble, National Creative Director Leo Burnett "the other challenge was to develop an identifiable look that would help us stand out in the cluttered category environment. It's been an exciting journey since October 2018, and we look forward to partnering Birla Estates in their launches across India."
The mandate is for the corporate campaign and subsequent project launches across NCR, MMR and Bangalore markets. The first project to be launched is Birla Vanya in Kalyan.
Viewers can catch the live action on the Facebook page of 'Jhacaaash'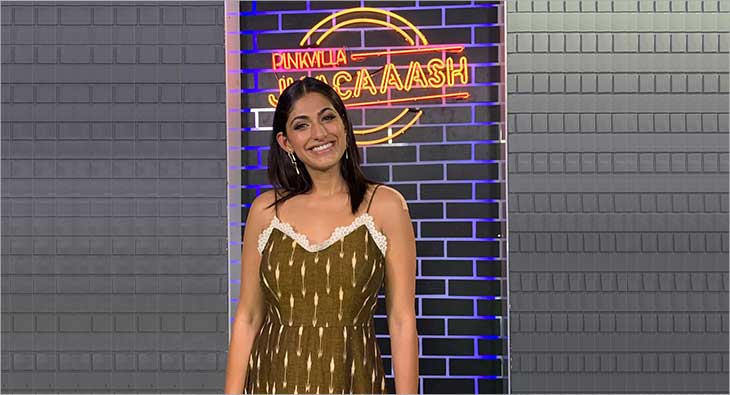 Kubbra Sait has been roped in as host for an interactive Bollywood quiz show Jhacaaash on Facebook Live.
The show which made its debut on March 18 will test the viewers' Bollywood prowess, allowing them a chance to win a cash prize of Rs 50,000 for every episode.
Kubbra Sait has appeared in films like 'Sultan', 'Ready' and 'City Of Life' and has been highly praised for her performance in the web series 'Sacred Games'.
'Jhacaaash' will see Kubbra pose viewers with 10 interesting questions for which they will have 10 seconds to respond and get lucky. Viewers can catch the live action by tuning into the Facebook page of Jhacaaash (https://www.facebook.com/jhacaaash/) every Monday and Thursday at 6pm.