Latest BookMyShow Campaign is Humorously Inspired by Current Affairs
The animated film has been created to promote the upcoming movie Raid which releases on March 16th. The campaign released has already garnered 2.3 million views. by
Published - 15-March-2018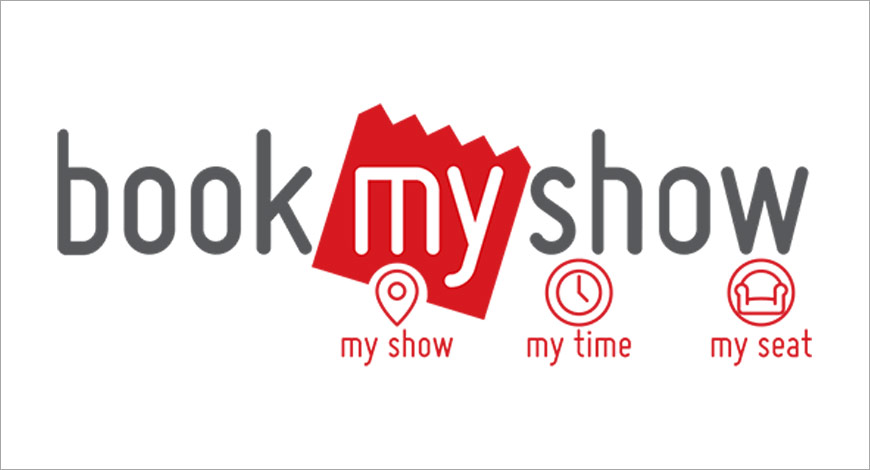 BookMyShow & BBH India yet again tapped into the zeitgeist with their latest campaign. The animated film has been created to promote the upcoming movie Raid which releases on March 16th . The campaign released has already garnered 2.3 million views.
Commenting on the campaign, Marzdi Kalianiwala, VP- Marketing and Business Intelligence, BookMyShow said, "With our latest digital film on this week's Friday release Raid, we have once again taken inspiration from conversations that are topical and have created an entertaining and engaging video that resonates with the situation that is unfolding around us. Subtle dash of humour and brilliant copy-writing in the film, allowed us as a brand to use this as an opportunity to form deeper connections with our customers."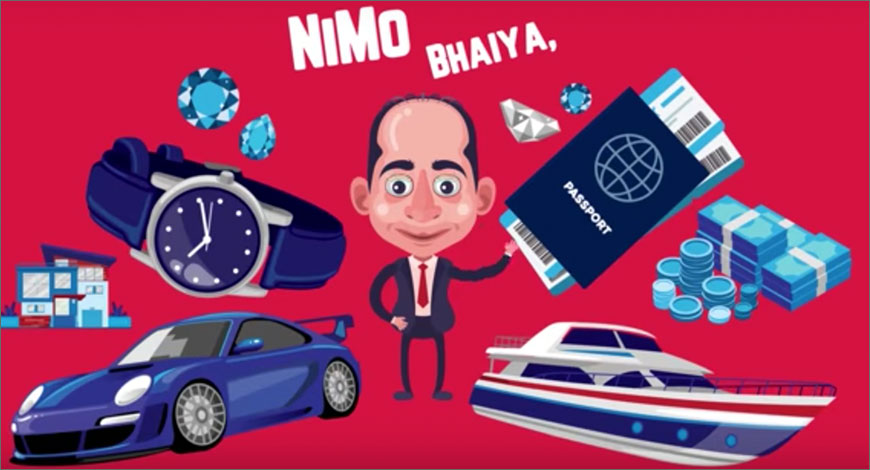 Russell Barrett, CCO & Managing Partner said, "As a brand that lives in the world of entertainment, being entertaining is the most obvious need. But more than that, any modern brand needs to partake in and instigate conversations. The opportunity to link Raid and the current situation was too much of an opportunity to miss. In this case, we're happy to admit we've not just borrowed, we've "stolen" from popular culture."
For more updates, subscribe to exchange4media's WhatsApp Channel- https://bit.ly/2QUdLCK
Localised campaign is custom made; hoardings have been put up at several key points

by
Published - 41 minutes ago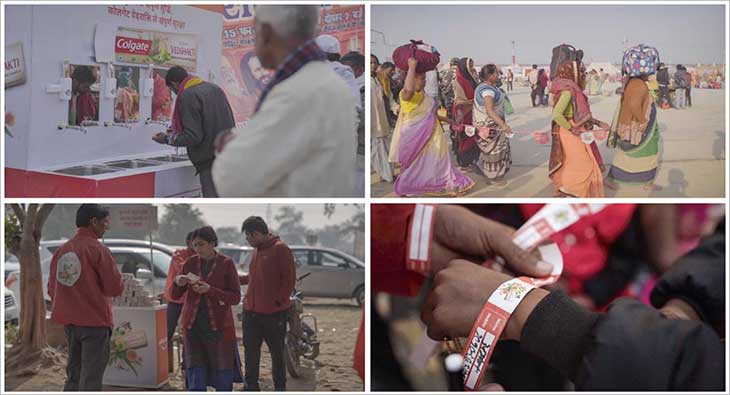 Colgate-Palmolive (India) Limited, the market leader in Oral Care, has launched 'Kumbh Se Sampoorna Shuddhi, Colgate Vedshakti Se Sampoorna Suraksha' campaign at the ongoing Kumbh Mela in Prayagraj, Allahabad.
The localised campaign is custom-made to provide all-round protection to pilgrims through a range of Kumbh activities and utility elements like brushing stations for pilgrims, oral care importance drives to spread the awarness of good oral hygiene, free, large-scale sampling of Colgate Vedshakti, Suraksha wristbands for children to write or wear their emergency contact details, Sampoorna Suraksha ropes given to big groups and families to hold on to.
Issam Bachaalani, Managing Director, Colgate-Palmolive (India) Limited said: "At Colgate, we work towards providing superior oral care and protection to all Indians, and towards caring for our communities. The Kumbh Mela gives us an opportunity to achieve both these objectives with our key target segments at an unprecedented scale. Our theme at the Kumbh is Complete Protection or Sampoorna Suraksha, as part of which we are offering millions of visitors free samples of Colgate Vedshakti toothpaste that provides sampoorna suraksha to the mouth. But that's not all - we are also extending to our consumers ways and means to ensure complete safety of their families, as they wade their way through the Kumbh Mela by handing out suraksha ropes - for families to walk together, and suraksha wristbands - for children to have an emergency contact number on their wrist."
Colgate Vedshakti's hoardings can be seen all over the consumer touchpoints at Prayagraj, while the sampling activity is carried out right from the transit points - at 21 highway pit stops, 9 key railway junctions and several bus stations, inside the main Mela grounds, including the akharas, rein-baseras, water point junctions and the Colgate Vedshakti branded brushing stations.

For more updates, subscribe to exchange4media's WhatsApp Channel- https://bit.ly/2QUdLCK
Campaign based on fictional character Leslie Knope a hit on Instagram 

by
Published - 39 minutes ago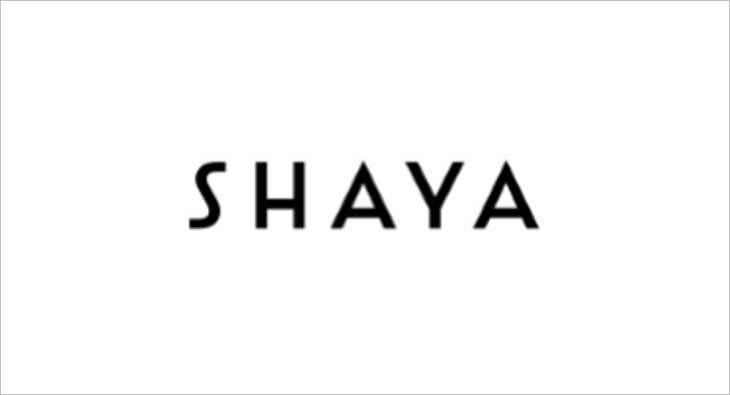 Shaya, the silver jewellery brand by CaratLane, has launched a Galentine's Day campaign, inspired by the fictional character Leslie Knope from popular sitcom Parks & Recreation.
The campaign was live on their social media pages from February 4 to 13 and has invited women who are the main inspiration behind Shaya to engage with the brand by reposting the video on their own social media page to win a special gift from Shaya.
The digital film has received on Instagram 88,110 views, 20,000 reactions and 15,000 engagements.
CaratLane - a Tanishq partnership - started Shaya in September 2018. It was established on the basis of inputs from CaratLane's customers, many of whom were frequent silver buyers.
They wanted designs that resonated with their personal style and they wanted
more choices. Shaya was conceived to address these needs.

For more updates, subscribe to exchange4media's WhatsApp Channel- https://bit.ly/2QUdLCK
Frankfinn's campaign was split into three phases, each with its own strategy and KPIs. For the pre-launch phase, Xaxis View was used with niche audience targeting to create brand awareness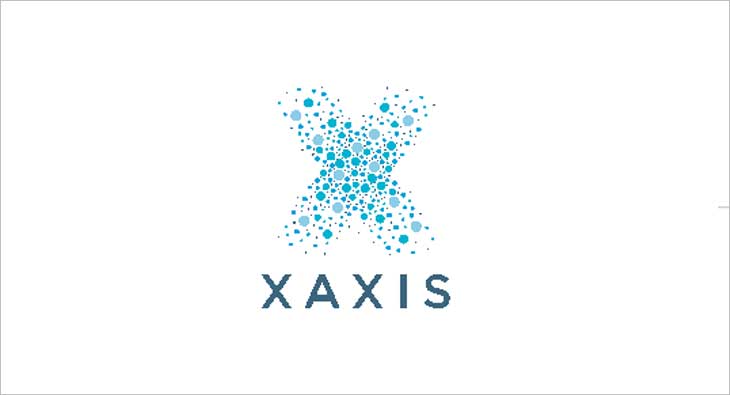 Xaxis, the Outcome Media Company and GroupM's advanced programmatic arm, today announced results from a recent campaign for Frankfinn Institute of Air Hostess Training. The challenge for Xaxis, in partnership wtih m/Six, was to increase awareness of Frankfinn Institute of Air Hostess Training (Frankfinn) as the world's top air hostess training institute.
"For our first-ever digital brand campaign, we needed a strategy that connected our new brand communication seamlessly with our target group. Data and insights being the core of our strategy helped us achieve 50% brand uplift," said Kulwinder Singh Kohli, Founder and Non-Executive Chairman, Frankfinn Institute of Air Hostess Training.
Frankfinn's campaign was split into three phases, each with its own strategy and KPIs. For the pre-launch phase, Xaxis View was used with niche audience targeting to create brand awareness. In the launch phase, Xaxis TV Premium (OTT) product was activated to increase reach and brand recall, while also retargeting audiences exposed in the pre-launch phase. In the sustenance phase, a call-to-action button was enabled for retargeted audiences exposed in previous phases along with a Zeotap (telecom) data layering on Hotstar (OTT platform).
Saket Sinha, Senior VP, m/Six said, "In partnership with Xaxis, we used telecom data and targeted video platforms, the largest being OTTs and YouTube, to help Frankfinn reach a younger audience.This strategy proved fruitful, as our campaign was extended by an additional month and Frankfinn's search trends reached a three-year high."
Bharat Khatri, Country Lead, Xaxis India said, "Having the right insight, creativity and ability to scale are critical to creating a successful media strategy. With our advanced technology offering and deep consumer insights, we customize each plan according to the client's desired business outcomes to create a personalized approach that will deliver the most value to them. Now more than ever, our clients are looking to us for dependable advice as they revamp their business models in order to keep pace with the ever-changing commercial environment and new technology. We are proud to offer a complete service that empowers them to embrace these changes and achieve tangible results beyond what they thought possible."
For more updates, subscribe to exchange4media's WhatsApp Channel- https://bit.ly/2QUdLCK
The 20 under 20 campaign was executed by Buzzoka, a influencer marketing company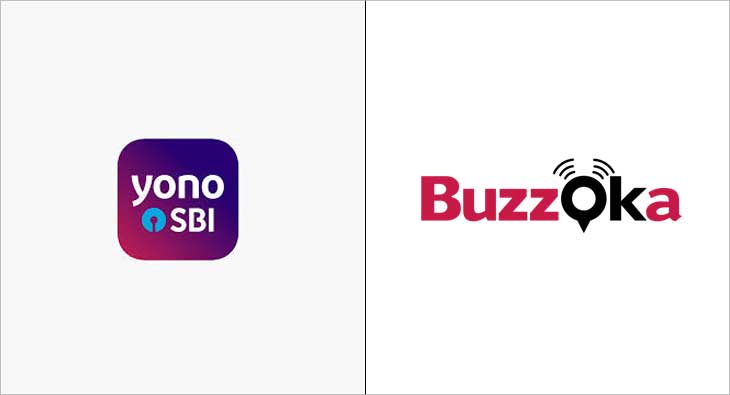 YONO SBI, an integrated digital banking platform by State Bank of India launched their recent campaign 20 Under 20 to felicitate young leaders. Interestingly, YONO SBI took an unconventional route to reach the masses by working closely with over 2000 content creators across India citing the young audience they connect.
YONO SBI has been a new age brand from the house of SBI and is disrupting the integrated digital banking ecosystem with a fresh approach.

The 360 degree influencer marketing campaign saw influencers from every walk of life coming together in support of the 20 under 20 initiative and propagating the larger message of the campaign. Platforms like TIKTOK, Instagram, Facebook and Twitter were all used in a strategic way to reach the masses and the vote share is a clear indication of the success story.
Over 1.7 lakh people voted for 60 nominations across 10 diverse categories, who were shortlisted by eight eminent personalities such as actor Dia Mirza; sports journalist and author Boria Majumdar; Sashi Sreedharan, MD, Microsoft India; Dilip Asbe, MD and CEO, NPCI; and Mallika Dua, social media influencer, among others. Finally 20 winners were selected basis votes casted by people across the nation.
The campaign was executed by Buzzoka, a influencer marketing company which was responsible for end to end management of the campaign.
Dinesh Menon, Chief Marketing Officer, SBI said, "YONO SBI is the first and only one of its kind comprehensive, digital only platform that brings together not just banking, financial products, but lifestyle products and services as well. In its initial phase, we deployed a digital-only advertising campaign. Besides using our own social media platforms for distributing relevant content, we took to Influencer Marketing, Twitter First view, among others."
Ashutosh Harbola, CEO, Buzzoka said, "It's a pleasure to work with the amazing team of YONO SBI and I wish them lots of luck for their path breaking approach. The campaign truly reflects the connect that YONO SBI cracked with the audience hence making this campaign a truly awesome case study" I am sure a lot of brands will see this as an aspiration in coming years. Also, it is one of the biggest influencer lead campaigns in the history of Indian advertising and we are glad to empower it 360 degree."
Meghna Chettri, Senior Manager Digital Marketing at SBI said, "Initially, we were apprehensive to approve influencer marketing. However, keeping in mind our agenda as well as the need to garner votes from the youth, we agreed upon fixing this. Post which, the entire flow was discussed, drafted and executed in collaboration with the influencer agency partner, Buzzoka, we were convinced with their execution plan. And today, I can happily talk about the numbers we generated. We were able to reach an exceptional number of people through these influencers, who already possessed an impressive follower base."
For more updates, subscribe to exchange4media's WhatsApp Channel- https://bit.ly/2QUdLCK
The association with Kartik Aaryan is in harmony with hummel's cheerful approach of inclusiveness

by
Published - 3 hours ago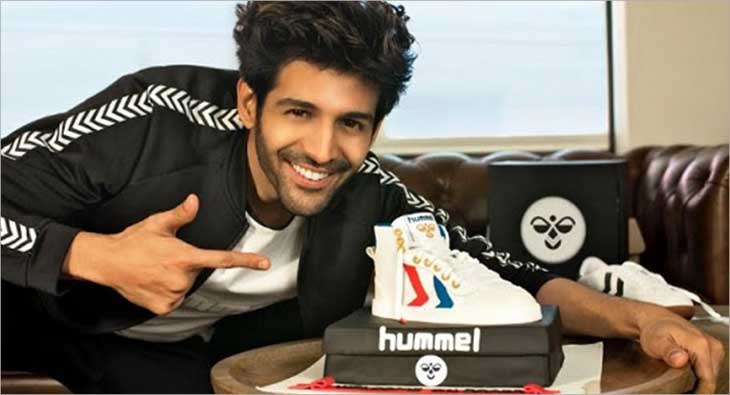 Danish sportswear major hummel signed Bollywood actor, Kartik Aaryan to represent the brand in India, the company said in a statement.
Commenting on the association, Soumava Naskar, Director hummel India said, "We are very happy to be associated with one of the most talented stars in Bollywood. He has made his own mark via sheer hard work and talent. His persona perfectly resonates with the cheerful hummel approach of inclusiveness."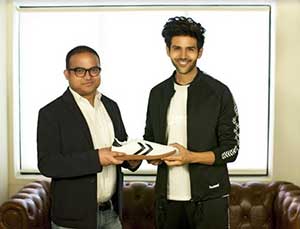 Soumava Naskar, Director hummel India and hummel brand ambassador, Kartik Aaryan
Speaking on the tie-up Kartik Aaryan said, "hummel needs no introduction. I have always been a big fan of the brand and now when it is in India, I am super excited to be its face. hummel appeals to my style sensibilities, it is bold, fashionable, creative, youthful and I am looking forward to flaunting the cool chevrons."
hummel is a sportswear brand based in Denmark. Founded in 1923, hummel has over 95 years of proud history. hummel is all set to launch its physical stores across multiple cities in India and its e-commerce website: www.hummel.net.in.
For more updates, subscribe to exchange4media's WhatsApp Channel- https://bit.ly/2QUdLCK
The software, called SHARP, uses machine learning to deliver AI-optimized metrics and recommendations

by
Published - 6 hours ago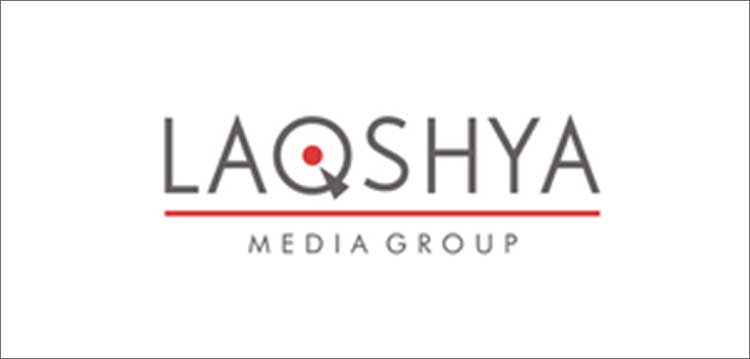 Laqshya Media Group (LMG) has launched 'SHARP' (Strategic Hyperlocal AI-powered Reach Planner), a first of its kind state-of-the-art planning tool for measuring the effectiveness and media value of Outdoor campaigns. This is India's first ever measuring tool, developed in-house by LMG, that allows brands to target the right audiences with Reach or Budget as an objective for an OOH campaign.
The OOH tool uses machine learning to deliver AI-optimized metrics and recommendations. The system is fed with data received from more than 50,000 geo-tagged sites comprising of Billboards, BQS sites, Mall facades, Pillars and Poles across 26 cities, the company said in a statement.
SHARP combines diverse data points including geotagged OOH locations across formats, a traffic measurement study by a global research agency, multiple databases to map and measure the current profiles of resident & transit population and panel rating points and various other site factors with the data on thousands of sites across multiple OOH formats. Each site is geo-tagged and cross-linked with google-map APIs to indicate various relevant points of interest like Banks, Auto showrooms etc. from the site. SHARP is also coded to differentiate between multiple (stacked) billboards at the same location with indicative pricing per site.
Talking about the software, Alok Jalan, Managing Director, Laqshya Media Group, said, "As an industry leader, it was but natural that we had to resolve client concerns about the lack of measurement metrics in the OOH Industry. SHARP has been the outcome of months of hard work & is unmatched in its ability to give a scientific rationale for an OOH campaign."
"A massive immersion of data & technology has been done to generate the right algorithms for Machine Learning. In addition, APIs of numerous consumption economy platforms have been integrated with the software to have a dynamic tracking of consumer interest points. While planning marketing budgets for a campaign, OOH usually gets a lower share of the pie; SHARP is set to change this. With better data and targeting, brands will be better assured of return on OOH investment, which in turn has the potential to alter the share of wallet for the medium," Jalan added.
Sai Nagesh, Chief Strategy Officer, Laqshya Media said, "SHARP was developed in response to the growing demand by brands who wanted quantification of Results delivered by an OOH campaign. The Software relies on Machine Learning to deliver AI-optimized recommendations for the most effective results in a client defined Target Audience. Allowing clients to identify locations with the highest audience density in order to reduce spill-over, an OOH campaign's Reach and effectiveness is now quantifiable. Apart from providing valuable campaign optimization opportunities, it lists the touchpoints available within the neighbourhood of an OOH asset as per Google defined touchpoints available on the Google maps API. The days of gut-feel & assumptions are over!"
For more updates, subscribe to exchange4media's WhatsApp Channel- https://bit.ly/2QUdLCK
'Zindagi wins' campaign is an initiative by MY FM to honor the spirit of survivors to beat the disease with the support of their family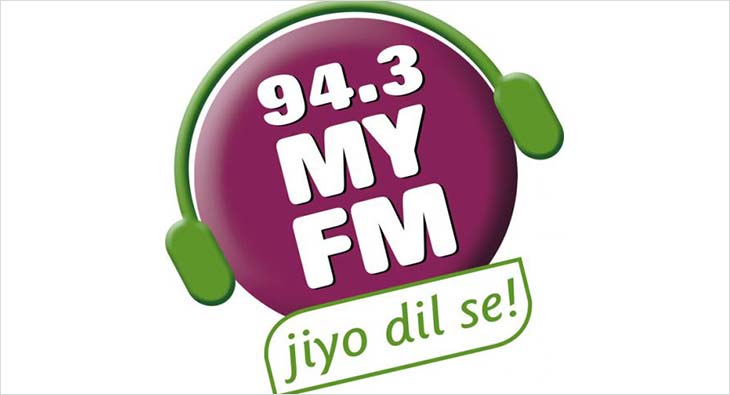 On World Cancer Day, MY FM launched 'Zindagi Wins' campaign, where the cancer survivors and their families were invited to the show and talks on their journey to win over the disease were initiated by the RJs. The survivors shared how they triumph the hard disease with their strong will power, family support and positivity towards life. The campaign was run across the cities like Indore, Bhopal, Raipur, Ahmedabad, and Rajkot.
'Zindagi win' campaign is an initiative by MY FM to honor the spirit of survivors to beat the disease with the support of their family. The fight with this disease is not as easy as the biggest side effect of the treatment is hair fall which affects the self-esteem of many patients and instills a sense of fear in them. A lot of patients use "wigs" in this phase but quality wigs are expensive. Also, there is a lack of awareness about how these wigs are made and how a common individual can help in such a cause.
To spread the awareness on the same MY FM in association with "Hair for Hope" and Madad NGO urged listeners to come forward and donate their hair which will be used for making "wigs" for cancer patients. Also, RJ's of MY FM also motivated the listeners to come forward and support the campaign. Mansvi Joshi, 12-year-old from Indore was one of the youngest donors who heard about the campaign and wanted to bring a smile on someone's face by donating her hair. Rashmi Sagar, 56-year-old from Bhilai donated her hair as she paid a tribute to her mom whom she had lost to this deadly disease.
Irene George, 38-year-old did her bit as she had seen her close relatives battling the disease and the going through the anxiety of hair loss. Pojaba Sodha, 23 yr old form Ahmedabad was from a traditional family where she could not even trim her hair without parent's consent but once she shared her desire to contribute her hair for this noble deed, her parents supported her and she donated all her hair for wigs of cancer patients. Around hundreds of individuals contributed to the campaign. Not only the individual but MY FM's RJ Anjali from Indore also donated her hair during the campaign.
Expressing his feeling on the campaign, Vinay Manek, Programming Head said, "Looking at the increasing rate of cancer patients, MY FM initiated 'Zindagi Win' campaign with the aim to salute the spirit of the survivors & their families, spread the awareness around the disease and also swell encouraging stories of them. 'Zindagi win' is MY FM's small initiate to do our bit for these real heroes. Also, with this campaign, we wanted to increase the awareness of hair donation in India and also educate society on how individuals can contribute to helping them fight this hard disease. It has been heartening the way the listeners have responded in large numbers and their response coupled with our RJs efforts have clearly created a resonance for the campaign."
For more updates, subscribe to exchange4media's WhatsApp Channel- https://bit.ly/2QUdLCK
The brand has roped in stand-up artistes Rahul Subramanian and Kumar Varun for the campaign

by
Published - 1 day ago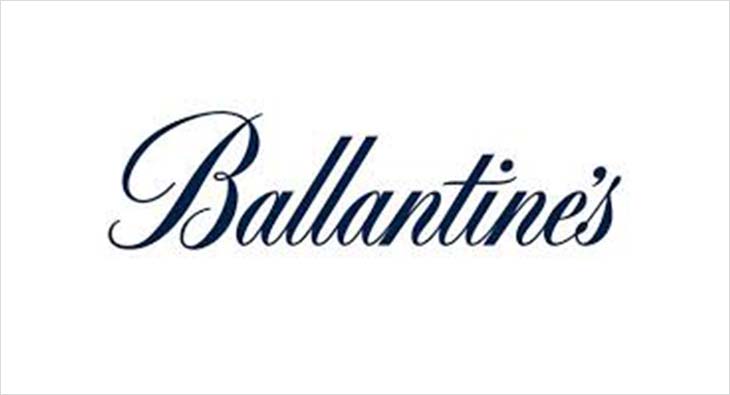 Ballantine's India has announced the launch of its on-ground multi-city campaign – Unofficial Evenings-- in the country. In line with the brand's philosophy of staying true to one's self and not conforming to prevalent norms without questioning them, Unofficial evenings would discuss the current state of affairs in the corporate world, albeit in a lighter vein.
Ballantine's India has roped in stand-up artistes Rahul Subramanian and Kumar Varun for the show. Interestingly both ventured into this genre after quitting their corporate jobs, to follow their passion. The performances would be witnessed in the key cities across India. Bengaluru hosted the first Unofficial Evening on the 15th of February.
Speaking about the launch of the Unofficial Evenings, the company's International brands head Girish Patil, said "As a brand, Ballantine's ethos lies in being true to one's self. We strongly believe that success is no longer restricted to those in the corner office. With this launch, we intend to bring together and celebrate those who believe in themselves, let go of their inhibitions, question the norm and do things the way they feel would help them secure their goals and ambitions. As a brand we would continue to create platforms which would bring together these people in a fun and convivial setting."
For more updates, subscribe to exchange4media's WhatsApp Channel- https://bit.ly/2QUdLCK
Brands such as Ola, Durex, Dairy Milk Silk, Zomato, Sunsilk, Netflix and even Mumbai Police, have all been using 'Gully Boy' memes to entertain the audience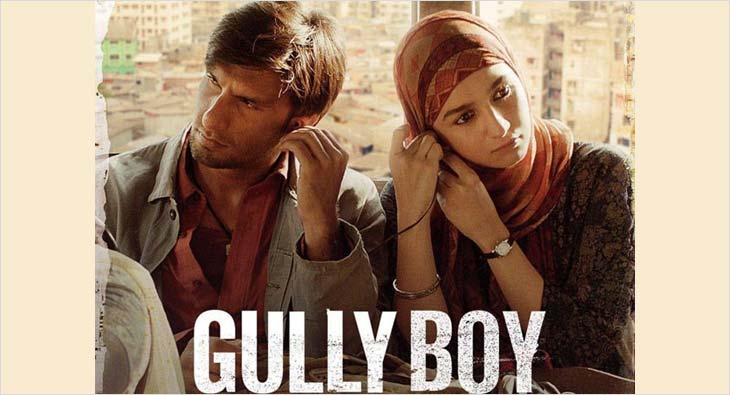 Remember the Rajdoot GTS 175 from the 70s? Yes, it is the same bike that was nicknamed Bobby. It has been close to 5 decades now but the Rajdoot GTS175 is still sometimes remembered as the "Bobby bike" from Rishi Kapoor's popular 1973 film Bobby. That's the power of Bollywood in India. The romance between Bollywood films and brands have only grown stronger over the years and director Zoya Akhtar has made sure she makes the most of it with her film Gully Boy. This new Bollywood release starring Ranveer Singh and Alia Bhatt has taken in-film brand placements and brand integrations to newer heights making it a case study for a mutually beneficial proposition for brands as well as films to follow.
Some prominent in-film brand placements have been done by brands such as true Caller, JBL, Adidas and Social Offline. The brands have been subtly blended with the film plot, but also smartly enough to make them stand out. True Caller, for instance, is used by Alia Bhatt to find out who was texting her boyfriend Ranveer Singh. Protagonist Ranveer Singh on the other hand who plays the role of an upcoming rapper from Mumbai's ghetto area in a scene is overwhelmed with the experience of shooting his first music video and giving him the feel of how professional music is recorded with premium speaker brand JBL. The new star of rap from Mumbai in the course of the film also receives a gift of the premium active wear shoe brands Adidas. Lastly, playing a very important part of the film is the concert where Singh gets his big break, which takes place in the Social Offline Café.
However, it is not just in film promotions. From brands like Ola and Durex to Dairy Milk Silk and Sunsilk, from Zomato to Netflix and even Mumbai Police, all have been using 'Gully Boy' memes to entertain the audience.
"The brands have multiple effects on the popularity of the film. While the film does its promotion, each of the brands they have associated themselves with also actively promotes the film in their advertisements across media be it print, outdoors, television or digital. This adds up to the buzz being created around the film and in a situation like this, both the brand and the film gain from the situation leveraging each other's popularity," said brand expert Harish Bijoor, CEO, Harish Bijoor Consults.
Some of the brands who ran campaigns and offers around the film included JBL, Social Offline, and Ola. While SocialOffline has painted Gully Boy graffiti's across 10 of their outlets in India to bring about the rap battle scenes from the movie shot at Todi Mill Social and also designed a special Gully Boy, speaker brand JBL has started a contest where winners stand a chance to meet the cast of the film on buying their speakers.
The film that has its own app allows users to record their rap and send in entries to win prizes also has a partnership with Ola. Rap recorded on board an Ola cab and uploaded on Ola's Facebook, Twitter, or Instagram page also stand a chance to win prizes.
Breaking it down further film trade analyst Atul Mohan said, "Depending on the air time given to the brands a certain amount of charge is agreed upon. All of these brand integrations put together, bring down the production cost by a certain percentage. The concept is an old one. In recent times, Koi Mil Gaya is a film that used brand integrations a lot with getting Nescafe, Pepsi, Bournvita and other brands on board. But Gully Boy has used the tool a lot more effectively and aggressively. This trend will only pick up more from here,"
For more updates, subscribe to exchange4media's WhatsApp Channel- https://bit.ly/2QUdLCK
The Head of Marketing at VIP Industries Limited says that Caprese's primary TG is the young and married women who wish to indulge in the latest fashion trends at an affordable price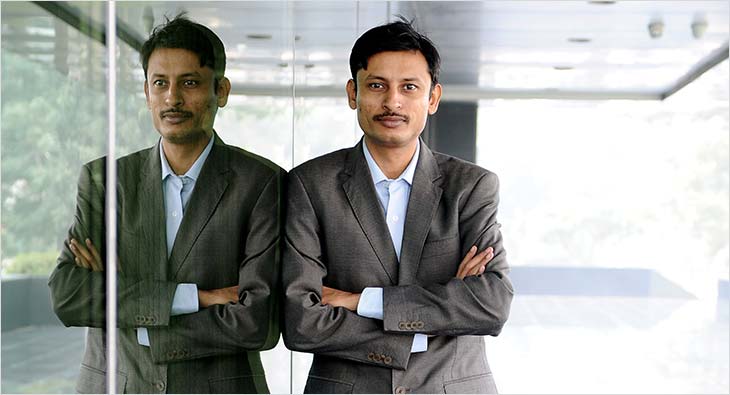 Caprese, the handbag brand from VIP Industries, recently launched its Summer Resort '19 collection 'Qo'shilish' in collaboration with fashion designer Payal Singhal at the Lakme Fashion Week. Anirudh Pandharkar, Head of Marketing at VIP Industries Limited, says that Caprese's association with Lakme Fashion Week has grown stronger over the years and with every passing season, the brand's engagement has become increasingly synergistic and integral.
"The association has a lot more to it beyond launching the season's collection at the Lakme Fashion Week. The association has evolved to incorporate on-ground activation programmes to connect with the fashion audience frequenting the event," he says. He adds, "The association has definitely helped us position Caprese as a premium, fashionable and accessible brand to our target consumers. Since fashion week is a hub for fashion from all around the world, our association with them has helped establish the fashion credibility of Caprese."
Another long association the brand has had is with actor, Alia Bhatt – Caprese's brand ambassador since 2014. Commenting on how the brand has leveraged this partnership, Pandharkar says, "Alia is our Caprese Girl. She has an extremely inspiring sense of personal style, which further helped us launch the CapreseXAlia collection. She is the best fit for the brand as she embodies the style of today's modern woman."
Defining the TG, he says that the primary TG for Caprese is the young and married women. Being an affordable fast fashion brand for the young, Caprese's marketing and communication is centered around the young woman who wishes to indulge in the latest fashion trends, and seeks fashionable goods at an affordable price.
Building on the TG preferences and consumption patterns, he says, "A Caprese consumer prefers flaunting her bags as per the occasion and thus needs to buy an eclectic range of handbags suitable for every occasion. This insight plays a crucial role in establishing a consumption pattern. We are a mid-premium brand catering to precisely these needs of the consumer. Our media mix is a good combination of TV, print, online and social media."
Talking about the challenges in reaching out to the TG he says, "From the brand's lens, our target audience is tremendously media savvy, and traverses multiple media vehicles comfortably. For Caprese, finding the right mix of influencers, media vehicles and their genres proves to be slightly challenging at times."
The brand has seen strong growth with a CAGR of above 40%, as result of diversification of product mix and advertising. The overall growth has also benefitted from increase in the number of working women, increase in disposable income, increased exposure caused by the internet, development of retailing and specialty stores and growing acceptance of handbags as a lifestyle product.
For more updates, subscribe to exchange4media's WhatsApp Channel- https://bit.ly/2QUdLCK