ATF Rises Above and Beyond
The Asia Television Forum (ATF) enters its second decade with a theme that reflects the rapid growth of the region's television industry on the background of economic optimism in Asia – "Above and Beyond". Driven by greater interest in made-in-Asia content and cross-platform convergence, ATF is well-positioned as Asia's leading content market.
The Asia Television Forum (ATF) enters its second decade with a theme that reflects the rapid growth of the region's television industry on the background of economic optimism in Asia – "Above and Beyond". Driven by greater interest in made-in-Asia content and cross-platform convergence, ATF is well-positioned as Asia's leading content market.

The 11th edition of ATF is witnessing positive growth in the Asian TV content market, presenting a record number of 13 pavilions, including four new pavilions from China (2 groups), Finland and Japan. Returning pavilions are France, Italy, South Korea (2 groups), Malaysia, Singapore, Spain and Taiwan. Besides an increase in the number of pavilions, the market will also see an approximate 14 per cent increase in seller companies and 18 per cent in buyer participation. In general, ATF is projected to see an increase of 15 per cent in overall participation. An expected 150 companies will be breaking waves into ATF for first time.
Yeow Hui Leng, Project Director of Reed Exhibitions, said, "ATF was launched in 2000 to serve as a platform for regional buyers to acquire international content. However, the tides are fast changing. More Asian sellers have entered the arena to distribute programmes or explore international co-production, to meet demand for content that's closer to home."
ATF buyers from both regional and international organisations shared their thoughts on the market.
Seyeon Lee, Head of Global Marketing Team, Korea Creative Content Agency, said, "Through ATF this year, we would like to introduce a number of great Korean programmes to not only buyers from Asian countries, but from Europe as well."
Sayuri Hata, from CREi Inc, remarked, "Having attended ATF for the past few years, we find it valuable to be able to make contact with Asian companies, especially those from Southeast Asia."

Said Joyce Yeung, Senior Vice-President & General Manager Asia for BBC Worldwide Sales and Distribution, "As Asia's premier international content market, ATF offers an ideal opportunity for BBC Worldwide to spend time with all our valued clients in Asia and meet new clients."

Eva Zalve from the Economic & Commercial Office of Spain echoed Yeung's sentiment. "We decided to participate in ATF because of the positive experiences that our pavilion's companies had in previous years. The market allows us to develop new relationships, close deals, and reach new audiences in Asia."
New programmes will be launched at ATF 2010 by international and regional companies, an indication of the significance of the market on the global platform. Companies including Australian Broadcasting Corporation (ABC), IMC Vision, Telemundo Internacional, Zee Entertainment Enterprises, and Zodiak Rights will be presenting new offerings at the market.
Natalie Lawley, Sales Manager, Australian Broadcasting Channel (ABC), said, "The ABC was able to contract a substantial amount of deals at ATF last year and we hope to build on that this year. We will be bringing a new title called "Unbelievable", a six-part documentary-style programme that tests irrational beliefs."

Tina Cai, Head - Syndication Manager - Subscription and Advertising Zee Network – Asia Pacific shared, "Pavitra Rishta and 2010 Zee Cine Awards are our new launches at ATF. Pavitra Rishta (Pure Relationship) recently won the "Jury's Special Prize" at Seoul International Awards, and the Zee Cine Awards is slated to be held in Singapore in January 2011."
Co-production activities and collaboration between international companies are also on the rise. An example is the joint-venture between A&E Television Networks (AETN™) and ASTRO ALL ASIA NETWORKS plc to form AETN All Asia Networks. Original productions from this joint-venture will be available at ATF.
"The programmes that we co-produced with Singapore's Media Development Authority and Malaysia National Film Development include a few Asian history and crime series such as Hidden Cities, Crime Investigation Asia and The Maguindanao Massacre," said Ling Sze Gan, Regional Director, Content Sales – Asia Pacific, AETN.
ATF 2010 will be co-located alongside the Singapore Toys, Games and Comic Convention (STGCC), and the two will overlap for a day (10 December). In conjunction with this co-location, the ATF conference will feature an animation panel and Superpitch, as well as a licensing panel. The animation conference track will focus on developments, trends, processes and financing of animation projects, while the licensing panel will provide insight into the important details and challenges of licensing in the industry.
Other conference sessions include a 3D TV Seminar, which will explore the impact of 3D technology; and a music panel that will discuss cross platform distribution of content and its impact on the music business.

exchange4media Group Service
The #SocialForGood FB Live-athon will take place on 27th November 2018 from 12 noon to 4:00 pm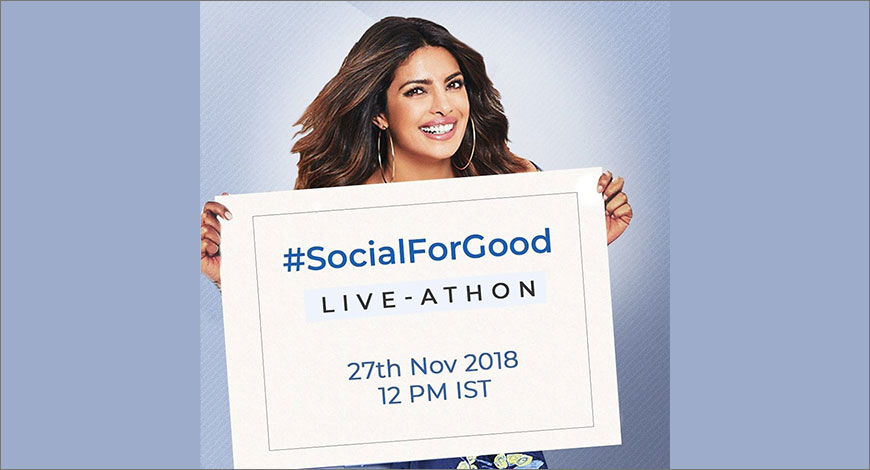 Facebook India and Priyanka Chopra are coming together to introduce the first-of-its-kind Live-athon called - #SocialForGood.
With this 4-hour Live event, on November 27, Facebook and Instagram plan to bring together some of the biggest names in popular culture. This carefully curated list of people are those who believe in the power of social media – they have used their voices to educate supporters, inspire advocacy and put people at the center of the issues they care most about.
Speaking on the collaboration, Saket Jha Saurabh - Head of Entertainment Partnerships, Facebook India said, "Social Media has been playing a pivotal role in recent times to bring awareness to issues that affect minorities, local communities and even matters of national importance. With #SocialForGood, our endeavor is to shine a spotlight on some of the fantastic work our community of public figures and socially-responsible volunteers have been doing to bring positive change, not just on the internet but our everyday lives. With a global force like Priyanka Chopra joining hands with us, this mission to spread the message of Social For Good will definitely make a huge impact".
The #SocialForGood FB Live-athon will take place on 27th November 2018 from 12 noon to 4:00 pm (IST). This live-streamed event will be power-packed with some of the biggest names from films, sports, music, etc. Driven by Priyanka, these conversations will range from Mental Health Awareness and Standing Against Cyber Bullying to Celebrating Women Entrepreneurship and Making a Difference, one contribution at a time.
Commenting on the partnership Priyanka Chopra – Actor, Producer, Humanitarian and UNICEF Goodwill Ambassador said, "There is no denying the power of Social Media. It is a force which once unleashed, is difficult to control or stop. Its force comes from the huge influence it wields and recognizing that means, using it well, to do some good. I have personally witnessed the positive effects of social media in bringing awareness and action to many of the causes I hold dear to my heart. The right content can make all the difference. To use it to bring awareness to causes that matter, celebrate some real-life stories and also inspire people to do their bit for the community, is a fantastic idea. I am looking forward to this partnership with Facebook. May the Force to spread the good, be with all of us #SocialForGood"
The Bade-Chote skill for Alexa will allow users to interact with the characters through voice commands.
Bade-Chote have a new hangout! In addition to entertaining viewers on television, 9XM's popular duo will also be able to give you a good laugh with their jokes on all Alexa-enabled devices.
Launched on Monday, the Bade-Chote skill for Alexa will allow users to interact with the characters through voice commands. The skill can be accessed on Amazon Echo smart speakers, Alexa built-in devices such as Harman Kardon Allure smart speakers or iBall Decibel headsets, as well as the Alexa app for iOS and Android devices.
Commenting on the launch of 9XM's Bade-Chote skill for Alexa, Dilip RS, Country Manager for Alexa Skills, Amazon India, said "We are constantly on the lookout for skills that not only provide information but also entertain our subscribers. With Bade-Chote jokes, we are sure to turn up the entertainment quotient for our users - from youngsters and kids, to the entire family."
The Bade-Chote skill will enable users to find the humorous Bade-Chote jokes with a single voice command. To listen to Bade Chote's infamous Bakwaas Bandh Kar Jokes, a user has to say "Alexa, tell Bade Chote jokes" or "Alexa open Bade Chote jokes" or "Alexa launch Bade Chote jokes". The device will start playing the jokes till the user says "Alexa, stop" or "Alexa, pause". A library of 100 jokes is already a part of the skill for users to enjoy. New jokes will be uploaded on a regular basis to keep the library refreshed.
Speaking on the occasion, Kapil Sharma, SVP Marketing and PR, 9X Media Pvt Ltd, said, "9XM is a preferred destination amongst the youth and we engage with our viewers across platforms which are popular youth hangouts. Over the years, Bade-Chote have connected with audiences on platforms including malls, cafes, multiplexes, IVR calls, mobile games, Facebook messenger chatbots, etc. Our decision to build an Alexa skill is an extension to reach out to our audiences where they hangout. We are confident that the skill will resonate with Alexa users and Bade-Chote fans across the globe and keep them hooked for more!"
The Bade Chote skill on Alexa will be promoted across television and digital communities of 9XM.
The fast-paced thriller starring Paoli Dam, produced by Parambrata Chattopadhyay premieres on ZEE5 on 13th November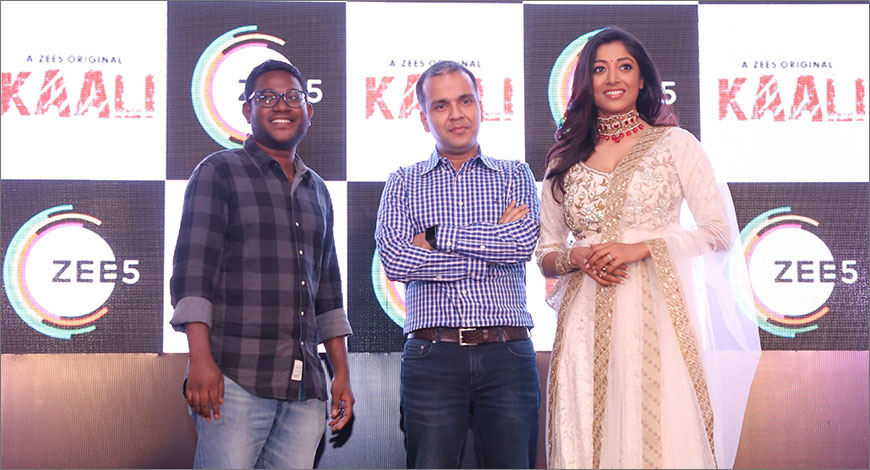 After the stunning success of Aranyadeb, ZEE5, the OTT platform has announced the launch of a ZEE5 Bengali Original and the first Bengali web series on the platform titled 'Kaali'.
With an aim to broaden its regional premium content offerings, Manish Aggarwal, Business Head, ZEE5 today at an event in Kolkata announced that the eight-episode thriller will go live on ZEE5 on 13th November.
Also present at the event were the stellar cast and crew of the show, including director Korok Murmu, actress Paoli Dam, music director Nabarun Bose and cast members. Kaali is a story which takes you on a cliffhanger ride where a mother has one night to save her son.
Produced by Parambrata Chattopadhyay who is known for acting in and directing brilliant and entertaining films, Kaali delves into the unseen underbelly of Kolkata which is usually spoken about in hushed tones. Filled with hope, courage, danger and betrayal, Kaali is a multi-layered show that will give you jitters as it progresses towards the climax.
Speaking about the launch, actress Paoli Dam said, "This is my first web series and I am hugely excited for the launch. Working with Param and Rahul has been enjoyable as always. I am keen to see the response of the viewers to the show – ZEE5's wide reach will make sure we are in a large number of handhelds."
Parambrata Chattopadhyay, Producer, commented, "We have put together our heart and soul into the making of Kaali. Performances by Paoli Dam, Rahul Banerjee and Shantilal Mukherjee are praiseworthy. Backed with a strong story and unchartered reach of ZEE5, we are certain that Kaali is going to be one of our best creations till date."
Manish Aggarwal, Business Head, ZEE5 India, added, "ZEE5 consistently strives to deliver edgy and engaging content to its viewers. With rich cinematography and virtually stunning scenes, Kaali is a testament to the rapidly evolving Bangla film industry as also the audience preferences. The show is a thrilling piece from our regional bouquet that will redefine popular perception about the role of women in society. Growth of Bengali content is integral to our regional strategy and Kaali's launch just ticks all the right boxes to make a perfect entertainment package for our audiences."
Besides dubbed versions of ZEE5 Originals, the platform has been digitally premiering blockbuster and acclaimed Bengali movies such as Drishtikone, Sonar Pahar, Purnimar Chand and many interesting titles for its subscriber base.
Britannia and J Walter Thompson have produced a digital film that inspires every homemaker in India to realise their untapped potential and take that first step towards doing more and being more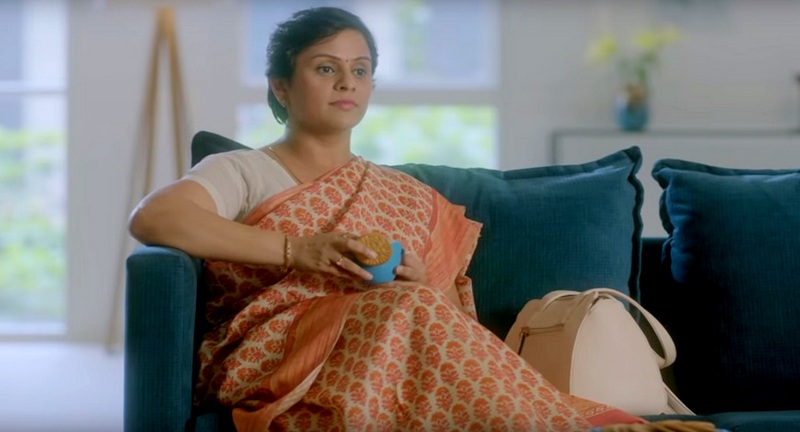 As homemakers are shifting mindsets and searching for more outside of household obligations, Marie Gold looked to dig deeper.Britannia's Marie Gold biscuit, a classic favorite, promises to be the fuel for everyday athletes – homemakers.
Britannia and J Walter Thompson have produced a digital film that inspires every homemaker in India to realise their untapped potential and take that first step towards doing more and being more.
The film interviews four homemakers from different walks of life along with their families. The family members were first asked how they like to spend their holidays and after which the same question was asked to the homemakers. The content piece moves slowly into homemakers describing their unfulfilled aspirations and the families reacting to it almost in awe.
Campaign video:
The campaign launch is marked by an emoji activated by the #PowerOf18 hashtag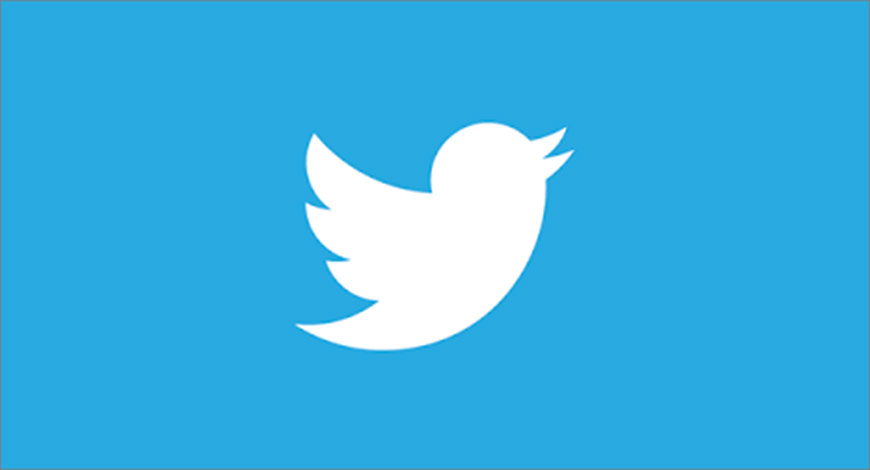 Voting rights emerged as the top response when asked what people would consider the power of turning 18 years old, according to a new survey from Twitter India. With this empowering insight, Twitter is launching a social initiative called #PowerOf18 aimed at encouraging the youth of India to contribute to public debate and participate in civic engagement in the upcoming election season.
Supported by Twitter's mission to serve the public conversation, the initiative was launched by Jack Dorsey, CEO & Co-Founder, Twitter and Maya Hari, Vice-President & Managing Director, Asia Pacific, Twitter in a Townhall chat with the students of IIT Delhi. The campaign launch is marked by an emoji activated by the #PowerOf18 hashtag.
Thank you IIT! pic.twitter.com/2Jk8J3TL0N

— jack (@jack) 12 November 2018
Tweet the change you want to see with #PowerOf18. pic.twitter.com/t1eVQwp83E

— Twitter India (@TwitterIndia) 12 November 2018
The research conducted with over 3,600 respondents aged 18 - 30-year-olds, comprising Twitter and non-Twitter users, focused on people's attitude in India in shaping the political and social environment.
The survey found an overwhelming 94% of respondents indicating that they would vote in the upcoming elections. 87% of Indians surveyed believe that voting makes you a responsible citizen and more than half (53%) are voting because they want to make a difference.
The study also pointed to the rising importance of social media for information consumption. Fifty-seven per cent of youth surveyed would turn to social media to find out what's happening in India and around the world, a percentage higher than all other mediums including newspapers. Sixty-nine per cent of Twitter users surveyed always stay up to date with political news and events versus 44% of non-Twitter users. Additionally, the survey found Twitter users more engaged in civic discussion versus non-Twitter users. Fifty-nine per cent of Twitter users actively engage with and raise concerns to the government on issues that affect them or their community versus 37% of non-Twitter users.
Two in three Indian Twitter users believe that they are contributing to the public debate by posting on Twitter. In relation, Twitter India aims to encourage the youth of India with #PowerOf18 to leverage the platform for public conversation and vote for the future they seek.
As part of the initiative, Twitter is kickstarting the initiative with an online video series on @TwitterIndia featuring young personalities across India such as Indian singer Jassie Gill (@JassieGill), Indian boxer Nikhat Zareen (@Nikhat_Zareen), writer, poet and #MeTooIndia voice Mahima Kukreja (@AGirlOfHerWords), sharing about their inspirations and their view of #PowerOf18. Twitter seeks to work with more like-minded partners and personalities to create awareness of the importance of voting.
Will be at IIT Delhi today to meet students and have a conversation. Ask your questions using the hashtag #powerof18

— jack (@jack) 12 November 2018
In light of India's rapidly transforming online news & social networking infrastructure- what role should twitter be playing as a market leader & trend setter- in addressing the crucial questions of enhanced economic & social access? @jack @TwitterLive #PowerOf18 @edciitdelhi

— ABHISHEK AGRAWAL (@abhiiitdelhi) 10 November 2018
@jack @Twitter #powerof18 though social media has been a game changer it has introduced a new kind of addiction making people glued to their cell & constant need for likes & followers your views on the same?

— hartejsethi (@sethihartej) 11 November 2018
Given the upcoming 2019 general elections in India, what steps are social networking giants taking to curb the spread of fake news? #PowerOf18

— shivang seth (@sseth_07) 11 November 2018
Announcing the initiative at IIT Delhi today, Maya Hari, Vice-President & Managing Director, Asia Pacific, Twitter said, "Our philanthropic mission is to make the world a better place by harnessing the positive power of Twitter. Our company embraces this mission by focusing our support where we can make the greatest impact. Today, we launch #PowerOf18 to encourage the youth of India in taking your place as changemakers and join the most important public conversation for the country - the state and national elections." The #PowerOf18 campaign launch at IIT Delhi concluded with a Q&A round where students had the opportunity to submit their questions to Jack with #PowerOf18.
Several questions focused around Twitter's role in shaping society and culture, youth activism, upcoming general elections and the importance of voting were raised during the Townhall at IIT Delhi
Twitter will be fuelling #PowerOf18 conversations through @TwitterIndia as part of this initiative. #PowerOf18 will serve as a resource for all young Indians to find more information about the elections, support social causes they are passionate about, and join the public conversation. The platform aims to engage more young people in India to contribute to public debate and work with like-minded partners that share the same objective of encouraging civic engagement among the youth. The nationwide survey was conducted with 3,622 youth respondents from India between 24 September - 19 October 2018. The survey methodology qualifies the respondents as minimally secondary literate, aged between 18 - 30 years old. Follow #PowerOf18 and @TwitterIndia to be a part of the conversation and community.
The digital ad film brings to life the essence of this spectacle with hand-drawn illustrations and slam poetry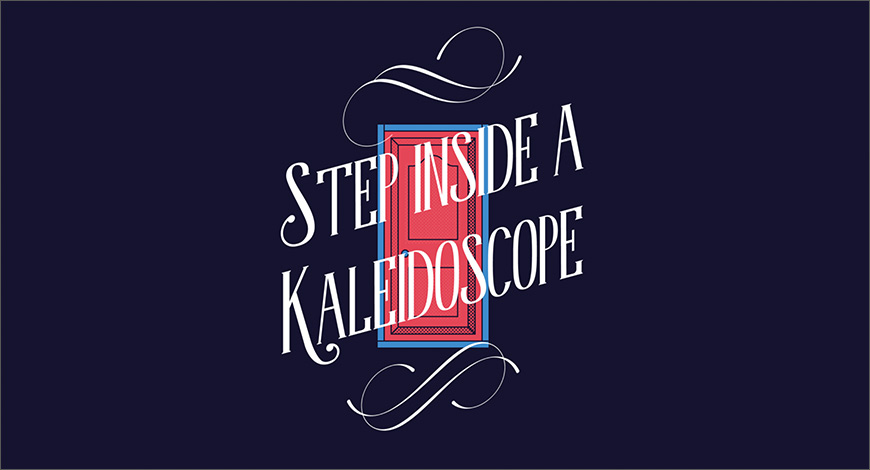 BookMyShow and BBH India have teamed up to welcome Bazzar, the newest original production of the live entertainment leader Cirque du Soleil, to India with a new digital ad film.
The digital ad film brings to life the essence of this spectacle with hand-drawn illustrations and slam poetry. The result is a 'trippy' film that will blow your mind.
Speaking on the association, Marzdi Kalianiwala, SVP- Marketing and Business Intelligence, BookMyShow said, "Cirque du Soleil Bazzar is about infinite creativity that they bring alive through their unbelievable performances. This immersive theatrical experience is a brilliant mix of state-of-the-art costumes, captivating music and impressive staging which is something that has never been seen before in India. We wanted to bring alive this creativity through an innovative digital ad film while staying true to the nature of the show."
Russell Barrett, Chief Creative Officer & Managing Partner, BBH India added, "Cirque du Soleil Bazzar, is a mind-blowing entertainment extravaganza and we needed to communicate that in an animation film. Nothing can equal the brilliance of actually catching a show, but we wanted to capture how people who watch the show would feel, or describe it. The slam voiceover helped in creating the mood and gives the film a unique Big Top announcement feel."
Video:
The Great Kerala Shopping Utsav will start on November 15 and close on December 16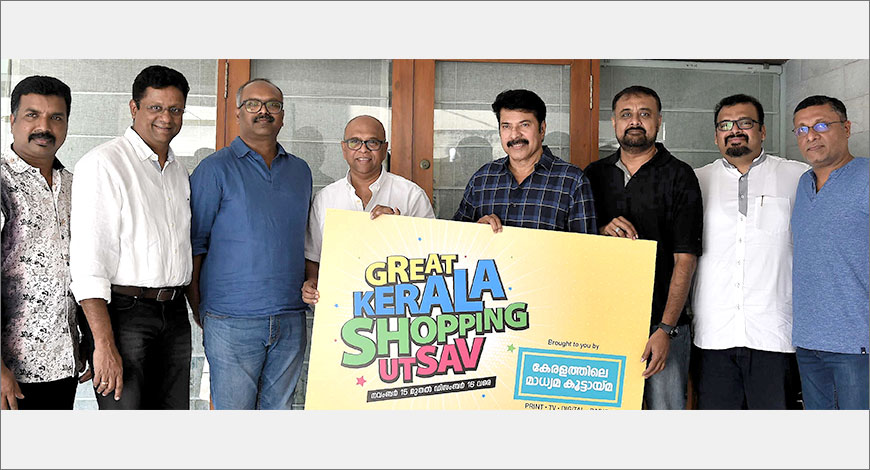 Adding another first to Kerala's long list of unique achievements, all the media companies in the state have decided to come together and create a new shopping season: the Great Kerala Shopping Utsav. This is unprecedented—never has all the media houses of a state come together for an exercise like this anywhere in the country.
The Great Kerala Shopping Utsav will start on November 15 and close on December 16. lucky shoppers get to win prizes worth Rs 4 crore, ranging from a flat worth Rs 1 crore to more than 750 daily prizes, including gift vouchers, gift hampers and appliances.
As shopping spurs economic activity, this is the best way to rebuild Kerala, which witnessed floods in August. The GKSU aims to change sentiments of the people to positive and festive feelings. Nothing like a shopping festival to achieve that.
GKSU and its objectives:
The media companies in Kerala will use all the media vehicles to recreate the shopping festival. This gives yet another opportunity for Malayalis to enjoy the festive offers. This will surely help the business at large, as well as help the government of Kerala increase its tax revenues. More than anything, the GKSU endeavours to communicate to the whole world that it is business as usual in Kerala and to bring the cheer back to everyone who missed out on festive season offers during Onam in August. Many retailers and brands across the country are expected to come out with offers during this period.
The government, along with Kudumbashree, is facilitating a bank loan of Rs 1 lakh per person to those who have been affected by the floods. This is primarily to buy goods that have been lost during the floods. An amount close to Rs 1,000 crore is expected to come into Kerala market.
How does GKSU work?
The media houses will provide advertisement space worth Rs 25 crore in all our media platforms free of cost to promote GKSU. They will promote it through editorial columns as well.
The highlight of GKSU will be a mega raffle hosted by the media companies for the shoppers of GKSU. Every person who makes a purchase of Rs 1,000 and more during the period of GKSU from GST registered establishments can participate in the raffle, by sending a copy of the bill via WhatsApp to a specific number which will be announced soon.
The response message will contain a form to be filled with details like name, address, mobile number, bill number and amount. Lucky winners will be picked on a daily basis and could win prizes such as home appliances, gift cards, gift vouchers and gift hampers. The mega prize at the end of the raffle will be a flat worth Rs 1 crore.
GKSU Logo Release:
GKSU logo has been released by the Malayalam superstar Mammootty. While releasing the logo, he lauded the efforts taken by the media fraternity to revive the Kerala market. The Indian Newspaper Society (INS), Indian Broadcasting Foundation (IBF), Association of Radio Operators of India (AROI), Kerala Merchants Chamber of Commerce, Dealers Association of TV and Appliances (DATA), The Supermarkets Association of Kerala, and Retailers' Association of India have extended their support to this initiative.
The show is will be launched on November 4th, every Saturday and Sunday at 8.30 pm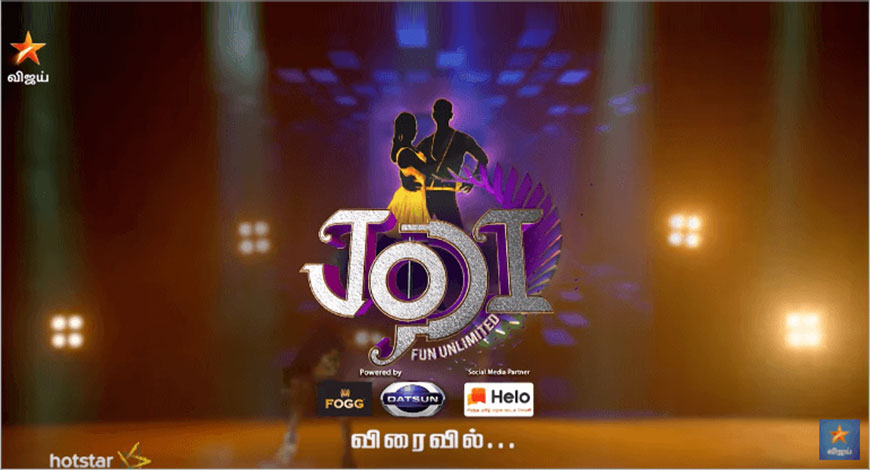 Jodi is the popular dance show in Tamil television which is being aired on Vijay Television and it is now back bigger and better. The show is will be launched on November 4th, every Saturday and Sunday at 8.30 pm.
This time it is called Jodi Fun Unlimited, as the name suggests it is going to be dance, fun, and entertainment. The show will be hosted by anchor turned actor Rio and Bhavana.
Bhavana will be hosting this fun-filled show after a long gap. The show will have leaders, leading three pairs under them. The judging is wholly based on the audience and points will be given to the pair.
The leaders include Yaashika Anand, actor Mahath, anchor DD and Anchor Ma ka pa Anand. They were seen cheering and lauding their Jodis with encouraging comments.
These are the celebrity "Reel Jodis" who are going to shake their legs this season, Rhema- Ramar, Anila- Britto, Lokesh- Megna, Azeem- Shivani, Nandhini- Kureshi, Vishal- Sreethu, Monica- Amruth, Kumaran- Chithra, Gayathri- Shankarapandian, Uthra- Atheesh and Rakshan- Jaqulin.
The Zee Kutumba Awards 2018 will be telecast this weekend (3rd and 4th November) at 7:30 PM, only on Zee Kannada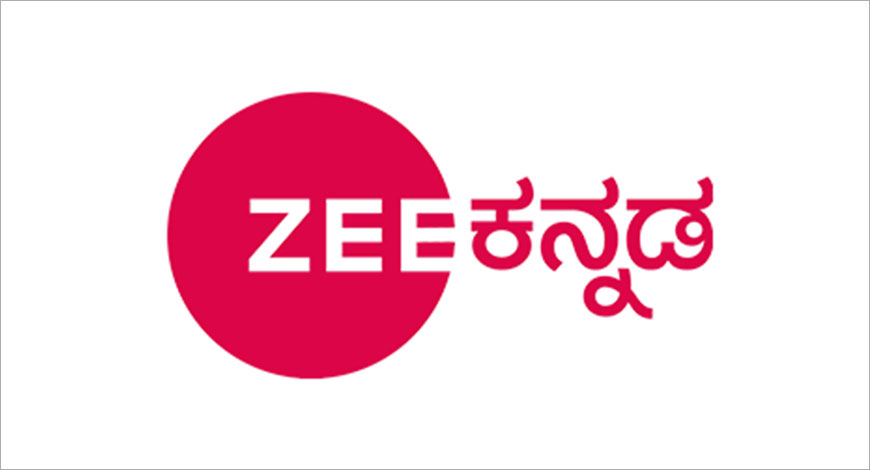 Transforming the Kannada television industry since 2006, Zee Kannada has grown by leaps and bounds for every Kannada household. Hosting this years' Zee Kutumba Awards, Zee Kannada continues to celebrate the exemplary success and diverse talent from the channel, creating a platform to bring together the entire Zee Kannada family under one roof.
A memorable evening, with breath-taking performances, the Zee Kutumba Awards 2018 will be telecast this weekend (3rd and 4th November) at 7:30 PM, only on Zee Kannada.
The Zee Kutumba Awards 2018 brought together some of the most exceptional talent across all Zee Kannada's properties with awards such as Best Amma, BestAppa, Best Magaḷu, Best Maga, Best Atte, Best Mava, Best Ajji, Best Sose, Best HiriyaSadhasiya, Best Child Star, Best Title Track, Best Editor and Best Cinematographer
The action-packed evening was hosted by the exuberant Anushree and the-all-time-favorite Master Anand, that witnessed sizzling performances by Ajay Rao, AshikaRanganath, Manvitha Harish, and all serial artists' leads – Brahmagantu, Naagini, Yaare Nee Mohini, Jodi Hakki, Kamali, SubbalakshmiSamsara, and Shree Vishnu Dashavatara – for the Zee Kutumba theme song.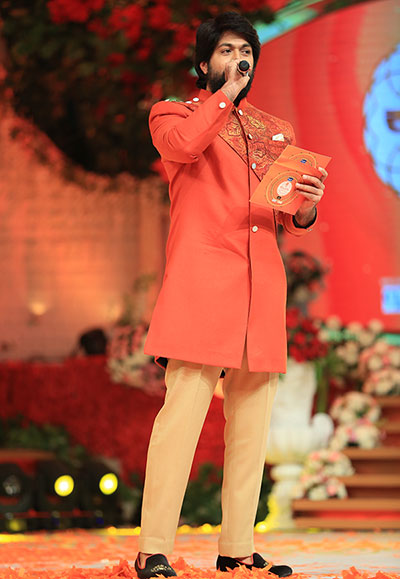 Actor Yash at the Zee Kutumba Awards 2018
Along with a special performance by Rajesh Krishnan and the Sa Re Ga Ma Pa Season 15 contestants for the following popular song tracks includingBhoomiBannadaBuguri, YaavaShilpi Kanda Kanasu, OndondeBachittaMaathu, HombaleHombale, YaareNeenuRoja, and SanthoshakkeHaaduSanthoshakke. Joining hands to honour and award Zee Kannada's talent across various categories, the red carpet witnessed the who's who of the channel including veteran actors Rama Krishna, Jayanthi, Ajay Rao, Sindhu Loknath, Bhavana Rao, Sanchari Vijay, Anup Bhandari, Loki, Vinod Prabhakar, Manvitha Harish, AroorJagdesh, Sharan; Chitra and Nilambari from Yaare Ne Mohini, Duttanna from Brahmaguntu, Appanna from Comedy Khiladigalu, Hyavadhana - the Director ofNaagini, Harur Jagdish - the Director of Jodi Hakki, Swapna Tara from Kamali, Chandrakala Mohan - Kamali Artist, S Narayan - Actor and Director, Shashank - Director.
The star-studded event witnessed celebrities wish Zee Kannada the very best of luck for the road ahead, while Janaki from Jodi Hakki, played by Chaithra Rao, taught the audience the relevance and necessity of humility, by narrating the story of her challenging childhood of being raised by a single mother and all the difficulties that come along with it. Rama from Jodi Hakki also expressed to the audience that he has never felt the absence of his real father due to the love and support received from his on-screen father. An old episode from Weekend with Ramesh was telecasted for the audience, where Yasbecomesynoh was seen promising himself to fulfill his dreams of becoming distinguished actor one day, and today, Yash has created a special place in every Kannadaiga's heart. He gave the audience a reference of his soon-to-be-launched film, KGF.
Speaking on the account of Zee Kutumba Awards 2018, Raghavendra Hunsur, Business Head Zee Kannada said, "Over the last 12 years, Zee Kannada has become synonymous with every Kannadiga's idea of ultimate entertainment. Taking pride in that, Zee Kannada aims to celebrate the talent that has helped shape Zee Kannada as the preferred entertainment destination across all age groups, at Zee Kutumba Awards 2018. While captivating our audiences at the ceremony with some enthralling performances by our stars, Zee Kannada also revealed a surprise unveiled by Yash, forever changing the ground of the Kannada television industry. Don't forget to tune-in on 3rd and 4th November to see what's in store from your most favorite entertainment channel!"
The most magnificent highlight of the show had actor Yash on-stage along with Zee Kannada's Business Head, Raghavendra Hunsur unveiling a special surprise for the channel's viewers.
The campaign highlights the wealth of the native language and gives a chance for listeners to showcase their love for the language.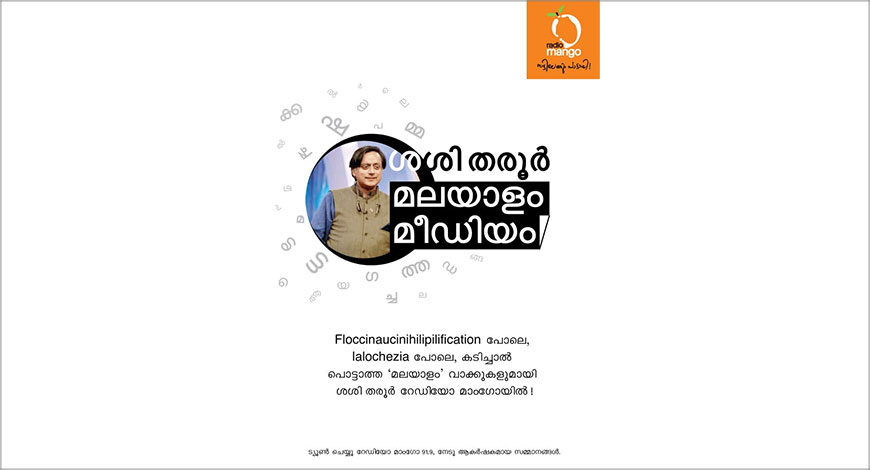 November 1 is the day when Malayalees across the world celebrate as Kerala Piravi Dinam, which in Malayalam means "Birthday of Kerala".
On this occasion, Radio Mango 91.9 decided to celebrate with a weeklong programming innovation to showcase the wealth of the native language. To celebrate the occasion, the radio station has launched the 'Shashi Tharoor Malayalam Medium' campaign, with Shashi Tharoor, who is known for his tweets which send netizens in a frenzy, who will challenge listeners to guess the meaning of the Malayalam words featured in the campaign
The RJ led contest features heavy-duty words in the daily fabric and listeners will have to guess the meaning and send the correct answers to win prizes every day.
The campaign highlights the wealth of the native language and gives a chance for listeners to showcase their love for the language.