Mixed Media: Is it time to say goodbye to Ad Club Bombay and the Abby?
Award results leaking for three consecutive years, jury members fighting over reported wrongdoings, and an activity calendar that is no longer as good as it used to be has made the Advertising Club Bombay lose all its sheen and glory, feels Pradyuman Maheshwari.
Very often in its lifecycle, a product, service or organisation loses relevance. Rather than provide the desired effect, it doesn't achieve what it set out to do. In my mind, the Advertising Club Bombay is one such organisation, which has lost all its sheen and glory. Other than a few cool and not-so-cool activities, there's little else that it does.
It's not a Club with a physical presence like Press Club or a Bombay/ Delhi Gymkhana. So, even if as a journalist I may not care much about the Press Club's activities, it's a great place (at least in the renovated avatar in Mumbai), where one can drop by in the evening, have a drink and meet old friends. Despite not having a clubhouse, etc., given that most of India's Madison Avenue mandarins are in Mumbai, the Bombay Club is by far the biggest (and most happening) in the country. Well, it still is, though in the last few years, I am not very sure whether it means anything at all to the fraternity.
There was be a time when the Club calendar was very active and had some excellent events. As a rookie journalist with The Indian Express, I remember being asked by the Business Editor to go for its meetings and write a two-para report. Later, in the early '90s, when I was with Mid-Day, the paper would sponsor many of the Club's activities and I remember covering a few of them. I would look forward to the Ad Club Bombay's events.
The annual awards – christened Abby in the mid-90s – were the high point of the year. They would go on endlessly, but were fun. They turned slick around the time Pradeep Guha took charge as President.
All was well until three years back when the industry felt that it made sense to have just one awards event instead of two and so the Abby became an integral part of GoaFest. For the first two years of GoaFest, the Advertising Agencies Association of India (3As of I) would have its own awards show and there was intense rivalry with the Abby.
So, it was with some relief that the Abby went to GoaFest. However, that's around the time when the problems started. The Creative Abby – the mainstay of GoaFest – saw its results leaked to The Economic Times in 2008. There was much sound and fury over it, but only to see an encore last year. And once again this year.
There was a bit of an outcry when I raised a few tough questions and asked the GoaFest and Ad Club top guns to quit, accepting moral responsibility for the awards leaking for the third consecutive year. None of that happened. Some in adland felt the results leaking wasn't a great deal. In fact, as I figured, given the number of fake ads that make it to the Abby, not many take the awards very seriously… except, of course, those who win or don't win them.
And now, we have a fresh controversy with two seasoned men in the industry slugging it out over some reported wrongdoings at the jury meet. The GoaFest chairperson was quick to slam a report on the issue, but we are still waiting for the truth on this.
Perhaps we'll never get to know.
The GoaFest/Ad Club guys say that there is an internationally renowned auditor checking on the awards process and that all members of the jury are required to sign a non-disclosure agreement. But having been on the Ad Club jury for a bit, I can tell you that both of these are a joke. The auditors' representatives aren't able to police the process effectively. As for the NDA, that the results have leaked all these years indicates that no one really cares a fig about disclosure.
Since there's no legal action that can taken for a newspaper leaking the results, the only way to reprimand it would have been to bar entry to its reporters and executives. The Ad Club Bombay, as the custodians of the Creative Abby awards, could've asked GoaFest to do it. After all, they've been spoilers all these years. But the fact that no such ban happened raises uncomfortable questions.
My belief is that if this is how it's going to continue to function, it's possibly better that the Ad Club stops being an embarrassment for the community. Some of its better-run events – like the Effies and Media Abby – can still be held, possibly under the aegis of the 3As of I at GoaFest. As for the Creative Abby, well, from the way things appear to be going, I'm sure nothing much will be done even next year.
My worry is that there is no one to really check the functioning of the Advertising Club. There's a government and BCCI policing Lalit Modi and his IPL, there's a Sports Ministry lording over Suresh Kalmadi and the various associations, but our esteemed Ad Club Bombay and Abby organisers have no one to caution them if they go wrong.
These adwallahs, I tell you, have all the luck.
(The views expressed here are my own. Post your comments below or email me at pradyumanm@exchange4media.com or tweet me at @pmahesh.)
Read more news about (ad news, latest advertising news India, internet advertising, ad agencies updates, media advertising India)
For more updates, be socially connected with us on
Instagram, LinkedIn, Twitter, Facebook & Youtube
Fujifilm India's instax unveils 'keep it alive' campaign
The campaign has been launched in collaboration with Cheil India
Tonic Worldwide wins digital mandate for Waman Hari Pethe
The account will be handled out of the agency's Mumbai office
Tonic Worldwide has won the digital mandate for Waman Hari Pethe, the Mumbai-based Jewellery brand with a legacy of 114 years.
Speaking on the new win, Chetan Asher, Co-founder & CEO, Tonic Worldwide, says, "We are excited to partner Waman Hari Pethe in its vision to reach the digital audience with WHP, the digital brand that will cater to the younger generation. This TG is increasingly getting more interested in the category. With our digital first approach to brands and the understanding of e-commerce funnels, we wish to put the brand in the TG's top consideration. Our specialist arms GIPSI, Twip and Yellow Labs will play an important role along with our Media expertise in realising this vision."
On the collaboration, Dr. Aditya Pethe says, "With this new venture we are looking at creating an online brand identity for WHP Jewellers that will have pan-India resonance. Our aim is to expand The Waman Hari brand to include a larger group of patrons especially the younger generation through relatable and trending content. We are looking forward to this new journey."
The account will be handled out of the agency's Mumbai office.
Read more news about (ad news, latest advertising news India, internet advertising, ad agencies updates, media advertising India)
For more updates, be socially connected with us on
Instagram, LinkedIn, Twitter, Facebook & Youtube
Mascot Monday: The Lijjat Rabbit's hop to fame
How the co-op created a long-lasting legacy with its buck-toothed superstar
An anthropomorphic bunny enjoying papads in the company of humans may seem like something out of a fever dream. But ask any millennial or a gen xer and they will tell you about one of the most perplexing yet fascinating ads of their youth. In the early 80s, plucky little co-op and a master puppeteer came together to create one of the most unforgettable mascots India had ever seen -- the Lijjat Rabbit.

In today's edition of Mascot Mondays, we pay tribute to Lijjat's leporine superstar who made us look forward to commercial breaks and got us excited about the humble papad.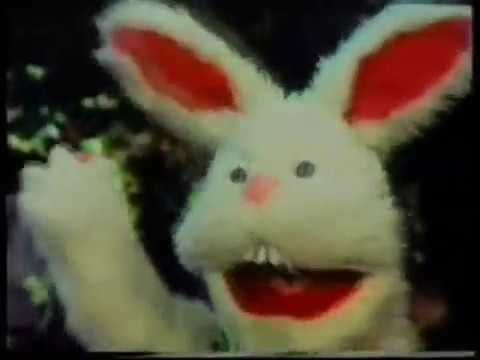 The rabbit's tale

A brand synonymous with "papads" in India, Shri Mahila Griha Udyog Lijjat Papad is a success story in more ways than one. It's an enduring symbol of female entrepreneurship and empowerment, raking in upwards of $224 million in revenue yearly. Its immaculate success model notwithstanding, Lijjat also owes a part of its success to its brilliant ad campaigns and its unforgettable mascot.

Prior to 1980, Lijjat believed that the best promotion was through word of mouth. The co-op rather focuses on the quality of the product than spending huge amounts on ads.

However, its success also made way for many fraudsters to sell fake Lijjat papads in the market. To counter the menace, the company felt it was perhaps time to go big on branding. Lijjat's packaging already had a trademark picture of a boy eating papad, but the co-op wanted more.

Actor Appi Umrani worked closely with Lijjat and was determined to shoot an ad for the co-op on a modest budget. Impressed by ventriloquist Ramdas Padhye, who performed on Doordarshan with his puppet Ardhavatrao, Umrani approached the puppeteer to gauge his interest in creating a character for the Lijjat.

Padhye, who initially pitched middle-class human characters for the ad, was convinced that a bunny muppet would do the trick. However, the folks at Lijjat needed convincing. "Why would a rabbit eat papad?" was the question.

A few days later, Padhye hauled a big bunny muppet to the Lijjat office. The large anthropomorphic rabbit with white fur, beady eyes and buck teeth wore a satin green bow over a black vest. Only after seeing the ventriloquist's creation, did the Lijjat executives agree to cast the mascot.


Muppet becomes a star
As bizarre as the concept of a papad-munching bunny was in theory, in practice, it was a hit. As soon as the ad was aired, viewers were instantly captivated by the muppet.
Padhye, who voiced the Lijjat bunny, also gave him a distinct "eh he he" laughter, which went on to become iconic in its own right.

After his successful TV debut, the bunny was inducted onto the Lijjat packaging right next to its original mascot "Babla", and the muppet has stayed put on the cover ever since.


He even went on to wed Mrs Bunny who has also appeared in commercials alongside her husband. Eventually, the family grew and the Bunnys welcomed a baby bunny.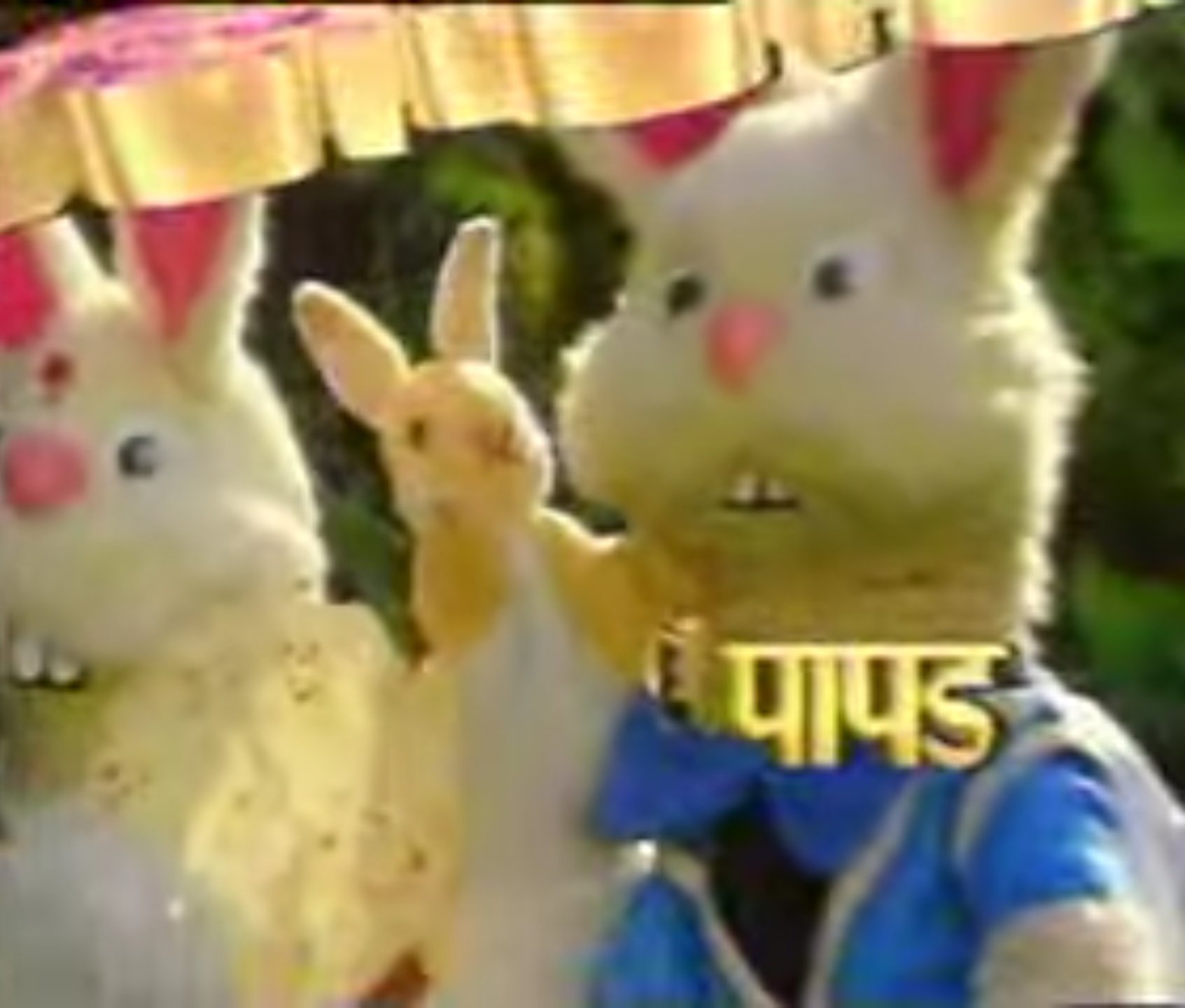 In 2003, actress and model Shweta Tiwari had the honour of starring alongside the rabbit couple in a Lijjat ad.






While most millennials and gen xers have fond memories of the muppet, some were terrified of the giant bunny. An unintended consequence of the ad was that it stoked fear in the minds of kids. Pupaphobia or fear of puppets arises from their uncanny life-like appearance that makes people feel uncomfortable. Some also blamed the rabbit's giggle as a trigger. Redditors discussing Indian nostalgia on the forum have described the bunny as a "demon rabbit", "creepy" and "straight from hell."

That aside, it can't be denied that the giant rabbit bunny from the papad commercial is one of the greatest ad legacies of India. Despite being on a shoestring budget, Lijjat created for itself a mascot that ensures great brand recall decades after its debut.

Every time we see him on TV, the Lijjat Bunny leaves us jonesing for some crispy papads and tempting us to sing along to "kharram khurram."
Read more news about (ad news, latest advertising news India, internet advertising, ad agencies updates, media advertising India)
For more updates, be socially connected with us on
Instagram, LinkedIn, Twitter, Facebook & Youtube
Dabur Amla urges all to break hairstyle stereotyping
Created and conceptualised by Dabur Amla and Schbang, the campaign #StrongHairStrongerYou shines light on the societal labelling of women based on their hairstyle
The way a woman wears her hair says a lot about her. Or does society read too much into it? Why is a clean, sleek hairstyle considered the trait of a bossy woman?
"This year, Dabur Amla Hair Oil challenges the stereotype. For decades, multiple labels and connotations have been attached to how women choose to wear their hair. The brand roped in Priya Malik, actor and poet, to put focus on the societal labelling that paints women in a negative light," the company said.
With the launch of the campaign #StrongHairStrongerYou, Dabur Amla reminds women that their hair is a measure of their strength and not a judgement of their character. It implores viewers to look beyond the stereotypes and opens a healthy dialogue to reinforce the women in their lives positively.
Commenting on the campaign, Ankur Kumar, GM-Marketing, Hair Care from Dabur said, "Dabur Amla has been a trusted hair oil brand with 80+ years of legacy. It has always been fuelled by a mission to empower women to be confident about themselves backed by strong and beautiful hair. Through this campaign, we have taken this conversation forward encouraging women to own and embrace their true selves through strong hair and a strong spirit and not get bogged down by what the outside world might have to say about them".
Ayush Rathod, Associate Vice President from Schbang said, "The role of women in the evolving dynamics of the world, make campaigns like these the need of the hour. Leveraging Dabur Amla's core value of 'strength', it was a fulfilling experience to extract a meaningful conversation out of it that drives a behavioural shift in the society and empowers the women of today and tomorrow. Lastly, It's heartening to see a legacy brand like Dabur Amla evolving with time and reinforcing its commanding voice in the hair oil category with Schbang''.
Read more news about (ad news, latest advertising news India, internet advertising, ad agencies updates, media advertising India)
For more updates, be socially connected with us on
Instagram, LinkedIn, Twitter, Facebook & Youtube
Air India's new Republic Day film is about giving flight to your dreams
The campaign is named Desh Ka Naam #HarAasmaan
Air India has launched a film- Desh Ka Naam #HarAasmaan to celebrate the Republic Day.
"The narrative of the film is all about giving wings to dreams through a collective initiative. It is much more than just about flying - it is all about aspirations and dreams and a yearning to fulfil that dream," said the airline in a statement.
"The entire narrative is woven around the theme of Patriotism and is aesthetically brought out through crisp editing and subtle symbolism. The aspirational energy of the youth and the wisdom of age play an equally important role in scripting a nation's saga of success The very 'real' and inclusive treatment of the theme of patriotism - cutting across generations - is what makes this creative special. This is only about India and all about India. What adds more depth to the narrative is that one of India's most loved singers, Shaan, has lent his soulful voice to this musical video," it added.

Talking about the campaign, Sunil Suresh, Communications Head, Air India, said, "Desh ka naam, har aasmaan campaign is about imprinting the stamp of India on every horizon of the world highlights the aspiration of today's India. The India that is bold, vibrant, warm & progressive and confident. This audio - visual is our tribute to the nation. We believe that it is the collective responsibility of every citizen of the nation to join hands and take our nation to ever greater heights - and this film is our small attempt to inspire and encourage people to do the same."
Read more news about (ad news, latest advertising news India, internet advertising, ad agencies updates, media advertising India)
For more updates, be socially connected with us on
Instagram, LinkedIn, Twitter, Facebook & Youtube
Did Zomato salute Swiggy in new Republic Day ad?
Zomato's new film has a sweet message for India's uniform-clad warriors, which include food delivery agents
Aditya Birla Health Insurance asks KyaPeecheChhodaHai
The campaign talks of the importance of positive health behaviour
Aditya Birla Health Insurance Company has unveiled its latest brand campaign "KyaPeecheChhodaHai" to promote the role of health insurance in changing lives of people by empowering them to lead healthier lives.

The campaign talks of the importance of how positive health behaviour such as walking 10,000 steps daily can help an individual leave health concerns behind.

These customers from across the walks of life, who are at the heart of the TVC and the digital campaign, narrate their stories about how walking 10,000 steps have helped them do away with concerns like mental stress and weight issues, diseases like diabetes, asthma etc.

Speaking on this campaign, Mayank Bathwal, CEO, of Aditya Birla Health Insurance, said, "At ABHI, our primary focus is to help our customers with cutting-edge innovative health-first insurance solutions which not only protect them from medical uncertainties but nudge them to live a health-focussed life. We take immense pride in having pioneered this model of health insurance that transcends the boundaries of an indemnity-based model by focusing on proactive health-care for our customers."

"It is heartening to see our customers as brand ambassadors in our recently launched KyaPeecheChhodaHai campaign. For health insurance companies, customer trust is paramount, and to see our customers endorsing us, gives us immense satisfaction. The customers featured in the film belong to different walks of life, however, one thing that unites them is the initiative to bring a change in their lives by walking every day and managing their health proactively. We hope the films will encourage people to prioritise their health by engaging in simple yet effective physical activities such as walking 10,000 steps daily," Bathwal added.
Read more news about (ad news, latest advertising news India, internet advertising, ad agencies updates, media advertising India)
For more updates, be socially connected with us on
Instagram, LinkedIn, Twitter, Facebook & Youtube