Madhusudan Gopalan is P&G India's New MD and CEO
Gopalan currently leads the Indonesia operations of P&G, and will be taking over from April 1st, 2018 as Al Rajwani is set to retire after 37 years with the company.
Proctor and Gamble India (P&G) has announced the appointment of Madhusudan Gopalan as its new Managing Director and CEO. He will be taking charge from April 1st, 2018, as Al Rajwani is set to retire after 37 years with the company. Until his retirement, Rajwani will work with Gopalan to ensure a seamless transition.
During Rajwani's tenure, Proctor and Gamble India saw a marked recovery of profits after a period of loss. In the first half of the company's financial year, which ended on December 31st, 2017, P&G has recorded double-digit sales growth with the majority of the business growing share.

Gopalan has over 18 years experience with P&G and his portfolio spans multiple business units, across various regions including India, the US and ASEAN countries. He currently leads the Indonesia operations of the company, where he has been instrumental in boosting sales growth, cash productivity, share turnaround and strong value creation.

Proctor and Gamble continues to be ahead of the market in the majority of its segments which include baby diapers, feminine hygiene care, shaving prep, razors and blades, anti ageing skincare and health care. It is the second leading company in the areas of shampoos and toothbrushes.
exchange4media Group Service
Shujoy Dutta has over 21 years of experience in marketing and advertising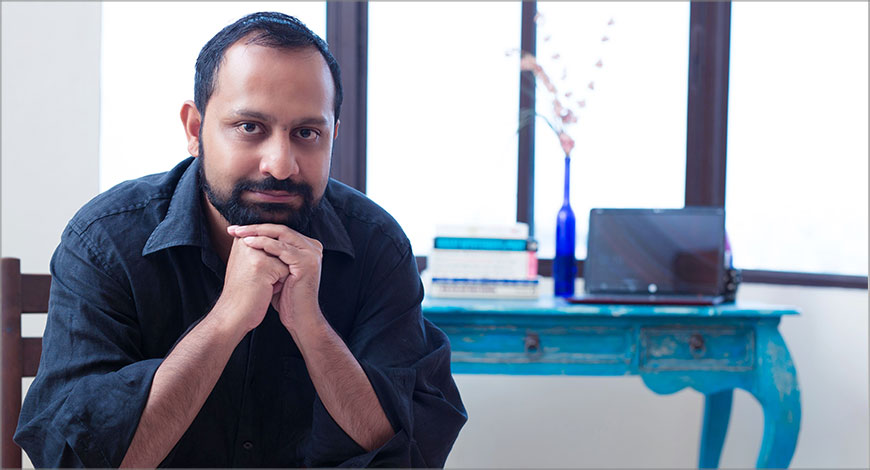 Shujoy Dutta has been appointed as the Head of Planning for J Walter Thompson's Bangalore office.
He has been with J. Walter Thompson for over nine years and in his last role at JWT Delhi, he has been the planning lead on brands like Airtel, Hero Motocorp, Naukri.com, Jeevansaathi.com, 99acres.com, ITC Hotels, RedFM. MagicFM, to name a few.
With over 21 years of experience in marketing and advertising, Dutta has worked across multiple categories such as Food & Beverages, Technology, Automobile, Insurance, Hospitality, Aviation and Philanthropy. Having begun his career as a Copywriter and having worked in the creative function for over 10 years, he brings to planning an eclectic mix of strategy and creativity.
Announcing the appointment, Bindu Sethi, Chief Strategy Officer, J Walter Thompson, said, "Shujoy, is an author and a story teller. The humans in his stories are people you want to love or trample; the response is strong and emotional. He constructs his brand stories to get noticed, to shift behavior. Shujoy, is a treat for clients and colleagues. I look forward to seeing Shujoy build strong brands and stronger client relationships."
"Shujoy's energy is contagious, he is unquestionably talented and as new age a planner as one can get. He is genuinely an integrated thinker and I see him adding tremendous value to our clients' businesses and the agency itself. I look forward to seeing him channeling this ability to create meaningful media agnostic platforms for our portfolio of brands and help drive the creative product," added Kundan Joshee, SVP & Managing Partner, J. Walter Thompson, Bangalore.
Commenting on his new role, Shujoy Dutta said; "I'm very excited about my new role. This city has tremendous potential and JWT Bangalore packs in significant Creative firepower. So, I look forward to forging new partnerships and creating a bouquet of memorable work, and of course, consuming lots of filter coffee."
Dutta is also an author. His novel 'Like a Pin Prick to the Heart' was released in 2015, for which he was invited to speak at the Jaipur Literature Festival in 2016.
He also looks forward to being a part of the quizzing scene in Bangalore.
exchange4media Group Service
The campaign seeks to garner attention of new job seekers and introduce the brand to them through targeted advertisements that meet their requirements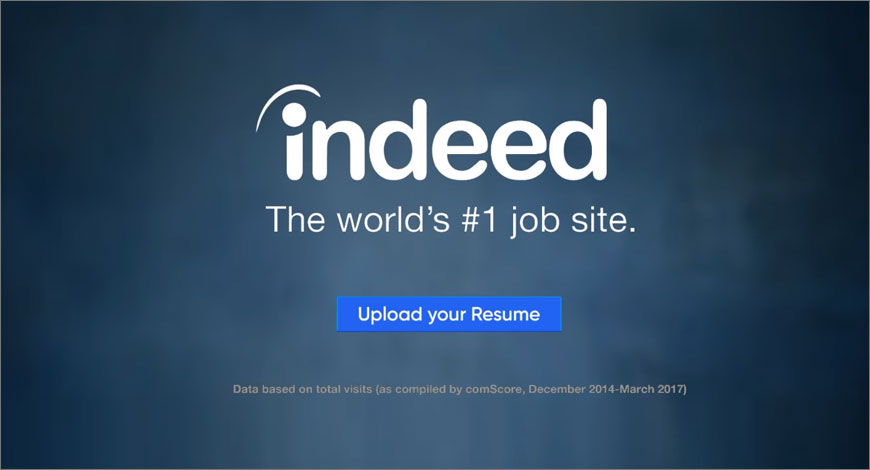 Job site, Indeed, has launched its new brand campaign aimed at connecting job seekers with relevant work opportunities. The campaign seeks to garner the attention of new job seekers and introduce the brand to them through targeted advertisements that meet their requirements.
With the new creative that is built on the theme of 'India, Let's Get to Work', Indeed's goal is to continue to create awareness among job seekers while strengthening the brand's connection with its audience through emotional messaging that strongly ties back to product benefits.
The advertisements will be embedded in videos that job seekers choose to watch on various digital platforms such as blogging sites, vlog channels, online music streaming channels and so on. With this campaign, Indeed shows how job search for Indians can be seamless and user-friendly with timely and hyperlocal search options.
The campaign's key message centres on envisioning a new India which is marching forward towards employment. Having observed the Indian labour market scenario, Indeed understands the unique perspective and requirements of Indian job seekers and offers customised solutions to help India get to work.
Sashi Kumar, Managing Director at Indeed India says, "Current job search alternatives in India are largely restricting, with only paid for openings posted online, while vital company information is unavailable, and opportunities being spread out across number of platforms. Given this situation, the only option left to most job seekers is to upload their resume and hope to be contacted directly by recruiters. With Indeed's holistic job search solution (universal search, reviews, job alerts, search filters, resume upload and more) Indian job seekers can finally take charge and find work that matters to them."
Features from Indeed that enable an improved and informed job search include:
Indeed Universal Search offers job seekers a one-stop destination for job opportunities from a number of sources online, such as company websites, job boards, and so on that they would otherwise have to manually search through.
Advanced Search Filters allow job seekers to modify their job search to suit their particular requirements, be it in terms of location, timings, flexibility options, and more.
Job Alerts from Indeed ensure that job seekers are able to continue their search even while on the move. As soon as there is a new opening relevant to them, job seekers are informed of it on email or their mobile phones, in real time.
In addition, Indeed also hosts a company page for recruiters on its platform, which offers job seekers Company Reviews from fellow job seekers and Indeed users, thus offering key insights into an organisation's policies and work culture.
Kumar added, "Indeed has always been an advocate for job seekers, and we continue to work towards our mission of helping people find the right job for themselves. By allowing users to come across job opportunities that are pertinent to their interests, we empower job seekers to tailor their job search to suit their requirements."
In the previous leg of the campaign, Indeed had focused on giving Indian jobseekers seamless access to finding their desired job. The campaign highlighted how the socially conscious youth of a new-age India is concerned about the future of the country and wants to work towards solving real issues like getting to work. The campaign stressed how the energies and mind space of this new generation of job seekers are now focused on helping the nation move forward.

exchange4media Group Service
The film highlights the fact that whether it is about securing your family's future financially, or spending quality time with them, it's best to act #KalSePehle, i.e. before tomorrow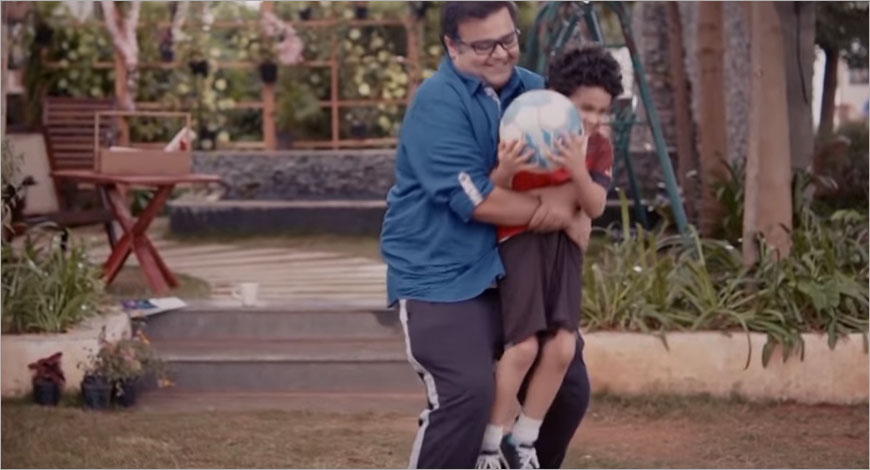 DHFL Pramerica Life Insurance has launched the second film of its three-film digital campaign - #KalSePehle to promote the importance of life insurance in an individual's life.
The campaign is for the typical procrastinator in every Indian and therefore aptly personified as Mr Kal Se, because he postpones everything to tomorrow. The second film revolves on how Mr Kal Se is lazing on a weekend. In this film, he is seen reading his newspaper and his son passes a football to him so that he could play with his son. However, Mr Kal Se ignores his son's request and asks him to postpone the game to the next day. The film then rewinds to the point where his son again passes the football to him and he promptly does a header to show the change in his attitude. This film highlights the fact that whether it is about securing your family's future financially, or spending quality time with them, it's best to act #KalSePehle, i.e. before tomorrow.
Despite the clear advantages of purchasing life insurance, many people often procrastinate when it comes to actually purchasing a life insurance plan. People do not realise the importance of life insurance till they actually need it. Till then, it just keeps on getting postponed to another day, another time; even at the risk of their own family's financial future.
#KalSePehle is a three-part film digital campaign that addresses three different types of procrastination behaviour. From procrastinating exercise to prioritize another hour's sleep to postponing an outdoor game with children on a weekend or delaying healthy eating over to enjoy a sumptuous meal, this digital campaign targets it all. The series is part of a larger campaign with creative collaterals across online & offline media.
Brand Credits:
Company name: DHFL Pramerica Life Insurance Limited
Chief Digital & Marketing Officer: Anshuman Verma
VP Digital Marketing: Amit Puri
VP Brand Strategy: Arun Sharma
Agency Credits:
Agency Name: Webenza India Private Limited
Group Creative Director: Saju Abraham
Creative Director Art: Neeraj Shrivastav
Group Head Copy: Rohit Chaturvedi
Group Head Art: Bhaskar Das
Account Planning & Client Servicing: Suharsh Lakshman & Mansi Patel
Production Credits:
Production House: Alamara Films, Bangalore
Director: Sidharth K C
Asst. Director: Soorej R Nair
Producer: Ranjan Bhowmik & Dheeraj Shanbhag
Director of Photography: Georgy Joseph
Music: Gaurav Chatterji

exchange4media Group Service
'Yeh nahi dekha toh kya dekha!', says Dhoni in the TVC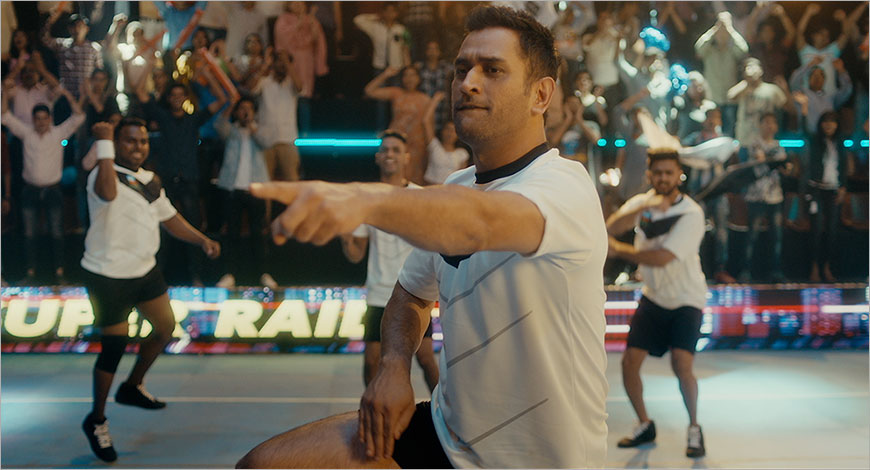 Star Sports has launched a new TVC for season 6 of VIVO Pro Kabaddi featuring former World Cup winning captain Mahendra Singh Dhoni. Dhoni, who's otherwise seen stumping batsmen from behind the wicket and hammering bowlers for sixers, can be seen in a never seen before avatar as a kabaddi player in the new TVC.
The TVC opens with a usually calm and composed Dhoni going for an intensely pressure do-or-die raid, amidst cheering fans. He showcases some key kabaddi moves, including the famous dubki, followed by a leap to compete a super raid. The action on the mat then cuts to the living room, where Dhoni is seen watching VIVO Pro Kabaddi League, to reveal that the action on TV is as real and intense and one simply cannot afford to miss a single second; as mentioned by Dhoni in the TVC-- Yeh nahi dekha toh kya dekha!
Fans can catch matches live 7:30 pm onwards on Star Sports Network, including the FTA channel Star Sports First, in Tamil on Star Sports 1 Tamil, in Kannada on Star Suvarna Plus, in Telugu on Star Maa Gold and Hotstar.
exchange4media Group Service
The ad has been directed by Shashank Khaitan of Dhadak and Badrinath Ki Dulhaniya fame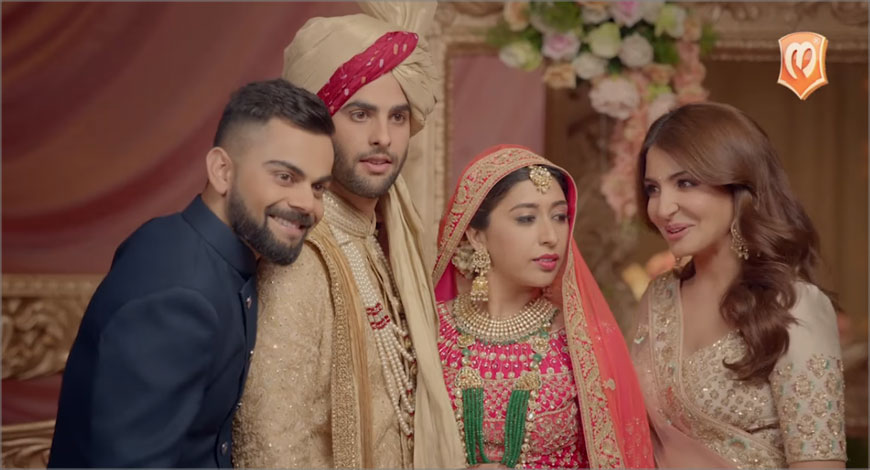 Manyavar has released a new ad, Naye Rishtey, Naye Vaade- Hamesha, taking forward the story of Virat Kohli and Anushka Sharma in the ad. It continues the playful romance of the pair at yet another yaar ki shaadi. Dressed in a mid-night blue double-breasted Indo-western outfit with an asymmetrical cut, Virat, complements Anushka, who looks mesmerising in an ivory coloured, hand embroidered lehenga.
In the ad, Virushka leave no stone unturned to warn their soon-to-be-married friends about the realities of marriage.
Commenting on the campaign, Virat said, "I loved Manyavar's unique collection for the season. There are lots of different hues and cuts in store this season. For myself, I chose a very stylish double breasted outfit with an asymmetrical cut. I think it made me look really suave."
Speaking about the ad, Anushka said "The youth will definitely resonate with it, especially young couples. Manyavar and Mohey have become brands that the youth have come to relate to. Their communication tends to be entertaining yet drives home a message which is extremely contemporary."
The director of the ad, Shashank Khaitan, of Dhadak and Badrinath Ki Dulhaniya fame, said "I rarely take on ad film projects, but I was really excited at the prospect of working on Manyavar and Mohey – a brand story that resonates with the entire nation. We wanted to continue the element of relatability of the ad, and with the right treatment of light-hearted banter the film beautifully focuses on love and happiness in spite of differences."
Watch the ad here:
https://www.facebook.com/Manyavar/videos/758207701179620/
exchange4media Group Service
Given the high expense of pitching, could it be about time for clients to pay a fee to their pitching agencies as a standard price?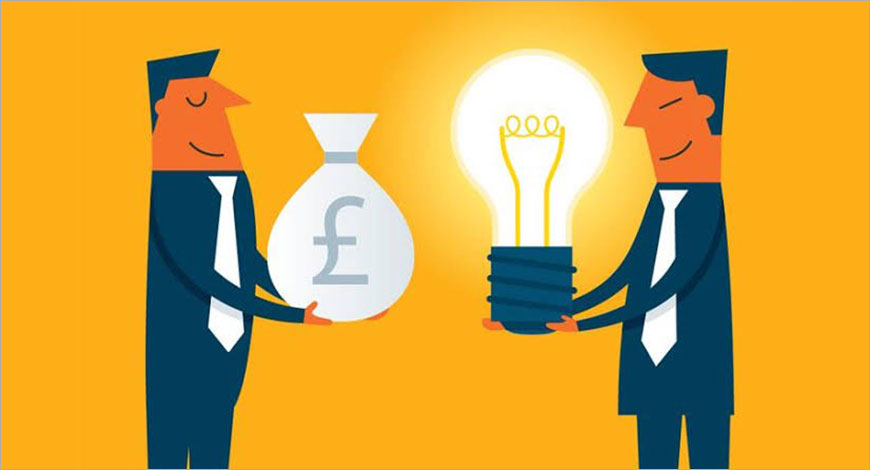 In the ad world, acquiring new business is not always the most rational or effective process. For agencies, pairing new business is often a drain on resources and morale and doesn't always result in the best association of the brand and creative partner.
While this has been an ongoing industry discussion, we thought we'd get some insight into potential solutions to make the practice of developing new partnerships more efficient, respectful and creative.
The pitch 'perfect' fee
Taproot India, Law & Kenneth Saatchi & Saatchi and Creativeland Asia are a few agencies that charge a pitch fee. But how much could a pitch fee range around? While this might vary depending on the client and agency, an industry source, on condition of anonymity, shared that a leading ad agency charges as much as Rs 30 lakh for a pitch fee for its ideas.
In 2010, Reckitt Benckiser had called a pitch for its 200-crore advertising budget with the condition that only those willing to pay a pitch fee of Rs 3-4 lakh could participate in the business. This led to a bitter fight between the brand and the advertising industry, with the Advertising Agencies Association of India (AAAI) advising agencies against pitching for the account.
AAAI had put out a roadmap to charging a pitch fee along with ground rules on how many agencies can be invited to pitch. However, the industry continued pitching for free in order to win businesses and so the idea didn't really take off.
Of false pitches and stolen ideas
One common gripe about pitches is idea theft. There are cases where an agency's ideas have been twisted and complemented with a cheaper agency. Rohit Ohri, Group Chairman & CEO, FCB India, agrees that a potential client stealing an idea during the pitching period is a common occurrence in the industry.
Ohri recounts one such incident when he was in conversation with an edible oil company that called for a pitch comprising five agencies, but decided to use ideas presented by all of them in their marketing plan.

"The CMO of the company told me that while I've chosen one, we got great ideas from the rest. I'll make a wall with these ideas and incorporate them in our marketing over the next two years. So this is an exploitation of the good face of the creative industry."
Vikas Mehta, CEO, PointNine Lintas, comments that of late, the space is seeing a rising number of pitches with no winners. "A pitch fee could act as a useful deterrent to such false pitches. It would also dissuade beauty parades where at times, one sees 10-15 agencies being invited to a single pitch," remarks Mehta.
Ohri shares that a recent pitch by a company invited 70 agencies to participate. "The CMO came on Facebook Live and did the briefing. I think this is ridiculous because in such cases, everyone pitches in."
So, would the pitch fee reduce the number of agencies being called at a pitch?
Subhash Kamath, CEO and Managing Partner, BBH India, says that only some unscrupulous ones call for pitches regularly, purely to scout for free ideas. And so, a pitch fee will definitely reduce the number of agencies being called for a pitch. "Some clients call for a ridiculous 8-10 agencies for a pitch, sometimes even more. The practice of charging pitch fees could help reduce that unnecessary fishing," he adds.
Raghu Bhat, Director, Scarecrow M&C Saatchi, affirms that if pitch fees become a norm, it will definitely bring down the number of pitches. "It might even force some clients to spend some time making a shortlist instead of a laundry list. I believe too many pitches happening isn't a good thing. Reminds me of Henry VIII who
married 6 times in 33 years but still died unhappy."

Pitch or ditch?
Pitching can be an expensive exercise for agencies, given all the time and travel required, even if they aren't asked to create finished ad products. Given the high expense of pitching and the rising likelihood that it may not succeed, could it be about time for clients to pay a fee to their pitching agencies as a standard price?
There are strong arguments in favour of pitch fee, given that the process has become increasingly complex.
Ohri opines that a pitch fee is important to compensate the agency for its time and effort. Mehta says that most responsible agencies give their all to a pitch already, so a pitch fee helps make it a two-way street. "Because a pitch needs to be about finding the best agency partner. Using a pitch process to find your next campaign idea alone, is not necessarily the best use of a pitch," he asserts.
According to Bhat, a pitch fee seems like a perfectly logical idea but adds that clients might balk at paying for something they have been getting free all these
years. "A few clients do pay a pitch fee. It's a big help to agencies, no doubt," he shares.
To pay or not to pay?
What do the clients think? Would they pay for a pitch fee? We asked those on the other side of the fence.
Ajay Kakar, CMO, Aditya Birla Capital, acknowledges that it means a lot of investment of time and effort at both ends and it is reasonable and professional for an agency to ask for a pitch fee. "It is a barometer of the client's seriousness. And limits the temptation to call for a beauty parade. Also, no one values anything that comes for free," he opines.
Kakar recollects that pre-launch of ICICI was when they had first called for a pitch.
"20 agencies were invited at the same time and at the same place. And all 20 landed up. If that's the eagerness of the agencies to pitch, why will a client say no?," he argues and makes a powerful point on who will take the first call to break this cycle!
"I suggest that the agencies do it. And if there is a tempting brand, do test the client's intent and seriousness. Ask for a pitch fee," Kakar advises.
B. Krishna Rao, Category Head, Parle Products, states that a pitch fee according to him is not justified, though he admits to all the work that goes on the agency's side.
"Though the industry has evolved, everyone is becoming very sensitive to the issue of cost. There are clients that are actually concerned about coming out with the best creative solution for the brand. For these serious set of clients, who are concerned about a long-term creative partnership, this pitch fee concept isn't justified," comments Rao.
Anirudh Pandharkar, Head of Marketing, VIP Industries, signals that it is also in the client's interest to pay the pitch fee so that the client gets the best output from all participating agencies. "The agencies also then feel no hesitation in pulling out resources and prepare for the pitch in the best possible manner. This creates a win-win situation," he says.
From flashy presentations to pragmatic conversations
Industry experts opine that the pitch practice is notoriously flawed and believe that brands have to take a certain level of responsibility when it comes to the brief given to an agency, as a clear and well-written brief can have a lot of impact on the work.
Rao agrees that it all boils down to how concise and clear the brief is.
Mehta feels that the best pitch experiences are the ones that start with a presentation and end with a real conclusive conversation. "As long as there's enough honesty from both sides, pragmatic conversations are usually the decisive ones," he says.
Other industry experts are calling for substantive change to the traditional agency search. And rather than asking to formulate full-blown creative executions, they advise that clients should spend more time meeting agencies at their offices and quizzing them about their strategic visions.
Ohri shares that we've been getting the sequence wrong. "I think, first clients need to check credentials of an agency, shortlist them, have chemistry meetings and then get into a pitch situation. While at this point it's reverse; clients have chemistry meetings and then call for a briefing, which wastes a lot of time and effort."
Kamath says that from a pitch, a client chooses a partner and not a campaign. "It's only after the client and agency start working closely as partners that the campaign actually starts to develop. But, during the pitch stage, it's very important to have the basic strategic conversations that can help you demonstrate your thinking," he says.
Kakar believes that a client-agency relationship should ideally enjoy the same sanctity as that of a marriage. "Ideally, it should be a decision for life. So how do you make a lifetime commitment without getting to know each other first?" He advises that a pitch process should ideally be seen as that opportunity, by both sides. "Both parties must first do their homework to gauge whether they have matching values or ideology that they bring to the relationship."
He points out that sharing of credentials can well serve that purpose. "An agency's client roster, a client's past work and remuneration track record. Having passed the test, if both parties are keen to take the talk to the next level, a strategy presentation can be a reasonable ask."
Is there a need to ask for creatives and the whole nine yards? Kakar confesses that he has rarely seen or heard that a creative presented at the time of a pitch has seen the light of day.
"And nothing surprising about that. How can you expect an agency to come up with the creative if you don't share the brief and invest the time that you would, in a real brief? Then why ask an agency to do that!"
Correspondent, exchange4media, Mumbai Misbaah reports on advertising industry. Based in Mumbai, she interviews industry leaders in the creative, advertising and marketing space, reports news updates in the ad space. She drives the 'Chillout' section, and regularly reviews ad campaigns. In the past she has reported on mainline news, travel and lifestyle.
The campaign has been created by MullenLowe Lintas Group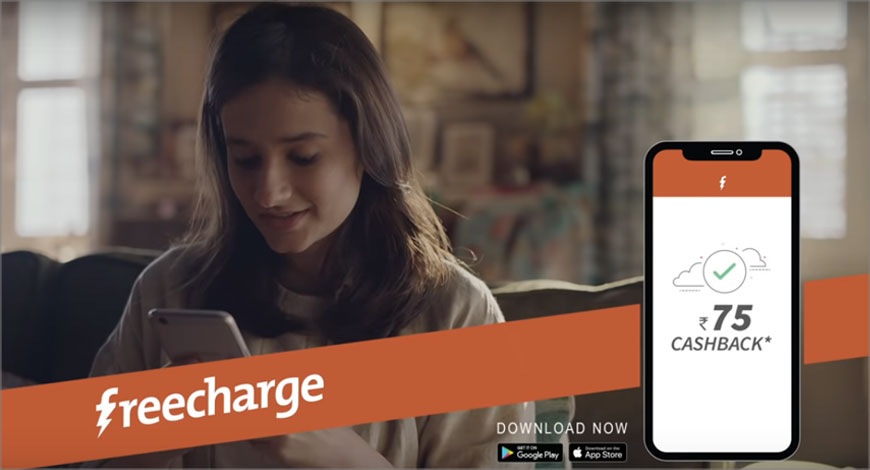 Freecharge has launched its national campaign. The campaign aims at positioning Freecharge as the convenient and easy choice for the digital natives to address their daily hassles faced while making utility payments and money transfer.
With the new campaign, FreeCharge aims to create a larger footprint to deepen consumer engagement, while scaling up its value chain. The company's objective, as a part of Axis Bank, is to make itself a comprehensive, open and secure digital financial services platform where consumers can access the services with ease, the company said in a statement.
Catering to the mobile first generation across tiers, the company is rapidly adding new features and services to the platform.
The campaign aimed at engaging with the millennials is based on the insight that this generation wants to do more meaningful things in life rather than mundane things like paying bill and recharging. An easy to use Freecharge app is what makes their life easy and lets them focus on things they want to. Campaign tagline – Its Slick, Its Quick, Its Chik-Chika-Chik-Chik, has the attitude and tonality that digital native, millennials can relate with.
Commenting on the launch of the new campaign, Sangram Singh, CEO, FreeCharge, said, "FreeCharge is continuously expanding its portfolio in digital financial services, to make consumer experiences hassle-free. We aim to build a deeper connect with the consumers through this innovative storytelling, that highlights the ease of doing transactions with 'easy to use' features of Freecharge. The campaign has been weaved around the concept of 'Time is money' and a lot of time can be saved with easy and quick transaction processes in place."
The campaign encompasses four TVCs, reflecting FreeCharge as an enabler of easy and quick mobile recharges, DTH payments, electricity payments and transactions through Unified Payments Interface (UPI) amongst other financial services.
Commenting on the campaign, Arun Iyer, Chairman and CCO, MullenLowe Lintas Group, said "The brief was simple yet challenging - we had to attract undivided attention of the millennials who are bombarded with cashbacks, offers and discounts messages every second and also build relevance for the ease of making payments with the FreeCharge app. The films beautifully capture the entitled attitude of this generation with a tinge of humour and wit. Campaign's tagline – It's Slick. It's Quick. Chik-chika-chik-chik, connotes the efficiency with which FreeCharge makes it happen."
"The films feature millennials performing world-altering tasks like spiritual healing, dung recycling, numerology, and pet therapy. Yet they agree to provide their invaluable services for mundane tasks like bill payments and recharges only because they have FreeCharge and as It's Slick. It's Quick. Chik-chika-chik-chik," added Iyer.
The campaign will primarily be leveraged on TV and digital mediums, followed by radio.

exchange4media Group Service
The mandate will be led by the Delhi office of Publicis India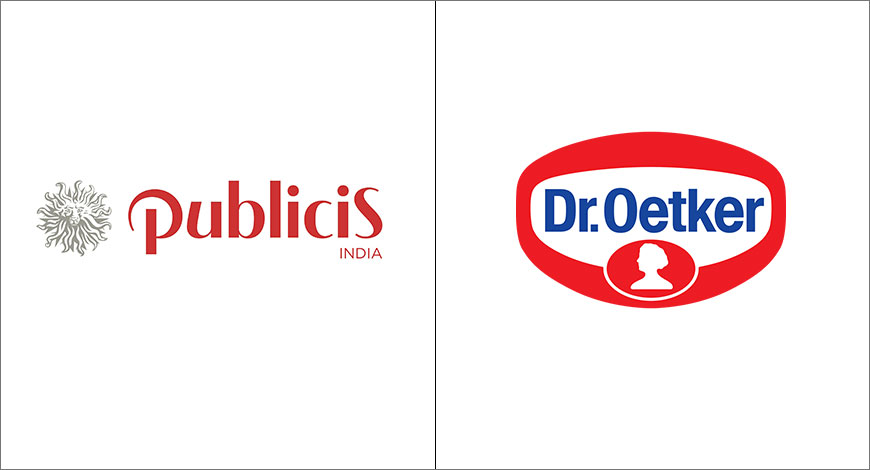 Food company, Dr. Oetker India has appointed Publicis India to handle its creative mandate and bolster its branding & communication efforts in India. The decision was made post a multi-agency pitch and a 360 degree evaluation. The mandate will be led by the Delhi office of Publicis India.
Commenting on the partnership, Devarshy R. Ganguly, Vice President - Marketing, Dr. Oetker India, said, "As Dr. Oetker India continues to expand and build scale for the western comfort food category, we needed a team that would bring in strategic mindset, disruptive ideas and deliver on the ask with passion. We found a perfect fit in the team at Publicis India and are confident that they will be instrumental in driving our business."
Commenting on the win, Ravpreet Ganesh, Executive Director, Publicis India, said: "We are definitely very excited to partner a brand that is an iconic global brand that has created winning categories within a decade in India with its superlative quality offerings. Consumers are evolving and so are their preferences and Dr. Oetker has truly been exemplary in understanding the needs of the Indian consumer. Now with their plans on strengthening and growing their portfolio, we are very proud to be associated with Dr. Oetker and hope to create some path-breaking work."
The agency would play a key role in taking forward the brand's ambition and growing its business.
exchange4media Group Service
The film leverages Jacqueline's attitude as someone who lives and breathes the values of the brand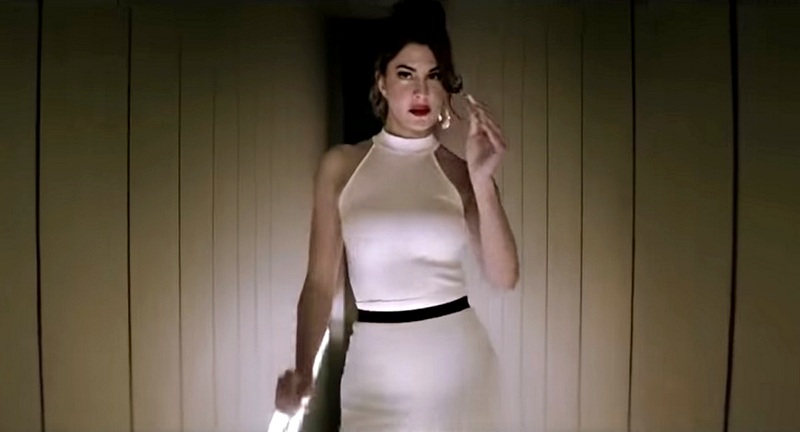 The rapid growth in the number of High Net worth Individuals (HNIs) and aspirational lifestyles and consumer demographics has led to a demand for luxury living. The discerning and demanding consumer expects the best of class and experience in everything, be it in the living or the bathroom space.
As a brand which denotes the pinnacle of European craftsmanship and indulgence, Queo's latest campaign celebrates this tradition and philosophy. The campaign, conceptualized by Dentsu One, narrates Jacqueline's journey and her quest for the best-in-class bathroom experience.
The 'Nothing Less Will DO' campaign, launched across digital, cinema and print medium targets HNI consumers for whom opulence is a way of life. It is not just a showcase of the Queo world but a testament to the uncompromising standards of living and a mood of indulgence that the brand stands for. The campaign recreates a life of grandeur and an affluent lifestyle. Delivered brilliantly by Bollywood star Jacqueline Fernandez, the brand ambassador for Queo, the films show her playing a woman who wants the best or nothing.
As it says in the story, for the ones who value luxury, 'Nothing Less Will Do'. The first of the two-part series takes off with Jacqueline Fernandez refusing to stay in a 7-star hotel because the bathroom was not good enough. This raises a lot of eyebrows and becomes national news with newspapers covering the walk-out.
The film leverages Jacqueline's attitude as someone who lives and breathes the values of the brand. Aptly titled, 'The Walkout', the film begins with the controversial walkout picture of the star and then goes on to show Jacqueline walk into her ultra-luxurious world of Queo bath lounge. In the background, her manager gives a point of view on the controversial walkout and talks about Jacqueline's absolutely uncompromising attitude.
The star flings her ill-fitting shoe off before indulging with it. This film celebrates the ability to get things. The launch film showcases the newly launched F-Courbe series, with one of its kind wash basins whose curves never meet and the second film showcases the Smart Tap shower that works in sync with Amazon Echo.
On the launch of the film, Manish Bhatia, President Building Products Division, HSIL Limited, said, "We got the luxury brand Queo to India in 2011, with an aim to create the luxury segment in bath spaces as it did not exist back then. Designed and conceptualized by leading European design masters, Queo, is a testimony to the intricacy and finesse in craftsmanship. This new campaign with Jacqueline resonates with this uncompromising standard of the brand. She fits in perfectly as she exuberates the class, the elegance and the attitude that matches with the brand. I feel this attitude towards luxury reflects a new Indian customer who won't accept compromises."
Speaking about the campaign Titus Upputuru, National Creative Director, Dentsu One, said, "Luxury marketing is largely about imagery and lifestyle. We wanted to add a layer of attitude. The campaign not just celebrates the uniqueness of Queo products but also the unique demands of a star like Jacqueline."
Fernandez, who begins the campaign by walking out of a 7-star hotel.
The films depict pure luxury, be it in the art direction, the costume design or the music. "I'm extremely excited to continue my association with Queo. The brand epitomizes true indulgence and luxury and I admire their quality and attitude of not settling for mediocrity, in order to provide unparalleled experiences to their customers", said brand ambassador Jacqueline Fernandez.
The campaign is also live on brands social media channels such as Facebook, Instagram and Twitter.
Campaign video
exchange4media Group Service
Padamsee created some of India's most iconic ads - Lalitaji for Surf, Cherry Charlie for Cherry Blossom Shoe Polish, the MRF Muscle Man, the Liril Girl, the Kamasutra couple, and Hamara Bajaj.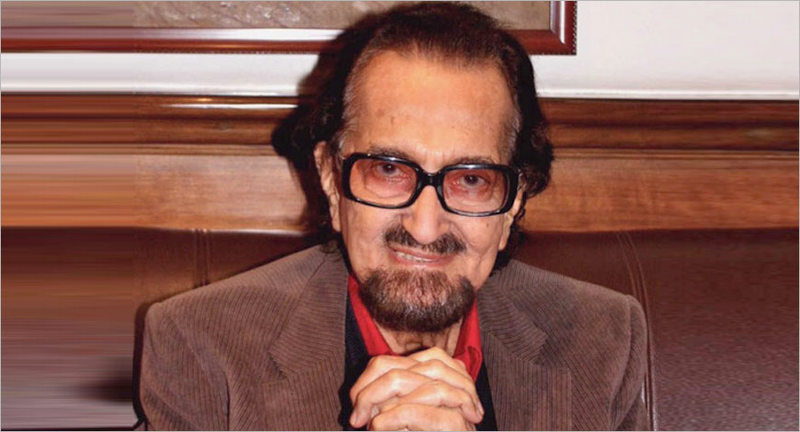 For many in the advertising industry, Alyque Padamsee was God. Known as the Father of Modern Indian Advertising, he inspired a generation of advertising professionals and passed on his genius to many others.
Over his career spanning five decades, Padamsee created over 100 brands. He built Lintas in India and served as its chief executive for over a decade. He then went on to become the Regional Coordinator for Lintas in South Asia.
Padamsee gave us some of India's most iconic advertisements. He created mascots like Lalitaji for Surf, Cherry Charlie for Cherry Blossom Shoe Polish, the MRF Muscle Man, the Liril girl, the Kamasutra couple, and Hamara Bajaj.
He was a pioneer in television advertising. He along with other stalwarts of the time changed the format of TV advertising from single brand led ads during a 30 minute slot to multiple brands advertising during the same 30 minute window. He was among the first to harness television and radio as mediums for advertising. The formidable combination of Lintas and Hindustan Unilever Limited were among the first-movers in leveraging the power of the 30-second ad format.
Among Padamsee's most iconic creations is Lalitaji for Surf. Modeled on his mother, Lalitaji stood for a homemaker who knew how to run a household optimally. According to Padamsee, his inspiration for Lalitaji came from an incident from his life. His mother had just bought a Mercedes car worth Rs 15 lakh and the same afternoon Padamsee saw his mother haggle with a vegetable vendor over a meagre sum of Rs 2. When he asked his mother why she was being petty, she is said to have replied: "Alyque ek baat samajh le, sasti cheez aur achi cheez mein farak hota hai. You buy value not price - it isn't about the amount of money but the amount of value that I derive out of what I am buying."
Above all, Padamsee was a communicator par excellence. In addition to commercial advertising, he also delivered successful public service campaigns. He created multiple public service ads on various topics from AIDS and eve-teasing to road safety.
The Mumbai Municipal Commissioner once asked Padamsee to create a campaign against the consumption of roadside sugarcane juice. The campaign was so successful that sugarcane juice vendors experienced a 50 per cent drop in sales and protested to have the campaign withdrawn.
He also crafted the iconic ad to promote the habit of wearing helmets. Padamsee believed in letting his storytelling do the work rather than verbally communicate the call to action. In the ad he never says "wear helmets"; he lets the visuals deliver the message. It is said that upon seeing the ad the police commissioner complained to Padamsee that the words 'wear helmet' were not used in the ad. To this Padamsee replied: Let the ad air and see the effect. The commissioner compiled after much convincing. Truly, the ad needs no verbal aid.
Padamsee led a "double life". When he was not working on an ad, he was a theatre actor of repute. He chronicled his experiences as an ad man and theatre actor in a book titled Double Life. He was best known for playing the role of Jinnah in Richard Attenborough's Gandhi.
He received the Padma Shri in 1999 for his contributions to the fields of advertising and theatre, and the Ad Club of Mumbai conferred him with the title of Advertising Man of the Century.
In Memoriam: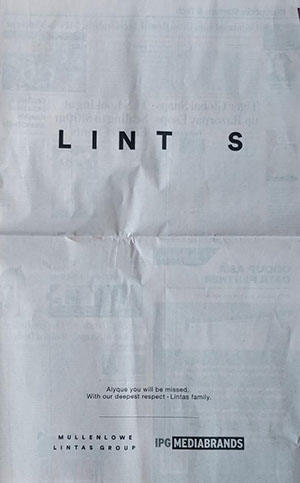 Lintas pays tribute to Alyque Padamsee
Piyush Pandey, Executive Chairman and Creative Director of Ogilvy South Asia
The industry has lost a legendary and iconic figure who earned tremendous respect from his clients and from his peers. And it's sad to see him gone, but I would also say 'well played Alyque'. He scored a 90 and lived well, and was not the kind of man who would have lingered on in any which way that he was helpless in. So, he has lived life to the fullest. He did wonderful things for his agency and for the industry.
Sam Balsara, Chairman and Managing Director, Madison World
Alyque Padamsee did a lot to bring advertising into the limelight in the 70s and 80s. The fact that he was a good showman helped improve the profile of advertising. Some of the outstanding campaigns I remember him for are the Liril ad, Lalitaji for Surf and Pooja Bedi for Kamasutra. I think Alyque was the first creative person to also become the head of the agency, way back in the 80s. One of the things I learnt from him is the importance of rehearsal. He was a taskmaster but he would never make a speech or a presentation without a rehearsal and this is what I tell my young people all the time when they have to make a presentation.
Ashish Bhasin, Chairman & CEO - South Asia, Dentsu Aegis Network
He was a very unique and towering personality. I had the good fortune of working with him. We worked together for Liril which was a brand very close to his heart. He would ensure all the decisions around it were personally cleared by him. He was such a multi-faceted personality. Apart from Lintas, he made time to do theatre, apart from serving as the advisor at the Rajiv Gandhi Council and a hundred other things. He would make sure we perfected anything we did. He once said, "Rehearse, rehearse, rehearse, till it looks like you haven't rehearsed. "There are so many learnings you pick up when you work with such a personality.
Kiran Khalap, Co-founder & Managing Director, Chlorophyll Brand & Communications Consultancy
I had the privilege of working with him at Lintas between 1983 and 1991.
I guess he answered the question, "Can you lead an epic larger-than-life life, yet be successful in everything you do?" with a resounding "Yes!" He deployed his skills of cinema and theatre in advertising and the discipline of advertising in theatre.
So one the one hand, he would sit at the back during every show, and make changes according to 'consumer' reactions, like a true marketing man. On the other hand, he would rehearse every single big advertising presentation, like a theatre person would.
In an industry known for grand-standing, he was truly egalitarian: if you were talented, it didn't matter how you looked, what you wore, what your beliefs were. He would be the wind under your wings.
Sonal Dabral, Group Chief Creative Officer & Vice Chairman at Ogilvy in India
I started my career with Lintas Delhi when he was the Chief of the agency. He was a perfectionist with incredible energy. I remember everyone used to be in huge awe of him because of that.
Alyque was the face of Indian advertising when I was studying communication design at NID. Besides being a top ad-man, he was also a celebrated actor and theatre director.
I used to love theatre and I was passionate about advertising so I had decided early in my years at NID that the only place I would apply to and join after I graduated would be Lintas. So I did just that. Applied at Lintas Delhi. He was an inspiration to many a youngster who chose to get into advertising.
Thank you, Alyque. RIP.
KV Sridhar, Founder and CCO, hypercollective
Alyque Padamsee has defined Indian Advertising like no other. He along with a few others convinced Doordarshan to split up the 6-minute ad slots in a 30-minute program (typically reserved for only one brand) into multiple slots to encourage competition thereby liberating television advertising forever.
He was the one who shifted advertising from print to television and then went on to harness the power of radio advertising when radio was commercialised. Unilever empowered by his creative genius, therefore, benefitted from and became the first-movers in the world of television and radio advertising.
Not only did he tell the stories of 100 brands and more, but he also gave programming ideas like the Chitrahar, Antakshari and Detective Karamchand.
There was once a huge debate about which agency was the No.1 in India - Lintas or JWT (then HTA). The press reported that HTA was including the billings of other companies like IMRB to inflate its billings. Alyque who had not said much during the debate simply proclaimed Lintas as No.1 by putting up a huge No.1 sign on Express Towers which could be visible from Malabar Hills.
That's the kind of leader he was. Never one to cow down. He always confronted problems head on - whether it be for his team or himself. He would take the blame for a campaign gone wrong if he believed that it truly went wrong no matter who the employee was. If not, he would march up to the client and explain why a certain campaign was right.
Rajdeep Sardesai, Consulting Editor, India Today Group
Alyque Padamsee stood for a certain old world Bombay, the liberal, cosmopolitan Mumbai which I fear is no longer with us. So, Alyque for me is nostalgia. He reminds me of a Mumbai that I miss -- the Mumbai of advertising, the Mumbai of people of grace, people of charm, people of wit. Alyque Padamsee was 'larger than life'. He had a great sense of humor and was a fabulous mimic. He had a zeal for life which was infectious.

With inputs from Neeta Nair and Misbaah Mansuri
Principal Correspondent, exchange4media, Mumbai Susmita is a digital marketing reporter at exchange4media. She writes on latest developments in the ever-changing world of digital media and in-depth stories on all things advertising.