HD channels expected to grow by 20% in 2015
For DTH players, the ARPUs from HD subscribers are at approximately 1.5-2x the ARPUs from non-HD subscribers. For broadcasters, the ARPUs from HD channel subscribers is 3x more than standard definition (SD) subscribers
High Definition (HD) channels have recently seen a spurt with many channels launched off late. According to the recent Pitch-Madison Advertising Outlook 2015, the television industry is expected to grow by 9.5 per cent in the adex on the back of some key factors including HD channels, ICC World Cup and Assembly elections.

The adex share for the HD market was 4.6 per cent of the broadcast industry ad revenue in 2014, which is approximately Rs 7.13 billion. This could go up by 20 per cent in 2015, say media planners.

As ad revenue of the broadcast industry are expected to go to Rs 175 billion according to the FICCI-KPMG report, we can expect this figure to go up by Rs 35 billion.

According to the FICCI-Frames 2015 report, there are currently four million HD subscribers that account for approximately 10 per cent of all DTH subscribers in India. It also stated that 15-20 per cent of the incremental subscribers in 2014 were HD subscribers.

The DTH players have grown their top line tenfold thanks to premium HD channels and are said to account for 95 per cent of the premium channel subscriber base. This shows that there is a big revenue base that is waiting to be tapped for broadcasters as well as DTH players. The Average Revenue Per User (ARPU) from HD subscribers is the largest for broadcasters and DTH players.

While for DTH players, the ARPUs from HD subscribers are at approximately 1.5-2x the ARPUs of non-HD subscribers, for broadcasters, the ARPUs from HD channel subscribers is 3x more than standard definition (SD) subscribers.

Harit Nagpal, MD & CEO, Tata Sky, said that currently, 25 per cent of their new subscribers are HD subscribers and that their base for HD is currently 25 per cent.

"Whatever it is, they are interested in watching anything if it is available in HD. So our pricing is also configured in such a manner that whatever you ask for, you pay Rs 125, which is in HD. It started with 'knowledge' channels and then went to sports, then to English movies, Hindi movies and moved further to Hindi entertainment. I think the next stop is going to be regional entertainment," he said.

"There are over 320 channels being delivered at Rs 250 for SD and for Rs 150, there are 50 HD channels being delivered. So that makes it Rs 3 per user (for HD channels) as compared to Rs 1 per user for SD channels. So, the simple math is that it gives us more ARPUs," said Pradeep Hejmadi, Business Head, Zee TV.

He further said that there is huge potential in terms of advertisers for HD feeds. The brands that they get on Zee TV HD are premium than the mass market brands.

The premium tag comes with HD channels as they currently are subscribed by only a marginal portion of the television audience who are considered to be the premium audience. However, this premium tag does not translate into ad rates on HD channels as they are currently one third of the SD rates. There are also lesser number of ads currently on HD. A reason for this is that the base of HD subscribers is currently still low compared to TV households in India, said Rajendra Khare, Chairman & MD, Surewaves.

"The ad rates are low because the advertiser is paying for the viewership and usually the viewership of HD is lower as compared to SD. But they do get a premium because the engagement level is far better. So it is a function of both these parameters," he said, adding, "With time, HD adoption will keep on increasing as compared to SD and the advertising load will shift to HD as more and more people are willing to adopt it. So I think we are going through a transition phase."

Ruchir Tiwari, Deputy Business Head, Zee Hindi Movie Cluster (&pictures HD and Zee Cinema HD) expects close to 10 per cent growth in revenues of HD channels in a short period.

"I think the tipping point is soon where we are going to see a good jump in revenues. The consumer and advertising feedback, which we are getting, looks like there is something big on the anvil very soon in terms of growth. What I see is that there is enough positive interest and liking by advertisers of late," he said.

The market, however, is very big for HD channels, especially when it comes to advertising.

Dinesh Vyas, GM, OMD said that he sees the HD channel advertiser market growing by 20 per cent in a short period, and also the potential for it to grow by even 100 per cent over the next few years.

Brands with premium products are increasingly looking at only HD channels, he said, adding that there is currently a certain skew for sports channels in HD by advertisers. Media planners too are recommending brands to go for HD channels. However, he said, there is a problem of data regarding HD channels as viewership is not accounted for by TAM. The only information available is from broadcasters. As a result, media planners have to go with their gut feeling instead of relying on the data. If more data on HD channels come out from industry bodies such as BARC, it would be helpful for media planners, he added.

"For marketers, for whom the top six to eight cities constitute a decent share like in financial services, HD becomes more attractive than like an FMCG brand whose target is the top 100-200 towns and cities. HD penetration is getting deeper in eight-10 metros, and so it has become attractive for brands such as financial services. Also, it depends on the pricing. For instance, during the World Cup, the pricing of HD was good compared to SD pricing. So, in that case, it worked out more effectively for us," said Naveen Kukreja, Group CMO & MD Non-Insurance, Policybazaar.com.

He further said that HD will grower faster than SD and will take a bigger portion of the share going forward. But the only question is how fast this will happen, he added.

As adoption of HD picks up pace, we can expect HD channels contribution to the revenues of broadcasters to increase not only through subscription but also advertising.
Star Plus continues to lead urban market; Zee Anmol too retains leadership position in rural
Zee Anmol was yet again the leader in the overall market with 847 million impressions, followed by Star Plus on the second slot with 745 million impressions and Star Bharat on the third with 740 million impressions, according to Broadcast Audience Research Council (BARC) India Week 49 data.
In the programme category, Zee Anmol's Kumkum Bhagya bagged the first slot with 13.9 million impressions, followed by Zee TV's Kundali Bhagya and Colors' Naagin3 on number two and three with 13.1 and 12.5 million impressions, respectively. Star Bharat's Radhakrishn stood at number four with 12.4 million impressions and Zee TV's Kumkum Bhagya on the fifth with 12.1 million impressions.
Hindi GEC Urban
Star Plus retained its leadership position this week as well with 507 million impressions. It was followed by Zee TV on the second slot with 444 million impressions and Sony Entertainment Television on the third slot with 380 million impressions. Colors and Star Bharat stood at number four and five with 373 million impressions and 370 million impressions, respectively.
Zee TV's Kundali Bhagya bagged the first position in the programme list with 8.2 million impressions followed by Colors' Naagin3 on second spot with 8.0 million impressions and Star Plus' Kulfi Kumar Bajewala on number three with 7.5 million impressions. Zee TV's Kumkum Bhagya and Star Bharat's Radhakrishn were on fourth and fifth spots with 7.4 and 6.6 million impressions, respectively.
Hindi GEC Rural
Zee Anmol too continued to lead the rural market with 688 million impressions, followed by Star Utsav on the second spot with 434 million impressions and Sony Pal on the third with 380 million impressions. Star Bharat and Dangal TV stood on the fourth and fifth positions with 370 million and 355 million impressions, respectively.
Zee Anmol's Kumkum Bhagya continued to lead the list of top five programmes with 11.6 million impressions, followed by Mahek on the same channel with 8.3 million impressions on second slot and Dangal TV's Ramayan on three with 7.2 million impressions. Zee Anmol's Ek Main Aur Ek Tu and Sony Pal's Taarak Mehta Ka Ooltah Chashma bagged fourth and fifth spots with 7.2 million and 6.6 million impressions, respectively.
exchange4media Group Service
Several networks are running a TVC that informs consumers about new packages and pricing under the soon-to-be implemented TRAI tariff order
"Your pack. Your choice. Your entertainment," says a TVC being run by major broadcast networks, informing consumers about new packages and pricing under the soon-to-be implemented TRAI tariff order. The campaign suggests viewers to contact their cable operators for details.
With just days to go before the tariff order comes into force on January 1, broadcasters have started informing consumers about the new pricing policy. As per the order, the consumers can select and pay for the channels they want to watch.
The TVC, which mentions "brought to you in public interest by IBF, Star Network, ZEEL, Sony Pictures Network India and Viacom 18," also tells consumers that "now, your decision will be the final decision. As per the new government regulation, enjoy the freedom to choose your favourite channel packs and pay accordingly."
And not just the TVC, some channels have also started showing their price on the distribution platforms.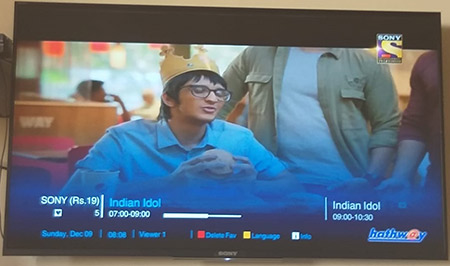 While broadcasters have started informing consumers about the order, as reported by exchange4media earlier, there still a lot of uncertainty surrounding the implementation of the tariff order.
Sources in the industry say that with petitions against the order still pending in court, DTH/ cable operators are hopeful of a stay order. There is a possibility that the implementation of the order could be pushed further ahead.
Now, your decision will be the final decision.
As per the new government regulation, enjoy the freedom to choose your favourite channel packs and pay accordingly.
Your Pack. Your Choice. Your Entertainment. pic.twitter.com/0tDy0B6HXT

— Zee TV (@ZeeTV) December 12, 2018
exchange4media Group Service
Most of the images were inspired by films such as Baahubali and 2.0 and actor Rajinikanth
The Telangana Assembly election results were declared on December 11 and K Chandrasekhar Rao led TRS to a thumping victory.
Channels, both regional and national, covered the results extensively. The regional channels started live telecast from 6 am and live updates, panel discussions and in-depth analysis continued during the day. While the sentiments ran high on the ground, in the studios, some channels got highly creative, taking reportage to a different level.
The Rajinikanth starrer 2.0 is raking millions in the box office and the influence of the movie was clearly seen on the counting day. HMTV, a 24- hour Telugu channel presented KCR as 'Chiiti- the robot' (a heroic character from the movie 2.0) in a graphic shown during their news updates.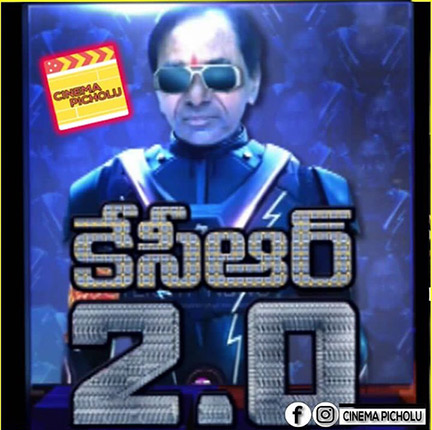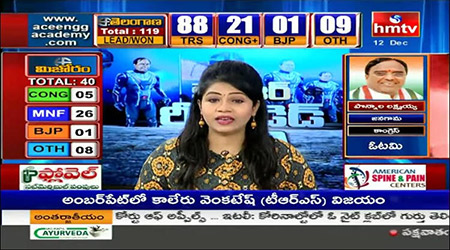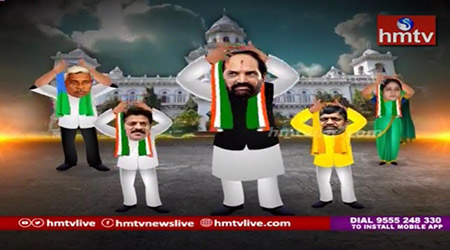 The channel had GIFs of winning candidates jumping with joy while the election results were being declared. HMTV also portrayed caricatures of the candidates who lost, with tears rolling down their faces and Telugu film song 'Nee Gudu Chedirindi' playing in the background.
Another major Telugu player Sakshi TV also went creative with caricatures and cartoons. Sakshi presented a cartoon video where TDP President Chandrababu Naidu was seen riding a cycle (TDP's party symbol) with Congress leaders Uttam Kumar Reddy and Ponnala Lakshmaiah.
Another video portrayed Chandrababu Naidu sitting on a tree along with the same leaders, and in a while, falling. The video takes a snide pull on TDS and Congress alliance named Prajakutami.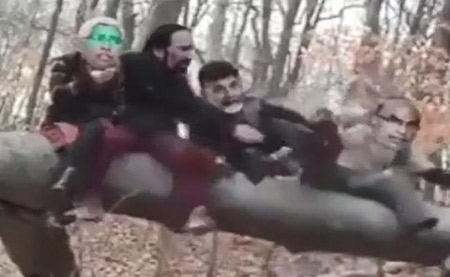 Meanwhile, meme pages too celebrated the election results by posting hilarious images. The memes were highly influenced by movies like Baahubali, 2.0, and Rajinikanth.
Apart from Telangana results, the memes were focused on Mizoram, Madhya Pradesh, Chhattisgarh, Rajasthan state elections results as well.
Let's take a look at few of them: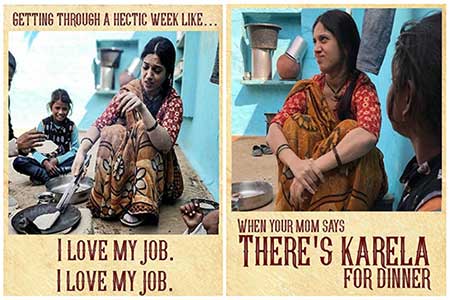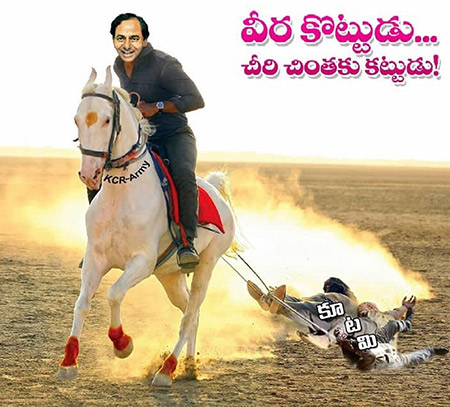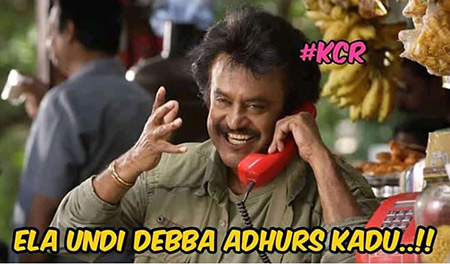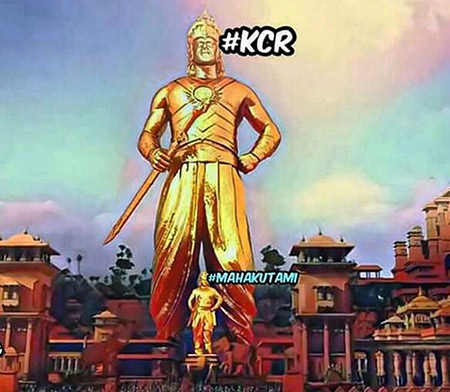 Neethu reports on media, marketing and advertising industry. In the past she has reported on start-ups, education and health sector for over 6 years.
Rangaraj Pandey said he wanted a break from his daily routine and also give opportunity to next generation of journalists.
Rangaraj Pandey, who was the Editor-in-Chief of Thanthi TV, has quit from his post, with effect from Monday. Pandey announced his decision to step down in an emotional video, where he thanked the viewers and said that he wanted a break from his daily routine. He added that he also wanted to give space and opportunity to the next generation of journalists.
Pandey, who has 22 years of experience in journalism, began his career with Tamil newspaper Dinamalar. He started the well-known satire column "Doubtu Dhanabalu", a fictional character who mocks the day-to-day political discourse in Tamil Nadu and pan-India.
His interviews with famous personalities made him a popular television face. He hosts talk show "Kelvikku Enna Badhil" (What is the answer to the question?). Pandey also hosted a prime-time news debate programme 'Ayutha Ezhuthu'. He is renowned for his simple and spontaneous questioning style. Pandey, who hails from North India, is a post graduate in Tamil from Madurai Kamaraj University.
exchange4media Group Service
A conference will be held with cable TV industry representatives on December 18
The Ministry of Information and Broadcasting (MIB) is organising a conference of cable TV industry representatives (MSOs) on December 18 to discuss providing broadband services through cable TV networks.
The meet will discuss various issues, including feasibility, affordability, ubiquity, infrastructure, modalities of payment and segregation of revenue earned from broadband activities.
According to a ministry notice, detailed deliberation will be held on: (i) willingness of the operators to invest in the infrastructure required. ii) The payment of 8 per cent Adjusted Gross Revenue (AGR) as the fee to DoT, whether to be paid only on the broadband services or on overall revenue earned in respect of both the businesses. iii) Whether separate entity needs to be created for the broadband activities for segregation of the revenue earned on it. iv)All other issues related to the delivery of broadband services through cable TV network.
The notice mentions that the conference will be held at Gulmohar Hall, Habitat Centre, Lodhi Road, New Delhi, and will see participation from major MSOs, officials from MIB, DoT, TRAI and Broadcast Engineering Consultants India Limited (BECIL).
exchange4media Group Service
The results of assembly election in Telangana along with other four states, Madhya Pradesh, Rajasthan, Mizoram, Chhattisgarh will be announced today
The results of assembly election in Telangana along with four other states, Madhya Pradesh, Rajasthan, Mizoram, Chhattisgarh will be announced today. The election results are considered to be the semi-finals to the 2019 Lok Sabha elections.
A grand alliance of Congress, Telugu Desham Party (TDS), Communist Party of India (CPI), Telangana Jana Samithi (TJS) named Prajakootami (People's front) was formed with an objective of defeating the ruling TRS in the elections. Bharatiya Janata Party (BJP), All India Majlis-e-Ittehadul Muslimeen (AIMIM) are the two other parties on the battlefield. Sixty is the magic number required to form the government in the 119 member Telangana assembly. The state recorded a turn out of 73.2 per cent of voters and if the numbers are in favour of TRS, then K Chandrashekar Rao will return to power and form the government.
The various news organisations have released exit poll survey results prior to the counting day.
CNX - Times Now, India TV, Axis My India - India Today and Aaj Tak, Republic Jan Ki Baat, CVoter - Republic TV are few of the exit poll surveys and these surveys have revealed mixed results for Congress and BJP.
The channels across the country have lined up extensive programs for the counting day with live updates and in-depth analyses of the election results.
CNN-News18 launched numerous shows to bring latest developments throughout the elections – the campaigning phase and the polling day.
Under the channel's programming 'Reporters Project', their reporters travelled across Telangana to capture the ground realities, assess issues and record the sentiments of the people at the center of the story.
With comprehensive reportage to bring the fastest and most accurate results, first reactions and a 360-degree view of the final picture, the programming will commence at 6 AM on CNN-News18. Offering a combination of live coverage, real-time updates on seat tally, the programming on the channel will not only keep a close track of the trends but also provide in-depth analyses and implications of the results.
With the entire News18 Network's team of journalists across the states bringing in up-to-the-minute updates on the results, the channel will bring to the viewers unparalleled access to the latest happenings.
On CNN-News18, Executive Editor Bhupendra Chaubey along with Deputy Executive Editor Zakka Jacob and Deputy Executive Editor Anand Narasimhan will also be joined by a panel of the prominent journalists and the finest political analysts like Swapan Dasgupta, Sanjaya Baru, Vir Sanghvi, Surjit Bhalla, Ajoy Bose, Rasheed Kidwai and Advaita Kala to bring a comprehensive analysis of the results of the assembly elections.
The regional players in Telangana have also lined up programs for the state's D-Day. The channels also have hiked their advertisement rates for the day. On the other hand, a few channels are planning to go for limited advertisement space telecast.
According to industry experts based in Hyderabad, the channels have raised their advertisement rates by 20-80%. "The channels have come up with premium package for the advertisers on the counting day. There will be a huge rise in the advertisement rates and there will a high demand for advertisement space in the morning slots. There will be a spike of more than 20-60 % from the actual advertisement rate," said a senior media planner based in Hyderabad.
Talking to exchange4media, Srinivas Murthy, VP, Marketing TV5 News Network said, "TV5 will be starting live telecast from 6 am. We have deployed 50 OB vans and reporters covering all the counting centres. There will be a change in screen layout for tomorrow and we are doing a 360-degree coverage of the counting day."
"There will be a huge rise in the TV viewership today. The viewership on the counting day will double than compared to the normal days," added Murthy.
The channel will be conducting an in-depth analysis of the election results.
"We have a premium package for advertisers for the day and have hiked the advertisement rates by 25%," said Murthy.
Another major player in South India TV9 is providing non-stop coverage of the counting day with special bulletins and live telecasts. The channel started their live telecast at 6 am.
"Today we will be allotting very limited advertisement space and there are premium advertisement packages for today," said Clifford Pereira, Director, TV9. "The TV viewership will be phenomenal and a rise of 100% in terms of viewership will be achieved easily today," added Pereira.
The Telugu News channel NTV is also doing an extensive coverage of the counting day. "We are doing a marathon live on this D-Day. We have deployed reporters and contributors across the counting centres. The advertisement space will be limited for today at the same time we expect a rise of 80-90% increase in terms of viewership," said Hari Krishnan, Chief Copy Editor, NTV News.
"The Telangana elections are very crucial for the political parties and the channels also reap benefits during the election period in terms of revenue and viewership. The high amount of competition in the TV space will force the players to provide unbiased reportage of the events. In terms of advertisement rates, there will be a spike of almost 80%. In terms of viewership, the local channels will have a massive rise," concluded, a senior media planner.
Neethu reports on media, marketing and advertising industry. In the past she has reported on start-ups, education and health sector for over 6 years.
However, industry veterans emphasised on the need for creating public awareness on the TRAI order for its better implication
Amidst speculations of BARC (Broadcast Audience Research Council) not releasing ratings for two months in the backdrop of TRAI rating order, industry sources told exchange4media a concrete decision on this is expected in a meeting of stakeholders later this month.
Senior industry sources also confirmed that there were "premature" discussions around it during meetings held few weeks ago. However, nothing concrete has been decided as of now. "It was discussed as one of the possible options to deal with the scenario as most of us are trying to find ways to tackle the issue," said a senior industry source.
Industry veterans however emphasized on the need for creating public awareness on the TRAI order for its better implication.
A senior executive said, "The meeting was scheduled to take place tomorrow. However the meeting has been rescheduled because many board members were not available. Only in that meeting we will come to know whether it's going to happen or not. Also there is no mention of this in any agenda. As of now this is only word of mouth."
Another senior industry expert said, "The suggestion has some logic because when there will be disruption of this magnitude nobody should be in a position to take advantage showing ratings in this phase." Going by the information the meeting will happen in next 15 days.
This kind of a blackout has happened twice - in 2012 when the government had asked for the mandatory switch from analogue to digital cable and second time in 2015 when the industry moved from TAM to BARC.
As per our sources, there is a lot of uncertainty on the implementation of the Tariff order post January 1, 2018, due to the pending petitions in court and DTH/cable operators expecting to get a stay order; there is a higher probability that the implantation date of this order will be pushed ahead further.
The order
Early this year, Star had approached the Apex court questioning TRAI's jurisdiction to frame tariff order on the grounds that the authority has no jurisdiction on content as that actually comes under Copyright Act and not TRAI Act.
The appeal was filed against the fractured judgement passed by a two-judge Bench of Madras High Court comprising Chief Justice Indira Banerjee and Justice M Sundar. The bench had given a split verdict. Justice M Sundar had ruled in favour of Star. Commenting on the judgement delivered by Justice M Sundar, the Supreme Court order stated, "I am unable to agree with the conclusion of M. Sundar, J. that the provisions of the impugned Regulation and the impugned Tariff Order are not in conformity with the TRAI Act. In my view the impugned provisions neither touch upon the content of programmes of broadcasters, nor liable to be struck down."
"However, the clause putting cap of 15% to the discount on the MRP of a bouquet is arbitrary. The said provision is, in my view, not enforceable. In my considered view, the challenge to the impugned Regulation and the impugned Tariff Order fail," the order read further.
The 2017 Regulations prevented the mixing of pay channels and free to air channels in a single bouquet. The Regulations restricted placing high definition format and ordinary format of the same channel in the same bouquet. Another restriction was that a bouquet of pay channels should not contain any pay channel where the Maximum Retail Price is more than Rs 19.

exchange4media Group Service
BARC India won the award in the Service- Medium-sized enterprise category at the 5th CII Industrial Innovation Awards. It was also recognised as one of the Top 25 Most Innovative Companies in India.
BARC India was adjudged the 'Most Innovative Company in Service – Medium Enterprise Category' at the CII Industrial Innovations 2018 Awards. The company has also been recognised as one of the 'Top 25 Most Innovative Companies in India'. The announcement was made in a ceremony of the 5th CII Industrial Innovation Awards 2018 held in New Delhi on December 3, 2018.
The Industrial Innovation Awards identify and celebrate innovative Indian enterprises across various sectors. The award has been instituted by the Confederation of Indian Industry (CII), and is one of the most coveted innovation awards in India, BARC said in a statement on Monday.
The winners have been decided after a four-stage process, spanning across eight months. This also included an assessor visit to understand BARC India's robust technology set up on the back of some path-breaking innovations and a presentation in front of an eminent jury.
The company said that the award is a validation of the rigorous and credible measurement system that BARC India has established in a short span of three years. With its robust methodology and constant tech innovations, BARC India has developed a world class system for the TV industry. It can also be recalled that BARC India's BAR-O-Meters were developed indigenously at 1/6th the cost of globally available meters. This ensured scalability as well as ensured that the meters could handle the weather/power/telecom fluctuations which is unique to the Indian market, the statement mentioned.
The other innovation which has helped BARC India achieve the status of Most Innovative Companies is the Panel Management System (PMS). This indigenously developed system has helped in bringing efficiency in the field force that installs, manages and trains the panel homes. This has played an important role in ensuring reporting from the panel homes at par with global standards.
The third innovation is the BIO suite of products which is a visualization tool that provides interactive UI, 90 per cent reduction in output time and helps in faster and better decision making.
Shashi Sinha, BARC India Technical Committee Chairman and CEO, IPG Mediabrands, said, "BARC India was set up with the aim to give the industry a measurement system that it deserved, and this could not have happened without having a strong technology backbone. The team at BARC India has been able to give the industry a technology marvel which is capable of providing the industry a representative data that helps them take better business decisions. The CII Industrial Innovation Award is proof of the great work done by the team."
BARC India Chairman Nakul Chopra added, "BARC India has been a key-change agent in the viewership measurement space, and its initiatives have already started to redefine the industry. Since its inception, BARC India has tackled several challenges. But, considering we work in a dynamic industry, these challenges are never-ending. The key to success is to constantly keep innovating and be the change-maker. BARC India has been successful in doing so. We are now looking at implementing some key future projects such as Unified Video Measurement and Return Path Data, which will bring another paradigm shift in the industry."
BARC India CEO Partho Dasgupta said, "In future, technology will disrupt every single business, be it cement, retail, telecomm, e-comm or media. It is therefore important to keep pace with the changing technology. As is said, in tomorrow's world, the big fish will not eat the small fish, but a fast fish will eat the slow one. We at BARC India firmly believe that innovation is imperative and not a choice. We also believe that it is important to be the fearless first to inspire change and not be a mere follower. I am delighted to see that our efforts have been recognised by CII. We shall continue to empower the industry with our robust measurement."
exchange4media Group Service
The Company is launching television soap, 'Chandrakumari' on December 10, 2018
Radaan Mediaworks, promoted by actress Raadhika Sarathkumar, has decided to offload nearly 25% stake to former Stanchart head honcho, Jaspal Singh Bindra's M/s. JBCG Advisory Services Private Limited, say reports.
As per the deal, Radaan will issue 17.5 million equity shares of Rs.2/- face value on preferential basis to at a price of Rs.2/- per share to JBCG Advisory that is aggregating to Rs.3.5 Crore.
Radaan Mediaworks was founded as a proprietary concern in the early 90s and converted into a listed entity in 1999.
The Company is launching television soap, 'Chandrakumari', being aired in all four South Indian languages starting with Tamil version on Sun TV from December 10, 2018.
exchange4media Group Service
The Chief Growth Officer of ZEEL on the dissolution of Zee Unimedia, TRAI tariff order, key focus areas for 2019 and more
Last month, Zee Entertainment Enterprises Ltd (ZEEL) promoted Ashish Sehgal (former Chief Operating Officer of ZEE Unimedia) to the position of Chief Growth Officer, ZEEL. The change of designation came following the dissolution of Zee Unimedia, a vertical that was set up by the broadcast network in 2016 to boost ad sales monetisation. Before being shifted to Zee Unimedia, Sehgal, who has been associated with the network for over a decade, handled sales at ZEEL as the Chief Sales Officer .
exchange4media caught up with him to talk about the dissolution of Zee Unimedia, Trai tariff order, key focus areas for 2019 and more.
Excerpts:
Why exactly was Zee Unimedia dissolved within two years of its creation?
Zee as an organisation is gearing up to the take the next leap in the media & entertainment space as a 'global media-tech player'. Hence, we are consolidating all our units.
From a business point of view, the objective of Zee Unimedia was to offer a synergistic solution across ZEEL, ZMCL & the digital business. And this continues in the new scenario. Hence, effectively, there is no change in the functioning of the team.
What are the key challenges before you in the new role as Chief Growth Officer?
As market leaders, the key challenge is to not only grow the market but also garner higher shares in this highly fragmented & cluttered environment. Hence, as the Chief Growth Officer, it is imperative that we evolve newer modes of revenue opportunities that provide effective & efficient solution to the brands as well as help us maintain above-the-market advertising revenue growth rates for ZEEL & ZMCL, which currently is at 20 per cent & 30 per cent, respectively. In this endeavour, our core focus would be to proliferate newer segments of advertisers across the length & breadth of India.
How will the new TRAI tariff order impact the industry?
The demand-supply equation has shifted in the favour of consumer. Hence, brands that are constantly evolving, connecting & delivering compelling content and satisfying the entertainment needs of the consumer will sustain in the long run. Having said that, it's too early to predict the impact as it's a challenge for broadcasters, LCOs, MSOs & DTH players to educate the consumer about this new beneficial structural change. The backend for this change is a huge challenge for all distribution platforms.
When it comes to business, I don't think it will have an impact in the near term. In the long term, it will only help me grow my advertising revenue. How? While BARC will keep giving its ratings, I, through distribution, can find out which channels are in demand. Also, it will benefit niche channels. My assumption is that this may finally lead the conversation towards CPT. Eventually, then the advertising industry will grow.
How has 2018 been for the industry?
The year has been good. The industry has grown in double digits; I think 13-14 per cent. However, my perspective is that the overall industry could have grown better.
What are your plans for 2019? How does the next year look like for the broadcast industry? Going forward, what will be the key focus areas for you?
2019 looks like a great year. It will be another year of growth as there are three big properties—state elections, general elections & cricket world cup. This will attract advertisers and increase the TV advertising pie.
From our perspective, our key focus areas for 2019 are very clear- south, rural & cinema genre.
We are seeing a change in market focus from pan-India to region specific. Advertisers are creating customised market-specific communication plans. South as a region has seen high economic growth, fuelling consumption across categories. Television medium is at an advantage with almost 100 per cent penetration. As a dominant player, it will be our endeavour to correct the price point in line with the economic contribution to the national GDP.
Cinema genre continues to be undervalued in comparison to GEC, despite closing the gap in terms of the impressions delivered. We believe, there is ample room for growth.
Thirdly, the rural viewer is under-indexed compared to his urban counterpart in terms of advertising rates. This is despite significant growth in his personal consumption & contribution across categories.
Sonam reports on the broadcast media and Out of Home (OOH) industry. She has worked across television and cable industry, and in the past has written for travel and lifestyle magazines.