Stagnant budgets of clients is a challenge: KRP Reddy, Sakshi Group
Director, Advertising & Marketing of Sakshi Group talks about the performance of the flagship paper, betting big on local retail advertisers and the challenge of upping revenues from advertisers
Since its launch a decade ago, Sakshi is today the second largest Telugu daily, both in readership and circulation numbers. KRP Reddy, Director – Advertising and Marketing, Sakshi Group, talks about the performance of the flagship paper, betting big on local retail advertisers and the challenge of upping revenues from advertisers. Below are the edited excerpts of the interview:

How would you evaluate the performance of Sakshi?

Sakshi launched in March 2008 and we recently completed our 10th anniversary in March. It has been a steady progress since Day 1. We peaked in 2014, in terms of readership and circulation. Then there were elections and the division of the State of Andhra Pradesh into Andhra Pradesh and Telangana happened and there was some correction in circulation. After 2014, we stressed on circulation, we built on it and now we are maintaining our circulation at a steady level of over 11 lakh copies (as per ABC). We hope to do better as we go towards 2019 and are gearing up for the elections slated in both the States.

As per the last IRS data, your readership was at 98 lakhs…

In the last IRS there was a mix up in the readership of our variant. The IRS data surprised us as it showed more readership where our variant was not present and where the variant was present they were showing lesser readership. It was a mismatch and did not match with the ground reality so we took it up with the technical committee and explained where it went wrong and they accepted it. We now have a readership of 1 crore and 15 lakhs. IRS corrected this and sent a circular that this can be added to the readership.

What are your expectations from the upcoming IRS and ABC?

ABC probably there will not be much difference, we will be steady there plus or minus 1-2% but in terms of readership we expect to do much better. We are putting in an effort in penetrating the semi-urban areas and Tier II cities while concentrating on the urban cities of Hyderabad, Visakhapatnam and the new upcoming capital of Andhra Pradesh, Amaravati. We are also focusing on our tabloids. The focus is also in penetrating areas where even if only five copies are taken, we will supply it there.

What has been the growth in revenues and also the growth in advertisers?

Last year, Print revenues grew by an aggregate of 5-7%. Most of it happened on the back of local advertisers. Our tabloids cover 270 constituencies and we are strong in local advertising and we get small advertisements like birthdays, obituaries, wedding anniversaries and even retirements. This is a trend in Andhra Pradesh and Telegana and we get a about 14-15% of revenues through this.

What is the ratio between the National advertisers and local retail?

The ratio of national to local is almost 50:50. In local retail, textile, education retail, supermarkets, jewellery, real estate are all big, particularly in Hyderabad.

What is the biggest challenge you currently face?

70% of the cost of manufacturing is newsprint. The cost of newsprint was around Rs 11-12 and now it has shot up to Rs 16-17 per copy. 80% of newsprint that Sakshi uses is imported. It is a big challenge and we are taking some internal measures. Cover price revision is one of the ideas but fortunately or unfortunately, we are governed by an association of newspapers - The Telangana State Newspapers Association and Andhra Pradesh Newspapers Association - and we are discussing with the associations to increase the price.

By when and by how much would you look to increase the cover price?

We have proposed the price-point internally and have not come to a conclusion. However, probably by the end of September we will decide and increase the price. It is still in discussion and we don't want to do it individually. If it was only Sakshi, we could have taken a decision but since all the brands are collectively in discussion to increase the price, we are waiting for everybody to come to one platform so it will not be an advantage to any one brand.

What are the other challenges?

The stagnant budgets of the clients, they are not growing at the pace of the cost that we are incurring. That is also a challenge to get the revenue from the advertisers.

What are you doing on the Digital front?

We are quite strong on the Digital front with sakshi.com and SakshiBusiness.com is there. We will be launching sakshipost.com and sakshisamachar.com, our English and Hindi sites soon, both are presently in the beta phase.

What will be the growth drivers?

The flagship is Print but we are also looking at Digital and are gearing up to some tie-ups. Though the growth rate appears to be 100-300%, the value of the
revenues is not very high when compared to print.

What are your future plans?

For the next six to nine months, we see purely organic growth of the newspaper. There is no need for us at this stage to start any more editions or variant. However, we will try to understand the needs of the reader in a much better way because of the competition from the websites.
N Ram, eminent journalist and Chairman the Hindu Publishing Group, has been selected under the prestigious award category of 'Raja Ram Mohan Roy award'.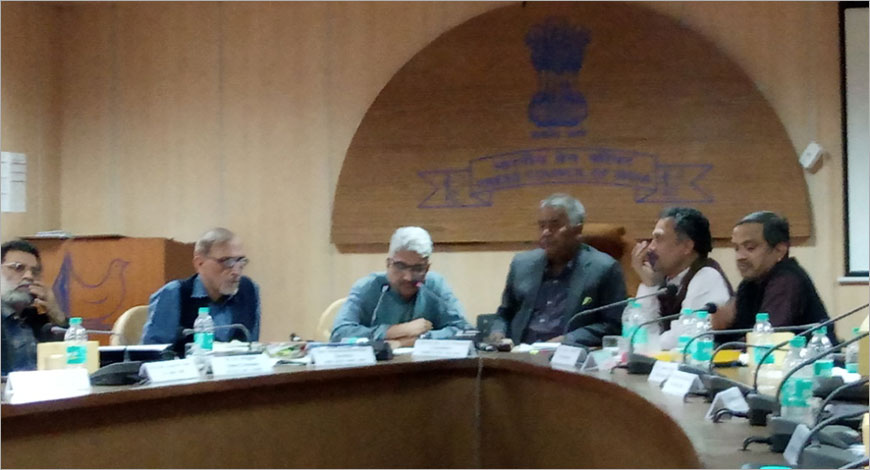 On the occasion of National Press Day today, the Press Council of India will honor winners of the National Awards for Excellence in Journalism.
Among the winners, N Ram, eminent journalist and Chairman the Hindu Publishing Group, has been selected under the prestigious award category of 'Raja Ram Mohan Roy award'. Ruby Sarkar, Chief Correspondent, Deshbandhu, Bhopal, and Rajesh Parshuram Joshte of Daily Pudhari, Ratnagiri, will be jointly awarded in the category of 'Rural Journalism'.
V.S Rajesh, Deputy Editor, Kerala Kaumudi, has been selected under the award category of 'Developmental Reporting' while Subhash Paul of Rashtriya Sahara, will be awarded in the category of 'Photo Journalism-Single News Picture'.
Mihir Singh, Photo Journalsit, Punjab Kesari, Delhi, has been selected in the category of "Photo Journalsim-Photo Feature'. P. Narasimha, Cartoon Editor, Nava Telangana, Hyderabad, has been selected for the award category of "Best Newspaper Art: covering cartoons, caricature and illustrations'.
The Press Council of India, as the only statutory authority entrusted with the responsibility of encouraging the media to pursue its duties following the dictum of "freedom with responsibility", instituted these awards in the year 2012 to encourage journalists, photojournalists, freelancers to excel in print journalism.
exchange4media Group Service
Arpan Chatterjee has been designated Chief Operating Officer - Digital  and will report to TPM's Chief Executive Officer, Karthik Balakrishnan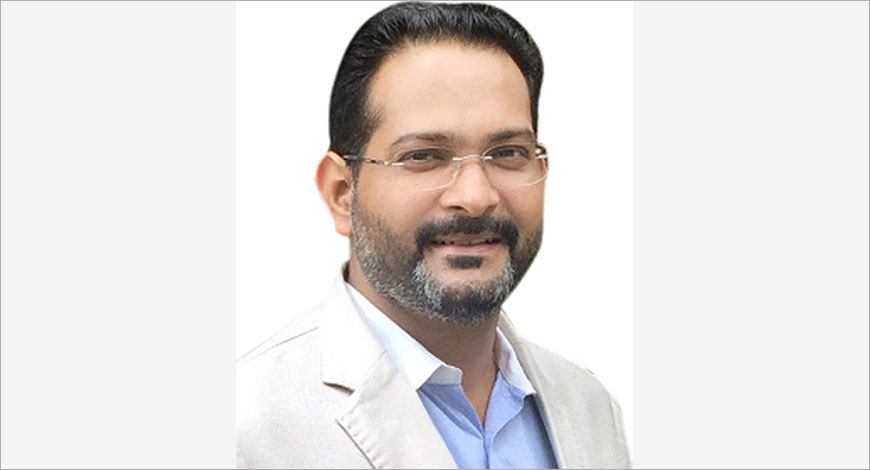 The Printers Mysore, publisher of Deccan Herald and Prajavani newspapers and Sudha and Mayura magazines, has appointed Arpan Chatterjee as its new head of digital business.
Chatterjee, who joins The Printers Mysore from The Hindu Group of publications, has been designated Chief Operating Officer - Digital and will report to TPM's Chief Executive Officer Karthik Balakrishnan.
He has over 20 years of experience across leadership roles in Indian media companies and new economy businesses. He has previously worked for companies such as NaiDunia, Webdunia, Dice Inc, Andale Inc and The Times of India. He has been associated with industry bodies like MRUC (Media Research Users Council) & RSCI (Readership Studies Council of India). ). He has done his executive education from IIM Calcutta.
TPM CEO said Chatterjee would play a pivotal role in driving the organisation forward on the digital initiatives the group is undertaking. "We are looking to capitalise on our strengths as a legacy publisher to build a print and digital media business for the 21st century media consumer. Arpan's on boarding goes to the core of our transformation, where he will drive our digital business vision," said Balakrishnan.
Chatterjee said, "I'm very excited about the opportunity to chart a digital transformation for one of India's most respected media companies. The company has a very compelling vision of its digital future and I look forward to working with all the stakeholders in bringing this vision to life."
exchange4media Group Service
At the Media for Humanity and Peace Conclave in New Delhi, media experts spoke on fake news, role of media to ensure peace, and much more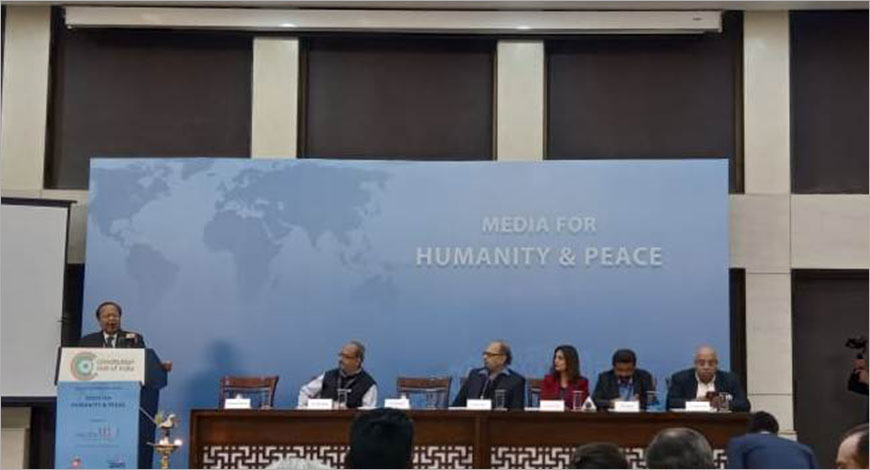 At the Media for Humanity and Peace Conclave, seasoned journalists spoke about the factors that have made media an active agent of hate and a tool to threaten peace.
Prem Rawat, International Peace Ambassador during his inaugural keynote pointed out the necessity to take active participation in bringing lasting peace. "We have to be like the proverbial candle to light up the lives of others who are less privileged and this is the only way for lasting peace, and media plays a critical role in that," he said.
Speaking about the tough job that media was doing in a tough environment, Dr. Annurag Batra, Chairman and Editor-in-Chief, BW Businessworld and exchange4media said, "Media is doing a tough job in tough circumstances and despite that international networks like CNN etc. spend around 50 per cent of their budget on content. In India, the average money spent on content is less than 10 per cent and 45 per cent is still spent on distribution."
He also spoke about the issue of fake news and about its impact on media, "The biggest threat today is fake news and media is not creating fake news, in fact it is at the receiving end of fake news."
Veteran journalist Saeed Naqvi in his address underlined the role media needs to play to ensure peace. He spoke about the cacophony and the agenda driven journalism that has become a lethal mix and threat to peace. "One of the biggest crises today is the total loss of credibility of media and this is posing a big threat to our attempts to have a society that is not divided on trivial issues, but unfortunately we have all become victims of this kind of media and continue to be so."
K G Suresh, Director General, Indian Institute of Mass Communication lauded the role that media has played but also pointed out to the selective reporting that some media houses do to distort truth. "I have extensively covered Kashmir and what I have found is that some media houses are giving too much importance to handful of stone pelters at the cost of ignoring larger issues that concern the population. And this kind of reporting undermines the larger story which is beyond violence. We need to report what is going on the ground and then only change will come", stated Suresh.
"I'm also worried about the aggression in the language of media today. We are calling for war and that is not the true language of media and such language is purely rhetorical and not substantive," he further added.
Sheetal Rajput, Deputy Editor, News 24 raised the issue related to primetime show formats and argued that there was no substantial evidence that debate formats only attract audiences and get the TRPs. In her view such assumptions need to be changed and challenged.

A 108-page issue was released to commemorate this milestone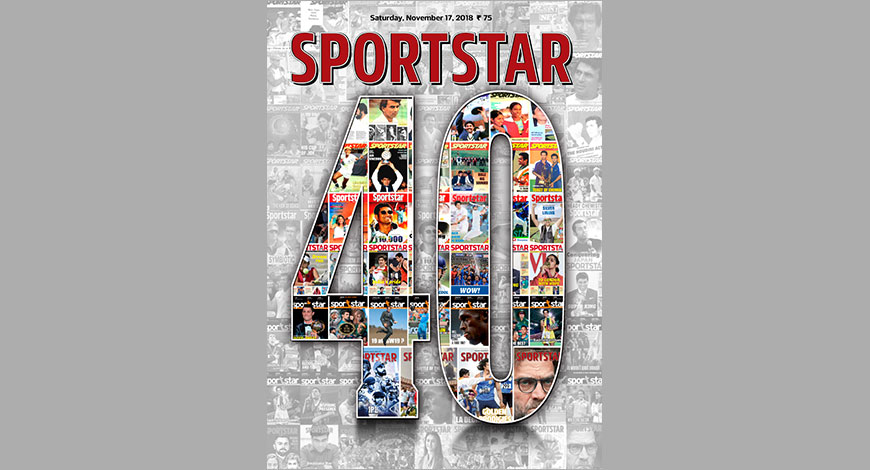 Sportstar, the multi-sport magazine published every fortnight by The Hindu Group in India, is celebrating its 40thanniversary. A 108-page issue was released to commemorate this milestone.
"In such an age, it's a challenge for a sports magazine to stay relevant, but throughout our journey we have reinvented and re-vigourised our content to suit the palate of the changing times. We have been steadfast in offering our readers what they want to read, taking them closer to their sporting icons. Our journey has been made memorable because of the love and encouragement of our readers – who also include the top sporting personalities of the country. We want to thank our readers with this collector's edition of the magazine," says Ayon Sengupta, Editor, Sportstar.
On July 1978 the first issue of The Sportstar was published with tennis legend Bjorn Borg on the cover. Priced at Re 1, the magazine offered a ringside view to the world of domestic and international sport.
The 108-page issue will have long commentary pieces from some of the most-experienced sportswriters of the country doing a deep-dive into the growth and health of games like cricket, football, hockey, tennis and a few more. There will also be selected short interviews from 40 great Indian personalities – like Sachin Tendulkar, Kapil Dev, PV Sindhu, Dhanraj Pillay, Abhinav Bindra – talking about their love for the game. Famous columnists – Sunil Gavaskar, Greg Chappell, Brian Glanville, Geet Sethi, Karun Chandhok, Sunil Chhetri – too pen some special odes. There is also a time-line of 40 years, highlighting the top Indian sporting moment from every year of existence.
exchange4media Group Service
The 88-year-old celebrated publication is getting a new owner for the second time in a year. Meredith bought Fortune in January this year.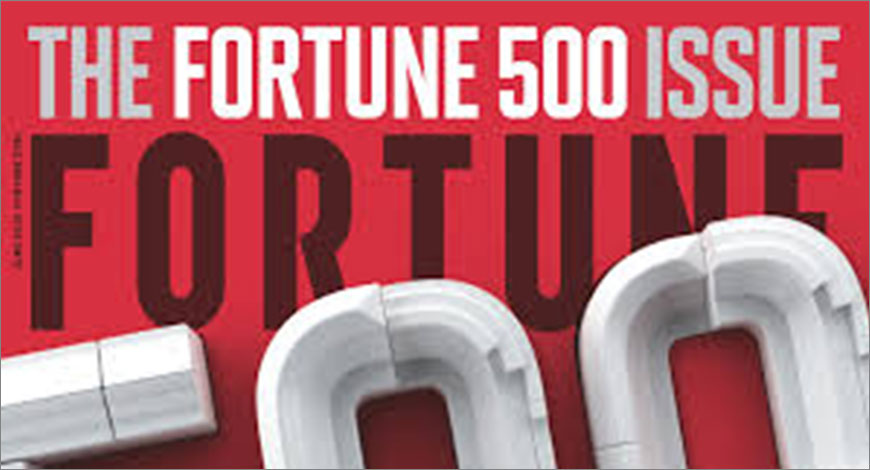 US-based publisher Meredith has announced that it has decided to sell Fortune magazine for $150 million to Fortune Media Group Holdings Limited owned by Thai businessman Chatchaval Jiaravanon, according to media reports. The celebrated publication is getting a new owner for the second time in a year. Meredith had bought 88-year-old Fortune as part of its acquisition of New York giant Time Inc. in January itself.
Chatchaval Jiaravanon is the son of Sumet Jiaravanon, Executive Chairman of Thailand's biggest conglomerate, Charoen Pokphand Group. The group is a Bangkok-based conglomerate with businesses in telecommunications, food, retail, automotive, finance, and pharmaceuticals.
According to media reports, Jiaravanon has said that he plans to increase investment in Fortune's "digital capabilities, geographic expansion, and editorial talent."
"Our vision is to establish Fortune as the world's leading business media brand, with an always-on reach and global relevance," he was quoted as saying in a statement by some media reports.
Clifton Leaf will reportedly remain the Editor-in-Chief of the publication and Alan Murray will remain its President and become CEO.
According to reports, Meredith will continue to provide short-term business services to Fortune. Meredith and Fortune Media Group Holdings Limited have entered into an agreement under which Meredith will continue to provide services such as corporate sales, consumer marketing, subscription fulfillment, paper purchasing and printing.
Fortune is known for its franchises including the Fortune 500, 100 Best Companies to Work For, Most Powerful Women, World's Most Admired Companies, and 40 Under 40, among others.
exchange4media Group Service
Pallavi Gogoi, chief business editor of National Public Radio (NPR), a Washington-based American media organisation, says incident happened in India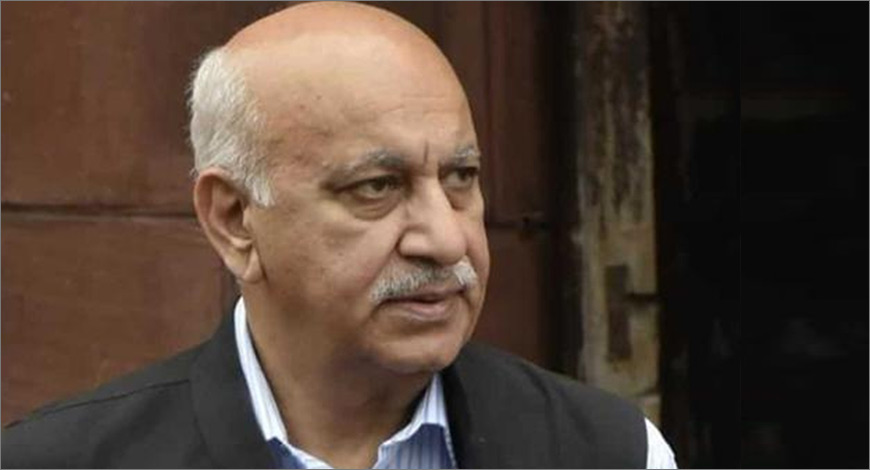 A US-based editor of a leading media house has accused former Union minister M J Akbar of raping her in India 23 years ago, saying the "brilliant journalist" used his position as the editor-in-chief of a newspaper to prey on her, an allegation denied by his lawyer, Sandeep Kapur.
The latest allegation of rape was levelled against him by Pallavi Gogoi, the chief business editor of National Public Radio (NPR), a Washington-based American media organisation.
She has detailed the "most painful memories" of her life in an article in The Washington Post.
"What I am about to share are the most painful memories of my life. I have shelved them away for 23 years," she said, detailing how Akbar physically and mentally harassed her for years while working at the Asian Age newspaper from New Delhi to Mumbai to Jaipur to London.
Gogoi said she was 22 when she joined the Asian Age. She was star-struck working under Akbar. She was mesmerised by his use of language, his turns of phrase and took all the verbal abuse. At 23, Gogoi became the editor of the op-ed page which was a big responsibility at a young age, she said.
"But I would soon pay a very big price for doing a job I loved. It must have been late spring or summer of 1994, and I had gone into his office - his door was often closed. I went to show him the op-ed page I had created with what I thought were clever headlines. He applauded my effort and suddenly lunged to kiss me. I reeled. I emerged from the office, red-faced, confused, ashamed, destroyed," she alleged.
The second incident was a few months later when she was summoned to Mumbai to help launch a magazine, she claimed.
"He called me to his room at the fancy Taj hotel, again to see the layouts. When he again came close to me to kiss me, I fought him and pushed him away. He scratched my face as I ran away, tears streaming down. That evening, I explained the scratches to a friend by telling her I had slipped and fallen at the hotel," she wrote in The Post.
When she got back to Delhi, Akbar threatened to kick her out of the job if she resisted him again. But she didn't quit the paper, she said.

One story took her to a remote village a few hundred miles from Delhi and the assignment was to end in Jaipur. When she checked back, Akbar said she could come discuss the story in his hotel in Jaipur, she claimed.
"In his hotel room, even though I fought him, he was physically more powerful. He ripped off my clothes and raped me," she alleged, adding that instead of reporting him to the police, she was filled with shame.
"I didn't tell anyone about this then. Would anyone have believed me? I blamed myself," Gogoi said in The Post
Gogoi claimed that Akbar continued to defile her sexually, verbally, emotionally. He would burst into loud rages in the newsroom if he saw her talking to male colleagues.

"I cannot explain today how and why he had such power over me, why I succumbed. Was it because I was afraid of losing my job? I just know that I hated myself then. And I died a little every day," she said.
She said that she continued to look for reporting assignments that would take her far away.
Gogoi recalled covering the December 1994 elections. For her excellent work, Akbar said he would send her either to the US or the UK as a reward.
"I thought that finally, the abuse would stop because I would be far away from the Delhi office. Except the truth was that he was sending me away so I could have no defences and he could prey on me whenever he visited the city," she said.
Gogoi alleged that Akbar once worked himself into a rage in the London office after he saw her talking to a male colleague. He hit her and went on a rampage, throwing things from the desk at her - a pair of scissors or whatever he could get his hands on. She ran away and hid in Hyde Park.
"I was in shreds - emotionally, physically, mentally," she said.

Akbar summoned her back to Mumbai after which she left the job and joined Dow Jones in New York.
"Today, I am a US citizen. I am a wife and mother. I found my love for journalism again. I picked up my life, piece by piece. My own hard work, perseverance and talent led me from Dow Jones to Business Week, USA Today the Associated Press and CNN. Today, I'm a leader at National Public Radio. I know that I do not have to succumb to assault to have a job and succeed."

"Over the years, I have not brought up Akbar in conversations. I've always felt that Akbar is above the law and justice doesn't apply to him. I felt he would never pay the price for what he had done to me," she said in The Post.
Calling all allegations as "baseless and wild" Akbar has filed a lawsuit against one of the journalists who have spoken out against him. "It doesn't surprise me. He feels he is entitled to make up his own version of 'truth' today, just like he felt entitled to our bodies then," Gogoi added.
Akbar, 67, who resigned from Prime Minister Narendra Modi's Union Council of Ministers in October after multiple women came out with accounts of alleged sexual harassment, has filed a criminal defamation case against one of them.
exchange4media Group Service
India has emerged amongst the most dangerous places for journalists and the reasons for this are as complex as the profession itself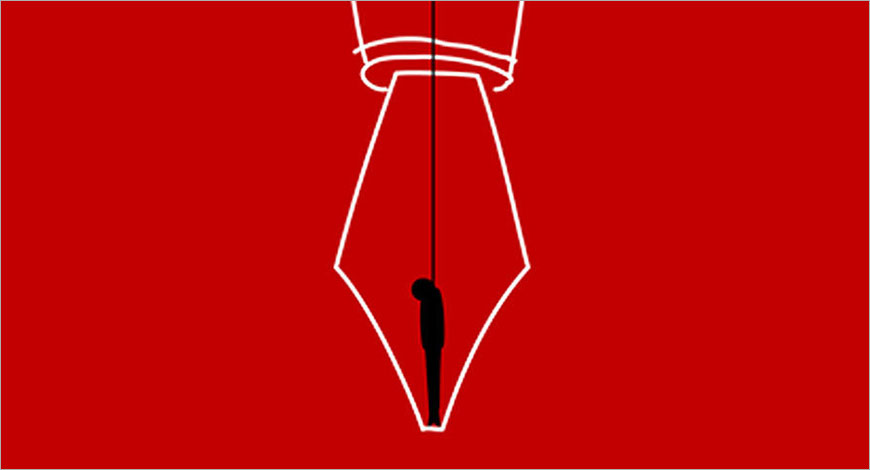 Over the past few weeks we all have read a number of stories about growing attacks on journalists. In the first week of October 2018, the killing of Saudi journalist Jamal Khashoggi grabbed global headlines when he was murdered inside the Saudi embassy in Istanbul. Back home, just a few days back the cameraman of Doordarshan was killed in an attack in Chattisgarh. In June 2018, Editor of Rising Kashmir, Shujaat Bhukhari was killed outside his office in Srinagar, and in March 2018 two journalists were run over by an SUV in Bihar because they dared to do an undercover sting against some government officials. These are just few names amongst a long list of scribes who lost their lives in the line of duty.
India becoming increasingly unsafe for journalists
In a recent World Press Freedom Index report by Reporters Without Borders, India has been ranked amongst the most dangerous places for journalists. The country ranked at 138th place on its press freedom index, way behind neighbouring countries like Afghanistan, Sri Lanka, Nepal and Bhutan.
The Committee to Protect Journalists (CPJ), a press freedom watchdog, which released its annual 2018 Global Impunity Index ranking has also placed India at the 14th rank and amongst countries that have the worst record of prosecuting the killers of journalists. The CPJ study has revealed that in last 26 years 48 journalists have lost their lives in India and in 2018 the condition has worsened. In this new report India features alongside countries like Somalia, Pakistan, Mexico, South Sudan and Syria, again pointing out to the danger that journalists in the country face.
Tackling the crisis
In the light of these facts, we asked some of the well known Indian journalists about the state of free press in India and the steps that need to be taken to safeguard the journalist community. According to Anurradha Prasad, Chairperson and MD of BAG Network, "Security of journalists is an issue for all of us, more so for women journalists. I wouldn't pass judgement that India is unsafe for journalists but increasingly one is seeing that journalists are the easiest targets of mobs and hooliganism. I think women journalists are more vulnerable and media has to play a pro active role in exposing the goons."
Bhupen Chaubey, Executive Editor, CNN News 18 feels that the threats to journalist have become a regular phenomenon in the country. "Threats to journalists now is a regular phenomenon in India. On social media, all kinds of adjectives are used to hurl abuses against journos. It's important that journos tread carefully when they go to conflict zones. We are becoming a society which is on short fuse and journos are getting the worst of it," stated Chaubey.
Lack of security vs hidden agendas
For veteran journalist and Padma Shri Awardee Alok Mehta, the onus on safety lies both with the state and the journalist. He says, "India is not unsafe for journalists. Certainly in our profession there are more risks and challenges. At the same time journalists should have no bias and should not project or indirectly support extremists and their ideology. Moreover, political or other organisations should also not promote hate against media and should respect freedom of expression."
Pankaj Pachauri, former Media Advisor to Prime Minister Manmohan Singh and now the Founder and Editor-in-Chief of GoNews explains the rising attack on journalists, "If you see, the number of journalists covering dangerous areas, it has increased with the coming of new platforms. Now, you have bloggers going to Iraq to cover news and this has increased the risk to journalists and hence the higher casualty figures. Also, the perpetrators of violence, whether it's the security forces or the militants, see journalists as threat. So journalists are under attack from both sides. I have experienced this in Kashmir where the security forces don't want me to know what they are doing and the militants think I'm on the security forces side, and this is a phenomenon that is happening across the world."
Pachauri also argues that the government needs to put into place strict measures to ensure safety of journalists and at the same time urges journalists to be true to their profession in order to avoid becoming victims of their personal bias.
"The governments have to be very tough on these things and they have to say very vocally that they stand for the freedom of press. The other factor is that journalism has come into disrepute lately as there are accusations of paid news and siding with political parties, and once the journalist becomes partisan the risk to his/her security becomes higher", added Pachauri.
He has been brought on board at a time when The Hindu Group is celebrating 140 years of being in business and is looking to focus on its advertising revenue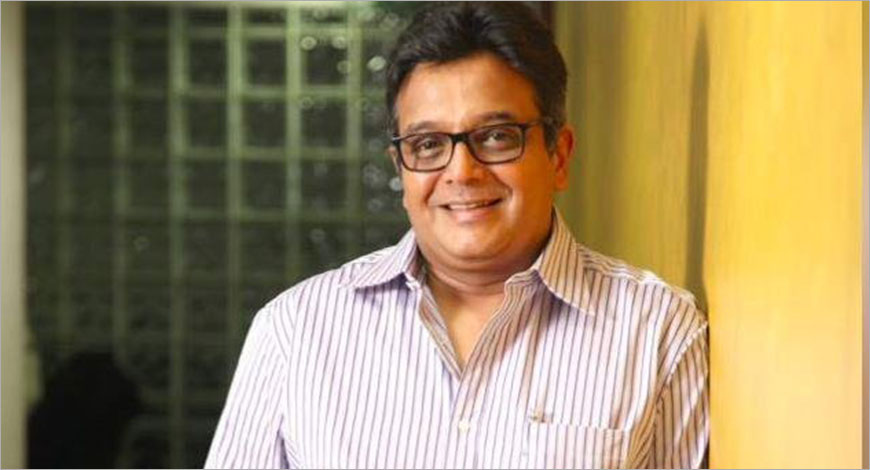 Suresh Balakrishna has joined The Hindu Group as Chief Revenue Officer effective November 1. 2018. He shall be reporting to MD and CEO Rajiv C Lochan. He has been brought on board at a time when The Hindu Group is celebrating 140 years of being in business and is looking to focus on its advertising revenue. Balakrishna shall be accountable for all India print advertisement sales (National accounts and South accounts), THEME (Events & Activations), and Brand Marketing & Solutions.
Balakrishna will be based in Mumbai. His mandate is to build a sustainable, future-oriented high-performance sales and marketing team that delivers performance with purpose on the advertising front across both ATL & BTL activities. He shall be accountable for revenue generation through Print – National and South accounts, Events & Activations and Brand Marketing & Solutions, and make The Hindu Group a more competitive and sustainably growing organisation.
Prior to joining The Hindu Group, he was Chief Executive Officer, South Asia and Middle East, Kinetic Advertising India Private Limited, part of the WPP Group. In his 31 years of professional journey, he has deep experience and expertise in all forms of media (print, television, outdoor) as well as the agency side of the business.
He started his career in January 1987, when he joined as a trainee advertisement executive selling ad space for Saturday Times, and has worked as Sales Manager in Apex Publishing (Yellow Pages), General Manager – Marketing with Hinduja Group, Executive Vice President of Lintas, Vice President – Media Marketing of HT, Executive Vice President, and Head of Marketing of Zee Network, and was CEO of BPN, CEO of Rapport, India (the OOH arm of Media brands) and Chief Operating Officer at Mail Today (The India Today Group).
exchange4media Group Service
Vipin Kharbanda had previously worked with The Statesman Group of publications as Vice President - Marketing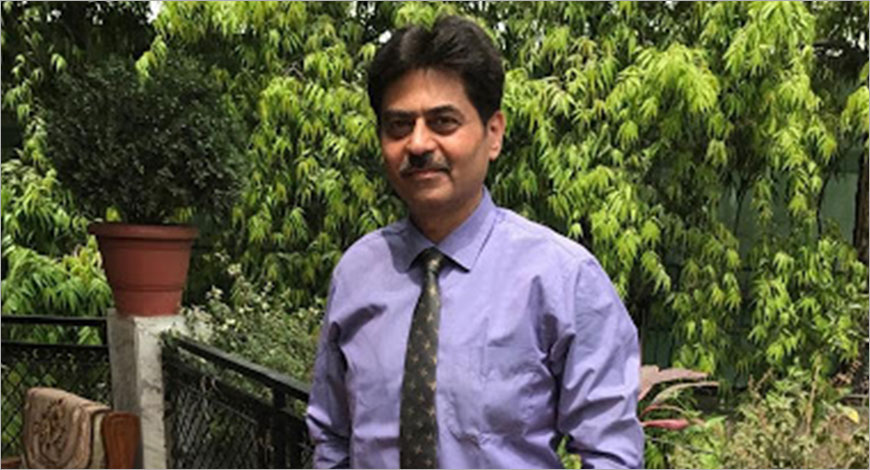 Vipin Kharbanda has been appointed by Dainik Savera Times as National Head - Marketing.
Vipin Kharbanda had previously worked with The Statesman Group of publications as Vice President (Marketing). He was also associated with "The Tribune" prior to The Statesman.
Kharbanda brings with him over 25 years of experience and he has worked with organizations such as Nai Dunia Group of publications, Big FM and Big Cinemas, Dainik Jagran, to name a few.
Speaking on his new role, Vipin Kharbanda said, "I am delighted to be part of this growing publication house, which continues to invest in people and infrastructure. I see tremendous opportunities and areas where we can excel and grow the revenues."
At present Dainik Savera Times is being published from 6 states – Punjab, Haryana, Himachal, J&K, Delhi & Chandigarh and has 22 editions.
exchange4media Group Service
Total Revenue has grown by 2.8% to Rs. 5875 million in current period from Rs.5713 million in Q2 last fiscal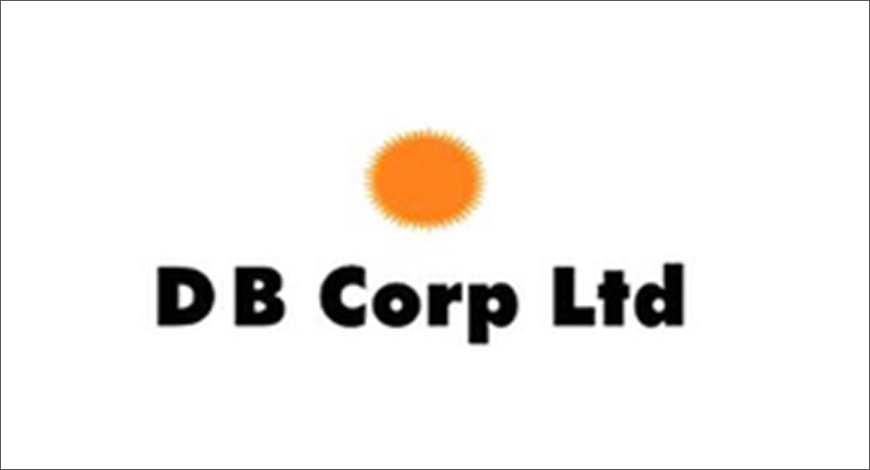 DB Corp Limited (DBCL), home to flagship newspapers Dainik Bhaskar, Divya Bhaskar, Divya Marathi and Saurashtra Samachar, today announced its financial results for the quarter and half year ended September 30, 2018. The highlights of the Company's operational and financial performance are as follows:
Performance highlights for Qtr 2 FY 2018-19 – Consolidated:
Strong ad revenue growth after adjusting impact of last year's festival season
Circulation Revenue has increased 5.6% YoY to Rs. 1318 million from Rs. 1248 million, primarily due to volume driven growth.
Total Revenue has grown by 2.8% to Rs. 5875 million in current period from Rs.5713 million in Q2 last fiscal. On an adjusted basis, total revenue grew by 12.8% YOY to Rs. 5875 million from Rs. 5207 million, after adjusting for last fiscal one off items as well festival season billing.
PAT stands at Rs. 462 million (PAT Margin 8%), against Rs. 787 million (PAT Margin 14%), in Q2 of last year; considering forex loss of Rs. 62 million and circulation expansion strategy related non-recurring expenditure of Rs. 110 million.
Radio business: Advertising revenues expanded by 8.4% YOY to Rs. 377 million in Q2 of current period, against Rs. 348 million in Q2 of last fiscal. On adjusted basis, Radio delivered growth of 18%, after adjusting for last fiscal's festival season billing.
Radio Business PAT grew by 47% YOY to Rs 58 million from Rs. 40 million last year.
Digital business revenue grew by 5% YOY to Rs. 119 million from Rs. 114 million.
Commenting on the performance for Q2 FY 2018-19, Sudhir Agarwal, Managing Director, DB Corp Ltd, said, "Our circulation strategy implemented in recent times continues to deliver results that are also driven by the parallel execution of several growth-led initiatives undertaken across all our pillar divisions. The results of our efforts are visible through Dainik Bhaskar's progress in Bihar where in a short span of time, we have been able to build a second leadership position through strong on-ground execution. Dainik Bhaskar is also now the largest circulated paper in Rajasthan. The same operating philosophy is being aggressively implemented across all regions of our presence where our focus continues to remain on sharpening our organisational strengths, leading market expansion and driving excellence, enabling us to strive harder in a rapidly evolving and competitive media environment. As we progress we expect the consumption and demand cycle to stablilize. Crude volatility and currency led inflation seem to loom going ahead, but we will continue to manage our business dynamically while driving operational efficiencies. As our strategic campaigns play out well we look excitedly towards the second half of fiscal 2019, as we expand the frontiers of our vision, drive key areas of the business, act swiftly and efficiently on available opportunities, and address our customers' needs with our full range of capabilities."
Performance highlights for H 1 FY 2018-19 – Consolidated:
Advertising Revenues reported growth of 5% YOY to Rs. 8681 million in current period from Rs. 8297 million in H1 of last fiscal. On an adjusted basis Ad revenues reported 10% YOY growth (Rs.7868 million H1 FY 2018) after adjusting for last fiscal's festival season.
Total Revenue reported growth of 5% at Rs. 12267 million in current period from Rs. 11709 million in H1 last fiscal. Total revenue has registered 9.8% YOY growth (Rs.11173 million H1 FY 2018) after adjusting for last fiscal one off items and festival season billing.
Circulation Revenue has increased 8% YoY to Rs. 2664 million from Rs. 2467 million, primarily due to volume driven growth. Over past five years [from FY 2012-13 to FY 2017-18] circulation revenue has delivered 13% CAGR growth.
EBIDTA stands at Rs. 2725 million (margin of 22%) against EBIDTA of Rs. 3390 million, in H1 FY 2018; after considering forex loss of Rs. 83 million and circulation expansion strategy related non-recurring expenditure of Rs. 168 million. Adjusting for circulation expansion related one-offs and forex loss for last year and this year; EBIDTA stands at Rs. 2977 million against Rs. 3008 million in H1 of last year.
PAT stands at Rs. 1438 million (PAT Margin 12%), against Rs. 1888 million (PAT Margin 16%), in H1 of last year; after considering forex loss of Rs. 93 million and circulation expansion strategy related non-recurring expenditure of Rs. 168 million.
Radio business: Advertising revenues expanded by 5.2% YOY to Rs. 694 million in H1 of current period, against Rs. 659 million last fiscal. On adjusted basis, Radio delivered growth of 10%, after adjusting for last fiscal's festival season.
Radio business EBIDTA grew by 28% YOY to Rs. 191 million from Rs. 149 million.
Radio Business PAT grew by 51% YOY to Rs 85 million from Rs. 56 million.
Digital business revenue grew by 4.4% YOY to Rs. 245 million from Rs. 235 million.
exchange4media Group Service