India Today in its new avatar will deliver the same promise that we deliver to you in print or any other form: Ashish Bagga
As India Today revamps its print magazine to suit the demands of contemporary readership trends, we get a low down on this re-imagined format from Raj Chengappa, Group Editorial Director, India Today (Publishing) and Ashish Bagga, CEO, India Today Group
"What makes India Today a formidable institution is its excellence and the fact that it is a great journalistic organisation. I don't see the relevance of the India Today Group diminishing," says Raj Chengappa, Group Editorial Director, India Today (Publishing) on the road ahead for the news magazine.
Despite print readership on a gradual decline, Ashish Bagga, CEO, India Today believes that the news magazine continues to grow significantly. "We say that the readership of print is declining but for a market leader in English and Hindi, with the two top brands in the country growing steadily, it is a great testimony of our journalistic excellence. Now we are adding muscle to that excellence. We believe that this will further fuel the growth, and not only give readers the kind of value add that we in the typical India Today way bring out, but also to our advertisers in terms of incremental value because of a more discerning and a larger base of readers."
As India Today revamps its print magazine to suit the demands of contemporary readership trends, we get a low down on this re-imagined format from Raj Chengappa and Ashish Bagga.
What was the inspiration behind the re-imagined format for India Today magazine?
Raj Chengappa: I think any publication has to constantly re-think and re-imagine itself, given the kinds of pressures when you have an information explosion of an unprecedented magnitude. There have been in the past, challenges for India Today too, with coming of platforms like television and then daily papers reacting to television, somehow taking the role that we have, which is interpretation and analysis and getting into more features. Moreover, given the fact that they had so many pages, they could outpace us with some of these issues. So, there was pressure at that time and we changed according to that time. Then came of course the internet, which has been the single biggest disruptor, and with it, came an information explosion of a magnitude that you had never thought of. Anytime, anywhere, any place, you were bombarded with news. So today, you don't have to read a newspaper or watch television, you just have to scroll down your mobile to get all the information about your city or at a distant place in Iraq or Syria.
Now, amidst all this, where does a magazine like India Today fit in and how do we then work towards meeting the new demands? We are under pressure from TV, newspapers and now from the Internet as well. Three big pressures sitting on us and saying -- so why should anyone read India Today? That is an existential question that we have always asked. This feeling has been worked out, discussed, and even before I joined the process, was thought about to understand what we need to do. We took a stand to work out and also get the resources in place and we decided to build around our core values --- we have always been a credible source, we brought clarity and we brought relevance, and these were the three core values that India Today is known for.
Can you tell us about the specifics of the transformation that this rebranding will entail?
Raj Chengappa: Firstly, what distinguished us always has been our ability to take very complex information, digest it, distil it and come with a clarity and then present that clarity with excellent writing, great visual display and telling graphics. Essentially, we like to be great storytellers, though it is not a vanishing art but with the kind of noise that you are seeing and the chaos that you are witnessing, it had kind of disappeared. So, the effort and the re-imagined India Today that is there, is to bring the same values that we had. One of the experiences that we would like to bring about would be like a fine dining experience. Most of the news on internet today follows a cookie-cutter approach. The pleasure of reading an article when you hold a magazine -- the headlines tell you a story, the photograph tells you a story, the first paragraph entices you to read it. The presentation and what you would eliminate and not do in those four-five pages that you want to do makes all the difference. One is of course the buffet approach in which you serve everything, like a newspaper where people come and pick and fill their stomach and walk off. But we felt that we have to go beyond that and we call it a fine dining experience in some ways. If you take the fine dining experience, you begin with a great deal of starters and appetisers. As complexities grow in terms of the availability of information, and as India changes dramatically, there is no one recording this change cohesively and in a coherent manner, so there is a tremendous scope for that.
Internet is one big melting pot of information and it can also distract you easily. So, time is of great consequence in this and our effort is to make a sense of what is happening and then curate it and say that you need to know these 20 things this week. Moreover, we will tell you those 20 things in a manner that is more palatable, easy to read, easy to digest and bringing the reading experience right back to you and the display experience right back to you, which is missing in today's cookie-cutter world in which information is being pushed.
Coming back to the fine dining analogy, in the new edition we have presented a dazzling variety of information which is going to keep you updated about what is happening around. We also found that states were being neglected and so we have brought back the state pages which India Today was known for. We will give you some exclusive stuff as well; it is not that we are just chasing the news. We also have a very comprehensive leisure section that takes care of the multifarious interests that people have.
So you start with great appetizers and to fill your stomach you have got 4-5 big features to choose from, that is your main course, and then you get your desserts, which is the leisure section. This in a sense is the right analogy of what we are trying to do. In fact the magazine essentially holds on to the impression of being the magazine for thinking India. We feel that there is a huge information gap despite the information explosion, which in itself is a paradoxical situation. With this revamp, we want to bring back finely crafted journalism and there is some best talent that has rejoined us.
Will this change get reflected on the digital platform as well?
Ashish Bagga: It will cut across all platforms, it is India Today. Whether we are on mobile, internet, print or TV, the core values that Raj has brought in, the new functionality and features that we are introducing, will appear right across our platforms. You may be anywhere in the world, India Today in its new avatar will be with you and we will deliver the same promise that we deliver to you in print or any other form.
Raj Chengappa: We don't cover stories in India Today superficially or in a frivolous, irrelevant manner. What we are saying is that India Today is for India today and that is our motto. There is a great India unfurling, with economic, social, cultural and political changes happening at a speed that none of us can comprehend, I'm not sure even if the government can. So how do you capture that? Some newspapers and TV channels may do, but at the end you still feel inadequate and still feel the need to know more. We believe that in the new format that we have developed, we will connect with India in a far better way and it is definitely for the thinking Indian.
Moreover, content is the key in this. At the end of the day, it is a channel of distribution and how you present it. In terms of magazine presentation on net, that is an evolving business and we need to learn a lot more, like everybody else, we are learning and experimenting and seeing how best to convey. But let's take the essence of information; why do you want to know what you want to know? And that is the crux that we are doing. Moreover, it is the aspirational class that is looking for an expert point of view, not just a point of view.
The print readership space is witnessing a gradual decline, is that a cause of worry in the long run?
Ashish Bagga: If you look at the last IRS figures, we have grown significantly. In fact, we are the only English news magazine which has grown and we are the market leader. If that is something to go by then it's heartening. We believe that with the new IRS and the refreshed India Today, and with all the brand marketing activities that we are doing, we should be delivering more readers than before. Even Hindi has also grown remarkably, which is the demonstration of the faith that the readers have in us. On the one hand we say that the readership of print is declining but for a market leader in English and Hindi, with the two top brands in the country growing steadily, it is a great testimony of our journalistic excellence. Now we are adding muscle to that excellence. We believe that this will further fuel the growth, and not only give readers the kind of value add that we in the typical India Today way bring out, but also to our advertisers in terms of incremental value because of a more discerning and a larger base of readers.
And what about the international audience, are you looking at them more aggressively this time?
Ashish Bagga: We are India Today and that defines our editorial policy and market. Now, there are millions of people across the world who are interested in India and even institutions and corporates etc. It is for us to serve India for our target audience, which is the thinking Indian in India and abroad.
Raj Chengappa: The best part about being a multi-platform player is that it is a force multiplier and you can slice and dice the information to cater to different mediums. If you look at the recent Modi interview, TV played it up, digital got a lot of traffic because of it and even the social media was abuzz, so you are able to create a surround sound which is not possible to create in a uni-media set up.
How has demonetisation phase been for the India Today magazine?
Raj Chengappa: From an editorial perspective, I think demonetisation has brought in a bigger news environment, more people are interested in knowing why it is happening, and the news space is witnessing more interest with the budget and the elections coming up.
Finally, how would you describe the road ahead for India Today and what kind of demands does contemporary print journalism entail?
Raj Chengappa: What makes India Today a formidable institution is its excellence and the fact that it is a great journalistic organisation. I don't see the relevance of the India Today Group diminishing. Today you cannot just run a magazine like it was done earlier; you have to curate everything that gets in, which means a tight quality control and a greater need for amplification of news than ever before and we are doing all this at India Today.
In a Facebook post, she has given out chilling details about being "bullied" and "sexually harassed" at work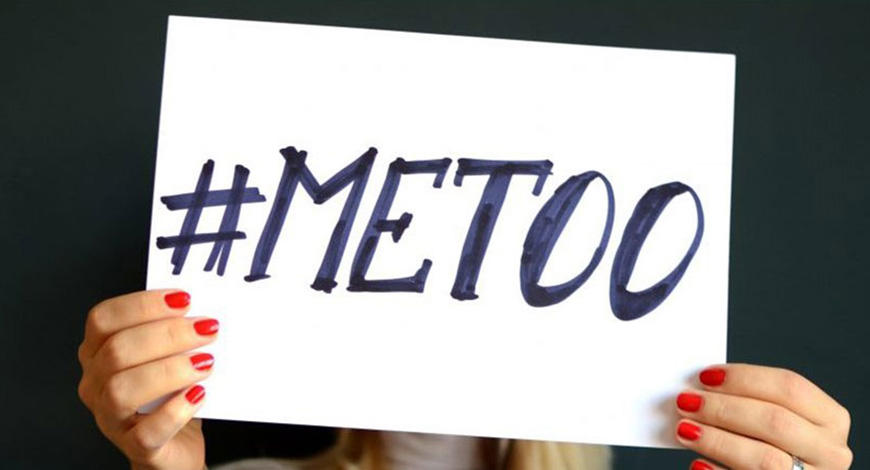 The #MeToo campaign has rocked the media and entertainment world. With each passing day, more and more names are being called out and more and more terrifying accounts of sexual misconduct and/or neglected complaints of sexual misconduct at the workplace are being reported.
One of exchange4media's correspondents, Neethu Mohan, has also spoken up. In a Facebook post, she has given out chilling details about being "bullied" and "sexually harassed" at work.
exchange4media Group Service
With almost all leading print players increasing the number of pages to accommodate ads ahead of the festival season, we find out if the print industry is really picking up?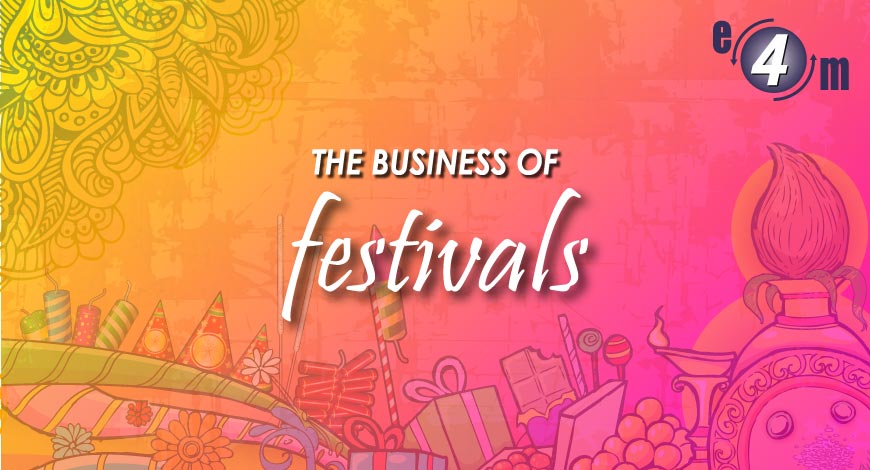 With the festive sale fireworks around, brands are advertising heavily across media to promote their offers and boost sales. And the print industry, it seems, is getting a fair share of this money. Several publications have expanded their inventory to cash in on the occasion. The Hindustan Times and Times of India on Wednesday and Thursday had multiple jackets with their editions.
So, with all this festive advertising, is the print industry really picking up? Going by experts, there might be a 10 per cent hike overall. "In fact, discounting via schemes and offers and paid+free bundling are the norms. It seems to be a tough market. Season improvements is 5-7 per cent so far against expectations of 15 per cent," says CEO of a leading newspaper.
According to Debabrata Mukherjee, Executive Director, Hindustan Times Media, the initial response from advertisers has been promising enough for the print industry this festive season.
"However, it's too early to provide one with exact numbers. There is good tailwind in the businesses of most categories that advertise with us, despite the minor speed bumps. Hence our medium should benefit, as it goes a long way in providing further momentum in showcasing our advertisers' products and services. We have done this ably in the past, and this year also, we are planning to provide unflinching support to all our advertisers. I hope that this festival season, as in the past, will bring good tidings for the print industry."
Going back in history, print has always seen a gain during the festive times. Anita Nayyar, CEO, India & South Asia, Havas Media Group, believes that brands have been and will continue to use print effectively. "Given the call-to-action attribute of print, brands have been and will continue to use print effectively. Festivity always brings a positive feeling, and with elections approaching, print should see a gain in the coming months," Nayyar says.
Festive ads: Maximise spends
Going heavy on ad, the Times of India came out with multiple jacket advertisements in its Wednesday and Thursday editions.
Speaking to exchange4media, Sivakumar Sundaram, President-Revenue, BCCL, said that this is the beginning of the peak festive period and he hopes to see a lot more action.
"Festive advertising is not ad hoc. It is a well-planned activity with aggressive sales targets. Advertisers use the right mix of media to achieve their objectives and generate impact for their brands in order to gain maximum share of the customer's wallet. The Times Group has always worked closely with advertisers and agencies to create solutions that make a difference to both top line and bottom line. This is the beginning of the peak festive period and we hope to see a lot more action," said Sundaram.
P M Balakrishna, Head- Sales (National Accounts), The Hindu Group, is of the opinion that the festive season has always been a period to maximise advertising budgets and spends both from media and advertiser perspective.
Talking to exchange4media about print's revenue growth, Balakrishna, Head- Sales (National Accounts), The Hindu Group, said, "The growth is quite positive as it's a phase of high sales push for most brands and print is a crucial medium given the need to communicate topical and customised schemes. During the festive season, pricing strategy is built around offers on rates which continue to be the flavour of the season. Impact advertising vis jackets, full pages etc is always on high demand due to limited inventory and continue to be the priority for advertisers, especially around sale days and holidays."
With advertisers scheduling their campaigns according to the consumer purchase behaviour this festive eve, Sakal Media Group CMO Krishna Menon tells us how the this season would be one of the best in the recent times in terms of revenue growth .
Speaking to exchange4media regarding growth in their revenue rates, Menon said, "We should see an increase of close to 10 to 15 per cent over the previous year as we additionally offer value & plethora of options to the advertisers with our comprehensive coverage of Maharashtra through premium titles like Sakal, Saam TV, e-sakal and Sarkarnama."

According to the recent TAM Media Research data, the ad volume across print industry witnessed a decline of 2 per cent in January-June 2018 compared to January-June 2017. Also, after a long spell of almost negligible growth owing to factors like demonetisation and implementation of GST and RERA, growth in the print sector was at a disappointing 3.4 per cent during FY18, lowest in a decade as per a KPMG report. But with general elections next year, growth in print-friendly sectors such as auto, banking, insurance and the festive cheer, it's quite possible for print to command a major share of the overall advertising pie in the near future.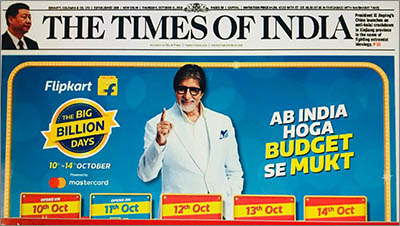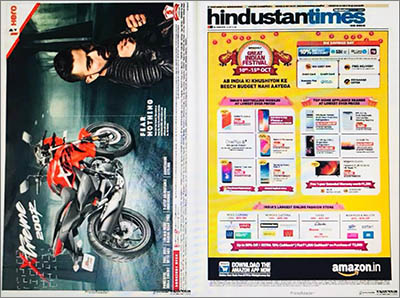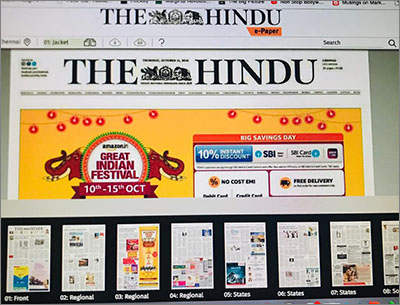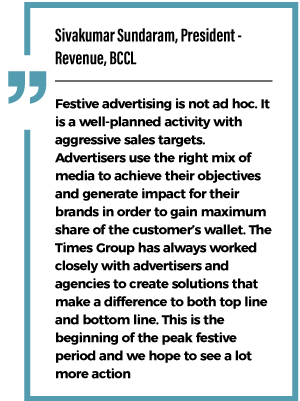 Festive cheer: Print advertising to grow?
In India, smaller markets still have a strong print presence with regional newspapers having a good readership. But in large markets, there's been a considerable shift in the reading habit, with the consumer shifting from newspapers to news apps and e-newspapers.
Meanwhile, online retail players such as Amazon, Flipkart and Snapdeal, which are quite popular in tier-1 cities, are looking at creating innovative marketing mix to woo their customers this festive season. The world might have come a long way in going digital, but print advertising has its own charm in purifying the expression of an ad down to writing & art direction, thereby creating an impression, visibility and brand credibility for customers to trust.

Why prints ads are still effective
While digital is best suited for sales & promotions, print ads build brand recognition. With online sellers approaching print media, it clearly shows how these brands cannot only depend on digital or TV advertising for their growth. This is because the consumer needs assurance in writing that the deal being offered is in real.
How long will the trend last?
Paresh Nath, Owner, Delhi Press, believes that the festive advertising in print will last for only a few weeks and may not be able to bring good days for print in the long run.
"While the festive print advertisements by online sellers might last for only few weeks, they will not be able to bring good days for the print business in the long run. There is another catch in it: The multi-brand-multi-product ads that we see in print are attractive only for a few very well-known brands. In order to cover the cost of advertising for online sellers, manufacturers of displayed products might have to give deeper discounts to sellers and thereby reduce their own promotional budgets. If that happens, it might affect brand building which is crucial for their survival."
According to him, this will further lead online sellers to start diverting consumers to not-so-well-known brands and hence pass off second-rate products to unsuspecting buyers at an even higher discount. Ultimately, both consumers and brand owners will be at a loss in this scenario. "Print business, meanwhile, might see difficult days," claims Paresh.
According to Gopa Kumar, Senior Executive Vice President, Isobar, festive season traditionally is a peak time for print wherein most advertisers nationally invest in print ad formats.
Kumar said, "This trend will continue over the festive season, where we will see dominant spends by major advertisers in print. Along with ad rates, we will also see an increase in the number of pages to cater to this demand. This is the time, when consumers in India make key purchases."
"While over the years, we have seen sectors such as auto, real estate and consumer durables go heavy in print, now e-commerce majors like Amazon, Flipkart etc have all joined the bandwagon, spending heavy on print ads this season," Kumar added.
According to him, this is a positive trend: spends going up and print getting its due.
Market Trends: South India
Shifting focus to South India, where festivals like onam, navarati & christmas are celebrated with much more grandeur compared to diwali, lohri and ganesh chathurthi, we speak to M V Shreyams Kumar, JMD, Mathrubhumi Group, about the current state of the market that is still recovering from the Kerala floods.
"We are optimistic that companies would revive in the next two months, stable enough to have a good Christmas season as far as advertising growth is concerned," Kumar said.
Talking on the verticals that are looking to advertise with them this season, Kumar said that mostly FMCG, automobile, BFSI and retailers, especially gold loan NBFCs, have shown interest. The Malyalam newspaper edition is hopeful about adding on to its pages with several ads in the upcoming festive season, thereby compensating for the loss suffered earlier this year by the floods.
Growth in print ad-rates
There's yet another trend rising in South, majorly in parts of Andhra Pradesh and Telangana, where advertisers seem keen on impact-based advertisements compared to frequency of ads. Hence, be it festival season or not, the lines are blurry from an advertising budget perspective.
Talking to us about the increase in their ad rates during the festive season, AJ Christopher, National Head, Sales & Marketing, Eenadu, said, "We have successfully enhanced our advt rates with most advertisers at an average of 5-7 per cent and upwards. However, we are yet to receive a complete picture on the season's advertising investments for AP & Telangana markets especially."
Confident of a healthy advertising to edit ratio, Christopher confirms that the increase in pages of their edition will be proportionate to the advertising flow received.
The newspaper industry is and will continue to be one the most important channels for advertisers to depend on, more so during the festive time. For, in a world of swipe and scroll, the touch and feel of print gives the medium a stand-out advantage, always.
(With inputs from Simran Sabherwal)
Senior Correspondent, exchange4media, Delhi Apeksha reports on technology and the digital domain. She is a B.Tech graduate turned media professional with 6+ years of experience working in the broadcast industry as a business reporter, and has done social media marketing.
Ad women's The Collective in the process of formulating action plan for independent body to address sexual harassment.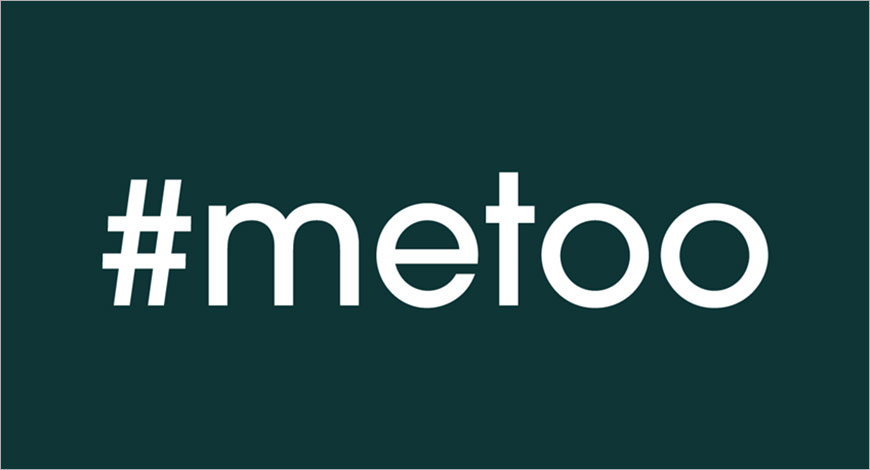 Following numerous revelations about sexual harassment at the workplace, media organisations and leaders in the industry are beginning to take corrective measures.
On Thursday, Hindustan Times sent a mail to all employees stating that the organisation will be conducting weekly workshops on the Prevention of Sexual Harassment Act. The first workshop will be held on October 15. Documentary filmmaker Paromita Vohra will conduct four workshops, two of which will take place on October 17 and 18. These workshops will be held every Monday until November 5.
The mail sent from the office of the Editor-in-chief said that the intent of this exercise is to "allow a free discussion on issues that seem to be confusing all of us, when it comes to the important matter of consent, rejection, entitlement, and other things." Attending these workshops is mandatory for all employees, the mail said.
In the world of advertising, a women's collective mooted the idea of an independent body to address the issues of harassment on Wednesday evening. The ad women are in the process of "formulating the strategy and action plan" for the independent body, Lulu Raghavan, MD, Landor India, told exchange4media. She said that the process should be complete by early next week.
Principal Correspondent, exchange4media, Mumbai Susmita is a digital marketing reporter at exchange4media. She writes on latest developments in the ever-changing world of digital media and in-depth stories on all things advertising.
On Monday, seven women employees had accused KR Sreenivas of sexually harassing them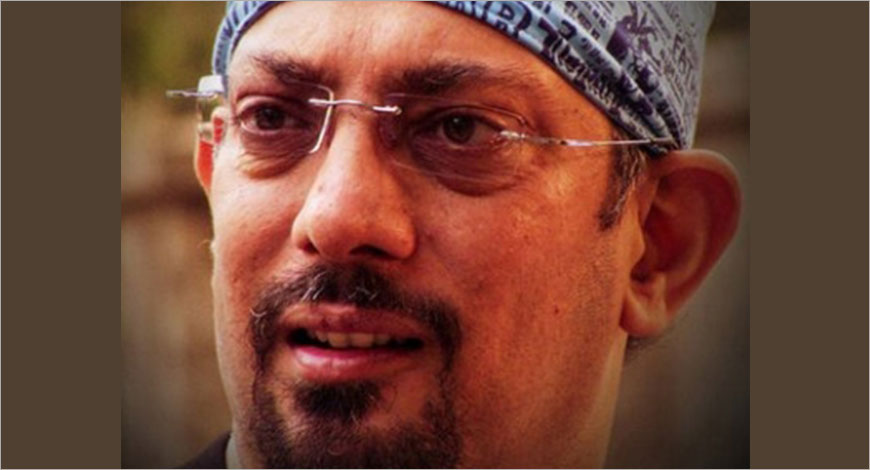 KR Sreenivas, the Times of India Hyderabad Editor, has been sent on administrative leave, according to media reports.
The action was reportedly taken against Sreenivas after seven women employees of the media house accused him of sexually harassing them in the wake of the
According to media reports, ToI has issued a statement stating that Sreenivas has been asked to go on administrative leave till an inquiry against him is completed.
Some media reports quoted email sent out to employees of TOI as stating that the organisation is committed to providing all colleagues with a safe and conducive work environment, free of sexual harassment. In keeping with this commitment, the internal complaints committee of BCCL is looking into concerns that have been brought to our notice about KR Sreenivas.
On Monday, seven women employees sent a petition to ToI demanding that Sreenivas be sacked.
exchange4media Group Service
Health and wellness magazine, Mathrubhumi Arogya-Masika, undertook a unique initiative to make people realise the importance of physical activity and heart health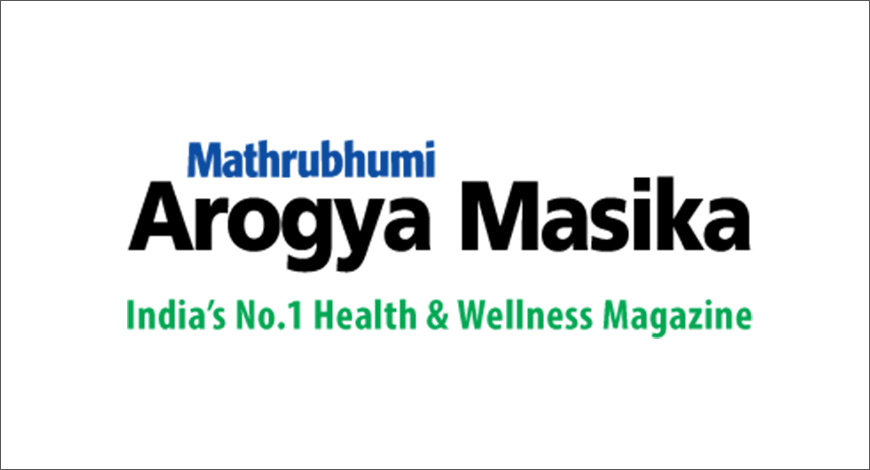 Health is Wealth - is a very old proverb which still holds a significant meaning in our lives when it comes to healthy living. On World Heart Day Mathrubhumi Arogya-Masika, health and wellness magazine undertook a unique initiative to make people realise the importance of physical activity and heart health. The Kochi metro passengers at Aluva and Edapally stations were in for a surprise.

An arch with curtains was placed before the escalator entry to platforms with a message "Your Heart wants you to take the stairs". The passengers who took the stairs instead of escalators were greeted by Mathrubhumi team and applauded for their efforts. It didn't end there - passengers were also given the opportunity to get a free health check-up by medical practitioners and educated about how they should adopt healthy living habits in their day to day lives.

Speaking about the initiative M V Shreyams Kumar, Joint Managing Director- Mathrubhumi Group said, "We wished to create awareness and encourage people to take small steps towards changing their lifestyle, which can give them bigger returns in the long run while strengthening the heart and help build a healthier lifestyle."

Mohammed Hanish, Managing Director, KMRL said, "Thousands of passengers took the stairs instead of the escalators, people have rewarded themselves by taking a step towards improving their heart health. Adopting a positive lifestyle is the key to avoiding heart diseases and other major illness".

The initiative was undertaken in partnership with Kochi Metro Rail Ltd and Renai Medicity.

Watch the video here:


exchange4media Group Service
As The Hindu turns 140, Lochan tells us about how the daily has not only survived but also thrived all these years by balancing the old with the new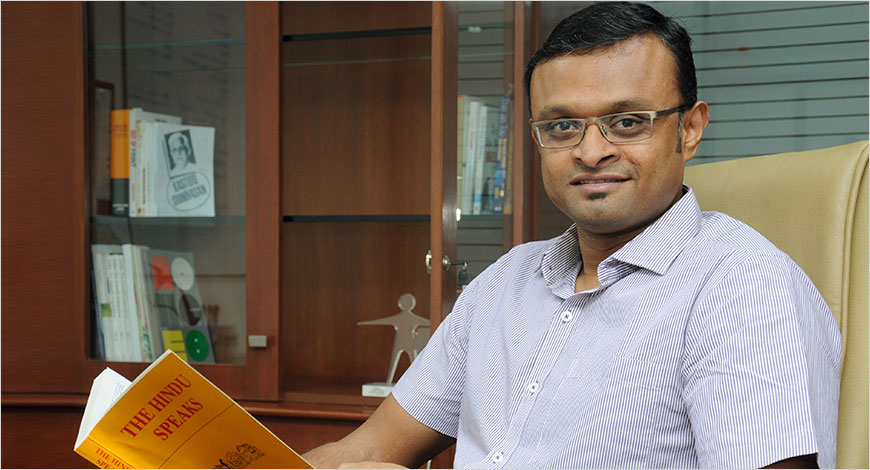 The launch of The Hindu newspaper on September 20, 1878 was indeed a turning point in the history of Indian journalism. It was started with an aim to support the campaign of Sir T Muthuswamy Iyer for a judgeship at the Madras High Court and to oppose and counter the propaganda against him by the British Press. The then eight-page weekly was published by six individuals - four law students and two teachers - T. Rangacharya, P. V. Rangacharya, D. Kesava Rao Pantulu and N. Subba Rao Pantulu, led by G. Subramania Iyer and M. Veeraraghavacharyar. The newspaper's ideology was rooted in fervent patriotism and commitment towards the common public. The Hindu was one among the many newspapers launched during the freedom movement period, but today it is one which withstood the course of time and evolution in print media, unlike its contemporaries. The edits, articles and op-ed columns published in the newspaper over these 140 years became referral materials. The campaigns launched by The Hindu focused on raising awareness among people.
As The Hindu celebrates 140 glorious years of being in the business, exchange4media spoke with Rajiv Lochan, Managing Director & CEO, The Hindu Group, on the group's journey over the years, campaigns run by the group and the road map ahead. Excerpts:
The Hindu @140, how has the journey been so far?
It is a rare privilege that readers have reposed their trust in us over the past 140 years. From an initial print run of 80 copies in 1878 to nearly 16 lakhs certified copies in circulation every day and a readership of almost 60 lakhs across the country, the journey has been filled with highs and lows. Perhaps what is most gratifying is that our sense of purpose and duty to our readers has allowed us to withstand the challenges that have come our way. As we turn 140, we recommit to our readers and resolve to work hard to retain their trust.
Unlike its contemporaries when the newspaper first went to print, The Hindu lasted the course. What are the factors you attribute this growth to?
The Hindu has always focused on its sense of purpose and duty as the primary reason-to-be and focused on honing our strengths – credible and high quality journalism, unmatched technical excellence, a focus to deliver value to advertisers and a commitment to working with all our stakeholders fairly.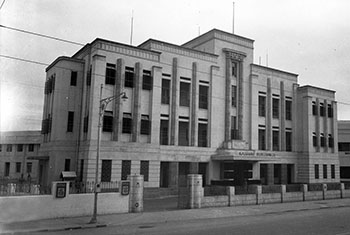 We are constantly obsessing about the reader. Our founders started the newspaper with the objective of "giving voice to the natives" and we have stayed true to that mission over the past 140 years. We have also been clear over the years that the viability of the newspaper depends both on our readers' loyalty and our ability to deliver value to advertisers. Our code of editorial and business values ensure that we consistently serve our readers and advertisers with their interest at the core of our mission.
What are strategies followed by The Hindu in these 140 years to understand and analyse the need of the readers?
The Hindu has always sought to serve its readers based on their needs – whether it was using an aircraft to deliver newspapers to the neighbouring Southern states in the 1960s to introducing pioneering technological innovation to substantially enhance the experience of our readers to reinventing the content and design every 10-15 years. This is the only media house in the country with a Readers' Editor, who has the mandate to be informed about and relay the readers' perspective, regardless of the editorial stand. A unique 1-800 number is published daily inviting feedback from readers - from content to delivery. The Editor meets with readers in interactive forums across the country to get insights into what their changing needs are. The website and apps have been designed keeping in mind reader experience, winning laurels at WAN IFRA's Digital Media Awards. In the last two years, a Reader Intelligence Unit has helped gather consumer insights on their needs beyond news/information to shopping patterns, digital usage, and brand preferences, which is providing advertisers with valuable insights on tailoring their value propositions to various reader categories (across demographics, geographies, etc.).
The campaigns by The Hindu namely Behave. The Youth Are Watching, #SundayIsForReading were major hits, tell us about some other major campaigns by The Hindu and the influence it has made on the readers?
These were indeed memorable campaigns! Behave was the voice of the youth with a hard-hitting message to the country's political class, while #SundayIsForReading encouraged people of all ages to spend quality time reading. Another campaign that still gets an instant connect with a range of audiences (readers and non-readers) is Stay Ahead of the Times – every situation and copy in that series was a hit because it was extremely relatable.
The Hindu has always been focused on raising awareness and instigating action on civic and social issues. A Bengaluru-focused campaign in 2017 called Spirit of Bengaluru had an emotion-stirring song by the Kannada artist Raghu Dixit showing the two sides of the city, the evergreen paradise interrupted by the bustling woes of traffic and garbage, using a mobile auto-rotate innovation.
At a time when many are questioning the purpose and value of the printed word, The Hindu ran a campaign #FortheLoveofPrint as its salute to the passion and diligence of the different people who come together every single day to curate, print and deliver the newspaper. The Hindu, as a newspaper of record for 140 years, has never been known to shy away from putting to print both great and small moments of history. #FortheLoveofPrint explores the underlying commitment and emotion that got them started and continues to exist today, endearing this newspaper with its readers.
The most recent Get South Smart with The Hindu campaign showcases the newspaper's understanding of its readers. As the most read English newspaper in South India, The Hindu has been studying the purchase preferences as well as behaviours of its readers through its Reader Intelligence Unit, and is now helping advertisers fine-tune their campaigns for more effective reach and returns across South India.

What are the key focus areas and goals for the next decade?
The news consumers' requirements, preferences and behaviours are evolving rapidly in today's age of information overload. Increasingly readers are seeking trusted news sources for perspectives and analyses (less so for breaking news) on the go, in quickly digestible formats – willingness to pay for content that is relevant to their needs is also developing. We believe that the future in the digital space is through a smart balance of advertising, subscription and commerce revenues and we are experimenting extensively with products, pricing models and consumer acquisition.
The Southern states are growing 30% faster than other states in GDP terms, consumers in the South are better educated, better informed and more importantly consume more news than their fellow citizens around the country. Not surprisingly, we are seeing increasing advertiser appetite to connect emotionally with the South Indian consumer in order to position their brands for growth. Insights from our Reader Intelligence Unit on consumer preferences for e-commerce, FMCG product consumption, durables purchase considerations are helping advertisers understand the drivers of purchase to skew their media planning and communications for better outcomes. The Hindu Group's combined assets, beyond the English newspaper, including vernacular publications, 500+ curated events, access to 3000+ schools and 1000+ colleges across the country, a vast vendor delivery network, unparalleled digital and social media reach and engagement have helped in reaching and connecting with the relevant target segments through holistic solutions to the brands' challenges in the South Indian markets.
Our goal is to serve both readers and advertisers with the same devotion and purpose as we have for the past 140 years through our continued commitment to the profession of journalism, while smartly connecting audience with brands.
Senior Reporter, exchange4media, Bangalore Neethu reports on media, marketing and advertising industry. In the past she has reported on start-ups, education and health sector for over 6 years.
Lav Saksena will serve as the secretary general, while Shailesh Gupta of Mid Day will be the deputy president and L. Adimoolam of 'Health and The Antiseptic' the vice-president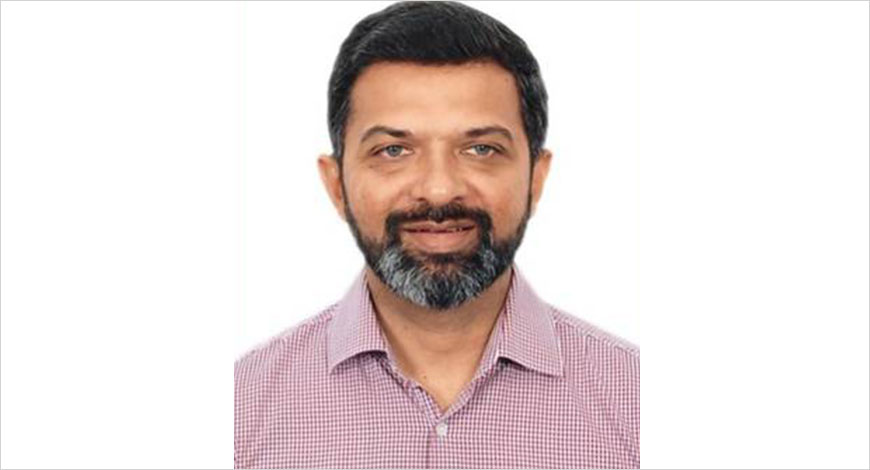 Jayant Mammen Mathew, Executive Editor of Malayala Manorama, was on Friday elected as the President of the Indian Newspaper Society (INS).

Mathew was elected to the top post for the year 2018-19 during the Society's general body meeting held in New Delhi. He succeeds Akila Urankar of Business Standard, the INS reportedly said in a statement.

Lav Saksena will serve as the secretary general, while Shailesh Gupta of Mid Day newspaper will be the deputy president and L. Adimoolam of 'Health and The Antiseptic', the vice-president of the INS. Sharad Saxena of Hindustan Times has been made the organisation's honorary treasurer.

The 41-member executive committee includes Mohan Gupta of Dainik Jagran and Mohit Jain of Economic Times.
exchange4media Group Service
Industry players attribute this slump to several factors, including the after-effects of demonetization and GST.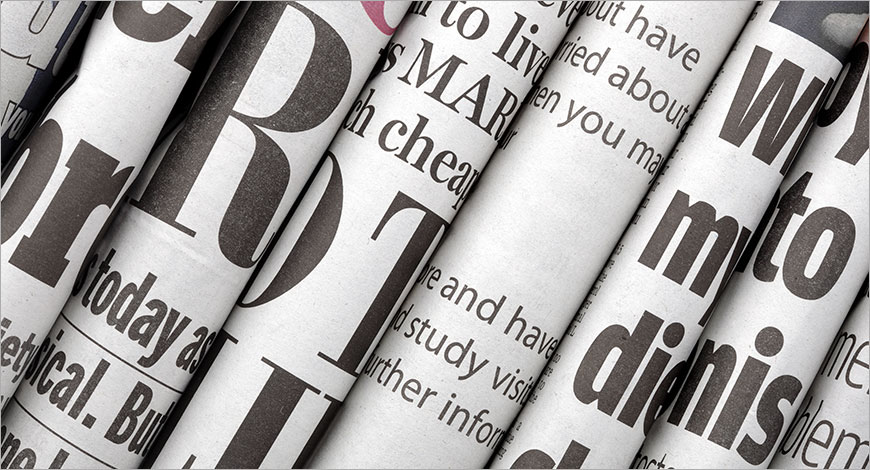 The print industry, it seems, is still reeling under the impact of the double blow of demonetization and GST. According to TAM Media Research data, the ad volume across print industry witnessed a decline of 2 per cent in January-June 2018 as compared to January-June 2017.
The figure represents the combined indexed growth in top 10 advertising categories for the period of January-June 2018. These categories are: two-wheeler, car/jeep, coaching/competitive exam centre, multiple courses, real estate, hospital/clinic, retail outlet-electronics, school, retail outlet-clothing and retail outlet-jewellers.
Industry players attribute this slump to several factors, including the after-effects of demonetization and GST. The figure represents the combined indexed growth in top 10 advertising categories for the period of January-June 2018. These categories are: two-wheeler, car/jeep, coaching/competitive exam centre, multiple courses, real estate, hospital/clinic, retail outlet-electronics, school, retail outlet-clothing and retail outlet-jewellers.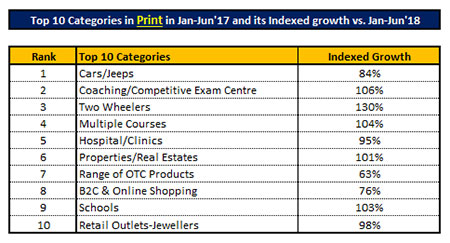 Industry players attribute this slump to several factors, including the after-effects of demonetization and GST.
"There is no denying the fact that overall volumes were affected. This happened due to multiple factors, including the after-effects of demonetization and GST, coupled with an overall macroeconomic and other seasonal trends. Brands were cautious in their marketing plans with regard to campaigns and preferred to focus on specific customer-led topical initiatives, which led to reduced budgets for the print," says PM Balakrishna, Business Head- National Accounts, The Hindu.
However, Balakrishna believes that H2 should rebound strongly with overall macroeconomic sentiment picking up and most companies now seeing the benefits of GST compliance.
"Companies are now planning to unveil their launches and brand campaigns and print will be a very critical medium to boost sales and customer awareness for these campaigns. Print has always been the preferred medium for offers and schemes during the festive period. And with the festive window being slightly larger this time compared to last year, the industry is expected to see a much more buoyant quarter and year ahead," he says.
An industry observer expressed similar thoughts. "January- June 2017 was immediately post demonetization and companies were holding their budgets. Advertisers had become more conscious about their spends and had started spending more on TV and digital to reach maximum number of people. Print also gives you reach, but it is far more expensive than other mediums. Print is very important for a strategic advertising," said the observer, who did not wished to be named.
As per the recent KPMG report, the print sector witnessed a significant adverse impact due to the after effects of demonetization, coupled with a weak advertising demand due to implementation of GST and RERA. This resulted in a growth rate of 3.4 per cent during FY18, which was the lowest in a decade.
Talking about the ad volumes, a senior executive from HT Media said, "The print industry is going through a difficult phase. Newsprint price hike has also hit us badly."
In the list of top 10 categories, car/ jeep segment has seen a dip of 14 per cent, while the coaching segment has grown by 6 per cent.
Vinita Shah, Head-Marketing, Business Development & Analytics for TAM Axis and TAM Sports, explained, "If you compare the top 10 categories of January-June 2017 with January-June 2018, there is not much difference. Also, the storyline gets different when festival season starts. You will see more retail advertising coming in."
Principal Correspondent, exchange4media, Mumbai Sonam reports on the broadcast media and Out of Home (OOH) industry. She has worked across television and cable industry, and in the past has written for travel and lifestyle magazines.
The English Daily announces The Hindu Online Lounge- an experiential store with a varied range of collectibles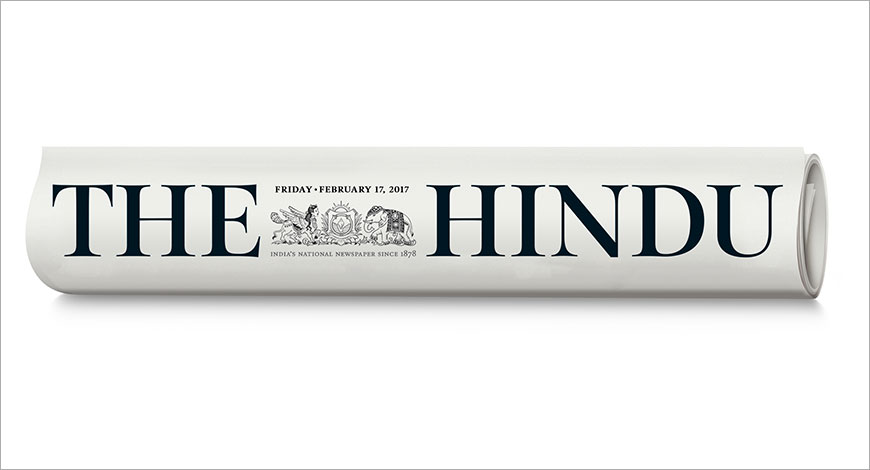 When a newspaper completes 140 years, it stands as a testament to its greatness. The Hindu is began in 1878 with 80 copies is today nearly 16 lakh in print with almost 60 lakh readership pan India. This journey is a result of its loyal readers and hard-earned trust from both consumers and advertisers that this daily newspaper has amassed over the years.
Quoting from the first editorial, titled 'Ourselves', The Hindu aims to always be guided by the principles of "fairness and justice".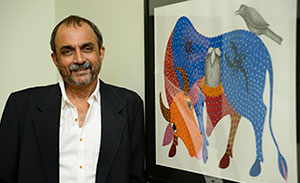 Mukund Padmanabhan, Editor, The Hindu, said, "As a newspaper, we make a clear distinction between news and opinion. We generally refrain from speculation and attempt to verify what we report. Of course, we do make mistakes, but importantly we acknowledge them and apologise for our errors when required. I think all of this is what has contributed to the trust The Hindu commands with its readers and with the public at large."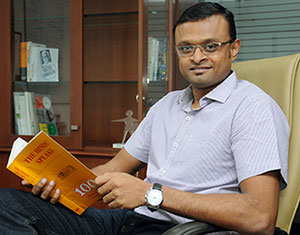 Rajiv Lochan, CEO, The Hindu, said, "140 years is substantial for any institution. 140 years with an unparalleled reputation and a deep sense of duty is rare. This is a moment for us at The Hindu Group to cherish, and pay tribute to our readers, whose continued support and patronage, allows us to remain India's trusted voice."
To commemorate this occasion, the partner fraternity including agents and vendors, celebrated the brand as part of The Hindu family with cakes and banners and wished the best of luck for the future.
In an attempt to give back to its readers one more time, in the coming year, a series of exciting launches have been lined up. As a first of many is the launch of The Hindu Online Lounge at https://lounge.thehindu.com, one of India's first experience stores from a publishing house. In response to the success of the physical store at the Express Avenue Mall in Chennai, the online store will now be available to readers across the country. With a varied range of collectibles available to buy, the store is broadly classified into four categories – The Madras Edition, Personalised Collection, Restored Collection and Handmade Collection.
The store's highlight is the Personalised Collection – a framed front page reprint of The Hindu, be it a significant news milestone (such as the news of Independent India or Team India's 1983 World Cup win) or personal landmark (birthday or anniversary or any special occasion)
The Hindu Group has widened its reach through 'THEME' (The Hindu Group Events, Meets & Experiences), the events vertical of the Group that has touched over 1 million people across 15 cities. The launch of 'Briefcase', an English news bulletin app that delivers five important and exclusive news stories every morning, also holds a special place on The Hindu calendar.
The Twitter hashtag #TheHinduat140 trended on September 20 with many readers reminiscing about their connection with the newspaper.
exchange4media Group Service
The book has 24 case studies, event held in Mumbai graced by who's who of media industry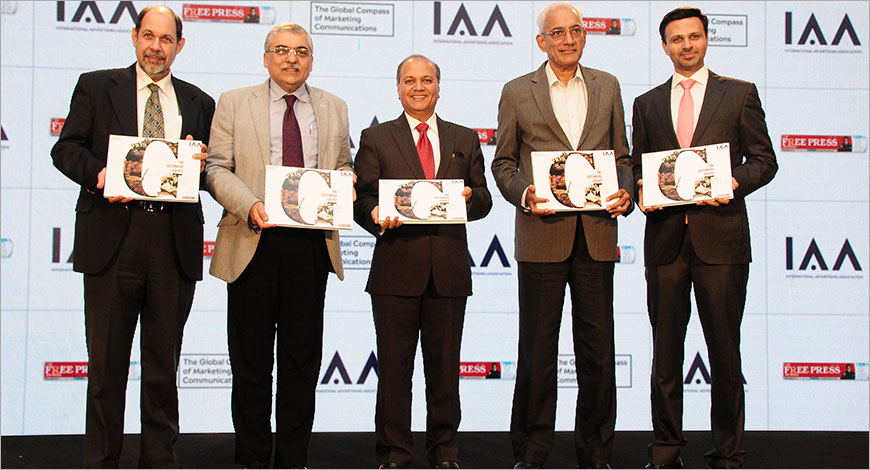 The India Chapter of the International Advertising Association (IAA) launched its collector's item on the print medium titled "The Gutenberg Galaxy" on September 19. The event, powered by The Free Press Journal, was held in Mumbai.
Abhishek Karnani, Director - Free Press Journal Group, says, "The Gutenberg Galaxy" is a celebration of print consists of 24 case studies and 14 thought-provoking articles. Print compels you to read, think and then reflect."
I Venkat, Director, Eenadu, and Past Chairman of Audit Bureau of Circulations spoke on how the print medium is growing (with language editions contributing more), triggers of print growth and how print will continue to grow. ABC has introduced the variant copies audit. He mentioned that the average time spent on dailies is three hours per week across urban and rural and will continue to rise due to a rise in education, a rise in nuclear family and competitive pricing.
A panel discussion on 'Print is Relevant' was moderated by RN Bhaskar, Consulting Editor, Free Press Journal. The panellists were Ashish Bhasin, Chairman & CEO - South Asia, Dentsu Aegis Network; Santosh Padhi, Chief Creative Officer & Co-Founder, Taproot Dentsu and
Ajay Kakkar, CMO, Aditya Birla Capital.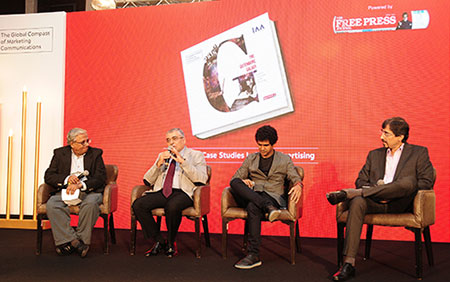 Bhasin says, "Print is here to grow. This Rs 20,000 crore industry cannot be ignored. Gimmicks should not take over innovations. Fundamental innovation is important. We believe in the written word."
Santosh Padhi, CCO - Taproot Dentsu, says, "Creative industry must give the print medium the push it deserves. It is the job of the brand to ensure the ad is read. It is a challenge. We need to bring in storytelling in this medium. If we decide we can bring back the glory of this medium."
Ajay Kakkar, CMO - Aditya Birla Capital, says, "Print touches all the five senses. The touch of print, the feel of print, the smell of print is intoxicating. It allows sharp targeting, immediacy, shelf life, strategy, and more. Long live the print."
exchange4media Group Service