Ranveer & Deepika- The next power couple for brands?
Guest Column: In the past, Bollywood power couples have always been the first choice among brands in India says Pranay Swarup
Deepika Padukone and Ranveer Singh (read: DeepVeer) have tied the knot on November 14 after they took to social media, last month, to announce their wedding dates. The wedding officially marks their entry into an exclusive club of 'Power Couples' which includes the likes of Anushka Sharma-Virat Kohli, Ajay Devgan- Kajol, Akshay Kumar- Twinkle Khanna and Saif Ali Khan-Kareena Kapoor.
By definition, a power couple is a relationship consisting of two individuals who are each successful and influential in their own right. Companies use these couples to gain mass awareness for their brands and products. Brands are aware that consumers and fans show a keen interest in staying up to date with celebrity relationships. They play to this consumer insight by creating campaigns that feature influential couples. And by tapping into a power couple's reach and impact, brands can target each partner's unique following and voice.
In the past, Bollywood Power Couples have always been the first choice among brands in India. This is evident when we look at Anushka-Virat who have appeared and boosted reach for Indian ethnic-wear brand Manyavar, Ajay-Kajol for Lifebuoy, Akshay-Twinkle for PC Jeweller and Saif- Kareena for Metro Shoes, respectively.
Interestingly, Deepika and Ranveer currently work with brands that have conflicting interests. Here are 5 Rival brands that Ranveer and Deepika have endorsed in the past:
1. Make My Trip V/S Go Ibibo Over the course of 2018, Ranveer Singh has appeared in multiple Make My Trip ads, along with Alia Bhatt. Meanwhile, Deepika Padukone is the brand ambassador of Go Ibibo, another app which lets you plan your travel.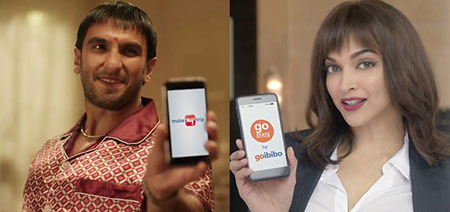 2. Oppo V/S Vivo Amid intense competition in the smart-phone industry, Deepika and Ranveer are seen endorsing Oppo and Vivo respectively.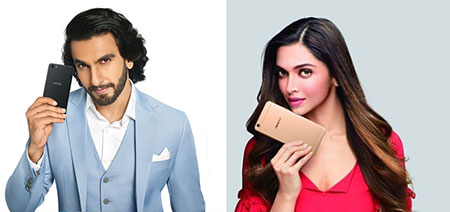 3. Kotak Mahindra V/S Axis Bank In the banking space, Ranveer Singh was appointed as the brand ambassador of Kotak Mahindra Bank earlier this year, while Deepika Padukone has been the brand ambassador of Axis Bank since 2014.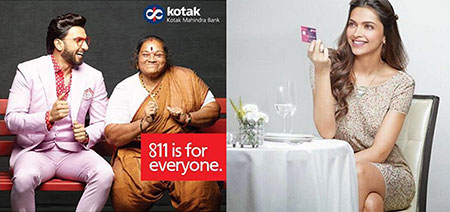 4. L'Oreal V/S Head & Shoulders Deepika, in 2017, was announced as the global ambassador of beauty brand LOréal Paris, joining the likes of Jane Fonda, Blake Lively, and Aishwarya Rai Bachchan. Whereas, Ranveer became the face of anti-dandruff hair-care brand Head & Shoulders in 2016.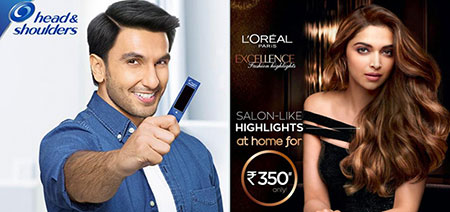 5. Asian Paints V/S Nerolac Deepika Padukone has been closely associated with Asian Paints, while Nerolac Paints roped Ranveer Singh as their brand ambassador.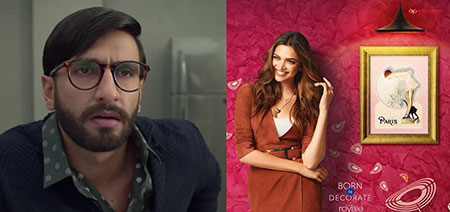 Now, this raises a question; will their past associations affect their future endeavors together? We think not. According to us, between Deepika and Ranveer, there could be three entities, two of them would represent both of them individually and one together as a power couple. The stars could then continue their individual endorsements and take up new businesses together.
Both Deepika and Ranveer have a strong individual impact on consumers and the wedding will only scale up their brand value as a couple. For brands that are trying to target young married couples and youth alike, the combined brand value of DeepVeer would prove to be a very lucrative and tempting opportunity.
Ranveer and Deepika have a combined following of close to 90 million fans on social media. They are the new celebrity royalty couple after Virat-Anushka, we can expect to see them coming together to endorse brands in the clothing, jewelry, fitness, luxury, and home products space
(The author is the Co-Founder and CEO of Chtrbox)
Disclaimer: The views expressed here are solely those of the author and do not in any way represent the views of exchange4media.com.
Co-Founder and CEO of Chtrbox
Women@iProspect will see women leaders discuss issues affecting women at work, challenges faced, how to create a work-life balance, safety and leadership, and more
Digital performance agency from Dentsu Aegis Network, iProspect India, announces an initiative for its women employees. A part of Women@DAN, the initiative, will focus on three essential parameters – safety, gender diversity and leadership.
Women@iProspect will see women leaders discuss issues affecting women at work, challenges faced, how to create a work-life balance etc. The initiative, a regular feature every quarter, will be led by iProspect India's CEO, Rubeena Singh.
The initiative comprises:
Women's Network – Women employees will exchange ideas on how they can grow in their career and become the next women leaders.
Connecting minds – To get an outside POV, a successful women leader from other industry or company will have an interactive session with employees wherein she will talk about her journey to the top.
Therapy day – Women can (anonymously) talk to a counsellor/therapist on how to create a successful work-life balance. And other issues impacting their personal and professional growth.
Identify and mentor – Senior leadership team will identify 2-3 women employees and put them on a fast-track wherein they will be mentored for a year to reach the next level in their career graph.
Talking about the initiative, Singh said, "iProspect has always believed in enriching and helping its employees grow. Through this initiative we want to empower diversity as well as help women reach senior roles with much more confidence. It is sad to see that while women form almost half of India's population, their representation at workforce is very little and it further shrinks at senior levels. At iProspect, we want to change that."
The first session was held on December 10 wherein ICICI Bank's Deputy General Manager – Marketing and Communications, Azmat Habibulla, shared her story. "It is a great initiative undertaken by iProspect and I believe we need such initiatives across boards to help women rise to become leaders of tomorrow. At ICICI too have various initiatives to help women employees overcome challenges that many of them face at certain life stages," she said.
The company believes in equal opportunities for all hence the initiative, titled Women@iProspect it will even see men participating.

exchange4media Group Service
At the e4m IPRCCC media experts, Sanjeev Handa of Maruti Suzuki, Senior Editor Madhavan Narayanan, Indian-Australian Influencer Raj Suri, and Samir Vora of Daily Hunt discuss the topic
At the ninth edition of exchange4media IPRCC Conference that took place on December 13 at the The Leela Kempinski, Gurgaon, media veterans took over the podium to highlight their views on 'how corporate leaders are custodians of the brands reputation.'
Watch the video here, and scroll down to read the full discussion:
Moderating the Session, Madhavan Narayanan, Senior Editor, Writer, Mentor, Consultant put up a question to his fellow panellists on how the whole concept of branding has changed? How is branding today different from what it was 30 years ago? What has been the peculiar change over the years?
Adding to which, Sanjeev Handa, Vice President and Head of Corporate Communications, Maruti Suzuki added branding has not changed much. "Branding to me as I have seen in 18 plus years of my career, it hasn't changed much. Branding might have changed for the eminent writers who have now moved on to version 2, version 3, 4 or 5, which are all technological sides. Now if you go to essence of branding it hasn't changed much. We tend to live with the legacy we have been carrying for long, for example, have I changed my name or has Maruti Suzuki changed its name and the answer is no because that marks the eminent essence of the brand that keeps its customer connected," said Handa.
Contributing to Handa's reply, Raj Suri, Indian-Australian Influencer, Brand Consultant, said, "The branding has not changed much although we are and will always re-invent which is a contradiction. For example, today most CEOs are also a CMO. These CEOs are not on social media but if you see back in Australia there are many CEOs who are very active on all those social media platforms and are talking about philosophy which is totally in sync with the company terms they are working with."
Suri further concluded his answer by giving an example, how social media has played an integral role in bringing out the change in branding.
"Let me give you an example if a CEO posts something on his social media from his personal life, a message is directly delivered to his team mates about his personality which is a win-win situation for the team mates to know more about their CXOs," added Suri.
Samir Vora, CMO, Daily Hunt, also emphasised on how indulgence of social media has played a critical part in this whole scenario of changing era. "In some ways I believe that brands have not changed much, but if you look at the general picture, I think brands have so many movements that I think it has to be true especially when we all know there has been indulgence of social media in defining branding," explained Vora.
Moving on to the next question which Narayanan further emphasised and talked about the gap between the brands and millennials. "What challenges did a brand face or from a CXO perspective how difficult it is to communicate with the newer generation?" asked Narayanan.
Coming from an automobile industry, Handa prompted on the importance of a newer content presented in different way to the millennials. "The challenge is to communicate with the younger generation who are often called as Millennials. They don't want to grab a snackable news but they want it to be served differently. Despite of the fact that we are living in an attention deficit era, millennials are attracted to the conventional yet newer forms of producing content," added Handa.
Adding to the same, Suri said, "According to an Australia data it says the real growth engine is in small business. Let me give you an example of a client, they started as a real estate company, these guys were built on social media, they started talking about the properties, they were not controlled by the topic. They started from bottom and went up to build the principles."
He concluded his statement further saying, "When you have not grown up yourselves as millennials, you are under-estimating yourself."
Further talking about the brand's image and reputation, Vora gave the instances and couple of examples of brands who stood out and spoke about their image and work. "There is a fabulous example of Zomato and their series of advertisements which was loved by few and criticised by few. But the brand stood for themselves, spoke about their work, cleared the misunderstandings and delivered what they wanted to," he added.
Further discussing about how the trust is maintained among the multiple stakeholder, Vora added, "Trust becomes a very important factor. From a content relationship point of view we only work with the branded ones. It is important when brand goes on digital it is very important to work with the right publishers."
There has always been a window between CXO and the employers, to maintain that gap, the employers and CXO needs to be on the same page for better understandings.
"2018 has been a learning and what have saved us is the fact that we were transparent, communicated very clearly for both internal and external stakeholders. For CXO the authenticity and trust will have connection with the customer directly. Today's world is tech driven, people have actual and virtual presence, for CXO to be successful it is important that CXO has to make sure that virtual becomes the real," said Vora.
Adding to the same, Vora added, "I have been lucky to work with Umang Bedi. For him his employers come first because if employers are happy then customers are happy and by product becomes successful automatically."

exchange4media Group Service
At the IPRCCC 2018, RJ Khurafati Nitin and Charles 'Biharilal' Thomson spoke about the battle for audience attention, consumption of content outside India and the YouTube phenomenon
At IPRCCC, 2018 in New Delhi, the audience witnessed to an informal dialogue on mediums of communication between renowned RJ Khurafati Nitin and Charles 'Biharilal' Thomson. The conversation started off from language, war for audience attention, media and widespread phenomena YouTube.
Watch the video or continue reading:
Nitin asked if Thomson found the digital world to be cluttered with too much happening. He asked, "What works, what doesn't work? There's no formula to it." Thomson from his experience insisted on a success formula. "YouTube works on algorithms. There's an interesting science behind it as well. I tell everyone whenever they put content online it should bring a smile on the face of the viewer. The chances of it going viral increase as well."
The conversation moved to mediums where Nitin pondered out loud if war amongst social, television, radio and print exists. "Each has its own space and can't eat into the other's space." As it turns out there is a friction in communicating to people. That's the real war. Medium is going to evolve as pointed out by one of the members in the audience.
Talking of digital, the increasing dependence on YouTube amongst the youth is another widespread phenomena, Thomson pointed out from his experiences. He came across a smart 16 year-old from England and her brother. "What dawned on me was her knowledge was limited to books (during exams) and YouTube. She had zero knowledge outside YouTube. So as we move down the age group we see that their reality is completely different." Then there is the challenge of monetising digital content Thomson observed.
Also with telecom players offering Netflix and Amazon Prime Video India free for the first few months, there is a huge consumption of content with no relation to India, as pointed out by Thomson. "The Indian youth is absorbing a huge amount of content which has no relationship to India. There is a huge change happening. Also, foreigners are picking up on India a lot faster than local Indians,' he commented.
He shared an example of how an OTT service provider Vuclip has taken on and beaten Netflix in Indonesia, Malaysia and Singapore by offering diverse content of Tamil, regional and Korean content. It has picked up a large library over a period of time.
The conversation again shifted to YouTube and every youngsters' obsession with it. "Every young kid is becoming a YouTuber. One out of two has spark and rise. They are now the most influential people in the country," Thomson remarked.
The other thing Thomson shared about YouTube was the search result for 'Hindi YouTuber' which he observed to be quite amazing, both on reach and audience front. "The top Hindi YouTuber is getting almost 20mn subscribers. It is a fast-changing world."
In the flow of the conversation, he actually mentioned how India is 'tailor-made' for him as every person in the village recognises him due to his popular character Biharilal.
The session was concluded on the lines that there will be a constant change in media, but all of them will co-exist whether its radio, digital, print and radio. Nitin summed it, "The charm of a newspaper will never go away. Kabhi koi aage kabhi koi peeche (sometime the medium will be ahead or behind each other).
exchange4media Group Service
Prof Ujjwal Chowdhury, Media Dean-Pearl Academy; Nitin Mantri, CEO of Avian Media; Jaya Prasad, MD, Serviceplan India; and Karan Rajpal, Chief Digital Marketing, Dalmia Group discuss the topic
The ninth edition of exchange4media's India PR & Corporate Communications Conference (IPRCCC) 2018 held in Gurugram on Thursday saw experts coming together to discuss 'Developing effective PR and communication skills in times of digital media, integrated communication, and fragmented audience attention.'
The session was moderated by Prof Ujjwal Chowdhury, Media Dean-Pearl Academy. The panellists were Nitin Mantri, CEO of Avian Media; Jaya Prasad, MD, Serviceplan India; and Karan Rajpal, Chief Digital Marketing, Dalmia Group.
Watch the session here and scroll down to read:

Initiating the discussion, Ujjwal Chowdhury spoke about the short film named Shindoor Khela that was launched by the Times of India to promote gender equality and how the film brought Bengali women close to brand TOI. "Story telling is becoming a part and parcel of every communication," said Chowdhury.
The panel went on to discuss the skill sets required in today's young PR professionals.
"Traditional PR industry and PR model doesn't exist anymore. The business we are in is about branded content," said Nitin Mantri. He spoke about different formats of branded content.
"Change in skills is just not about pitching to a journalist. Today, it is all about how you tell a right story. One of the biggest talents that agencies are looking for is people with data analytics skills," said Nitin Mantri.
Speaking on the skill set, Karan Rajpal said, "The skills remain the same, which is understanding the crux of anything you want to tell your audience. The number of intermediators involved in it earlier is reducing big time. When I hire a candidate, I look for the ability to master the language they need to speak to the audience."
Jaya Prasad said that the skills she looks in a candidate are confidence and content knowledge.
Talking about the requirements in new age PR communication profession, Mantri said, "Today insights and analytics are going to play a major part as we tell stories. I think predictive analysis is going to be the future."
Rajpal opined that "everything that is interesting us as a professional might not interest the audience."
When asked about the word of caution she would like to put forward to young PR women professionals, Prasad said, "Don't look for sweet spots in your working place and be careful with middle-aged men."
exchange4media Group Service
Sunetra Choudhary of NDTV 24/7, Bhupendra Chaubey of CNN News18 and Nilanjana Bhaduri Jha of HT Digital Streams came together to discuss the subject
Three stalwarts from the media industry, Sunetra Choudhary, Political editor, NDTV 24/7, Bhupendra Chaubey, Executive Editor, CNN News18 and Nilanjana Bhaduri Jha, Chief Content Officer, HT Digital Streams came together along with Actor, Anchor and YouTuber Charles Thomson to discuss the subject--Media penetration and how to ensure authenticity and credibility of information at IPRCCC, 2018 in New Delhi.
Sunetra Choudhary who anchors the show 'Reality check' on NDTV 24/7, said, "Fake news is very relevant to what we do, it is the biggest problem today thanks to Donald Trump. In fact everybody is trying to counter fake news." Explaining what an organization can do to counter it, she added, "You don't need a huge team of fact checkers to tackle fake news, simple steps can help. For e.g. If a leader has a rally today and claims every household in the village here has electricity, all we need to do is tell our reporters to go there and check, get them to talk to people and then convey what they say to the viewers. Old fashioned journalism goes a long way in tackling fake news."
Adding to that, Bhupendra Chaubey said, "The biggest challenge before conventional journalists is the fact that the gap between conventional PR and the truth is diminishing quickly. The only way to deal with fake news is to make one-self more aware. We live in times when even the data put out by the government can be interpreted in multiple ways. If there is no sanctity even as far as data is concerned, then how do you differentiate between real and fake news. Personally I never believe any data or information that comes to me via Twitter or Whatsapp --I go by my reporter or verify it myself. Often journalists become a victim of fake news while in the attempt of breaking the story first."
Nilanjana Bhaduri Jha, who has set up three of India's premier digital newsrooms, said, "Good journalism takes care of 90% of the filters you need to counter fake news. Often we see a building collapse in Czechoslovakia or some other part of the world being passed on as the footage of a building collapse in Mumbai. Every journalist who works in a newsroom like mine ensures that the news goes through the filters. We trust our own reporters, and even credible news agencies. If a piece of news or video is not verified by our journalists, we don't run them. We have seen on many occasions other portals blindly copy what we have put out without any attribution, while it doesn't affect us in a big way, it does affect their credibility."
exchange4media Group Service
Panel discussion at the ninth edition of exchange4media's India PR & Corporate Communications Conference (IPRCCC) 2018
The ninth edition of exchange4media's India PR & Corporate Communications Conference (IPRCCC) 2018 held in Gurugram on Thursday saw experts coming together to discuss 'Innovation a key to achieve PR success'. The discussion revolved around how Artificial Intelligence (AI) is redefining the marketing and communication industry and how to device a perfect strategy for brand management as well as manage crisis communication.
The session was moderated by Raj Suri, Indian-Australian influencer & brand consultant. The panelists were John Bailey, Partner, Managing Director, Ketchum Singapore; Dilip Cherian, Founding Partner & Group Chairman, Perfect Relations; Nikhil Dey, President, Genesis BM; and Ashwani Singla, Founder Managing Partner, Astrum.
Watch the session here and scroll down to read:
Initiating the discussion with how AI ties up with crisis management and communication industry, Singla said, "To make your communication relevant, you need to understand the audiences to whom you want to communicate so that you can frame your dialogue in the right manner. We are living in a world where we transact in real time, which means that every technology that we interact with is in some way tracking the behaviour and capturing that pattern, far better than ever before. The power of computing and machine learning is now getting us from an insight-based communication to a foresight-based communication."
Talking further about how emerging technology is the biggest advantage that one can use, Singla said, "There are over 70,000 searches per second in the world on Google, 70,000-plus Instagram posts per second and over 9,000 posts per second on Twitter. We need to use the insight that AI is capturing to make better content. I completely agree that there is no better preparedness for crisis than to do what is right. If we live for a purpose and drive everything towards the purpose, we are creating a positive memento which allows us to deal with crisis."
Talking about how fake news has become a problem across industries and what we could do as individuals to tackle the problem, Dey said, "The first thing I would urge us to do is open our minds to different point of views. If we are tolerant of different point of views, we are less likely to be hitting the share button. The second thing we could do is that every time we are passing on some content, we should take 30 seconds to validate whether a particular news is true. The third thing is to make this a dinner table conversation and talk about it. The last thing would be to seek out people who are smarter than you on the subject."
He further said, "As communicators, enable your organisations to respond fast. We need to introduce code of conducts on content creation so we know whether a particular piece should be shared or not. There is much fake news which is patently wrong about brands that can be tackled with a healthy dose of humour."
Talking about how Artificial Intelligence (AI) is going to change the communication industry, Cherian said, "Artificial is what enhances real intelligence. When you talk of AI today, the smart thing is to treat it as an enhancement of your competence and capability. So you have somebody who is second guessing and then forecasting for you to give a foretaste of what is coming your way. If we don't automate what is a routine part of your business, we are going to be replaced by a pedestrian form of AI."
Concluding the session, Bailey said, "Algorithms are set up to show you more of what you like and is only going to grow in future."
He gave an advice on how brands can prevent fake news from spreading. "What you can do as a brand or a company is control what you can control. That starts with being true to yourself. Be who you are and be proud of it," Bailey said.
exchange4media Group Service
John Bailey, Managing Director & Partner, Ketchum Singapore, delivered the keynote address at exchange4media's India PR & Corporate Communications Conference (IPRCCC) 2018
John Bailey, Managing Director & Partner, Ketchum Singapore, delivered the keynote address at the ninth edition of exchange4media's India PR & Corporate Communications Conference (IPRCCC) 2018 held in Gurugram on Thursday.
Addressing the PR & corporate communications fraternity, Bailey spoke about the challenge of being "always on" in the current digital age to manage and protect the reputation of brands and personalities.
Watch the session here and scroll down to read:
He started the session talking about building and descending reputation. He said that this era is the "most challenging" in years for the PR industry, and social media plays a vital role in it. The challenges of mobility and visibility contributes side by side, added Bailey.
Explaining the difference brought in by the changing times, Bailey, through examples, walked the audience through the transition.
"Today, PR plays a more important role as the reputation of brands and personalities are on the brim due to the presence of multiple screens, and most importantly, videos and pictures," Bailey said, adding that these mediums create perceptions in just no time.
"5G network is operating in many countries right now. Some parts of the world, especially developing countries, are undergoing spectrum upgradation. The free capacity has even aggregated the role of PR & corporate communications. Now with the popularity of live streaming, brand positioning is hampered in less than a minute's time," said Bailey.
He also mentioned about an incident where credit card information of 1.4 million customers of a popular international airlines was compromised.
"We live in an era of pictures and videos going live on social media. And so brand reputation should be watched very closely," suggested Bailey.
exchange4media Group Service
Madan Bahal conferred with Lifetime Achievement Award
The exchange4media group celebrated the best of work in the Public Relations and Corporate Communications world in Gurgaon on Thursday with the India PR & Corporate Communications Awards. These awards recognise the contribution and path-breaking initiatives of PR Consultancies and Corporate Communications teams.
In this year's edition of e4m IPRCCA, 39 metals and 9 special awards were given out. The big winner this year was Adfactors PR that won two gold, one silver and thus emerging as the Large PR Consultancy of the Year. Genesis Burson-Marstellar took home a total of 5 metals comprising 3 gold, 1 bronze and 1 silver. Among the corporates, Godrej picked up 5 metals consisting 2 gold, 2 silver and 1 bronze.
Viacom 18 won the In-House Team of the Year with two gold metals. Madan Bahal was conferred with the Lifetime Achievement Award for his immense contribution to the industry.
PR Pundit, MSL, Brand-comm PR, AvianWE and Fleishman Hillard were among other winners.
Further, Kunal Kishore of Value 360 Communications won the PR Professional of the Year award. And Godrej's Deepak Kapoor won the Young PR Professional of the Year award.
The complete list of winners can be seen below:

exchange4media Group Service
GM of OnePlus India speaks about performance in 2018, expansion plans, entry in the US market, the evolution of its marketing strategy and the need to take full ownership of the customer experience
Chinese smartphone maker OnePlus completed five years in India. On that occasion it partnered with sportscar and supercar maker McLaren luxury and launched the 'OnePlus 6T McLaren Edition' which is packed with intricate design and a powerful and versatile experience.
Vikas Agarwal, General Manager, OnePlus India is confident about this unique proposition. But more than product launch, Agarwal emphasises customer experience which automatically elevates brand experience amongst its users. In a chat with exchange4media he explains how OnePlus is working towards taking full ownership of customer experience. He also shares his insight on marketing trends of 2018 and how the year has been for the smartphone maker.
Excerpts
After Star Wars and Avenger why the association with Mclaren?
With Mclaren we see a huge overlap with our brand philosophy. Mclaren is known for innovation, speed and what they have done in the world of F1 have become iconic brands. Like Mclaren we are passionate about speed and performance. The limited edition which will appeal to a certain set of users. We do the allocation based on potential audience groups in different markets. We create unique propositions for different audience groups and try to interact with them in a meaningful way.
Plan for more stores?
We already have 10 operational stores. The 11th store willbe opened in Delhi. It is one of the biggest experience stores. We have two experience stores in Bangalore and Chennai. We are looking to open more stores in Hyderabad, Pune and Mumbai in the future.
How has 2018 been for OnePlus?
It has been the best year. For the first time, we became the number 1 brand in the premium category for last two quarters. We will continue in the third quarter as well. We have a 37 per cent share. One out of three customers is buying OnePlus One. This is with a largely online presence.
Globally, we have partnered with T-Mobile this year which has given us access to 5600 stores in the US market. This helps to create brand awareness as the US is the most competitive market and therefore, it's not easy to break in. We are expecting the OnePlus brand to become a mainstream brand in the US market. India accounts for one third of global business.
Within India, Mumbai is the biggest market. Almost 60-65 per cent of sales come from top 7-8 cities. We want to saturate those markets where we are already present.
Any plans to move to tier-II and III cities from where the next wave of growth is said to come?
We don't have meaningful penetration in those cities. We are a young brand with limited resources. Having said that, we have partnered with Reliance Digital as well through which we are present in 250 stores across India. Next year we will be present in all 600 stores. That will give us a much higher visibility. We are taking small steps to increase presence. We are still concentrating on the top markets.
How has your marketing strategy evolved especially now with celebrities like Amitabh Bachchan in your campaigns?
Marketing budget is limited. We are still conservative about how we utilise our market resources. Amitabh Bachchan is not the primary marketing strategy for us. Our ambassadors are always our users. We look at ways in giving voice to their opinion. That's why we are big on social media. That's where we amplify true sentiment of the market. Also we are trying to take full ownership of customer experience.
We have started internalising all customer service channels; moved our contact centres from Philippines to India and our service centres from outsourced partners to OnePlus. India is the contact centre for entire world. It's all company-owned and operated. This is because it's important to give full customer experience.
Today I have 70 per cent completion rate in an hour which is not possible in outsourced model. We have engagement activities like coffee and Ps4 to ensure customers have a good time. This is a routine operation in a way. But it also works like marketing. This creates a huge impact and word-of -mouth. We are focusing on how to delight customer we are past that stage where we just give service. We create positive experience.
Coming to marketing trends what really caught on in premium smartphone category in 2018?
One of the trends that have emerged explicitly is the content provision. It used to be a traditional-media heavy industry which has toned down this year. From information, it is moving to education-driven. Now brands try to educate users about their product, to be involved emotionally by integrating themselves with the content they believe in. They are creating brand identity.
They have become more focused on online channels where customer reviews play a key role. They are careful that they are meeting customer's expectation. People have started leveraging digital media in innovative ways. Focus is more on engaging channels like Instagram and YouTube. In fact Instagram has become a mainstream channel. Brands use traditional media for sales driven promotions and launches. Hence media mix is changing.
How does it look in 2019?
This will further accelerate. It has just started. It has not gone mainstream yet. The overall mix is likely to shift to digital channels (where you can engage with users) in the near future. I am already seeing brands organise their own events that give fresh experience to the users. They are organising more community meet ups to understand users' requirement better. The idea is to have two way communication.
Experience-driven marketing will definitely happen. We were the first to open an experience store in Bangalore. After us, three new showrooms have come from Oppo Vivo and Samsung. So we showed the way to the industry. Brands are adopting that approach.
Madhuwanti reports on marketing, OTT and radio with a focus on trends. Based in Mumbai, she has worked across lifestyle, culture, television and retail industry.
Saumya Tyagi, Marketing Director, Tetra Pak, South Asia, tells us how packaging has evolved as a communication channel and the latest innovation from Tetra Pak
Leading food processing and packaging solutions company Tetra Pak has introduced Smart Packaging in India. Indian brand owners now have access to a complete smart packaging ecosystem built around Dynamic QR codes which allows each package to be tracked, monitored and interacted with throughout the supply chain, creating new opportunities for efficient stock management, distribution and automation. It also creates new opportunities for consumer interaction.
Saumya Tyagi, Marketing Director, Tetra Pak South Asia, explains, "Dynamic QR code is what lies at the heart of 'Smart Packaging'. It embeds every pack with a unique identity, allowing interaction between manufacturers, brand owners and consumers throughout the lifecycle of the pack." He adds, "This is unlike a static QR code, which allows only for the same code to be printed on all packs and leaving very little room for flexibility of use. A Dynamic QR Code, on the other hand, can take the user to different destination websites each time it is scanned. So, the same pack can direct the user to a list of ingredients one week, a promotional campaign the following week, and to addresses of a recycling centre the week after."
With the launch of Smart Packaging in India, brand owners now have access to a complete ecosystem built around Dynamic QR codes. Tetra Pak's digital package offer includes three components: code generation and printing on packages, a secure cloud solution for managing the data collected, and a consumer-facing front-end in the form of an app or a microsite on the internet, or both.
Explaining how brands can use this technology, he says, "The brands will be able to deploy this revolutionary technology in many ways. For example, they can use it to engage with consumers in a unique and personalised way, or to understand consumption patterns and unearth deeper consumer insights. They can use it to can make traceability more transparent and share information with consumers about ingredients right down to the farm that a product comes from. They can even use it through the post-consumer recycling value chain by providing links to the location of the nearest recycling centre."
With the number of smartphone users increasing, Tyagi says a technology like Smart Packaging can be used for consumer promotion, supply chain traceability, food ingredients traceability, packaging material traceability, consumer behaviour analytics and many other purposes.
Another feature is PICCO - a Tetra Pak solution that enables the printing of unique QR codes on every package, enabling enhanced consumer interaction and full traceability. PICCO offers customers both the printing and the data structure around each code. This is unlike the traditional solution where the same code is printed on a range of packages or packaging material. India is one of three Tetra Pak markets to invest in specialised PICCO printing technology for printing the Dynamic QR codes, which will be done at Tetra Pak India's manufacturing facility at Chakan, near Pune. Tetra Pak is building the ecosystem in-house, from developing the QR codes, to designing the related apps as well as helping brands gain deeper consumer insights through analytics.
The company is ready to pilot this technology with two leading F&B brands in the country. The brands will be able to deploy this technology to not just engage with consumers in a unique and personalised way, but also to understand consumption patterns and unearth deeper consumer insights. For consumers, this technology allows potential use of augmented reality, real time promotions, downloadable content and more, making it a more exciting experience.
The Evolution of Packaging In India
Tetra Pak entered India 30 years ago when packaging was basic and nascent and a solution to a problem, ie. preventing food wastage and allowing transport. Today, Tyagi says that packaging is a communication channel that is evolving faster than ever before. He says, " At Tetra Pak, we have gone from one packaging format when we started our journey, to more than 25 variants today offering different packaging volumes, shape, sizes, functionality ('drink from' and 'pour from' experience) and even visual effects. In terms of the categories as well we have gone from operating in just white Milk and juices & nectars to opening up several new categories like coconut water, ORS, Dairy alternatives, value-added dairy, spirits and more."
He adds, "The biggest challenge really was to raise awareness about the power of the aseptic packaging and processing technology from a food safety and accessibility point of view. Today, we are at an inflection point, with increasing awareness about food safety, sustainability and a growing need for convenience and on-the-go consumption. This and many more such factors have contributed to Tetra Pak cartons becoming ubiquitous today. That said, if we look at the size of the F&B industry, we have only just touched the tip of the iceberg."

Tyagi says that innovation ingrained in the company's DNA has helped the company partner with the leading brands in the F&B industry and support them through Tetra Pak's integrated solutions across packaging, processing and services. Globally Tetra Pak churns out about 10 innovations a year, and this is not just limited to packaging material. In the last two to three years, the company has introduced eight to nine new variations in India, including shapes, sizes, caps & closure that has helped achieve higher speeds in packaging equipment and more.

Tyagi says, "On one hand, we help our customers deliver varied products from juices & nectars, dairy products like milkshakes, paneer, cheese, khoya, niche products like coconut water, ORS, breakfast drinks, spirits and more to meet consumer needs. On the other hand, we help them stand out on the shelves and deliver liquid foods in a safe, convenient and attractive packaging through different packaging formats. In addition, through our services business, we help them improve performance, optimise costs and ensure food safety throughout the lifecycle of their operation."
He continues, "It's really the overall value that we deliver to our customers through or integrated solutions approach. With the launch of Smart Packaging, for example, customers can now customize promotional campaigns for consumers while the campaign is live, making it more effective. Similarly, through technological interventions like Predictive Maintenance, customers can avoid unplanned downtime, thereby helping reduce costs."
In terms of growth, Tetra Pak, in packaging terms, has been adding 1 bn packs to its sales every year over the last two to three years, with the processing business showing "record sales" and the services business showing strong double-digit growth. Currently in India, Tetra Pak has over 150 customers in India and has been adding more than 15 packaging customers every year for the past three years.
Looking ahead, Tyagi says, "We will continue to strengthen our business, riding on the growth of India's food market which is expected to touch USD 540 billion by 2020 and has been growing at 12% annually for the past 5 years. F&B brands are looking to capitalise on this growth and increasingly looking for partners that can offer integrated packaging solutions. We are fully geared up for this opportunity."