#MeToo: #TimesUp for Two Editors; Agency CEO Gets Into Action
TOI Hyderabad Editor sent on Administrative Leave, Gautam Adhikari resigns as a senior fellow of a think tank, Ashish Bhasin writes to all DAN employees and more
The #MeToo movement grew stronger on Tuesday with more women across coming out with their experiences and many men being held responsible for their actions. One senior editor was sent on administrative leave, another editor resigned from an honorary position, and advertising industry veteran Ashish Bhasin spoke about zero tolerance towards sexual harassment.
India's leading national daily - Times of India - took action against its Hyderabad editor KR Sreenivas who is facing allegations of sexual misconduct. The organisation issued a statement that said that Sreenivas has been sent on 'administrative leave' till an inquiry is conducted and completed against him.
DNA Mumbai founding editor, Gautam Adhikari, resigned as a senior fellow of the Center for American Progress (CAP) after he was accused in multiple allegations of sexual misconduct.
The Editors Guild of India too took cognisance of the movement which has put the spotlight on the dark underbelly of India's newsrooms. In a statement, the Editors Guild of India condemned the predatory conduct by men. "It is worse when the perpetrators also happen to be enjoying senior or supervisory positions in the profession," the statement read. The Guild called upon "media organisations to hold unbiased inquiries into all reported cases."
Not just the print industry, but advertising agencies too launched into action with Ashish Bhasin, Chairman & CEO - South Asia, Dentsu Aegis Network sending out a company-wide email on DAN's zero-tolerance policy.
In the email (accessed by exchange4media) he said, "I want to reach out to all employees of DAN India and reiterate that as an organisation we do not and WILL NOT accept anything but professional behaviour at the workplace. We are committed to taking any complaint in this context to a speedy conclusion post thorough investigation. Any employee found guilty of inappropriate behaviour will face disciplinary action, including Immediate Termination from services." An employee of iProspect India (part of DAN) is facing allegations of sexual misconduct at a previous organisation.
The Complex HR Problem
The allegations that have surfaced against some of the men has thrown up a gaping hole in the recruitment process across the industry. One agency head told exchange4media that while a prospective employer conducts reference checks about a candidate, at no point is any enquiry made about sexual misconduct in particular.
In a couple of cases that have emerged over the last few days employers are grappling with the procedural complexities that the #MeToo movement has raised. An organisation is in a quandary over taking up an allegation suo moto when the complaints are shared on social media and not directly with the employer of the person facing the allegations. The other complexity that one agency head mentioned is the protocol to follow when an allegation is made against an employee for an incident that took place at a different organisation.
One of the agencies whose employee is facing allegations of sexual harassment is in the process of figuring out the exact procedure to conduct an investigation into the case. "Details of a previous such investigation are confidential. So we need to approach the previous employer to find out the details of that investigation, if there was one. In addition, if the previous employer investigated the case and appropriate action was taken against the person, then, by law the same person cannot be punished for the same case," an agency insider told exchange4media.
A senior HR professional that exchange4media consulted with on the policy for such cases said that the current employer can "on moral grounds, still ask the employee to submit a clarification to them, assuring them that the issue was dealt with before the person moved into the new organisation."
Susmita is a digital marketing reporter at exchange4media. She writes on latest developments in the ever-changing world of digital media and in-depth stories on all things advertising.
Birthday wishes from fans and celebrities to brands have been pouring on social media for Thailavaa
The man of masses – Rajinikanth has turned 68 today. The super star seemed to be unstoppable as his latest magnum opus, 2.0 became the highest box office grosser of 2018 with movie earning Rs 600+ crore at global box office.
The movie which was released on November 29th has become the second all-time grosser at Singapore box office. According to media reports, Rajini's June 2018 release Kaala became the seventh highest grossing Tamil Film of all time.
Birthday wishes from fans and celebrities to brands have been pouring on social media for Thailavaa. Celebrities such as Mohanlal, Virendra Sehwag, and brands such as Jet Airways and YouTube, have taken their birthday wishes to social media handles to wish the superstar.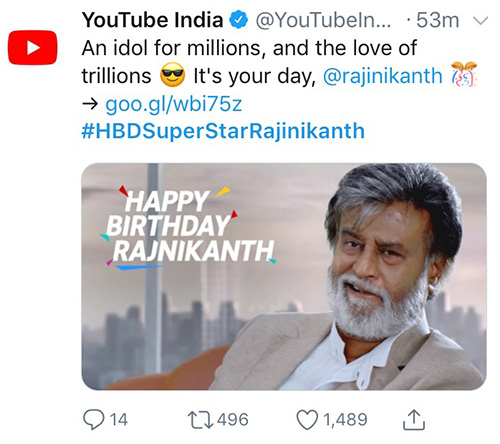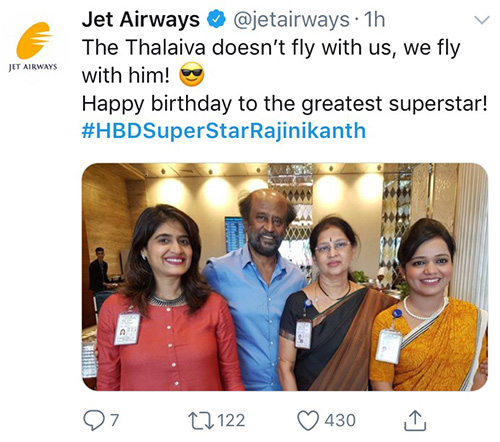 Thalivaa as he is fondly known, Rajinikanth defies the logic that superstars of today follow, he hasn't endorsed any brands in his 43 year-long film career, except for one regional Cola brand at the beginning of his career, almost 40 years ago. He is among the highest paid actors in Asiis and has metamorphosed into a phenomenon and one-man brand, over the years. Though the actor is not associated with any brands, his movies garner brand associations for whopping amounts, and the satellite and digital rights of his movies fetch a heavy price.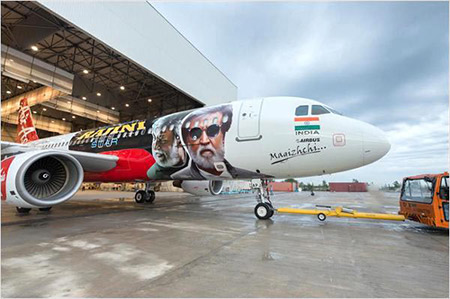 His 2016 release Kabali took brand promotions to a different level with Air Asia introducing a flight with Kabali posters and running special flights between Chennai, Bangkok, and Kuala Lumpur. Muthoot Fincorp introduced Kabali silver coins and within weeks the company sold 102 kgs of silver coins collecting around Rs 7.5 million.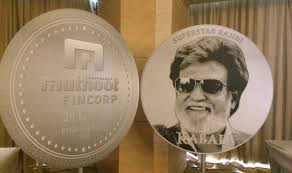 Brands such as Cadbury, Nippon paints were associated with Super star's Kaala movie. For 2.0 brands like Hero Honda, Lalithaa Jewellery, ExxoMobil were the brand partners.
Upcoming Movie and Social media reactions
The shooting of Rajinikanth's 165th Film Pettah is progressing and the first look poster has garnered eyeballs and appreciation already. The teaser of the movie was released today and has crossed 1.6 million+ views in 3 hours of the release.
Watch here:
According to media reports, Petta is said to be a gangster action movie on the lines of his 90s blockbuster movie Baashha. Rajini fans weren't quite impressed with Kaala and Kabali where the superstar donned the role of an aged gangster as it didn't much mass pulling elements. According to reports, Karthik Subbaraj will add all necessary Rajini elements in the movie like punch dialogues, intro songs etc.
exchange4media Group Service
The cricketer, fondly known as Yuvi, turned 37 on Wednesday
Yuvraj Singh, who has been a warrior on the cricket field as well as life, turned 37 on Wednesday. Yuvi, as he is fondly known, holds the record of fastest T20 50 that he scored in just 12 balls against England during the 2007 ICC World T20 championship. He started his career with the Punjab Under-16 team at the age of 13.
Yuvi was diagnosed with cancer in 2012, after which he was away from the cricket field for some time. But he made a successful comeback in 2013.
As the cricketer turned 37, wishes poured in for him from fans and celebrities, including Sachin Tendulkar, Virendra Sehwag, Cheteshwar Pujara, Siddharth Kaul and Vinod Kambli.
Tendulkar, on his Twitter account, posted a photograph of him along with Yuvraj and wrote, "The spirit with which you have overcome every obstacle in life both on and off the field is the stuff of legends."
On Yuvraj's special day, we take a look at his association with the word of advertising. Here's his journey:
Xbox360
Yuvraj featured in the ad along with actor Akshay Kumar.
Birla Sun Life
In the Birla Sun Life Insurance ad of 2012, Yuvi narrated his fight with cancer. He was seen saying that when his health became an issue, he never asked himself "Why me?", just as he did not when he was adjudged the Man of the Tournament for ICC World Cup. The thought that he left behind was that you can't predict the future. But you can at least plan for it.
Whirlpool
Reebok
ITC Classmate

Nippo Battery
Pepsi
Hero Honda
Parachute
Yuvraj Singh has also been brand ambassador for LG Electronics India Pvt. Ltd, Donear Suitings & Shirtings, Sporty Solutionz, TI Cycles and Puma.
exchange4media Group Service
CEO Mark Read said WPP will not take up more mergers of companies. He was speaking at the company's Investor Day presentation
WPP's radical evolution plan laid down at the Investor Day on Tuesday indicates that following the hiring freeze, the network will be cutting jobs globally. It was revealed that WPP's restructuring will include shutting 80 offices globally and combining operations of a further 100 in locations where business is slow.
"Fewer businesses make it easier to manage, but unfortunately there will be job losses from bringing businesses together," said Mark Read, CEO, WPP, during his presentation. The company is said to cut 3,500 of its 1,34,000 global workforce. WPP has 400 ad businesses in more than 3,000 offices in 112 countries.
Responding to a question from an analyst about further consolidation in the WPP group of companies, Read clarified that WPP will not be looking at more mergers for now.
Over the last three months, WPP has reviewed and restructured agencies that make up for 23 per cent of its revenue. Read called the mergers of VML with Y&R and Wunderman with JWT "tough choices" and added that the merged companies should be able to provide more integrated solutions to clients.
"There is nothing worse than running a company in a so-called traditional area that is doomed forever to the client," he said.
In this new radical phase of WPP, Read said, he is banning the use of the word "digital" and veering more towards technology. WPP is positioning itself as a "creative transformation company" that uses "creativity as differentiator and technology as growth engine," Read said.
"Any company that is not deeply investing in technology will not be successful in the next 5 or 10 or 25 years. I think it is incumbent on us to do that in the right way," he added.
Talking about the mergers that WPP has undertaken recently, Read said the artificial difference between analog and digital is not helpful in understanding the world. "Removing those distinctions helps you get to the answer better," he said.
Making a reference to ex-CEO Sir Martin Sorrell's reference to Google and Facebook as frenemies, Read said those companies should be treated as "technology partners not as frenemies; as partners and also increasingly and interestingly as clients."
He further said that WPP's technology strategy is to become a developer of technology and not just an integrator. "We cannot compete with Google or Adobe in terms of technology, but we can leverage the spend of many large partners and stitch their systems together to give us what we need."
exchange4media Group Service
Rakesh Kaul, President and Chief Executive, Consumer Products Division & CEO EVOK Retail, HSIL Limited spoke to us about the first-ever TVC for their water heater brand Hindware Atlantic, and more
Water heater brand Hindware Atlantic, part of the sanitaryware company HSIL, recently released its first TVC campaign for the Ondeo Series 'Fresh Hot Water Saalon Saal'. The TVC highlights the industry-first and Patented O'Pro Protection Technology and Titanium Core Shield of the Ondeo range which prevents internal corrosion, thereby enhancing the life of water heaters. In 2015, HSIL had entered the home appliances segment with a collaboration with Groupe Atlantic of France.
Commenting on the insight behind the TVC for its water heater brand Hindware Atlantic, Rakesh Kaul, President and Chief Executive, Consumer Products Division & CEO EVOK Retail, HSIL Limited says, "We wanted to bring a campaign to help consumers understand what is happening inside their water heaters as they are not aware of the corrosion and dirt deposits that are formed inside the tank over the years. Thus the first ad campaign focuses on our water heaters equipped with the Patented O'Pro Protection Technology and its Titanium Core Shield helps protect the tank longer from corrosion. The 'Fresh Hot Water Saalon Sal' campaign emphasizes the prolonged life of Hindware Atlantic water heaters as compared to any other ordinary water heaters."
Conceptualized and created by DDB Mudra, the film captures how corrosion and dirty deposits impact the longevity of a water-heater in a light-hearted neo-mythological format. Speaking on the brief given to the creative agency, Kaul says, "Our brief to the agency was to voice the aforementioned insight in a humorous and light-hearted manner. Hindware Atlantic Ondeo series comes with patented technology which prolongs the life of the product, our ask from the agency was to keep this messaging at the heart of the commercial while creating an ad that is not just engaging but also entertaining."
Hindware has taken a multi-pronged marketing approach for the commercial through various platforms such as Electronic and Digital. For a wider reach, the TVC is being aired on key regional channels in languages like Bengali, Kannada, Tamil, and Telugu including prominent Movies and News channels. Kaul says, "We've kept a sizable budget for the TV campaign so that it's well tailored to reach out to our target audience." Talking about ad-spends he says, "We will spend up to Rs 50 crores this financial year on marketing to build our brands across categories. The majority of the spends will be on digital marketing and advertising during festival season."
Speaking about the company's growth Kaul says, "We have grown phenomenally in all the categories we are present in over the years. In the chimney segment, we are already among the Top 3 players with a 15-16% market share. Our water heaters category is doing extremely well and in a span of 24 months, we have grown 165% more than last year and currently have 6-6.5% market share in this category." Looking ahead he adds, "We aim to be amongst the top 3 brands in the category of water heaters by end 2020 and similarly be amongst the top 3 in the water purifiers category in next 5 years and are working to extend our distribution and retailer network, after sales network and introduce tech led variants in the categories to ensure we achieve our target."
Campaign video:
Industry experts signal that the incident is a big hit to not just Zomato but also other players in the category
Online food ordering and restaurant reservation platform Zomato found itself at the receiving end of public ire after a video showing one of its delivery boys consuming food out of its boxed orders appeared on social media. In the two-minute video, the boy was then seen re-sealing the packages, which were likely to be delivered, and putting them back into the delivery bag.
The video has gone viral and has prompted widespread outrage on social media, with people questioning the brand and its credibility.
@deepigoyal Hope you are doing something to repose the trust on your brand #Zomato pic.twitter.com/Z6LuSL3cGW

— Samrat Ghosh (@SamratYokel) December 11, 2018
What is this @Zomato I just placed an order, should I cancel it? pic.twitter.com/L6izWHajpO

— Ankita (@Miss_Takken) December 10, 2018
It's not fault of employee but it is d biggest mistake of Brand name @Zomato who made it's packing so that employee can unpack it thn repack it https://t.co/yLlIi16uWz

— ONK (@omkak55) December 10, 2018
@Zomato Here is what I received on Whatsapp!! Please attend to it or it can damage the Brand really badly. pic.twitter.com/fpoLk49iLW

— Ajay Sharma (@itz_aj) December 10, 2018
@Zomato @ZomatoIN @zomatocare

What the heck is this .. Customers trust the brand blindly and this is what we get in return . Cant dare to believe that we are being served such kind of food . ?? pic.twitter.com/4O85PEz6nb

— James Chacko (@JamesChacko1984) December 10, 2018
The question that now arises is will the brand be impacted due to this? What's interesting is that Zomato's competitor Swiggy recently rolled an ad communication asking consumers to empathise with delivery partners, as they, like each one of us, have a name and unique identity that they would like everybody to acknowledge. Will this incident then jeopardize Zomato's image and give its competitors an edge over it? Or will Zomato be able to reclaim itself just right post the fiasco?
Kiran Khalap, Co-founder & Managing Director, Chlorophyll Brand & Communications, calls this a
classic crisis and contends that besides sacking the delivery boy, the brand will have to engage directly with the end-consumer to explain putting into place processes that will prevent recurrence of such incidents.
"Hopefully Zomato has a crisis management manual. It is the same with the Cadbury's or the Nestle Maggi crisis: telling the truth always helps! It is difficult, but it can be done. And if done well, Zomato will regain its lost goodwill," reasons Khalap.
Brand expert Gaurav Gulati opines that the video has surely damaged the brand reputation and is a lesson that even others in the category should pay heed to. "This surely is going to create a lot of trouble for the brand. Moreover, people might start poking the brand and Zomato delivery boys with sarcasm and prefer to use the services of their competitors instead. But it is high time for all these brands to take food tampering and hygiene very seriously."
Gulati adds that Zomato recently raised fresh funding of $210 million from Alibaba's Ant Financials for payment solution, but as things have changed, they should probably utilise most of the funds on image building and fixing brand reputation. After all, it's the matter of existence now.
Harish Bijoor, brand guru & founder of Harish Bijoor Consults Inc, remarks that pulling one delivery boy off roster does nothing and is a big hit not only to Zomato in terms of consumer-imagery and impression, but to the entire food and beverage delivery category altogether. "When a brand outsources literally everything it does, issues such as these are bound to be a constant bother. It is important to make food handling and delivery totally tamper-proof. Packaging can play a crucial role here," says Bijoor.
Meanwhile, responding to the criticism, Zomato released an official statement, saying that it will soon introduce tamper-proof packaging.
"In our commitment towards mitigating any possibility of tampering with food, Zomato will soon introduce tamper-proof tapes and other precautionary measures to ensure we safeguard against any chances of tampering of food. Zomato has a zero tolerance policy for tampering of food."
"We have found that the video was shot in Madurai. The person in the video is a delivery partner on our fleet. We have spoken to him at length - and while we understand that this was a human error in judgement, we have taken him off the platform. This incident only makes our commitment to fleet training, scheduling and process even stronger. We stand behind our extensive fleet who do the right thing across many hours of the day," the statement said further.
Misbaah reports on advertising industry. Based in Mumbai, she interviews industry leaders in the creative, advertising and marketing space, reports news updates in the ad space. She drives the 'Chillout' section, and regularly reviews ad campaigns. In the past she has reported on mainline news, travel and lifestyle.
Jagdish Mitra in charge of Enterprise Business, Sanjeev Nikore is Marketing Head
Tech Mahindra announced key leadership appointments to drive the organization's growth and lead the digital transformation journey. The leadership changes will be effective from January 1, 2019.
Jagdish Mitra, currently the Chief Strategy & Marketing Officer, will be in charge of the Enterprise Business. With his experience in the digital space, he will drive growth across Enterprise Business Verticals and Strategic Business Units. He will also drive Strategic Partnerships and Alliances for Tech Mahindra. Sanjeev Nikore, currently leading Strategic Initiatives, will now take over as the Head of Marketing at Tech Mahindra.
Manoj Chugh, who is currently the Enterprise Business Head at Tech Mahindra, will take over as President, Corporate Affairs at Mahindra & Mahindra Group.
CP Gurnani, Managing Director and Chief Executive Officer, Tech Mahindra said, "I wish everyone a great success in their respective roles. This will help the organization accelerate the digital transformation journey, as part of the TechMNxt charter. I am confident that this team will propel Tech Mahindra's growth globally."
exchange4media Group Service
Produced in association with Culture Machine, the film features celebrity chef Vikas Khanna and it highlights how the underprivileged struggle for each meal
As part of the Quaker Feed a Child initiative that aims to create awareness for the issue of hunger amongst children, Quaker India has released a new, thought-provoking digital film 'The Last Meal'. Produced in association with Culture Machine, the video takes an authentic social experiment route to bring forth the dichotomy of the world we live in, where the privileged masses take access to food for granted, versus the underprivileged who struggle for each meal.
Capturing a real-life social experiment conducted on the streets of Mumbai, the new digital film for Quaker Feed a Child shows people talking about their love for food and yet struggling to remember their most recent meal. In contrast, the film moves to show children from underprivileged backgrounds immediately recalling their last meal, with some even stating sadly that they hadn't eaten anything. The film ends poignantly with some of the children requesting for a meal, as they are hungry. The film also features celebrated Michelin starred Chef Vikas Khanna making a call to action to all viewers to make their new year special by feeding a hungry child.
Speaking about the initiative, Nobel Dhingra, Brand head - Quaker, PepsiCo India, said, "It is disturbing that less than one-third of children in India receive adequate nutrition. Quaker Feed a Child is a social initiative based on a powerful thought that urges us all to make every festival or occasion more meaningful by simply pledging a fistful of nutrition to feed a child. With the new year approaching, we hope that people will choose to share their festive cheer by taking a pledge to feed a child."
Commenting about his association with the initiative, Chef Vikas Khanna, Michelin-starred Chef said, "The problem of hunger and malnutrition in India cannot be solved overnight. If each of us take a step forward to help the underprivileged children, I believe we can take a big leap towards ensuring no child goes to bed hungry. I am happy to be a part of Quaker Feed A Child to raise awareness for this important and heart-wrenching issue."
Sharique Khan, Vice President- Brand Solutions, Culture Machine added, "One of the most unfortunate facts today is that most children in our country do not have access to timely meals to satiate their hunger; which is the most basic necessity to any life form. It is our duty and responsibility, as humans and own beings , to create an awareness and also to do whatever we can in our small way to end this, one child at a time. Culture Machine in association with Quaker, urges its viewers to take a pledge and do their bit for this humane cause."
Quaker's new digital film will feature on Culture Machine's digital platform, Being Indian, and aptly captures how the value of a single meal could differ for those who are food secure and those deprived of food. The film reiterates the vision of the Quaker Feed a Child initiative, that aims to raise awareness for the problem of hunger amongst children, given India has one of the highest rates of hunger among children where one in five children go hungry each day. Till date, Quaker Feed a Child has supported over half a million meals for underprivileged children through Smile Foundation.
Video:
exchange4media Group Service
At the launch of Taneira's first flagship store, Bhaskar Bhat, Managing Director, Titan Company Limited, spoke about Titan's new offering and the changing retail landscape in the country.
Titan Company Ltd, which has successfully launched many lifestyle brands over the years-- Titan, Tanishq, Fastrack, Xylys, Raga, Skinn (fragrances), has now entered the textile category with its new offering Taneira.
The company might be a late entrant in the category, but it plans to draw on its strong brand appeal to build its presence across the country.
At the launch of Taneira's first flagship store, Bhaskar Bhat, Managing Director, Titan Company Limited, spoke about Titan's new offering and the changing retail landscape in the country.
Excerpts:
What was the thought behind launching this new category?
See where I sit, which is as the head of the company, it has to be a combination of inspiration and business sense. We have what is known as a sandbox, it's called the Titan hexagon, which we apply to look at the future. One of the important sides of this hexagon is the under-served and underpenetrated and under-organized. Any category which has two out of three of these, we would like to explore.
So in that process, we found this (Taneira) as one, and we have several others. And as we explored more and more, we realized that it has a significant proportion of unorganized. We also realized that this is a category where we can bring more value, and it is a very big category.
Looking at the size of this category and given our ability to transform the category combined with our strong retail play is a big strength that we have. Also, branding in this category has not happened so often in the past, and branding is something we bring to the table apart from retail expertise.
In a world which is betting big on digital and considers mobile as the future, how would you contextualize this big investment in offline retail?
I don't think offline will ever go away for categories where standardization is not the driver of the demand. Anything which has touched and feel has a very strong offline component. But the marriage of the two is what we do, which is called Omni, and we are doing that very well, for example in the eyewear category.
Would you call yourself a late entrant in this category? How do you plan to take on players who have been in this business for a long time?
Our impulse is never to compete, our impulse is to serve. I'm not saying this in any philosophical manner. We have found great value and inspiration in being totally driven by the consumers. So consumer insight is a very important function in the company.
In every store, we listen to our customers and we are driven by the customers. That is what has brought us size and scale, and what happens to the competitors in a way is not our problem. Our purpose is not to kill the competition; our purpose is to bring value. I believe we will create so much value that people would want to come to us.
You have helmed the success of Titan across categories, what would you call the enablers of this success story?
Fundamentally, customer-centricity; we are driven by the customers; fantastic people orientation in the company. We have a theory about people-- which is unconditional positive regard. It means people first before any other stakeholder. So we are totally people focused. The other factor is design.
How do you see the future of retail panning out in India over the next few years?
I think it will be Omni and the relevance of brick and mortar stores will continue. As I said, for standard products and technology led products, it will become less and less relevant but there will be flagship stores, which will be less for sales and more for showcasing.
@columbia Drop Out, @e4mtweets, @BWorldOnline... Past @timesnow, @htTweets, @timesofindia
In the campaign four women talk about finding the right attitude, direction and foundation to be #EvenBetter
Digital content studio, Supari Studios, produced the latest campaign for Clinique's Even Better range of products. Bringing on board four diverse influencers, Supriya Joshi, Lisa Mishra, Leeza Mangaldas and Teena Singh, they put together a series of fun and spunky films that offer viewers a glimpse into each influencer's personality. In a candid chat about what beauty means to them, these influencers describe the role that Clinique's Even Better products play in their lives, helping them in achieving their goals. The films use a very realistic tone and are accompanied by polished visuals and catchy music, aiming to fill its viewers with a sense of joy and independence, much like the products themselves.
Speaking about the campaign, Sameer Ghauri, Director of the film said, "Our goal was to keep the tone of the films honest and real, complemented by clean and elegant visuals that are crisply edited to music handpicked to pair with each lady's distinct personality. The colour tone of each film was also meticulously chosen to complement the different skin tones of our influencers. The aim of the films was to celebrate the diversity of smart, independent Indian women and at the same time highlighting that the brand caters to over 50 types of different skin tones, and I feel our films managed to achieve that quite successfully."
Adding to this, Mitali Sharma, Executive Producer, Supari Studios said, "With this campaign, we wanted to focus on the tagline 'Even Better' by bringing out the strong personalities of each of the influencers and how they don't like to settle in life, just like the Even Better foundation. We tried to encapsulate a piece of their life into the films by throwing in some minimal props that gave a suggestion of their profession. We also highlighted how Clinique Even Better Foundation helps each influencer, by mentioning a specific benefit of the foundation that works for them."
Link to campaign: https://www.instagram.com/p/Bp4BQmhFHlb/?utm_source=ig_web_copy_link
exchange4media Group Service
The wrapper exchange initiative encourages consumers to avoid disposing of their product wrappers, instead, consumers can exchange 10 empty Sattviko wrappers for one free packet of Sattviko snacks
In an endeavour to contribute to the advancement of the environment, Sattviko, a packaged food company providing light snacks of Indian origin, launched a 'Sattviko wrapper exchange initiative' across India. The initiative will commence from the first week of January and will continue for a year.
The wrapper exchange campaign that Sattviko has initiated encourages consumers to avoid disposing of the wrappers of its products but instead, consumers can exchange 10 empty Sattviko wrappers for one free packet of Sattviko snacks. The quantity, size and the flavour of the packets have to be the same as the ones sent by the consumer, via post to Sattviko or to any of its registered retailers.
Speaking of the initiative, Prasoon Gupta, Co- Founder and Director, Sattviko said, "India produces around 26,000 tonnes of plastic waste every day. Most of this is single-use plastic that can take up to 100 years to decompose. Plastic causes major environmental damage and a small initiative such as this can make a huge difference. Sattviko intends to reach out to a maximum number of consumers through this campaign. We hope to inspire others to make a difference with such an initiative. This is in support of our fight against plastic pollution and we hope that we are able to bring a behavioural change in the society at large."
Sattviko is also looking at proactively spearheading the debate on 'How can cutting down on plastic in FMCG be functional' with an aim to engage consumers and producers, and educating them to avoid the usage of plastic for a better environment.
exchange4media Group Service