Martin Sorrell's journey: From Wire and Plastic Products to WPP
Sorrell borrowed £250,000 from the bank against his Saatchi shares in 1985 to kick-start his entrepreneurial venture by
Published - 16-April-2018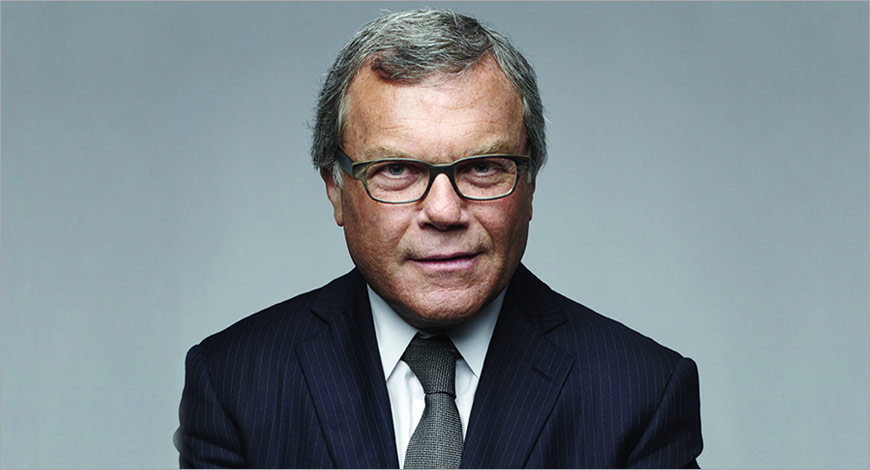 Martin Sorrell's journey to world domination in the field of advertising began in 1985 with the acquisition of a small British company selling wire baskets. Thirty-three years later, the end was just as shocking as it was abrupt.
In 1985, 40-year-old Sorrell was looking for a listed company through which he could build a worldwide marketing services company. He bought a controlling stake of the Wire and Plastic Products plc, just under 30 per cent, at a cost of $676,000.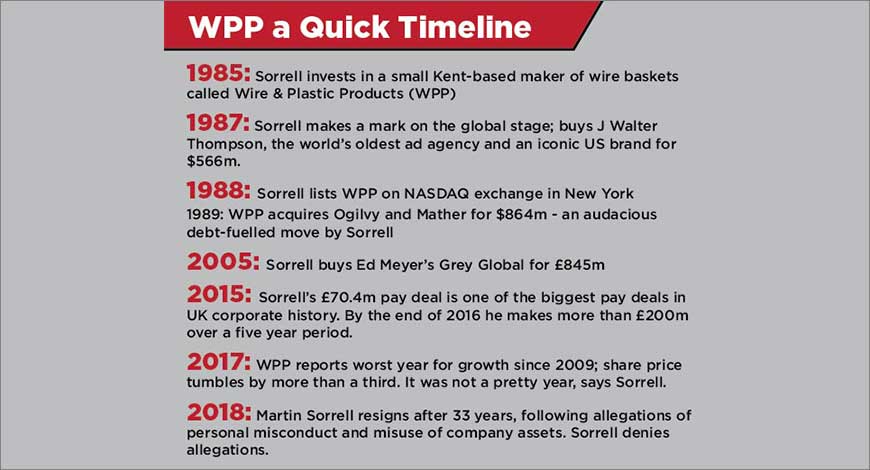 Commenting on how he zeroed in on the firm, Sorrell had said in an interview, "We were looking for a firm that had a simple manufacturing process that had not lost money and we could understand and could work with. It had to have a good freehold property so no stresses and strains, no debt, and we alighted on Wire and Plastic Products."
The 73-year-old's story seems to begin in 1985 with the acquisition of Wire and Plastic Products plc. Before that, the legendary deal maker was financial director for advertising agency Saatchi & Saatchi from 1977 to 1985. He was responsible for managing takeovers of companies in the US and the UK.
Sorrell is known to have borrowed £250,000 from bank against his Saatchi shares in 1985 to kick-start his entrepreneurial venture.
In 1987, Wire and Plastic Products plc was renamed WPP Group and Sorrell became its CEO. WPP's trip to the top was backed by powerful and sometimes risky acquisitions.
Sorrell made his first major acquisition in 1987 -- bought J Walter Thompson (along with PR firm Hill & Knowlton Inc and market research network MRB Group), the world's oldest ad agency and an iconic US brand, for $566m. Soon after, in 1988, WPP was listed on NASDAQ exchange in New York.
From here on, Sorrell continued to take over some of ad world's most prestigious agencies. He added Ogilvy and Mather to his bouquet of companies in 1989 for $864m. It is said that Sorrell paid too much for O&M. When the recession hit, WPP almost went out of business, and a profit warning in 1990 sent its shares tumbling from 650p in 1989 to 115p. But the company soon bounced back.
Along the way, Sorrell also acquired Young & Rubicam, Grey, 24/7 Real Media, Taylor Nelson Sofres, among many others. He also created GroupM, the largest advertising media company in terms of billings in 2003.
In 2000, Sorrell was knighted for his services to the communications industry.
A graduate of Christ's College, Cambridge, Sorrell has an MBA degree from Harvard. He remembers picking up business skills from his father, a retailer who ran a large chain of stores in the 1960s.
Sorrell has been a vocal critic of the "digital disruption" that is forcing companies to change their business models and reach customers in different ways. He also debunked the idea that consultancies were threatening his holding company's turf by calling it "fake news".
As the chief of the world's leading advertising firm, Sorrell's pay package was incomparable and enormous. In 2012, 60 per cent of WPP shareholders rejected Sorrell's £6.8m annual pay package at the advertising agency's annual general meeting in Dublin. It was reported that he received £70.4m in cash and shares in 2015. It was recorded as the biggest pay deals in UK's corporate history.
Fast forward to 2017 -- "It was not a pretty year," said Sorrell, taking stock of the year gone by. He took a huge cut in his pay package following a dismal year. The company had said that Sorrell will receive a long-term bonus of 10 million pounds in 2018 compared to 41.6 million pounds in 2017.
2018 surely turned out to be far less pretty than 2017 for Sorrell, who found himself in the midst of allegations of an undisclosed personal misconduct and misuse of company assets. On April 3, 2018, WPP announced that it had hired an external investigator to look into the allegations against Sorrell. Sorrell has denied all charges.
Quickly thereafter concerns arose about the succession plan for Sorrell who had been at the helm of WPP for 33 years. In less than a month from the day of the announcement, Sorrell quit WPP. A successor is yet to be found. Until then Roberto Quarta, Chairman of WPP, has been appointed as Executive Chairman WPP.
Mark Read, Chief Executive Officer of Wunderman and WPP Digital, and Andrew Scott, WPP Corporate Development Director and Chief Operating Officer, Europe, have been appointed as joint Chief Operating Officers of WPP.
As the company transitions and finds a new CEO, Sorrell has offered his guidance and help to the team.
"In the coming period, I will be available to the Board and any of you, should you want help with anything, anywhere," he said in his statement.