Canon's Dr Alok Bharadwaj founds management consultancy, CreoVate
Former Canon executive, Dr Alok Bharadwaj, has formed a management consultancy that will focus on change management and business transformation by
Published - 04-July-2017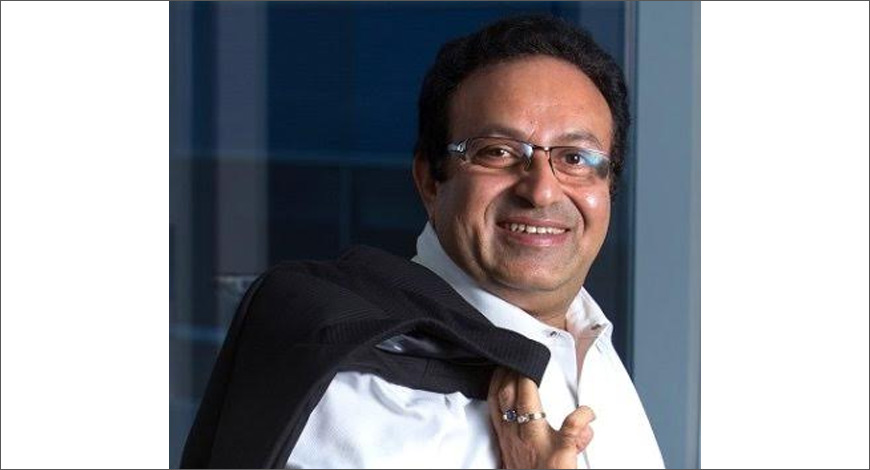 Dr Alok Bharadwaj has started a management consultancy called CreoVate Transformations and Consulting. The new company will focus on change management and business transformation particularly in areas of customer strategy, go-to-market architecture, people capabilities and India entry management for foreign companies.

Bharadwaj spent 16 years in Canon, most recently as the Senior Vice President, Asia Regional Strategy Centre, Singapore. He was earlier Executive VP-COO at Canon India. He has earlier had stints with Motorola Solutions, Tata Group and Usha International.


Starting 20th March, Hotstar VIP will give audiences access to exclusive new shows, serials before TV and live sports at Rs 365 a year

by
Published - 11 hours ago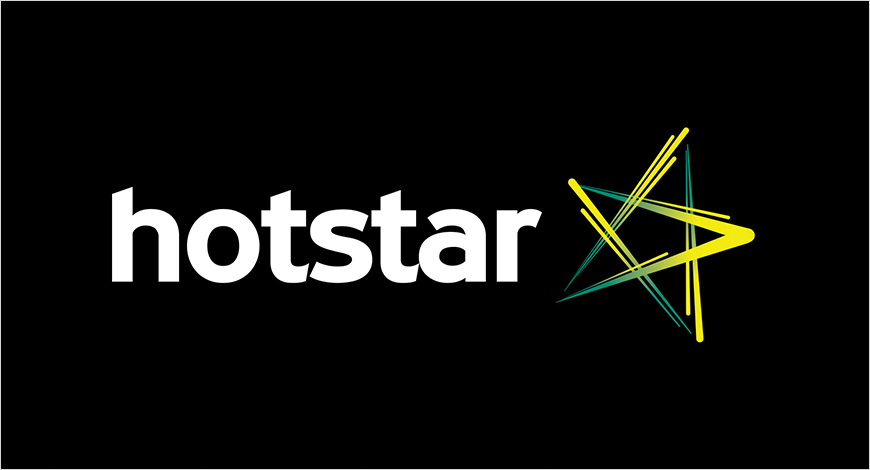 Hotstar has launched 'Hotstar VIP' - a subscription that offers audiences the best of content at just Rs 365 per year. The new subscription plan gives audiences the choice to watch exclusive new content under the Hotstar Specials label, their
Star network serials before television at 6am, and the best of live sporting action, including VIVO IPL, ICC Cricket World Cup, Premier League and much more.
Speaking about the launch of 'Hotstar VIP', Varun Narang, Chief Product Officer, Hotstar, said: "It is our endeavour at
Hotstar to delight customers with content that they resonate with, at the same time give them the power of choice at an affordable cost. Hotstar VIP is aimed at providing users accessibility – be it with the introductory price or the ability to watch exclusive new shows in multiple regional languages. It is a value proposition built with the Indian audience at the heart of it."
A key feature of the Hotstar VIP service is 'Hotstar Specials' – a label that will bring bold and authentic stories made by the biggest storytellers of India to crores of consumers across India. The launch of Hotstar VIP coincides with the release of the first Hotstar Special 'Roar of the Lion', a story on Chennai Super Kings amazing comeback under the leadership of MS Dhoni.
This show will be followed by Criminal Justice, City of Dreams, Hostages and many more shows under the Hotstar Specials label. For the first time ever, an OTT platform will allow customers to have a 'pay by cash' option.
This is being done as a test initially, where users can subscribe to enjoy the Hotstar VIP benefits immediately with cash to be collected from their doorstep in the next 48-72 hours. Adding another layer of convenience for customers, the platform will now allow phone number logins. Existing subscribers of Hotstar All Annual Sports plan will automatically be upgraded to Hotstar VIP, on a complimentary basis with no additional charge, and can also enjoy access to Hotstar Specials and Star serials before TV.
Hotstar Premium subscribers can avail of the benefits under Hotstar VIP along with the latest American shows, blockbuster Hollywood movies and award-winning content from International studios.
Hotstar is India's largest premium streaming platform with more than 100,000 hours of drama and movies in 18 languages, and coverage of every major global sporting event.
Launched in early 2015, it is one of India's most downloaded apps and has attracted more than 350 million followers on the back of a highly evolved video streaming technology and high attention to the quality of experience across devices and platforms.
Hotstar has appropriated top spots on the Google Play Store as well as the Apple App Store, consistently named among the most popular apps on both platforms since its launch.
In the two-week long campaign, Radio City's RJs Ginnie, Divya, Yuvi, Aadi and Manav discussed cases of cybercrime and human trafficking with experts and Delhi officials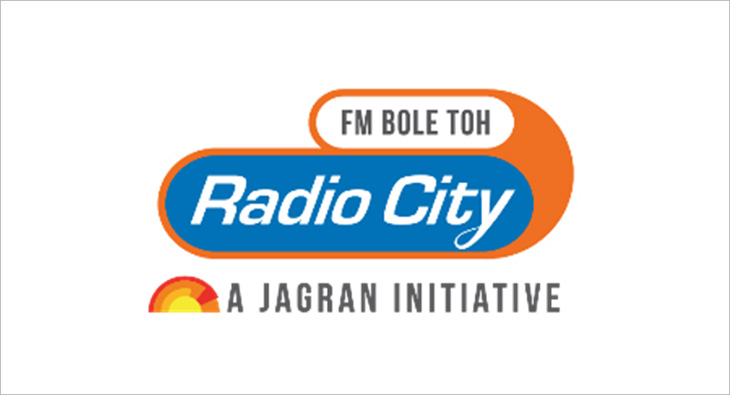 Radio City has completed another season of 'Dilli vs Crime', a campaign which aims to create awareness amongst Delhiites about the rising crimes in the city.
After a great response to the first season, Season 2 took up issues of cybercrime and human trafficking, which have been plaguing the capital city for quite some time. UNICEF India provided technical support to the campaign. The association is in line with UNICEF India's #ENDViolence campaign, which creates awareness on of violence against children.
In the two-week long campaign, Radio City's RJs Ginnie, Divya, Yuvi, Aadi and Manav discussed cases of cybercrime and human trafficking with experts and Delhi authorities. They made the listeners aware about the modus operandi of criminals and how to prevent falling into the trap, and steps one should take in case they feel they have fallen prey.
Kartik Kalla, Chief Creative Officer, Radio City, said, "As per the report released by the Delhi Police, the crime rate in Delhi witnessed an upsurge of 6.01 per cent by the end of 2018 as compared to 2017. To combat the increasing rate of crime in the city, Radio City with this initiative, 'Dilli Vs Crime' Season 2 is proud to be a catalyst of change to free the society from various horrendous issues like human trafficking and cybercrime. Associating with an influential body like the UNICEF India undoubtedly took our initiative a notch higher, yet again making it a successful campaign for two years."
Radio City's RJ Ginnie said, "While India is turning digital, there is a surge in the cases of cybercrime. Season 2 of 'Dilli vs Crime' offered Radio City's listeners solutions and precautions to tackle this problem. From understanding how frauds are done, how we can stay protected and the banks liability against these crimes – our experts went through the whole spectrum on-air. We also spoke about information being hacked on social media, phones, laptops, etc. and actually had hackers discussing this on-air. Simultaneously, we also dealt with revenge porn, blackmail and picture morphing to generate awareness and precaution for our listeners with real life case stories and expert opinions."
The RJs and experts took up the issues of three prominent types of cybercrime, including net banking frauds with elderly, revenge crimes with women, and cybercrime against children in the first week of the campaign. They also talked about the do's and don'ts on social media. In the second week, issues pertaining to human trafficking were brought to the fore by featuring nerve-wracking case studies, survivor stories and taking an account of increasing human trafficking cases in the city. Trafficking is a violation of children's rights and poverty alone does not lead to the same but also factors like social marginalization, dysfunctional family background, neglect, abuse and domestic violence combined with economic strife make children particularly vulnerable to trafficking.
As part of the digital plan, various awareness generating videos were amplified across Radio City's social media handle. A video with popular ethical hacker, Sanket Modi and RJ Ginnie, showcasing how a phone can be hacked in just 20 seconds, garnered an overwhelming response.
Radio City has always been a forerunner in ensuring the safety of its city and citizens. Dilli vs Crime, first season won many accolades at the Golden Mikes and New York Radio Festival awards 2018. With campaigns like Dilli vs Crime, Radio City will continue to leverage the power of radio to address issues and bring about a positive change in the society.
Conceptualised by Ogilvy, the campaign includes TVCs and digital content for customers across India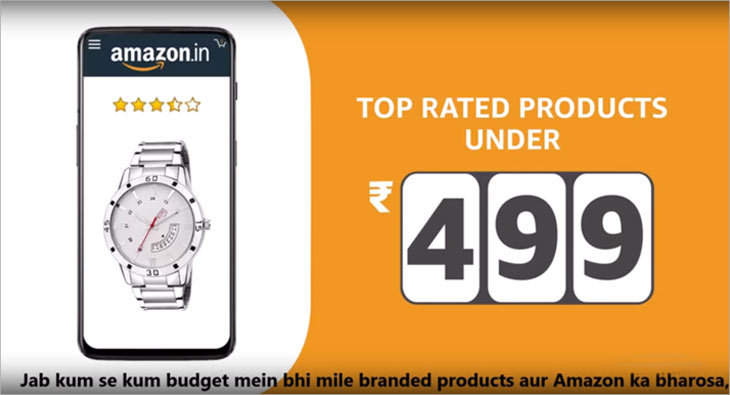 Amazon India has unveiled its first campaign of the year "Kitne Mein Mila?" The campaign revolves around leveraging value for money as a key factor to engage with customers.
The campaign features quirky insights and went live on Tuesday. Each scenario showcases various situations of customers who have purchased quality goods in their budget, provoking family and friends to ask 'Kitne Mein Mila'. The series of TVCs visually narrates the surprise and disbelief of people looking at high quality products when they ask this question. The intent behind the campaign is to highlight products across categories, including mobile phones, consumer electronics, appliances and fashion products, available at an affordable price along with Amazon's quality assurance.
Conceptualised by Ogilvy, the 'Kitne Mein Mila' campaign dovetails perfectly with Amazon India's intent of making customers aware about the vast selection on Amazon.in at an unbelievable price with fast and reliable delivery. The campaign includes TVCs and digital content for customers across India.
Ravi Desai, Director Mass and Brand Marketing, Amazon India said, "As customers, we all seek value for our hard earned money. We all operate within a fixed budget and seek quality products within it. Keeping in mind this insight, the 'Kitne Mein Mila' campaign showcases how Amazon.in understands this customer need and offers a wide selection of quality products making shopping more affordable, accessible and within the reach of everyone's budget."
Kiran Ramamurthy, Manager Partner, Ogilvy South said, "'Kitne mein mila' is the ubiquitous phrase that captures two quintessential things about a product that has just been bought – its quality and its price. It is the first inevitable question that is asked when you see a friend or acquaintance with a new product that appeals to you. So, when Amazon wanted to convey that a wide selection of products was available at great prices, there was no better phrase than 'kitne mein mila' to anchor the thought of fantastic value that customers get on Amazon. The essence of this campaign is the genuine surprise that is evoked in people when they discover that the product that they thought was expensive is available at jaw dropping prices on Amazon."
The Master Jury will consist of 12 esteemed creative legends and innovators who have been game changers in the category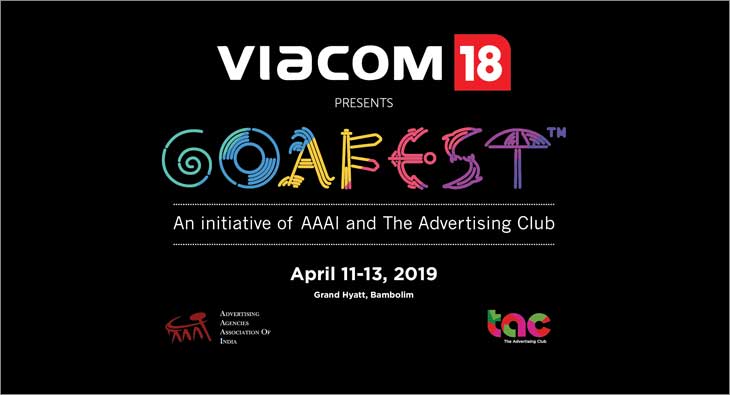 The gold standard in advertising awards - ABBY Awards 2019 - that celebrates creative excellence in the category has announced an illustrious master jury for the upcoming edition.
Introduced last year at the ABBY's, the master jury is reposed with the responsibility of judging pioneering work that deserves the ABBY. The Master Jury boasts of 12 esteemed creative legends and innovators who have been game changers in the category.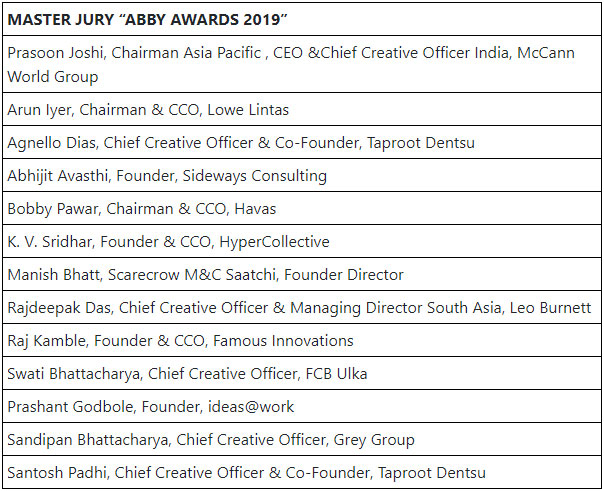 Speaking about the Master Jury for the upcoming edition of the ABBY's, Shashi Sinha, Chair of the Awards Governing Council, ABBY Awards 2019 said, "We have always believed that awards are as credible as the jury. We have hence curated a master jury constituting of the best creative minds and thought leaders from the industry, each of who have been icons in their area of work. The versatile and visionary jury will ensure that only the most deserving, ground breaking and effective campaigns emerge victorious. With such veterans at the jury panel, we are all set for an inspiring and ingenious edition of the ABBY Awards 2019."
The Master Jury will be judging all the creative entries received across 7 verticals and 8 categories across two rounds. Round I of the judging process will be held online followed by a combined deliberation in Round II.











With the tagline 'Be Loud, Be Proud,' the consumer electronics brand is focused towards being the first choice of millennials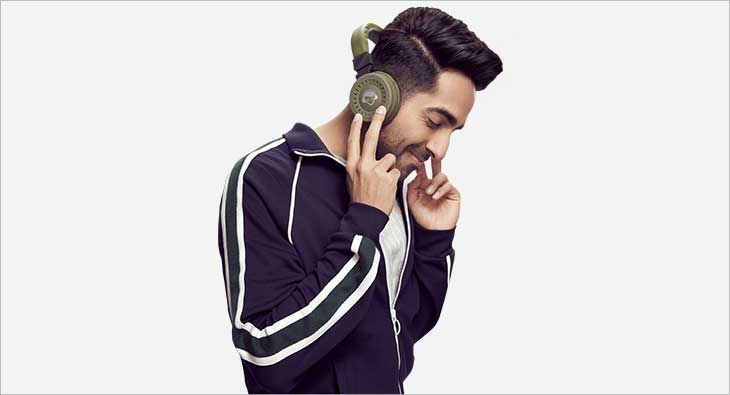 Recently launched lifestyle consumer electronics brand, Vingajoy has appointed Bollywood heartthrobAyushman Khurrana as its first brand ambassador to steer the brand to its targeted audience. With the tagline 'Be Loud, Be Proud,' the brand is focused towards being the first choice of millennials and offers products such as earphones, headphones, speakers, travel chargers and premium rugged cables that seamlessly integrate into the youth's style statement.
Commenting on the occasion, Vingajoy's Co-founder Mandeep Arora said, "Ayushman is the perfect face for our brand, he is dynamic, young, and stylish, and a person who has left his own mark in the industry, making him the perfect expression of Vingajoy. We're delighted to welcome Ayushman to the Vingajoy family and are confident he will inspire our consumers to feel proud to be associated with a brand like ours".
Commenting on the association actor Ayushman Khurrana said, "An individual's choice of gadget, should be user-friendly and has to resonate with their style factor, and Vingajoy is the perfect blend of both. It offers the right technology, blended into an attractive design. I am delighted to be associated with the brand as the products are mind-blowing, the sound quality is commendable and the design is millennial-friendly. It's loud, and will definitely make one proud."
Leo Burnett's mandate is for the corporate campaign and subsequent project launches across NCR, MMR and Bangalore markets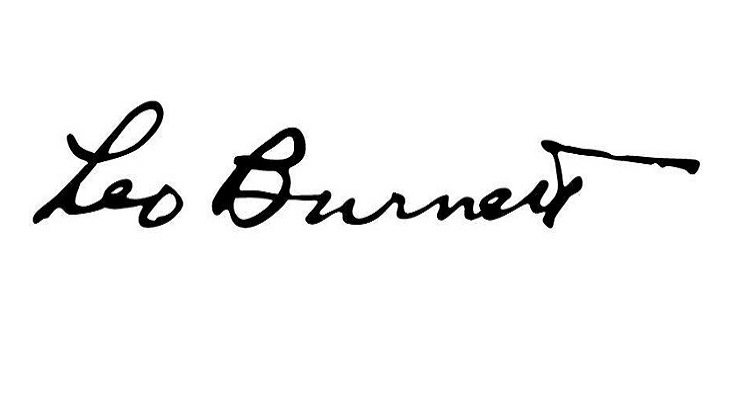 The Birla Group recently announced its foray into the real estate business with the launch of Birla Estates. Leo Burnett, who won the advertising mandate for Birla Estates in a competitive multi-agency pitch in September 2018 has been working closely with the team and has launched its first campaign Lifedesigned.
Putting the consumer at the heart of the process; Birla Estates, endeavours to create new global benchmarks of planning, quality, design and most importantly ethical practices. This unique approach is called Lifedesigned. A space is Lifedesigned when you design around life. And the design for life. To make the brand stand out in a crowded environment and also to create a brand differentiator the Birla Estate Design philosophy was branded as Lifedesigned and the campaign aims to bring this alive.
Speaking about the announcement, Rakesh Hinduja, Chief Operating Officer, West, Leo Burnett, said, "We are very excited to have been chosen to be a part of the Birla Estates team. The brand name Birla itself evokes the feeling of trust, commitment and innovation and we are excited to have been given a chance to build on this legacy for brand Birla Estates. Brand Birla is actually a perfect fit with our Humankind philosophy, which puts people at the heart of everything we do and we look forward to embarking on a positive and impactful journey together starting with the launch of the LifeDesigned campaign."
Talking about the campaign Prajato Guha, National Creative Director Leo Burnett said "With the challenges of rapid urbanisation across India and the fact that Birla Estates is a relatively new entrant in the category, we had to find a credible value proposition. In LifeDesigned, we have found a unique way to bring their brand philosophy alive".
Adds Sachin Kamble, National Creative Director Leo Burnett "the other challenge was to develop an identifiable look that would help us stand out in the cluttered category environment. It's been an exciting journey since October 2018, and we look forward to partnering Birla Estates in their launches across India."
The mandate is for the corporate campaign and subsequent project launches across NCR, MMR and Bangalore markets. The first project to be launched is Birla Vanya in Kalyan.
Viewers can catch the live action on the Facebook page of 'Jhacaaash'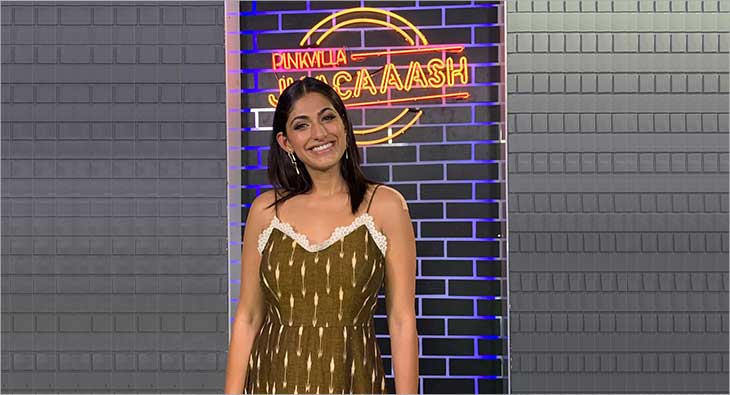 Kubbra Sait has been roped in as host for an interactive Bollywood quiz show Jhacaaash on Facebook Live.
The show which made its debut on March 18 will test the viewers' Bollywood prowess, allowing them a chance to win a cash prize of Rs 50,000 for every episode.
Kubbra Sait has appeared in films like 'Sultan', 'Ready' and 'City Of Life' and has been highly praised for her performance in the web series 'Sacred Games'.
'Jhacaaash' will see Kubbra pose viewers with 10 interesting questions for which they will have 10 seconds to respond and get lucky. Viewers can catch the live action by tuning into the Facebook page of Jhacaaash (https://www.facebook.com/jhacaaash/) every Monday and Thursday at 6pm.
Brand curated by Virat Kohli plans to reach out to a wider audience in terms of visibility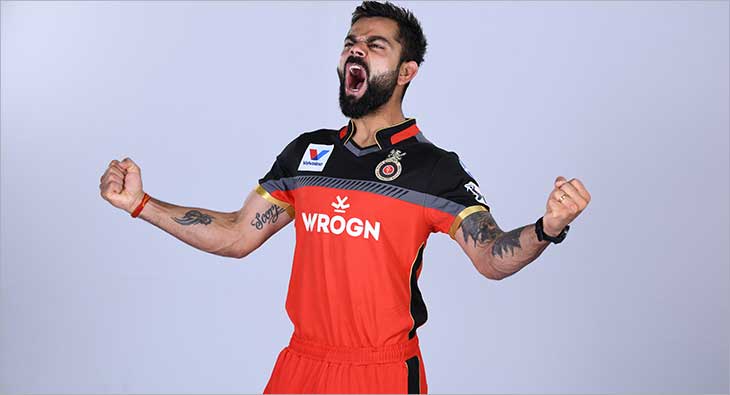 Wrogn, the lifestyle menswear fashion brand curated by cricketer Virat Kohli, has announced collaboration with Royal Challengers Bangalore as the principal sponsor for IPL 2019.
This is a much awaited collaboration for the brand as it has already served as the official lifestyle partner for RCB since 2017 and continues to do so. With this association, it plans to reach out to a wider audience in terms of visibility that will act as a catalyst to the brand's growth.
In the coming years, RCB and Wrogn will collaborate on various fronts such as sports events, marketing and media initiatives.
Anjana Reddy, Founder & CEO, USPL said, "We are delighted to partner with RCB for the upcoming IPL season. Our strategy will be to increase visibility for the brand Wrogn on all fronts including the player jerseys, stadium screens and various other touch points. As IPL has a massive following that converges with the target audience for Wrogn, we are hoping to leverage this sponsorship in a large way. That being said, RCB has consistently performed in IPL and our association with the team is expected to strengthen our brand's positioning. We wish the team, a very successful IPL season."
Sanjeev Churiwala – Chairman RCB, added, "We are looking forward to have Wrogn as our principal sponsor. Both the brands have a young fan-base and also have a great fit in terms of their brand ethos and positioning which makes it easier for them to connect with their target audiences. We are positive that both RCB and Wrogn will be able to channelize this collaboration in an efficient way."
RCB skipper Virat Kohli said: "I am thrilled about this association. Having been a part of both sides, I am really looking forward to Wrogn being the principal sponsor for my team. Wrogn is a breakaway youth fashion brand that believes in the philosophy of helping the youth to be effortlessly stylish. Being a part of IPL will strengthen this position and help connect with the potential consumers in a better way."
Max Life Insurance will be the official life insurance partner of the Bengaluru team for T20 League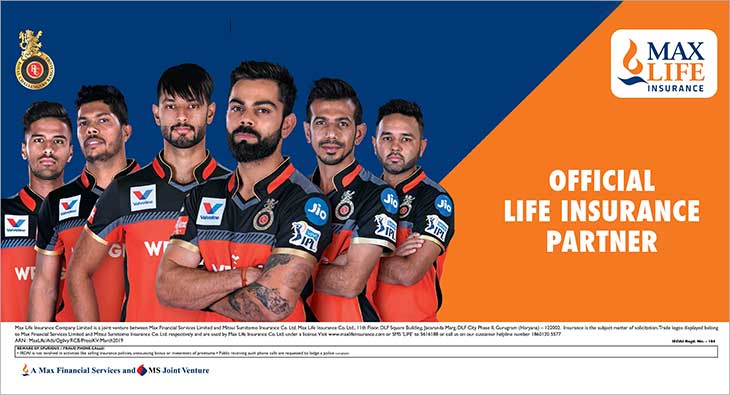 Max Life Insurance has announced its partnership with Royal Challengers Bangalore for the upcoming T20 season. As a part of the partnership, Max Life Insurance will be the official life insurance partner of the Bengaluru team for T20 League. T20 league has witnessed a wide range of commercial partnerships across teams. However, there have been few partnerships that highlight important life events such as life risks through an association with the game. The cricketing ground has often witnessed fatal injuries to players and over the years cricketing gear has become more sophisticated to provide on-ground protection to the players.
However, there is a need to bring in greater awareness about protecting against the risks these players face in their personal lives. This partnership between Max Life Insurance and RCB will not only inspire their cricketers but also their large fan base to consider protection against risks in their lives.
Speaking on the partnership, Prashant Tripathy, Managing Director & CEO, Max Life Insurance said, "India is a young country and T20 offers a great platform to connect with the youth. The partnership of Max Life with Royal Challengers Bangalore is aimed at reaching out to the youth in an impactful manner through their diverse and dynamic fan base. The recent India Protection Quotient survey conducted by with Kantar IMRB across India has revealed that only 17% of youth own term insurance, which is one of the cheapest forms of life insurance. As life insurance partners of the team, we hope to increase awareness around protection with the youth and drive the message to build a more protected nation."
In a recent study conducted by Max Life Insurance, termed as the India Protection Quotient, it was found that urban India's term insurance uptake was at a mere 21%. Despite being one of the cheapest forms of life insurance, consumers in India are slow to adopt term insurance. India Protection Quotient is a three-dimensional metric to analyze, level of life insurance awareness; ownership and mental preparedness around protection.
Speaking on the partnership, Sanjeev Churiwala, Chairman of Royal Challengers Bangalore stated, "While protection of players is taken care of in many ways, the financial manifestation is something that needs to be given equal thought to. We are happy to be partnering with Max Life Insurance, a life insurer that also has one of the best claims paid ratio currently in the country. We aim to drive the message of the importance of financial protection through this partnership."
The India Protection Quotient survey had also revealed that for more than 50% of urban Indian, the biggest fears related to the demise of the breadwinner are financial insecurity and impact on their current lifestyle. The threat perception gets further increased due to a feeling of inadequacy of funds. More than one third (36%) of urban Indians feel that their savings would last less than a year if critical illness or death was to befall. More than one-fifth of the population feels they have no one to support them in the event of critical illness or death.
The partnership between Max Life and Royal Challengers Bangalore aims to draw the attention of fans and public alike, to the importance and criticality of financial protection in today's world. Royal Challengers Bangalore will play Chennai Super Kings at the MA Chidambaram Stadium on March 23rd to kick start the 12th edition of Indian Premier League.
In the video, Naezy has been seen rapping in different fbb outfits

by
Published - 16 hours ago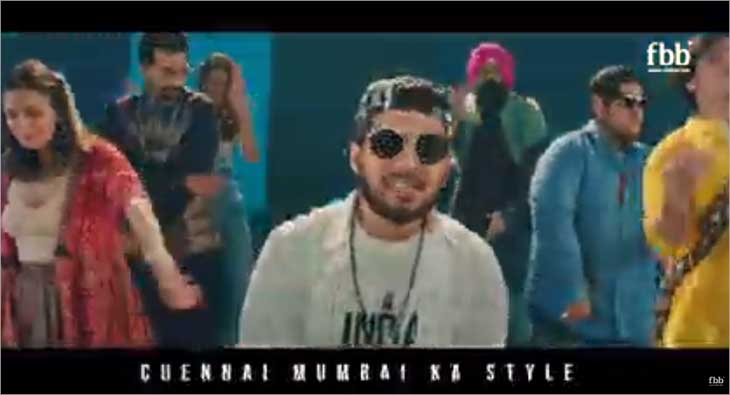 Rap pioneer and original gully boy Naved Shaikh, popularly known by his stage name Naezy, has been roped in for fbb's #INDIA Ka Style anthem.
Naezy has been seen rapping in different fashion and at the same time encouraging the country's public to be in style. The anthem celebrates fashion that is extremely versatile from one wardrobe to the other.
The anthem has been created by Social Kinnect and is a musical burst with lyrics that connects straight with the consumers.
Speaking about the anthem, Pawan Sarda, Group Head – Digital, Future Group says, "Music is liberating and extremely expressive especially when it comes to rapping. Fashion and music go hand in hand which is why we are delighted to have the rap guru sing the anthem for fbb. Naezy's music is catchy and connects instantly with the audience just like the fashion we offer."