"Badshah has become a brand," Badshah, musicpreneur & artiste
At the first edition of Music Inc., a high-powered event presented by MTV and curated by Loudest.in and exchange4media, popular musician Badshah opened up in a candid interview with noted film critic and author Anupama Chopra
He is called the undisputed king of non-film music. His chartbusters over the past few years have become more mainstream than Bollywood songs, and he continues to dominate the Hindi-Punjabi music genre with millions of followers swearing by his music style. Even Bollywood has finally realised that it cannot do without him and now the industry is cashing on his popularity. Such is his clout that he was featured amongst the Top 100 Celebrities by Forbes.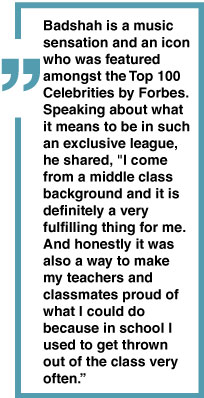 At the first edition of Music Inc., a high-powered event presented by MTV and curated by Loudest.in and exchange4media, music artist Aditya Prateek Singh Sisodia, popularly known as Badshah opened up in a candid interview with noted film critic and author Anupama Chopra about his musical journey and what it takes to become a musicpreneur.
When asked about his multiple ventures that spans from having a clothing line (Bad Fit), a resto bar (Dragonfly) to a music channel, and how he juggles between these varied roles, Badshah said, "The motive is to go all around and utilize the brand name and exploit it in a manner in which we are able to create game changing entities and content. I started a record label and clothing line as I felt there was a market for that in India. I am doing everything where I feel there is a market for it and a gap that needs to be addressed."
Badshah also spoke about his music journey and his humble background. He also elaborated how he sees himself as a mix of an artist and a brand and now a musicpreneur. "I was not always business minded but I always wanted to make money. When I was seven years old I used to rent comics to make money. I don't think any business can be done without passion. When it comes to my business ventures, the driving force is to provide a differential solution and that is what guides my businesses. I have recently realized that Badshah has become a brand. Moreover, it is the work that speaks, and to utilize that and exploit that financially is the motive. For me money is just a resource to create more resources and to create more entities. I want to create businesses that will outlast Badshah."
When asked about the flip side of having too many business ventures and whether it impacts the core of his passion -- music making, Badshah added, "I do realize that the core of my brand is music and if there is no good music there will be no brand Badshah. My biggest strength is my music. I am not a businessman. So I took a break and I started focusing on my music. I have not been to any business school but I am blessed to be surrounded by people who have a great business sense and use those insights to run my businesses."
There is no doubt that the popularity of Badshah has cut across regions and age groups. Now he is a music sensation and an icon who was featured amongst the Top 100 Celebrities by Forbes. Speaking about what it means to be in such an exclusive league, he shared, "As stated, I come from a middle class background and it is definitely a very fulfilling thing for me. And honestly it was also a way to make my teachers and classmates proud of what I could do because in school I used to get thrown out of the class very often."
"I have worked in pharma and sold medicines too, I am not afraid of anything going wrong. I try not to do anything that can result in any problems. When it comes to rules of success, I think being honest with one's work, respecting one's parents and staying healthy and having a streak of madness is needed to be successful", added Badshah when asked about his concerns and rules of success.
@columbia Drop Out, @e4mtweets, @BWorldOnline... Past @timesnow, @htTweets, @timesofindia
Revamp as per company tagline 'Everything Packaging'
Packaging solutions platform Bizongo has announced the launch of its new brand identity.
Along with launching a new logo, the company has undergone a complete brand revamp for its solutions-Procure Live, Design Square and Partner Hub.
The identity is as per the company's mission to live up to its tagline 'Everything Packaging'. Bizongo now plans to enter international markets of USA, Middle East, and Southeast Asia, backed with robust technology solutions and a strong foothold in the Indian market.
Bizongo, which was launched in 2015, will aid, empower and create value for the $50 billion packaging ecosystem in India. Its new identity represents the company's value proposition that encompasses everything from design and development to procurement, thus unifying the complete packaging experience on a single digital platform.
On launching the new brand identity, Bizongo CEO Aniket Deb said, "Bizongo was founded on the firm belief that creativity and technology combined, have the potential to set into motion transformation across industries. Today, we have evolved to become a brand that has been responsible for bringing in experience, efficiency, and innovation to the packaging ecosystem. We have also advanced rapidly to become the go-to choice for India's leading companies for all their packaging needs. The evolution into a single platform that caters to all needs of packaging required us to give this company an identity that resonated with the same idea. A massive growth rate called for a massively appreciated and understood identity."
Bizongo's new identity has been designed and developed by Mumbai-based design and digital company, The Minimalist.
exchange4media Group Service
Jaydev Unadkat and Varun Chakravarthy attracted highest bid of Rs 8.4 crore
At the Vivo Indian Premier League (IPL) auction 2019 held in Jaipur on Tuesday, 60 of the 70 slots were filled. And of these 60 players sold, 40 were Indian and 20 international. The total money spent was Rs 106.8 crore.
New talent Jaydev Unadkat and Varun Chakravarthy attracted the highest bids of Rs 8.4 crore each and were bought by Kings XI Punjab and Rajasthan Royals, respectively. They were followed by England upstart Sam Curran for whom Kings XI Punjab shelled out Rs 7.2 crore. The latter was the highest foreign buy.
While Chakravarthy emerged as the biggest surprise, popular cricketers such as Cheteshwar Pujara, Brendon McCullum and Alex Hales remained unsold.
Mumbai Indians shelled out Rs 1 crore for ace cricketer Yuvraj Singh, which happened to be their biggest steal in the tournament's 11-year history. They also brought back Sri Lankan pacer Lasith Malinga who played for them for a long time. He was bought at the base price of Rs 2 crore.
While nine players commanded the highest starting bids of Rs 2 crore, the majority began at Rs 20 lakh base price.
Last year's IPL player auction was held in Bengaluru where Rs 431.7 crore was spent across two days by the eight franchises. In total, 169 players were sold to the eight franchises.
exchange4media Group Service
Channel to broadcast player auction in 4 languages; Gautam Gambhir to debut as expert
The forthcoming VIVO IPL 2019 Player Auction is set to be an unparalleled spectacle with Star Sports, the official broadcaster of the tournament, geared up with a special line up of programming shows for all cricket fans across the country.
VIVO IPL 2019 Player Auction will be held in Jaipur on Tuesday. The live coverage of the auction will be preceded by a 60-minute special pre-show starting from 2.30pm.

The broadcast of the 12th edition of the player auction will include live expert reactions, analysis and a special spotlight on all leading developments throughout the day, featuring cricket experts like Gautam Gambhir, David Hussey, Dean Jones and Kiran More.

Star Sports also launched the second edition of the VIVO IPL Election Se Selection as a lead up to the VIVO IPL 2019 Player Auction. VIVO IPL Election Se Selection offers fans an opportunity to vote for their favourite player who they wish to see playing in their favourite VIVO IPL team.
The campaign has received massive response so far with over 3.1 million fans voting on the official portal vivoiplelection.hotstar.com.

Yuvraj Singh and Brendon McCullum are the most voted players overall so far, whereas Chennai Super Kings, Delhi Capitals and Kings XI Punjab fans have voted the most.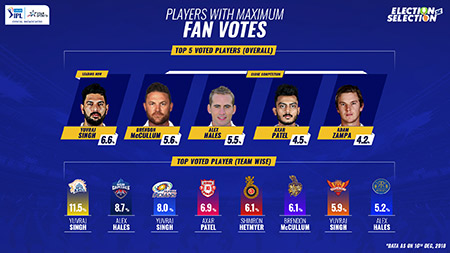 VIVO IPL 2019 Player Auction has received an overwhelming response from fans and was viewed by 46.5 million people across the Star Sports network.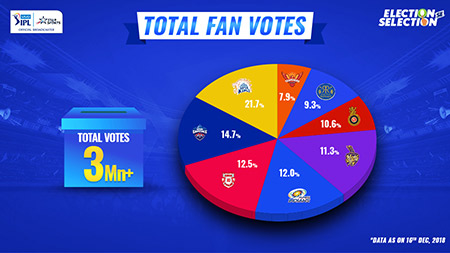 List of experts:

Hindi: Gautam Gambhir, Kiran More and RP Singh
Select Dugout (English): Dean Jones, Anil Kumble and David Hussey
Tamil: Hemang Badani, S Badrinath, L Siva, Muthuraman R and RK
Telugu: C Venkatesh, Kalyan Krishna, Vindhya Vishaka and Venugopal Rao
Anchors: Mayanti Langer, Jatin Sapru and Arjun Pandit
exchange4media Group Service
The campaign will be across Karnataka, Bihar and Uttar Pradesh
Vyoma Media, the out-of-home digital solutions company, has announced that they have been awarded the digital outdoor advertising mandate to promote launch of two TVS XL100 vehicle models—TVS XL100 Comfort and TVS XL100 HeavyDuty i-TouchStart.
TVS XL100 HeavyDuty i-TouchStart will be the first heavy duty vehicle in India to have an electric start based on the integrated starter generator system.

Vyoma Media will aim to build on the affinity towards the TVS brand by engaging consumers through their smart displays at ticket counters across Karnataka, Bihar and Uttar Pradesh railway stations. This content will include localisation and with a core focus on raising awareness. The campaign's creative will be showcased in two different languages – Kannada and Hindi – and the resulting SMS's on the viewers' mobile phones will be in the same language as shown in the creative they have responded to. Further engagement will be ensured when the respondent is redirected to the brand's product page where potential buyers will be able to engage with the customer care team and ask any questions that they might have.

The campaign for TVS XL100 Comfort will be seen across cities in Karnataka while the campaign for TVS XL100 HeavyDuty i-TouchStart will be across cities in Uttar Pradesh and Bihar. Both the campaigns will run for a period of 2 months.

This is the second brand campaign Vyoma has initiated for TVS recently.
S Vaidyanathan, Vice President – Utility Products TVS Motor Company Ltd. said, "We wanted to initiate a campaign with a focus only on interactive and localised creative. Vyoma's displays, placed at prominent locations will allow us to integrate and amplify the brand's campaign for TVS XL100 Comfort and TVS XL100 HeavyDuty i-TouchStart in its key markets. It will also ensure that our brand loyalists are aware of the new innovative features in the vehicle and help us maintain top of the mind recall."
exchange4media Group Service
The film Lakeer is a beautifully crafted piece that takes us through a series of traumatic events in the life of a woman living in rural India
Dentsu Webchutney, the digital agency from Dentsu Aegis Network, has partnered with UN women to raise awareness about gender violence that goes unnoticed with their new campaign #DrawALine. Aimed at spreading a message in a very clear yet powerful manner, it had to be emotional yet relatable in a way that could easily be understood across geographies and demographics.
Gender violence is a harsh reality that we can no longer ignore, and there will never be a better time to speak up, than now.
The issue has been plaguing our society for way too long, and despite the country's rapid rate of development, stories of domestic violence and physical abuse are repeatedly witnessed across different facets of society… be it urban or rural, high net income or below poverty line households.
The bigger pressing issue is that this very gender bias has been instilled in the society through a history of oppression and patriarchy, the light portrayal of domestic violence by media, and a general lack of coverage. This has become a reality that many women have come to accept. Either out of fear, or not seeing a way out, many endure such troubles without ever speaking up.
As concerned individuals the question is often asked, where do we draw a line? At what point has one individual had enough?
The result is the short film Lakeer, a beautifully crafted piece that takes us through a series of traumatic events in the life of a woman living in rural India. The challenge however, was making the audience feel just as uneasy as the protagonist in the story.
It did so by using different elements of suspense, combined with perfectly timed audio cues that make the viewers feel restless and anxious. The conclusion left its audience with introspective questions about how the world needs to change in this regard… precisely the intended result of the campaign.
The symbolism in the film depicts the inter-generational cycle of violence and how it pervades into the daily life of women. By the end of it, it becomes very clear that is high time for us to stop this injustice, and #DrawALine where it truly matters.
Salina Wilson, Programme Analyst, UN Women, had this to say about the initiative "This is a short film we made with all our hearts - a cloud of despair, lined with the ray of hope that women, children, and just as importantly, men across the world, will find the courage to listen and speak about gender violence."
Sudesh Samaria, Chief Creative Officer and Co-founder, Dentsu Webchutney, added "Violence against women and girls is something we all need to overcome, and as responsible individuals, it is time we come together to #DrawALine once and for all. Despite the film's harsh visuals and narrative, we felt that this is a story that needs to be told."
Anil Kumar, Executive Vice President, Dentsu Webchutney, said "This campaign aims at creating something simple, yet audio-visually powerful that stays with the people. As a cause, it is one we adamantly stand for, and we truly relished the opportunity to work with UN Women, and support the mission in the best way we can."
Campaign film
exchange4media Group Service
From at least 1971 to the early 2000s, the company's raw talc and finished powders sometimes tested positive for small amounts of asbestos
According to media reports, an investigation has revealed that Johnson & Johnson's iconic product, the talcum powder, was sometimes tainted with carcinogenic asbestos and that J&J kept the information from regulators and the public.
It was found that from at least 1971 to the early 2000s, the company's raw talc and finished powders sometimes tested positive for small amounts of asbestos. The company executives, mine managers, scientists, doctors and lawyers fretted over the problem and how to address it while failing to disclose it to regulators or the public, the media report said.
The documents also depict successful efforts to influence US regulators' plans to limit asbestos in cosmetic talc products and scientific research on the health effects of talc.
A small portion of the documents have been produced at trial and cited in media reports. Many were kept from public view by court orders that allowed J&J to turn over thousands of documents it designated as confidential.
The earliest mentions of tainted J&J talc were found from 1957 and 1958 reports by a consulting lab. They describe contaminants in talc from J&J's Italian supplier as fibrous and "acicular," or needle-like, tremolite. That's one of the six minerals that in their naturally occurring fibrous form are classified as asbestos.
Most internal J&J asbestos test reports that were reviewed did not have asbestos. However, while J&J's testing methods improved over time, they have always had limitations that allow trace contaminants to go undetected and only a tiny fraction of the company's talc is tested.
The World Health Organization and other authorities recognise no safe level of exposure to asbestos. While most people exposed never develop cancer, for some, even small amounts of asbestos are enough to trigger the disease years later.
The evidence of what J&J knew has surfaced after people who suspected that talc caused their cancers hired lawyers who knew from earlier cases that talc producers tested for asbestos and began demanding J&J's testing documentation.
What J&J produced in response to those demands has allowed plaintiffs' lawyers to refine their argument: The culprit wasn't necessarily talc itself, but also asbestos in the talc. That assertion, backed by decades of solid science showing that asbestos causes mesothelioma and is associated with ovarian and other cancers, has had mixed success in court.
J&J declined to comment further for this article. For more than two months, it turned down repeated requests for an interview with J&J executives.
The company referred all inquiries to its outside litigation counsel who has rejected the findings as "false and misleading."
exchange4media Group Service
Kartik Mohindra, CMO, Pernod Ricard India, spoke about the new association and how Pernod Ricard is looking at brand amplification involving cricketing and non cricketing platforms
Royal Stag recently announced its five year partnership with the International Cricket Council (ICC). The partnership has once again reiterated that sporting platforms have become effective marketing platforms for brands across the board. In this exclusive interview, Kartik Mohindra, CMO, Pernod Ricard India, spoke about the new association and how Pernod Ricard is looking at brand amplification involving cricketing and non cricketing platforms.
Does this association underline the growing influence of sporting platforms as effective marketing channels?
Yes it does. There are two reasons, first is that sports is about active viewership, GEC is also active, but lesser, it is almost passive from a viewership standpoint. When you are speaking about GECs, you are also talking about viewership getting split between various members of a particular household. As marketers you have to understand who is driving the choice of programming in a particular household.
When it comes to sports, by and large, you are very clear about who you are reaching out to. In my opinion if there is a major sporting activity, like the upcoming World Cup, you know that TV viewership and print readership is going to be skewed for that time behind the fever of the World Cup.
Also, sports in India used to be only cricket and it was extremely expensive. But as you see, with the Indian Soccer League, the Indian Kabbadi League, Badminton League, all these sports are also getting their rightful place under the sun. And with it, a lot of new avenues have opened up for a number of brands.
Even within cricket, if you look at IPL, it brought to the table so many sponsors or brand partners, which were not there earlier when it came to international cricket. But when everybody jumps on the bandwagon, the problem of standing out arises.
To me there are a lot of sporting events which have too many brands, so I sometimes wonder who is getting picked up. It is maybe only a reminder communication at some point. So it is about integrating deeper and deeper. We are not only partners with ICC, we also have a whole 360 camping around it to amplify the association.
The Royal Stag campaign " Make It Large' has featured across platforms and still continues to move audiences. What would you call the factors that have made this campaign so successful over the years?
I believe there is a lot of internal passion behind Royal Stag and what it has become, and there is a lot of belief in what the brand does and the position that it has taken. That is also something which keeps the consistency going through the length and breadth of our organization.
What makes it so impactful is that it is a very simple insight which is true for each one of us—"It's your life, make it large." At every level this is what each one of us aspires to do and it does not change in my opinion with time.
When we started with this campaign it was 2004 and today is 2018. So 14 years on, the aspiration has still not changed. It may have moved to another level and they also want to move on to the next and then the next. That is the sentiment and that is the insight we are at and we are about being that brand which inspires the audience to go out there, dream and achieve.
If you see, for this campaign, we have not picked up stars; we have picked people who from nothing have made massive name, who embody the philosophy of the brand. There are many cricketers over the years who we found even before they entered the national team and they went on to captain the country.
For the marketer today there are so many platforms to communicate, has it made marketing more effective or more complex?
I think it is wonderful. The Indian audience is expanding; their desires and their interests are evolving. If you take the digital media, it has opened up a whole landscape of interests for people. So they are naturally going to get associated with so many things.
From a marketer's standpoint, you have to continuously track what is gaining more prominence, what is more inspiring, what associates better for your own brand, and then you latch on to it. But the minute you do, do it with all your heart.
This choice also gives us a lot of opportunity to go out there and do different things. Life for marketers was a lot simpler earlier; it is a little more difficult now and therefore a little more exciting too.
We are big and we want to become larger, we want to spread our wings across many countries around the world, make our presence felt, and this association with ICC is one of the steps in that direction.
Tell us about your new ICC campaign, which platforms are you targeting?
It is going to be a multi media campaign and we are not going to be limited to television only. Digital is important and will continue to be important for us and another primary vehicle from my standpoint.
The print media is equally important, and last but not the least is out of home. We on our part have not finalized the plan or the mix but we are going to leverage every touch point that we can possibly have.
After this association with ICC, are you looking at partnering with other sporting platforms too?
We have a very wide portfolio within the group Pernod Ricard and with the footprint that we have in India, there are several brands which are associated with several sports. We have Imperial Blue which has previously been with hockey and is currently also with football. So we closely monitor the viewership patterns and accordingly associate our brand with those. So it's a moving target.
@columbia Drop Out, @e4mtweets, @BWorldOnline... Past @timesnow, @htTweets, @timesofindia
Indian producer in Hollywood & Hyde Park Entertainment Founder, Amritraj, was conferred with the French distinction of Order National du Merite for his contribution to the arts in France & the world
Renowned Indian producer in Hollywood, Hyde Park Entertainment Founder, Ashok Amritraj, was conferred with the French distinction of Order National du Merite awarded by the President of the French Republic on December 14.
At a ceremony in Mumbai, Amritraj was presented with the Knight of the Order of Arts and of Letters (Chevalier de L'Ordre des Arts et des Lettres) medal. Present at the ceremony were French Minister for Europe and Foreign Affairs, Jean-Yves Le Drian and Ambassador of France in India, H.E. Alexandre Ziegler.
The Order of Merit is part of France's premier award, the Legion of Honor, and is awarded "to recognise eminent artists as well as people who have contributed significantly to furthering the arts in France and throughout the world."
Amritraj enjoyed a successful professional tennis career prior to establishing Hyde Park in 1999. He has produced over 100 movies in the span of his 30 year career.
In 2016, Amritraj was recognised by the United Nations for his role as a committed agent of change in his native country. Amritraj was appointed by U.N. India as its first Goodwill Ambassador for the 17 Sustainable Development Goals, including poverty and hunger alleviation, improvements in water and sanitation, and promoting gender equality.
"I am humbled and privileged to receive this honour. I would like to thank the government of France for the Order National Du Merite and for recognising my journey in the world of cinema. This award is a tribute to the growing cooperation between the film industries of France and India, an idea whose time has come," expressed Amritraj.

exchange4media Group Service
Industry experts from Discovery India, Centre for Social Research, Home Credit, PR HUB, Quick Relations, and The Sedibus spoke at the ninth edition of IPRCCC
The ninth edition of IPRCCC saw a panel discussion themed 'Corporate Social Responsibility and Nation building', where talks revolved around how communication supports in building blocks, bridging the gap between social responsibility and corporate governance.
Eminent names amongst the panellists were Sameer Bajaj, Director - Corporate Communications and External Affairs, Discovery India; Ranjana Kumari, Director, Centre for Social Research; Nidhi Malik, Vice President- Communications & CSR, Home Credit; Xavier Prabhu, Founder & MD, PR HUB; PK Khurana, Chairman & MD, Quick Relations; Deepa Balasubramanian, Head of Corporate Affairs, Malaxmi Group CEO, The Sedibus. The session was chaired by Ruhail Amin, Senior Editor, exchange4media Group.
Watch the video here, and scroll down to read the discussion:
Initiating the session with how the term CSR can be made more 'humanised' rather than business centric, Balasubramaniam added, "Consumers identify brand through human connect and that's what is precisely happening these days."
Talking about the need to redefine CSR, Prabhu added, "By saying CSR, you are already putting the corporate insight and that itself limits you from an outreach perspective. It should be changed upside down to focus more on the impact that it creates."
Speaking about whether brands should be more subtle when it comes to CSR and allow it to speak for itself, Malik added, "The day we stop taking CSR as a marketing tool and really take it as a social responsibility, things will change."
Speaking about how the whole CSR approach needs to be changed, Kumari added, "Earlier what we knew about the CSR was the foundations of the corporations. Doing some kind of a work, which nobody knew was going on. Today, it has opened up because the way the Government is looking at things like sanitation, Beti Bachao Beti Padhao and so many schemes and programmes. Also, as long as you call it a responsibility, it becomes a kind of a forced thing. We can call it accountability or something that you really want to contribute to."
Talking about what the future holds for CSR, Bajaj said, "Results show that by 2019, 50,000 crores will be spent by corporate in CSR. This is a good indicator but it needs to go deeper and we need to be more focused"
The session moved ahead with discussion around the challenges in maintaining the ethos in the corporate hierarchy with regard to CSR. Balasubramaniam added, "It is very important that there is unison in thought when CSR is being implemented and the message does not get lost in the hierarchy." Further, Khurana added, "Unless the communication teams understand the core values of the CSR, they cannot communicate effectively. Communication team needs to go to each and every element of the CSR activity, understand it, bifurcate it and then communicate it."
Talking about the need to create value beyond the business, Prabhu added, "What people are asking today is whether you are genuine in doing the CSR and is it creating the desired impact?" Talking further about the need of CSR to come from the core business belief of the business, Bajaj added, "Leadership and individuals can change but the business does not. What does your business stand for, what are the values that you live for and what is that area which you think will engage the most with your audiences and where you can create an impact will create a long term value."
Concluding the sessions with whether companies are realising that consumers are watching them closely when it comes to CSR, Mallik added, "Developed countries like America have seen that the purchasing goes up by almost 57 per cent wherein the companies are more emotional and socially active."
exchange4media Group Service
The panel discussion revolved particularly on every business or corporate wanting to identify their communication channel as building blocks for their marketing and communication strategy
At the ninth edition of India Public Relations and Corporate Communications Conference 2018 (IPRCCC) saw a panel discussion themed 'Blurring lines between communication and marketing strategy. How to draw the distinction between the two?'
Watch the video here, and scroll down to read the discussion:
The panel was graced by Anamika Sirohi, Vice President & Head of Marketing Hindware; Archana Jain, Founder, PR Pundit; Shobha Vasudevan, Head - Corporate Communications and PR at Dell; Neelima Burra, Country Marketing Director, HP; Aditya Tandon, Marketing Head, News 18 and was chaired by Nandini Chatterjee, Executive Director and Chief Communications Officer at PWC India.
The panel discussion revolved particularly on every business or corporate wanting to identify their communication channel as building blocks for their marketing and communication strategy. Marketing and communication works in parallel, however the lines are blurring considering the shift towards digital media communication from traditional media communication. In certain case marketing take precedence, in certain case PR take precedence. How to define the blurring lines especially when marketing companies offer PR as part and parcel of their strategy and PR companies marketing as part of their services. Finding the right channel is a key.
The discussion started with the opening thoughts by Chatterjee of PWC India, "Communication is important and is radically changing and the marketers are always finding the right way to communicate, to connect and gage with the audience so that they can meet the business objectives, to increase brand awareness or to get leads."
Further to this, all panellists agreed that communication and marketing are integrated and thus they evolved the topic to PR & Marketing. Jain of PR Pundit, believed that the best practices are born out of integrated marketing. In the old days there was so much to there was so much more on opportunities to chase and then came the whole digital space. The brand has to have a natural fit in the platform that the PR agency tries to weave the story and hence it has authenticity at the heart of it. If it is effortlessly fitting in the platform the marketers will say a yes, but because it is becoming forceful thus the lines are blurring.
Speaking of increase in investment in branded content, Vasudevan of Dell said, "It is beginning. Authenticity is definitely the keyword here."
exchange4media Group Service