Govt. to announce names of Institutes of Eminence in three months: HRD minister
The government will announce the names of 20 universities, 10 each in private and public sector that will enjoy full autonomy to become Institutes of Eminence
The government will announce in two to three months the names of 20 universities, 10 each in private and public sector that will enjoy full autonomy to become Institutes of Eminence, the Union Minister for Human Resource Development, Prakash Javadekar announced in New Delhi recently. At a function to felicitate top researchers across 24 disciplines at Careers360 Faculty Research Awards in New Delhi, the HRD minister said the government believes in giving full freedom to higher education institutions, where autonomy will be wedded to accountability. "I believe in freedom. Freedom comes automatically with accountability," he said. The selection process for Institutes of Eminence is on, and the names of the institutions will be announced in two to three months.
Citing the example of IIMs, the HRD Minister said IIMs now have the autonomy they deserve to become brand names on their own. "We have made all IIMs autonomous. They will be on their own. We will continue to fund for the first eight years for the infrastructure and incubating labs," he said. Emphasising the role that research plays in creating a brand identity, the HRD minister said it is their focus on research that will create a brand identity for IIMs. "They have to create their own brand. The brand can be created only when they do relevant research. If they don't do the relevant research the brand will not be established. So, we are going to give that sort of freedom," Prakash Javadekar said.
Similarly, innovations in teaching will change the face of Indian school education, he said. Drawing inspiration from an experiment in Maharashtra where the teachers on their own, without any government support brought in innovation in classrooms, Prakash Javadekar said teachers need to innovate to change the way students learn. Just as the Modi government had made Padma awards synonymous with the grassroot efforts of change makers, the HRD minister announced that the rules for giving awards to teachers will be changed. "We are changing all rules to give awards for teachers. We have changed the way Padma awards are given. The Padma awards are now given to people who are working at the ground level. In the same way, we will change the way awards are given to teachers. We will give awards to teachers who are making innovations," he said.
Recognising the efforts of India's brightest minds in the field of academic research, the HRD minister presented top authors the Awards which carried a cash prize of Rs. 50,000 and a citation.
The 24 disciplines for 'Faculty Research Awards 2018' included Engineering Sciences, Computer Sciences, Physics and Astronomy, Chemistry, Environmental Sciences, Psychology, 'Business, Management and Accounting', 'Economics, Econometrics and Finance' among others. The 'Most outstanding Researchers' in these 24 different disciplines were chosen based on a composite score generated by evaluating the academic output in SCOPUS indexed journals for the year 2015 –17, citation count and h-index.
The weightage to the three parameters was reached by averaging differential weightage suggested by 20 top academics of Indian origin ranging from Innovation Guru Prof. R A Mashelkar to celebrated corporate advisor and academician Prof. Nirmalya Kumar. The list also includes Harvard Business School Dean Dr Nitin Nohria, renowned academician and institution-builder Dr Pritam Singh, National Law University Bangalore Vice-Chancellor Dr R Venkata Rao, besides many other renowned academicians in India and abroad.
Faculty research Awards: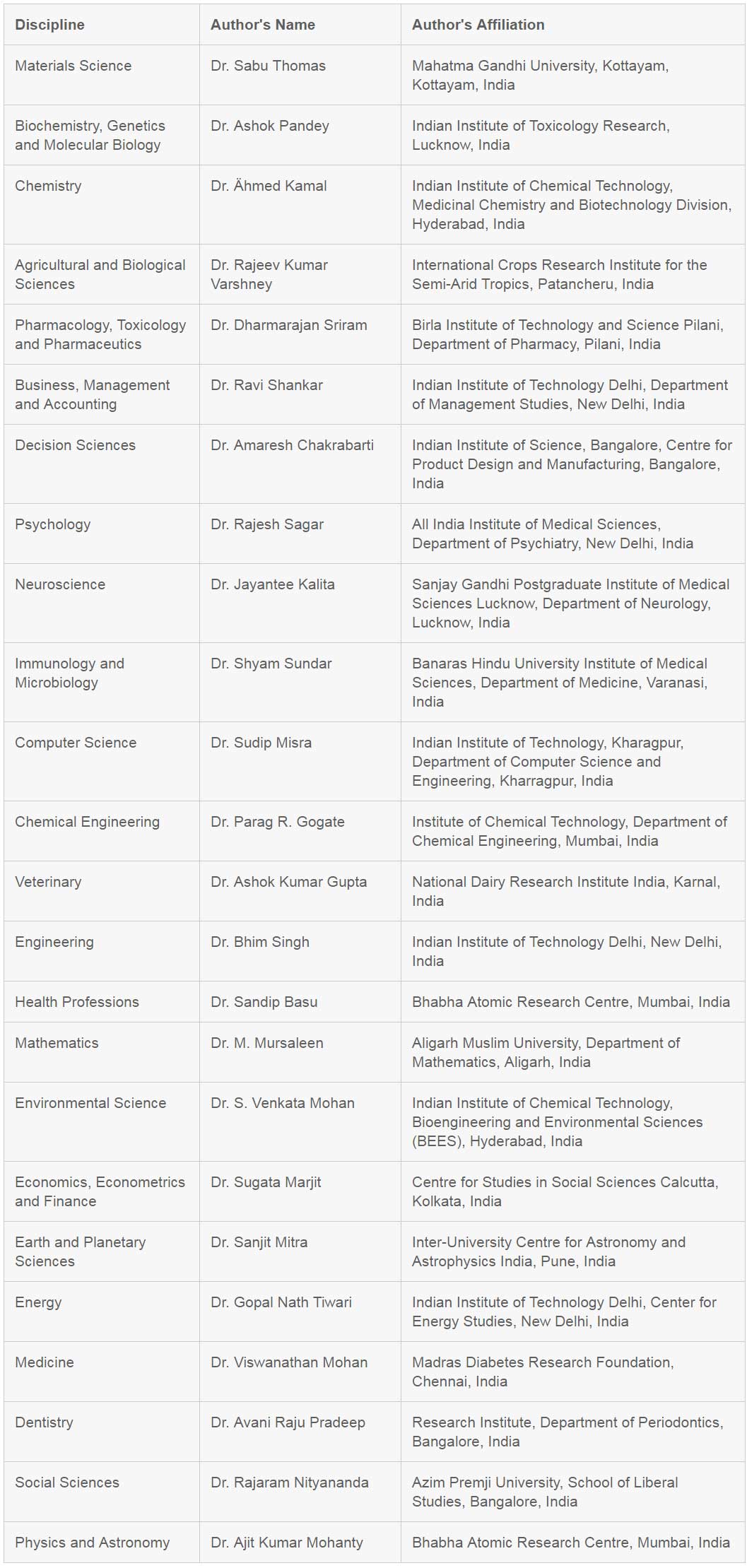 Besides the top authors in each discipline, distinguished researcher in many disciplines were facilitated with special mention at the Award ceremony.
AICTE Chairman Prof Anil D Sahasrabudhe facilitated the distinguished scholars with a cash prize of Rs. 20,000 and a citation. A power-packed panel of Academicians and recruiters also discussed on the challenges in recruitment of faculty members. The panel was moderated by Sanjay Modi, MD, APAC & Middle East, monster.com.
exchange4media Group Service
The new channel will feature curated content, touching different aspects of food, home, glamour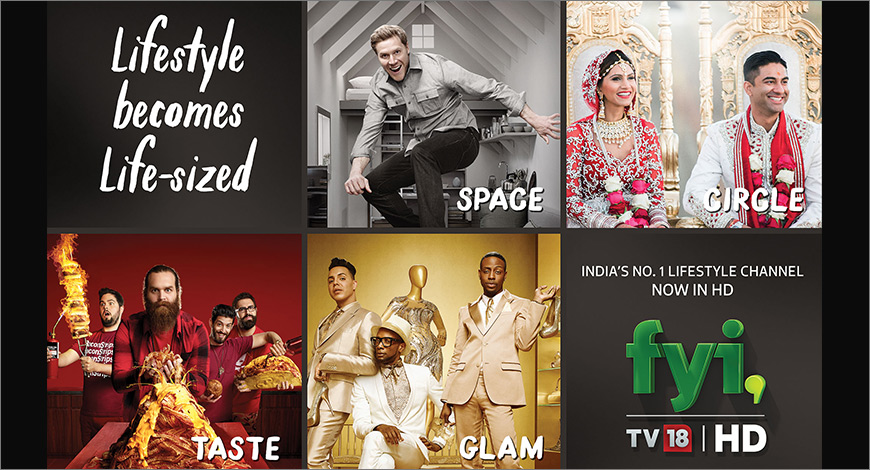 A+E Networks | TV18 launched a new channel, FYI TV18 HD. The High Definition contemporary lifestyle entertainment channel was launched on October 18, 2018.
The new channel will draw on the strengths of FYI TV18, which is personalized and innovative lifestyle programming. FYI TV18 HD offers a blend of local Indian shows and International programming. The new channel will feature curated content, touching different aspects of food, home, glamour, though relationships would be at its core.
Speaking about the launch, Avinash Kaul, COO-Network 18 & MD A+E Networks I TV18, said, "Through FYI TV18, we've always provided our viewers with the very best in lifestyle entertainment. Now in High Definition, FYI TV18 HD is guaranteed to enthral the young and dynamic audience across India."
FYI TV18 HD is the fourth channel to be launched from the A+E Networks & TV18 bouquet after FYI TV18 SD, HISTORY TV18 SD and History TV18 HD channels.
exchange4media Group Service
MJ 'Khurafati Nitin' will lead the campaign, engage listeners and cater to concerns raised by the common man around food in Delhi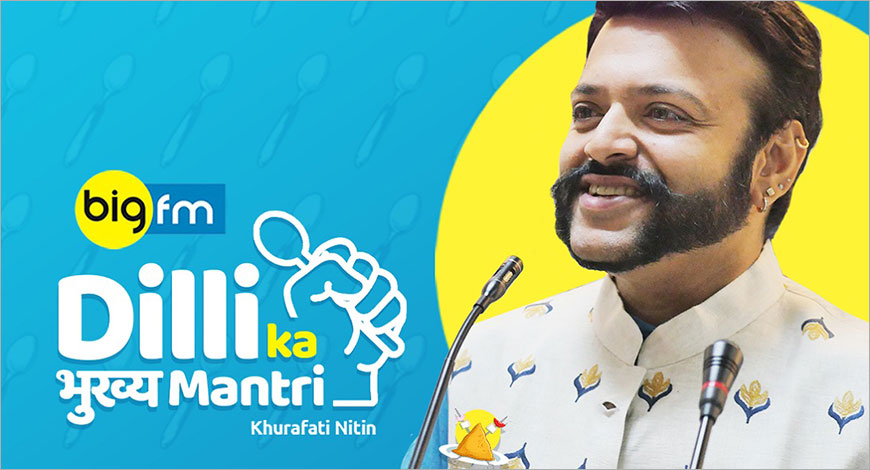 92.7 BIG FM is all set to entertain Delhiites with the launch of its campaign 'Dilli Ka BhukhyaMantri – The Prime Minister of everything related to food'. The campaign will be led by MJ 'Khurafati Nitin' who will engage with and address the concerns raised by listeners regarding their worries related to food available across the city.
Kick starting October 16, the show will be aired at 8 am onwards from Monday to Saturday.
Besides this, the MJ will be seen exploring and discovering the real flavours of the capital city along with his ministers across platforms. MJ Khurafati Nitin, who is also known as a big foodie himself, would not only offer creative ideas to resolve the food problems, but would also visit famous food destinations along with his 'Mantri Mandal' comprising cabinet ministers having a passion for food.
The MJ would be extending the opportunity for listeners to be a part of his ministry and accompany him during his visits to these eateries. The campaign will have various segments where MJ Nitin will interact with celebrity guests and present them with food-related challenges in a fun and engaging way.
Speaking about the campaign, a spokesperson from 92.7 BIG FM, said, "With changing times, the radio industry is also witnessing a major transformation in terms of its approach and content. We at BIG FM have always thrived by keeping up with changing times. The intent behind this campaign is to engage with Delhiites and resolve food issues affecting them which will further help in uplifting their food experience. We are confident that the audience will love this format and will associate with this campaign."
While MJ Nitin would be quoting fun tips with an aim to rescue his fans from tricky food-related situations, he will also keep listeners hooked with interactive and rich segments throughout the week during the entire campaign. The campaign which will be executed across platforms has received support from celebrities, including Sonu Nigam, Rhea Chakraborty, Varun Mitra, Aayush Sharma, Warina Hussain, Manushi Chillar and Sharman Joshi.
exchange4media Group Service
With new launches in fiction offerings in the last few weeks, Star Maa has consolidated the viewership with 40% share in prime-time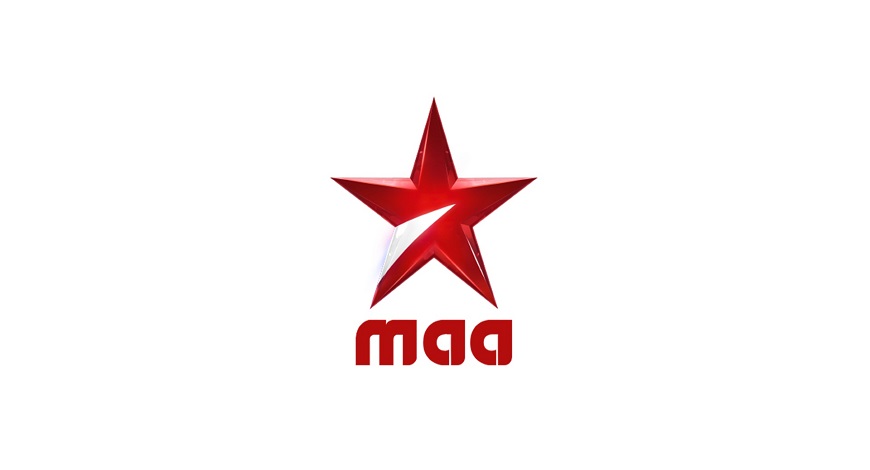 Star Maa, in its journey to be the most loved destination for Telugu entertainment, has clocked 256 TVM (1001 GPRs), a first for any Telugu channel in the last decade.
Star Maa has consistently been leading the market but has recorded an unprecedented leadership with 44% over its closest competitor. The most-watched reality show, Bigg Boss in its season 2 grand finale delivered 14.7 TVR, the highest for any Bigg Boss season ever.
The new launch of yet another interesting reality show, Pellichoopulu with 12.2 TVR created a blockbuster week for Star Maa.
With new launches in fiction offerings in the last few weeks, Star Maa has consolidated the viewership with 40% share in prime-time from 6:00 - 9:30 p.m Monday - Friday
exchange4media Group Service
The show will be telecast every Saturday and Sunday at 7 p.m
The most acclaimed singing reality show in Tamil is back, this time, bigger and better. After a gap of some months, the most popular singing reality show of Tamil Nadu will soon hit television screens. Yes, you heard it right! The Super Singer Junior 6 is all set to be launched on October 20th, from 6.30 p.m onwards.
The show will be telecast every Saturday and Sunday at 7 p.m. The show hunts for the best voice and has thrown light on non-familiar singers who have been striving to show their talent in a well-established platform. The show gave them a celebrity image and now the super singer show stars are shining in the film Industry.
Singers, Krishnamoorthy, Alka Ajith, Aajeedh, Spoorthi, and Preethika, have won the prestigious title of Super Singer. Not only the winners, but all the deserving talents in every season have also continued to do well in their respective musical journey. They are successful not only in film music but have also done cover versions for popular songs which went viral over the internet.
The auditions were conducted in other countries and finally, the best singers were chosen. The panel of judges for this season will comprise the musical sensation Shankar Mahadevan, the melody queen Chithra, the popular singer SPB Charan and well-known playback singer Telugu Kalpana. And adding more color to the season, the ever-gorgeous actress Jyothika will be joining the sets of Super Singer Junior 6, along with Katrin Mozhi movie team.
exchange4media Group Service
Winners were announced in the gala event held on October 6th, 2018 at Town Hall, Bengaluru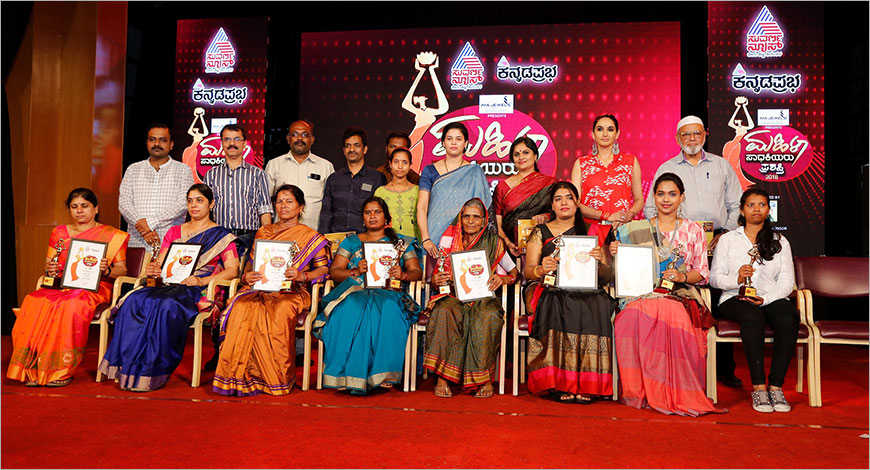 To celebrate womanhood and to honour the women who are working selflessly towards the betterment of society, Suvarna News and Kannada Prabha had organised the Women Achievers Awards 2018 an on-ground event to felicitating these women from all over Karnataka who are achievers in the areas of Social Service, Literature, Art & Culture, Physically Challenged, Science & Technology, Sports, Corporate and Agriculture.
Winners were announced in the gala event held on October 6th, 2018 at Town Hall, Bengaluru, which was attended by Rohini Sindhuri, IAS, Deputy Commissioner of Hassan, Subhasani Vasant, renowned Bharatnatyam dancer and widow of Kargil war martyr, the Late Col. Vasant, and Ragini Dwivedi, leading Kannada film actress.
Over 400 people attended the event which included family and friends of the winners. Along with a memento and certificate, the winners also received a cash reward.
Speaking about the event, Amit Gupta, CEO, Asianet News Networks said, "Through these awards, we would like to honour women who work tirelessly and selflessly. These are the real unsung heroes who need to be recognized and honored by the society for their great work. We at Suvarna News and Kannada Prabha are committed to discover such unsung heroes every year."
Ravi Hegde, Editor in Chief, Kannada Prabha added, "Today's women have won in several sectors and through these awards, we aim to recognize and honour those who have brought change to the society through their work. We had received over 500 nominations, however, we could honour only 8 of them."
exchange4media Group Service
The film is conceptualised and executed by BBH India and features key players - Pardeep Narwal (Captain), Deepak Narwal, Jaideep, Manish and Vijay Malik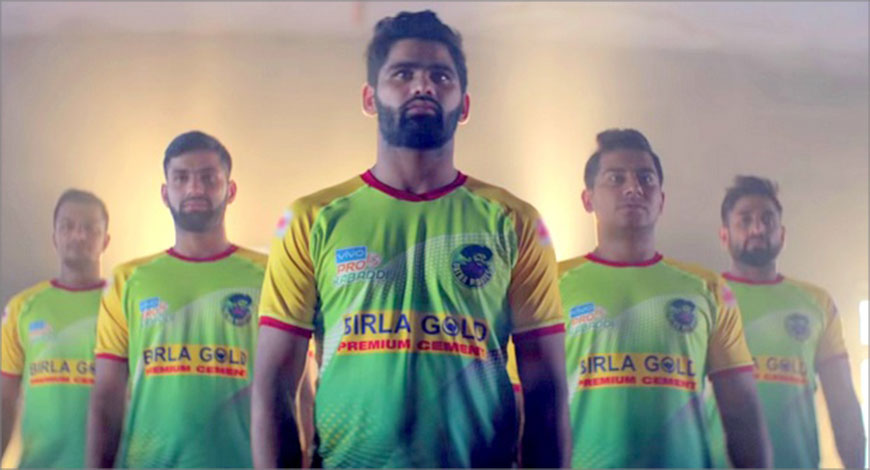 Birla Gold, the cement brand of the B.K. Birla Group of Industries launched its new ad campaign marking the beginning of the latest Pro Kabaddi League season and commemorating its association with Patna Pirates, three-time champions.
The film conceptualised and executed by BBH India and features key players - Pardeep Narwal (Captain), Deepak Narwal, Jaideep, Manish and Vijay Malik.
A name that's synonymous with Gold quality in the category, Birla Gold imbibes strength, perseverance and consistency as its core values. It is no coincidence that they've been proud team sponsors of the Patna Pirates, a team that reigns supreme in the Pro Kabaddi League.
They have been the recurring champions for three years now and their sheer strength is what helps them clinch Gold each time. The campaign was designed with the purpose of capturing this robust relationship, and thus, was born a chant that resonates loud and clear - 'Built From Gold'.
It is a bold message that encapsulates the similarities between the team and the brand. They both live up to a golden standard and outperform everyone with impeccable quality.
Speaking about the partnership, Jayant Dua, Chief Executive Officer, Birla Gold Cement said, "This is our second year as Team Sponsor of Patna Pirates. Hence the brief was to consolidate the association as a seamless combination of leadership and strength. This film has managed to not only accomplish the brief but also made the brand and this association shine."
Jonathan George, Creative Director, BBH India added, "Birla Gold strives towards making a product that sets the benchmark in the cement industry. Their association with Patna Pirates gave us the perfect opportunity to draw a parallel between the brand and a team that has consistently set the benchmark in the Pro Kabaddi League."
Video:
exchange4media Group Service
Matches will be broadcast on Star Sports 1, Star Sports 2, Star Sports 3, Star Sports 1 Tamil, Asianet Movies and beamed on Hotstar and Jio TV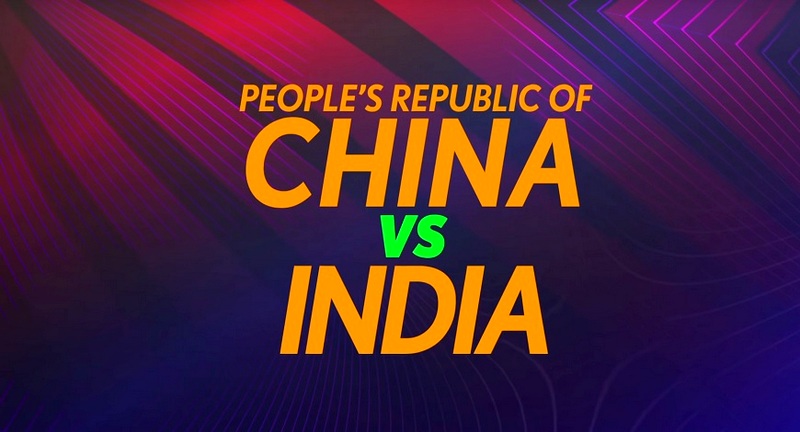 Indian national football team's friendly match against the People's Republic of China will be broadcast live on the Star Sports network, Hotstar and Jio TV from 5 p.m. onwards on Saturday, October 13, 2018.
This is the first time the Indian team will play against China and the game as rightly termed by coach Stephen Constantine is 'much more than friendly' as it serves as a perfect warm-up for the national team ahead of AFC Asian Cup 2019. China is ranked 21 places higher than India who is currently enjoying the best ever phase in international football at 97.
The Sunil Chhetri-led team under the guidance of head coach Stephen Constantine enjoyed a 13-match unbeaten run which was ended by Kyrgyzstan earlier this year. This was followed by a wonderful outing in the SAFF Cup campaign where the team finished as runners-up. Indian fans can cheer for their team in their favourite language as the game will be broadcast in English, Hindi and Tamil across the Star Sports network, Hotstar and Jio TV.
Squad:
Goalkeepers:
Amrinder Singh, Gurpreet Singh Sandhu, Karanjit Singh.
Defenders:
Pritam Kotal, Sandesh Jhingan, Sarthak Golui, Anas Edathodika, Subhasish Bose, Salam Ranjan Singh, Narayan Das.
Midfielders: Udanta Singh, Pronay Halder, Nikhil Poojary, Rowllin Borges, Vinit Rai, Anirudh Thapa, Halicharan Narzary, Ashique Kuruniyan.
Video:
exchange4media Group Service
The show on parenting and childcare will feature celebrity parents such as Barkha & Indraneil Sengupta, Manmeet Anjjan & Karishma Modi, Jai Bhanushali & Mahi Vij, Danish Aslam & Shruti Seth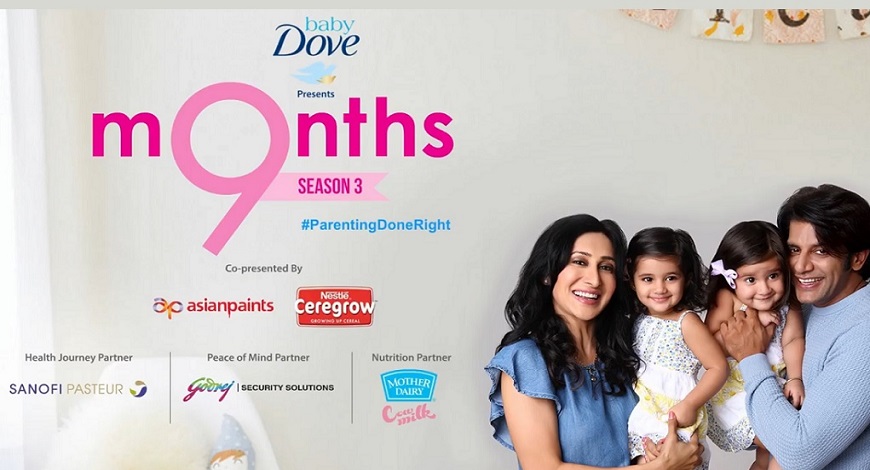 Firstpost's 9 Months, a successful web-series and India's one-of-its-kind comprehensive show on parenting and childcare, promises to be bigger, better and more engaging in its third season.
This time around, viewers will be welcomed by renowned actor, RJ, film producer and mother - Teejay Sidhu, who is the host on the show. The audience will witness riveting conversations between the host and celebrity parents as well as accredited experts. The discussions revolve around interesting topics such as toddler health, family and financial planning, child schooling and education, in keeping with the platform's core ethos of delivering more value to the audience, with each season.
Commenting on the upcoming series Azim Lalani, Business Head - English General News Cluster, Network18 Digital said, "9 Months along with Firstpost's other digital shows has cemented our success in the original web-series segment. The third season of 9 Months has seen more partner brands, highly influential celebrities and experts renowned in their respective fields, being associated with the offering. What makes it even more exciting is having Teejay Sidhu, a mother of twin daughters, onboard. Teejay's strong digital presence and her communication as an active parent influencer perfectly align with the show's core concept. With the novel and innovative developments in the upcoming season, we intend to reach a wider reach, achieve higher engagement and deliver more sharable content. The invaluable associations on the show bear testament to Firstpost's immense credibility as one of the leading digital platforms in the country."
Garnering a whopping 11.8 million views and a reach of 20 million across platforms, the previous season left the audience captivated and wanting for more. In addition to a new host, the upcoming season welcomes influential celebrities like Karanvir Bohra; Barkha & Indraneil Sengupta, Manmeet Anjjan (of Meet Bros fame) and Karishma Modi; Rajneesh and Pallavi Duggal; Jai Bhanushali and Mahi Vij; Danish Aslam and Shruti Seth. They will be seen sharing their personal experiences on parent health, relationships, tackling setbacks around nutrition and achieving new milestones.
To provide an expert view on these conversations, they have been accompanied by eminent experts like Dr. Nitin Shah, Pediatrician, Dr. Samir Dalwai – Developmental Pediatrician, Founder of New Horizon Child Development Center, Arundhati Swamy, Head – Parent Engagement Programmes, ParentCircle; Avnita Bir, Director Principal, R N Podar School; Naiyya Saggi, CEO & Founder, Baby Chakra, Dr. Sanjoy Mukherjee, Psychologist; Mansi Zaveri, Founder, Kidsstoppress.com; Ruchita Dar Shah, Founder of First Moms Club among other distinguished personalities.
Speaking about 9 Months Season 3, Priyanka Sehgal, VP Content & Strategy, Network18 said, "The fact that 9 Months has reached its third season stands testimony to consumption of this kind of content. 9 Months was meant to be every parent's go-to guide and I think we have achieved that. We have attempted to include parents with varied parenting styles and their experiences. There are research-based opinions and tips which will be beneficial to our audiences. On a lighter note, viewers will also see Teejay and her husband Karanvir Bohra in a candid chat about how they manage their busy schedules and twin daughters." The show is presented by Baby Dove and co-presented by Nestle Ceregrowand Asian Paints. Other partners include Sanofi Pasteur as the Health Journey Partner, Godrej Security Solutions as the Peace of Mind Partner and Mother Dairy as the Nutrition Partner. The web-series will be shown on Firstpost and its Facebook & YouTube channel.
exchange4media Group Service
SECCPL collaborates with Mahaland for providing bungalow plots in Navi Mumbai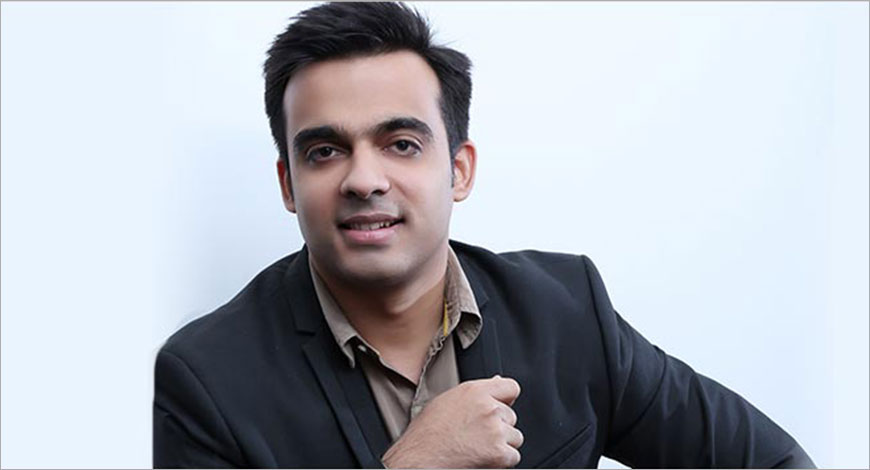 Sai Estate Consultant Chembur Pvt Ltd (SECCPL) has added one more feather to its hat by reviving an early age investment option. They are associating with Mahaland for providing bungalow plots spread across 1000 Acres in Navi Mumbai starting from an introductory price of Rs. 4 Lac per guntha.
Navi Mumbai's real estate market is witnessing major upswing now, with the proposed development of the international airport, a Special Economic Zone (SEZ) and other major infrastructure initiatives that are set to come up in the region.
Expert Talk
Shedding light on the development, Amit Wadhwani, Managing Director, Sai Estate Consultants Chembur Private Limited, said, "We at SECCPL have always believed to go hand-in-hand with the current ask of the real estate market and its consumers. We understand the consumers point of view to invest in property for a long-term, and there is nothing better than investing in a land parcel as it gives the highest returns and is also an immovable asset."
About the plots
Most of the plots offered are located at 1.5km away from Seawoods station and are an ideal option for investment due to its connectivity. Easy commute to Chembur, Mantralaya, Vashi, Panvel and Mumbai can be done under 15 minutes' time. With the upcoming Navi Mumbai International Airport, Sewri- Nhava Sheva Sealink, and other amenities such as malls, schools, colleges and hospitals, are also at walkable distance.
An informed decision
Investor's today, especially the millennials, look at various aspects before making any decision. Not just location but accessibility to workplace, basic amenities and infrastructure and value for money also determine their choice. Sai Estate Consultants Chembur Private Limited (SECCPL) has recognised this need-state and are ensuring that they bring in the option to purchase land as per one's budget at various prime location as a smart way of investing for the future.
With deep and comparative market analysis, local listings, intelligent market insights to increase the sale ability of properties are a few reasons why SECCPL stands out from the clutter. Mahaland, a landscape group, has numerous land banks around Mumbai, Pune and other cosmopolitan cities. Their motive is to give the habitats a green touch by taking care that the environment is not destroyed. They expertise is in assisting every customer with Government and Liasioning.
exchange4media Group Service
Money Manta is an on-ground activity where experts will shed light on the basics of personal finance management, current market trends and address the problems which individuals face while investing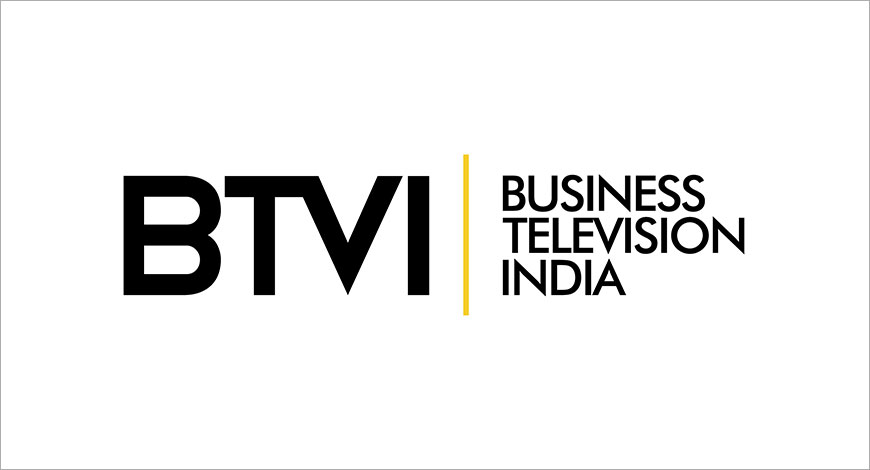 Business Television India (BTVI), has introduced a multi-city initiative - Money Mantra which is an effort to expand financial awareness and literacy by bringing together, personal finance experts and mutual fund experts close to the common man and investors.
Money Manta is an on-ground activity where a panel of experts will shed light on the basics of personal finance management, current market trends and address the problems which individuals face while investing. It will be an interactive session. which will be held across Mumbai, Delhi-NCR, Bangalore, Chennai, Hyderabad, Ahmedabad, Surat and Kolkata over a span of the next four months.
Money Mantra will kick-start in Mumbai on 17th October – P. L. Deshpande Maharashtra Kala Academy (Ravindra Natya Mandir), Prabhadevi 3:30 PM. Channel has invited Kalpesh Ashar, Founder, Full Circle Financial Planners & Advisors and Dhruv Rawani, Founder, GoalSIP.com and the session will be moderated by Muralidhar Swaminathan, Channel Director, BTVI.
Speaking on the same, Megha Tata, COO, BTVI said "Money Mantra is our effort to further our credo of Save, Invest & Prosper. It is a well-thought activity to help individuals as well as investors to manage their wealth. These series of events will also give us an opportunity to interact with our viewers and understand them better. At BTVI, we have always believed in empowering our viewers by educating them and with Money Mantra we are re-enforcing the same."
Adding to that, Anuj Katiyar, Head of Marketing, Research and Branded Content, BTVI shares "Money Mantra is BTVI's initiative to share expert advice with its loyalists and viewers and empower them to make the right financial decisions. With the huge response we received from our audiences for MF Guide and Call BTVI, we decided to get closer to our loyalists by covering 8 major cities in the first phase and seeping even deeper in its second phase. We have designed our 360-degree marketing campaign to reach out to everyone who wishes to comprehend the various aspects of financial literacy and intricacies of sound decision making."
The event has been supported by IIFL Securities, Business Standard and Big FM.
exchange4media Group Service