We will begin a dedicated New Media course soon: KG Suresh, Director General, IIMC
Understanding the round-the-clock nature of change, KG Suresh, Director General, Indian Institute of Mass Communication, in a conversation with exchange4media, talked about his plans to introduce a full-fledged course in New Media Journalism at the institute soon
India is witnessing an evident transformation in the way news is being consumed. Of course, digital media has shown tremendous growth without hampering the reach of either print or electronic media, but what's even more interesting is the constant rise in the demand for regional media.

Understanding the round-the-clock nature of change, KG Suresh, Director General, Indian Institute of Mass Communication (IIMC), in a conversation with exchange4media, talked about his plans to introduce a full-fledged course in New Media Journalism at the institute soon.

"A dedicated course on new media is shortly going to start, hopefully, in the coming academic session," he said.

Presently, IIMC has two large campuses including Delhi and Odisha's Dhenkanal. It also has four other regional centres in Jammu (J&K,) Amravati (Maharashtra,) Aizawl (Mizoram) and Kottayam (Kerala). Until now, only English Journalism was taught in all the regional centres other than Dhenkanal, where a diploma course in Odiya Journalism was also being run.

"We have started a full-fledged degree program in Marathi journalism from Amaravati campus and Malayalam journalism from Kerala campus in this current academic session," said KG Suresh adding that, "We have given a major push to Indian languages journalism."

"Campuses I felt should be relevant to the states where they are functioning and there should be more number of students," he said.

In regional centres, other than Dhenkanal, there are very few students who struggle to finish their diploma course having been taught either on Skype or by guest faculty.

"You cannot have eight or 10 students studying in a campus. So, we started these regional language programs. Now, the same campuses that used to have eight or 10 students are buzzing campuses with 30-40 students," he said.

Ending rumours about his plans to end English Journalism courses from the regional centres, he told exchange4media, "English will certainly continue but that won't be the only course because regional language journalism is growing by leaps and bounds. More people want to read, listen and watch news in their own respective languages."

Touted to be first of its kind, IIMC under the directorship of KG Suresh also initiated a course in Sanskrit journalism from the Delhi campus in association with Shri Lal Bahadur Shastri Rashtriya Sanskrit Vidyapeetha. The campus also has a journalism course in Urdu language.

While proudly speaking about his successful ongoing tenure, KG Suresh also told us that the process of expanding the regional centres, acquiring land and building full-fledged campuses is running at full pace.

When KG Suresh joined IIMC as the director general in March 2016 he was branded as a right-wing propagandist who had come to promote saffronisation of the institute.

On being asked about how he dealt with his critics, KG Suresh said that he was a follower of Swami Vivekananda's teaching and according to him everyone has to pass through three stages. The first being ridiculed, second facing resistance, and third slowly being accepted.

"I think after being ridiculed first, second year it was resistance and now I have entered the third year of my tenure and I think that now is the time for acceptance. Slowly they are accepting me because the campus is buzzing with activities," he said.

KG Suresh, who has previously worked with Press Trust of India, Doordarshan and Asianet as a journalist, also said that he would not allow journalists who are activists in the institute.

"This is a professional training institute. This is not Jawaharlal Nehru University," he added.
As part of the launch of Google News Initiative in March, YouTube committed $25 million funding to support the future of news
Ten media outlets from India have been selected for receiving YouTube innovation funding as part of the Google News Initiative (GNI) to help newsrooms and publishers strengthen their online video capabilities and experiment with new formats for video journalism.
These 10 news organisations - Asianet News Media and Entertainment Pvt. Ltd., Bharatiya Digital Party (BhaDiPa), FACTLY, Gaon Connection, India Today Group, Live Data Visualisation Pvt. Ltd., NDTV, NYOOOZ, ShepHertz and Video Volunteers - are among the 87 selected from 23 countries.
Timothy Katz, Director of News Partnerships, YouTube said in a blog post, "Today's announcement reinforces our commitment to supporting a strong future for news video. Hailing from 23 countries around the world, they represent a diverse array of broadcasters, traditional and digital publishers, local media, agencies and creators, but all share a commitment to quality journalism and a spirit of innovation."
As part of the launch of Google News Initiative in March, YouTube committed $25 million funding to support the future of news.
Many of the projects selected for the innovation funding are focused on expanding newsroom video operations and trying out new ways of reporting news through video - from reaching younger audiences online to exploring live and fact-checking formats.
Other projects look at the sustainability of news organisations, including work on new business models and programmes to support a healthy news ecosystem.
"Over the coming months, we'll be sharing insights gained from the projects and giving newsrooms the opportunity to benefit from the learnings," Katz added.
exchange4media Group Service
Airtel Digital TV customers can now watch The Q India's content as part of their monthly DTH pack
QYOU Media announces that it has partnered with Airtel Digital TV, the DTH arm of Bharti Airtel ("Airtel"), to bring The Q India's 24/7 linear stream of digital first content to Indian homes.
With the average Indian consumer increasingly watching short-form video content on social media platforms like YouTube and Facebook each month, there is growing opportunity to engage customers with short form content on a regular basis. Airtel Digital TV, which reaches over 14 million homes across India, is bringing The Q India to its platform to leverage this trend. The Q India will be available on channel number#125 on Airtel digital TV and will be broadcast in Hindi.
With this partnership, The Q India will continue to expand the viewership reach for its premium content coming from India's leading digital content creators. The Q India is a 24/7 linear service stream of premium curated content that launched in December 2017 and is aimed at Young Indians (20-30 years). The service has established content partnerships that include some of the most watched and influential digital content creators in India. Content featured The Q India include the popular web-series 'Official Chuckyagiri', 'What The Folks' and 'Being Indian' as well as curated episodes from leading digital programs in India, including 101 India, Pocket Aces, Comic Wallah and BLUSH.
Sunil Taldar, CEO & Director – DTH, Bharti Airtel said, "We are constantly innovating to add greater value for customers and enhance their TV experience on our platform. We are always working towards bringing new content and relevant programming for our customers. With this partnership with QYOU Media, we aim to bring the growing trend of short form video consumption to homes on their TV."
Sunder Aaron, General Manager and Co-Founder, The Q India commented, "Young Indians have been lacking a general entertainment brand or service that speaks directly to them. Our mission at The Q India is to address this need with a powerfully relevant service proposition that is entirely unique in proposition, programming the best Indian video content from digital creators who are streaming across platforms. We are delighted to join Airtel, and happy that both platform and advertising partners are beginning to recognize the potential The Q India offers them to reach millions of Millennial and Gen Z digital savvy viewers in their sub base who are now able to enjoy India's best digital content through The Q India service."

exchange4media Group Service
By leveraging CleverTap's Psychographic Segmentation feature, SonyLIV is able to process millions of data points across its entire user base to determine predominant interests of the audience
Mobile marketing platform CleverTap has announced that SonyLIV is leveraging its technology to bring the power of rich media to its push notifications, making them a first mover in the OTT space.
SonyLIV's latest update will allow users to view video previews in push notifications, even on a locked screen. With deep linking that directs them to the appropriate content, SonyLIV aims to provide users with a seamless video viewing experience, the company said in a statement. The results have been exciting so far, with 3x higher click-through rates (CTR), increased session durations and higher than average view times, it claimed.
By leveraging CleverTap's industry-first Psychographic Segmentation feature, SonyLIV is able to process millions of data points across its entire user base to determine predominant interests of the audience. SonyLIV establishes an effective match between the videos on the platform and each user's preferences by determining the users' propensity or affinity towards a specific category over others. Thus, each user receives contextual and relevant videos.
With CleverTap, SonyLIV gains user-level insights based on past and real-time in-app behaviour. Using hyper-personalized, timely user engagement campaigns, SonyLIV is able to update users on the latest content added, inform them of live events, encourage paid subscriptions, and win back dormant users.
Uday Sodhi, Head - Digital Business, Sony Pictures Network India, stated, "SonyLIV is a pioneer in the OTT space and was the first VOD platform to be launched in India. At SonyLIV, we have been pushing the boundaries in the OTT space. Being able to promote the most relevant content at the right time to the right user, through video, is something we are excited about. With the rise in the use of iPhones and the ability to use rich media, we can make push notifications more intuitive, and each campaign more compelling to the end user. This will help us effectively engage our users, and deliver the best possible customer experience."
Sunil Thomas, CEO of CleverTap, said, "As OTT changes media consumption patterns from prime time to anytime, context and relevance is critical. We're excited to work with SonyLIV on their innovation roadmap to help them make content more accessible and relevant. With Psychographic Segmentation, some customers have seen conversions up to 5x higher versus sending non-contextual messages. With smart use of data-science and machine learning, we feel confident that SonyLIV can effectively create highly personalized, incredible experiences for customers."
exchange4media Group Service
The app is a free tool for SMBs to start their digital journey through listings on Google and keep their business presence up-to-date on Google Search and Google Maps
With increased internet penetration, smartphones have become an important storefront for brands and businesses of all sizes. To help businesses be present where customers are, Google India has launched a completely new, redesigned, Google My Business app. The app is a simple and free tool for SMBs to start their digital journey through listings on Google and keep their business presence up-to-date on Google Search and Google Maps.
The new app allows businesses to update their profile, converse with customers, and attract new ones in real-time, on-the-go. New features such as the new post button, a customer tab and the bottom navigation bar, allow businesses to follow and message customers directly from the app, enhancing engagement between both the parties, the company said in a statement.
The new post button is a simple and free way to stand out on Google with a great Business Profile. Businesses can upload a photo, create an offer or an event, and add it right to their profile on Google for the world to see. Businesses can also manage their information seamlessly on Google from the profile tab and watch edits appear real-time across Search and Maps.
Businesses can connect with customers, reply to reviews and receive messages, all in one place, through the updated customer tab. The new tab also enables businesses to see all their followers on Google Maps and using the new post button, engage them with attractive content to encourage repeat visits.
Through the new customer tab businesses can even respond to customer reviews and get notifications on new customer connections as well. And with the new bottom navigation bar, businesses can track results that matter, as it provides a 'one-tap access' to the home tab, new customers tab, and profile tab.
Excited to launch this new updated version of Google My Business App, Shalini Girish, Director - Marketing Solutions, Google India, said; "The new Google My Business app deepens our commitment to help businesses grow online. The new app will encourage businesses to manage their presence on Google in real time, make their profiles more appealing and interact with customers. For instance, if you're a restaurant owner and have a packed house on a Friday night, the app allows you to create a post with a picture of the restaurant to engage with prospective customers on Maps and Search. It's this real-time presence that we hope will go a long way in helping businesses attract new customers and bring back existing ones."
The new, free Google My Business app is available for download in Google Play or the App Store.
Over the years, Google India has enabled businesses to grow online through several products and initiatives. Digital Unlocked is designed to arm SMBs with digital skills via offline and online training module and over 360,000 small businesses have been trained in the past two years. Primer is a free mobile app designed to teach digital marketing skills has been downloaded over 6.2 million times. Also, Websites with Google My Business, enables SMBs to create a free, mobile optimised website instantly in 10 regional languages and over 800,000 Indian businesses are already using it.
exchange4media Group Service
Mobile phone brands dominate list of top 10 most engaging brands in India; Google India leads list of top 10 brands based on video views
In 2018, Indian brands on Twitter raised the bar for consumer engagement through innovative and inspirational brand campaigns. From driving brand awareness to product launches, brands in India adopted an always-on approach to cultivate a deep, meaningful relationship with their customers.

While brands across industries make efforts to engage their audience on the platform, Twitter sheds the spotlight on the top 10 brands based on engagement that shined throughout the year and rose above the rest:
Top 10 most engaging brands in India in 2018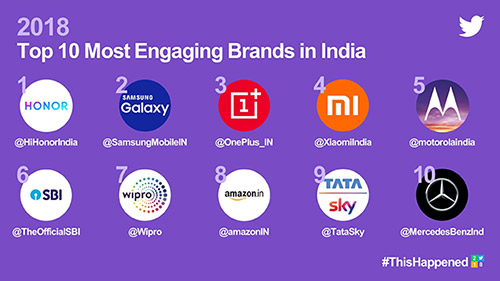 Claiming five spots in the list of Top 10 Most Engaging Brands in India, mobile phone brands lead the way for brand engagement on Twitter in 2018. Honor India (@HiHonorIndia) emerged as the most engaging brand, with its Diwali campaign #YeDiwaliHonorWali tweet promoting the #Honor9N & #HonorPlay garnering close to 20K retweets to become its top retweeted tweet.

Samsung Mobile India (@SamsungMobileIN) took the second place, with its emotive video tweet announcing the partnership with Asha Ek Hope foundation gaining the most retweets.
OnePlus India (@OnePlus_IN) stands strong due to its promotions of the OnePlus 5 and 6 variants, followed by Xiaomi India (@XiaomiIndia) and Motorola India (@motorolaindia) respectively. State Bank of India (@TheOfficialSBI) claimed the sixth spot, with its exemplary use of Twitter to make announcements that impacted audiences, whereas Wipro (@Wipro) owned the seventh place with updates regarding organisational growth and #WOOLmagazine. Amazon India (@amazonIN) secured the eighth position, with the #ShareforOnePlus6 campaign. The rest of the list was closed by Tata Sky (@TataSky) with its #Wishbox initiative, and Mercedes-Benz India (@MercedesBenzInd), thanks to its innovative Twitter gamification challenge.
Top 10 brands based on video views in 2018*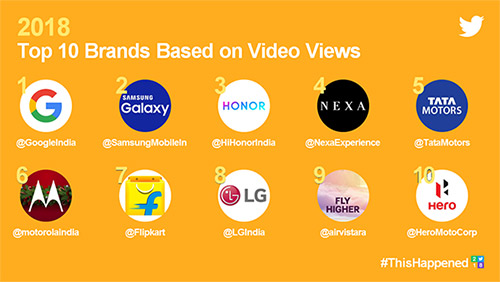 Video continued to be the flavour of the year, with an increasing number of brands opting for different formats of video to visually showcase their products and services, driving up audience engagement.
At the top position, Google India (@GoogleIndia) outranked other brands across categories, with its exemplary use of video for audience engagement. The launch of the Pixel 2 featuring Anushka Sharma (@AnushkaSharma) for example, earned the brand over 3.35M video views on Twitter. Samsung Mobile India (@SamsungMobileIN) claimed the next spot with its effective use of video to announce collaborations through emotive storytelling, while Honor India (@HiHonorIndia) secured the third place with sales announcements through snappy videos. The fourth and fifth places were taken by auto brands Maruti Suzuki Nexa (@NexaExperience) and Tata Motors (@TataMotors), with their top video tweets themed around #WorldOfNEXABlue initiative and unveiling of #TataHarrier's name, respectively. At the sixth spot, Motorola India (@motorolaindia) shared a video highlighting the dual rear-camera setup and unique modes and effects of the Moto G6 camera. Up next, the video tweet by Flipkart (@Flipkart) in collaboration with Mahesh Babu, Telugu Cinema actor to promote the Big Billion Days sale generated considerable amount of buzz. LG India (@LGIndia) claimed the second last spot by involving their target audience through a conversational video ad asking Twitter users to select the best feature of the LG Smart TV. Vistara (@airvistara) captured the attention of Twitter users with its 2018 brand film featuring Deepika Padukone as she shared her flying experience with Vistara. Lastly, HeroMotoCorp (@HeroMotoCorp) built great engagement by giving Twitter users real time access to the launch event of Xtreme 200R.
Top 5 most engaging auto brands in India in 2018*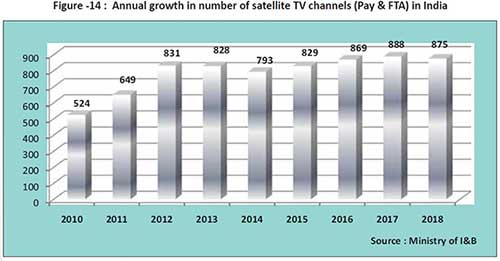 One of the most prominent industries to actively engage with audiences is the auto sector. With Auto Expo kicking the year off, brands amped up their efforts to drive conversations with Indian consumers in 2018. Topping the chart, Mercedes-Benz India (@MercedesBenzInd) indulged fans on Twitter through innovative ways, like challenging them to test their speed quotient with Twitter gamification to win exciting prizes.
With people logging into Twitter to connect with companies for a variety of reasons, brands are now looking at unique and relevant ways of reaching out to their audiences on the platform. Notably, Mahindra (@MahindraRise) and Maruti Suzuki (@maruti_corp) adopted a multi-prong handle strategy, as a way to cater to different customer needs and succeeded in ramping up their engagement levels. While the aggregate of brand-related handles propelled Mahindra (@MahindraRise) to the second spot, Maruti Suzuki Nexa (@NexaExperience) established itself at the third position.
Hyundai India (@HyundaiIndia) and Tata Motors @TataMotors rounded up the list at the fourth and fifth spots respectively.
Top 5 most engaging BFSI brabds in India in 2018*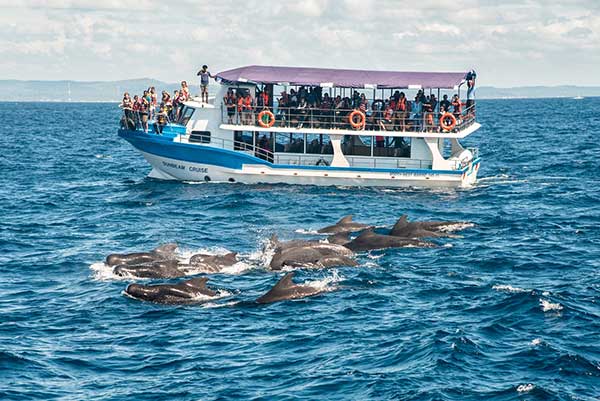 People expect direct customer service from brands through Twitter today, and those who are able to exceed customer expectations, are featured in Top 5 most engaging BSFI brands list. State Bank of India (@TheOfficialSBI) emerged top of the list, followed closely by Yes Bank (@YESBANK) and Paytm (@Paytm). Bajaj Allianz Life (@BajajAllianzLIC) and HDFC Ltd. (@HomeLoansByHDFC) took the fourth and fifth positions respectively. Leveraging the live, conversational and public nature of Twitter, BFSI brands are utilising the platform to keep their audiences abreast of the latest developments in the industry as well as their individual organisations.
*Data as of Jan 1-Nov 10, 2018
**Aggregate of brand-related handles that featured in the list of Top 400 handles related to brands in India
exchange4media Group Service
The agency is present in multiple countries and enables brands to grow in a technology-driven world
DViO Digital has solidified its global footprint in the MENA region with Dubai as its base. Contributing to over 30% of their overall revenue, DViO has been working with leading business houses across retail, education, wellness, and health in the Middle East over 2 years. In sync with the company philosophy of building India as a global powerhouse of talent nurturing leading businesses, it has paved its way successfully in the Gulf apart from existing operations in India and Malaysia. Some of their key clients include the likes of Landmark Group, Apparel Group, Star TV- Middle East, Manipal University, Bits Pilani, and Vanity Kart – an e-commerce portal positioned to be the largest destination for women in the Middle East.
DViO is one of India's largest integrated marketing companies focused on the digital transformation of brands and businesses. The agency is present in multiple countries and enables brands to grow in a technology-driven world. They serve six markets in 3 countries with over 130 digital media experts as of date. The talent is global and expertise across areas of digital content creation, digital videos, creative, mobile marketing, technology and media and across numerous industries such as retail, entertainment, lifestyle, education and many more. With a penchant for picking out global-minded and able talent, they have been steadily growing from strength to strength as an independent agency with a global footprint.
One of DViO's many strengths is the talent they possess. Their CEO & Founder, Sowmya Iyer and her team of talented ideators give DViO its edge as a Creative Technology company. This gives DViO's key clients access to the state-of-art global innovations. Sowmya is also a start-up investor and Chief Mentor at DViO's in-house MADTech Incubator.
Speaking on the Middle East business, CEO & Founder, Sowmya Iyer said, "We are extremely bullish about the growth of DViO Digital in global markets. It is also aligned with the vision to make a global independent company with India as headquarters and increasing talent pool, diversity, and skill set to be one of the best in the markets. We will be making announcements on newer markets and projects very soon beginning with Saudi and Kuwait."
exchange4media Group Service
The 360-degree marketing campaign, planned for ZEE5's latest original show, will be outdoor and digital heavy
ZEE5, the digital video streaming platform from ZEEL, is all set for its latest tentpole property 'Rangbaaz,' scheduled on December 22. The crime thriller series starring actor Saqib Saleem, Ranvir Shorey and Tigmanshu Dhulia set in 90s, is based on the life of UP gangster Shiv Prakash Shukla and is the biggest show after 'Karenjit Kaur' that will be launched across 190 countries. A 360-degree marketing campaign is already up and about. Spanned across two weeks it will be digital and outdoor heavy.
Manish Aggarwal, Business Head, ZEE5, explains the reason for purposely choosing outdoor as it helps them drive 'desired imagery and impact'. He adds, "We have a big outdoor campaign going alive across six cities including Delhi, Bangalore, Mumbai, Kanpur and Agra. We are focusing on standard top 20 priority markets. We have also planned certain innovations on outdoor around the show premiere. There is a big influencer partnership."
Interestingly enough this is the first time marketing monies are almost equally distributed between outdoor and digital. "In fact outdoor is at par with digital," Aggarwal points out.
The platform is confident of attaining success with 'Rangbaaz' as it has all the elements, "You have gang-war, fights. There is an emotional side to it. There is a nice balance. Scale wise it is on the same lines as 'Karenjit Kaur'."
On digital marketing ZEE5 has partnership with the giants Facebook and Google. "Spends wise it will be very heavy both from Google and Facebook. We are working closely with them in terms of creating assets and populating them across respective platforms. Activities are planned in Twitter Blue activity with the actors. There will be Facebook Live as well. This will continue for two weeks," explains Aggarwal.
Based on the reception of the first season they will decide the season 2. Aggarwal shares, "We have just released it. It will depend on the consumer reception." ZEE5, which has seen a lot of traction from digital movie premieres, will have multiple Bollywood releases and will also bring in original content. It is all geared up for 2019 with minimum one hero property launch every month.

exchange4media Group Service
Voice may not be a media product yet, but it has varied applications and offers brands a unique way to engage with consumers, say experts
If you have attended even a few industry conferences and heard some keynote addresses over the year, you possibly remember one factoid clearly: 28 per cent of all searches online are voice searches and is growing at 270 per cent. And you have possibly gone back wondering, "Ok, Google. How do I optimise my brand for voice search?"
If you are asking yourself that question, you are already on the right path. Because voice today is like the internet in the 1990s. Voice is already becoming a very important business tool that can play a critical role in marketing and the consumer journey.

Anand Chakravarthy - Managing Director - Essence India, says, "Clients with digital assets that play a critical role in their marketing or consumer journey will need to have a voice presence. This is especially true for companies in the financial service sector."
Some banks in India are already building voice-led chatbots that can help users transfer funds, check balance, and more. Agrahyah Technologies, a voice agency that was launched in 2018, is working on such solutions for its clients in the financial sector. Sreeraman Thiagarajan, Co-founder of Agrahyah Technologies, believes that unlike fads like AR and VR, voice is a "need to have" capability.
"As consumers are increasingly using voice to interact with computer, home appliances, and even automobiles, it is time for brands to be there to welcome their customers," he says.
Since the launch of Apple's voice assistant Siri in 2011, voice-enabled technology has become a standard feature on smartphones and all devices that can connect to the internet. These devices are not just smart speakers like Google Home or Amazon's Echo, but also low-end feature phones like the Rs 1500 Jio phone.
There was a widespread belief that only owners of smartphones and smart speakers are using voice to interact with their devices. But the Jio revolution made Google Assistant available to all owners of the effectively-free Jio phone when it was launched in 2017. As per a study by Reliance Retail, "the number of voice commands on the (Jio) phone surpasses those on smartphones by five times."
The prospect of reaching media-dark areas where the Jio phone has earned high penetration excites Shamsuddin Jasani, Group MD, South Asia, Isobar. As of mid-2018, 25 million Jio phones had been sold. The wide market that does not use English as its first language through voice is the holy grail of every brand, publisher, and platform. "It's part of the Next Billion plan. Voice will break a lot of barriers in these media-dark regions," says Jasani. He truly believes that every brand must take voice seriously because "it will change the way humans interact with the things around them." And as consumers spend less time looking into their screens, brands should be present off-screen and in the consumer's ears.
Thiagarajan says that brands have a lot of scope in how they use smart speakers and voice assistants. "Imagine using Amitabh Bachchan's voice to create the Alexa skill for your company or brand if he was the brand ambassador for that product or service." He, however, is quick to caution that interruptive advertising like we have seen with digital video should not be replicated in voice. "Using voice to do what the radio jingle does would be a heinous crime," he says.
Chakravarthy also says that voice is not a media product just yet. "The implications from a media perspective is limited to search." He says that while voice search volumes are growing, we are yet to arrive at a solution for making media choices for voice searches. "We need to find ways to bid for voice search keywords as voice search will be very different from how we type."
The journey towards voice is going to be like the one from websites to app. "Just like brands have mobile apps, they need to build a voice presence for voice," explains Jasani. This is why digital agencies that want to prepare for future where they help in business transformation of clients are already training their teams in voice. "In 2019, we are focussing a good chunk of our employee training on voice," says Rajesh Ghatge, CEO, Indigo Consulting.
Once Indian consumers hit critical mass with how they use voice, more brands and media agencies will start using voice. And experts believe that 2019 will be an inflection point for voice.
Susmita is a digital marketing reporter at exchange4media. She writes on latest developments in the ever-changing world of digital media and in-depth stories on all things advertising.
Shah Rukh Khan starrer Zero has become the first Bollywood film to utilise Amazon Alexa, develop a Snapchat filter, and even create a Whatsapp sticker pack.
Unlike the promotion of typical Bollywood blockbusters, Shah Rukh Khan's dimpled face first appeared on a hoarding alongside AR Rahman promoting the launch of YouTube's first Original show in India, ARRived.
It was just the beginning of the digital promotional initiatives for the movie starring Shahrukh Khan, Anushka Sharma, and Katrina Kaif. Since the launch of the trailer of the movie on November 2, the makers of the film have been innovating on every major digital platform to promote this blockbuster.
Zero has become the first Bollywood film to utilise Amazon Alexa, develop a Snapchat filter, and even create a Whatsapp sticker pack. Red Chillies Entertainment seems to have pulled all stops for the digital promotions for Zero. The partnership with YouTube Originals' ARRived to hunt for the voice of Zero was another ace move from Red Chillies. The show kicked off on November 7 and the live finale will stream on December 19. Aided by outdoor and digital promotions it ARRived was hard to ignore and created widespread awareness about the show and the movie Zero.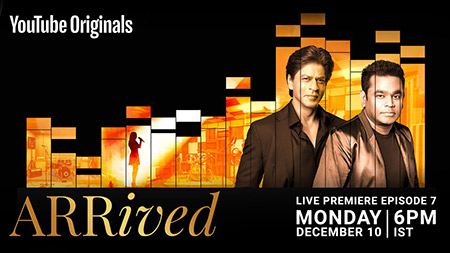 The reason the production house has expanded its digital promotions and innovated on the various formats is to "build conversations and engagement," says Binda Dey, Head Marketing, Red Chillies Entertainment. She further says, "for entertainment content push advertising typically does not work, since there's an inherent pull for the content. Therefore, we use content and engaging experiences to make the marketing more effective." While the promotions do seem digital heavy, in the last leg of the campaign Red Chillies will do an 18-city tour in addition to television appearances.
Dey says of the digital platforms, she uses "Twitter and Instagram to build a conversation around the movie and engage with fan clubs while the long format content like the trailers and songs reside on YouTube and Facebook."
She further says that the spend on digital is growing in the entertainment category. But the buzz on social media is disproportionate to the spend. "We benefit greatly from organic social media buzz because people are naturally more inclined to consume the content," she adds. According to industry estimates, Red Chillies could be spending around Rs 3 crore on the digital marketing of the movie with a total budget of Rs 30-40 crore.
Dey believes that digital promotions must go beyond the banner ads. "We must use digital to engage with people effectively and make them more inquisitive about the content of the movie than just building awareness about the movie through banner advertising."
This is why Red Chillies has leveraged the different capabilities of platforms like YouTube, Twitter, Whatsapp, Snapchat, and Amazon Alexa in specific ways to achieve the right KPIs for the campaign.

On Twitter Shah Rukh's character in the movie, Bauua Singh has a handle of his own. Through this handle, Bauua has been striking conversations with celebrities, fans, and Shah Rukh himself in his inimitable style. Fans can also send their photos to Bauua and receive a customised digital artwork of them with Bauua on Twitter. The tweets from Bauua which are all conceptualised by the writer of the movie Himanshu Sharma are a hit with the fans. "People have loved the Bauua Twitter handle and have requested us to continue with his handle even after the release of the movie," reveals Dey.
Bhagwaan aapki umr, aur bat ki dhaar dono ko ta-kayamat banaaye rakhe @imVkohli bhai! ? #HappyBirthdayVirat

Ek second!!! Ye Aafia aapke saath kya kar rahi hai! ? pic.twitter.com/aafVNKfDeG

— Bauua (@BauuaSingh) November 5, 2018
As voice gains popularity among users presence on Voice Assistants and Smart Speakers is becoming a norm among brands. Similarly, Zero too has experimented with voice. With Amazon's Alexa users can request Bauua to deliver shayris or movie dialogues using the Bauua from Zero Alexa Skill. This is a first-of-its-kind interactive skill developed for a Bollywood movie. Explaining why the movie makers chose to use a smart speaker to engage with users Dey said, "Bauua's character has a very interesting tone of voice. We decided to use his quirk and wit because it's an unique quality of his character."
ZERO ab ban gaya Alexa ke dil ka hero! Not yet aware about the Alexa-ZERO skill? #JustAsk Alexa to open Bauua from ZERO. #BauuaOnAlexa@iamsrk @RedChilliesEnt @cypplOfficial @BauuaSingh pic.twitter.com/F1YSoS3WAl

— Amazon Echo India (@AmazonEchoIndia) December 8, 2018
With every innovation, Red Chillies has found the apt combination of content and technology to engage with consumers. On Snapchat people can become the main character and interact with the plot line of the movie. Incidentally, Shah Rukh Khan made his Snapchat debut as an Official Story on November 2.
Thanks to @Snapchat @BauuaSingh can take Aafia & Babita for the movie #Zero on 21stDec... Apni aankhon mein bithake...for my eyes only... pic.twitter.com/OX0fXcUx4v

— Shah Rukh Khan (@iamsrk) December 18, 2018
Red Chillies has also introduced gamification through an engagement program, called Bauua Ki Toli. To take part in the contest fans need to create a profile on the website Bauua Ki Toli, connect their Facebook and/or Twitter profiles, and interact on the Red Chillies Entertainment pages daily to earn more points. With each activity that they complete, fans get closer to Bauua Singh and stand a chance to meet the star cast of ZERO.
Zero also brand tie-ups with PVR Cinemas and INOX Leisure for customised food and beverage packs. With Carnival Cinemas the filmmakers have created Artificial Reality booths. The other brand partners include matchmaking website Shaadi.com, food brand Bikaji, and fashion brand Doodlers.
Shah Rukh Khan is a trendsetter. It would hardly be a surprise if Zero's varied marketing innovations now become hygiene practices in the A-list Bollywood movie promotions.
Susmita is a digital marketing reporter at exchange4media. She writes on latest developments in the ever-changing world of digital media and in-depth stories on all things advertising.
Google India released a Google-commissioned study from Accenture Interactive benchmarking over 110 Indian mobile websites across three verticals - financial services, retail and commerce, and travel
With the rising influence of mobile, the consumer experience is playing a critical role in mobile-commerce. Mobile sites have become important storefronts for brands, and customers' buying decisions are determined by seamless search and purchase journeys on their devices. However, are Indian mobile websites equipped to handle consumer need? Do they offer coherent search and purchase paths? Do they match international standards and apply global best practices?
Google India released a Google-commissioned study from Accenture Interactive benchmarking over 110 Indian mobile websites across three verticals - financial services, retail and commerce, and travel. The study aimed to rate them against specific attributes, viz. Findability, Product Page Design, Registration and Conversion, Mobile Design and Speed. The study found that on average, Indian mobile websites score very well on Product and Mobile Page design (80%), Findability (69%), and Registration and Conversion (73%). However, they fell behind when it comes to Speed, scoring only 55% compared with other Asia-Pacific mobile sites. The study further found that average mobile site performance for the retail sector is highest at 70%, whereas, the travel and finance sectors stood at 65% and 63% respectively.
According to the study, brands that are unable to prioritise great mobile experiences, run the risk of poor conversions. The study states that 86% of Indian consumers are likely to make purchases on mobile sites that have made search and purchase processes seamless. If not, brands face 20% drop in conversions for every second of delay in mobile page load-time and 53% consumers leave a mobile site that takes longer than three seconds to load.
Sharing insights on how brands can improve their mobile webpage speed, Vikas Agnihotri, Country Director - Sales, Google India said, "Smartphones are a catalyst for consumers to research and carry out commerce online today. It's up to marketers to prioritise a seamless mobile web experience to retain consumers with content and speed. Brands must counter the top three barriers of slow speed, slow server times and lack of caching policy, to build a strong connection with their consumers, improve conversions and build stickiness."
The Google-commissioned study from Accenture Interactive also cited top recommendations that can help significantly improve the mobile experience for customers. For example, 74% of the retail and e-commerce sites can improve the registration and conversion rate by creating an account. Similarly, 59% of the retail and e-commerce sites can improve registration and conversion by allowing users to purchase products as guests. In the travel space, by providing search steps or guidance when there are no matching search results, 78% of the sites surveyed can improve findability for brands. And, by avoiding displaying desktop pages on the mobile browser, 36% of the finance players surveyed can improve their mobile design.
The study also shared tips from the most visited mobile sites to help brands match their mobile performance:
Identify where customers typically drop off on their user journey using quantitative analyses, like web analytics reports, and qualitative analyses.
Engage in user testing to understand common customer pain points in the five user experience categories.
Get help: The Web Fundamentals site is a great place for usability, inspiration, the latest tools and technologies, and guidance that can be leveraged to solve customer pain points.
Test and iterate: Commit to continuous testing and improvements to the mobile website, as delighting users with great user experience is never a one-off process!
Monitor the mobile site's speed regularly with Webpagetest or through analytics reports.
The Google-commissioned study from Accenture Interactive study reviewed over 720 most visited mobile sites across 15 countries in Asia-Pacific. Websites were rated based on 80 user experience best practice guidelines, as well as their speed. Individualising how brands can increase site speed, the study proposes to lighten the website by compressing textual and image assets; identify and remove backend performance bottlenecks, and Cache static objects like images to avoid repetitive browser requests.
exchange4media Group Service