Lotame appoints new MD for SEA region
Fred Marthoz  will be responsible for spearheading Lotame's efforts across business lines and driving market growth for the SEA region
Lotame (www.lotame.com), the data solutions company, has appointed Fred Marthoz as Managing Director for the South East Asia (SEA) region.
Based out of the company's Singapore office, he will serve as a member of the company's executive leadership team. In his new role, Marthoz will be responsible for spearheading Lotame's efforts across business lines and driving market growth for the SEA region.
"I'm very excited to welcome Fred back into the Lotame family," said Andy Monfried, Founder and CEO of Lotame. "Having served as Lotame's Sales Director for EMEA, Fred is no stranger to the company. His equanimity and steadfast contributions in expanding Lotame's leadership position in Europe have left us more than fortunate to have him back to continue building our presence – this time in the APAC region."
An industry veteran in the tech and digital media industries, Marthoz has spent more than a decade working for a number of big brands, as well as emerging startups, including Microsoft, Google, Playphone and Mocean Mobile, among others. His most recent role was Sales Director, EMEA at mParticle. Prior to that, he served as Lotame's Sales Director for EMEA for four years and played a vital role in driving success and growth in Europe.
"I'm thrilled to be part of Lotame again and excited to continue expanding our presence in this fast-paced and dynamic APAC market," said Marthoz. "The industry is constantly evolving and, through it all, Lotame has been a leader in data solutions globally. We're at the forefront of new technological innovations and helping the digital media industry deliver more personalized and relevant consumer experiences."
exchange4media Group Service
Guest Column: Nishant Singh Didawat, Business Head - Media, Social Kinnect tells us more about Google's new Shopping page and how it will change e-commerce game in India
Just when you thought that 2018 will go down in history as a year of controversies around data security, PII and SPI - Google just made a massive announcement!
Here's what has happened – "Google has unveiled Google Shopping, a dedicated search engine intended to provide an immersive and improved online shopping experience. Along with finding products, Google Shopping allows users to filter through offers and review prices across multiple retailers. The shopping homepage is a dedicated made-to-browse page where shoppers can search for products across several categories and choose between thousands of retailers."
To understand what this means, let's observe how things change with this launch.
I searched for "Blue Nike Shoes" on the Search Results Page as well as on the new shopping tab to notice the difference.
Immediate observations from a consumer's perspective:
1. There are almost twice as many products appearing as results, above the fold.
2. We now get bigger and clearer product images in search results.
3. One can see the number of reviews and ratings as well in some cases.
4. In my opinion, it's brilliant how the price points are now mentioned in big and bold, followed by the seller brand and before the name of actual product. That's typically the sequence majority of Indians follow in the shopping cycle.
5. The desktop version provides filters like Price, Brand, Seller, Department, etc. The mobile version doesn't at this point. I'm sure this will get added soon.
6. Again, the desktop version provides the ability to sort by price and ratings; the mobile version doesn't, yet.
7. As you scroll below the fold, there are more products. I saw 40 shoes appear on desktop and 20 on mobile.
8. On mobile, as you scroll below the fold, we are presented with some more filter options (not sure if that's where you want your filters to be). There's also a functionality to shop by store along the last ribbon that talks about "People also search for".
To summarise, it's a very neat looking results page, devoid of wordy text ads, site links, structured snippets, call out extension, location extensions, call extensions, UAC Ads and organic search results. Without a doubt, it's a great way to facilitate online shopping for the Indian audience.
It's also an amazing opportunity for small and medium sized advertisers
While driving performance marketing for my clientele of SMB e-tailers, I observed a growing concern regarding ad-visibility of shopping ads; since most of the auctions were dominated by the large aggregators and brands (Amazon, Flipkart, Myntra, AJIO, Koovs), leaving the SMBs with hardly any impression share. They were, largely, limited to relying on precise long-tail search queries for any results from shopping ads. And even when they received clicks, they were too expensive to justify RoAS. This led to a lot of SMBs signing up on the Amazon and Flipkart. Of course that has its own pros and cons.
Now, with more products on the results page and assuming correspondingly cheaper auctions, I'm sure they'll be back in the game. Given that now on a product page click, one can see price-points across all shops, by saving on commissions charged by aggregators SMBs will get more visitors.
However, with a bigger product listing size comes more responsibility. Brands will have to be more invested than ever before in ensuring that product feeds are enriched thoroughly, product names and descriptions are written keeping search behaviour in mind, Google product categories are detailed and accurate, key product attributes are added and reviews and ratings (these are the most ignored assets in my opinion) are encouraged on their websites. Significant investment needs to be made in ensuring that the product images stand out in the clutter.
Agencies will need to sharpen their Knowledge of Google Shopping
It's very clear that this development will lead to more advertisers coming on board Google's merchant centre, thus leading to larger e-commerce clientele for digital marketing agencies. While not displaying today, I believe it's only a matter of time (probably around H2-19) before ad space is opened up on this page resulting in some intense auctions. In parallel, I believe betas will be rolled around smart shopping campaigns, their audiences and campaign objectives. Knowledge around feed implementation, integration, enrichment and performance marketing will be key to success.
And finally, it's going to give Google a greater control over e-commerce in India.
Already, Google's shopping ads account for over 60% retailers' search ad spending. Google's previous move to drive consumers to click on Google Shopping ads by increasing ad space has clearly worked, so much so that they decided to make a dedicated page for it. According to an IBEF report, India's E-commerce revenue is expected to jump from US$ 39 billion in 2017 to US$ 120 billion in 2020, growing at an annual rate of 51 per cent, the highest in the world. So the timing couldn't be better.
There's so much more to this development. There was an increasing shift in audience behaviour towards making an Amazon or a Flipkart, the de-facto search engine for many categories under e-commerce. Google was getting increasingly bypassed here. Now with details like ratings, price points, reviews, etc., it'll re-instate its position. With more results on the shopping page, I bet this could lead to a reduction in the share of traffic going to the aggregators leading to impact in that eco-system. Like I highlighted previously, SMBs will be back on Google shopping.
Talking about Google's competitors, clearly Facebook/Instagram Dynamic Product Ads have been driving high RoAS over the years. These ads don't limit visibility due to heavy competition, are bottom-of-the-funnel focussed and consist of larger ad-units leading to an overall better user experience. Now with Google's product units becoming equally large themselves, I bet it'll provide an incremental CTRs and RoAS.
Most significantly from Google's revenue perspective, as soon as this space gets monetized, it'll lead to a humungous jump in revenue for Google. Just think about it; now there are 20 products appearing as search results instead of 2 (on mobile). In H2 2019, the YOY growth in revenue from shopping might just increase at a higher rate than revenue from YouTube. Yes, I know how much a YouTube mast head will cost in 2019
(Nishant Singh Didawat is Business Head - Media, Social Kinnect)
Disclaimer: The views expressed here are solely those of the author and do not in any way represent the views of exchange4media.com
Business Head - Media, Social Kinnect
OTT platforms are going all out to acquire customers by upping the content game and playing around with affordable pricing. So will the Indian OTT viewer mind paying?
2018 witnessed a deluge of content offerings from over-the-top (OTT) service providers at much attractive rates, enough to send the viewer into a tizzy, let alone spoil. ZEE5's diverse catalogue has latest Bollywood titles like 'Batti Gul Meter Chalu,' 'Mulk' and big-budgeted original series such as 'Karenjit Kaur' and movie 'Tigers' by Academy award-winner Danis Tanovic. Amazon Prime Video India has Bollywood titles such as 'Tumbbad', regional hits like 'Savyasachi', gangster drama 'Mirzapur' and popular international original 'The Marvelous Mrs Maisel.' And the best thing is that all this is available at a rates lower than an average movie ticket. This brings us to the haunting question: Is the Indian viewer ready to pay for content, especially with subscription packs from SVOD or freemium platforms like Hotstar, SonyLIV, HungamaPlay and ALTBalaji starting as cheap as Rs 29?
According to Manish Agarwal, Business Head, ZEE5, if the content library is good, it gets a value-seeking consumer excited to sign up to a platform. "For instance, if a consumer has to take up a one-month plan, he/she will check if there's enough content for at least 15-20 days. So a consumer looks for depth of content. They are not hesitant to pay for content when they are getting to watch original content, digital movie premieres and live sports. So collectively it's a huge offering for a consumer."
What is further helping OTT platforms is the fact that India is one of the fastest growing markets for video consumption on the back of affordable internet and increasing broadband penetration. Also, as a nation of single TV households, smartphones with affordable data offer a personal screen to the viewers and this advantage is being leveraged well by OTT platforms.
Shrenik Gandhi, CEO and Co-Founder, White Rivers Media, explains, "Three years back, the first apprehension was paying for data after subscribing to a VOD service. Now, with the availability of cheap data, this issue is evaded. Moreover, they offer a personal screen to viewers without being judged."
According to the recent BCG report, the revenue contribution of the Indian video OTT market was $500 million in 2018. Of this, 82 per cent was from AVOD, while the rest 18 per cent was from consumer pay (SVOD, TVOD). The Indian OTT market is expected to generate $5 billion in revenue in the next five years. That too, with much equal distribution. The predicted share is – 43 per cent from AVOD, 32 per cent from SVOD & TVOD and the rest 25 from global market.
Kanchan Samtani, Partner and Director, The Boston Consulting Group, too believes it is evident that the Indian consumer does not mind paying. "While the current market operates with a largely advertising paid content paradigm, consumers are not averse to paying for convenient content access that OTT unlocks," Samtani has been quoted as saying.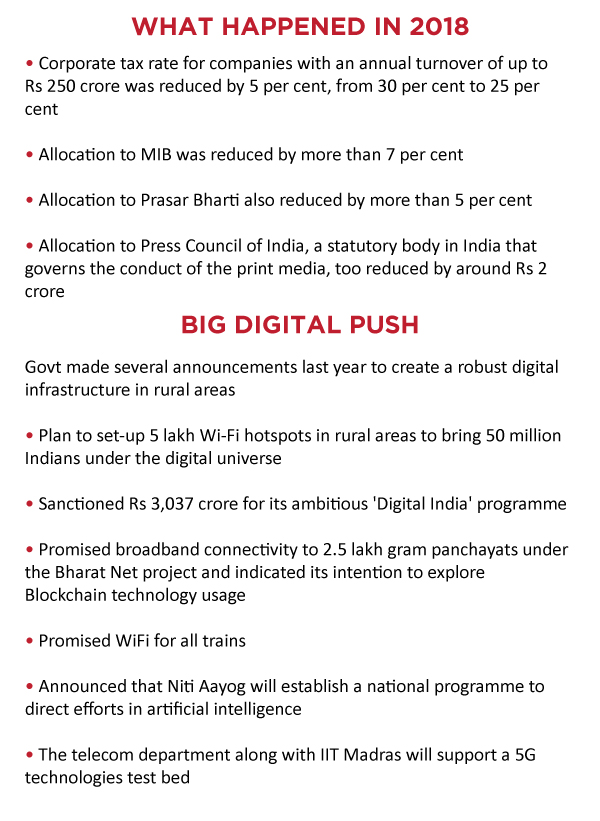 The numbers does not include Amazon Prime video subscribers or subscriptions garnered through telecom operators
The pull-in factors
By now, it's a no brainer that latest digital movie premieres and sports bring in consumers. Bollywood is the biggest driver and this explains the race for movie acquisition. ZEE5, for instance, had back-to-back digital premieres of 'Padman,' 'Parmanu,' 'Veere Di Wedding,' 'Stree' and 'Batti Gul Meter Chalu' among others, and they have been well received.
Also, 2018 saw scaling up of original content to a huge extent by national and international platforms like Netflix, Amazon Prime Video, HungamaPlay, Viu, ErosNow, ALTBalaji and ZEE5. This has resulted in shows which boast of high production value like 'Sacred Games,' 'Mirzapur,' 'Sunny Leone' and 'Apharan.' Dark, gritty thrillers and gangster dramas like 'Sacred Games,' 'Mirzapur,' 'Apharan' and the upcoming 'Rangbaaz' appear to be the flavour. An industry source testifies, "Action male-oriented content like the upcoming Rangbaaz will drive subscription due to its massy appeal."
Even sampling (through free one-month) by platforms also brings in consumer to a certain extent. Uday Sodhi, Business Head, Digital, Sony Pictures Network, testifies, "When consumer gets confidence of getting good content on OTT, he starts off with free and then moves to premium content. We believe that over the period of time, more and more users will be ready to pay for premium content. But there is a trend of consumers paying for the same. And, sports is one of the big drivers."
SonyLIV has witnessed that through cricket (India-England series and India-Australia) and football (FIFA). Also, its recent partnership with Lionsgate is helping its subscription numbers pick up.
The other reason in the rise of subscription is the integration of networks with OTT platforms, points out Rahul Vengalil, Founder, Whatclicks. He throws examples of Airtel offering Amazon Prime Video India and Netflix (for three months) free to its consumers.
"Mobile networks have helped OTT adoption shoot up in India. Also, half of India coming on to video platform for regional content has boosted up adoption of OTT," he explains.
This is evident from the constant offshoot of regional content offerings, across languages such as Tamil, Telegu, Kannada and Bengali among others on platforms like ZEE5, SonyLIV, ALTBalaji, Hotstar and Viu. Most of them have tie-ups with regional content creators to stay in the game.
Aggarwal has no doubts about that. ZEEL's video-on-demand service has been aggressively rolling out shows in Bengali, Tamil and Telegu over the past few months. It had introduced regional subscriptions packs in Tamil and Telegu in November. Kannada was launched recently, starting from Rs 49 per month which is already seeing a huge uptake. "Our regional packs are already contributing high double digits to the overall subscription revenue," he shared.
The challenge of customer retention
Subscriber retention is one of the daunting challenges in this industry currently, as stickiness of these consumers is not very high unless "accompanied by ways in which they engage more deeply with the platform and is associated with strong marketing efforts", as pointed by Samtani.
According to an industry source, ZEE5 witnessed a spike in subscription numbers post the premiere of 'Veere Di Wedding' and original show 'Karenjit Kaur.' But immediately after the viewing of the show, the number of uninstalls shot up. There was a similar scenario with Hotstar when it came to their prime properties like IPL and 'Game of Thrones.'
Agarwal shares that a certain percentage of such users will always exist. "There will always exist that small miniscule of population who will come in for a particular content, irrespective of whether it's a movie or original content." But apart from that, he claims, ZEE5 is not facing the issue.
He adds, "From AVOD perspective, consumers keep coming to catch up their favourite television show. From SVOD perspective, the consumer is primarily looking for depth."
This challenge of customer retention is around the content itself, says Greg Armshaw, Head of Media, Asia, Brightcove, that works with various OTT players on technology. He explains, "Viewers have access to more content than they ever could consume. The continued increase in the range and breadth of content libraries has created a paradox of choice -- too many content choices often paralysing viewers' decision of what to watch. Using content as a key strategy for subscriber acquisition and retention has led many OTT TV providers racing to invest in content budgets that now are swelling from millions to billions of dollars. It seems that every OTT TV provider's content strategy has turned into content chaos."
But despite the above challenges, with right content strategy and marketing efforts, OTT platforms are confident about consumer's shift to subscription in the near future. This implies that customers are happy to pay and maybe even stick around if they see value in the content in the long run.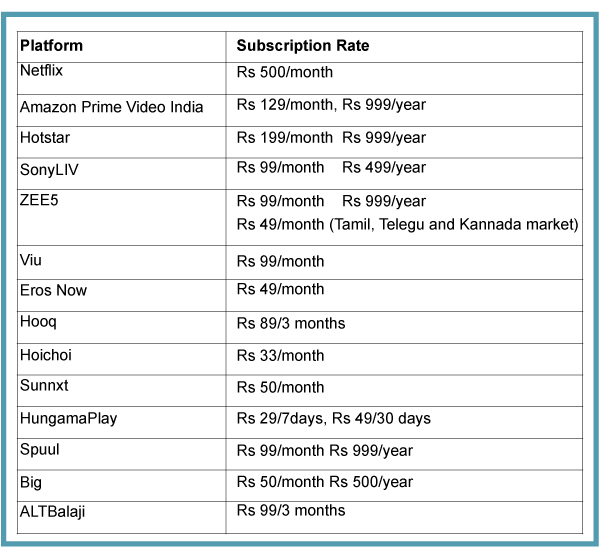 Madhuwanti reports on marketing, OTT and radio with a focus on trends. Based in Mumbai, she has worked across lifestyle, culture, television and retail industry.
The gap between the two channels is now at 1.3mn subscribers & PewDiePie is expected to hold the title of the most-subscribed channel until 2023
On November 30 a person going by the alias TheHackerGiraffe hacked around 50,000 interconnected printers to spew printouts seeking help for YouTuber PewDiePie. The printouts told people to subscribe to PewDiePie's YouTube channel and unsubscribe to the Indian music label company T-Series.
In October, Jimmy 'Mr Beast' Donaldson bought space on every billboard in his town to promote the Youtube star. Donaldson also made appearances in the local media, distributed flyers and ran ads on the internet, radio and TV rallying for PewDiePie. This was all meant to boost the subscriber count of the Swedish YouTuber Felix Kjellberg who was very close to losing his title to T-Series as the most subscribed YouTube channel.
Kjellberg's call to action to all his fans has now tipped the balance in his favour and T-Series may never again come this close to becoming the most subscribed channel on YouTube.
PewDiePie, a gaming commentary channel, became the most subscribed YouTube channel in 2013 and has held on to that title for the last five years. T-Series with a subscriber base of 75.7 million emerged as a serious threat to PewDiePie (77 million subscribers) in late August.
PewDiePie addressed this threat in a video titled "THIS CHANNEL WILL OVERTAKE PEWDIEPIE!" on August 29 and called upon his community to "smash subscribe" and preserve his channel's number one spot. He regularly created videos about the race, at one point even suggesting that T-Series was boosting its subscriber base by automatically getting users registered in India to subscribe to its own channel. The fan campaign was healthy and in the right spirit for the most part till the battle cry turned racist and hateful towards India and Indians. PewDiePie then addressed the issue through a video on his channel, saying he would prefer to use his platform to fight back hateful commenters. He also launched a crowd-funding campaign for Indian NGO—Child Rights and You—and raised £179,207 in 10 days, exceeding his goal of £150,000.
Back then the gap between the two channels was around 3 million subscribers and projections showed that by late October T-Series would have dethroned PewDiePie. Around October 26 the gap between the two had narrowed to a few lakh subscribers.
The fierce campaigning by fans and PewDiePie's videos that kept the topic alive all these months has staved off the dethroning. The gap between the two channels is now at 1.3 million subscribers and as projected by social media analytics website Social Blade is expected to grow wider in 2019, allowing PewDiePie to undoubtedly hold the title of the most-subscribed channel until 2023.
Even though the gap is widening, experts believe T-Series will continue to have a healthy organic growth. The music label has been adding an average of 1,73,979 subscribers daily whereas PewDiePie gets 2,09,143 subscribers in its kitty on an average daily.
The lack of a loyal fan base has hurt T-Series' chances of becoming the most-subscribed YouTube channel. "Had T-Series promoted and marketed itself better among Indian users it could have become No.1," said Subrat Kar, CEO and co-founder of Vidooly, a video intelligence platform for content creators.
By 2020, the total number of users consuming online video in India is expected to reach 500 million. Video is already the most consumed media online with the average smartphone user consuming around 11GB of data every day as per the Nokia MbIT 2018 report.
Currently, YouTube has reached as much as 80% of India's internet population. As per Google India's estimates, YouTube has 245 million MAUs (monthly active users) in India. "Having an Indian content channel become the top subscribed channel would have validated India's position in the online video market," Kar added.
PewDiePie had wondered how an Indian music label channel could possibly give him competition. "It's an Indian channel with 46 million views. How many people live in India? How is this possible," a shocked Kjellberg had said on August 29 in the video where he declared war on T-Series. He then in a moment of realisation said, "The only way I can stay relevant is to get the Indians subscribing to me."
T-Series has been surprisingly silent about this race while its competitor has been contemplating tapping the Indian video consumer base to build his subscriber count. "T-Series can still call upon its Indian fans to grow its subscriber base," Kar said.
T-Series gets 8.34 crore daily views on an average compared to PewDiePie's daily average of 1.3 crore. According to Social Blade, T-Series' YouTube earnings could be in the range of Rs 14.4 lakh to Rs 2.4 crore per day (the upper limit being Rs 72 crore per month), while PewDiePie's earnings range between Rs 2.4 lakh and Rs 37.5 lakh (a maximum of Rs 11.2 crore per month). "One reason why T-Series is not flustered by PewDiePie is because irrespective of the number of subscribers, it earns a very healthy sum of money from advertising on YouTube," said a digital media buyer who did not wish to be named.
The race between T-Series and PewDiePie has once again demonstrated that in addition to good content engaging with the subscribers and fans with a human touch is crucial to building an online presence. "People on YouTube prefer subscribing to individuals rather than companies. This is because a personality has an interesting dynamic. If a company like T-Series can lend a personality to the channel, it may see more success," said Pranay Swarup, CEO ChtrBox, an influencer marketing company that works with YouTubers and content creators.
T-Series may have lost this battle but given the rate at which Indians are coming online to consume video content T-Series or some other Indian YouTube channel will soon give stiff competition and may even overthrow PewDiePie.
Susmita is a digital marketing reporter at exchange4media. She writes on latest developments in the ever-changing world of digital media and in-depth stories on all things advertising.
The breach which took place over a 12-day period in September, adds to Facebook's mounting privacy troubles after several incidents earlier this year
Facebook on Friday has revealed that a major software bug may have allowed third-party apps to incorrectly access the photos of up to 6.8 million users, including images that people began to upload to the site but didn't post publicly, according to reports.
The breach which took place over a 12-day period in September, adds to Facebook's mounting privacy troubles after several incidents arose earlier this year, in which the social media giant failed to fully safeguard the personal data of its users. These incidents have prompted European regulators to investigate and bring on fresh calls for the company to be fined.
Facebook usually allows apps by third-party developers to obtain users' permission and access photos shared on their timeline.
However, because of the bug, nearly 1,500 apps could access "a broader set of photos than usual," Facebook explained in a blog post. This includes photos that a user may have started to post, but abandoned before actually publishing it. This is because Facebook keeps a copy of the draft in the event a user might want to complete the upload later.
The software breach may have also allowed developers to access photos they were not allowed to on Marketplace, a Facebook hub for users to buy and sell goods, and some posted in Stories, where users can share short photo or video updates that appear for 24 hours.
Facebook declined to detail the exact apps that may have obtained these photos, or what they may have done with them.
exchange4media Group Service
Consumers who subscribe to pay channels would also be able to watch them on Facebook
Taking a big step in the video space, Facebook is reportedly planning to strike deals with pay TV networks to sell consumer subscriptions.
According to media reports, the social network is talking to pay TV channels about a proposal to sell those companies' streaming TV services on its platform.
Reports suggest that consumers who subscribe to the pay channels would also be able to watch them on Facebook's properties.
This will be something similar to what Amazon has been doing. Reports have quoted industry sources as saying that Facebook could launch the service in the first half of 2019.

The step from Facebook does not come as a surprise as the social media platform has always working towards becoming a video hub for sometime now.
exchange4media Group Service
Michal Kosinski, an assistant professor at Stanford University's Graduate School of Business, wrote in the New York Times that Facebook is "eager to monetise" a range of personal characteristics
Facebook has hit back at a recent New York Times opinion piece that called out the social media giant for "selling user data."
Rob Goldman, VP Facebook Ads, has replied with a series of tweets, saying that Facebook does not sell people's data.
Michal Kosinski, an assistant professor at Stanford University's Graduate School of Business, wrote in the New York Times that Facebook is "eager to monetise" a range of personal characteristics. He said advertisers are encouraged to selectively target people on the basis of data such as age, gender or location and other highly personal information such as political views, family size, education, occupation, marital status or interest in a gay dating app.
Kosinski wrote that in a study he and his colleagues "discovered that advertisers can target users based on their intimate psychological traits, such as personality." He further added, "If you can think of an important personal characteristic, there's a good chance it's targetable on Facebook. Through this ad-targeting system, Facebook discloses facts about you to advertisers, in exchange for money, every time you click on an ad. I'd call that "selling data, and I bet that you would, too."
Kosniski in his article said that "Facebook is extremely clever at dodging this issue." "Facebook's claiming that it is not selling user data is like a bar's giving away a free martini with every $12 bag of peanuts and then claiming that it's not selling drinks. Rich user data is Facebook's most prized possession, and the company sure isn't throwing it in for free," he wrote.
Goldman "fact-checked" NYT back in a series of tweets. Goldman began his series of tweets by pointing out that Facebook does not sell people's data. "That's not a dodge or semantics, it's a fact. We don't sell or share personal information."
1/ You are certainly entitled to your opinion, but we don't sell people's data. Period. That's not a dodge or semantics, it's a fact. We don't sell or share personal information. https://t.co/VGYc0utqX9

— Rob Goldman (@robjective) December 13, 2018
"It's is not in our business interest to sell or share personal information with anyone. Our business model only works if it works for people - if people don't, they won't come to Facebook, advertisers won't be able to reach them, and we won't have a business," he tweeted.
He further added "Clicks do carry certain information about their visitors– where they are generally located, what device they're using, parameters passed in the URL. That's true of the clicks you make to any website on the internet. It's how the internet works, not just how Facebook works."
Goldman fired back noting that "FB advertisers do learn about people who click their ads. We provide them with reports, which give them information about the people who clicked. That information is anonymous. We don't need to tell advertisers who you are for them to know if their ad was effective."
In his final tweet on the issue, Goldman said, "We know that there is much to do to make ads better, but I am proud of the principles that guide our work."
exchange4media Group Service
Customers can now engage with others who share similar interests to discover trends and products
Amazon.in has introduced Spark, a personalized, interest-based community experience consisting of images, videos, and articles shared among like-minded people. Spark gives customers the ability to share or seek advice or get inspiration in an experience that brings people together, and engages them in conversation around common interests. Whether it's finding inspiration for a new home decor project or discovering the best hiking boots for your next trek, Spark provides a place to view, shop and share content.
Customers can shop items directly from Spark stories or pictures within their personalized feed wherever they see a tagged product.
The company, in a statement, said, customers enjoy Amazon's vast product selection to help them make purchase decisions, which are made largely based on product features, relying instead on external blogs and social networks for in-depth research and seeking advice. With the increased engagement on social media, there is also a rise in social trust among Indian consumers. Increasingly, a large section of the online consumers (especially those between the age group of 16 and 24 years) in India trust what people say about brands on the Internet than from other sources.
Now with Spark, Amazon customers will find both trusted, in-depth content from influencers, brands and publishers and also community content from other select, qualifying customers. Spark enables a rich ecosystem of online publishers, brands and influencers who will drive engagement and thereby have the opportunity to gain followers and create a deep, ongoing connection with Amazon users.
With community rewards and enthusiast badges baked in for contributors of high-quality content, Spark will now serve as a daily destination for customers to be engaged and inspired. Besides being aligned to the customer's interests, the feed experience is further personalized with features like incorporating trends from the customer's browsing and shopping behaviour.
Kishore Thota, Amazon.in's Director of Customer Engagement, said, "With Spark's interest-based social community and content model, we are aiming to make product discoverability easy and convenient as well as fun. We are thus using this community content and experience to enhance product discovery by tagging products to content and making them seamlessly 'shop-able."
"Be it driving discovery by shoppable photos posted by an influencer covering the latest fashion trends or being inspired by a fitness review written by a US based mom turned marathon runner, Spark on Amazon helps customers connect with both local and global Spark communities making social engagement and in-turn the online shopping experience truly delightful," he added.
exchange4media Group Service
The two will leverages movie 'Spider-Man: Into the Spider-Verse' to introduce Vodafone's Future Job Finder programme
Vodafone and Sony Pictures have announced a groundbreaking global collaboration, which sees them uniting to help millions of young people in 20 countries identify their skills and find digital jobs that match them.
They will use December's hotly anticipated movie release Spider-Man: Into the Spider-Verse to introduce young people to Vodafone's free Future Jobs Finder, a gamified digital platform to help them understand their skills and future career opportunities. The initiative was developed as part of Vodafone's global programme, What will you be?, which has committed to support 10 million young people to access digital skills, learning and employment opportunities by 2022. This skilling programme is live in India and aims to empower youth as they embrace the digital transformation and chart a digital career.
A global digital campaign to support the Sony Pictures and Vodafone collaboration - leading people to Future Jobs Finder - will draw on the movie's central theme: that anyone can achieve their full potential with the right skills and support.
Andre Seddoh, Vice President International Marketing Partnerships at Sony Pictures, said: "We are so excited about this visually groundbreaking movie, as for the first time we open up a different Spider-Man universe - known as the Spider-Verse - where more than one can wear the mask. Within this world we introduce Brooklyn teenager Miles Morales, who like many young people preparing to leap into the next stage of their lives, is struggling to find out who he is and what he is meant to be. By teaming up with Vodafone we can engage with audiences using the inspirational power of this game-changing movie while also helping Vodafone to connect young people with digital jobs and free digital skills training."
Joakim Reiter, Director of External Affairs at Vodafone Group, said: "Our ambition is to help 10 million young people to access digital skills, learning and employment opportunities and our partnership with Sony Pictures will help us accelerate our progress towards this goal by bringing our digital platform, Future Jobs Finder, to more young people who are thinking about their future career. Future Jobs Finder has been specifically designed to help young adults make a connection between their skills and digital careers they may never have thought of. Together we can harness the power of technology, and the excitement around the movie, to engage with young people to help them realise their potential and play a role in closing the digital skills gap."
Seddoh added: "One of the great moments in the movie is when Peter Parker says to Miles "Don't do it like me, do it like you," and this is what we want everyone to take away from this movie and use as inspiration to fulfil their own destiny."
Since launching in March this year, more than 300,000 young people have completed Vodafone's Future Jobs Finder tool, introducing them to over a million digital job types. The online platform takes people through a series of short tests, developed with psychologists, careers experts and training providers, to identify their skills and interests. By responding to these questions, young people can understand where their potential lies and find live local job opportunities in multiple digital industries which are matched to their skills, as well as access relevant, free digital skills training.
exchange4media Group Service
Google has also expanded the Merchant Center to Hindi
Google on Thursday unveiled a new and immersive shopping search experience for Indian users. The new personalised experience will allow users to easily filter through offers, review prices from multiple retailers and find the products they are looking for. This experience is available across several Google products: a made-to-browse experience on the Shopping home page, the Shopping tab on Google Search and in Google Lens. For retailers, Google has expanded the Merchant Center to Hindi.
The new 'Shopping Homepage' is a made-to-browse destination for shoppers to search across multiple product categories, and browse products from thousands of retailers. To make the shopping experience richer, smart features like price drops and a collection of the most popular products on Google have been added. The experience will also be available as a Progressive Web App (PWA) for users with entry level phones.
The 'Shopping Tab' in Google Search will allow users to post queries in Hindi and English and show product lists, local store inventory and review prices from across multiple retailers.
Finally, Style Search in Google Lens is an all-new visual approach to find products such as clothes, furniture, and home decor, by simply pointing the Lens app.
Talking about the launch of the new experience, Surojit Chatterjee, Vice President -Product Management, Google, said, "More than 40 million Indians are coming online every year, and search is an integral part of their online journey. From seasoned desktop shoppers to first-time users with entry-level smartphones, we hope this new shopping experience will make finding what people are looking for just a little bit easier."
For retailers, Merchant Center has always been the place to upload store and product data for shopping ads. So far, the Merchant Center has been only available in English, and starting today it is expanding to Hindi. Retailers can now also use Merchant Center to upload product details so they can appear across Google, without paying for ad campaigns.
Speaking about the offerings for retailers, Chatterjee said, "With this launch, our aim is to support the entire retail ecosystem, from shopping sites and large retailers to small local shops, and give them the tools, technology and scale to thrive in today's digital economy."

According to the Sixth Economic Census, there are 58 million SMBs in India of which 35 per cent are engaged in retail trade. However, a very small number of them have an online presence -- clearly highlighting a huge opportunity for retailers to surface their merchandize to the millions of online consumers.
exchange4media Group Service
Parachure brings over 11 years of experience with specific expertise in mobile and digital marketing, marketing automation, mobile analytics, web analytics and business intelligence
AppsFlyer, the global leader in mobile attribution and marketing analytics, has announced the appointment of Nikhil Parachure as Director - Solutions Architect for the India market. In this role, Nikhil will primarily be responsible for providing insights that shape the marketing strategies of AppsFlyer's clients, as well as advise enterprise businesses and educate the market how to leverage AppsFlyer's technology, products and service to address mobile and marketing challenges. Nikhil will also drive the Customer Success functions and work closely with various internal and external stakeholders, enabling businesses to develop strategies that will enable AppsFlyer's clients to achieve new levels of growth.
Parachure brings over 11 years of experience with specific expertise in mobile and digital marketing, marketing automation, mobile analytics, web analytics and business intelligence. Prior to joining AppsFlyer, Nikhil was the founder of Measur-ed, a measurement and revenue consulting company. He has also held senior roles at Ajio, Myntra, and Iprospect India. He will be based in Bengaluru, India, and report to Sanjay Trisal, Country Manager for AppsFlyer in India.
AppsFlyer has witnessed tremendous growth in India since establishing its office in 2015 with a headcount of under ten, and continues to expand its team and dedicate significant resources for empowering brands, marketers, and app creators in India to grow domestically and beyond. Today it is the market leader in mobile attribution and marketing analytics with five times the number of employees than when it first started. AppsFlyer's business has grown by three times year-on-year over the past three consecutive years, while acquiring new clients in every vertical.
Growth highlights between 2017 and 2018:
App installs measured - 73% increase
In-app events measured - 331% increase
Number of apps running in India: 19% increase
Media spend measured - 277% increase
Speaking on the development, Sanjay Trisal, Country Manager, India, AppsFlyer, said, "AppsFlyer's strong emphasis on hiring, marketing, sales, support, and product management are part of our commitment to the India market, which continues to offer us opportunities through its growth and development. We can only measure our success based on our clients' success, and Nikhil brings to his role a depth of experience and insights from customer perspectives in the area of mobile and digital marketing. We believe he is well-placed to support our team in helping AppsFlyer achieve success for its customers in India."
AppsFlyer owns 75% of the market share and works with over 250 clients in India, 94% of which comprise leading industry players across Telco, OTT, eCommerce, and News. In addition, AppsFlyer is the most trusted partner in India's BFSI, video OTT and entertainment sector. Some of AppsFlyer's clients include Airtel, Paytm, Vodafone-Idea, Hotstar, ICICI and more.
Globally, AppsFlyer previously raised US$56 million for its series C round in January 2017, which brought its total funding to US$84 million. Since then, it has planted its roots firmly in Asia, investing heavily in new offices and hiring while obtaining an impressive regional market share of 80%. The company also surpassed $100 million in Annual Recurring Revenue (ARR) in the third quarter of 2018, growing at 100% every 12 months.
Driving the company's revenue growth are the 85,000 apps whose marketers use AppsFlyer's products and services, propelling the company to over 70% market share worldwide. In the past year, AppsFlyer has continued to form partnerships with many prominent global brands, including eBay, NBCUniversal, Adidas, Hyundai, Coca-Cola, Times Internet, Grab and ByteDance.
exchange4media Group Service