Sonam Kapoor to endorse beauty accessory brand Vega
The actress will feature in a TV campaign coming in August 2018 for the brand's hair styling appliances portfolio. by
Published - 13-August-2018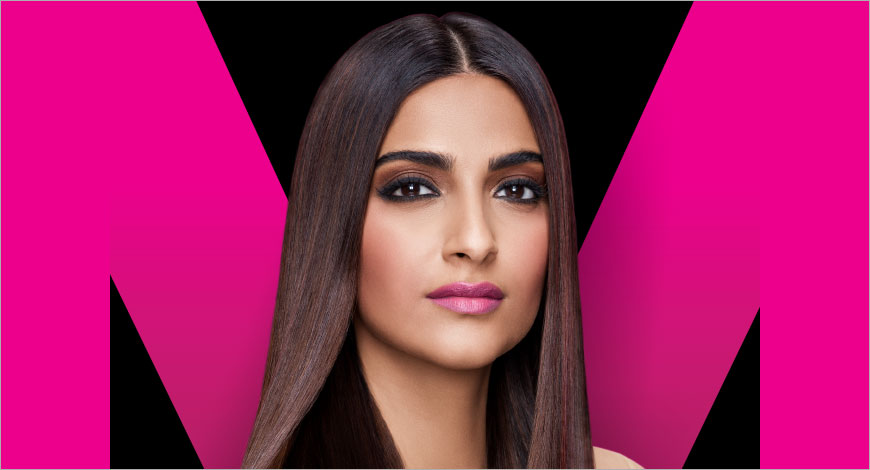 Actress Sonam Kapoor has been roped in to endorse beauty accessory and appliances brand Vega.
As part of her association with the brand, Kapoor will feature in a TV campaign coming in August 2018 for their hair styling appliances portfolio.
Sandeep Jain – Director, Vega Industries Pvt. Ltd, said, "This is the second campaign from Vega and we all are really excited about how it's going. We all are extremely happy with Sonam K Ahuja's association with Vega. Her fashion and style complements the personality of the brand and the campaign perfectly. Watching Sonam bring it alive on-screen is something magical. The photographers, the directors, everyone is on board with the attitude of the campaign and all of us here are truly elated to see the magic come alive. Catch the hair straighteners, hair dryers and hair curlers with 'Be Vega' campaign, coming soon to various platforms. Be ready. Be Vega."
Speaking about her association with the brand, Kapoor said, "I love fashion and style. I feel that I can express myself best through my style and any brand that resonates my attitude I proudly flaunt it. When it comes to looking great, well-styled hair is probably the most important aspect. You can't go wrong with your hairdo! Vega hair styling products have a solution for all my hair styling needs, whether I like to keep it simple or experiment, Vega has everything l need."
"This is my first campaign with Vega and it's been a great experience so far. We all know how much I love styling my hair. And so does Vega! They have the widest range of hair styling products, I mean, everything to help me style my hair, the way I want it. And that's what I love about the brand."
For more updates, subscribe to exchange4media's WhatsApp Channel- https://bit.ly/2QUdLCK
This social media campaign has been conceptualised and executed by Isobar India

by
Published - 19 hours ago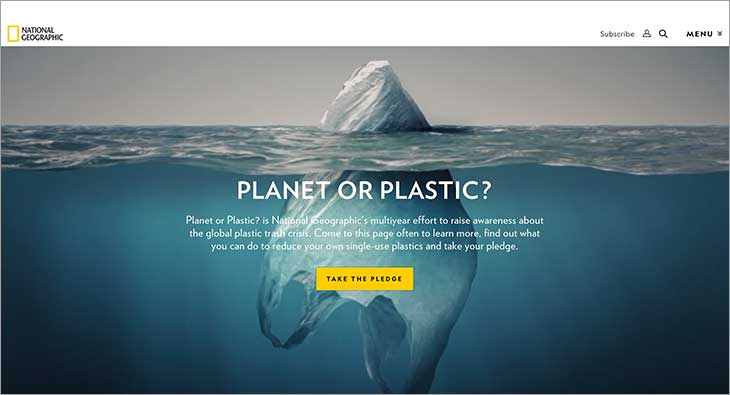 National Geographic India released an innovative digital stunt reiterating the brand's commitment to inspire people to care about the planet. The activity was part of 'Planet or Plastic?' - National Geographic's multi-year initiative raising awareness of the global plastic crisis and reducing the amount of single-use plastic that is polluting the world oceans.
To drive relevance and relatability for the message, the digital stunt struck a resonating chord with National Geographic's social media audience by reinstating in the audience's mind that plastic is non-perishable and negatively impacts the environment.
Conceptualised and executed by Dentsu Aegis Network's digital agency Isobar India, the stunt was essentially a 'Facebook story' that refused to go away. Playing on the characteristic of 'Facebook story' that vanishes in 24 hours, this story is non-perishable and never vanishes, just like plastic.
Attracting a commendable engagement across Facebook, the campaign in its initial few days garnered more than 1.5 million+ story views with 200+ replies.
Commenting on the campaign, Pawan Soni, Head – Marketing & Programming, National Geographic India said, "Plastics crisis wasn't created in a day and it certainly cannot be solved in a day. This is why we launched a multi-year initiative - Planet or Plastic? The initiative is aimed at raising awareness about the global plastic issue and we wanted people to join the movement and pledge to eliminate single-use plastic usage. In order to roll out the campaign, we briefed the agency to use a method that should be innovative, yet not niche, so that maximum participation can be achieved. And that's exactly what they did with 'Story that Stays'."
Speaking on the launch, Gopa Kumar, Executive Vice President, Isobar states, "National Geographic launched the first phase of the 'Planet or Plastic' campaign globally in 2018. It was a huge opportunity to raise awareness and make a mark. To unveil the campaign in India, we primarily targeted the millennials who use social media extensively and are the majority users of single-use plastic. We carefully chose a medium that resonated with them and reached out to them on platforms that they end up engaging with and spend more time on. That's how the 'Story that Stays' was born. It facilitated us to get the desired attention and start a movement that will help the cause, and eventually the planet. This is just a start and during the course of the year several interventions are planned to raise awareness on this issue."
Campaign Credits:
Business Head: Himanshu Arora
Creative Director: Amit Singh, Vibhor Yadav
Copy Supervisor: Neha Kumra
Director, Social: Aakriti Sinha
Manager, Business: Sukriti Jain
Social Media Team: Ilena Bose
Art: Arza Arora
For more updates, subscribe to exchange4media's WhatsApp Channel- https://bit.ly/2QUdLCK
The TVC will go live and go on-air on TV starting 20th February 2019
Oppo, a leading global smartphone brand, has announced the launch of its new TVC on their upcoming smartphone- Oppo F11 Pro. The TVC captures the brilliant low light portrait feature of the Oppo F11 Pro and its stylish gradient back design. As the upcoming model offers the latest innovative technology in the camera, the TVC ties in the features showing a variety of situations highlighting the low light portrait photography mode.
Oppo's new TVC encapsulates how consumers capture each moment with perfection using the new low light portrait photography mode of the F11 Pro. The TVC immaculately captures special moments, be it a late-night date, a mother creating special memories with her daughter or friends having a good time. The TVC will go live on and will be aired on TV starting 20th February 2019.
Commenting on the new TVC, Will Yang, Brand Director, Oppo India said, "2018 has been a power-packed year for Oppo as we have pushed boundaries in terms of innovation and launched some exciting technologies for our consumers. Keeping this in mind, we want to kickstart 2019 with the all-new Oppo F11 Pro which is equipped with features that will help our consumers to capture each beautiful memory with perfection and ease. The Oppo F11 Pro TVC encapsulates exactly that, where we focus on the new low light portrait photography feature and the endless photography experience our consumers will get with the 48 MP camera. Through the TVC we hope to highlight and bring alive our new and innovative technology we have to offer to our consumers. We are optimistic that this TVC will connect with our consumers and that they have the best experience with the new OPPO F11 Pro."
For more updates, subscribe to exchange4media's WhatsApp Channel- https://bit.ly/2QUdLCK
Conceptualised around the theme 'Dhool Hategi, Zindagi Chamkegi', the TVC showcases the latest range of technologically designed Usha fans which enable consumers to keep their homes cleaner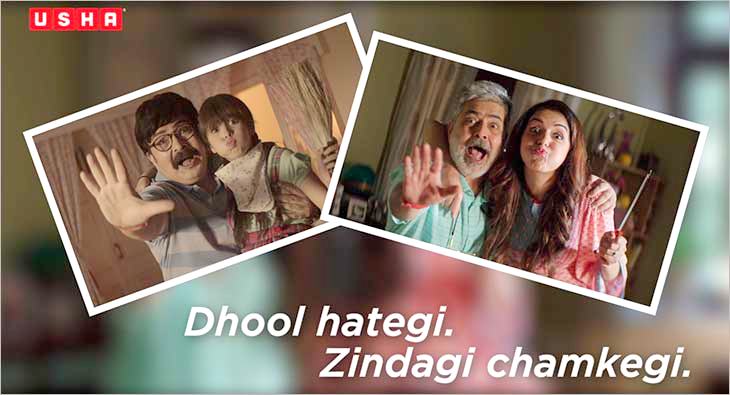 Usha International, one of India's leading consumer durables companies, is all set to launch a new TVC campaign for its latest range of Usha Goodbye Dust fans. Inspired by the lotus, the range features dust, water, and oil-repelling qualities, like the lotus flower that remains pristine at all times. Aligned to the same and conceptualized around the theme 'Dhool Hategi, Zindagi Chamkegi', the TVC aims to connect with Indian audiences showcasing the latest range of technologically designed Usha fans, which enable consumers to keep their homes cleaner thereby supporting a healthier life.
The TVC features an emotional narrative between a daughter and her parents depicting a relatable, real-life, commonplace scenario of Indian homes – that of cleaning a ceiling fan. Shown for the cumbersome task it is, with stubborn dust and grime making it really messy, and involving several rounds of scrubbing and cleaning with paper and cloth, the TVC walks viewers through a narrative each one can relate to, with the solution that Usha Goodbye fans offer.
Commenting on the release of the TVC, Sandeep Tewari, President - Marketing, Usha International Ltd said, "At Usha, our endeavour is to constantly innovate and launch technologically advanced, superior products that are in-sync with evolving customer needs and trends. Our newly launched range of Usha Goodbye Dust fans is for consumers who yearn for healthier and cleaner homes without compromising on either technology or aesthetics, each of which is intrinsic to their lifestyle. The coming months will see many more models added to this range."
With this TVC, we have added a new dimension to the brand imagery of Usha. The protagonist is the Ushaof 2019! Born and brought up in a small town in India, she is young, confident, well-educated, independent, and works and lives in a big city. She is at the same time caring and culturally rich. She is a perfect blend of Modernity with Tradition. She is the 'New Usha'," he added.
The TVC will be aired nationally targeting audiences across platforms including GEC and new channels, English entertainment channels, and will also be promoted during prime slots on various HD channels. The TVC would be supported by a robust digital campaign as well as BTL activations including a promotional scheme for trade partners, and in-shop promotions, across India.
Usha Goodbye Dust Fans
For more updates, subscribe to exchange4media's WhatsApp Channel- https://bit.ly/2QUdLCK
The campaign will focus on the value of trust reiterating Gaadi as a reliable source for people to sell their cars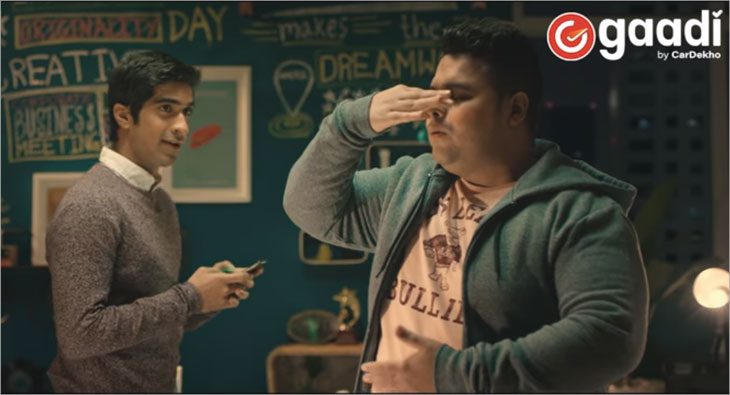 CarDekho, the flagship portal of GirnarSoft, has ventured into pre-owned cars retail market with auction model under the existing brand name 'Gaadi'. For the same, CarDekho has acqui-hired Carbiqi, to amplify its reach into the organised used cars market. Carbiqi's core team has joined Gaadi to strengthen the group's potential in providing superior customer experience.
Gaadi, in the past, has played a crucial role in building a robust used cars dealer network in the country which resonates perfectly with the brand values. Gaadi will enable trustworthy and hassle-free transactions for 4 million used car sellers nationally. Gaadi inaugurated its first showroom in Delhi NCR on January 09, 2019. With 10 showrooms already operational in Delhi NCR the brand further plans to introduce 40 showrooms pan India by the end of FY2018-19. At an initial stage, Gaadi showrooms will be introduced in Delhi NCR and Bengaluru region. The brand aims to come-up with 100 + stores by the end of FY 2019-20.
Talking about the development, Amit Jain, Co-founder, and CEO, CarDekho, said, "We welcome the new team members to the family and look forward to establishing an unparalleled, trusted consumer experience in used cars retail segment with their support. India's pre-owned car market holds immense growth potential and still needs to be catered from an end-to-end perspective to unlock the full potential. Our aim is to provide an expert's assistance to our customers for selecting the right platform to sell their vehicle at the right price. Gaadi, as a brand has always resonated well with used cars business and we are happy to foray into the auction model under the same brand name."
Gaadi is being steered by Vibhor Sahare, CEO, and co-founder along with other co-founders Akansh Sinha and Anubhav Deep. Vibhor has been part of CarDekho group since 2015 as a Chief Business Officer for the New Car Business. Also, Akansh and Anubhav (Co-founders of Carbiqi) will be fully involved in all the aspects of keeping the C2D business.
With the initiation of Gaadi showrooms, Vibhor Sahare, CEO, and Co-founder at Gaadi said, "Being a part of a bigger ecosystem at CarDekho will give the team a relevant push to amplify the reach, and achieve targeted growth. Gaadi follows the auction model where the company buys the vehicle from a consumer, and its channel partners will subsequently bid for the inventory in a competitive process. We follow a transparent process which helps our customers to get the best price for their car with minimum paperwork."
The USP of the Gaadi is to provide hassle-free vehicle selling experience to the customers with optimum resale value for their car, Free RC transfer, Loan closure assistance, Instant money transfer and advanced car inspection at the showrooms.
Emphasising on the importance of "trust", the same values are reflected in the launch campaign, reiterating Gaadi as a reliable source for people to sell their cars, ensuring a hassle-free document transfer, car quality and price realization aspects of a car selling process.
For more updates, subscribe to exchange4media's WhatsApp Channel- https://bit.ly/2QUdLCK
UberAuto promises consumers faster pickups and convenient rides without "haggling or hassles".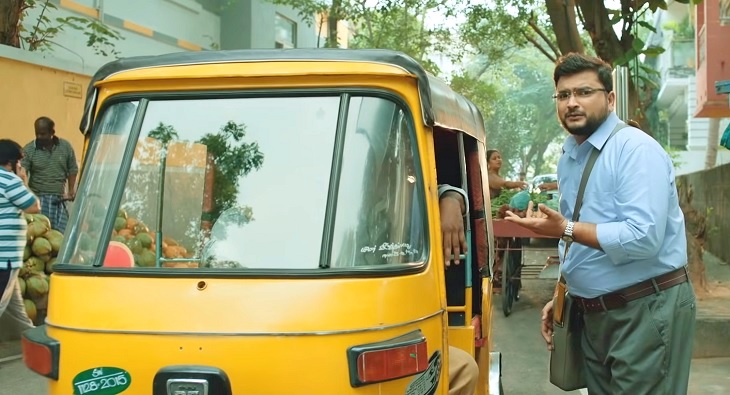 Uber, the on-demand ridesharing company launched its latest campaign 'No Haggling, No Hassles' - encouraging people to avail UberAuto services in Chennai, India. UberAuto promises consumers faster pickups and convenient rides without "haggling or hassles".
Set against the backdrop of a dramatic courtroom scene, much like in some Tamil movies, the campaign captures the story of an accused waiting for his witness to arrive at his aid. Conceptualised by Ogilvy Bangalore, the campaign shows the name of the protagonist (witness), 'Selvam' echoed around the city dramatically. As unique characters ranging from policemen to politicians scream Selvam's name in anticipation, we finally see Selvam haggling with a regular rickshaw driver for his ride. As the voice-over resolves Selvam's conflict by introducing him to UberAuto, we see him happily arriving at the Court much to the relief of everyone.
The film ends with the most relieved of them all, the accused who is thankful that his witness has arrived on time.
Speaking about the campaign, Sonal Dabral, Vice Chairman India and Chief Creative Officer South and S.E. Asia, Ogilvy added, "UberAuto has brought a dramatic change to the way our audience uses auto-rickshaws by bringing them never before convenience and peace of mind. It's therefore fitting that we are introducing this epic service to our audience with an epic story full of humour, drama, and suspense. I'm sure that our audience will enjoy this campaign as much as we enjoyed creating it."
Commenting on this initiative, Saakshi Verma Menon, Head of Brand - Rides, India & South Asia said, "Uber's vision is to build globally and live locally. UberAuto takes away the daily hassles of hailing an Auto by harnessing the power of technology. This campaign aims to connect with our communities, driver-partners, and riders in Chennai. Ogilvy South has been a great partner in bringing this creative idea to life in Chennai."
Adding to this, Ram Moorthi, President, Ogilvy South said, "The flavour of the relationship between an autorickshaw and it's rider is a uniquely local one. From Ogilvy's South office, we've used a South Indian flavour to help UberAuto convey its hassle-free message to its customers. Full credit to our client partners for going with our audience understanding while keeping us honest in terms of the Uber brand's values." As part of the campaign, Uber is also set to release Print, Outdoor, and Radio ads with the same message. The campaign went on air this week and is sure to strike a chord with the Chennai market.
No Haggling, No Hassles:
For more updates, subscribe to exchange4media's WhatsApp Channel- https://bit.ly/2QUdLCK
The Vice President, Tea & Foods, HUL, talks about Brook Bond's latest ad film 'Old Friends' that addresses the veg-non-veg divide in India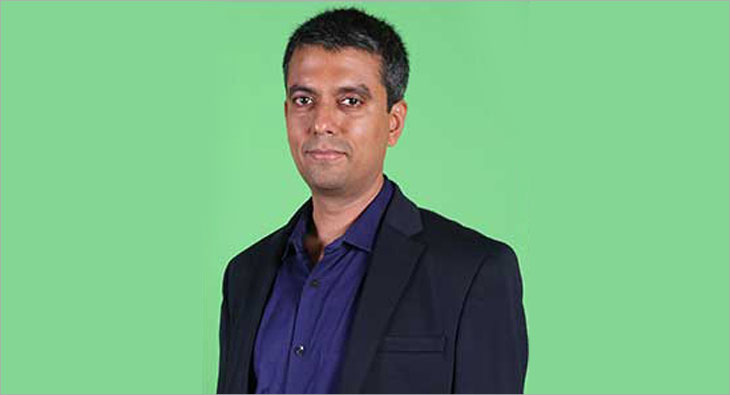 Red Label, from HUL, has launched a series of social campaigns that aim at spreading the message of inclusivity and breaking age-old stereotypes. Over the years, the brand has touched on social issues that are kept in hushed tones with its Swad Apnepan Ka campaigns.
In 2014, they launched a campaign depicting a Muslim lady inviting a Hindu couple who had lost their house keys for tea. The commercial sent out a message for Hindu-Muslim unity. Their recent campaign, Old Friends, does not digress from this theme. The TVC brings to the forefront the issue of food preferences and the silent divide that still exists between vegetarians and non-vegetarians.
Talking about the thought behind the campaign, Shiva Krishnamurthy, Vice President, Tea & Foods, HUL, said the purpose is to make India more inclusive.
"We believe in confronting and challenging prejudices that come in the way of being more inclusive. Our latest TVC challenges one such prejudice in a light-hearted manner over a tasty cup of tea. We hope that people will love it as much as they have loved all the earlier commercials of our ongoing Swad Apnepan Ka campaign."
The ad film, created by Ogilvy, features two aged friends having an encounter after a long time. The comrade, who is vegetarian visiting the non-veg friend, refuses to drink tea on the grounds of meat being cooked in his house. As the ad film progresses, it showcases the aroma of a warm cup of tea that diffuses the veg-non-veg difference between the two friends.
exchange4media caught up with Shiva Krishnamurthy, Vice President, Tea and Foods (HUL), to talk about the campaign in detail.
Edited excerpts of the interview:
What was the insight behind the campaign?
The insight that we got was that vegetarians are often reluctant to eat or drink from vessels that may have been used for non-vegetarian food.
How does this ad take forward your Swad Apnepan Ka campaign?
Brooke Bond Red Label's Swad Apnepan Ka campaign is based on our firm belief that a tasty cup of tea can go a long way in dissipating tensions and can bring people together. Over the last five years, this now iconic campaign has touched upon various social tensions and has helped people question their prejudices that are often the reasons for these tensions. The vegetarian--non-vegetarian divide is a natural part of this series.
Has highlighting social causes in the communication helped the brand?
Brooke Bond Red Label has always touched upon various social issues in their ad campaigns. The brand's purpose is to help people find common ground over tea, thereby making India more inclusive. As part of living this purpose, we have touched upon various social tensions that come in the way of a more inclusive society. In the last five years that we have been on this journey, Brooke Bond Red Label has been showered with more brand love than ever before and has been rewarded with market leadership and now Brooke Bond Red Label is India's No.1 tea brand.
Tell us about the media mix that you follow.
Brooke Bond Red Label uses TV as its lead medium, but digital is the fastest growing. We also use outdoor and print.
Finally, what are the future plans for the brand?
Brooke Bond Red Label will continue to walk the talk on its purpose of making India more inclusive.
For more updates, subscribe to exchange4media's WhatsApp Channel- https://bit.ly/2QUdLCK
On Day 2 of the IAA World Congress in Kochi, Pandey, Worldwide CCO of Ogilvy, gave a new twist to the word sustainability in the world of advertising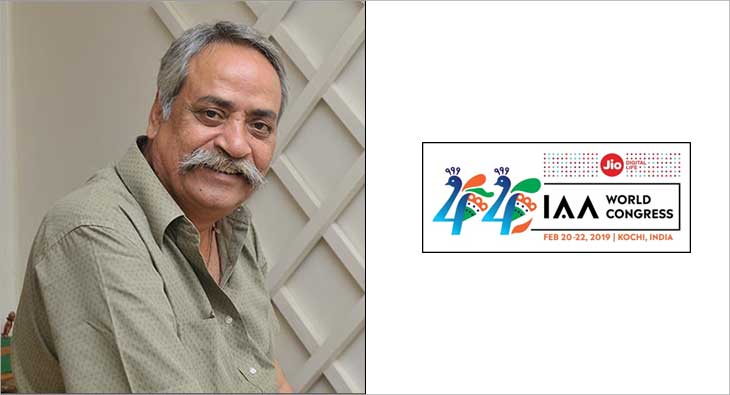 The closing session of Day 2 of the International Advertising Association (IAA) World Congress was addressed by Piyush Pandey, Worldwide CCO of Ogilvy who gave a new twist to the word sustainability in the world of advertising while speaking on 'Brand Communication for social change'.
Pandey said, "Sustainability of human relationships and emotions are under threat in this digital world. Twenty years ago when I worked for a paint brand, I remember hearing - let's make a three-bedroom house because my child needs privacy. Today, people want to keep open doors, open spaces because children are not talking with each other - they are glued to their gadgets. Human relations are not being expressed the way they should be."
He goes on to ask if we are getting so caught up in the digital world that we have stopped caring about each other, adding that brands can make a social change, and also better human beings. He gave the example of two ads made by his agency - one for Google and the second for Amazon, proving the point that human relationships are permanent.
Pandey says, "Personal interface can never be matched by face-time. Companies like Google and Amazon are doing messaging which is beneficial to the society and the brand and there is immense value to this. I salute brands which think of helping society in some way through their ads."
Talking about the importance of relationships he gave a personal example, "I still remember one day I had gone to Jaipur and I saw there were two dals on the table and I asked my mother, why there were two. She said 'the neighbor knows that you love their dal and they knew you were visiting, so they sent one'. Now that's what needs to be passed on in everything that we do. That is what a brand like Brooke Bond Red Label has done through their ad - 'swaaad apnepan ka'.
Signing off he says, "Sustainability of environment is about making life go on, but sustainability of relationships is about making people enjoy the journey of life."
For more updates, subscribe to exchange4media's WhatsApp Channel- https://bit.ly/2QUdLCK
Pritchard, Chief Brand Officer, Procter & Gamble spoke about 'Leading Disruption to Drive Growth' at the ongoing IAA World Congress in Kochi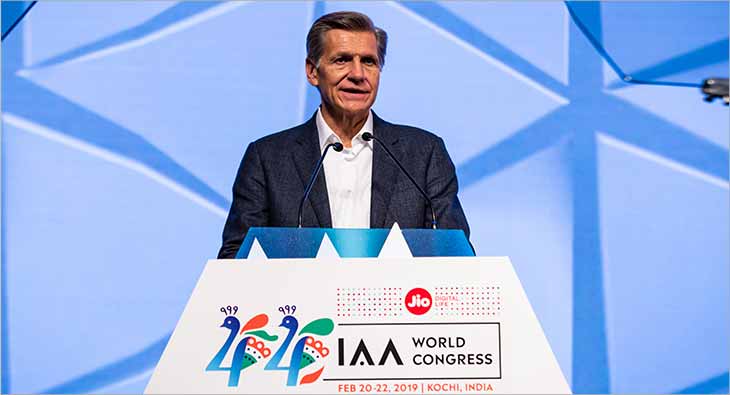 Marc Pritchard, Chief Brand Officer, Procter & Gamble spoke about "Leading Disruption to Drive Growth" at the ongoing IAA World Congress in Kochi.

He began with an interesting proposition of 'What if the brand could be the force for good and the force for growth'. Pritchard also emphasised on living the brand's purpose and not just talk about it. He underlined the need for brands to align themselves with a purpose.

Pritchard spoke about the three major problems facing the business diaspora — Gender Equality, Sustainability and Technology. "Gender equality gaps are more pronounced for women with colour, the LGBT category and those with physical challenges. In the advertisement industry, 29 per cent of women are still inaccurately or negatively portrayed. People expect more from brands and they want the brand to take a stand on social issues. Nine out of 10 consumers want brands to live with their values; they want brands to take a stand."

According to Pritchard, when it comes to sustainability there is a stark difference between what people say and do. He added that 67 per cent of the population talks about sustainability but only 30 per cent of them actually act on it. "Sustainable goals are good for the growth of the brands. Advertising affects our language and can improve the society by promoting gender equality. Brands are still portraying women inaccurately or negatively and we have to eliminate this stereotype to change attitudes and drive growth."

Pritchard also underlined that brands can help in driving sustainable behaviour by making products that could sensitise people about it. He also spoke about how P&G has been doing its bit.

"I urge to reduce, renew and recycle water, energy and waste. It will be nice if all brands can come together. My call to action for all brands is to join to achieve this," Pritchard added.

In his address, Pritchard also spoke about how digital has impacted advertising. "Digital has changed the face of advertising. E-commerce is growing and new brands are bypassing media networks. The pervasive data, analytics and tech is changing everything. Things like block chain, AR, VR and AI are affecting all aspects of daily life. I would like to pivot and use tech to go beyond, reinvent and see if brands can use cutting edge tech to improve everyday life."

He also highlighted the need for security and privacy in a market environment which driven by technology. "We have to be careful of unbridled growth and of tech security and privacy. We should unite as an industry and set the standard for ethical use of machine learning. My call for action is to put standard policies in place so that tech is used for good," Pritchard concluded.
For more updates, subscribe to exchange4media's WhatsApp Channel- https://bit.ly/2QUdLCK
Punit Goenka, President, IAA India opened the first session of the convention followed by Srinivasan Swamy, Chairman & World President of IAA Global introducing the theme 'Brand Dharma'

by
Published - 3 days ago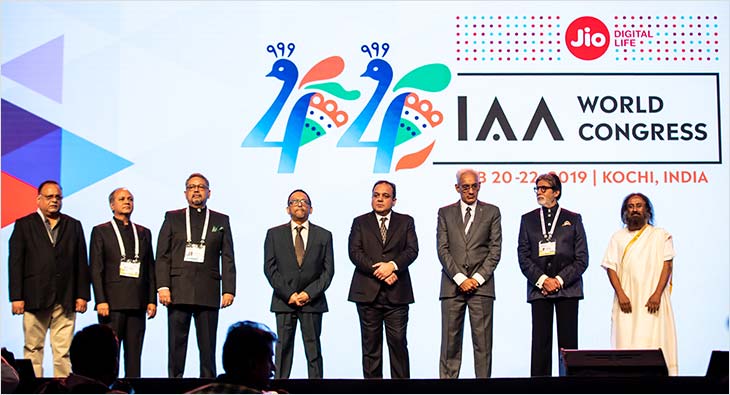 The 44th edition of the International Advertising Association World Congress took off in Kochi on Wednesday. A host of close to 40 speakers from around the world including the likes of Sir Martin Sorrell, innovation expert Tim Reid, Amitabh Bachchan, spiritual leader Sri Sri Ravi Shankar, Unilever CEO Paul Polman, Boston Consulting Group Chairman - Hans Paul Burkner, Skype co-creator - Jonas Kjellberg, Nandan Nilekan, Alibaba CEO - Chris Tung would grace the three day convention.
Punit Goenka, President at the India chapter of IAA opened the first session of the convention followed by Srinivasan Swamy, Chairman and World President of the International Advertising Association (IAA) Global who introduced the theme of the convention 'Brand Dharma' and discussed the journey of advertising and the need to protect freedom of commercial speech in the present times.
Goenka, in his opening address, stressed on the 'Brand Dharma' theme of the World Congress as the basic principle a brand should follow, to connect with its customers and society at large. He said "what matters at the end of the day is the deep connect a brand establishes with the audience and the language, dialects in which the brand speaks with the audience. Also, how purely and honestly does the brand believe in the culture and value system of the audience."
Advocating self-regulation in advertising, Swamy broke down the to-dos of IAA for the convention. "We at the IAA are constantly trying to update and upgrade according to the needs of the time. We are ready to provide professional development for people needing to update their knowledge. We are looking at nurturing exposing young talent to best in class curriculum that prepares them for tomorrow. We want to inspire people to take action on societal issues and solve business challenges and promote the relevance of advertising as the engine of economic growth," said Swamy.
Elaborating on self-regulation Swamy said, "IAA would step in and promote the law makers more concrete proposals for self-regulation based on wider consultation in the industry. IAA would also present a case that the interest of the consumer is better served with certain safeguards on data piracy, rather than stringent regulations."
However, it was actor Amitabh Bachchan, who stole the show with his presentation of the theme of the convention Brand Dharma in the inaugural session. "I am the face of close to 24 brands and while I cannot prevent them from existing in the market I do not advertise alcohol or tobacco-that is dharma for me. Dharma of a brand is to ideate, develop a vision, and formulate a policy and code of conduct and know that there are only two ways to go about-grow or perish. Existence of competition has acted in favour of the consumers because that has led to continual improvement of a product," said Bachchan.
Expressing his joy about the growth of indigenous brands Bachchan explained his perspective on the brands he promotes. "When I say kuch din toh guzaro Gujarat mein or do boond zindagi ke, I don't sell Gujarat or polio prevention dosage. The brand here is social justice. The product here performs what its label claim - that is the kind of brand dharma I believe in," added Bachchan.
Engaging the convention attendees in a quick meditation session Sri Sri Ravi Shankar said the society is moving into a whole new era where people do not observe what they preach. "People making video games do not want their children to play it. But that shouldn't be the case. The universal ethics to operate in the market is very simple to follow. What you do not want your vendors to do to you do not do it to your customers," he said.
IAA is a globally-focused integrated advertising trade association with membership representing advertising agencies and the media. The IAA comprises corporate members, organizational members, educational affiliates, as well as 56 Chapters with individual members and young professionals from 76 countries including the top 10 economies in the world. lAA is 80 years' old and is headquartered in New York.
For more updates, subscribe to exchange4media's WhatsApp Channel- https://bit.ly/2QUdLCK
Agency pros share what it takes to hit a creative sixer during the sporting extravaganza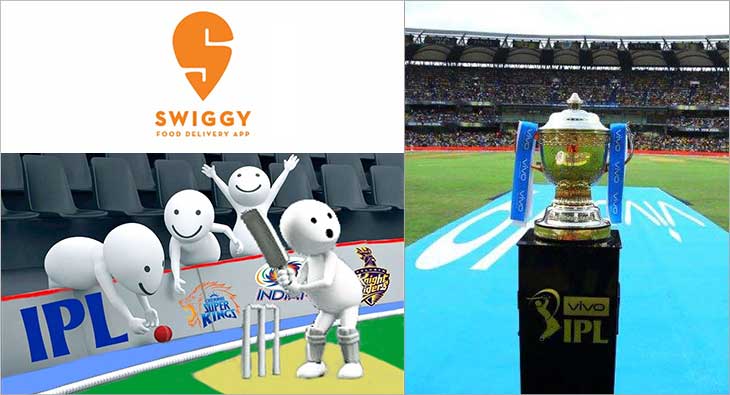 The Indian Premier League (IPL), since its inception, has been a platform for brands to showcase their creative side. It is the Super Bowl of India where brands can leverage a lot from the sporting event.
In terms of advertising opportunities, Super Bowl has only a day whereas the IPL lasts for a month, giving brands the power to attract their target audience with catchy ads and incite brand recall. IPL also captures a pan-India audience and so the broadcasters are backed with heavy media spends by ad agencies and brands.
During the last IPL, Star India earned around Rs 3,000 crore. Nearly Rs 1,800 crore is estimated to have come from television and digital advertising. Needless to say it's the season for brands to push creative boundaries with their ad communication so that it hits the nail just right.
Exchange4media spoke to ad agencies who worked on last year's much talked-about IPL ad campaigns.
Mullen Lowe Lintas, the creative agency that created the Swiggy 'gulab jamun' ad, not only captured the audience's attention but there was a call to action from consumers as well. Sagar Kapoor, CCO, Lowe Lintas, said, "IPL is a massive opportunity for brands and a challenge for creative agencies to stand out in the flood of brands advertising at the same time. During IPL, the shorter ad format becomes a necessity and therefore combining creativity with brevity becomes challenging. IPL is incredible for the kind of content it generates from brands, teams and the audience themselves. This generation, known for using 'ad-blockers', actually looks forward to ads showcased during the IPL. It stands as the most exciting platform to showcase a brand's communication. IPL is the Super Bowl of India and may grow to become perhaps more than that."
Such was the draw of the Swiggy ad that the brand witnessed a 25 per cent growth in orders during IPL and there was an over 10-fold increase in consumers doing a search on the platform to order gulab jamun. A case study has proven that if a story is told well, it's sure to sell.
Some ads interestingly encompass the spirit of the game in the creative communication. It is no cakewalk for a creative work to shine through IPL, said Agnello Dias, Chairman and Co-Founder of Taproot Dentsu India. "IPL is both a challenge and an opportunity for advertising in a creative way. The slots are limited and stories simply have to be told in 30 seconds or less. This brings out sharply honed, pinpoint communication strategies as anything more will result in a lesser impact. The truth is, if you can break through public consciousness in the IPL, you've got it made because practically the whole country is watching at the same time."
One brand that has made its presence felt during IPL since its inception is Vodafone. Speaking about how hitting creative sixers has helped brand Vodafone and Ogilvy, Kiran Anthony, Creative Director, Ogilvy said, "Through Vodafone's Zoozoos, the Zumi song, 'Be Super' and the 'Asha-Bala' campaigns, we have always focused on business tasks and managed to engage the customers in a memorable way. Due to the reach and visibility that IPL provides, these characters and series have been etched in the minds of the audience. Therefore, they are instantly attributed to Vodafone."
Gayatri Sriram, Digital Creative Head, FCB Ulka says some of the more creative work can be seen coming out of not the official spenders, but the brands that choose to ambush their competitors. "Vodafone's 'unofficial sponsor of fans' is a good example of this. For over a decade now, IPL has been the battleground for brands, marketers and advertisers to capitalise on the colossal reach. But that's where the similarities end, in my opinion. If you have the money, IPL is seen as a safe way to achieve some numbers. We don't look at the event as a playground of disruptive, standard setting ideas," she said.
It isn't a smooth sailing job to capture the audience's attention in 30 seconds. The brands that do their best to send across their campaign's message within that timeframe instil brand recall and call to action for the consumers.
In 2018, ad campaigns did their best to leverage from the sporting extravaganza. Let's see what happens during Vivo IPL 2019, which starts on March 23. Here's hoping that the work we witness this year pushes the envelope for innovation and leaves viewers 'clean-bowled'.
For more updates, subscribe to exchange4media's WhatsApp Channel- https://bit.ly/2QUdLCK