Danone India appoints Taproot Dentsu as its creative partner for Protinex
"Global mission to 'Bring Health Through Food To As Many People As Possible' allows us to address unmet needs for the greater good."
Danone India has roped in Taproot Dentsu as their creative agency on record for the entire portfolio of their health food drink brand, Protinex. Danone India is part of the global food-products multinational corporation Danone, headquartered in Paris.
It is pertinent to note here that Taproot Dentsu, which is part of the Dentsu Aegis Group, had already partnered with the brand on a project-based relationship to handle the entire brand portfolio for the past one year. A multi-agency pitch had preceded this alliance in the year 2015 wherein Taproot Dentsu had won the mandate. Given the fruitful collaboration last year over the core Protinex brand campaign (the launch of Protinex Grow), some tactical competitive work and expanding of the flavour portfolio, taking this partnership to the next level was a seamless, mutual decision.
Commenting on the development, Himanshu Bakshi, Marketing Head, Danone India said, "Protinex has been built on 60 years of doctors' recommended trust. Brand positioning and portfolio presents a huge opportunity to establish as an everyday family health brand with a clear differentiator on protein. Taproot Dentsu has been quite instrumental in bringing alive this paradigm shift on the brand. The team, with its strong planning and creative minds, has already delivered multiple campaigns to help build protein relevance across cohorts through the lens of Protinex. We feel very confident to strengthen the Protinex-Taproot Dentsu partnership,especially when the brand and category is at the cusp of a new dimension of expansion, innovations and growth. We look forward to a stronger collaboration in the future."
Umesh Shrikhande, CEO - Taproot Dentsu said, "Danone's global mission to 'Bring Health Through Food To As Many People As Possible' allows us to address unmet needs for the greater good. In India, eclectic dietary patterns and cultural nuances provide a huge demand creation opportunity to food brands that offer serious nutrition. We are committed to creating persuasive conversations that build on Danone's strong and scientific brand propositions."
Ayesha Ghosh, General Manager - Taproot Dentsu Mumbai said, "We are proud to partner with Danone India to help launch a portfolio of brands under Protinex for consumers across the spectrum - from toddlers to seniors. With the backing of science, Protinex offers the best quality of protein and, along with the marketing teams at Danone, it is up to us to find the most compelling ways in which we can make this product's superiority relevant to our consumers."
Pallavi Chakravarti, Executive Creative Director, Taproot Dentsu Mumbai said, "When a brand decides to make the journey from 'lab-coat speak' to consumer speak, it's a challenging and exciting task. Working with our partners at Danone India, we hope to craft communication that will make Protinex more relevant than it has ever been. Two big brand campaigns and other tactical ones down already, we're looking forward to more."
exchange4media Group Service
The campaign conceptualised by The Womb promotes healthy sleep campaign with its brand ambassador Kareena Kapoor Khan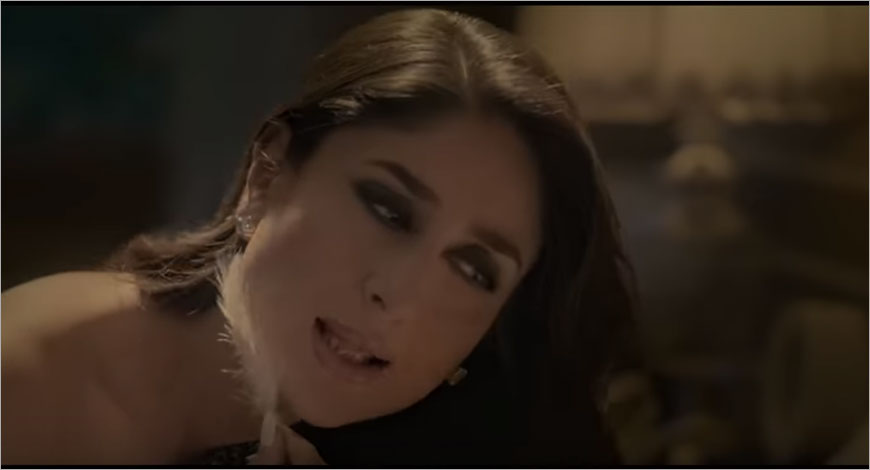 Honeywell announces a public awareness campaign to educate people about the importance and benefits of a 'Healthy Sleep' with its brand ambassador and Bollywood actor, Kareena Kapoor Khan. The campaign has been conceptualised by The Womb.
Out of the top 10 most polluted cities in the world, nine are in India. The air quality in these Indian cities has reached alarming levels owing to vehicular pollution, rapid urbanisation and construction, industrial and domestic emissions. Pollutants like cooking smoke, cigarette smoke, cleaning agents, dust in upholstery, pet dander when coupled with outdoor air pollution make the indoor air even more unhealthy. Amidst all of this, it is impossible to enjoy a healthy sleep at our homes.
The Honeywell 'Healthy Sleep' campaign draws attention to the fact that even while sleeping, we inhale the polluted air which is full of germs, dust and PM2.5 particles which is why sound sleep alone is not always a healthy one. There are various industry reports that link air pollution to poor sleep. The aim of this campaign is to increase public awareness and to educate people about the relatively unknown hazards of indoor air pollution.
Honeywell's latest TVC that is being launched as a part of the larger Integrated marketing campaign features Kareena Kapoor Khan as she underlines the merits of a 'Healthy Sleep'. The 40 seconds TVC highlights that a healthy sleep is more important than a 'good night's sleep' for an active, more productive and a healthier lifestyle.
Navin Talreja, Co-Founder, The Womb, said, "Air purifiers are a small category as Indian consumers fail to find relevance and believe that pollution only exists outside homes and not indoors. Our challenge was to find a relevant benefit that not only builds penetration but also continued usage. Everyone desires good sleep. We chose to create dissonance with this concept by posing a simple question — Is it healthy sleep?"
Talking about her association with the company and the latest TVC, Kareena Kapoor Khan said, "I am happy to be associated with Honeywell once again for its strong technology expertise. Health and fitness is of top priority for me and my family. My latest campaign with Honeywell talks about how sleeping soundly just ensures that we do not wake up feeling lethargic and irritable but is still not enough for a healthy mind and body. Even while sleeping we inhale the polluted air. I am happy I'm helping address an important issue with this campaign."
Honeywell has one of the widest portfolio available to address pollution inside homes, cars, and institutions. Its complete range of air purifiers is available on e-commerce platforms like Amazon, Flipkart, and PayTM, and offline channels, including large and small format retail stores.

exchange4media Group Service
Zooey Deschanel and Natalie Dormer Lead the Cast of Crocs Global Brand Ambassadors for 2019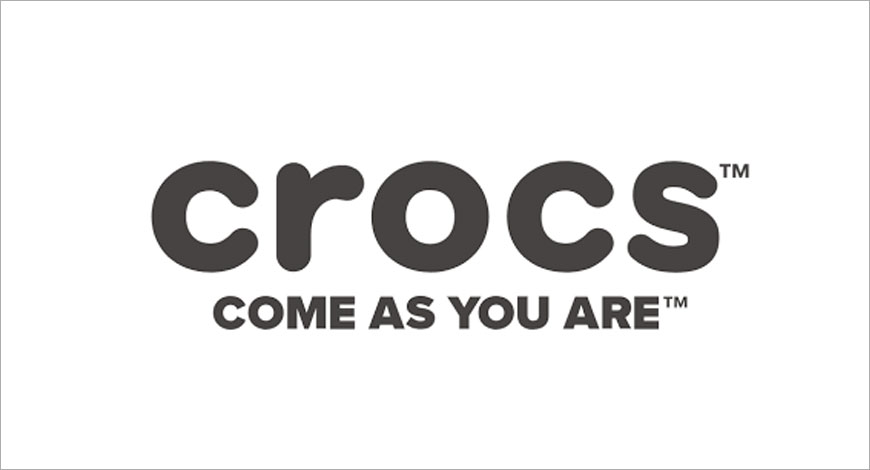 Crocs, Inc. (NASDAQ: CROX), the casual footwear brand for women, men and children, has announced a cast of fresh faces for the third year of its "Come As You Are" global marketing campaign. Since 2017, "Come As You Are" has inspired millions of consumers around the world, leading to increases in brand relevance, consideration and desirability.
Award-winning actress, singer-songwriter and director Zooey Deschanel along with British actress Natalie Dormer, Chinese actress, dancer and model Gina Jin, South Korean actress and gugudan girl-band member Kim Se-Jeong, and Japanese actress and model Suzu Hirose will be featured in digital, social, print and in-store marketing materials in key global markets beginning in 2019.
"I love that we are all unique," said Deschanel, a mother of two. "When Crocs asked me to be a part of their 'Come As You Are' campaign, I was excited to have the opportunity to join a fun and colorful brand, but more importantly, have the opportunity to inspire others to embrace their individuality."
Throughout the year-long "Come As You Are" campaign, the new brand ambassadors will encourage consumers to declare that expressing yourself, being comfortable and being stylish are not mutually exclusive. The campaign will highlight the iconic Classic Clog, as well as LiteRide™, the brand's latest innovation in comfort technology, and the popular Crocs Serena and Swiftwater™ sandal collections.
"Since launching 'Come As You Are' in 2017, Crocs has seen renewed brand interest from consumers around the globe," said Terence Reilly, Crocs' Chief Marketing Officer. "We are proud of what this campaign has achieved, but are eager to see how a talented, unique and self-expressive cast can redefine what it means to be comfortable in your own shoes."
Recognized for her presence in some of the biggest global TV and movie franchises of our time, including HBO's Game of Thrones and The Hunger Games, Dormer will play an important role for the brand in Europe.
"I've said it before, but I truly believe if you don't scare yourself a little bit, you'll never grow," said Dormer. "Whether it's the roles I've played or marathons I've run, I challenge myself to get out of my comfort zone. That's why the 'Come As You Are' message that Crocs is sharing is so important to me."
In China, actress, dancer and model Gina Jin is best known for starring in the television dramas Peacock King and Seven Weapons while Korean brand ambassador Kim Se-Jeong is active as a popular K-POP singer since her official debut as a member of gugudan in 2016. More recently, she has been featured in various drama OSTs and is also recognized for her role in Drama School 2017.
Said Jin: "I'm excited to partner with a brand like Crocs that values self-expression and standing out from the crowd. To me, that's what the 'Come As You Are' message is all about."
Kim Se-Jeong added: "I used to struggle with the fear of making mistakes. But if you don't mess up every once in a while, you won't learn anything. 'Come As You Are' is a platform that can help people push through their fears and learn to be comfortable in your own shoes."
Suzu Hirose, a Japanese actress and model is known for her roles in Our Little Sister and Rage, and for playing the lead role in the Chihayafuru films.
"It's never been more OK to be yourself," Hirose said. "While I get to express myself through different characters on-screen, maintaining my one-of-a-kindness off-screen is the essence of the 'Come As You Are' campaign."
Crocs will announce more details about the evolution of "Come As You Are" in early 2019.
exchange4media Group Service
He was 90, Padamsee was the man who created some of India's most iconic ads including Liril girl, Surf's Lalitaji and Hamara Bajaj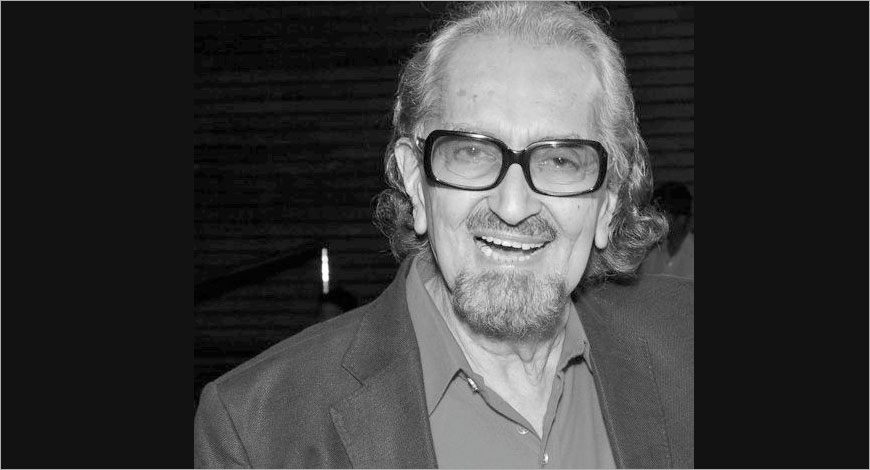 Ad veteran Alyque Padamsee has passed away. He was 90.
While details of his passing away are still unknown, few industry people tweeted this morning:
Saddened to hear of the passing of advertising doyen #AlyquePadamsee

When he was head of Lintas he'd given me some of my early breaks in advertising photography

Ever grateful for the break and opportunity

RIP Sir
??? pic.twitter.com/5aZ8EUVT69

— atul kasbekar (@atulkasbekar) 17 November 2018
I never worked with #AlyquePadamsee, but was fortunate to work with his protégé, Anand Halve, who Alyque called his *brainiest trainee*.
Andy, you can now raise a toast with your mentor. pic.twitter.com/zhAnsG6mej

— Ashok Lalla (@ashoklalla) 17 November 2018
Oh you maverick! Thank You for the most iconic advertisements of our times Rest in Peace #AlyquePadamsee ??

— Kubbra Sait (@kubrasait) 17 November 2018

Padamsee helped build Lintas in India making it one of the top creative advertising agencies in the country. He was the CEO of Lintas India and went on to become the Regional Coordinator for Lintas in South Asia.

Padamsee was also the man behind some of India's most memorable ads. He created Lalitaji for Surf, Cherry Charlie for Cherry Blossom Shoe Polish, the MRF Muscle Man, the Liril girl in the waterfall, the Kamasutra couple, and Hamara Bajaj among many others.




exchange4media Group Service
Celebrity Chef Kunal Kapoor, who is well known for being the judge and host of MasterChef India, talks about the festival in campaign video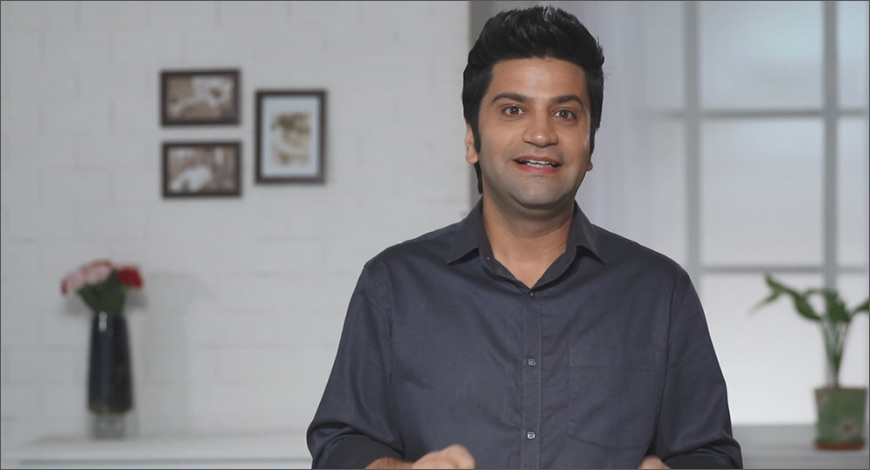 Tupperware doesn't want the festivities to end yet. Taking the festive season ahead, Tupperware is launching 'The Big Savings Festival'from November 18 to Novemeber 30.
The Big Savings Festival will not only help you save money, but also time, space, energy, effort and your food as well. It is aimed at changing the way people prep, cook, store and even serve food.
Kickstarting The Big Savings Festival on November 18

,

Tupperware will be putting some of their best products on offer at exciting prices
To announce the launch, Celebrity Chef Kunal Kapoor, who is well known for being the judge and host of MasterChef India, talks about how The Big Savings Festival is an ideal opportunity for you to:

Redo your kitchen
Re-invent your lunch box
Reorganize your fridge
And most importantly, save food
Here is a link to the recently launched video campaign - The Big Savings Festival
exchange4media Group Service
From Patola to Meenakari, Phulkari to Paithani, SPACES' new collection celebrates India's varied traditional artforms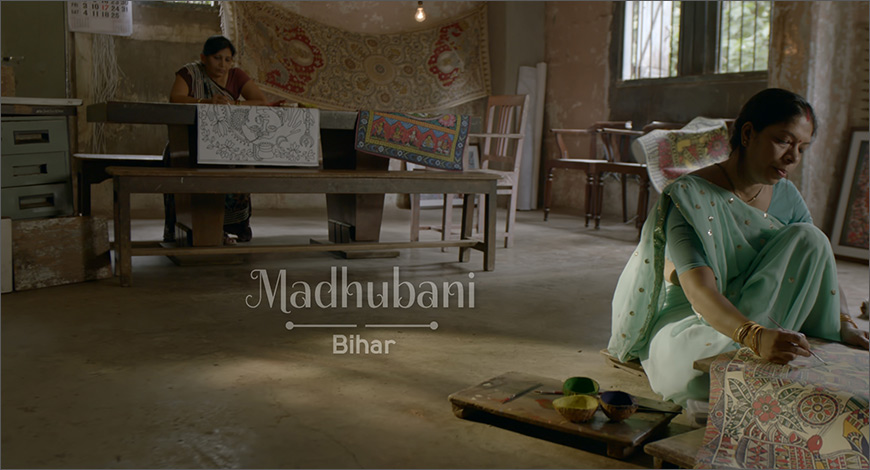 Home textile company Welspun India's domestic brand, SPACES recently launched their campaign on 'Thoughtful Living' to complement the launch of its new festive home linen range called Rangana. The collection is inspired by traditional textile art forms celebrated in different states of India. Following the launch of the new collection, SPACES has launched two digital films that showcase how this range is inspired by India's beautiful artforms.
The digital films beautifully conceptualised by Ogilvy portray the essence of Rangana collection. From Patola to Meenakari, Phulkari to Paithani, SPACES' new collection celebrates India's varied traditional artforms The campaign is promoted across 600+ cinema screens and on all digital platforms.
Each film portrays the speciality of a particular region.
Talking about the campaign, Manjari Upadhye, CEO & Head of Domestic Business, Welspun India, said, "SPACES as a brand stands for thoughtfulness through its designs and the innovative products. Through the Rangana collection, we are celebrating the traditional Indian art form. Our new campaign brings out the essence of the new collection in a beautiful way with the underlying message of thoughtfulness. It is important to revive the traditional Indian art form and create awareness amongst consumers, which is why SPACES has taken this initiative of giving back to the society through the creation and subsequent sale of Rangana."
"SPACES celebrates traditional art forms prevalent in every part of the country through its Rangana collection of bed linen. What better way, to showcase and celebrate these designs, than by complementing them with folk lullaby one hears in bedrooms in every nook and corner of the country. Rangana is also a true example of SPACES actually living its philosophy of thoughtful living, as proceeds from its sale go to the artists," says, Zenobia Pithawalla, Senior Executive Creative Director, Ogilvy
With Rangana, each weave binds authentic folk heritage and the inheritance of the diverse art forms, bringing alive the culture, rituals, beliefs and the essence of festivity.
The traditional folk-art forms are a legacy of the craft communities. These communities are facing challenges to survive due to modernization and lack of awareness about traditional art forms. As Rangana is a collection evolved from the beautiful crafts of diverse India, proceeds from sale of Rangana will be directly used for the development of these craft communities and centres in return of their contribution to the glorifying heritage of traditional India.
Credits:
Agency: Ogilvy Mumbai
Creative: Zenobia Pithawalla, Varsha Desai
Planning: Jasmeeta Mehta
Account Management: Vivek Verma, Sreejesh Nherakkol, Preksha Vadhan, Megha Mohan
Production House: Jamic Films
Director: Shirish Daiya
Producer: Mekala Krishnaswamy
exchange4media Group Service
The hilarious TVC highlights the plight of a plumber at the hands of an ordinary pipe, and in turn communicates the reliability and assurance of Birla Aerocon Pipes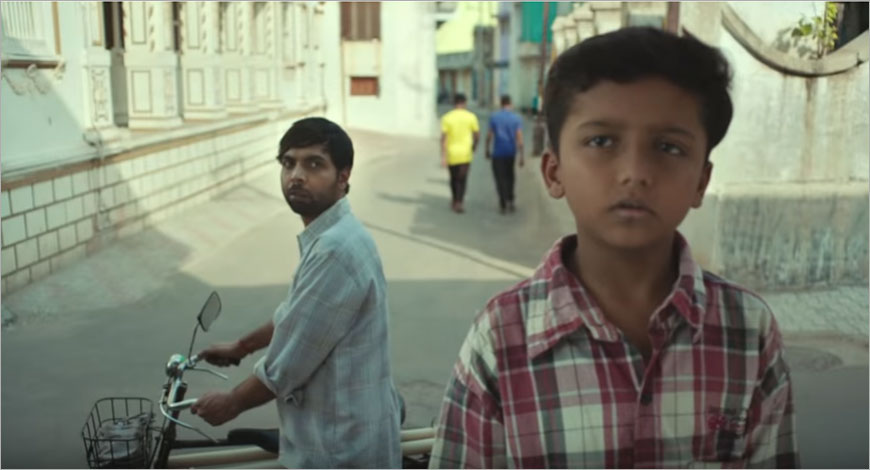 Birla Aerocon, the green building solution brand from the house of HIL Ltd. announced the launch of a new TVC campaign 'Naam Birla Dekhke Lena'. The TVC showcases the superior quality that Birla Aerocon offers in the category to its customers.
Conceptualised by Ogilvy, the TVC is a quirky take on the problems caused by leaking pipes. Using the plumber as the protagonist, the TVC starts with a plumber who to the annoyance of others in his family, is having to change his name almost daily. It is later revealed that the overpromises made by technicians – 'kuch hua na, toh naam badal denge' was the reason behind a new name every day as his blind promises were never fulfilled due to the sub-standard pipes installed at the customer's home. The commercial ends with a voiceover – 'Pipe ho lena to naam Birla dekhke lena', which beautifully sets the mood for the commercial and helps the plot unravel highlighting the quality, durability, and reliability of Birla Aerocon pipes.
Dhirup Roy Choudhary, MD & CEO, HIL Ltd. Said, "Birla Aerocon Pipes and Fittings, from the house of HIL, is a world-class product that is made with TrueFit Technology which ensures leak-proof pipes and fittings. Our latest campaign for Birla Aerocon pipes and fittings showcases the trust BIRLA as a brand entails, which is world renowned and is associated with top quality products. Our products cement the same trust amongst all our channel partners through our superior quality of pipes and fittings. Through the campaign, you can see how together with our products we are building the trust and happiness amongst customers and plumbers alike."
Nilay Moonje, Group Creative Director, Ogilvy Bangalore said, "When it comes to repairs or fitting pipes we rely on the word of the experts in the field, the plumbers. We thought, what if, we made the plumber our hero who is a victim at the hands of an ordinary pipe and so, in turn, communicate the reliability and assurance of Birla Aerocon Pipes. We stumbled upon this hilarious idea of a plumber who literally puts his name and reputation on the line and the consequences he faces as a result of his reliance on an ordinary pipe. The message of the story is meant to hit, in this case, both ends of the pipe - the plumbers and the home owners too."
CREDITS
Client: HIL
Client Marketing Head: Neha Gupta De
Creative Agency: Ogilvy Bangalore
Creatives: Azazul Haque, Mahesh Gharat, Nilay Moonje, Nimisha Kalipurayath, Sameer Gupta, S Syamkumar, Gaurav Sharma, Rahul Chelat
Account Management: Kiran Ramamurthy, Priyanka Puri, Puja Kauntia
Production House: Radhika Produces Films
Director: Suresh Triveni

exchange4media Group Service
ITC Limited's range of healthy biscuits urges you to live a healthier lifestyle for yourself and your children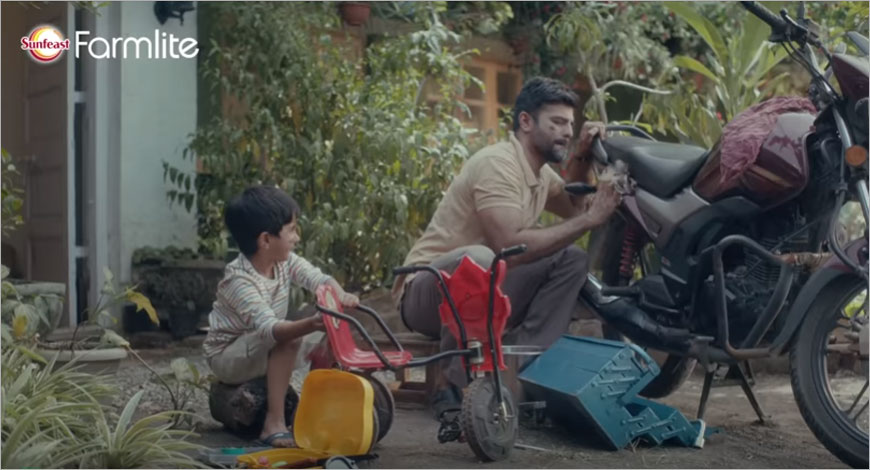 Who we are and what we become, flows from what we see our parents do and believe in. Proud aren't we, to resemble them, and inherit from them? But is all inheritance a matter of pride? Sunfeast Farmlite recently launched a new digital film which asks these questions and helps you find the answer within.
Theresa Ronnie, Vice President, FCB Ulka- Bangalore said, "ITC believes in making superior quality biscuits for a discerning and evolving India. Our range of Sunfeast Farmlite biscuits bring health and taste together to support a healthier lifestyle. This film aims to shed light on the risks families carry and nudges parents to make the switch to a healthier life."
Speaking about the campaign, Romit Nair, Creative Head, FCB Ulka- Bangalore, said, "The fact that children like to be like their parents and parents take pride in the similarities is very realistic. And realism and relatability never fail to strike a chord."
Sunfeast Farmlite is a range of healthy biscuits by ITC Limited. These biscuits have no maida, no cholesterol, no trans-fat and is made from Aashirvaad Atta.
exchange4media Group Service
The campaign comprising a film and outdoor campaign has been conceptualized by Ogilvy Bangalore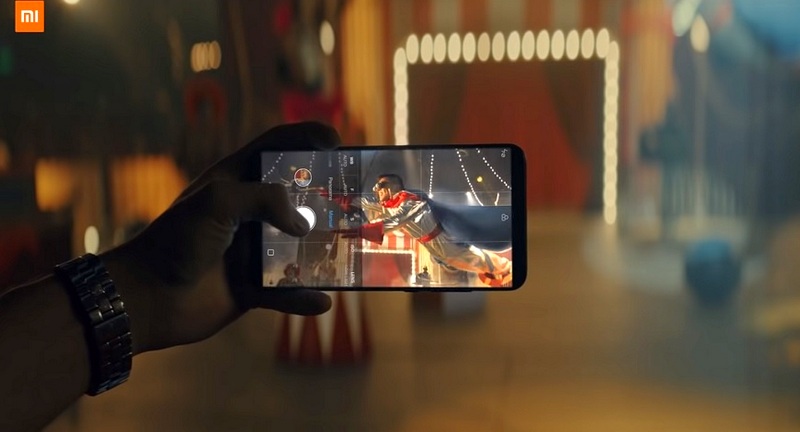 November 16, 2018: Since its beginning in 2014, Xiaomi India witnessed phenomenal success in the smartphone industry. Xiaomi currently dominates the smartphone market with a substantial 29.7% share as per recent IDC research (Q2 2018), wherein 4 out of 5 smartphones sold in India is a Xiaomi phone.
The campaign features Mi A2 and showcases the remarkable work of this product in delivering the key selling point which is "picture perfect photos" especially in low light photography, with unmatchable quality and absolute ease. It addresses how consumers face a common challenge of capturing great low light pictures which is a concern for most smartphone devices.
The campaign comprising a film and outdoor campaign has been conceptualized by Ogilvy Bangalore.
Speaking about the campaign, Mahesh Gharat, Chief Creative Officer, Ogilvy South said, "One look at the specs of the Mi A2, and one would realize that it clearly is the frontrunner when it comes to clicking great pictures in low light. Our challenge was to translate this benefit into a clutter-breaking and memorable piece of communication. We started with a simple life insight. People today are constantly clicking pictures. One doesn't know when one will chance upon a magical moment that's worthy of sharing on your timeline."
These films exaggerate the fact that these moments are not going to wait for you because your phone camera is not good enough to click pictures in low light. The take out - with the Mi A2, you can be forever ready. Cinematic flair and a great track is what makes these TVCs sticky and unforgettable. And this was just the beginning of the campaign. There's lots more to come.
Commenting on the campaign, Anuj Sharma, Chief Marketing Officer, Xiaomi India said, "As a brand, we dedicate ourselves towards offering the best of consumer experience to our Mi Fans and customers across India. And our new campaign precisely highlights this aspect of our brand. As perfect moments don't wait, Mi A2 ensures that our Mi Fans and customers never miss out on their perfect moments. And these moments live on as many cherished memories forever, no matter what the conditions are. This is only possible because of our commitment to providing the best of our innovative technology to all, and therefore we will continue to deliver the best."
Campaign video:
exchange4media Group Service
Considering Twitter to be the conversational layer of Internet, VP & MD, Asia-Pacific, Twitter talks on how India due to its vibrant user base, turns out to be a perfect platform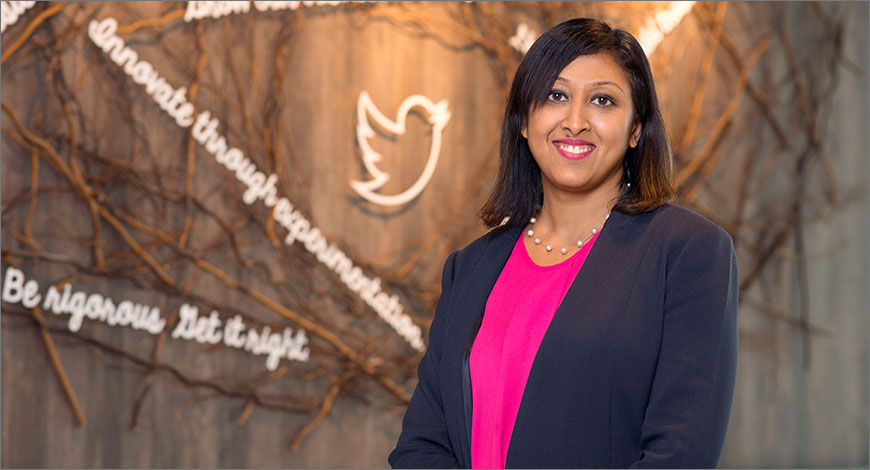 They say, Conversations that last long are made up of memories and instances deep and true. Yes, we are talking about the platform Twitter where long threads and powerful hashtags have become a popular trend leading to quite a few 9pm prime time debates on most television channels.
exchange4media caught up with Maya Hari, VP & Managing Director, Asia-Pacific, Twitter who spoke about Twitter India's growth aspirations and how the Indian market, which is crucial both from an audience as well a revenue perspective, witnessed a peak revenue this year. Considering Twitter to be the conversational layer of Internet, Hari talks on how India due to its vibrant user base, turns out to be a perfect platform in the market.
Edited excerpts:
How important is Twitter India in your APAC growth plans?
APAC has been the growth engine for Twitter globally and India is one of those top priority markets for us. Globally, India is not only one of the largest but also among the fastest growing market. So, both from an audience and a revenue perspective, there's a lot of focus, as well as attention and investment that we are planning for this market. It's quite an exciting time for us in India.
How is Twitter India thinking about engaging better with the Indian user base?
Speaking globally, Twitter is rather a platform of interest which motivates people to rally behind a cause. It allows users to discuss and learn about various upcoming trends that they would like to follow.
Talking about India, we have a very vibrant user base that is happy to converse. This works very well for the country, because we consider ourselves the conversational layer of the Internet that we want to build on continually. India is a perfect platform for this, where people are happy to talk, happy to express opinions and there's a huge diversity in our user base which lets them talk on various topics. With respect to this varied user base, we are seeing some interesting trends that we think will continue to evolve. We are transcending from beyond the top 4 cities being the core market to other cities in order to have a strong adoption there. Even beyond this, we have started seeing some of the smaller towns that really light up with Twitter. This is just the beginning of a longer term trend that we would continue to see.
With respect to the use of languages, just about half of our tweets coming from India are in English, Hindi, Marathi, Tamil, Kannada, among others.
Twitter India recently reported a 14% decline in its sales. What are some of the initiatives planned to put Twitter India back on the growth trajectory?
Let's set this record right, we haven't seen a decline in sales. In our history of revenue as Twitter India year to date, we have in fact witnessed peak revenue this year. The reference here, might be regarding the ROC filing that we do. We do not book our sales revenue out of India. It's a marketing entity and so we are booking a lot of our cost base out of here. Hence, you will find a difference between what the ROC filing represents vs. how the health of India business looks like.
While the Internet user base in India has grown heavily, monetisation has been an issue plaguing the industry. How does Twitter India make sure to monetise user traffic effectively?
We at Twitter always believe that monetisation follows audience, hence with a strong growing audience base monetisation becomes important. Let's say, if a brand does a launch with Twitter in the marketing mix Vs. without it, the persistent awareness is stronger in the case where they have used Twitter at the launch phase. With our audience being incredibly influential this has essentially been our super power in the marketing mix. Therefore, our message to brands has always been, 'To start with the audience', who can be more influential at launch and thereby help you leverage the speed of the platform.
We are quite bullish about monetisation in India and we continue to focus on 'launch' as the core marketing value that we bring to the table, in addition to sponsorships around connecting at the right moment with the latest.
How does Twitter plan to deal with misinformation such as spread of fake news, hate speech, harassment etc. to avoid exploitation of Twitter's core features, more so with elections coming up in India?
The overall topic of misinformation is something that the whole world is tackling at present. We at Twitter care deeply about this issue. Our intent is always to be able to surface all perspectives around the topic. To be able to tackle spam and address issues of fake news sooner, continues to be an endeavour. At a global level, building better and healthy conversation is one of our top priority. Hence, the ongoing effort is around a combination of product, policy and policing of reports in real time. You will find, Twitter has been able to detect such cases much earlier and hence taken action much sooner.
Speaking about elections, it's actually quite an exciting time for Twitter. As a platform we want to represent every side, we want to be able to carry the debates, we want to be able to get people to discover what the candidates represent, discuss policies and topics they would like to stand for. On one hand, we are going deep into the state elections in different states of India, in order to be able to support them. We are going into 6 to 7 towns for e.g. Raipur to help state level parties aid benefits like education, sanitation etc. for the locals. On the other side, we are also partnering with BOOM Live to be able to spot fake news and resort to fact checking. Alongside, with the launch of #PowerOf18, we encourage today's youth to express freely and voice their opinion regarding who they want to see as their leader. All in all, we are taking a holistic approach to the elections, to try and fix such issues.
What are some of the measures that are being employed to bring forth creative content partners onto the platform, in order to leverage content across Twitter?
The effort to be able to bring a holistic set of Video content to the platform, has been a multi-year strategy for us. Whether it is Quickbuzz here or some of the local news and entertainment partners, or Red Chillies Entertainment, for whom we recently live streamed their 'Zero' movie trailer launch, you will continue to see us work with a very rich partner ecosystem to bring content onto the table. In addition to this, we are also constantly evolving the formats from an advertising standpoint to be able to get brands to express creativity. For example, how does one merge video along with conversation instead of just choosing one. This is very unique to Twitter. Another example would be that of a conversational card, where you can get a consumer to view a video and then engage in a particular hashtag and a conversation to be able to spread the word on the same. These are some of the unique only-on Twitter formats, which will continue to be a major part of our strategy.
With the Video First approach expanding rapidly, how is Twitter making sure, that almost every consumer gets a Video touch point on the platform?
From a consumer standpoint, the consumption of video globally as well as in India continues to rise. We in fact, see doubling of video consumption on the platform. What we also see is that, video as a format represents over 50 per cent of our total revenue. Video has actually become the currency and we can find it all around us. In terms of engagement, it certainly has become the favourite format for consumers.
When it comes to brand advertising, how does Twitter ensure it will be competitive enough in a brand-data-centric world?
Speaking about data, Twitter has tweets that are real time, public in nature and are conversational. Put in another way, it's the largest collection of human thoughts that a brand can actually tap into real time. This sets up a good base for incredible data net insights. Brands love to hear from us about the topics that interests a particular set of audience, for instance, what does a set of gaming audience care about or what are the core areas a tech-savvy group would discuss in all likelihood? The sentiment involved here is to predict whether the brand we are conversing with is positioned correctly or not. This becomes a very strong foundation for us, in having a data-centric conversation with the brand.
When you marry this sentiment and the launch factor, the two super powers of Twitter it tends to be the best well rounded offering that we have for the brands.
Any Twitter trend that took you by surprise this year?
Being an Indian who has lived here, the whole #MeToo movement has pleasantly surprised me to see how it came to the surface and drove incredible impact in society. We have also had few other trends where women over the last couple of years have come out and expressed a lot on several hashtags like #Ain'tNoCinderella and #GirlsWhoDrinkBeer etc. These mini moments have definitely pushed the society to believe that we as women have deep trust in the ability to express ourselves and have freedom. The #MeToo movement, has been the culmination of series of emotions for me.
It has also been lovely to see all the fun moments playing out on Twitter. For e.g. when Golden girl Hima Das broke a big record at Commonwealth, news moments like the debate around Aadhaar etc.
Our audience has the ability to shape culture and when people shape culture, they certainly have the power to change the world for the better. It is indeed a privileged position for us to be in both for the society and marketers we connect with.

exchange4media Group Service
Launched a digital campaign featuring Kiara Advani, directed by Mohit Suri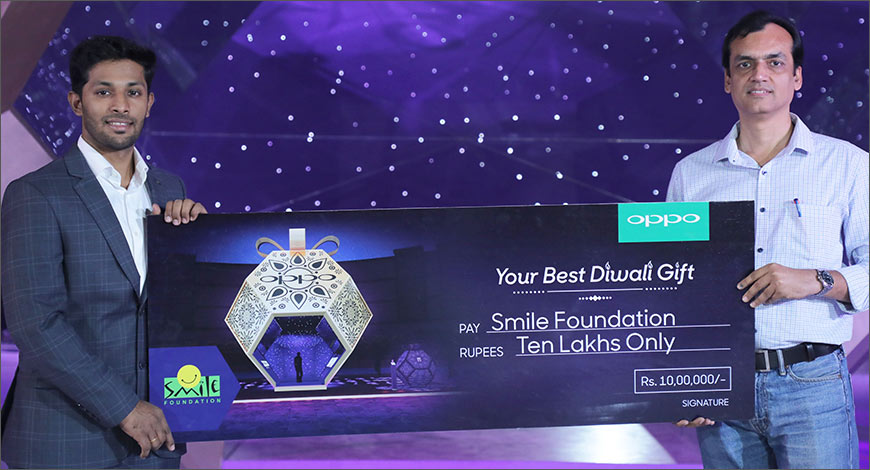 OPPO, The Selfie Expert, recently launched its Diwali Campaign 'Your Best Diwali Gift' starring the recently launched OPPO F9 Pro Starry Purple and highlighting the joy of sharing with the under privileged. The campaign aims to establish an emotional connect with its audience and encourage an alternative way of celebrating Diwali by sharing lights, colors and lots of love with a group of special children. It positions the F9 Pro Starry Purple with its charming design as the best Diwali gift this season of gifting.
Speaking on the campaign, Will Yang, Brand Director, OPPO India, said, "Festivals in India are an exciting time where families and friends reconnect and bond over gifts, lights and sweets. At OPPO, we want to make this experience joyous for all our consumers and are delighted to launch our Diwali campaign. With this campaign, we aim to do our bit and spread happiness amongst the community. We are thankful to Smile Foundation to be our partner in achieving the same. We are focused towards offering our consumers the best of technology, art and innovation this Diwali and believe the F9 Pro Starry Purple will become the best Diwali Gift this year."
Under the campaign executed both offline and online, OPPO partnered with the Smile Foundation, a non-governmental organization that works for the welfare of children, their families, and the community and donated INR 10 lakh for a noble cause - providing support for underprivileged children's health - with a special focus on the girl child. A beautiful product experience zone in the shape of a giant gift box was set up at Pacific Mall, Subhash Nagar, New Delhi, enabling consumers to experience the OPPO F9 Pro and light a lamp. Visitors who lit the lamp at the zone contributed towards the noble cause and did their bit in bringing a smile on an innocent child's face.
In the second leg of the campaign, OPPO launched a digital campaign highlighting core competency of F9 Pro Starry Purple - "5-minute charge, 2-hour talk". Directed by Mohit Suri, a seasoned Bollywood Director, and starring Kiara Advani, popular Bollywood actress, the video campaign celebrates the bond between a mother and an adopted daughter. It showcases how love connects people and is not defined by blood relations and positions the F9 Pro Starry Purple as the best gift to capture precious memories.
The digital campaign designed by Havas India showcases a young girl, played by Kiara, busy helping her mother prepare for Diwali festivities while the family discusses the tough decision of revealing the truth of her adoption. The TVC takes an emotional turn when the young girl goes back to the orphanage which her family would visit with gifts every Diwali, and where they found her. The emotional tone continues as the girl surprises her family by knowing all along, thanking them for being there for her by gifting them a brand a new OPPO F9 Pro.
Credit Role:
Agency: Havas India

Creative Director - Shyam Samant

Production house - Cutawayy Films

Director (film) - Mohit Suri

Producer - Gaurav Dharr and Monica Gambhir
exchange4media Group Service