Avinash Pandey elevated as CEO ABP News Network
ABP News aims to drive content with the convergence of telecom, media and technology  
Avinash Pandey has been elevated as the Chief Executive Officer of ABP News Network Pvt. Ltd. (ANN) effective January 2, 2019.
Pandey is at the helm of the organization as the COO of ABP News Network and has been instrumental in growth of the network over the last five years. An HBS Graduate & Post Graduate in History, Pandey has over two decades of experience in News Media, Advertising, Sales, Distribution, Marketing, and Content Creation. He has been with ANN since 2005, guiding the growth of advertising revenue and playing a key role in the expansion of the network's reach over the past decade.
Commenting on the appointment, D D Purkayastha, MD, CEO ABP Pvt. Ltd. said, "Avinash has rendered invaluable services during the past 13 years of tenure in the organization. Wishing him success in the new role. We are proud of our success and look forward to the next chapter of growth under Avinash's dynamic leadership."
Commenting on his appointment as CEO, Avinash Pandey said, "I am delighted and thankful to the Board of Directors of ANN for bestowing such faith in me. ABP News has been consistently setting benchmarks in the media and entertainment industry for innovation and growth in India, which is one of the world's fastest growing markets. The convergence of telecom, media and technology is one of the major drivers of the industry and India's media ecosystem has reached an inflection point. Am looking forward to taking the channels to the next level in these exciting times."
exchange4media Group Service
During the quarter, ZEEL's EBITDA grew by 26.9 per cent YoY to Rs 7,543 million
Zee Entertainment Enterprises Limited (ZEEL) and its subsidiaries announced the unaudited consolidated financial results for the quarter ended Dec 31, 2018. For the third quarter of FY19, ZEEL reported consolidated revenue of Rs 21,668 million. Earnings Before Interest, Tax, Depreciation and Amortization (EBITDA) was Rs 7,543 million with an EBITDA margin of 34.8 per cent. PAT for the quarter was Rs 5,624 million.
Subhash Chandra, Chairman, ZEEL said, "India is poised to remain one of the fastest growing economies in the world. Decline in crude oil prices and rationalization of GST rates will further boost the economy and help maintain the growth momentum in consumption. Even in M&E space, content consumption is growing at a brisk pace across mediums. This trend along with macroeconomic tailwinds will drive growth in both advertising and subscription revenues. We have delivered yet another quarter of strong performance across all our businesses. ZEE5 is scaling up in line with our expectations and is on course to become India's number one digital entertainment platform."
Punit Goenka, Managing Director & CEO, ZEEL said, "I am really pleased with our performance this quarter which further strengthens our position as India's leading entertainment content company. While our television business continues to consolidate its number one position, ZEE5 is quickly establishing itself as one of the leading digital entertainment platforms in the country. ZEE5 has already become the biggest producer of Indian content amongst the digital platforms and the content offering will multiply going forward. Our expanding list of partnerships with telecom operators and players in the digital eco-system, coupled with innovation in pricing, will make ZEE5 accessible to a wider audience."
"With the launch of our Malayalam channel, Zee Keralam, ZEEL now has the widest footprint in country in terms of the languages covered. It will help us further consolidate our network share. Advertising outlook for the industry looks upbeat and we aim to outpace the industry growth on the back of our growing network share. After much delay, TRAI's tariff order is now set to be implemented across the country next month. I reiterate that this is a positive step for the industry in the long term and will be beneficial for everyone. While it will take some time for the new system to settle, we are working with all our partners for its smooth implementation," added Goenka.
HIGHLIGHTS:
Total revenue for the quarter was Rs 21,668 million, growth of 17.9 per cent YoY. The growth was driven by the strong performance of broadcast business.
During the quarter, ZEEL's consolidated advertising revenue grew by 21.7 per cent YoY to Rs 14,626 million. The 20.6 per cent growth in domestic advertising revenue YoY to Rs 13,719 million was driven by the continued strong performance of television business and aided by the emerging digital business. The advertising demand continues to be strong across categories, reflecting positively on the advertising growth outlook. International advertising revenue grew by 40.2 per cent YoY to Rs 907 million due to stronger traction in Europe, US and APAC region.
Subscription revenue for the quarter was Rs 6,185 million, growth of 23.3 per cent YoY. Domestic subscription revenue grew by 28.6 per cent YoY to Rs 5,192 million. International subscription revenue was Rs 993 million.
EBITDA for the quarter grew by 26.9 per cent to Rs 7,543 million and EBITDA margin stood at 34.8 per cent.
ZEE5 continues its strong growth recording 56.3 mn MAUs in the month of December, growth of 36 per cent over the last 3 months.
ZEEL further strengthened its position as the #1 television entertainment network with an allIndia viewership share of 20.2 per cent.
Zee Keralam and Zee Keralam HD launched in Kerala market making ZEEL the biggest television network with presence in 9 Indian language markets.
exchange4media Group Service
<
Network18 reported an 18% YoY jump in operating EBITDA to Rs 88 crores, and TV18 reported a 41% YoY jump in operating EBITDA to Rs 115 crores in Q3FY19
Network18 Media & Investments Limited and TV18 Broadcast Limited today announced its results for the quarter ended December 31, 2018.
Network18 reported an 18 per cent YoY jump in operating EBITDA to Rs 88 crores in Q3FY19, despite continuing investments into recent launches Colors Tamil and Colors Kannada Cinema. Operating revenue rose 20 per cent YoY led by advertising tailwinds, successful movies like 'Andhadhun', and healthy growth in subscription income. Operating leverage drove profitability, especially led by continued strong performance of regional channels across both our news and entertainment portfolios.
TV18 Broadcast Limited reported a 41 per cent YoY jump in operating EBITDA to Rs 115 crores in Q3FY19, despite continuing investments into recent launches Colors Tamil and Colors Kannada Cinema. Operating revenue rose 22 per cent YoY led by advertising tailwinds, successful movies like "Andhadhun", and healthy growth in subscription income.
Adil Zainulbhai, Chairman of Network18, said, "Regional content consumption continues to see robust growth across all parts of the media industry that we play in, whether broadcasting or digital; and straddling news, entertainment and film. We continue to invest in digital with an eye on the future. We are extending our powerful brands across geographies, business models and mediums, to create the most compelling portfolio of properties in the opportunity-laden Indian media sector."
Zainulbhai added, "TV18 has further solidified its leadership in as the top news player in the country, and our fast-growing entertainment portfolio is expanding our offerings as well as its core operating margins. Regional content consumption continues to be a key driver of growth across the board. We intend to continue investing to capture whitespaces and emerge as a leading, pipe-agnostic player in the broadcasting space."
HIGHLIGHTS FOR THE QUARTER
The industry ad-environment was buoyant during the past quarter, though ad-spends were more concentrated around festive season and strong properties than previous years.
Broadcast subsidiary TV18 posted 22 per cent revenue growth on a comparable basis:
- Growing ad-spends in regional channels (news, led by regional elections; and entertainment, driven by rising consumption and value-perception) was a consistent theme for the TV18 channel portfolio.
- Subscription revenue for our entire bouquet grew 13 per cent YoY. Compelling bouquets have been created and advertised along with a-la-carte channel pricing, as per the new TRAI tariff order which promises to increase transparency in the broadcast value-chain.
News bouquet (20 channels) cemented its #1 position, with TV18's viewership share in news rising to a highest-ever 11.5 per cent:
- News revenue grew at a robust 16 per cent. Regional news revenue grew 27 per cent YoY led by the viewership share of regional news cluster rising further to 6 per cent, vs 2.5 per cent two years ago.
- Hindi News channel News18 India solidified its #2 ranking, emerging as the primary engine of growth. The overall English news genre continued to face pressure.
- Business news channels maintained top positions amidst choppy markets.
Regional News losses have shrunk 68 per cent YoY to Rs 9 Cr: Rise in Government/ election-related ad spends substantially pruned gestation losses of 8 regional channels launched over FY15-17. Active cost control and efficiencies of scale also played a key role in reducing the drag.

Entertainment bouquet (Viacom18's 31 channels + AETN18's 4 infotainment channels) is #3 amongst national players, with share of entertainment viewership maintained at 11.2 per cent:
- Entertainment portfolio revenue grew 23 per cent YoY. As stated in previous quarters, some high value-and-impact Hindi GEC programming at Viacom18 was strategically shifted from H1 to H2, to coincide with market-appetite. This has resulted in improved topline growth, and has expectedly also partially limited the margin-expansion for the quarter. The Movie production and distribution revenue under Viacom18 motion pictures was Rs 106 Cr, versus a low base of Rs 20 Cr in Q3FY18.
(restated for current structure of ownership) Q3FY19 Q3FY18 Growth 9mFY19 9mFY18 Growth Consolidated Operating Revenue (Rs Cr) 1,524 1,267 20% 3,885 3,430 13% Consolidated Operating EBITDA (Rs Cr) 88 75 18% 200 134 49 per cent)
- Regional entertainment channels continued their viewership and monetisation improvements across most of our geographies.
Business-as-usual margins continued to rise: Entertainment EBITDA includes operating loss of Rs 31 Cr on account of new initiatives - Colors Tamil (launched in mid-Q4FY18) and Colors Kannada Cinema (launched in late-Q2FY19). Adjusting for operating losses of these new initiatives (i.e. launches made over past 4 quarters), BAU margins for Entertainment grew to 8.3 per cent from 6.4 per cent in Q3FY18. Entertainment EBITDA also encapsulates investments into projects planned for launch in coming quarters, as well as properties that were launched more than 1 year ago but are still under gestation.

Network18 digital content properties reach 24 per cent of total news consumption audience:
- Network18's digital revenues from prime properties MoneyControl, News18 & Firstpost grew 27 per cent YoY to Rs 45 Cr in Q3. Other businesses including content production and print dragged overall revenue growth.
- Operating margin fell due to investments in revamp and extension of MoneyControl and Firstpost brands. While MoneyControl took initial steps to venture into transactions (mutual fund distribution) with the launch of MC Transact; Firstpost will soon be extended to discerning Print audiences through a weekly news-edition.
- Cricket portal CricketNext (#3 portal in India) was relaunched with a dedicated app.
- Traffic on Regional News content on News18.com rose 55 per cent, indicating the rising strength of the brand and the tailwinds in vernacular consumption in digital too, alongside broadcasting.
Leading entertainment ticketing platform BookMyShow entered into Live event production with world's largest live entertainment company Cirque Du Soleil with their newest production show 'Bazzar'. The show which was held for the first time in India in Nov-Dec18 at Mumbai & Delhi got an overwhelming response.

The scheme of arrangement for the merger by absorption of wholly-owned direct and indirect subsidiaries of Network18 and TV18 with the respective parent has been approved by the National Company Law Tribunal (Mumbai bench). The scheme has become effective from November 1, 2018, the appointed date being April 1, 2016. Accordingly, comparatives have been restated to include the financials of the transferor companies. The income-tax provision for the current quarter and nine months ended December 31, 2018 includes the impact of merger.
exchange4media Group Service
<
Blockbusters like 'Saamy 2', 'VadaChennai' to be part of the festive line-up
The South Indian TV channels have arranged a visual feast for the audience for Makar Sankranti, also known as Thai Pongal in Tamil Nadu.
Vijay Television has an array of programmes starting right from 6.30am with 'Saravana Meenkashi VS Raja Rani- The Pongal War', a cookery show.
The channel will also broadcast blockbuster movies, Vikram and Keerthy Suresh starrer 'Saamy 2'. 'Pariyerum Perumal', one of the sleeper hits of 2018, will also be telecast on Tuesday.
On 16th January, an entertainment show 'Mamiyar Marumagal' will be broadcast on Vijay Television. A talk show by actor Sivakumar on Tamil actor Shivaji Ganeshan 'Sivakumarin Shivaji Oru Sagaptham' will also be telecast.
Dhanush starrer gangster film 'VadaChennai', 'Kadaikutty Singam', romantic comedy 'Manam' are few other movies that will be aired on Vijay Television as part of the Pongal celebrations.
Zee Tamil has also lined up special programmes for Pongal. Tamil techno-thriller 'Irumbuthirai' will be aired on the channel on Tuesday.
World Television Premiere of Vijay Sethupathi starrer 'Junga' will also be telecast on Zee Tamil. Super hit movies like 'Kolamavu Kokila' and 'Mersal' will too be broadcast on Zee Tamil.
Tamil GEC market leader Sun TV also has lined up a festival feast for the audience. They will be broadcasting Dhanush-Kajol starrer 'VIP-2', Vishal starrer 'Sandakozhi -2' and other special programmes for Pongal.
Neethu reports on media, marketing and advertising industry. In the past she has reported on start-ups, education and health sector for over 6 years.
<
Zee Café's new show involves celebs like Ranveer Singh, Alia Bhatt, Katrina Kaif, Aamir Khan, Amitabh Bachchan, Karan Johar, Rajkumar Rao among others along with their BFFs revealing many secrets
English entertainment channel, Zee Café, brings an exciting line-up of Bollywood stars sharing glimpse of their blockbuster journey with host Komal Nahta on a new chat show - Starry Nights 2. Oh!
The show will witness the best of Bollywood stars along with their go-to person spilling the beans and revealing anecdotes that we never knew of. Find out which of your favourite stars was a Bollywood fanatic since their childhood and who had an Oh! moment at school.
From Ranveer Singh's craziness to Alia Bhatt's secrets, from Katrina Kaif's bets to Aamir Khan's journey of becoming an actor and much more stories from celebrities like Amitabh Bachchan, Karan Johar, Parineeti Chopra, Taapsee Pannu, Arjun Kapoor, Kareena Kapoor, Bhumi Pednekar, Vidya Balan and Rajkumar Rao.
Shaurya Mehta, Business Cluster Head – Premium channels, ZEEL said, "India being a Bollywood loving nation, cannot have enough of it. Starry Nights 2. Oh! is that weekly dose of entertainment which will allow our audience to have a sneak peek into their favorite celebrity's life. Zee Café, known to televise the best of fresh content, is always on a search to showcase the finest entertaining shows. With many A-lister celebrities appearing on the show, it is sure to have a great take home for the audience. We are kick starting 2019 with a bang and the content line up along the year is only going to get more exciting. We continue to look forward to providing our audience with a wide variety of entertainment in the months to come."
The show will have various twists and turns with the quickie round where the guests will answer an enthralling and sometimes baffling set of questions; guests will also engage in a fun quiz, competing with their bestie for a crown. The best answers for the tricky questions will take away the crown.
Keeping in line with its proposition, Zee Café has chalked out an extensive marketing campaign on their digital and on-air platforms. Urban Clap is the associate sponsor, and Jean-Claude Biguine is the gifting partner on the show for print and radio contests.
The show will make its debut on January 13 at 10 pm on Zee Café and will be on air every Sunday same time.
exchange4media Group Service
<
Continuing to hold the leadership position in the Urban market for the last 12 weeks, Zee Kannada has now earned the distinction of being the leader for the first time in the last 13 years
As per the BARC weekly data (Urban + Rural) for the first week of the year 2019, Zee Kannada has claimed the top position in the Kannada market with a total of 415 million impressions; 171 million impressions in the urban market, 244 million impressions in the rural market, with robust growth across its prime-time fiction shows. Continuing to hold the leadership position in the Urban market for the last 12 weeks, Zee Kannada has now earned the distinction of being the leader for the first time in the last 13 years.
Taking to the challenge of reaching the market leader position, Zee Kannada has secured 260 million impressions in its prime-time band, with its top shows including 'Yaare Nee Mohini', 'Paaru', and 'Brahmangantu'. The channel has also secured leadership position across its prime-time slots in the Non-Fiction shows such a SRGMP15 & Drama Juniors 3.
Commenting on the ratings, Raghavendra Hunsur, Business Head of Zee Kannada said, "I am glad to congratulate the Zee Kutumba on kick-starting the year with a well-deserved celebration on achieving our goal of securing top honours in the Kannada GEC spacel. With the channel's recently refreshed brand image, Zee Kannada has grown by leaps and bounds on the back of curating interesting concepts, storylines, and our success stands testimony to our steadily strengthening relationship with our viewers. We are extremely thrilled to be the number one Kannada general entertainment channel for the first time in the last 13 years and humbled by the overwhelming support of our partners and ardent viewers."
Source: BARC India

exchange4media Group Service
<
Among channels, Zee Anmol continued to lead overall and rural markets, and Star Plus retained the top position in the urban market
Zee Anmol continued to lead the overall market with 823 million impressions. Star Plus took the second spot with 670 million impressions while Zee TV slipped to third slot with 648 million impressions according to Broadcast Audience Research Council (BARC) India Week 1 of 2019 data.
In the top five programme category, Zee Anmol's 'Kumkum Bhagya' bagged the first slot with 14.4 million impressions, followed by Star Plus' 'Star Screen Awards 2019' at the second spot with 11.8 million impressions. Sony Entertainment Television's 'Super Dancer Chapter 3 Auditions' and 'The Kapil Sharma Show' took third and fifth spot with 11.1 million and 10.5 million impressions, respectively. Zee TV's 'Kundali Bhagya' takes the fourth spot with 10.9 million impressions.
Hindi GEC Urban
Star Plus retained its leadership position this week as well with improved 470 million impressions. Sony Entertainment Television also maintained its second spot in 439 million impressions. Colors climbed to third spot with 401 million impressions while Zee TV slipped to fourth spot with 392 million impressions. Star Bharat held on to the fifth spot with 316 million impressions.
Star Plus' 'Star Screen Awards 2019' grabbed the top spot in the programme category with 9.1 million impressions. It was followed by Sony Entertainment Television's 'The Kapil Sharma Show' and 'Super Dancer Chapter 3 Auditions' with 8.1 million and 7.6 million impressions, respectively.
Zee TV's 'Kundali Bhagya' slipped to fourth spot with 6.7 million impressions and Colors' 'Bigg Boss' took the fifth spot with 6.2 million impressions.
Hindi GEC Rural
Zee Anmol too continued to lead the rural market with improved 663 million impressions. Star Utsav climbed to second spot with 373 million impressions while Sony Pal slipped to third spot with 371 million impressions. Dangal TV and Rishtey retained its fourth and fifth positions with 363 million and 337 million impressions, respectively.
Zee Anmol's 'Kumkum Bhagya' continued to lead the list of top five programmes with 11.8 million impressions, followed by Dangal TV's 'Ramayan' on the second slot with 8.1 million impressions. Zee Anmol's 'Mahek' climbed to third spot with 7.5 million impressions while Zee Anmol's 'Ek Main Aur Ek Tu' slipped to fourth spot with 7 million impressions. Sony Pal's 'Taarak Mehta Ka Ooltah Chashma' retained its fifth spot with 6.5 million impressions.
exchange4media Group Service
<
enba 2018 jury meet will be chaired by Dr. Kiran Karnik, Former President, NASSCOM, along with other members from the media, corporate and political arenas
The 11th edition of enba 2018 News Broadcasting Awards and NewsNext Conference 2019, recognises the best in television news and rewards broadcasters and industry leaders. The event is scheduled for February 16 in New Delhi NCR.
The awards were formulated in 2008 with the objective of recognising the best in television news and to reward broadcasters and industry leaders who are responsible for shaping the future of Television Broadcasting in India and honour the people who make this industry what it is.
The news broadcast ecosystem is one of the most dynamic places to be, with the business of news in a state of continuous evolution. The NewsNext Conference 2019 will offer a unique opportunity to be part of discussions on several significant topics such as Media Business Model in the New Era and many more.
The enba 2018 News Broadcasting Awards are chosen by an elite jury. The jury looks at every entry, debates and deliberates over the worthiness of the entry to finally decide if it makes the cut to win a coveted enba.
The 2019 enba jury will be chaired by Dr. Kiran Karnik, Former President, NASSCOM. He will be joined by 23 other jury members from the media, corporate, and political arenas.
The jury members are: Annurag Batra, Chairman & Editor-in-Chief, exchange4media Group and BW Businessworld; Arif Mohammad Khan, Former Cabinet minister, The Union of India; Manish Tewari, Former Union Minister of State & Minister of Information and Broadcasting; Pradeep Guha, Managing Director, 9X Media; HK Dua, Indian Journalist & Diplomat, Former Member of Parliament (Rajya Sabha); Sukumar Ranganathan, Editor, HT; Balbir Punj, Columnist & Former member of Parliament; Shravan Garg, Senior Journalist; Alok Mehta (Padmashree), Former President, Editors Guild of India (EDI); Sambit Patra, National Spokesperson, BJP; CVL Srinivas, Country Manager, WPP India; Probal Ghosal, Director, Amar Ujala; Dr. Himadri Das, Director General, International Management Institute (IMI); Kulmeet Bawa, Managing Director, India & South Asia, Adobe; Sanjay Jha, National Spokesperson, Indian National Congress; Ghanshyam Tiwari, National Spokesperson, SP; Shazia Ilmi, Spokesperson, BJP; Raghav Chadha, National Treasurer & National Spokesperson, AAP; Amit Wadhwani, Managing Director, Sai Enterprises; Subodh Narain Agrawal, Founder & Chairman, Euromax; Deepa Gahlot, Columnist, Critic and Author; Deepak Verma, Former CEO & MD, AVIVA Life Insurance; Madan Bahal, Co- Founder & MD Adfactors PR; Parul Soni, Co - founder & Managing Partner, TTC; Sunil Alagh, Founder & Chairman, SKA Advisors; Bhuvan Lall, Author & Filmmaker, Former Secretary General IBF; and Dr Aruna Sharma, Former Steel Secretary.
For more details, click here: https://e4mevents.com/enba-2018/
exchange4media Group Service
<
Industry leaders share big predictions for the year ahead
The year 2018 was quite eventful for the television industry but 2019 also started with a big development—the new TRAI tariff order. This signals that the year ahead is going to be an interesting ride for the broadcasters.
Industry experts believe that this year is going to be noisy, starting with the General Elections followed by IPL and the Cricket World Cup. We at exchange4media asked industry leaders for their predictions for the year 2019.
Partho Dasgupta, CEO, BARC India
In 2018, sports and news got a lot of TV viewership. One of the catalysts for the increasing preference of sports viewership in India was its availability in regional languages. This showed a growing preference for content in regional languages.
In 2019, along with the upcoming general elections, two major sports events - IPL and the Cricket World Cup - will see a lot of activity in the TV industry.
This year, we can also expect more innovations in news and sports in terms of distribution technology and systems. Broadcasters will communicate more directly with consumers. I would call 2019 as the year of a lot of changes in the TV land.
M K Anand, MD & CEO, Times Network
This will be a year with some major events - Elections and Sports. This and a favourable macreconomic environment will be overall good for Ad Sales.
There will be an increase in viewer orientation due to the new tariff order, which will see more consumer marketing of channels and properties. That and more events will lead to a spurt in TV's overall reach.
2019 will also see the beginning of a rise in ARPUs. Though this may be slow initially, the industry will see a much needed revaluation of subscription rates.
Avinash Pandey, CEO, ABP News Network
First, there will be very heavy consumption of news, driven by the general elections and the Cricket World Cup. Hence, news and sports will be the dominant players in the television space in the coming three quarters. Second, the way we consume television at home will change as all leading broadcasters will be going for digital experiments. And with data cost going down, a lot of VOD players will grow, even in the news category. Third, there will be some mergers and acquisitions in the country as a change in environment, brought about by the new tariff and regulatory order, will not allow a lot of inefficient players to continue in the business.
Nina Elavia Jaipuria, Head Hindi and Kids TV Network, Viacom 18
It's going to be a lot more transparent because of the new tariff order. I think the viewers will enjoy more content than ever before because there are a lot of people who want to tell stories and the viewers are ready to binge watch today. I also see the Internet and Digital space creating a whole new landscape.
Pawan Jailkhani, Chief Revenue Officer, 9X Media
Overall, the space in terms of growth looks interesting because of multiple changes in the ecosystem. Also, advertising will grow because we have the General Elections coming up. Traditionally, elections were only meant for news channels but now that is going to change. With Digital getting bigger, this time there will be a change. The strategy will change for elections this year as there will be more mass channels than news channels. Also, IPL will boost the overall advertising scenario of the television industry followed by World Cup. Hence, this will propel the overall growth of the TV industry.
In terms of dynamics, the first thing that will change is the way digital streams are coming up. The buying pattern will change and that's the big shift I think we will see. Also, the consumption pattern followed by the buying pattern will change post the TRAI order. I feel that digital advertising too will be serious competition to TV.
Megha Tata, COO, BTVI
As cross-device viewership of content is on the rise, measuring only television viewership will be insufficient going forward. I believe, in 2019, television brands will focus on overall brand reach across linear and non-linear platforms. This will also help TV brands offer their Direct to Consumer (DTC) reach to advertisers and monetise their content better.
Also, with the new tariff order, my prediction is that the age-old question of 'whether content is the king or distribution' will get answered and content will come out as the winner. Just like the way the consumer choose a soap or a biscuit from a bouquet of offerings from a FMCG company, and pay only for the chosen product, consumers will now have a choice to select and pay for what they want to watch too.
So, the prediction is that the quality of content will improve drastically, the product offering will improve and the few traditional leaders will get a reality check.
From a BTVI perspective, while other English business news channels choose to put a price tag on news, we choose to put our viewers first by offering our priceless insights and opinions free to air.
With the OTTs flexing their muscle and the new tariff order coming into force, all content providers will now be fighting for the consumer's share of mind and pocket.
Consumers are now quickly shifting their loyalty from channel/platform to shows/individual content pieces. In order to win big, the programme offering will have to be top-notch and the best show (content and quality wise) will bag the consumer's time and money.
And since quality comes at a cost, there is a high likeliness that content costs will increase for TV. If consumers have to eventually pay for what they watch, would they pay for 'Sacred Games' or 'Mirzapur' or 'Khatron Ke Khiladi' and 'Superdancer'? Either way, it's the time for consumers. They will continue to be spoilt for choice.
And while the debate on whether Content or Distribution is King continues, one thing is for sure - Consumer is God!
Sonam reports on the broadcast media and Out of Home (OOH) industry. She has worked across television and cable industry, and in the past has written for travel and lifestyle magazines.
<
The Zee Family Pack offers 24 channels at only Rs 45 per month
Up until date, the broadcasting ecosystem operated as part of a packaged bouquet environment where consumers paid a fixed amount and received a pre-configured bouquet of channels. As per the TRAI mandate, a new tariff/pricing regime has come into effect from December 29, 2018 and expected to be implemented across the value chain by February 1, 2019.
In the new scenario, the power of choice shifts to the viewers who will have the freedom to choose their favourite channels and packs and pay only for what they want to watch. ZEE, one of the television networks of the country, was the first to roll out its multiple customer-centric packs. In a display of network strength and breadth cutting across genres, some of ZEE's most popular faces - Guddan (Zee TV), Angoori Bhabhi (&TV), Radhika of Mazhya Navryachi Baayko (Zee Marathi), anchor Hemali Mohite (Zee 24 Taas) and Chef Ajay Chopra (LF) came together to urge everyone to subscribe to the Zee bouquet of channels before February 1, 2019.
Speaking of the core insight that shaped the configuration of ZEE's packs, Prathyusha Agarwal, CMO, ZEE said, "When it comes to consumption of television content, everybody in the family has different demands and the monthly purchase is made keeping everyone's preferences in mind. Hence, our approach towards pack configuration has been 'family first' - offering the top genres such as Entertainment, Movies, News, Music and Lifestyle that are critical to the everyday entertainment needs of the entire family! The Zee Family Pack offers top channels across genres like Zee TV, Zee Cinema, Zee Marathi, Zee News, Zee Café, LF making it the superhit entertainment choice for consumers."
Atul Das, Chief Revenue Officer - Affiliate Sales, ZEE said, "The new pricing regime brings in a major shift in the way television has been consumed in India. On one hand, it brings in transparency to consumers about the price of channels, while on the other hand it offers the complete freedom of choice to pay for all those channels they want to watch. Consumers, who do not watch a particular set of channels, would be able to choose not to subscribe to those channels and manage their budget accordingly. Importantly, the new pricing regime brings in benefits to the entire value chain. DPOs will get separate fees for managing their networks, while broadcasters get freedom to price their channels, based on market dynamics. This will be beneficial to all stakeholders. Zee, on its part, has announced MRP of its channels on a a-la-carte basis. To offer greater value to its viewers, we have also created attractive packs – Zee Prime Packs & Zee Family Packs. The best of Zee content is bundled together at very attractive prices to make sure that the demands of the entire family is catered to."
As content in the mother tongue is usually the primary destination for TV viewing across India, the ZEE family packs have configured regional language-forward with attractive packs across 11 languages - Hindi, Urdu, Marathi, Bengali, Oriya, Bhojpuri, Tamil, Telugu, Kannada, Malayalam and English. With a sound understanding of the viewer consumption basket of channels across regions and languages, ZEE has three types of packs to cater to different viewer needs. Prime packs based on core regional language consumption, Family Packs that offer the top genres for every household and All-in-One Packs that offer all genres at great value. The 'Zee Family Pack' targeted at the Hindi Speaking Market (HSM) has been priced at Rs 45 per month for 24 channels. The Zee Family Pack includes leading channels such as Zee TV, &TV, Zee Cinema, &Pictures, Zee Bollywood, Zee News, Zee Anmol, Big Ganga, Zing, LF and many others, cutting across multiple genres such as entertainment, movies, news, music and lifestyle thereby offering content that caters to every member of the family, every day.
It's going to be a blockbuster year for movies on Zee with the biggest World Television Premieres and the most awaited film awards night. From Salman Khan's 'Race 3', Superstar Rajinikanth's '2.0' to SRK's 'Zero', Ranveer Singh's 'Simmba', Akshay Kumar's 'Kesari', Vicky Kaushal's 'Uri: The Surgical Strike', Kangana Ranaut's 'Manikarnika', 'Kedarnath', 'Accidental Prime Minister' and many more, the Zee Hindi Movies Cluster comprising Zee Cinema, &pictures, Zee Bollywood and Zee Anmol Cinema will be the one-stop destination for superhit movies. The Zee Cine Awards is also one of the highlights.
Actor Kanika Mann who plays the title role in Zee TV's 'Guddan Tumse Na Ho Payega' said, "I sincerely urge all Zee TV loyalists and viewers at large to subscribe to the Zee Family Pack before 1st Feb. My journey of Guddan is on the brink of an exciting phase where she realizes that the family she has ended up marrying into is one that she does care about and is willing to give her marriage a sincere shot and make things work with Akshat. Please make sure you do not miss out on your daily appointment with me and your other favourite, much-loved Zee TV characters like Pragya, Preeta, Zara and Mohini. The year ahead for Zee TV holds the excitement of gripping twists and turns across popular shows such Kumkum Bhagya, Kundali Bhagya, Ishq Subhan Allah, Tujhse Hai Raabta, my own show - Guddan Tumse Na Ho Payega and introduction of new shows like Rajaa Betaa, the finale of Sa Re Ga Ma Pa, an all-new season of the immensely popular Sa Re Ga Ma Pa Líl Champs and a host of exciting awards shows, weekend specials, mahasangams and more!"
Shubhangi Atre who essays the role of Angoori Bhabhi in &TV's 'Bhabhiji Ghar Par Hai' added, "All viewers of &TV are sure to be entertained in a khaas andaaz in 2019! Get ready for great shows in different genres throughout the year and follow the new adventures of your favorite character Angoori Bhabhi from Bhabhiji Ghar Par Hain. There is an offering for everyone in the family with shows like the horror-mystery Daayan, the epic fantasy Vikram Betaal Ki Rahasya Gaatha and the soon to be aired love story Main Bhi Ardhangini amongst others. To keep watching &TV and its shows, do choose the attractively priced ZEE Family Pack and stay entertained!"
Anita Date who plays Radhika of Zee Marathi's 'Mazhya Navryachi Bayko' added, "The new year will bring new twists on 'Mazhya Navryachi Bayko'. Will my character Radhika outsmart the plots and schemes hatched by Guru and Shanaya? Tune in to find out and watch all the other exciting developments across your favorite shows of Zee Marathi – be it the grand wedding on Tula Paahte Re, the comeback of the popular musical show Nakshatraanche Dene or the season 2 of the hit show Raatricha Khel Chaale or the world television premieres of films like Pushpak Vimaan, Ye Re Ye Re Paisa and Naal but for that, make sure you opt for the Zee Family Pack – Marathi before February 1."
Hemali Mohite, popular anchor of Zee 24 Taas said, "Being the first 24-hour Marathi news channel that ensured that Maharashtra gets a voice, Zee 24 Taas continues to be the ultimate destination for every Maharashtrian to stay abreast of everything from global developments to local connect. Our lead shows like Good Morning Maharashtra, the entertainment news 'Spotlight', the youth show Awaz Tarunanchi, RokThok - the best debate show in the Marathi news space, our evening slot leaders like Nivduk 24Taas & ZEE 24Taas Vishesh, and our analysis-based news 'Laksyavedh' are just some more reasons for you to opt for the Zee bouquet before February 1."
Chef Ajay Chopra, LF said, "Nothing can connect better with you than food, travel and culture because these dimensions of life celebrate YOU. You have loved my show 'Northern Flavors' for 2 seasons in a row and I am coming soon with the 3rd season this year. LF has been a part of your lives, taking you on a thousand journeys with every bite. With shows like Station Master's Tiffin, Curries of India, Ganga The Soul of India and many more you have lived the journeys and travelled with anchors like - Ranveer Brar, Kunal Kapur, Dia and me to explore India like never before. It's time to continue your journey with LF with newer season of Northern Flavors, new shows like Dakshin Diaries, 3 Course with Pankaj season 2 and many more. Don't forget to subscribe to the Zee Family Pack before 1st Feb to keep getting your daily dose of Foodtainment on LF. Continue to be the Loyal Fans of LF. Live Free, Live Fabulous and be Lifestyle Forward with LF! #ChooseZeeFamilyPack #ChooseLF."
With a total of 59 channels (43 SD & 16 HD) in 11 languages reaching a total of 148 million households every day, ZEEL has been offering audiences in India 'superhit' entertainment cutting across genres. Whether it's Pragya, Preetha, Zara Siddique or Bhabhiji in the Hindi Belt to Radhika in Maharashtra, Rani Rashmoni in West Bengal and many more in every region, these characters share a deep bond with viewers wanting them as dinner-table companions every day. Zee with its family packs brings together the right assortment of super hit channels across the top genres of entertainment, movies, news, music and lifestyle, making it a must-have for every family.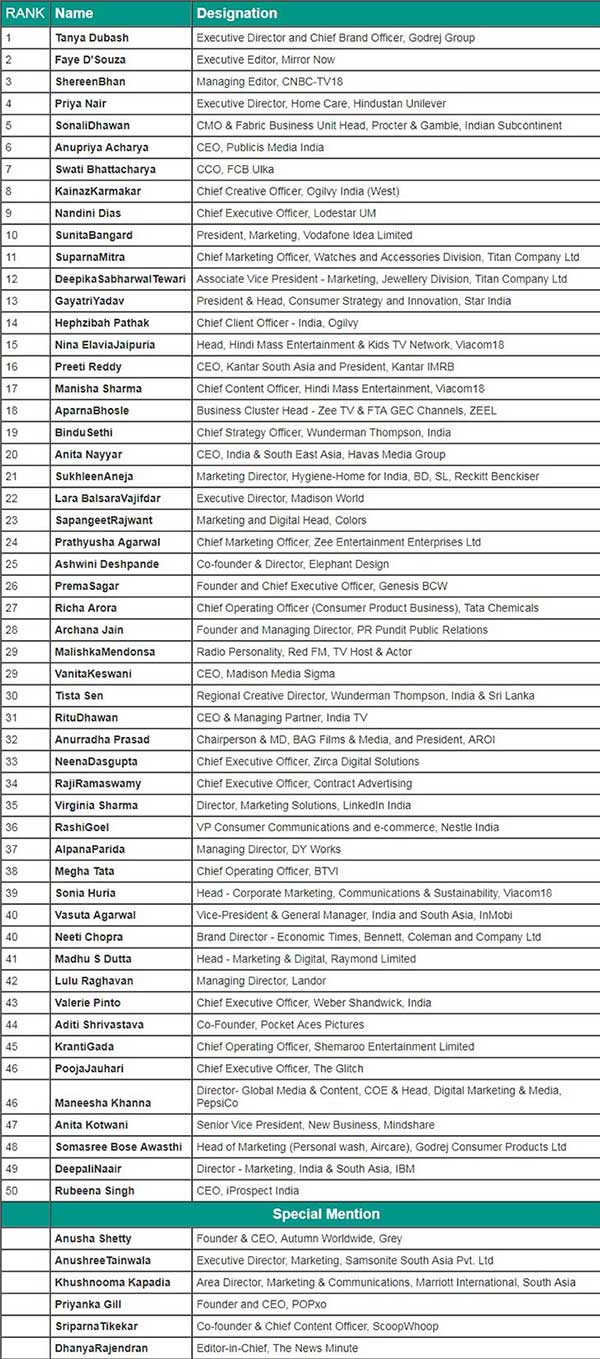 exchange4media Group Service
<
Regulatory body has rejected rumours that implementation of new framework has been postponed or stopped
The Telecom Regulatory Authority of India (TRAI) has asked subscribers to exercise all options available to them under the new tariff regime without waiting for the last minute to avoid any inconvenience.
The regulatory body has also rejected rumours that the implementation of the new framework has been postponed and asked the service providers to strictly follow the timelines of the order.
"Now it has been brought to the notice of the Authority that certain rumours/messages are being floated that the implementation of the new framework has been postponed or stopped or is being modified. The Authority clarifies that the new framework has come into effect on 29th December, 2018. The schedule of activities has been duly communicated to all the service providers for reaching out to the consumers and obtaining choices," TRAI stated in an official statement.
"TRAI is conducting review meetings regularly to monitor the progress. All the service providers are again advised to strictly observe the timelines as provided in the migration plan dated December 28, 2018," the statement further mentioned.
In March 2017, TRAI had notified the new regulatory framework for broadcasting & cable services. The framework comprises Interconnection Regulations 2017, Quality of Service & Consumer Protection Regulations 2017 and Tariff Order 2017.
The new regulatory framework came into effect on December 29, 2018. However, keeping in view the convenience of consumers and to provide them sufficient time to exercise their options, the Authority has given time till January 31, 2019.
The Authority said that it has been monitoring the progress in regards to the availability of consumer corner, choices to the consumers, provision of consumers care channel, percentage of consumers whose choice has been obtained etc. on a day-to-day basis. The Authority has noted that almost all the service providers have started providing consumer care channel on Channel Number 999.
exchange4media Group Service
<