Not on e-commerce, believe in personal involvement: Senior Director- Marketing, Oriflame
Naveen Anand speaks to exchange4media on why Oriflame has not adopted an e-commerce model yet despite their competitors investing heavily in it
Cosmetic brand Oriflame has completed 50 years globally and has direct selling business in more than 60 countries. The wide portfolio of Swedish beauty products is marketed through more than 3.6 million independent consultants around the world. Oriflame has further strengthened its portfolio by launching the Optimals range. The brand generates annual sales of around €1.5 billion.

exchange4media spoke to Naveen Anand, Senior Director - Marketing, Oriflame South Asia, to understand why they have not adopted an e-commerce model yet, despite their competitors investing heavily in it. We also asked him where India stands in their growth plan.

Excerpts:

According to various reports, the cosmetic industry is growing at a rate of 20%. Where do you see the Indian market five years from now? How has the changing retail environment in India shaped the current trends?

As per the Euro Monitor (a global agency on tracking data), the Indian cosmetic market is currently growing at the CAGR of 16%, and we do believe that it will continue to be strong. We will have double-digit growths very soon. The market has been shifting from cheaper products to premium products with greater value. That's a positive shift. It means consumers are paying attention to the product quality and are willing to pay a premium amount to get a high-performing product.

What percentage of Oriflame's total revenue comes from India?

We can't disclose the figures, but India is an important market for us. We see India as one of the top five global strategic markets. There is lot of potential in the market. We are present in 60 countries, but India is at the top. It is the highest growth market for us and we will keep investing here.

While other brands have tapped into the rural market, Oriflame is still an urban brand. Do you have plans to enter the rural market in the coming year?

We don't just want to expand our geographic footprint, but also want to strengthen our presence in areas where we already exist. We have plans to enter a couple of cities in the coming year or so. We will enter the rural market after we have achieved full success in the markets we are currently operational. For entering the rural market, we need to align ourselves accordingly and have a fair understanding of the consumers' need and price points.

Buyers have shifted to e-commerce sites in a big way, but Oriflame still relies on direct selling. Why are you not including e-commerce in your business model?

We don't want to be on e-commerce sites, because we have a very different business model. We believe in the power of people recommending our products to other people. We actually believe in personal involvement and therefore we don't want to be on e-commerce retailing.

You came up with a digital campaign, #Beautifulchange. What new can we see in 2018?

#Beautifulchange is our contribution towards society. It is our way of telling the world that our aim is to not only sell our products, but also to do something for the environment. Through the campaign, our idea was to spread a positive message to society, that each one of us can bring a change to the life of others. The digital platform for us was a way of communicating to the larger audience. Optimals is the next thing that we have adopted towards this goal. We have done a fair amount of work and are ready to accelerate it.

Which segment does your Optimals range of products cater to?

The skin care market has certain segments. While we already have a product in the premium segment known as NovAge, Optimals will be our mass offering. Both products are great. However, depending on the money spent by the consumers, we want to put products in categories. We are segmenting Optimals from a price point of view, but it still delivers natural products optimised by science.

Oriflame has been extremely careful about two things; first, how good are the products in terms of performance and second, how safe are they. Our products go through rigorous quality checks to ensure safety.

Lot of brands have introduced natural products in their line-up. What is your strategy to take on these competitors?

We believe in Swedish natural ingredients and cutting-edge science. We have over 150 scientists who are involved in R&D. Their work is to study these natural ingredients to find the best fix for our products. We will continue to work on our strengths because that makes us proud.
Correspondent A post-graduate from the prestigious Indian Institute of Mass Communication, Dolly reports on advertising, marketing as well as the digital domain. In her free time, she loves travelling and reading.
Young Indian footballers to get a chance to train with the best programmes and facilities from LaLiga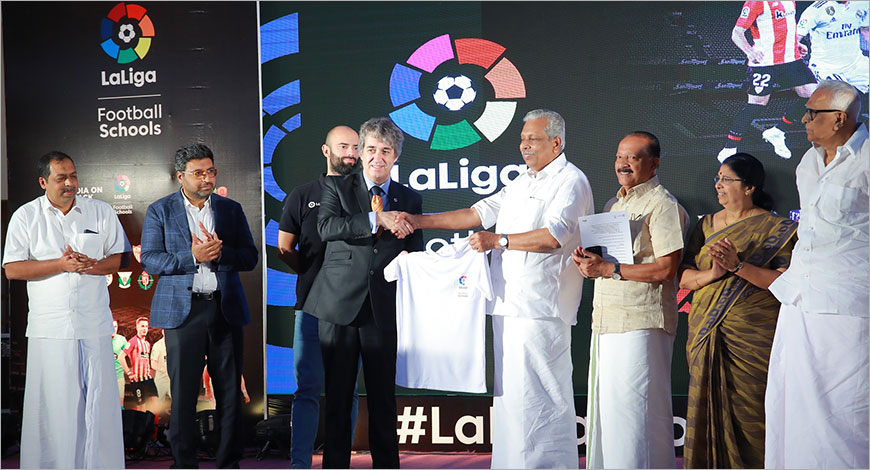 Spain's top football league, LaLiga has launched the LaLiga Football Schools in India. It is a comprehensive grassroots football development programme in association with India On Track (IOT) that is being set up across cities in India. The programme in Kerala will be hosted at the local partner, CREORTS' facilities and centres.
LaLiga hopes the programme will be accessible to over 30 schools and 3000 pupils nationwide by the turn of this year.
The training programme at LaLiga Football Schools will be delivered using LaLiga's technical curriculum and detailed methodology and will be overseen by the programme technical director, Javier Cabrera, appointed by LaLiga for India.
Former Villarreal midfielder and LaLiga Ambassador Robert Pires was on hand to launch the LaLiga Football Schools in New Delhi earlier this month.
Jose Cachaza, Managing Director, LaLiga India said, "Kerala has been one of the frontrunners in the country when it comes to their love for football. It is with immense joy that we are launching the LaLiga Football Schools in Thrissur for young kids over here to pursue their dreams and play football the LaLiga way. We hope our programme help them to realise their potential and make their country proud at a global platform in this sport."
To kick-off the programme in Kerala, free workshops will be conducted by LaLiga at the Cooperation Stadium, Thrissur on the October 27 and 28.
Another opportunity will come in the form of the El Clasico public viewing on October 28, at the East Bengal Ground, Maidan, Kolkata. The doors will open at 17:45 pm with plenty of pre-match activities taking place ahead of a 20:45 kick-off. LaLiga Ambassador and former Real Madrid midfielder Steve McManaman will be present in Kolkata to enjoy the biggest club rivalry in the world with Indian fans.
Fans can still register for the public viewing here: https://www.laliga.es/elclasicokolkata

More than a century old, the dry cell battery major recently celebrated 25 years of their iconic tagline 'Give Me Red' with a new logo along with Akshay Kumar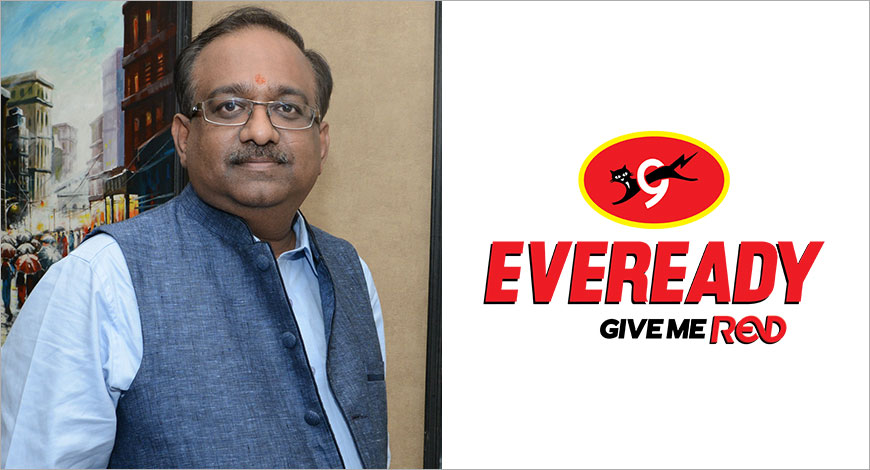 Eveready Industries India Limited is eyeing a 75-100 per cent growth in the lighting and home appliances category, which they diversified in 2013 and 2016 respectively. Currently they have garnered close to 7-8 per cent growth, which explains the company's current focus into this category. Anil Bajaj, Sr. Vice President – Marketing and Sales at Eveready, shares, "We have a long way to go. We are looking at 75-100 per cent growth this year from our exit figure of Rs 100 cr last year. So that will be Rs 175-200 cr."
The company recently celebrated 25 years of their iconic tagline 'Give Me Red' with the unveiling of a new logo. Bajaj explains, "In its current avatar of GMR - Infinite power meets vibrancy and new age thinking. RED 'infinity' symbolises limitless energy, power, enthusiasm and stamina – the very core of the Give Me Red ethos."
The intention is to build the next 25 years on 'Give Me Red' especially in newer categories. Bajaj explains, "The strong connect and faith we have with Eveready should be able to be extended to more products that we bring out."
Bajaj ensures that the storyline of media communication will remain untouched, with few exceptions. "We will continue to spend 3-4 per cent on ads. The media mix may charge more in favour of online. Newer means will be there."
Brand ambassador - Bollywood actor Akshay Kumar- unveiled the AVs on the journey of the iconic tagline over the past 25 years. Timed at 30, 60 and 90 seconds, the AVs will be on the brand's YouTube channel and also website. "Digital comprises 7-8 per cent of the marketing spends. TV and print will roll in another 15 days. On TV, lighting will be the focus," adds Bajaj.
Early this year Eveready launched 'Jollies' in the Rs 9,000 crore plus confectionery market, which has had a good response, says Bajaj. "It has done well because of quality and our distribution network. In another six months we will be able to share the numbers."
Eveready's plans to get into newer categories are led by brand fit and distribution channel. Bajaj explains the expansion strategy saying, "Wherever I have a good distribution and brand fit I will get into it. Also the need to get into newer categories to grow my topline is to first grow my bottomline. For that the present focus is on lighting and appliances. As I said, we have a long way to go. The packaged foods and confectionery categories have started coming in. We are reviewing the categories we are getting into. We will review later whether they will get into bottom line or not."
The marketing sales head mentions about getting into more categories of confectionery namely Hard Boiled Candy (HBC), chewing gums and lollipops over the next six months to a year. In three to six months they are looking to have the HBC portfolio and next six months into other categories. When asked if they have planned any communication around the same, Bajaj says, "We will take the call when we are a larger player in the portfolio."
Speaking of early 2018, when it entered into a joint venture with Indonesia's Universal Wellbeing, part of the Wings (country's largest FMCG player) group to engage in the business of manufacturing, importing and marketing of FMCG in India, Bajaj adds, "Those products will start hitting the market in the next four to six months down the line."
The brand commands a 60 per cent market share on dry cell battery and 80 per cent on flashlights. About 57 per cent of its revenue is reported to come from the sale of batteries while 14 per cent from flashlights, according to media reports. "Our torch and battery business is strong and stable," Bajaj says.
Senior Correspondent, exchange4media, Mumbai Madhuwanti reports on marketing, OTT and radio with a focus on trends. Based in Mumbai, she has worked across lifestyle, culture, television and retail industry.
The fourth edition of The Maddies Awards 2018 and Screenage will be held on October 31 in Mumbai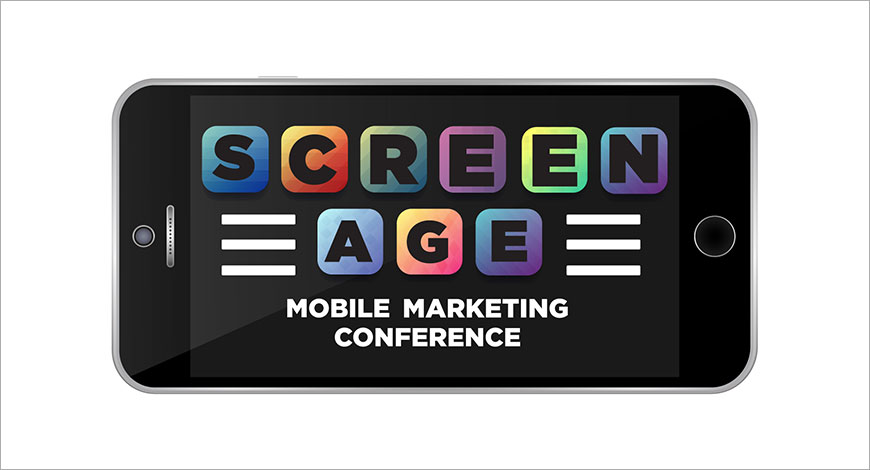 Mobile Marketing has become an increasingly important part of the overall marketing mix, and experts point out to the fact that it will overtake any existing marketing model, doubling spends from other digital marketing forms in a couple of years. Both marketers and consumers begin their web services on mobile. Digital marketers in particular are excited to run mobile campaigns because they know that mobile users are motivated buyers. Hence it's no surprise that most companies have integrated mobile into their overall marketing strategy.
The exchange4media Mobile Awards – The Maddies, acknowledges and recognises marketing stories that employ an effective mobile marketing strategy done in India. The event also hosts an all-day mobile marketing conference, Screenage, where speakers from Dentsu Aegis Network, Pizza Hut, Uber, Kraft Heinz, Bajaj Corp, Vodafone, and more will conduct sessions on various topics.
One of the panel discussions this year will address the topic 'Brand Building on Mobile Only - Reality or Myth'. The session will debate on whether mobile is strong enough to become a medium of brand building? Why are we not seeing enough examples of brands looking at mobile only for bolstering their brand – what lacks? Are mobile marketing professionals speaking the marketer's language – where is the gap? Has mobile marketing become all about social media? Is bespoke mobile content missing? And much more.
The session will be chaired by Sanjay Trehan, Digital & New Media Consultant, along with industry experts namely, Channan Sawhney, Head of Digital Marketing Consumer India, Johnson & Johnson; Jahid Ahmed, Head- Digital Marketing & Web analytics, HDFC Bank; Mahip Dwivedi, Head Mobile App & Performance Marketing, Flipkart; Sai Narayan, Associate Director & Head Marketing, Paisabazaar.com; Shouneel Charles, Senior VP – Digital, Times Network; Rujuta Nadkarni, Head Digital Marketing, Mahindra & Mahindra Ltd. (Farm Division); Vinay Singhal, Co-Founder & CEO, WittyFeed.
The fourth edition of The Maddies Awards 2018 will be held on October 31 in Mumbai.
Watch this space for more on our speakers this year. For details visit: https://e4mevents.com/the-maddies-awards-2018/
Executive Creative Director, Ishrath Nawaz joined Publicis in April this year from McCann Worldwide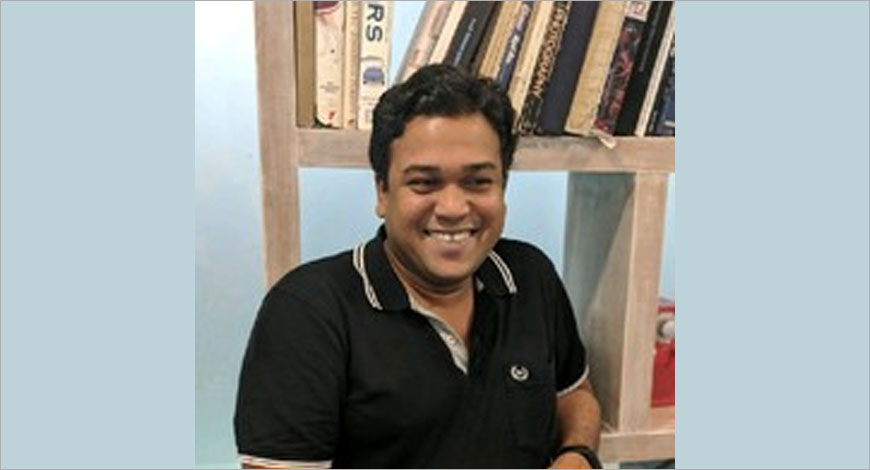 Publicis India has sacked Ishrath Nawaz, Executive Creative Director, who has been called out for sexual misconduct under the ongoing #MeToo movement. The agency confirmed the same in a statement issued on Twitter, "The investigation in relation to Mr Ishrath Nawaz has been concluded. Mr Nawaz's conduct has been found to be violative of Publicis India's policy. Consequently, Mr Ishrath Nawaz's services have been terminated," read the statement.
Statement. pic.twitter.com/DrwlDmD7SI

— Publicis India (@PublicisIndia) October 19, 2018
Nawaz was accused of harassment by Sneha Dhakan, an advertising professional. The harassment, she says, allegedly took place from August 2016 to January 2017 in Mumbai at the firm they used to work at together. Nawaz was the creative director and manager whom she directly worked under. "He's a habitual predator and still keeps climbing up the ladder in spite of everyone knowing everything," she wrote on Twitter. Many other women came out and accused Nawaz of sexual harassment.
Publicis India promptly acted when Nawaz was called out on Twitter for harassing women. The agency immediately initiated an internal investigation in the case. The agency informed that it has an ICC set up in the Publicis Groupe in line with The Sexual Harassment of Women at Workplace (Prevention, Prohibition and Redressal) Act 2013 — PoSH Act 2013. The committee at Publicis Groupe was formed in 2014.
Nawaz joined Publicis in April this year. He joined the agency from McCann Worldwide and had previously worked with agencies such as Soho Square, Saatchi & Saatchi, FCB Ulka and Rediffusion Y&R.
Publicis' decision to sack Nawaz comes a day after Dentsu Aegis Network sacked four of its employees after concluding a week-long internal investigation on allegations of sexual misconduct by multiple women.

exchange4media Group Service
A day-long panel discussion series hosted by Firstpost along with other dignitaries discussed how a safer workplace environment can be created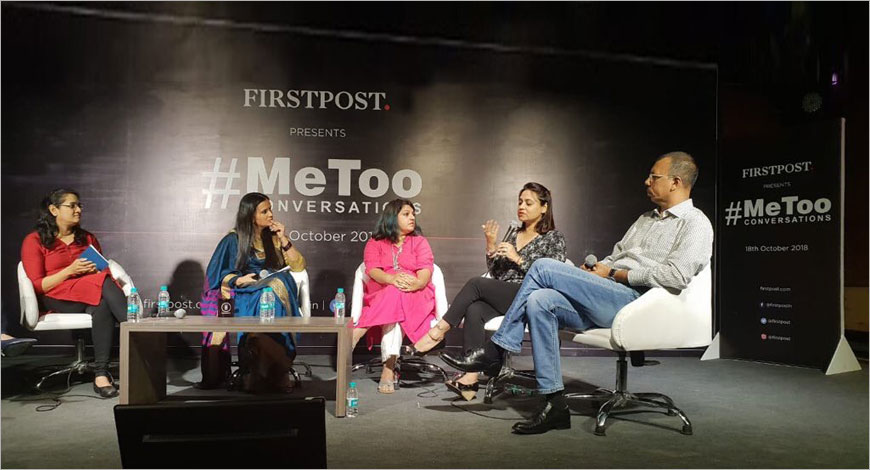 It's amazing how India's #MeToo movement arrived in a cascade of allegations as women took to Twitter to call out comedians, journalists, authors, actors and filmmakers - in the process, they have sparked a debate about consent and complicity. Amplified by journalists themselves, it hit the media hardest! That said, how can a safer, and inclusive work environment be created? #MeToo conversations, a Firstpost initiative witnessed a day-long panel discussion series moderated by award-winning writer Meghna Pant which dived into it all.
The conversations got journalists like Sandhya Menon, Rituparna Chatterjee ,Writer Mahima Kukreja, legal experts like Mrunalini Deshmukh and Vandana Shah, writer/entrepreneur Rashmi Bansal and advocate Rutuja Shinde, among others on board. Deshmukh spelled out the Vishakha Guidelines and explained how employees could seek help. "If the water-cooler conversations are still going to be sexist, then things are not going to change," said Pant, talking about the longevity of the #MeToo movement in India. The conversations also revolved around whether companies are effectively using the Vishakha Guidelines.
"My concern is the companies in the retail sector where you don't have an HR member available constantly," said Deepa Bhatia, who works as a statistician. Menon suggested that media houses should have two reporters dedicated to #MeToo coverage for the next one year.
Advocate Sonal Mattoo, Film Editor Deepa Bhatia, Indira Rangarajan the National Programming Head for Radio Mirchi, and Ramkumar Krishnaswamy the founder of Leadership Centre discussed how companies deal with sexual harassment at the workplace. Krishnaswamy said that workplaces in India need to create stronger support cultures. "The support structures should be well-prepared, and it should be publicised that these resources exist," he said. They contended that in the media industry, the culture in many companies is casual but people must learn what boundaries to maintain.
It highlighted that out-of-office meetings remains one of the places where companies fail to protect women. Speakers maintained that the process of lodging a complaint should be made easier. Krishnaswamy suggested that senior management must ensure that the workplace is a safe environment. "Senior management's creation of a toxic culture is what breeds sexual harassment, not just policy loopholes. You cannot perpetuate boys' clubs," he said.
Bhatia highlighted that after reams of researching on sexual harassment at the workplace, it came to her notice that many of the women who had faced it, would speak of it to their friends, or they would approach HR (instead of the Internal Committee constituted to deal with such cases). "Sexual harassment is a huge challenge for HR departments," she said.
Mattoo opined that simple measures like displaying the contact numbers of resources in women's washrooms encouraged more women to report cases of harassment. "Many women feel powerless because their perpetrators are emboldened and have a clear modus operandi," she said. Krishnaswamy emphasised the need to engage men, as without their participation, the movement won't go anywhere. "The shift (for organisations) needs to be from compliance to culture. Women don't feel safe to come out and talk. The formal structure is not sufficient. We should create support structures where women can come out and talk. Culture is being able to tell people that when you travel don't call a woman to dinner in your room," he reasoned.

exchange4media Group Service
The 4th edition of the e4m Media ACE Awards 2018, was held on 16 October 2018 in Mumbai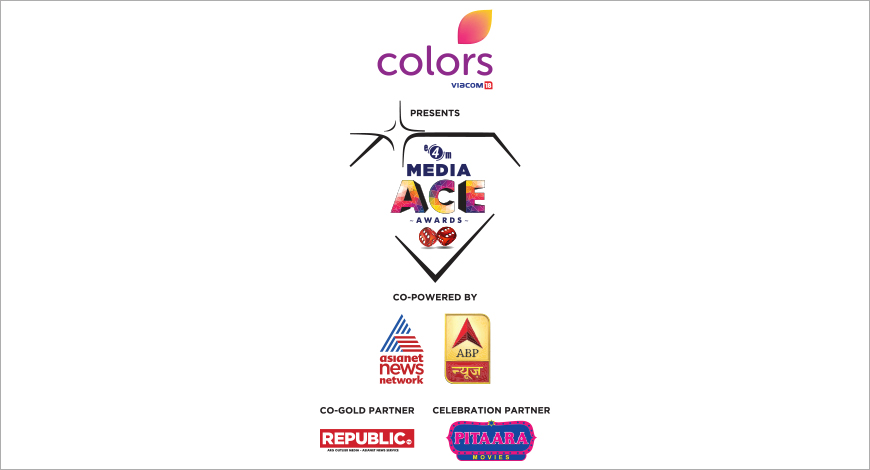 The exchange4media Media ACE Awards recognizes Indian Media Agencies and their People for their work and their contribution to the Industry.
Here are some snapshots from the event: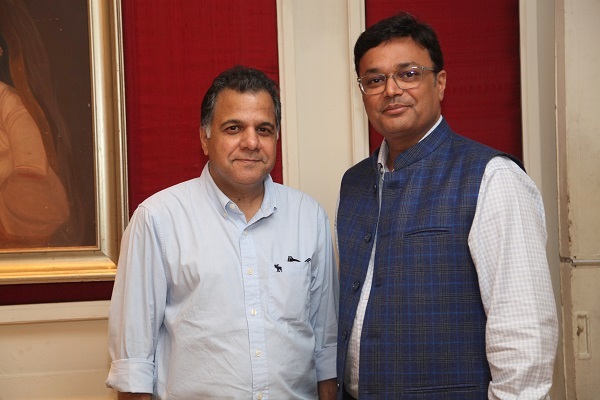 Raj Nayak, Chief Operating Officer, Viacom18 (left) with Avinash Pandey, Chief Operating Officer, ABP News at the e4m Media ACE Awards 2018
Vikram Sakhuja, Group CEO Madison Media (left) with Avinash Pandey, Chief Operating Officer, ABP News at the Media ACE Awards 2018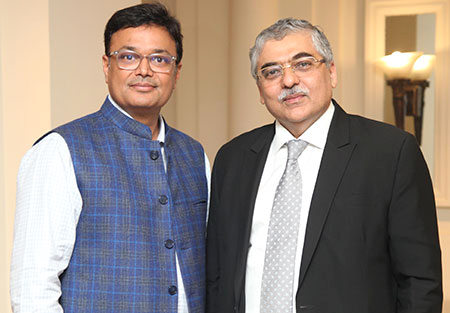 Avinash Pandey, Chief Operating Officer, ABP News with Ashish Bhasin, Chairman & CEO - South Asia, Dentsu Aegis Network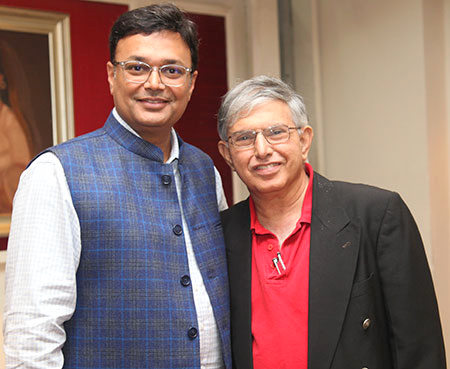 Avinash Pandey, Chief Operating Officer, ABP News with Sam Balsara, Chairman, Madison World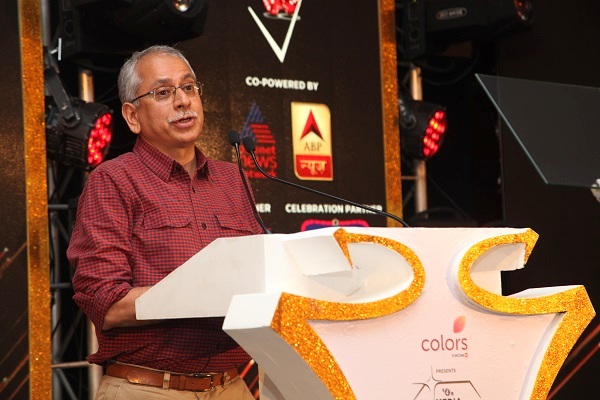 Harit Nagpal, Managing Director and CEO, Tata Sky Ltd, addresses the audience at the Media ACE Awards 2018
Panel discussion: (L-R): Ashish Sehgal, Chief Operating Officer, Zee5, Ajay Kakar, Chief Marketing Officer, Aditya Birla Capital, Ashish Bhasin, Chairman & CEO - South Asia, Dentsu Aegis Network, Vikram Sakhuja, Group CEO Madison Media, Raj Nayak, Chief Operating Officer, Viacom18, Shashi Sinha, Chief Executive Officer, IPG Mediabrands, India and moderator Paritosh Joshi, Principal, Provocateur Advisory.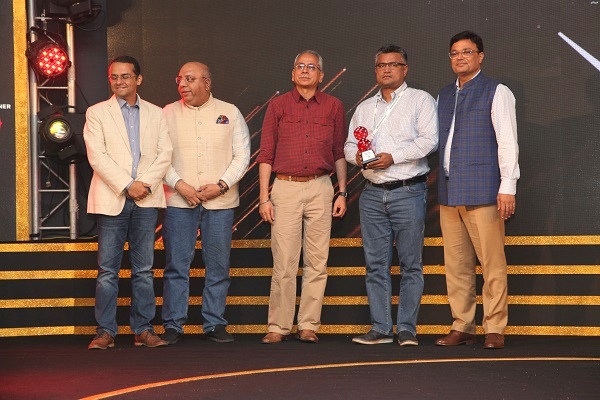 Prasanth Kumar, Chief Executive Officer, Mindshare, South Asia, Africa, MENA (second from right) receiving the 'Agency Head of the Year' award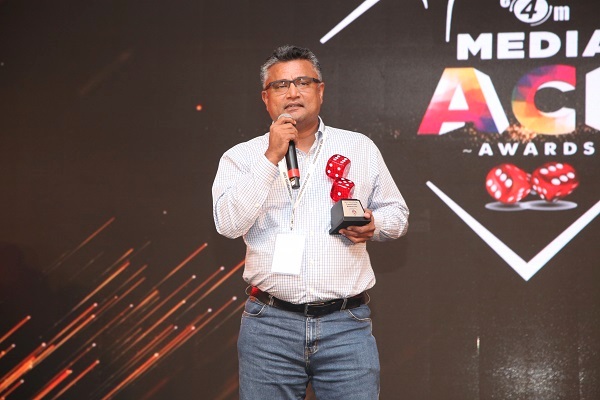 Prasanth Kumar, Chief Executive Officer, Mindshare, South Asia, Africa, MENA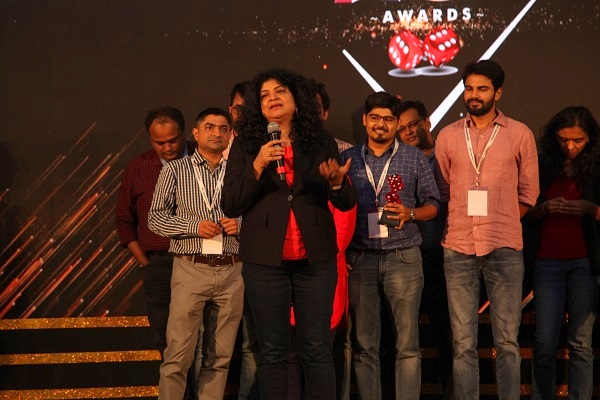 Nandini Dias, CEO, Lodestar UM, India, speaks after winning the 'Agency of the Year' award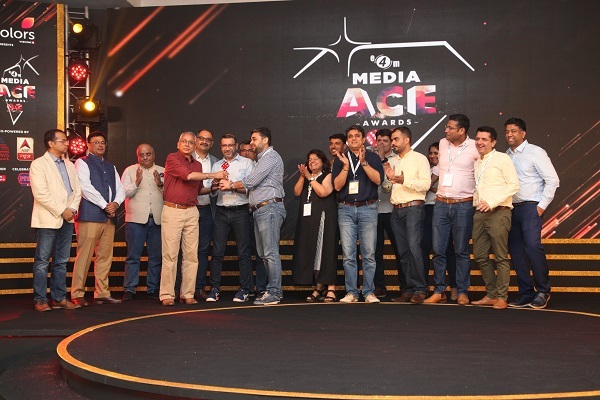 GroupM wins the 'Network of the Year' award
'Network Head of the Year' award (L-R) Nawal Ahuja, Co-Founder & Director, exchange4media Group, Anurag Batra, Chairman & Editor-in-Chief, BW Businessworld, Ashish Bhasin, Chairman & CEO - South Asia, Dentsu Aegis Network, Harit Nagpal, Managing Director and CEO, Tata Sky Ltd, and Avinash Pandey, Chief Operating Officer, ABP News
Ashish Bhasin, Chairman & CEO - South Asia, Dentsu Aegis Network speaks after winning the 'Network Head of the Year' award
2018 Media ACE Award winners: (L-R): Gopa Kumar, Executive Vice President, Isobar, India, Ashish Bhasin, Chairman & CEO - South Asia, Dentsu Aegis Network, Rubeena Singh, CEO, iProspect India, Rajiv Dingra, CEO, WATConsult and Shekhar Mhaskar, VP, Digital Creative & Services Division, Isobar India
exchange4media Group Service
The campaign embodies Piramal Capital & Housing Finance's commitment to enable customers to transform their dreams into reality by embracing a new way of life - 'Think Big'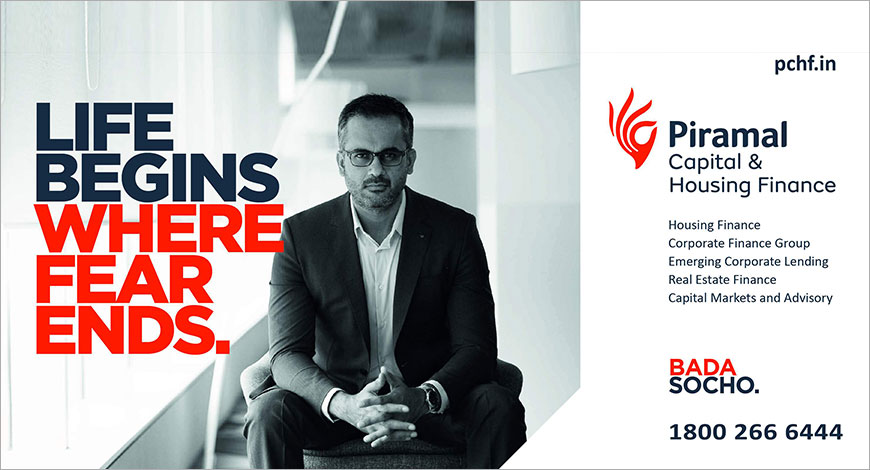 Piramal Capital & Housing Finance (PCHF), the wholly owned subsidiary of Piramal Enterprise Limited, announced the launch of its new brand campaign, 'Bada Socho' (Think Big). The campaign highlights the ethos of the Piramal Group and PCHF - its financial services business, to create long term value for all its stakeholders. Therefore, the essence of the brand campaign is PCHF enabling customers to pursue their goals and transform their dreams into reality by embracing a new way of life i.e. 'Think Big'.
The campaign also brings out PCHF's expertise across diverse sectors as a key differentiator in the industry and its ability to partner with businesses across the value chain - from the promoter to the end customer. 'Bada Socho' is a brand promise highlighting this unique partnership model that allows our customers to pursue their dreams as we support them in their journey.
Speaking at the launch, Khushru Jijina, Managing Director, Piramal Capital & Housing Finance said, "We are excited to launch our brand campaign 'Bada Socho', across our target markets - Mumbai, Delhi, Bangalore and Pune. This 60-day campaign highlights our expertise in the market while showcasing our approach to do business. Our brand promise encourages our customers to 'Think Big' as we extend our support by partnering with them respectively in achieving their goals whether it is to buy a new home or grow their business."
Campaign Brief
The strategy is to reflect the ethos of the Group at large with a specific relevance on the financial services business. The campaign helps establish 'Bada Socho' conveyed through messaging that talks about this mind set. A series of creatives help deliver this message in the context of the brand's different business verticals viz. housing finance, real estate finance, emerging corporate lending, corporate finance group and capital markets & advisory. Visual imagery that is positive, confident and focused lends a strong character and maturity to the campaign. The campaign will run across OOH, radio and digital for the duration of 60 days targeting Mumbai, Delhi, Pune and Bangalore. The messaging will start with brand and then move on to the housing finance communication being retail. The sustenance of the campaign will be supplemented by leveraging on transit/commute and digital platforms.
Credits:
Creative: TAG Vinnatti
OOH: Posterscope
Radio: Vizeum
Digital: ARM Worldwide and Yellow Seed
exchange4media Group Service
Kansal, Brand Director, Jaguar Land Rover India, spoke about 'The Above & Beyond Tour', how Land Rover uses experience to communicate its brand story and driving strategic brand objectives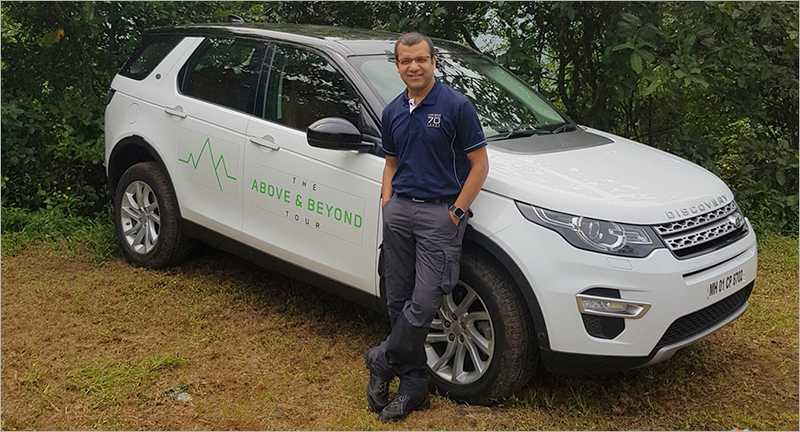 Land Rover recently completed its 70th anniversary globally. Throughout its journey in India, the brand has gained quite a following in the country and is only stepping up its game, as we go foward. At the helm of the brand's growth is Ankur Kansal, Brand Director, Jaguar Land Rover India who chatted with exchange4media on 'The Above & Beyond Tour', how Land Rover uses experience to communicate its brand story, driving strategic brand objectives and how it leverages CRM system, social media channels, and digital targeting.
Edited excerpts below:
What was the starting point of 'The Above & Beyond Tour' and why is it of the essence?
'The Above & Beyond Tour' is a series of drive experience events that are organised with Land Rover vehicles and allow customers to test the true capability of the vehicles under challenging off-road conditions. As such, these events allow us to bring the brand closer to our customers. For any brand to have a sustainable future it is important to build trust and credibility and we do this by delivering the experience events in a safe, authentic, relevant and engaging manner. This also helps us in differentiating the Land Rover experiences. Further, the experience is highly engaging as the customers actually get to drive the Land Rover vehicles over the chosen terrain, while the Land Rover Experience Instructor only guides the customer.
The most important factor, however, is relevance. Given, the road conditions one encounters in India on a day-to-day basis and the unpredictable weather systems that may result in water-logged city roads, 'The Above & Beyond Tour' demonstrates the capability of Land Rover that lends itself perfectly to overcome these challenges. The first such drive experience event was conducted in India in 2013. When we started in 2013, of course, it was limited to a few events in the top cities in India. Since then, we have expanded the reach of 'The Above & Beyond Tour' to Tier II and III cities across a variety of formats. We have smaller formats that we use via mobile terrapods, training programs where customers get to drive several models of Land Rover and then we have international expeditions. The main objective is to maximise reach and take our brand as close as possible to the customers.
How does it impact the brand funnel?
'The Above & Beyond Tour' has the potential to positively impact the entire brand funnel i.e. from creating awareness, building brand appeal to driving consideration. As such, to check the effectiveness of our experience events, we not only seek to measure the sales conversions but also measure impact on the brand, and we are convinced that 'The Above & Beyond Tour' has effectively conveyed the Land Rover brand story to our customers, thus providing a positive impetus to the brand. To further maximise the impact from these events, we curate content and leverage it across social media platforms, thereby extending our reach to a larger set of customers. As highlighted earlier, we closely monitor inquiries and customer feedback that we receive post the events as well.
Is there any activity specifically to promote'The Above & Beyond Tour' and 'The Art Of Performance Tour'?
We rely on our CRM system, social media channels, and digital targeting to promote our events. Further, we leverage our strong network of retailers, who have built strong and engaging relationships with our current and potential customers. On-ground amplification via PR and social media is also deployed to popularize and maximize the reach of our experiential events.
In terms of prominence, which of the two mediums holds more importance for Jaguar Land Rover – television or digital?
The choice entirely depends upon the objective of the campaign e.g. at the launch of a new product, driving awareness might be the objective and hence use of television, if done appropriately, will help meet the objective. However, in case the objective is to build immediate demand, then certain targeted digital actions will provide a more cost-effective solution. Having said this, the relevance of Social Media channels must be acknowledged, regardless of the objective of the campaign, even though the social media channels lend themselves better to driving strategic brand objectives rather than tactical ones. Overall, the media mix will depend upon the objective of the campaign and of course the available budget.
What distinguishes brand Land Rover from its competitors?
Land Rover is known for its 'go anywhere' spirit – designing iconic vehicles with genuine capability and composure at their heart.
What is your digital marketing strategy?
For us, digital and social media are very significant; we are focusing on providing a seamless digital journey, from the discovery of our brands and products to booking vehicles online. As such SEM, SEO, programmatic targeting, etc. are part of our digital strategy and we have a well-defined action plan for each of these. We also have extremely engaging online booking platforms, findmeacar.in for Jaguar and findmeasuv.in for Land Rover, which may be used to search and book, a Jaguar or a Land Rover vehicle of choice. Further, you would have seen our latest campaigns on social media, 'Discovery with a Purpose' and 'Land of Land Rovers'. Such content is extremely effective in delivering the relevant brand stories and we do intend to continue our focus on this aspect.
What according to you are the challenges with operating in the luxury auto segment?
The size of the luxury auto segment in India is fairly small in comparison to the overall passenger vehicle market, and hence finding a luxury customer is like finding a needle in a haystack – extremely challenging. Besides the media landscape, relevant to the luxury auto segment, is changing quite rapidly, especially in digital. And thus, it is imperative to keep the marketing plans dynamic and flexible. We are continuously seeking to create new brand touch points via digital and on-ground initiatives, evaluating them and then tweaking our plans for optimizing the output.
Unified digital communication is a big challenge, so how are you measuring your digital campaigns and their effectiveness?
In today's cluttered media space, understanding the impact of any campaign or communication is extremely crucial. For any campaign to be successful, it is important to define the objective and success measures e.g. if the objective of a campaign is to achieve a particular sales number, then it is extremely pertinent, to look at sales conversions. However, if the objective is to drive awareness and familiarity, then we focus on parameters such as reach, website visitors, time-spent, etc. We have a very robust CRM system and complete integration of our CRM system with our digital channels. This enables us to track the impact of any campaign that we undertake.
What would be the way forward in terms of the brand's marketing and communication plans?
We have campaigns planned to meet the various brand and sales objectives; specific details of these will be known as we activate these campaigns. At the moment, we have our festival season campaigns on and we do intend to continue focus on 'The Above & Beyond Tour'. In terms of content, we have had success with 'Discovery with a Purpose' and 'The Land of Land Rovers' and are in the process of exploring new content opportunities along similar lines.
Correspondent, exchange4media, Mumbai Misbaah reports on advertising industry. Based in Mumbai, she interviews industry leaders in the creative, advertising and marketing space, reports news updates in the ad space. She drives the 'Chillout' section, and regularly reviews ad campaigns. In the past she has reported on mainline news, travel and lifestyle.
The campaign, carried out at Delhi and Bangalore Airports, commenced on October 1, 2018.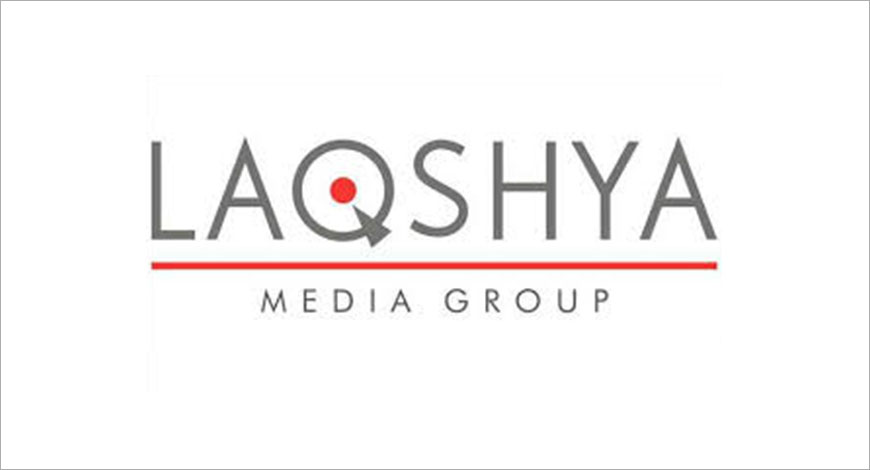 Laqshya Media has bagged the prestigious mandate of conceptualising and executing the outdoor branding campaign for LG Air Purifiers. The campaign, carried out at Delhi and Bangalore Airports, commenced on October 1, 2018.
According to the agency, the main aim was to attract multiple audiences who travel via flights during this festive season.
Laqshya Media installs over 312 digital screens at all terminals of Delhi. The LG Air Purifier commercial was displayed in the digital screens where the commercial used 1/3rd of the space whereas the rest of the space is utilized to display Live Air Quality Index (AQI). Laqshya's scope of work also comprised displaying the product placement and branding in premium plaza lounges; out of which 2 of them were displayed in Bangalore and 4 of it in Delhi. The product is strategically displayed at the food joints and near smoking rooms at Delhi Airports which includes 9 units at Terminal3.
Commenting on the campaign, Amarjeet Singh Hudda, COO, Laqshya Solutions, the agency arm of Laqshya Media Group, said, "It's an immense opportunity to manage and execute the outdoor branding campaign for LG Air Purifier. The brief was well-defined, and it definitely helped us understand the brand, which helped in building outdoor branding communications for LG Air Purifier. The campaign attained high visibility for the brand and attracted lakhs of throngs in and around airports at Delhi and Bangalore. The team seamlessly worked hard and dedicated round the hours to deliver the best for this campaign."
Youngnam Roh, Director Home Appliances & Air Conditioners- LG Electronics India, said "Health and hygiene are key concerns of consumers and they are looking for solutions to improve the same. Air quality has been of pressing concern for consumers, based on this insight we have developed the latest LG air purifiers, with PM 1.0 Sensor. This distinctive feature purifies even super-ultra dust particles from the air."
"We wanted to create an experiential marketing platform and Laqshya media has always shown great expertise in outdoor marketing with their campaigns. We wanted to create an eye-catching installation and believed that Laqshya will fit the bill perfectly. The installation of the air filter by Laqshya Media Group, at Delhi and Bengaluru international airports has now become one of the biggest indicators and has given us an opportunity to celebrate our brand with our customers," Roh said.
exchange4media Group Service
Ashish Bhasin, Chairman and CEO - South Asia of Dentsu Aegis Network was awarded the 'Network Head of the Year'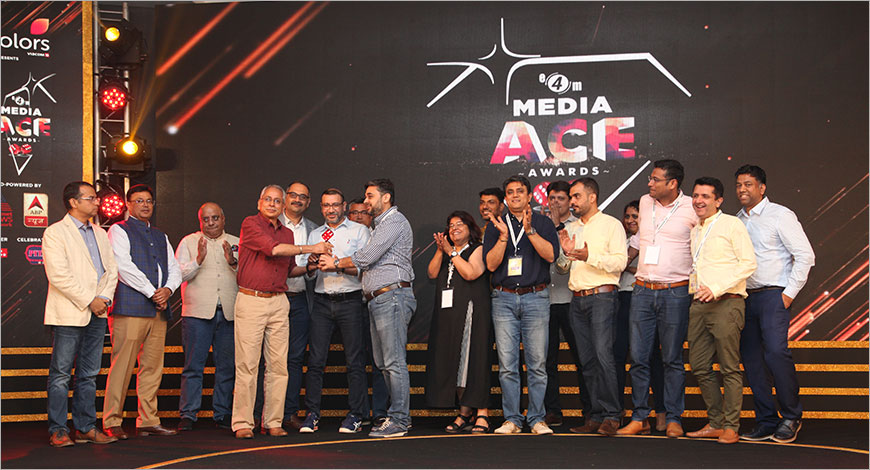 At the fourth edition of Media ACE Awards, GroupM took home the coveted 'Network of the Year' award.
Commenting on the win, Prasanth Kumar, CEO Mindshare South Asia, Africa and MENA, said, "I want to thank the jury for awarding us the Best Agency of the Year and Media Agency Network of the Year. It's truly a fabulous day for us and we are very humbled that the jury and everybody recognises that a lot of effort has been put together to get the best of clients and partners. It's a big moment for all the people in GroupM, Mindshare, and all the winners."
The category award was judged based on the parent network and collaborator that played a pivotal role in development and enhancement of its reputation in the industry, by providing holistic marketing and communication assistance like content creation, digital advertising, proprietary tool development and other essentials. The winner was selected as per the Jury's discretion.
GroupM has won this award for two consecutive years now.
The awards held on October 16 showcased award-winning work for the period July 2017 to Aug 2018. Media ACE recognises Indian Media Agencies for their contribution to the industry and the professionals behind the growth of these agencies.

exchange4media Group Service