IDMA 2018: Celebrating the best in the industry
Few moments from exchange4media Group's Techमंच Digital Conference and Indian Digital Marketing Awards 2018 (IDMA) held in Mumbai
exchange4media Group's Techमंच Digital Conference and Indian Digital Marketing Awards 2018 (IDMA) were a grand success. The event formulated with the objective to recognize, celebrate and encourage the work being done in the digital marketing space specifically, internet, mobile, gaming, social media and the blogosphere had some key moments to share. Here are some of the moments captured from the event:
(Main Image)
: Sanjiv Mehta, CEO - MD, EVP Unilever Soiuth Aisa, HUL along with winners and Annurag Batra, Businessworld - Chairman & Editor in Chief and Co-Founder, exchange4media Group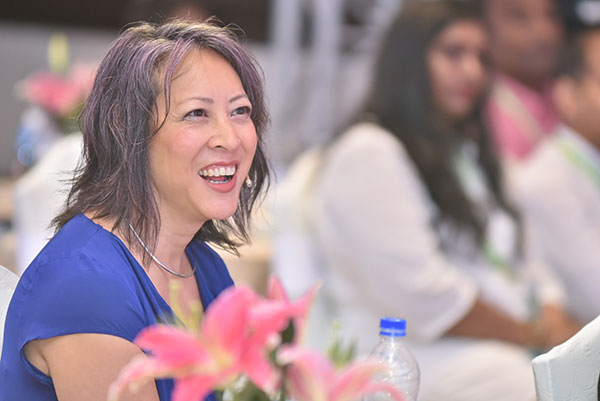 Deirdre McGlashan, Global Chief Digital Officer, Mediacom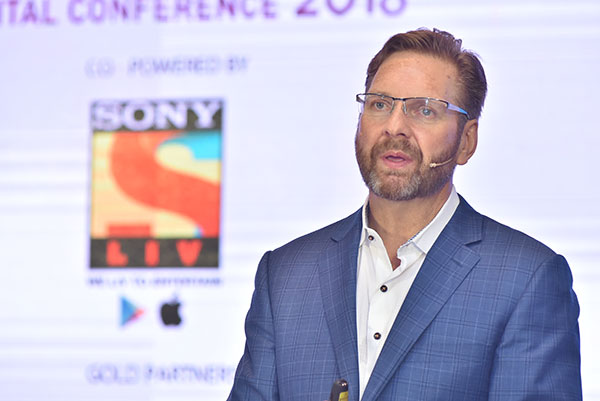 Lee Odden, Co-Founder & CEO , TopRank Marketing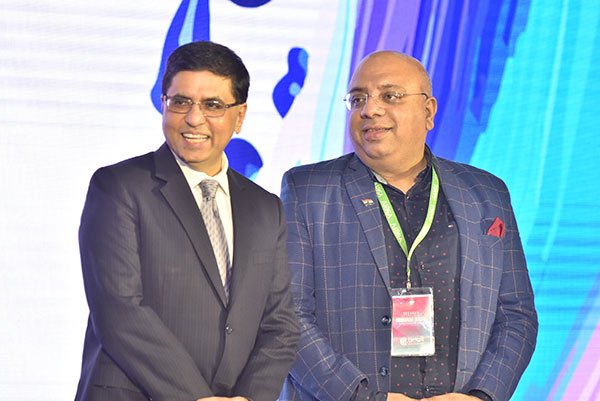 Sanjiv Mehta, CEO - MD, EVP Unilever Soiuth Aisa, HUL and Annurag Batra, Businessworld - Chairman & Editor in Chief and Co-Founder, exchange4media Group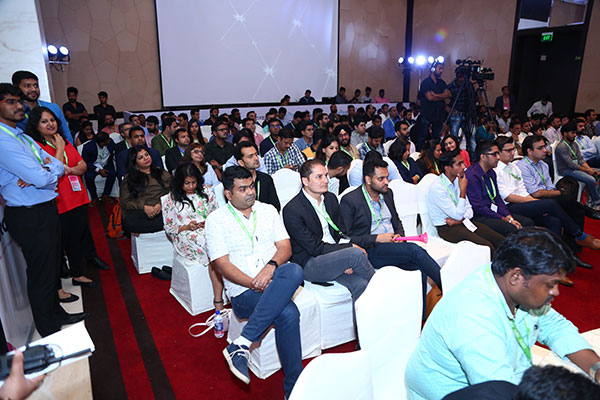 The audience at Techमंच in Grand Ballroom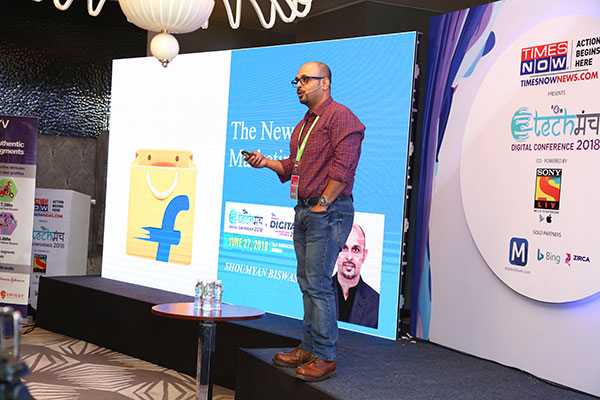 Shoumyan Biswas, CMO, Flipkart at Techमंच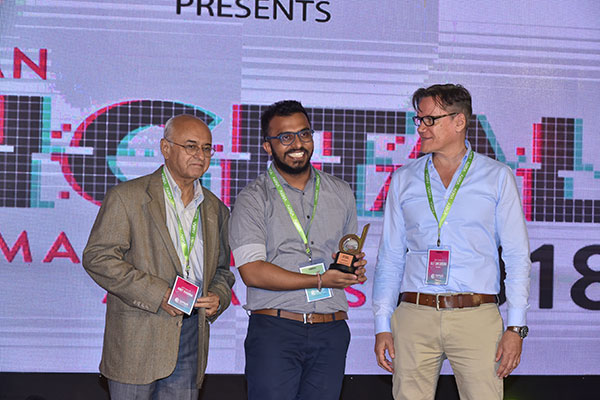 Amit Khanna, filmmaker, lyricist, poet, writer & journalist and Ulf Smedberg, Country Marketing Manager, IKEA India presenting an award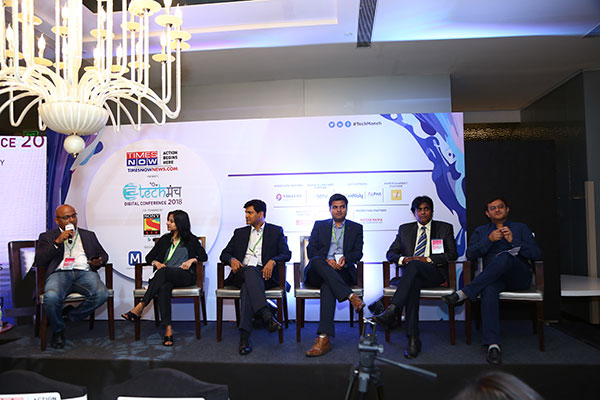 Panel discussion on the intuitive marketer chaired by Prasad Shejale, Co- founder & CEO, Logicserve Digital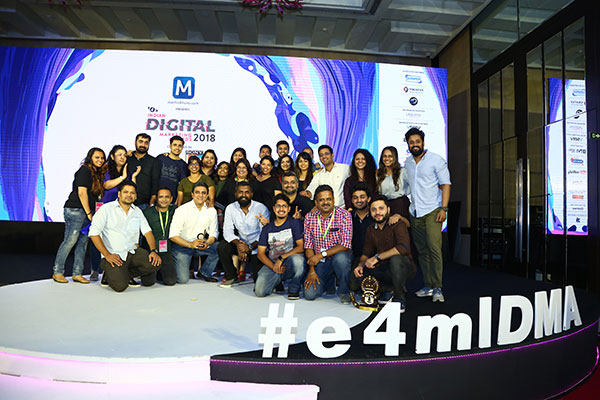 Mindshare team wins the coveted award. The agency bagged three gold, six silver, and nine bronze metals and also took home the title of Best Digital and Social Media Agency of the Year.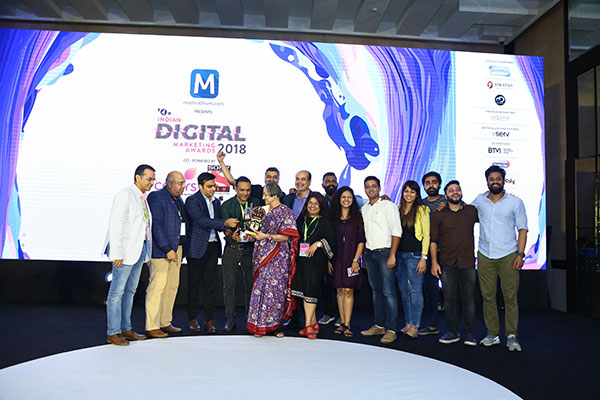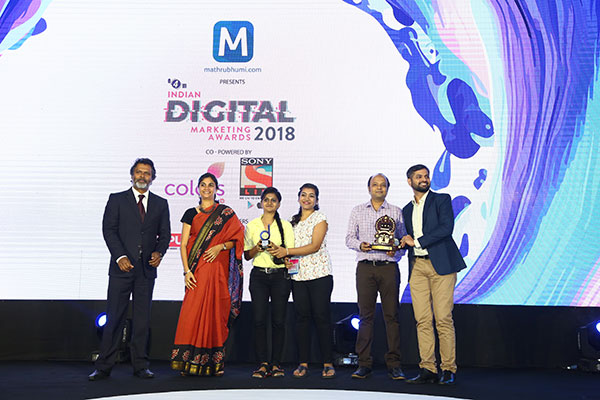 exchange4media Group Service
Gautam, VP, Marketing, Ford India, discussed the importance of marketing, brand building and its relevance in today's digital world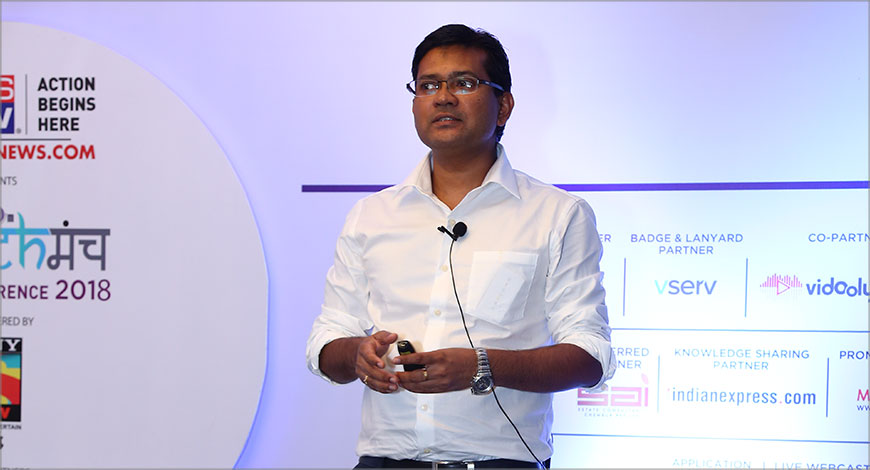 At exchange4media Group's Techमंच Digital Conference 2018, one of the speakers Rahul Gautam - Vice President, Marketing, Ford India shared real-world case studies and experiences. Addressing the session soon after lunch, Gautam managed to keep the audiences intrigued with his insightful take on the role of CMOs in an age of data-driven industry.
Watch the entire session here:
His session discussed the importance of marketing, brand building and its relevance in today's digital world. "The role of a CMO is to look after advertising, sales promotion, brand management and market research. It is their job to champion the customer and the brand, and that's where the magic happens. Every brand needs to have a purpose and it is the job of a CMO to find that purpose. It essential to remember that CMOs are also a representatives of the customer," said Gautam.
He explains that in a CMO's job, the conflict takes place between the sales and revenue growth versus the brand building which takes a lot of time and patience. "It is crucial the CMO also takes responsibility and really connects with the internal stakeholders as well and grows his/ her influence in the organisation. The conundrum arises when you have to balance between the rational side and the creative side. There are real pressures and business results need to be delivered. It is the job of the CMO to deliver these results," says Gautam.
Referring to a book titled, 'Thinking Fast & Slow' by David Kahneman, Gautam explains how the book on behavioural science elaborates on how the human brain thinks. "The book describes that 95 per cent of the times the human brain takes decision based on their intuition, and 5 per cent based on rationality. The customers too think the same way, they feel first and then justify it later. It is essential that you connect with the customers emotionally and intuitive gets formed based on data. Data is important. The insights we gain through data provides information that makes establishing the emotional connect easier," he explains. He divides the championing of customers into four parts - consumer insight, courage, conviction and communication.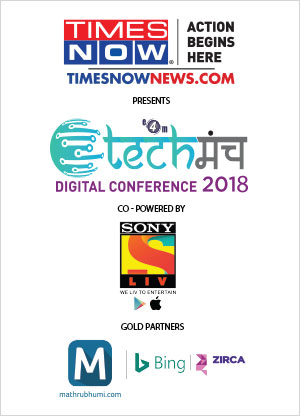 With the help of case studies, Gautam went on to elaborate on brand transformation and product launches at Ford. "We considered factors such as do consumers know about Ford? Do they consider Ford when purchasing a car? Do they think positively about Ford? What is their shopping and purchase intention? We busted the 'expensive service' myth with the help of this data. In our industry, the brand experience resides in the hands of the sales consultant or the service advisor who deals with people where the human contact happens. This is where the brand gets built or destroyed," he says.
Gautam says that in the internet revolution there is always a challenge in terms of problem of measurability and attribution. "The digital medium too is turning out to be quiet expensive. We need to collect more consumer data. But data too is inundating. We are at a time where the hard work or the crunching part can be taken care by technology, and marketers can be free to think about strategizing and generating love for the brand," he concluded.
Giving some invaluable marketing tips, Mathias spoke on 'Battleground Digital: The Challenges Staring At The Marketer In 2018' at exchange4media's digital marketing conference Techमंच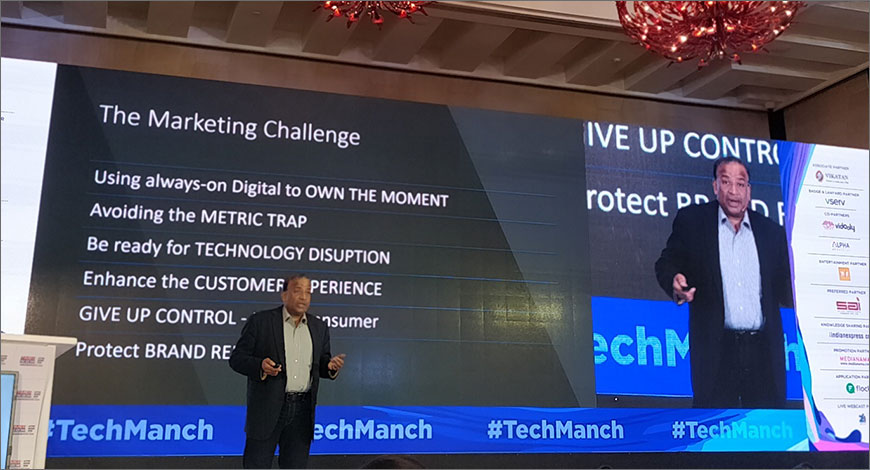 At the exchange4media's digital marketing conference Techमंच, Lloyd Mathias, Former Asia-PAC Marketing Head, HP Inc, shared his perspective on how marketers are perceiving the digital onslaught. He recalled that the digital medium did not exist until the early 90s. But today, for most brands and company, digital spends comprise 15, 20 and sometimes even 50 per cent of the budgets.
Watch the entire session here:
In an insightful presentation, Mathias spoke on 'Battleground Digital: The challenges staring at the marketer in 2018'. Mathias, who has also worked for brands such as Pepsi and Motorola, feels that the pace of the digital medium is immense. "The key question that arises is that there is more content than what anyone can consume. More is not good for consumers anymore as their attention cannot command it. Also, now, consumers are co-creating brand stories. Consumers' participation is getting critical."
Mathias feels that the challenge for marketers now is to engage with the consumers closely. "The media universe is expanding and fragmenting. Nearly 2.5 million pieces of content are shared on Facebook every minute. So much of data is out there on the internet that it's impossible to get a lot of share (of consumers' attention). The whole idea is to closely engage with the consumers. And that is the challenge for marketing now."
I think what matters to businesses and marketers is the fact that every moment counts. There are no off-time and on-time moments. Consumers can engage with your brand at any point in time. There is a constant flow of information," he shared.
According to Mathias, in the fast-paced digital world, decision making by consumers takes place a million times in a day. "The decision-making takes place a million times in a day on connected devices. As a brand, we need to own these moments. We need to have something relevant to say to the customers and we need to create shared experiences. It should not be about putting a brand's point of view, but it should be about the consumer's point of view. This point of view should then be integrated with the brand purpose."
So a marketer has to think like a marketer, behave like an entertainer and move like a startup," he added.
In his presentation, Mathias came up with five suggestions for marketers: Use the always-on digital to own the moment: Digital is an always-on phenomena and so owning the moment is critical. The challenge is to come up with a big idea to have the consumers engaged on a regular basis.
He asserted, "Staying topical and relevant and, most importantly, staying authentic is important. This brings us to questions like: Do we have enough digital creative heroes in our Indian ecosystem? Are the creatives still dominated by the guys making classic 30-sec television commercials?"
The challenge essentially is that the mainstream advertising is yet to embrace the privacy of digital. "I think some of the superstars, still focus on a big budget for television and print. The challenge is to create superheroes in a digital era," he shared.
Avoiding the metric trap: It's important for the digital medium to move beyond this very basic metrics. We need to define success clearly and measure often. He explained, "Ask for transparency from your digital agency. Success is not fans and followers, but conversation and engagement. For B2B marketers, the big challenge is that digital is just a lead generation mechanism. Also, it is important to recognize that digital is dominated by few large names. As much as 25 per cent of digital ad spend goes to Google and Facebook and doesn't include YouTube and Instagram."
Be ready for technology disruption: Digital is a relatively even playing field. Also, mobility is the priority. Develop all your content for mobile first. The third aspect is using customer data sensibly and responsibly.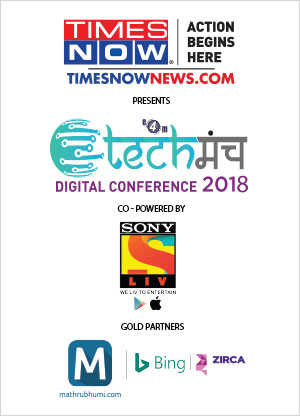 Give the control to consumers: This is something that marketers often fear. They are faced with the question that they are the ones who have been entrusted with the brand, how could they let consumers take control? But the sad truth is that marketers have no choice.
Enhance customer experience and protect brand reputation: Customization and entertainment are important for customer experience. Also, as a brand, you should ask yourself if you should take a stand on issues of the day or leave it to news channels? Another thing is to think if we are overplaying the influencer card? Are Indian brands using influencers well enough? Influencers have their own following. They won't stick to the script.
Mathias concluded on the note that digital is out there and it is not just the responsibility of the marketers. "It's the collective responsibility of marketers, your corporate communication team and the senior management to spread the message."
exchange4media Group Service
At exchange4media's digital conference TechManch, the CMO spoke about digital disruption and its impact on marketers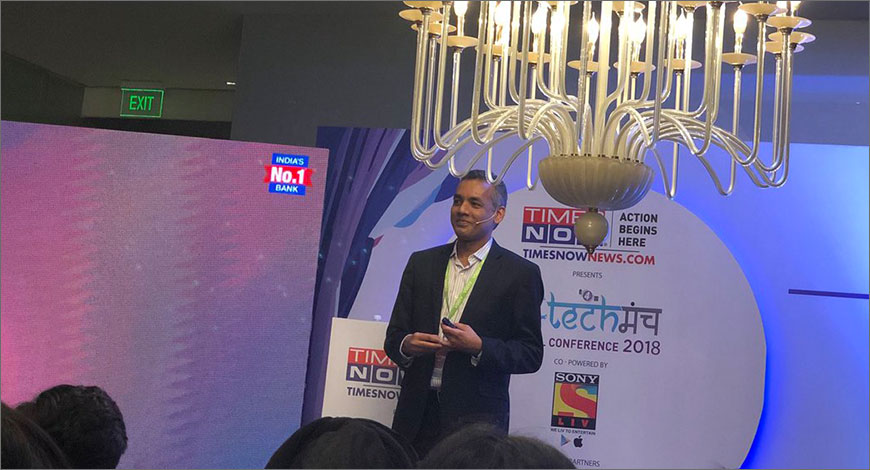 Marketing space has evolved over the years and it is very different from what it used to be five years back, said Ravi Santhanam, Chief Marketing Officer, HDFC Bank, as he took to the podium at exchange4media's digital conference TechManch 2018. Santhanam spoke about how digital is a disruption for marketers today.
Watch the entire session here:
"Five years back, people would ask me about my data guy. But today, we have data scientists. And this shows the way our working style has changed. Earlier, we had media planners, but now we have platform specialists," said Santhanam.
"Change has been constant and has been adapted well by everyone," said Santhanam.
During his session, the CMO raised several questions for his listeners: Do we need to worry about the future? What is that we need to adapt to when we look around to see the changes that is happening in the name of digital disruption?
Talking about Artificial Intelligence (AI), Santhanam shared that today, reliability on AI is much more than what it was expected to be. "Artificial Intelligence will not do the marketing for you, it will only define your marketing strategy. Don't go behind Artificial Intelligence, go behind what it can deliver for the customers. We need to move away from theoretical Artificial Intelligence and move towards Applied AI, which is defining a very specific new space," elaborated Santhanam.
Data alone cannot stand on its own. Human element has to be added, because it brings context to the conversation," he added.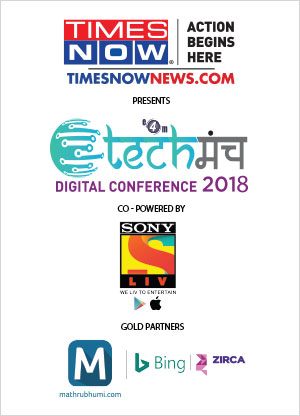 As the session proceeded, Santhanam talked about digital transformation. "Everybody talks about AI and its consequences, but nobody thinks about where digital transformation is heading. The prediction of blockchain and marketing is going stronger now," he said. "Digital transformation cuts across the entire company. So as a marketer, it is necessary to make sure that it is intervened and inspirational," the CMO added.
Santhanan concluded the session by suggesting marketers that they should viewing the problems from the lens of consumers rather than just digital aspects. He emphasized on the need to understand the whole consumer experience to outgrow the business.
Devendra Deshpande, Head-Content Plus, Mindshare, moderated the discussion held on Wednesday in Mumbai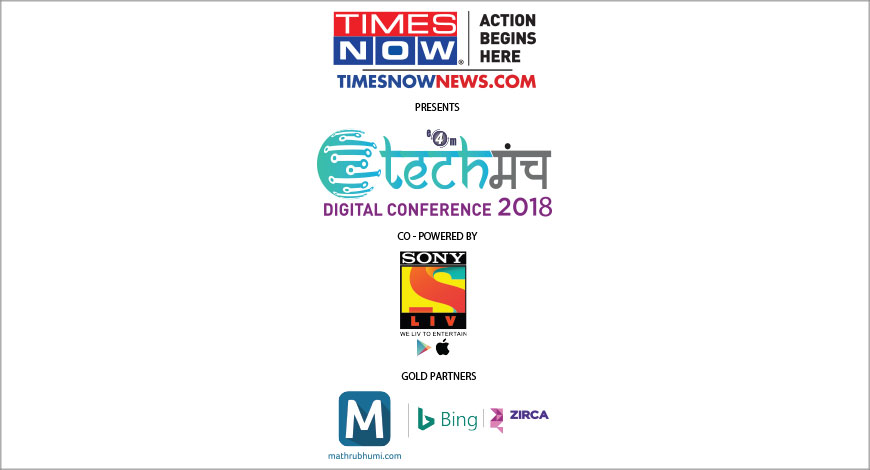 Experts from across industry verticals came together on Wednesday at exchange4media's TechManch to discuss and deliberate on the burning topic that is plaguing the digital ecosystem in India - Unified Measurement on Online Video.

Watch the full panel discussion Here:



The panel comprising Nishant Radia, Co-founder & CMO, Vidooly, Dippak Khurana, co-founder CEO, Vserv, Priyanka Gandhi, Associate Director - Integrated Marketing Communications, India; Head of Media for APAC Division, Colgate Palmolive, Neel Pandya, Head of Media, L' Oreal, and Prasanna Lohar, Head Technology - Innovation & Architecture, DCB Bank shed light the topic in a session moderated by Devendra Deshpande, Head-Content Plus, Mindshare.

As representatives of brands, both Pandya and Gandhi advocated the need for a unified measurement system. Pandya felt that as the spends on digital, not just media spends but overall spends including investment on content increase at a rate of 30-40% it is becoming imperative to have a unified measurement system. Gandhi said that finally the numbers from different touch points should add up. "We are working in silos now. We want to be able to make a communication strategy based on a unified measurement system," she said, adding that especially in the case of video she would like to see a day when she can plan holistically for video across TV, YouTube and OTT platforms like Hotstar and SonyLIV.

Deshpande got the discussion started with the first question: How do you define a video view? Calling it a tricky question, Radia said that different platforms will have different definitions of what constitutes a view. "We are far from defining an unified metric. But before that clients need to know the specific metricies that are generating ROI for brands on different platforms," he said. Radia felt that figuring this out is the first step to finding a uniform metric for digital video.

While there is a collective call for a unified measurement system, there are some who believe that creating such a unified system is going to be hard. Khurana seemed prophetic when he said, "There is a spirit of competition in the market, which means that local publishers and OTT platforms will measure differently from global players like Facebook/Google. I personally think it will not be easy to have a unified piece in a fragmented world."

Lohar said that while he is waiting for a unified approach, he is also understands that it is a challenge because platforms would be unwilling to share their data. "In the absence of such an unified approach we use the data available to use from our various sources and use that to profile our customers.
exchange4media Group Service
Mehta spoke about 'The Changing Role of Marketing In Achieving Business Objectives ' at exchange4media's TechManch, held in Mumbai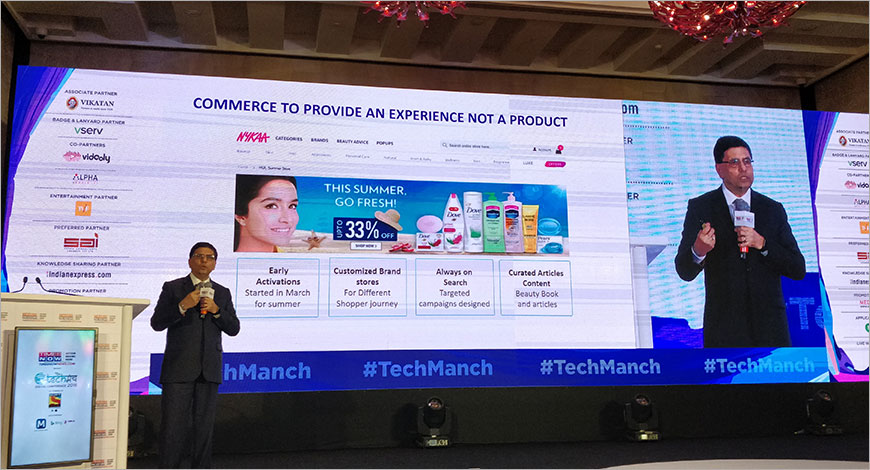 Sanjiv Mehta, CEO and MD, Hindustan Unilever Limited and EVP, Unilever, SouthAsia, believes that in the sphere of digital and marketing, it's not just that the former is going to influence only the marketing ecosystem as a whole but also the entire connected world will be significantly influenced by the fourth industrial revolution. Hence it's very important for us to take cognizance that marketing is the key function and that it's going to be certainly impacted but so will all the industries and the entire value chain as we go forward.
Watch his full session here:
In his valedictory address, Mehta spoke on, 'The Changing Role of Marketing In Achieving Business Objectives ' at exchange4media Group's TechManch, held in Mumbai.
Mehta reminisced about the media landscape a decade ago when no one owned a smartphone, Twitter was an English word, we didn't know Facebook and we shopped exclusively in brick and mortar shops. "That was the kind of context in which all of us grew up learning marketing. Now that world has changed significantly and dramatically but we certainly believe that the change we have seen in the past will really put to the shame the change that will come in the future. Important trends are shaping up in India, including mobile in a big way, the other important bit is urbanisation and the empowerment of the rural consumer."
Taking into account the undeniable hegemony of regional nuances in India, he added, "In India, unlike China, urbanisation has yet to take place. We are still talking about 67 per cent of country living in rural areas but these consumers would be empowered like never seen before. Now another is the part of vernacular content. When Google started it's vernacular services, the search spiked up by 60 per cent in the very first week. That's the power of vernacular. Other is how voice is going to change the world and the role that influencers play in making consumers pick up the choices."
Mehta feels that the future of the industry is already here but that the technology is also developing at exponential pace. "What was best-in-class and next-generation practice last year has already become outdated today. That's the shape of the change that is taking place across the world. I come from a FMCG background. In FMCG, over the years the business model was built around scale, where branding was key to the consumers' choice. If you look at the classical business model we had to do consumer research in a very traditional way. Today technology is going reshape every aspect."
Pointing out the importance of PRM (Partner Relationship Management), he said, "When you have PRM base like we do and PBC that we have, then you are able to convert voice into text. One doesn't need a classical research to find out trends. When we develop prototypes today we don't need to do real prototypes because we do all the simulation on computers. There was a time when the market mix modelling of which levers need to play in the market would take you months to come out with the results. Today, technology allows us to customise the offering to each outlet. The entire business model of FMCG is up for grabs and whoever can reinvent it will be able to get the lion's share of the profit that would come from the new business model."
Emphasising on consumer journey, he explained that earlier it was very simple. But today's consumer journey has become extremely complicated and that's where brands need to get a deeper understanding of what they need to do and how they intervene in the consumer journey to make a difference to their brand and to convert consumer to intent and then purchase.
Talking about the new ABC i.e Artificial Intelligence and Machine Learning, Big Data and Analytics and Content that are reshaping marketing, Mehta said, "Data underpins new age marketing. We have a massive amount of data available both online and offline. It is all about storing data, ensuring the safety of data and using data in the most meaningful way. It is no longer about raw data but increasingly it is becoming intelligent data that will be used in the future. So data becomes the most important ingredient in this entire digital landscape and that is the reason people talk about data being the new oil."
Mehta shed light on Hindustan Unilever's 5C framework that is centered around the Consumer. "The consumers will always be there irrespective of whether you are online or offline, at the end of the day you are looking at the needs, wants and desire of the consumers and doing your best to meet them. The other four Cs are content, connect, community and commerce."
Explaining all the five 5Cs, he said, "Consumers are our true North. From triggers to influence to action, the important bit is in your quest towards technology, if you lose the sense of consumers then you miss the game altogether."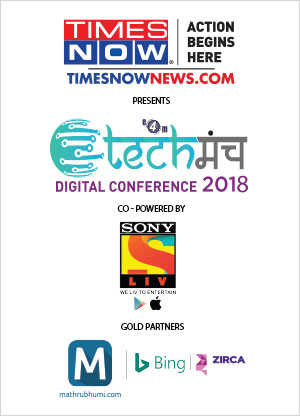 Coming to content that consumers love, Mehta informed, "At Unilever, we want to be the Wikipedia of personal care. That's a very clear stated intent. Unilever has created a studio so that we don't have to go outside to create meaningful content hence we have started creating it ourselves because today the time lag to put up the content for consumers has become very small. If you will not react with speed you will miss the boat."
Elaborating on the other C, he said, "Commerce is not just about selling a product it's the entire experience that consumers go through. If you are looking at just transaction then it's short-lived. Then you are not developing a relationship with your consumer. When you provide experiences, that is when the relationship gets strengthened."
Calling personalisation as the future of marketing, Mehta said that even while marketing in the connected world, something that does not change is the the art of storytelling. Mehta also stressed on brands with purpose being able to impact society in a meaningful manner and most importantly, them trying to reduce environmental footprint.
exchange4media Group Service
The conversation centred around trends such as how internet and video are becoming synonymous, decentralization of the power of internet and the rise of digital superstars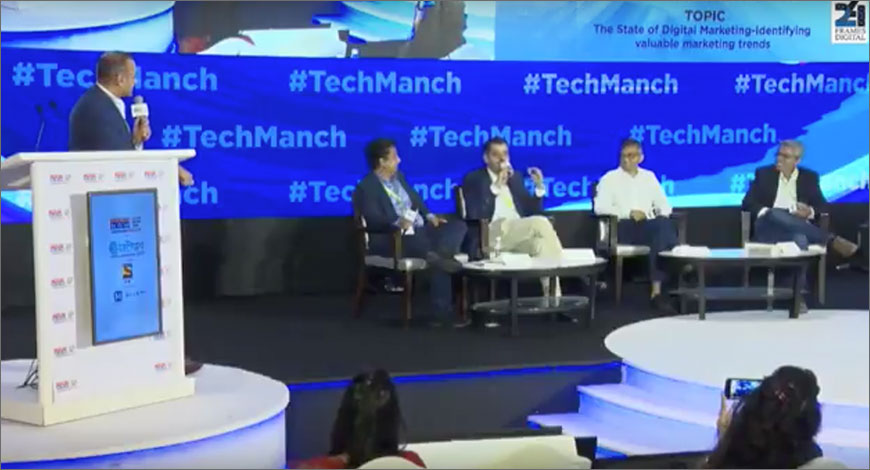 It is no secret that digital marketing is becoming imperative for marketers, if not already. There are various factors and trends that are shaping it today. To discuss this, exchange4media's TechManch 2018 brought together the likes of Abhishek Ahluwalia, Head – eCommerce - India, Mondelēz International; Ankush Manchanda, Head, Digital Marketing– Bacardi; Shamsuddin Jasani, MD, Isobar; and Shouneel Charles, Senior Vice President & Business Head, Timesnownews.com. The panel was moderated by Samir Bangara, Co-Founder & Managing Director, Qyuki Digital Media.
Watch the entire discussion here:
The panel identified valuable marketing trends and discussed the state of digital marketing in the present time. The conversation centred around trends such as how internet and video are becoming synonymous, decentralization of the power of internet and the rise of digital superstars.
On the trend of digital superstars, Manchanda said, "We saw this trend of digital superstars come up aggressively." He cited the example of Bacardi and how they shut down the brand's existing social media activities to tie up with AIB. "Emerging markets like us have the appetite to take risks. I see more FMCG brands utilizing social-listening," he shared.
Jasani said that a lot of brands are these days using influencer-marketing to create noise around their offering. "The trick lies in using them as part of your longer-term strategy and not just when you have some part of the marketing expenditure remaining to be used," he said.
Manchanda said the shift from branded content to entertaining content had fetched Bacardi a 4X brand lift on digital. He let out that its best to work directly with creators. "The content-creator needs to understand that he is embodying a brand and that is a long-term association," he says.
Speaking about the power of personalization of message with AR, Ahluwalia said, "E-commerce is as much about revenue as equity. It is about creating a differentiated proposition and bringing it forward to the consumer. If your proposition is well-integrated and you create enough noise around it, you can get enough out of it," he said, sharing the example of Cadbury's Valentines Day campaign and how it drove revenue.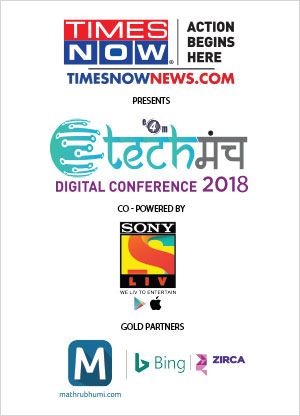 When the discussion reached to programmatic advertising, Jasani suggested, "We need to start realizing and listening to our consumers while using programmatic. If they're interested in a content, give it to them," he said. When Bangara quizzed him on whether clients do understand the data being thrown at them, he said that it all depends on the maturity of the client. "We need to pick and choose which data we need to use. Digital today is too driven by digital-marketing KPI. The bigger KPI is: What's my sales and is it making a difference to my brand?," opined Jasani.
Speaking about how huge businesses are being challenged by digital, Charles said, 'Video has got extremely democratized. We're trying to shift everyone's mindset to think broadcast plus digital and incubate digital-first," he said.
Manchanda revealed, "For Bacardi, we spend 70% of our budgets on digital today. The rest 30% are allocated for TV and BTL activities. We recognize that India is a country of the largest under-30 population and we want them to be emotionally-involved with the brand," he said.
Correspondent, exchange4media, Mumbai Misbaah reports on advertising industry. Based in Mumbai, she interviews industry leaders in the creative, advertising and marketing space, reports news updates in the ad space. She drives the 'Chillout' section, and regularly reviews ad campaigns. In the past she has reported on mainline news, travel and lifestyle.
Shoumyan Biswas, Chief Marketing Officer, Flipkart decoded the art of marketing in the new age at the exchange4media TechManch Digital Conference 2018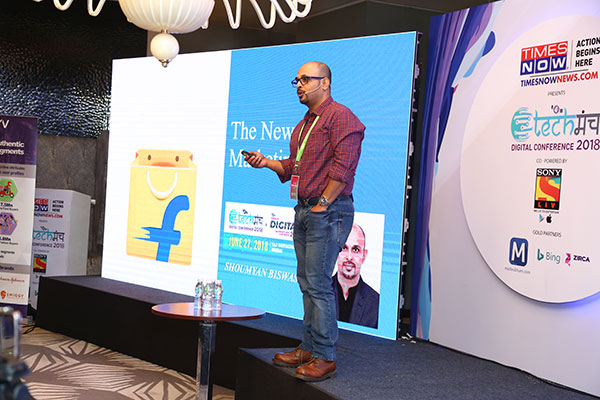 Modern marketing is much more than just a brand or a killer slogan. Technology has enabled marketers to influence the entire customer experience. So how do we stay on the top of our game in this new era of marketing? At the TechManch Digital Conference 2018 by exchange4media, Shoumyan Biswas, Chief Marketing Officer, Flipkart decoded this.
Watch the entire session here:
"It is also okay if you don't have a differentiated product or pricing. But if you don't have a distinct consumer experience across touch-points, you won't survive," he continued. He spoke about the importance of exercising both artificial intelligence and human insights. "Data must power decisions. So must intuitions," opined Biswas.
He also highlighted that mobile is an opportunity which can be smartly leveraged by marketers. "Today the touch-points have become 100x where the dominant touch-point is mobile. When we put our 90% moneys in mobile, we saw 30% increase in efficiency," he cited an example of Flipkart.
"Every creative you do must load as a GIF. There is no such thing as static creatives," he advised marketers. Biswas said that since the millennial today is not watching television much, marketers have to create engaging communication for the mobile device. He also spoke about the importance of delivering personalised experiences. "The advent of the device has created a larger spirit of individualisation. This is an opportunity for marketers to personalise and create a one-to-one communication with the consumer," said Biswas.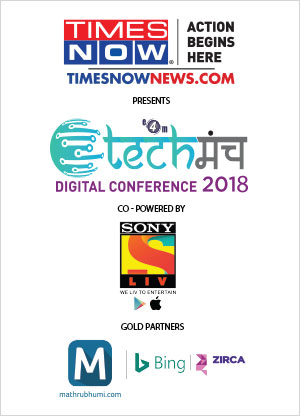 The CMO also spoke about the importance of keeping customer privacy in mind while taking up on personalization."It's very important that we find ways of doing business ethically. It's also important that you have the right signals before you start scaling up," he suggested. He also said that marketers must aid the user in their buying journey. "If you just keep buying reach and frequency, you won't be efficient," he opined.
Speaking about digital marketing he said,"Digital marketing is over-abused and under-leveraged." Biswas shared that as we work on good mobile content, a strong content-marketing strategy is of essence. "You need a content marketing strategy which is not just a beautiful creative but which also drives commerce," he said.
Correspondent, exchange4media, Mumbai Misbaah reports on advertising industry. Based in Mumbai, she interviews industry leaders in the creative, advertising and marketing space, reports news updates in the ad space. She drives the 'Chillout' section, and regularly reviews ad campaigns. In the past she has reported on mainline news, travel and lifestyle.
Ulf Smedberg, Country Marketing Manager on IKEA's marketing playbook for India at exchange4media's Techमंच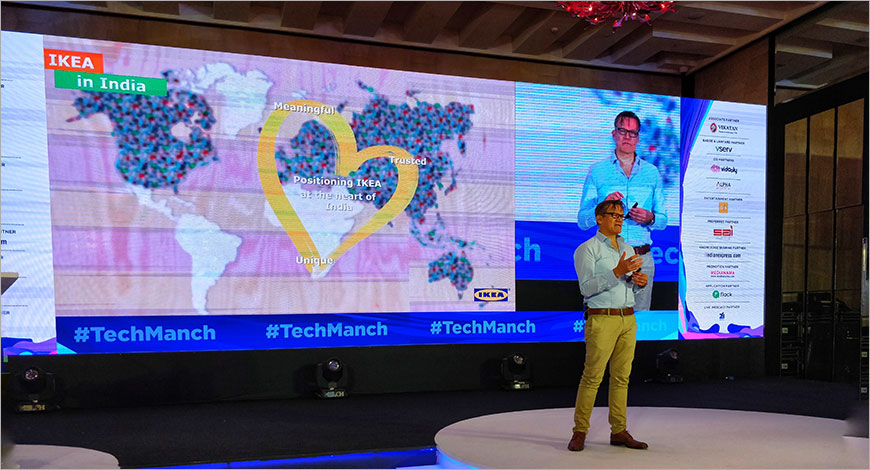 All eyes are on Ulf Smedberg, Country Marketing Manager, IKEA India, as he orchestrates the launch of the iconic Swedish brand IKEA in India next month. Smedberg gave a sneak-peek into IKEA's marketing playbook for India at exchange4media's digital marketing conference Techमंच.
Smedberg said that IKEA's expansion in India will be much quicker than other markets. "We plan to reach more than 200mn people in the next two years," he said. IKEA is leveraging digital in various innovative ways to reach these 200 million people. It has been important to be active on digital because IKEA realised very soon that Indian users are primarily on digital - especially on mobile.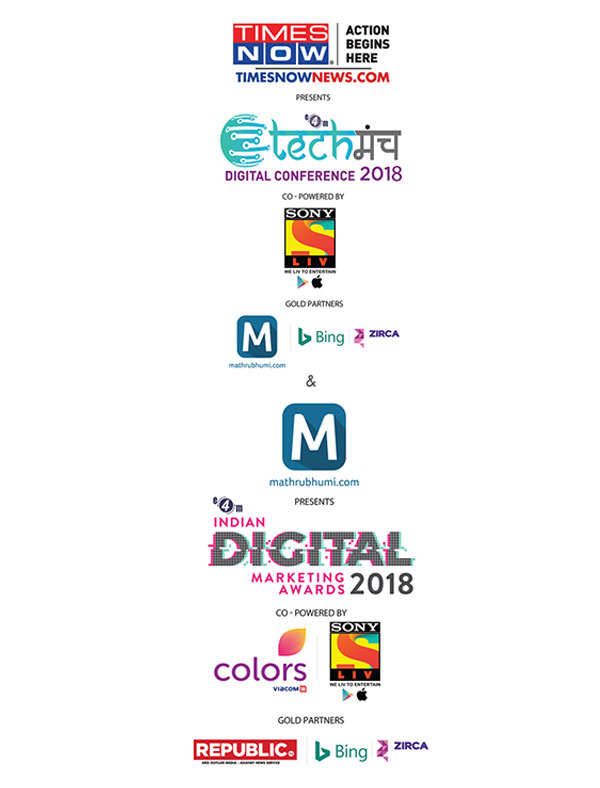 Over the last few months IKEA has been generating buzz around the brand, products, building brand love for IKEA even before the store launches in Hyderabad. From using VR to giving users a virtual experience of what it would be like to walk through an IKEA store to getting consumers acquainted with Swedish IKEA, it has been creating multiple digital content bits and engagement pieces to speak to consumers.
The people of Hyderabad visited the Hej Home IKEA model showroom in droves to take a look at what IKEA will have on offer for its Indian customers. If the sheer numbers in which people visited the experiential store in November is anything to go by, IKEA will have a crowd-management problem on its hands on Day 1.
He summed IKEA's India strategy up in one word - #Swedeshi. The Swedish company made 500 house visits to understand how India lives as part of its homework on India. Based on the research the Swedeshi movement is centered on Home, Food, Children and Value for Money. IKEA's promise to India is that the IKEA product catalogue will have 1000 products that will be priced at Rs 200. "We would like to attract many people, not just people with fat wallets," Smedberg said.
The first IKEA store will be launched in Hyderabad next month and the exact date for the launch will be revealed next week he said. As the launch inches closer, IKEA will talk through traditional mass media, Smedberg revealed. He even gave the audience a three second preview to the soon-to-be aired IKEA TVC. He whetted the appetite of the audience and left them more curious about IKEA than they were before his session.
Rest of India will soon get their own IKEA stores Smedberg promised. Mumbai will get its store in the next six months. It will be a 55,000 sq. mts. showroom in Navi Mumbai.
Watch Ulf' Speak:
A look at IKEA's Digital Ads :
Building Suspense:
IKEA Model Store:
How to Say IKEA Hej Home:
exchange4media Group Service
A critical challenge that marketers face today is the crisis in confidence when it comes to marketing says Lee Odden, Co-founder & CEO, TopRank Marketing at exchange4media Group's TechManch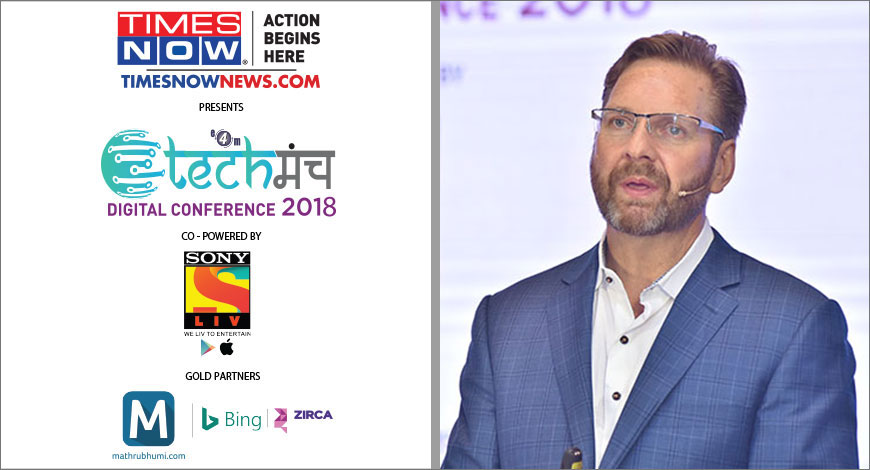 A critical challenge that marketers face today is the crisis in confidence when it comes to marketing.

With trust in business eroding, research data shows that 81% of consumers trust the advice of friends and families over business advice, 55% don't trust companies they buy from as much as they used to, 66% don't trust company press releases, 65% of individuals do not trust advertisements and 71% do not trust sponsored social media ads (HubSpot Research). This distrust in marketing also manifests in different ways as the tenure of CMOs is half that of CEOs. Also 73% of CEOs say that marketers lack business credibility and the ability to generate sufficient growth, 80% of CEOs don't trust marketers but 91% trust CIOs and CFOs (Source: Fournaise Group).

Watch the full session here:



With these data-points, Lee Odden, Co-founder & CEO, TopRank Marketing started his presentation, '5 secrets to growing influence in marketing." Added to this mix, many media platforms face credibility issues with issues such as fake news and inappropriate content making advertisers vary of associating with the concerned platforms. Another area of concern for consumers is how data that has been collected is used. Lee also throws light on what customers want brands to do, for starters 71% of customers want brands to safeguard personal data, 70% want to curb spread of fake news and 68% of consumers want to be shielded from offensive content (2018 Edelman Trust Barometer Global Report).
This raises the question as to what marketers can do to regain credibility and trust? To get this answered Lee said that he reached out to prominent influencers and CMO who are at the frontline of solving this problem. Lee recounts that

Recounting his journey, Odden narrated some of the key lessons he learnt. He says, "The idea of specificity is incredibly impactful. Stand for something specific as that will help you rise to the top in a sea of noise. Create signals of credibility for that specific thing in all the places where your customers spend their time. What you stand for and your unique selling proposition (USP) need to be aligned as this is an incredible way of achieving credibility and authority." The second lesson he says he learnt was that "everyone is influential….. and a holistic view of what/who is influential opens many doors to effectiveness."

The other point he raised was the importance of 'we' , whether it was in crowd sourcing and democratising the marketing function. He explains that when you involve the people who you are catering to into your marketing in the creation of your marketing content, it inspires them to help make your marketing successful which then helps you being seen as credible. Odden says, "Working with influencers drives value across the entire customer lifecycle. If you are in the marketing department and you don't have a lot of resources, developing a community of collaborators is an incredible way to scale quality content. You can attract people who have audiences that you have a hard time reaching, such as audiences who use ad-blocks, but who trust peers, friends and experts. You can engage people who have unique and interesting content creation skills that doesn't exist in your marketing department to create engaging content. You can work with trusted influencers to increase conversion rates." In addition, it is important to understand what and who influences buyers.

5 secrets to growing influence in marketing

1. Accelerate Internal and External Credibility

Odden says that it is important to find out the primary business problems faced by the management and connect the marketing activities to help solve these problems. This helps marketers build credibility within the organisation. He says, "Connect with all stakeholders internally and collaborate with them. Also make sure that you give them recognition so that they are part of collaborating with you." Externally, the marketer needs to create content that makes the brand the best answer for customers with personalised, compelling content experiences that include authentic, influential voices. He says it is not just about informing customers but making them feel which helps build credibility.

2. Double Down on Activating Customers

While a lot of time is spent in engaging with prospective customers, however as soon as the customer is acquired, it is only customer service that is the interactive touch-point. He aadds that increasing customer retention by even 5% can lead to a 25% to 95% increase in company profits.

3. Work with Influencers to become influential

With influencer marketing being in focus, Odden lays down a three-step process. First, it is essential to connect with qualified, relevant influencers and find ways to collaborate on customer-focussed content. It is important to identify influencers who have the necessary expertise but also has a network that pays attention to the content that the influencer puts out. In the second stage, it is necessary to validate influencers and their audiences on a regular basis to ensure quality experiences. Finally, in brands must employ always-on listening and social engagements to 'keep the love alive' with a VIP influencer community of collaborators and advocates. "If you find things that the influencer and brands care about and if they work together on it, then everybody wins," he says.

4. Create a Content Collaboration Ecosystem

Odden explains that as there is "only so much that a marketing department or company can do" but if you are able to create a community of VIP influencers who could be employees, prospective customers or industry or domain experts with channels of distributon, this helps create content of scale. He says, "Help others become influential and it will grow brand influence."

5. Optimize Measurement to Customer RoI

The key questions that needs to be asked, Is your marketing reaching the right audience on the channels they're influenced by?, Is your marketing creating meaningful and satisfying experiences where they want them? Are you creating raving fans? Is your marketing inspiring action across the customer journey, awareness to making decisions and purchase?

On a final note, Odden says, "If you want to be credible and have authority, invite people and influencers to collaborate and create content that is meaningful and more valuable than content you can make by yourself."
The CEO- Watches & Accessories & EVP Corporate Communications, Titan Company, talks about how digital is helping the brand stay relevant and connected to new age consumers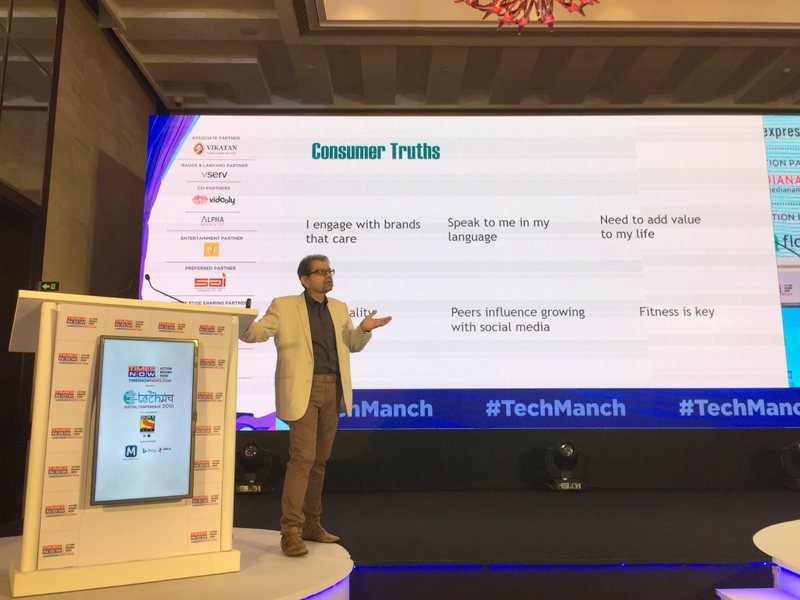 On December 10, 2015, the pantry of a train running from Varanasi to Delhi ran out of milk, causing great distress to a mother with an infant, who tweeted at 3 am to the Indian Railways, complaining about the issue. Acting immediately, an official from the Ministry of Railways asked the Divisional Railway Manager of Allahabad station to do something about the problem and at 11.47 am, when the train pulled in to Fatehpur station, the station master got milk to that infant.
Using this story of how digital was mobilized as a support system, S Ravi Kant, CEO - Watches & Accessories & EVP Corporate Communications, Titan Company introduced his session on 'How Titan is seizing the opportunity for speaking to the new age digital consumer'.
Watch his entire presentation:
Talking about Titan's online prowess, Kant explained that while the brand has
been largely in the brick and mortar space, with close to 1500 speciality stores, the online space is rapidly growing for the brand. "At Titan Watches, we got into the online space 2.5 years ago. In the first year, the contribution of online business to overall sales was 2%, which doubled to 4% by the second year and is now at 8-9%, growing year on year, because that's where the consumers are and over a period of time the lines between online and offline will blur, with omni-channels increasingly gaining popularity," he said.
According to Kant, Titan spends 15-25% of its marketing budget on digital, especially with brands like Fastrack, as Titan has found this to be a great way to connect with consumers and add value to their lives.
Quoting a BCG report, he said that the average consumer spends 3-5 hours online per day, and that the new age digital consumer goes well beyond the stereotypes of the youth or urban phenomenon. "We are all new age consumers irrespective of age – be it the various archetypes ranging from first-time discoverers who may be from semi-urban or rural areas, late learners from the older generation, women from Tier II and III cities, social shoppers who are mainly women, active aspirers who are constantly clued in or entertainment enthusiasts comprising of gamers, etc," he said.
Indeed, while it took two decades for India to reach 200 million Internet users, over the last five years, India has added yet another 200 million consumers and counting, with this online revolution attributed to the fact that in the last four years, mobile phone prices have dropped by 50%, aiding rapid penetration of smartphones. Moreover, according to Kant, in the seven months of the Jio revolution, 100 million internet consumers were added, and Internet speeds also rapidly grew by five times in the last 4-5 years.
Using six case studies, Kant provided great examples of the use of digital has helped Titan's sales.
For example, about 1.5 years ago, Sonata launched the first safety watch for women which came with a built-in app-enabled panic button which women could press if in distress to alert her family. According to Kant, 62% of consumers who watched the ad said that they really liked the brand, as it added value to their lives.
Again, For Durga Pujo in Kolkata, instead of just setting up a stall at the most popular pandals in the city like most brands, Sonata developed an app called Sonata Shorodiyo which had a shortlist of the top 250 pandals to visit out of the 2500-odd pandals in the city, along with pujo timings, guides on what to wear, what to eat, what to gift, etc. Moreover, the app also had selfie contests as a customer engagement proposition. The app saw 50,000 downloads during the five-day festival and Sonata even won an award for digital marketing for that, thereby meeting a key requirement leading to great brand recall.
On the role of influencers in reaching out to the right target audience, Kant gave the example of Titan's watch brand Raga for women, which was perceived to be an ornate watch worn only for special occasions. To change this perception and make it a daily wear watch, Raga partnered with Masaba, a quirky fashion designer who is very active in the social media space with huge following to come out with a line promoting Raga for daily wear. The line was promoted using a digital-only campaign and Raga also roped in influencers with a large following in the social media space to show how Raga could be worn for various daily wear occasions. Apart from this, contests and consumer stories were also added for greater consumer connect. This initiative led to the product selling well beyond expectations.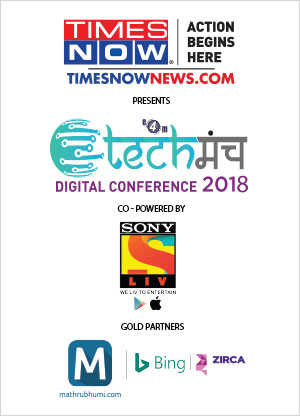 Speaking about the role of analytics and research and development, Kant said, "The realisation that young consumers today preferred wearing fitness bands, instead of watches, made Fastrack get into the fitness band space called Fastrack Reflex to connect with them. Through engaging ads which included asking consumers to contribute their ideas to the ad storyline, as well as contents and more, Fastrack Reflex became the leading fitness band in India for consecutive two quarters, according to International Data Corporation (IDC), with the product flying off the shelves and over 16 million video views."
Thus, through these examples, Kant explained the importance of staying connected and sensing the pulse of the consumer in today's world and more importantly adding value to consumers by staying involved and engaged with them through innovative digital tools. This is indeed key to a brand staying relevant and successful in today's digital world.