How I Knew 23 Years Back That Piyush Pandey Would Become Global CCO: Ajay Gahlaut
Ajay Gahlaut, Chief Creative Officer, Ogilvy North and Deputy CCO, Ogilvy India walks down memory lane describing some of the best moments spent with the legendary ad man Piyush Pandey
The world needs heroes. And we all need idols. That's what takes the human race forward. People we can look up to and marvel at. People who blaze a trail we can follow. People whose shoulders we stand upon to see farther than we ever imagined. Larger than life men and women who seem to bend the world to their bidding through sheer force of will. Who we watch open mouthed as they weave their mysterious, powerful magic, and say to ourselves 'I could never do that.'
It was 1996 and I was working in Sista Saatchi & Saatchi, Bombay when I first saw Piyush Pandey. It was at a media party thrown by Prime Sports and ESPN to celebrate their merger. The venue was a 5 star hotel in South Bombay and the theme for the party was, you guessed it, sports. They had created little booths with all kinds of games around a large banquet hall. You got three chances to throw a basketball through a hoop, or you could race remote controlled cars around a slalom course. There was a bowling machine you could bat against and several other games scattered around the room. You could enter a tournament where points were tallied across all games and the one who scored the highest won a prize. Piyush and Sonal Dabral were working their way around the room playing game after game. Like a star struck Mary's lamb I followed at a discreet distance. Piyush was, as usual, cracking jokes and exploding into his trademark laughter from time to time. But when it would come to the game he would put his whisky glass away and focus totally on the task at hand. A furrow of concentration would appear on his forehead and he would transform into the elite sportsman he once was. At the slightest sound or disturbance from the band of followers around him he would whip around with a fierce scowl, cowing us into, pin drop silence.
'My god,' I thought to myself, 'it's just a party game and he actually wants to win this.' And. then it dawned on me that the great become great through a winning mind-set. Whether it's a multi crore pitch or a game of marbles it is the attitude that takes you on to victory.
Half a decade later I had the good fortune to join Ogilvy Delhi. One day Vibha Desai, our head of office, came to me and my partner Sudip and said that Piyush would like to brief us personally on the Pulse Polio campaign. I was only an Associate CD then and usually it was the Creative heads who would interact with Piyush. It turned out that I was the only senior enough chap who could write in Hindi at that time. I thanked God for my Kendriya Vidyalaya education and couldn't wait to get cracking on the brief. We met Piyush at the Bristol Hotel in Gurgaon. It was our first interaction with him on work and we were nervous as hell. He put us at our ease and offered us breakfast. We spoke about everything but the Polio campaign and then, just before leaving he turned to us and said, 'Ek idea hai. Mr Bachchan ko Phir se angry young man banate hain. Filmein likho jin mein woh un logon se naraaz ho rahe hain jo apne bacchon ko Polio ki drops nahin dete. Dil se likho Aur Kal tak mujhe Mail Karo '. Saying which he got up and left for some meeting.
I reached office at 7.30 am the next morning and started work on the scripts. I wrote them and re wrote them and polished them and pruned them and honed them. Finally they were as good as I could make them and, with a shaking finger, I pressed the 'send' button on mail and sent them off to Piyush. The next couple of hours were the longest of my life. I must have checked the mail 50–60 times in that duration. Finally a mail from Piyush appeared in my mailbox. Nervously I opened it. There was a three word reply. 'Very nice scripts.' Now I have had the good fortune to win many awards and accolades since that day and even been on stage at Cannes to receive a Gold Lion. But no feeling has come close to the euphoria I felt when I read that three word email from Piyush. I printed it out and kept it in my wallet for years, referring to it whenever I felt a twinge of self doubt, until it became a tattered rag and disintegrated with time.
I have worked with great bosses earlier as well but Piyush goes beyond that. He is a great leader. The difference is, while you're willing to take on any amount of work for a great boss, for a great leader you're willing to take a bullet.
I remember 2008 as the worst year in my life. I lost both my parents that year. There was some film shoot I was supposed to go for. I couldn't go because my dad had just passed away and there was the 13th day ceremony to perform. The client, who shall remain nameless of course, was informed. Under pressures of his own I suppose, he was upset when he heard that I wasn't attending the shoot. He found it unprofessional. The fact that I had lost my dad did not seem to be enough of a reason for him.
When Piyush came to know of this he was livid. He picked up the phone and called his boss. 'I will fill in for Ajay and come for the shoot' he told him. 'But tell your man not to be in my line of sight. Dikhega toh saale ko maar doonga'. Of such impulses and spontaneous gestures are great leaders made. I have no shame in saying that if Piyush asks me to jump the only question I will ask is 'how high.'
Piyush appears to have a double PhD in People and Common Sense. He can meet a person for 5 minutes, exchange two sentences with him and know what kind of person he is. It's uncanny. I've never known him to be wrong. I have found it in my interest to blindly follow his advice about people. And even more striking is his ability to find solutions by instantly simplifying a complex situation. Now, modesty apart, I have a healthy respect for my own abilities in this regard, but Piyush leaves me open mouthed time and again. It is more than a talent he has. It is a genius.
Perhaps the two phrases that typify him most are 'woh mera dost hai' and 'baaki main sambhaal loonga'. I have been all over the world with him and he has a 'dost' everywhere. From Chairmen of rival agency groups to Vietnamese restaurateurs in Cannes, media group owners in Mumbai to Indian Ambassadors in Tokyo. He knows them all. They beam with genuine pleasure when they see him, hug him and invite him home for meals.
One cannot even imagine the pressure under which Piyush functions. Every client wants a piece of him. Even the smallest local clients say 'Hume Piyush Ji se milna hai.' He has meetings and seminars and media interviews to attend all the time. And yet he is sensitive to his colleague's work load. If he sees me struggling with multiple mandates he will say 'toh gaana likh baaki main sambhaal loonga'. What wouldn't you do for a leader like that?
No discussion about Piyush is complete without an allusion to cricket. In 1998 Mark Taylor, the Australian test captain was playing against Pakistan in Peshawar. He was on 334, equalling the highest individual score by an Australian set by none other than the legendary Don Bradman. Taylor declared his innings closed at 334 saying that now 'my name will always be connected to the Don's.'
Many didn't get it, but I understand perfectly. Even if I walk away from advertising today I will have no regrets whatsoever. I was part of the Pulse Polio campaign with Piyush Pandey. My name will always be connected to The Don's.
(The author is the Chief Creative Officer, Ogilvy North and Deputy CCO, Ogilvy India)
Disclaimer: The views expressed here are solely those of the author and do not in any way represent the views of exchange4media.com

Fastrack's Reflex Wav brings alive the latest technology of using gestures to control music, click pictures and reject calls
Fastrack's latest introduction to the smart category is the new feature-packed Reflex Wav. It's the world's slimmest smart band with gesture controls.
The need of hour for the youth is to be constantly in control in their lives. This band uses a simple gesture of twisting your wrist to bring alive the thought of – Its all in your hand. The film uses horror, the flavour of the season to bring out a very cutting-edge technology in light and Fastrack manner. Fastrack's Reflex Wav brings alive the latest technology of using gestures to control music, click pictures and reject calls.
The film is set in an eerie campsite by the lake. The key protagonist, the girl, uses an Ouija board to call a spirit. The group of friends around are very skeptical initially on the presence of a spirit around. She seamlessly uses the gesture of twisting her wrist to change the music on her phone placed on a dock. The constant switching of songs adds to the eeriness of the surrounding. It makes the group of friends, especially the male protagonist believe the presence of something supernatural around and he instantly reaches for the girl for comfort. She smartly uses the gesture feature of Reflex Wav to prank her friends and is very successful at the end of it.
The commercial cleverly brings out the gesture control feature of the new Fastrack Reflex Wav in a funny and light manner.
Speaking about the campaign, Suparna Mitra, Chief Marketing Officer, Titan Watches & Accessories, Titan Company Limited said, "Fastrack has consistently endeavored to meet the ever-changing needs of the youth with offerings that aim to fulfill their growing aspirations. All across the globe, youth today want to enrich their lives with meaningful experiences, be it their choice of music, taking selfies or owning the latest tech gadgets. Reflex Wav gives them a first in the world experience with a gesture control technology. This feature helps one change music and take pictures with a simple twist of the wrist. The ad introduces this product feature in a very relatable and youthful camping set-up."
Commenting on the new product, Ayushman Chiranewala, Marketing Head, Fastrack, Titan Company Limited said, "The youth today rely on technology for even the smallest tasks. We constantly look at upgrading our smart bands to simplify lives. Today, being able to track your sleep, activity tracking, etc, have become must-haves in all smart bands. Hence, our latest offering needed a differentiator that adds value to their lives. The Reflex Wav, uses cutting edge technology to control music, camera etc with a simple gesture of twisting the wrist. The film brings this feature alive in a very light, humorous and Fastrack manner.
Arun Iyer, Chairman and Chief Creative Officer, Mullen Lowe Lintas Group, said, "The truth is, today's youth likes to take control of the situation. This feature lends wonderfully to that behavior trait. You can control most aspects of your life with this band. There's also a certain magic quality to this feature. We decided to portray that through the genre of horror-comedy, which happens to be the flavor of this year."
While Hari Krishnan, President, Mullen Lowe Lintas, added, "Reflex Wav is a first of its kind product from Fastrack. The challenge was to bring alive the technology in a Fastrack way. For today's youth, a mere swipe of the finger can lead to interesting outcomes. In its own inimitable way, Fastrack tells the youth that a mere twist of the wrist can lead to exciting twists in life."
Campaign film:
exchange4media Group Service
The film has been created by creative agency Roadrunner Productions
Himalaya Drug Company has launched a new campaign – 'Ek Nayi Muskaan' as part of its social impact initiative, 'Muskaan. Through Muskaan, Himalaya Lip Care has been helping to raise awareness about cleft lip and palate and supporting free cleft treatment for underprivileged children, in partnership with international cleft charity, Smile Train.
"Ek Nayi Muskaan" is a heartwarming story of eight-year-old Munmun, who lives in a small village near Lucknow. She dreams of going to school, playing with friends, and living a fulfilling life like any other child. However, her untreated cleft lip has kept her in hiding. Even in her dreams, she can't think of herself without a cleft and hence imagines wearing a mask to fulfill her aspirations. The film captures the transformational journey of Munmun, as she receives her life-changing cleft surgery.
The film has been created by creative agency- Roadrunner Productions. The catchy song has been sung by renowned actor and singer – Raghuvir Yadav.
Rajesh Krishnamurthy, Business Director-Consumer Products Division, The Himalaya Drug Company, said, "Through our partnership with Smile Train, Muskaan aims to help raise awareness about cleft and ensure that more children receive the cleft care they need at a younger age. A smile is an expression of happiness, and with "Ek Nayi Muskaan", we intend to create more smiles by helping children achieve their dreams and live a fulfilling life. This initiative reflects our overall brand thought - "Khush Raho Khushaal Raho" that captures our vision of 'Wellness in every home, Happiness in every heart'."
Highlighting the need to generate awareness around cleft, Mamta Carroll, Vice President and Regional Director, Asia, Smile Train, said, "In India, more than 35,000 babies are born with a cleft every year, and around 6,000 are from Uttar Pradesh alone. Children with clefts not only live in isolation due to various myths and superstitions that exist in our country, but more importantly face difficulty in eating, breathing, and speaking. With support from our individual donors and organizations like The Himalaya Drug Company, these surgeries are taking place absolutely free of cost at Smile Train's local partner hospitals. We are proud to be partnering with Himalaya as a part of this noble initiative and look forward to supporting many smiles together."
Rahul Bharti, Creative Director, Roadrunner Productions, said, "This is the second Muskaan campaign for us and this time we wanted to take a different route all together. We wanted the audience to not just be sensitised towards the hurdle the young girl faces but to also become aware of the fact that a small step by the brand can have such a colossal impact on her life. To realise that neither dreams and aspirations nor the desire to look and feel beautiful ever be concealed."
The film was launched at an event with actor and Smile Train ambassador Ali Fazal.
He said, "Children are pivotal to our future, and there should be nothing that deprives them of true happiness. 'Muskaan', the initiative of bringing forever smiles to children with clefts is an important and necessary cause that ensures a bright future for the children as well as their families. I am extremely happy and lucky to be a part of this journey of spreading happiness and smiles."
Through the Muskaan initiative, more than 500 children have received cleft surgery to-date, the company said.
exchange4media Group Service
The campaign includes six slice-of-life films that tap into the nuanced consumer behaviour and focus on product category attributes and impulse purchase pattern of consumers
Nykaa and Peanut Butter have teamed up to kick-off 'Beauty Anytime, Anywhere' campaign with a series of digital ad films.
All six films have a relatable storyline, and feature situations that many of us encounter in our daily lives. The films convey their message with a sincere tone and simple storytelling; and with clean visuals and real characters, they give the viewers a sense of déjà vu. The idea was to use real-life situations to make the films very relevant and relatable.
Speaking about the campaign, Hitesh Malhotra, Chief Marketing Officer, Nykaa, "Today consumers prefer quick, bite-sized information and clever video content that packs in original flavour. Because consumers are continuously bombarded with irrelevant, nonsensical content 24x7, there's a lack of patience. We have managed to cut the clutter with our campaign and are extremely happy with how the films have turned out."
Adding to this, Gulrayz Punjabi, Creative Head & Founder - Peanut Butter says, "We loved the idea of conceptualizing and creating these fun films to capture consumer quirks when it comes to making beauty buys. Nykaa's brief about the films was crisp and clear right from the beginning. When we first presented the film concepts, Hitesh was on-board immediately and contributed at every step in the creative process. Since these are byte-sized commercials, we wanted to keep the communication simple and straightforward. Peanut Butter managed to deliver quality films in a cost-effective manner."
Ketki Lonare, Director of the films said, "We had a wonderful time working on these films. What got me hooked on to the project was that the communication was personal, frank and to-the-point. The films have a candid quality to themselves and have managed to effectively convey the message. We must add that Aayush Dua, EP for Peanut Butter was great in the production and we at Peanut Butter are grateful for the opportunity given to us by Team Nykaa."
See the campaign films below:
exchange4media Group Service
The launch was kickstarted by a conversation between Thrive's Founder and CEO Arianna Huffington and actor Sonam K Ahuja
Thrive Global India, the behaviour change media and technology company, launched its editorial campaign 'Believe', which will tell extraordinary stories of finding and nurturing belief in situations that at the outset appear bleak. This was kickstarted by an honest conversation between Thrive's Founder and CEO Arianna Huffington and actor Sonam K Ahuja.
At JW Marriott in Mumbai, the evening began with an insightful panel discussion where bestselling author Amish and award-winning filmmaker Ashwiny Iyer Tiwari discussed the role of ancient wisdom in their lives and the importance of inner voice and self-confidence in battling life's challenges. Amish warned against the problem of multitasking and doing anything in excess. "We can't juggle all the balls. We have to prioritise what's important in life," he said. Ashwini Iyer Tiwari spoke about the various roles women perform in their lives, the ensuing guilt, and the importance of taking time off for themselves.
After the discussion, Arianna Huffington and Sonam K Ahuja transfixed the audience with a riveting discussion about rejection, staying authentic and centred. Sonam K Ahuja said, "As an artist, there is always a fear of judgement. Everything you put out there has to be validated and the only way to navigate it is by having an incredible amount of self-belief."
'Believe' is a pressing and heartfelt initiative by Thrive Global India in a polarised world that is in need of "belief". The campaign is focussed on embracing resilience, self-belief, drawing inner strength to fight challenges, and allowing hope to preside over the negativity in the world.
One such story of belief is of Niranjan Mukundan, India's leading para-swimmer, who was born with Spina bifida, but the disability was no barrier for the athlete who would wade tough waters to become a Junior World Champion. Multiple such stories of self-belief and resilience will be featured on the Thrive Global India's media platform in a dedicated section on www.thriveglobal.in.
On the launch of the campaign, Arianna Huffington said, "I am extremely delighted to announce the launch of the Believe Series. The campaign aims towards encouraging reflection and contemplation. The stories of self-belief and hope are exceptionally moving. These stories imbibe the message of always believing in yourself and with that you can said conquer the unknown."
exchange4media Group Service
With digital coming in, creativity has become far more complicated than it used to be
The last two weeks have witnessed a number of Chief Creative Officer (CCO) movements. Ajay Gahlaut recently quit as chief creative officer of Ogilvy North and deputy chief creative officer, Ogilvy India. Gahlaut is expected to join Publicis, replacing Bobby Pawar who is slated to join as Chairman of Havas Group, India in January. Ashish Chakravarty quit Contract India to join McCann India as creative head while Sagar Mahabalaleshwarkar has taken on Chakravarty's place at Contract.
The question here is, what has changed all of a sudden to lead to such a large-scale churn? As per the owner of a manpower search agency specializing in ad and media hiring, "It is a result of ad firms trying to reinvent themselves to keep pace with the rise of digital, which have upended the marketing business."
With digital coming in, creativity has become far more complicated than it used to be. Agencies, regardless of their respective sizes, need to keep reviewing how they are coping (or not) with the digital wave. Hence, overhauling existing creative teams is one of the priorities, points out a former CCO turned independent ad-man. "Digital has, of course, changed a lot. Agencies are now creating hundreds, if not thousands pieces of creative, a month. This rise of social media and platforms in general has meant that creativity is more targeted than ever. So most large agencies are constantly re-evaluating the positions and talent pool."
Dr. Sandeep Goyal, former President of Rediffusion and ex Chairman of Dentsu India remarks that there is paucity of talent at that level. "Most creative directors of certain seniority and stature set up creative shops of their own in recent years leaving fewer and fewer talent available for employment by agencies. " Goyal opines that the bigger problem is that these creative satraps also invariably carry some creative followers into their new agencies. So a lot of attrition and turmoil all around. "Network pressure today is simply how many global awards you pocket, how much new biz you win. Earlier it was not easy to quantity and compare. Now it is. Laggards are always under pressure. Quitting 'for better prospects' is the easy way out," he explains.
The job-list of a CCO entails supervising the creative team, directing their output, developing design concepts that further the company's identity to anticipating the future direction of the industry using research and insight and bringing the company in fore of that trajectory.
Industry sources share that one of the biggest shifts has been the network-pressures, which can also be attributed to the high churn rate. "Agencies today are angling to ingrain themselves deeper within client's businesses, to centralize themselves closer to the bottom line. The revenue streams are being attacked on various fronts which does lead to cost-cutting. One being given the polite exit signal under a cost-cutting mission is the 'new' normal in the business," shared an ad-agency co-founder on condition of anonymity.
Another source argues that in case anything goes wrong, a CCO is one of the most visible heads. Besides, a CCO who merely handles ad campaigns and branding consistency is a missed opportunity. "CCOs today end up being easier scapegoats if the business isn't doing too well. Infact, this person needs a seat at the table when executive business plans are being created and the leverage to present big interruptions and lead the team through strategic brainstorming too. This remains one reason they're likely to want to quit or switch their work culture," said the source.
Misbaah reports on advertising industry. Based in Mumbai, she interviews industry leaders in the creative, advertising and marketing space, reports news updates in the ad space. She drives the 'Chillout' section, and regularly reviews ad campaigns. In the past she has reported on mainline news, travel and lifestyle.
The campaign was conceptualized by Taco Bell's agency on record Ogilvy Delhi.
The #foodie millennial generation in India has been flocking to Taco Bell stores in India all year to relish new twists to their favourite food, such as the Naked Chicken Taco and the Crispy Potaco. For its third product launch in India, Taco Bell went bigger and bolder; and leveled up the customer's food experience from the standardized fast food burgers, sandwiches and wraps.
Taco Bell announced the launch of its latest product innovation 'Chickstar Wrap', a unique form of star-shaped tortilla, filled with crispy chicken, delicious veggies and signature sauces from the house of Taco Bell. This new product innovation has already proved to be a hit with anyone who enjoys a good burger or sandwich.
The Chickstar Wrap is unique right from its shape to the taste to the ingredients, that it deserved a launch campaign that was unlike any other food type. The brand has joined their consumer base in facing the unshakeable personal small-talk question of "Aur bata, what's new?".
The campaign was conceptualized by Taco Bell's agency on record Ogilvy Delhi.
Speaking on the campaign, Sidharth Shukla, Vice President & Head of Digital, Ogilvy Delhi said, "Our insight was based on the fact that for our target audience trying out experiences is essential. It comes out of a 'want' to discover new things and equally from a realization that there is nevertheless a certain rut which has seeped into day-to-day life. An embodiment of these feelings, we felt, was reflected in the numerous "What's up?" or "Aur Bata" questions that we receive as we go about our day – The Chickstar Wrap here is the symbolic answer, counter and come back to this question – putting a new spin from both a format and a taste perspective to a food item which has largely remained unchanged since we have known it. The film remains true to the Taco Bell style that we are now so familiar with – slices of life, witty, young, all of which add to making it very relatable to the audience we wish to engage with".
Campaign video:
exchange4media Group Service
The series of 30 videos will be released daily, starting from November 23rd till December 23rd.
Dentsu Webchutney, the digital agency from Dentsu Aegis Network, has launched Platinum Days of Love's new season's collection with the campaign #LoveSoRare, a series of 30 digital films inspired by the design story of the collection. The complimentary design of each pair of love bands is brought to life by 30 films that arise from the insight of togetherness amidst individuality.
With evolving times, couple's relationships and their expectations from love are also seeing a change. Modern relationships born out of this change now demand a better understanding of each other, respect for what each person brings to the dynamic, and a sense of individuality that doesn't stop them from coming together. This ability to be oneself while being together is highly sought after and aspirational for young couples, but it isn't easy to achieve. In fact, it's rare.
The Friends:
Platinum Days of Love celebrates this very kind of modern love, one that is progressive, equal and rare, and their new collection is a reflection of this ethos.
This kind of rare love brought alive through these 30 films, is seen in very relatable differences between couples. She's an environmentalist, he likes to burst firecrackers; he's watching his weight, she tempts him by bringing home delicious desserts. Will it come in the way of love? With wit and gentle humour, the 30 films of togetherness demonstrate how those who have a rare connection don't see differences as something that comes in the way of love, they look at it positively. They know that despite the differences, what they share is rare.
The Cat-Lover:
To introduce this idea of rare love, the agency created a Love Score, a test that encouraged people to test their love based on their differences. Ultimately, it was revealed that these differences should be celebrated and will not push you and your partner apart when you share a #LoveSoRare. Once intrigue was built, the agency launched 30 films inspired by the 30 designs that symbolize rare love.
Commenting on the campaign, Pravin Sutar, Executive Creative Director, Dentsu Webchutney said, "In a world where brands tend to look at relationships and love with rose-coloured lenses, it was refreshing to create a campaign that adds to the conversation in such a unique and honest way. Through #LoveSoRare, we're asking viewers to rethink what makes their relationship truly unique."
Aalap Desai, Senior Creative Director, Dentsu Webchutney added, "Each pair of rings from the collection has a unique design story that that marks the rare bond between a couple. Our 30 days of togetherness is a perfect reflection of this very love."
The Baby Conundrum:
Sujala Martis, Director- Consumer Marketing, Platinum Guild International said, "Today's generation is very pragmatic, we can't attempt to sell them a fairy tale that is removed from their reality. But working with today's truths & creating a value system that is aspirational, progressive & yet differentiated is what we aim for. Love needs to be based on a true partnership with openness, honesty & real acceptance of each other's individuality at the heart of it. Putting this into practice, however, is hard and rare to find. A rare love like that deserves an equally rare metal platinum."
The Biryani War:
This campaign will also give couples an exciting opportunity to win a special dining experience or wedding photoshoot on a purchase of platinum in-store.
The series of 30 videos will be released daily, starting from November 23rd till December 23rd.
The Hoarder:
exchange4media Group Service
The campaign focuses on innate characteristic of young Indians who challenge the status quo and set things right for the common good.
Veedol has launched a new campaign for its flagship brand Take-Off. Lowe Lintas Kolkata, the agency-on-record for Veedol, has conceived the advertising campaign. Take-Off specifically caters to 2-wheeler riders in the country.

According to the Society of Indian Automobile Manufacturers (SIAM)'s report for FY2018, the Indian two-wheeler industry has crossed the 20-million unit sales milestone for the first time - registering a growth of approximately 15 per cent over the previous financial year. The road ahead for the two-wheeler industry looks very exciting and promising. Riding on the fast-growing two-wheeler industry, Veedol's launch of a new campaign for Take-Off appears to be particularly opportune.

The campaign film focuses on the innate characteristic of young Indians who challenge the status quo and set things right for the common good. The narrative is woven around these purposeful youth of today who see themselves as agents of change, with the inherent power, confidence and intent to make a difference to the society as a whole. Positioning Veedol as a modern, youthful brand, 'For The Young Engines of India' acts not just as a new advertising slogan but celebrates India's energetic youth who equitably represent the brand's values.

Commenting on the campaign, R N Ghosal, Managing Director, Veedol India, said, "The campaign showcases Veedol's full range of motorcycle and scooter engine oils in an upbeat, youthful ambience with an over-riding sense of purposeful action built into the narrative. This would go a long way in enhancing Veedol's imagery, in step with several other brand interventions we have undertaken recently like the launch of the new international packaging. I believe that this campaign is an important milestone in positioning Veedol as a vibrant and youthful brand of choice for emerging consumers".

Janmenjoy Mohanty, Regional President, Lowe Lintas, said, "While tuning into the larger India story, we were looking for a youth truth that would suitably reflect the current dynamic. Our search led us to the fact that young people are self-starters, who will not wait for things to happen, but effect change themselves. That is what makes them the 'young engines' of a fast-changing India. A belief we reflect in the new communication for Veedol."

D K Guha, Executive Director, Lowe Lintas, added "Veedol's new international packaging, as well as the introduction of high-performance oils, provided the perfect moment for launching the new campaign. Set against the backdrop of a young and restless India, the campaign captures the youthful energy and attitude of the millennials - the driving force behind the nation."

The campaign is being actively promoted online and offline.
CREDITS:

Agency: Lowe Lintas
Creative: Janmenjoy Mohanty, Abhishek Deshwal, Surajit Chakraborty
Account Management: DK Guha, Subhabrata Roy, Nibedita Ghosh
Account Planning: Anurag Prasad, Punit Singh
Production: Finger Print Films
Director: Rajay Singh
exchange4media Group Service
The experiment showed almost 110 traffic violations per signal / per hour. The initiative further educates viewers to maintain road discipline and become agents of change
If you are living in any big megalopolis in India, the odds of you witnessing or even being subjected to rash driving or lawlessness on the roads is pretty high. Be it a two-wheeler or four or even the bulkier ones, each one seems to be in some hurry or the other to reach a destination of their choice with little regard to traffic rules and pedestrian safety. From jumping the red light, to ignoring traffic signs, to over-speeding and lane cutting, virtually every rule in the book is broken when it comes to driving across major roads in India.
In a unique experiment, Renault India partnered with its creative agency Law & Kenneth Saatchi & Saatchi, and decided to monitor the driving habits of motorists across a few important locations. The team installed cameras across key sites and monitored the traffic violations that took place every hour. This experiment was limited to the cities of Mumbai and New Delhi, usually the hub when it comes to evaluating driving patterns of people on the roads.
Titled 'Who are India's Worst Drivers?', the experiment throws the spotlight on a cross-section of vehicle owners spanning bikes, auto-rickshaws, taxis, buses, trucks, etc. Each owner is seen presenting their own assessment on who are the worst drivers on the road with hardly anyone pointing a finger to him/herself. The experiment threw up startling findings that showed there are almost 110 traffic violations per signal / per hour. The initiative further goes on to educate viewers to maintain road discipline and urges them to become agents of change via #RespectTheRoad.
Commenting on the initiative, Virat Khullar, Vice President and Head of Marketing, Renault India said, "Renault stands for 'Passion for life' which in a way means easy life for our customers. But for an easy life with cars, one important aspect is to follow the rules defined for driving these cars on road. In India we all face huge traffic issues and true to our nature, all externalise the fault. This campaign is an attempt to portray reality that the traffic situation can only improve if we change ourselves and respect the road."
Sharing his views, Charles Victor, Executive Director, L&K Saatchi & Saatchi said, "This initiative - Driving Smiles, is a wonderful initiative by Renault where we try and give back to the world we sell to. From lighting up villages during Diwali to lighting up smiles at an orphanage during Christmas, the initiative has always tried to take a step towards change. What better change to expect than to change the way Indians drive. This little social experiment aimed at showing us that the change needs to begin with us."
A two part series, the films have been launched only on the digital platform and serves as an educational tool. While the first film questions people on who are the traffic offenders, the second film goes on provide answers to the questions and how we all need to become agents of change.
CREDITS:
Client: Renault India
Team: Virat Khullar, Hardik Shah, Kautuk Malviya
Agency: L&K Saatchi & Saatchi
Creative: Kartik Smetacek, Thomas George
Client Servicing: Jay Mehta, Shazia Shaikh
Planning: Snehasis Bose, Ankur Kapoor
Production House: Prodigious
Director: Gaurav Gandhi

exchange4media Group Service
Conceptualized by Mullen Lintas, the 30-second ad film features ace Indian cricket captain, youth icon and fitness enthusiast Virat Kohli
Guiltfree Industries Limited, the FMCG division of the RP-Sanjiv Goenka Group, has launched its latest TVC showcasing the all-new Too Yumm! Karare. With an emphasis on health and without any compromise on taste, the brand has scored yet another sixer with its latest TVC aptly tagged as 'Bahar se Tedha, Andhar se Seedha' starring Virat Kohli.
Conceptualized by Mullen Lintas, the 30-seconder features ace Indian Cricket Captain, youth icon and fitness enthusiast Virat Kohli. The opening scene of the TVC captures a lady walking into an airport lounge, where she notices Virat Kohli also waiting, and munching on a snack. She sits next to Virat Kohli, and opens her own packet of fried snacks and starts eating it. Each describe the taste of the snack they are eating as tasty and crunchy, this makes the lady slightly curious. Putting the suspense to rest, Virat finally reveals that his snack is the new Too Yumm! Karare exactly like hers, but not fried only baked.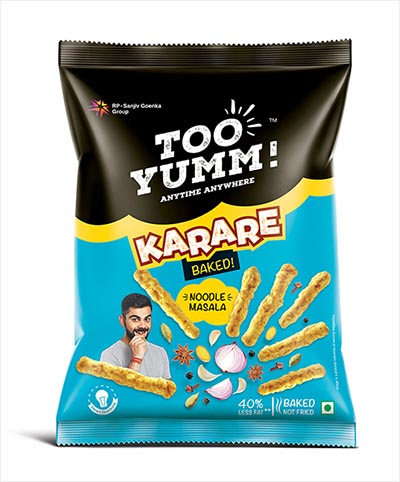 Too Yumm! Karare- Noodle Masala
Anupam Bokey, VP Marketing (CMO) RP-SG FMCG said, "We are absolutely thrilled about the new Karare launch. This is the 6th innovative product from the house of Too Yumm, which effortlessly marries taste with health. Consumers are more receptive to products that they can relate to. This has driven us to introduce Karare, where we have pushed the taste to a higher level, while still staying true to the core promise of Too Yumm! which is 'baked not fried'. Our campaign idea of 'Bahar se Tedha, Andhar se Seedha' captures the thought of being tasty from outside while still being healthy from inside, very succinctly. We believe this will make our product offering more mainstream and appeal to a much wider set of consumers."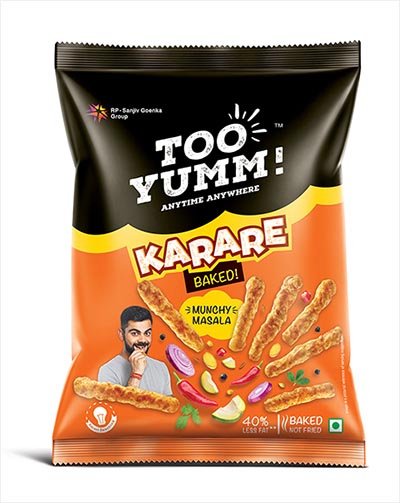 Too Yumm! Karare- Munchy Masala
Available in unique flavor combinations like Chilli Achari, Garlic Peri-Peri, Munchy Masala, Noodle Masala and Southern Spicy, Karare promises to live up to every craving without sacrificing on flavour. Karare is a step forward in Too Yumm!'s journey in catering to the increasing number of consumers who are on the constant lookout for tasty yet healthy snacking options. Baked, rather than fried, exalts the brand even higher as its increased competitiveness in offering a healthier and tastier snacking option.
Reflecting her views on the brand's new product Garima Khandelwal, Executive Creative Director, Mullen Lintas said, "With the launch of this new snack in the portfolio, we are taking the competition head-on. To land Too Yumm's differentiated benefit of being baked and healthier but as tasty as its fried competitive product, we drew reference from the category for the advertising and arrived at the campaign idea - 'Bahar se Tedha, Andhar se Seedha'. We wanted to land that Karare is as twisted and tasty as the competition, but there is only goodness inside."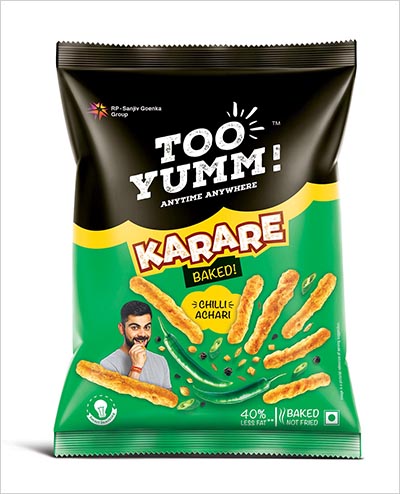 Too Yumm! Karare- Chilli Achari
Adding to that, Priya Balan – Sr. Vice President, Mullen Lintas said, "Too Yumm Karare campaign is based on a simple insight of how consumers rationalize their unhealthy snacking choice and are cynical about healthier new products because they believe it won't be quite the same palette experience. Our brand ambassador, Virat Kohli charmingly debunks this myth with the line 'Bahar se Tedha, Andhar se Seedha'. That's because Karare is the product format that is a big favorite with consumers but with a key health differentiation by virtue of it being baked, not fried. We are looking forward to exciting times in the category.
Campaign film:
exchange4media Group Service