How 2021 was the year of ad controversies
Many big brands faced the wrath of trolls and were forced to retract their controversial ads this year
The year 2021 can be branded as the year of outrage against advertising and the creative freedom it involves. Although the "boycott brand" trend has been running for the past few years, this year has been particularly "noteworthy", thanks to right-wing and Hindutva trolls who accused brands of hurting their "religious sentiments'' through "outrageous" ads. Some sentiments were so delicate that they were hurt by common Urdu words like Jashn.
At the center of the controversy was Dabur's "lesbian Karwa Chauth ad" to promote its "bleaching cream''. The concept of the same-sex couple observing Karva Chauth wasn't well-received by many although some people appreciated the brand's creative input to perpetuate inclusivity. Dabur had to issue an apology after it was condemned by right-wing netizens and LGBT activists alike.
Sabyasachi's "Mangalsutra Collection'' ad featuring intimate photos of a woman and a man was dubbed "against Hindu culture". Mukherjee pulled down the ad after a MP minister threatened to send the police after him.
Indian retailer Fabindia faced backlash for its "Jashn-e-Riwaaz" collection based on an Urdu term, while tyre manufacturer Ceat faced ire because Actor Amir Khan urged people not to use firecrackers in the ad.
The fashion e-commerce platform Nykaa was accused of "insulting the Hindu festival" for its Navratri ad campaign in which lubes and condoms were available at discount. Another clothing brand Manyavar had shown actress Alia Bhatt, describing a gender-neutral meaning of Kanyadaan in the advertisement displaying a social message, met the same fate.
The Ed Tech giant Unacademy was called out for sponsoring a "Ramleela skit" of AIIMS, Delhi which allegedly mocked Sanatan Dharma. Meanwhile, Byju's was trolled for having actor Shah Rukh Khan as its brand ambassador at the time when his son- Aryan Khan, was jailed in an alleged drug case. Such was the scare that BYJU's pulled down ads silently.
Online Army getting stronger
While there is cutthroat competition among brands to grab the markets once again through aggressive and innovative ad campaigns after a massive pandemic blow, online trolls especially the right-wing ones are also getting stronger and vocal with each passing day.
They drive social media trends, create perceptions against certain brands, call for boycotts and thus maximize the noise against the brands which beautifully cultivated their image over the years.
Calculated gamble?
Many ad-makers re f the opinion that they themselves pick the controversial themes as negative publicity helps them more than the positive campaigns. Such gimmicks acquired centre stage in 2021 when brands started their campaigns aggressively to regain their market base that eroded during the pandemic. Brands dealing with beauty products, jewellery, clothing range were badly hit during the lockdown.
"Making provocative ads is a smart way of communicating these days. Otherwise, what was the point of choosing a lesbian theme for Karwa Chauth for a bleach creme for a company like Dabur which is known for its products based on Ayurveda?" wonders ad, TV and feature filmmaker Dilip Kadam, who feels that Dabur did so for its image makeover to reach out to the younger generation who have a far open mindset compared to older generations.
Kadam, who has made several ad campaigns, explains, "Negative publicity is far more effective than a positive one. Controversies, social media outrage, and hashtag trends force many uninitiated people to watch the ads. The brand's name gets itched in their mind. Controversial themes also help to get mainstream media coverage which maximizes the impact and reach of the brand."
These controversies have an amplified impact in the pandemic as more and more people are now connected with the internet for longer hours. Besides, political outfits add fuel into the fire for their own vested interests.
Shreyansh Baid, Founder Director, Shreyansh Innovations says that Advertising is going through a very rough time.
"Advertising was always supposed to be a changemaker in society. If progressive thinking receives this kind of reaction or rebuke, definitely brand custodians would not attempt or dare to have any kind of progressive thought in any of the communication. So, it's definitely a matter of concern on how we move forward from here," Baid wonders.
Sachin Kumar, Founder, Bottle Openers, says controversies are part of business and business of communication and 2021 was no exception.
"We live in a society with predefined roles, values and responsibilities. Whenever anyone touches or tries to modify those values it will call for resistance to change a section of society. We cannot move forward without resistance as we live in Two India – India & Bharat."
This essentially means that we might witness more such controversies in 2022. Deep Mehta, Co-Founder of DigiChefs, echoes the sentiments. "Risk and Luck are doppelgangers-this is one of the quotes from the book The Psychology of Money, written by Morgan Housel. This is exactly what is happening in the advertising ecosystem where you try to break the mindset of people through challenging and risky campaigns," Mehta says, adding that earlier, the uproar was shown through protests on the roads. Now, people can hide behind their devices and write whatever they want about anyone.
"Whenever brands try to break a mindset, there will be a lot of support from the woke audience out there. At the same time, there would be some criticism as well. Brands should continue their experimentations in future but of course in the right mindset without intentionally stepping into a controversy," advises Mehta.
Read more news about (ad news, latest advertising news India, internet advertising, ad agencies updates, media advertising India)
For more updates, be socially connected with us on
Instagram, LinkedIn, Twitter, Facebook & Youtube
Fujifilm India's instax unveils 'keep it alive' campaign
The campaign has been launched in collaboration with Cheil India
Tonic Worldwide wins digital mandate for Waman Hari Pethe
The account will be handled out of the agency's Mumbai office
Tonic Worldwide has won the digital mandate for Waman Hari Pethe, the Mumbai-based Jewellery brand with a legacy of 114 years.
Speaking on the new win, Chetan Asher, Co-founder & CEO, Tonic Worldwide, says, "We are excited to partner Waman Hari Pethe in its vision to reach the digital audience with WHP, the digital brand that will cater to the younger generation. This TG is increasingly getting more interested in the category. With our digital first approach to brands and the understanding of e-commerce funnels, we wish to put the brand in the TG's top consideration. Our specialist arms GIPSI, Twip and Yellow Labs will play an important role along with our Media expertise in realising this vision."
On the collaboration, Dr. Aditya Pethe says, "With this new venture we are looking at creating an online brand identity for WHP Jewellers that will have pan-India resonance. Our aim is to expand The Waman Hari brand to include a larger group of patrons especially the younger generation through relatable and trending content. We are looking forward to this new journey."
The account will be handled out of the agency's Mumbai office.
Read more news about (ad news, latest advertising news India, internet advertising, ad agencies updates, media advertising India)
For more updates, be socially connected with us on
Instagram, LinkedIn, Twitter, Facebook & Youtube
Mascot Monday: The Lijjat Rabbit's hop to fame
How the co-op created a long-lasting legacy with its buck-toothed superstar
An anthropomorphic bunny enjoying papads in the company of humans may seem like something out of a fever dream. But ask any millennial or a gen xer and they will tell you about one of the most perplexing yet fascinating ads of their youth. In the early 80s, plucky little co-op and a master puppeteer came together to create one of the most unforgettable mascots India had ever seen -- the Lijjat Rabbit.

In today's edition of Mascot Mondays, we pay tribute to Lijjat's leporine superstar who made us look forward to commercial breaks and got us excited about the humble papad.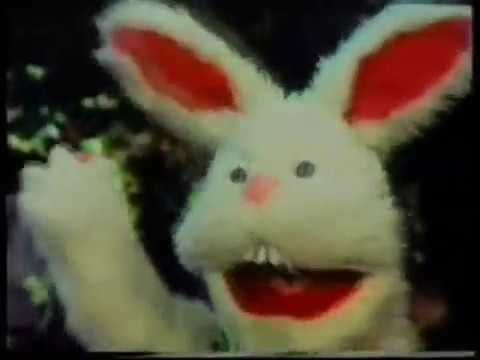 The rabbit's tale

A brand synonymous with "papads" in India, Shri Mahila Griha Udyog Lijjat Papad is a success story in more ways than one. It's an enduring symbol of female entrepreneurship and empowerment, raking in upwards of $224 million in revenue yearly. Its immaculate success model notwithstanding, Lijjat also owes a part of its success to its brilliant ad campaigns and its unforgettable mascot.

Prior to 1980, Lijjat believed that the best promotion was through word of mouth. The co-op rather focuses on the quality of the product than spending huge amounts on ads.

However, its success also made way for many fraudsters to sell fake Lijjat papads in the market. To counter the menace, the company felt it was perhaps time to go big on branding. Lijjat's packaging already had a trademark picture of a boy eating papad, but the co-op wanted more.

Actor Appi Umrani worked closely with Lijjat and was determined to shoot an ad for the co-op on a modest budget. Impressed by ventriloquist Ramdas Padhye, who performed on Doordarshan with his puppet Ardhavatrao, Umrani approached the puppeteer to gauge his interest in creating a character for the Lijjat.

Padhye, who initially pitched middle-class human characters for the ad, was convinced that a bunny muppet would do the trick. However, the folks at Lijjat needed convincing. "Why would a rabbit eat papad?" was the question.

A few days later, Padhye hauled a big bunny muppet to the Lijjat office. The large anthropomorphic rabbit with white fur, beady eyes and buck teeth wore a satin green bow over a black vest. Only after seeing the ventriloquist's creation, did the Lijjat executives agree to cast the mascot.


Muppet becomes a star
As bizarre as the concept of a papad-munching bunny was in theory, in practice, it was a hit. As soon as the ad was aired, viewers were instantly captivated by the muppet.
Padhye, who voiced the Lijjat bunny, also gave him a distinct "eh he he" laughter, which went on to become iconic in its own right.

After his successful TV debut, the bunny was inducted onto the Lijjat packaging right next to its original mascot "Babla", and the muppet has stayed put on the cover ever since.


He even went on to wed Mrs Bunny who has also appeared in commercials alongside her husband. Eventually, the family grew and the Bunnys welcomed a baby bunny.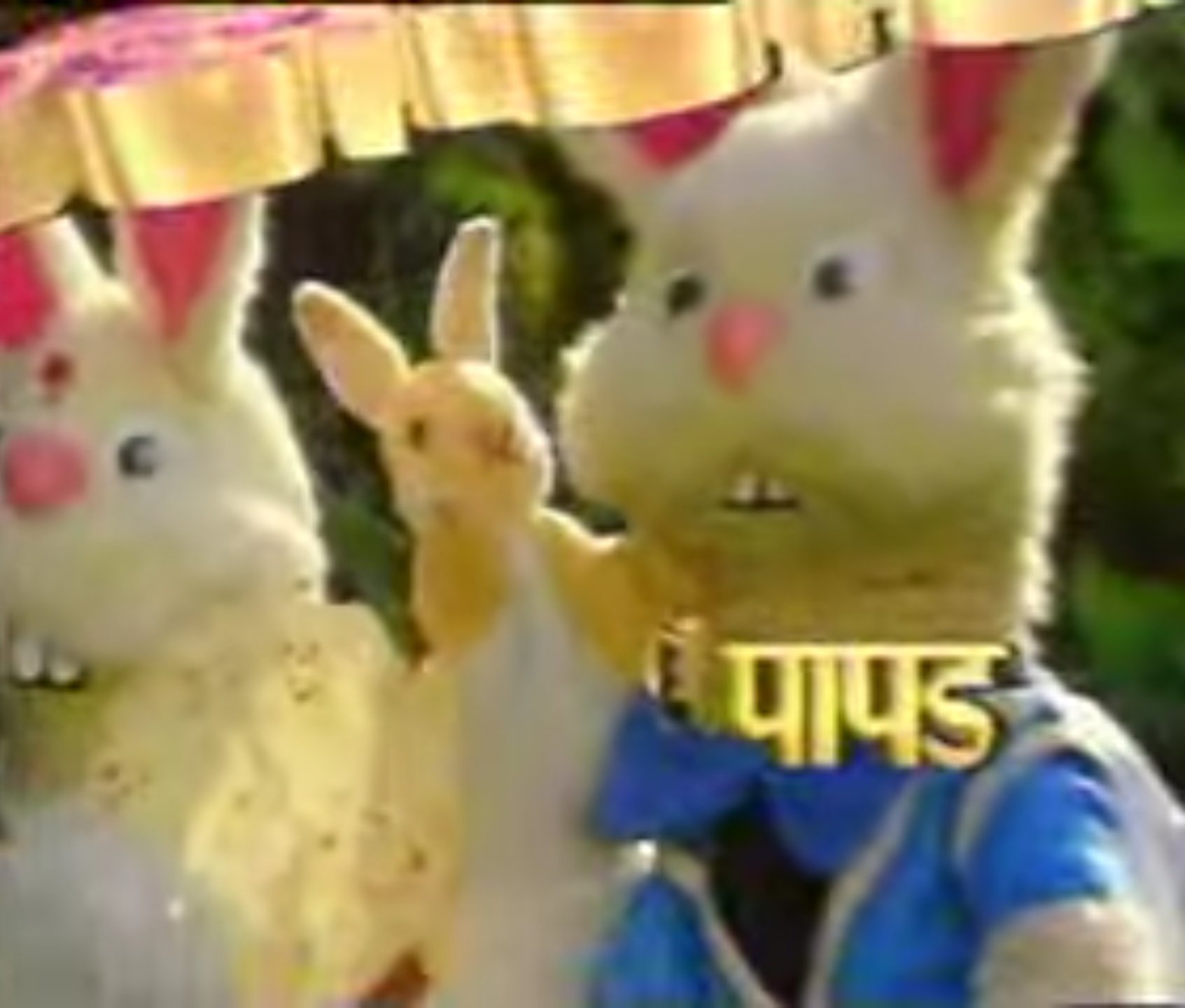 In 2003, actress and model Shweta Tiwari had the honour of starring alongside the rabbit couple in a Lijjat ad.






While most millennials and gen xers have fond memories of the muppet, some were terrified of the giant bunny. An unintended consequence of the ad was that it stoked fear in the minds of kids. Pupaphobia or fear of puppets arises from their uncanny life-like appearance that makes people feel uncomfortable. Some also blamed the rabbit's giggle as a trigger. Redditors discussing Indian nostalgia on the forum have described the bunny as a "demon rabbit", "creepy" and "straight from hell."

That aside, it can't be denied that the giant rabbit bunny from the papad commercial is one of the greatest ad legacies of India. Despite being on a shoestring budget, Lijjat created for itself a mascot that ensures great brand recall decades after its debut.

Every time we see him on TV, the Lijjat Bunny leaves us jonesing for some crispy papads and tempting us to sing along to "kharram khurram."
Read more news about (ad news, latest advertising news India, internet advertising, ad agencies updates, media advertising India)
For more updates, be socially connected with us on
Instagram, LinkedIn, Twitter, Facebook & Youtube
Dabur Amla urges all to break hairstyle stereotyping
Created and conceptualised by Dabur Amla and Schbang, the campaign #StrongHairStrongerYou shines light on the societal labelling of women based on their hairstyle
The way a woman wears her hair says a lot about her. Or does society read too much into it? Why is a clean, sleek hairstyle considered the trait of a bossy woman?
"This year, Dabur Amla Hair Oil challenges the stereotype. For decades, multiple labels and connotations have been attached to how women choose to wear their hair. The brand roped in Priya Malik, actor and poet, to put focus on the societal labelling that paints women in a negative light," the company said.
With the launch of the campaign #StrongHairStrongerYou, Dabur Amla reminds women that their hair is a measure of their strength and not a judgement of their character. It implores viewers to look beyond the stereotypes and opens a healthy dialogue to reinforce the women in their lives positively.
Commenting on the campaign, Ankur Kumar, GM-Marketing, Hair Care from Dabur said, "Dabur Amla has been a trusted hair oil brand with 80+ years of legacy. It has always been fuelled by a mission to empower women to be confident about themselves backed by strong and beautiful hair. Through this campaign, we have taken this conversation forward encouraging women to own and embrace their true selves through strong hair and a strong spirit and not get bogged down by what the outside world might have to say about them".
Ayush Rathod, Associate Vice President from Schbang said, "The role of women in the evolving dynamics of the world, make campaigns like these the need of the hour. Leveraging Dabur Amla's core value of 'strength', it was a fulfilling experience to extract a meaningful conversation out of it that drives a behavioural shift in the society and empowers the women of today and tomorrow. Lastly, It's heartening to see a legacy brand like Dabur Amla evolving with time and reinforcing its commanding voice in the hair oil category with Schbang''.
Read more news about (ad news, latest advertising news India, internet advertising, ad agencies updates, media advertising India)
For more updates, be socially connected with us on
Instagram, LinkedIn, Twitter, Facebook & Youtube
Air India's new Republic Day film is about giving flight to your dreams
The campaign is named Desh Ka Naam #HarAasmaan
Air India has launched a film- Desh Ka Naam #HarAasmaan to celebrate the Republic Day.
"The narrative of the film is all about giving wings to dreams through a collective initiative. It is much more than just about flying - it is all about aspirations and dreams and a yearning to fulfil that dream," said the airline in a statement.
"The entire narrative is woven around the theme of Patriotism and is aesthetically brought out through crisp editing and subtle symbolism. The aspirational energy of the youth and the wisdom of age play an equally important role in scripting a nation's saga of success The very 'real' and inclusive treatment of the theme of patriotism - cutting across generations - is what makes this creative special. This is only about India and all about India. What adds more depth to the narrative is that one of India's most loved singers, Shaan, has lent his soulful voice to this musical video," it added.

Talking about the campaign, Sunil Suresh, Communications Head, Air India, said, "Desh ka naam, har aasmaan campaign is about imprinting the stamp of India on every horizon of the world highlights the aspiration of today's India. The India that is bold, vibrant, warm & progressive and confident. This audio - visual is our tribute to the nation. We believe that it is the collective responsibility of every citizen of the nation to join hands and take our nation to ever greater heights - and this film is our small attempt to inspire and encourage people to do the same."
Read more news about (ad news, latest advertising news India, internet advertising, ad agencies updates, media advertising India)
For more updates, be socially connected with us on
Instagram, LinkedIn, Twitter, Facebook & Youtube
Did Zomato salute Swiggy in new Republic Day ad?
Zomato's new film has a sweet message for India's uniform-clad warriors, which include food delivery agents
Aditya Birla Health Insurance asks KyaPeecheChhodaHai
The campaign talks of the importance of positive health behaviour
Aditya Birla Health Insurance Company has unveiled its latest brand campaign "KyaPeecheChhodaHai" to promote the role of health insurance in changing lives of people by empowering them to lead healthier lives.

The campaign talks of the importance of how positive health behaviour such as walking 10,000 steps daily can help an individual leave health concerns behind.

These customers from across the walks of life, who are at the heart of the TVC and the digital campaign, narrate their stories about how walking 10,000 steps have helped them do away with concerns like mental stress and weight issues, diseases like diabetes, asthma etc.

Speaking on this campaign, Mayank Bathwal, CEO, of Aditya Birla Health Insurance, said, "At ABHI, our primary focus is to help our customers with cutting-edge innovative health-first insurance solutions which not only protect them from medical uncertainties but nudge them to live a health-focussed life. We take immense pride in having pioneered this model of health insurance that transcends the boundaries of an indemnity-based model by focusing on proactive health-care for our customers."

"It is heartening to see our customers as brand ambassadors in our recently launched KyaPeecheChhodaHai campaign. For health insurance companies, customer trust is paramount, and to see our customers endorsing us, gives us immense satisfaction. The customers featured in the film belong to different walks of life, however, one thing that unites them is the initiative to bring a change in their lives by walking every day and managing their health proactively. We hope the films will encourage people to prioritise their health by engaging in simple yet effective physical activities such as walking 10,000 steps daily," Bathwal added.
Read more news about (ad news, latest advertising news India, internet advertising, ad agencies updates, media advertising India)
For more updates, be socially connected with us on
Instagram, LinkedIn, Twitter, Facebook & Youtube