Why some PR teams successfully extract their pound of flesh: Siddhartha Mukherjee, Eikona
Guest Column: Business Head of Eikona & Senior VP - Corporate Communications explains why agencies fail to get the desired fee hike
Year on year, PR machineries, comprising the corporate communications desk and their PR agencies, have been losing out on their desired appraisals and hikes. However, I do know of quite a few client-agency teams who have transformed themselves into amazing mavericks. These maverick PR teams are scientific, focused and very well measured. They know how to extract their pound of flesh — corporate communication desk extracting from top management and consultancies from their clients. They are achieving this because they are breaking the decades old convention and rigidity.

Well, on a separate note, number of such positively focused maverick PR teams need to go up rapidly if we want the growth of our industry in realistic terms. Broadly, from what I understand of the current market condition, while on one side, there has been no fee hikes for many agencies, on the other, corporate communication budget allocation by client management too has been kind of flat.

Coming back, the question of WHY some PR teams successfully extract their pound of flesh should get answered if we understand HOW are the maverick brains thinking and executing their ideas.

Below is a seven-pointer sneak peek of what maverick corporate communication desks & PR consultancies are doing to get their pound of flesh from their respective customers:

1. PR Mavericks believe in 'India principles': They have a mind of their own. They do not need inspiration from the copy-paste of western markets or principles. Well before these western principles came to the rescue of many marketing and analytics agencies in India, these maverick teams understood the universal principles of brand communications, strategic use of PR/earned media, ROO & ROI and their marriage with data & analytics. Which is why they know what it means to achieve results in the India environment. No wonder, it calls for the world to learn from 'India principles'.

2. PR Mavericks depend radically on data: In today's age, which is only about ROOs and ROIs, data has to be the start and end of everything that we do. PR mavericks, despite their past exposure to data being limited, are today breaking the barriers. They are making brand and business data, research, measurement and analytics their armoury and part of their daily lives.

3. PR Mavericks do not mix monitoring with measurement: PR mavericks are brave-hearted. Why? Well, while EAVs or AVEs have been an industry cancer for decades, mixing of PR monitoring with measurement has been an industry epidemic. They are clearly two separate worlds. As much as one tries, monitoring will end up make us chase our own tail…which is what has been happening in the last two decades. Monitoring allows basic tactical moves, but will never attract genuine respect from our respective customers. Daily news updates, AVEs, count of clips, tonality, journalist details, spokesperson scores, geography-wise analysis etc are all part of PR monitoring. On the other hand, PR measurement is an actual data science that can show the outcome of every inch of effort the PR team has put in. Measurement is governed by ROOs, ROIs and lots of interrogations across What, Who, Where, Why, How, When & Whom. Needless to say, this approach needs a lot of brave-heartedness.

4. PR Mavericks identify disguise: Ever since the concept of PR monitoring was started in India by PR agencies and self-claimed dedicated monitoring agencies almost two decades ago, they have been operating and shelling out monitoring services under the "garb of measurement". No wonder, because of the continued disguise, even today, 8 out of 10 industry members think monitoring and measurement are mere synonyms. More so, the only way these disguised service providers got to project intelligence, value and aristocracy was when they got access to some international principles on measurement. 'Copy & paste' was the only simple and available mantra that they could think of. Interestingly, that continues to happen even today. The good news, however, is that the mavericks are quick to identify the deception.

5. PR Mavericks give huge emphasis to 'Whys': PR measurement starts with asking all kinds of questions? Importantly, maverick PR teams do not care even if the client or the corporate communication desk's internal customers express discomfort with the interrogations mentioned above. They keep going. Who is the TG? What is the current vs desired mood? What do we communicate? When do we communicate? How do we communicate and so on…Well, there can be many such question combinations. However, the paramount question mavericks go deep into is 'why are we doing this PR initiative? Why a press release? Why a press conference? The series of Whys do not stop till the time the PR team is convinced that their efforts will bring value to the brand quotient and/or the business.

6. PR Mavericks establish PR machinery as a revenue centre: Unlike the common perception of PR being a cost centre, maverick PR teams are being able to strategically showcase themselves as a revenue centre. Through PR measurement (and not monitoring), it is easy to show the savings and/or revenues accrued by the organisation with the help of PR. When the end users of PR, the CXOs, see the measured brand & business values PR has brought on the table, they have no other option but to consider the machinery as a strategic desk. If not ROI, even if ROOs are met, savings or revenues have got a nudge, they are more than happy to acknowledge the maverick team in the board room discussions.

7. PR Mavericks use data to fortify client-consultancy relationship: Ours is an industry that is led by knowledge and processes. To build a brand and establish the pay-offs from PR, one needs long standing relationship between client and agency. On ground, changing agency every 2-3 years don't work. Smart PR machineries make PR data and analytics central to their day-to-day operation and interaction. Planning, implementation and execution are all guided through data. This creates wonderful camaraderie between client and agency and joint onus of what PR is meant to achieve. As a result of clever maverick thinking, in many cases, clients have been supporting the service extension of the agency.

Mavericks are known to revolutionise and change norms. PR industry needs mavericks because there are plenty of norms to be broken and revolutions to be set in. My feeling is that the real growth of our industry is being contributed by these PR maverick teams who are quietly but effectively functioning across various industry verticals. I wish someone would take the onus of collating and documenting their efforts and achievements.

PR machinery extracting its pound of flesh is not only an indication of getting acknowledgement and accruing financial benefits but more importantly, it is an indication of the start of a movement – 'PR needs PR, thru data & measurement', something that I had called for in the E4M IPRCCA panel discussion way back in 2008. Happy to see the needle starting to move.

The author is the Business Head of Eikona & Senior VP - Corporate Communications

Disclaimer: The views expressed here are solely those of the author and do not in any way represent the views of exchange4media.com.
The campaign will run across OOH, radio and digital for the duration of 60 days targeting Mumbai, Delhi, Pune and Bangalore.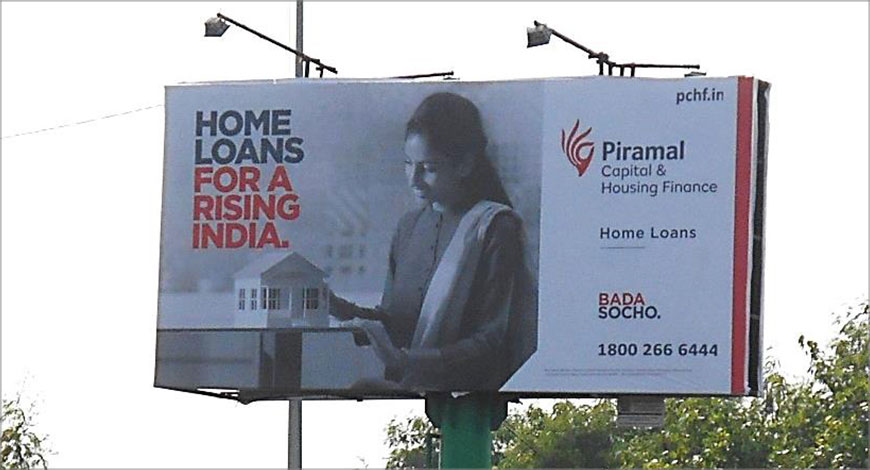 Piramal Capital & Housing Finance (PCHF), the wholly owned subsidiary of Piramal Enterprise Limited, on Tuesday announced the launch of its new brand campaign, 'Bada Socho' (Think Big).
The campaign highlights the ethos of the Piramal Group and PCHF - its financial services business, to create long term value for all its stakeholders, the company said in a statement. Therefore, the essence of the brand campaign is PCHF enabling customers to pursue their goals and transform their dreams into reality by embracing a new way of life i.e. 'Think Big'.
Speaking on the campaign, Khushru Jijina, Managing Director, Piramal Capital & Housing Finance, said, "We are excited to launch our brand campaign 'Bada Socho', across our target markets - Mumbai, Delhi, Bangalore and Pune. This 60-day campaign highlights our expertise in the market while showcasing our approach to do business. Our brand promise encourages our customers to 'Think Big' as we extend our support by partnering with them respectively in achieving their goals whether it is to buy a new home or grow their business."
Campaign Brief:
The strategy is to reflect the ethos of the group at large with a specific relevance on the financial services business. The campaign helps establish 'Bada Socho' conveyed through messaging that talks about this mindset. A series of creatives deliver this message in the context of different business verticals viz. housing finance, real estate finance, emerging corporate lending, corporate finance group and capital markets & advisory.
The campaign will run across OOH, radio and digital for the duration of 60 days targeting Mumbai, Delhi, Pune and Bangalore. The messaging will start with brand and then move on to the housing finance communication being retail. The sustenance of the campaign will be supplemented by leveraging on transit/commute and digital platforms.
exchange4media Group Service
To establish emphatically the news of Savlon Braille Enabled packs, Wavemaker partnered with key news channels and publications to 'deliver News through Braille'.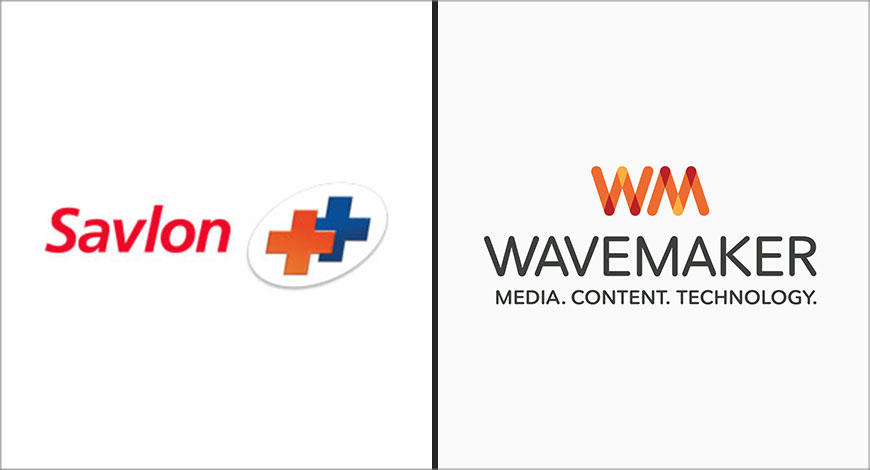 ITC's leading health and hygiene brand, Savlon, has introduced Braille enabled packs of Savlon Antiseptic Liquid on World Sight Day. In line with ITC's commitment towards an equitable and inclusive society, the first of its kind braille enabled packs have been designed not just to enable access but also in its simple way help the visually impaired to identify and access the product easily. This proactive initiative exemplifies the brand's commitment to an empowering consumer experience.
Wavemaker strategised and implemented a first-of-its-kind multi-media campaign to enable outreach and communication of this initiative.
The genesis of this was a simple life insight, conceptualised by Ogilvy India – Everybody gets hurt. And individuals who are visually impaired are no different. But access to an antiseptic liquid is perhaps not that easy and they would have to wait for somebody to help tend to the wound. This forms the core of the new Savlon film and is the genesis of this initiative - "Agar chot aasani sey lage, toh madat bhi aasani se milni chahiye". The TVC narrative brings alive this simple insight through some everyday situations and is designed to provoke thought and encourage inclusiveness.
The campaign needed to reach out to both the visually impaired to tell them about this initiative, as well as drive awareness among the larger populace. And to establish emphatically the news of Savlon Braille Enabled packs, Wavemaker partnered with key news channels and publications to 'deliver News through Braille'.

Multi-media campaign featured:
Headlines of the day of leading news channels were shared by a visually impaired news anchor using Braille copy.
Outlook magazine re-created its cover in Braille. The masthead of the magazine was converted into Braille along with the printed cover story.
The visually impaired got up in the morning and read a Braille newspaper. A special broadsheet in Braille was inserted in newspapers like Vijaywani (selected editions). To facilitate the same, they reached out to a teacher of visually impaired school (who is visually impaired) to translate all the news into Braille.
Dainik Savera – newspaper in Punjab also printed a broadsheet in Braille and carried out on-ground interaction with the visually impaired through it
White Print, the newspaper for visually impaired featured Savlon's advertisement in Braille and wrote about Savlon's new packaging.
Sameer Satpathy, Chief Executive, Personal Care Products Business, ITC Limited said, "In line with ITC's commitment to serve a larger societal purpose and to create enduring value for all stakeholders, Savlon celebrates World Sight Day with this unique first of its kind braille enabled packaging in the FMCG space. The initiative is a determined step forward to create a more equal and inclusive society by enabling access."
Speaking on the campaign, Kartik Sharma, CEO, Wavemaker - South Asia said, "It is rare to see brands changing their packaging to support such a noble cause and creating opportunities by enabling access to the empower visually impaired individuals. I am extremely moved to be a part of such pioneering initiatives. We have tried our best to bring alive this noble cause through various media innovations, consumer programs which will make the entire consumer journey experience much more real."
In addition to these media campaigns, Wavemaker also decided to offer a unique consumer experience for Savlon by creating consumer contact programs. Through this program, the teams reached out to visually impaired children in multiple schools and explain them how Savlon packaging has changed and how to use the product.

exchange4media Group Service
Conceptualized by Ogilvy Bangalore and directed by Aarthi Kakkad of Curious Films, the films stitches together an Indian family's everyday situations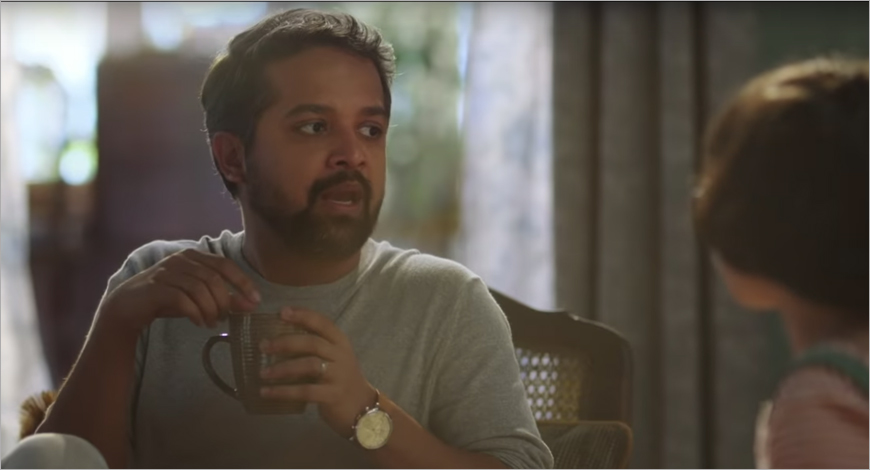 In today's world, where people are worried that the growth of technology is drawing them apart, Amazon Echo's new campaign aims to bring Indian families together with their smart speaker technology. The campaign stitches together an Indian family's everyday situations that lead to small moments of everyday magic enabled by the Amazon Echo device.
Conceptualized by Ogilvy Bangalore and directed by Aarthi Kakkad of Curious Films, the films tell the story of an Indian family where the father, mother & daughter encounters an endearing family moment that is relevant to a daily family setting. One film captures a sweet moment of the father being caught off guard by the mother & daughter secretly dancing to the tunes of a popular Bollywood song. While the other film encapsulates the traditional bond between a father & daughter.
Talking about the campaign, Neville Shah, Executive Creative Director, Ogilvy Mumbai, said, "The simplicity of creative was broken down to one thing. How can the Echo be part of your everyday; like a family member. And since this is an extremely new category, familiarizing people with the use of the product is key."

Ravi Desai, Director, Mass and Brand Marketing, Amazon India, said, With the successful launch of Echo, Indian consumers have shown that they are more than ready to adopt new technologies which are relevant to them. The current campaign is continuation of our launch campaign about how Echo fits seamlessly in the lives of consumers and makes everyday moments special."
Anirban Roy, Senior Vice President - Head of Planning, Ogilvy South, said, "The category is at a nascent stage and hence demonstrating relevant use cases of Amazon Echo was critical for us. We are trying to build the category and at the same time trying to create a positive disposition towards us. The current campaign is an extension of the earlier one. This is a fine example of a campaign where the product is at the center of the story and the storytelling; almost like a member of the family."
exchange4media Group Service
Tanishq launched a film that shows the different and unique cultures of our country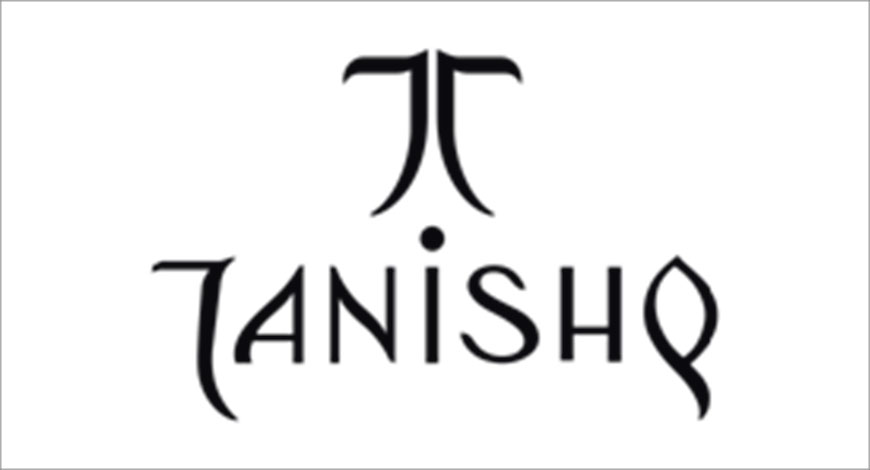 Tanishq has introduced an exquisite collection - Utsava - a range that encapsulates the true essence of the festival of lights.
Highlighting the thought behind the collection, Tanishq launched a film that shows the different and unique cultures of our country and no matter the state they are from and the language they speak, everyone comes together to celebrate the wonderful festival of Diwali be it a morning puja in the South Indian household, or a teen patti party amongst friends in the North.
https://www.youtube.com/watch?v=u3d-hfJIXe8
Deepika Sabharwal Tewari, Associate Vice President, Marketing, Jewellery Division at Titan Company Limited, says, "The season of Diwali is always a time for celebration, and we at Tanishq are here to celebrate it grandly with the country. We want to highlight the uniqueness of each ethnicity and yet, with different rituals for the season of lights, at the end of the day, we want to show how everyone comes together to celebrate with their loved ones. Each piece of our new collection Utsava shows delicate craftsmanship that brings out the rich heritage and culture that our country has grown in. Whether we are from the North, South, East or West, we all are proud of what our country is made of, and Tanishq is here to highlight just that."
Hari Krishnan, President (South), Lowe Lintas, says, "Whether it's rising oil prices or falling rupee, nothing can dampen the spirit of Diwali. 'Dilwalon ki Diwali' is a celebration of India's unbridled festive spirit and a tribute from Tanishq."
exchange4media Group Service
GroupM took home the coveted 'Network of the Year' award. Ashish Bhasin of Dentsu Aegis Network was named the Network Head of the Year.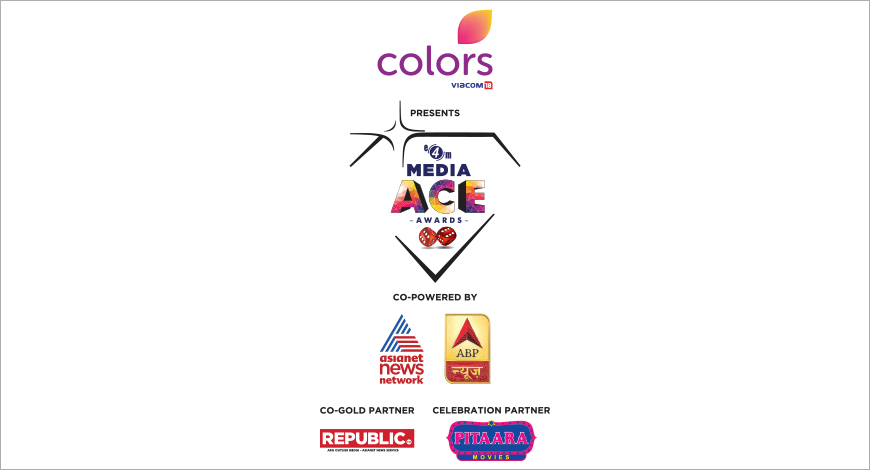 At the 4th edition of Media ACE Awards,GroupM took home the coveted 'Network of the Year' award. As for the Agency of the Year award, there was a tie between Mindshare India and Lodestar UM. iProspect made the cut in the 'Digital Agency of the Year' category. The 'Specialized Unit of the Year' for the year was Mindshare Content Plus made the lead.
In the 'People Awards' category, Dentsu Aegis Network's Ashish Bhasin bagged the 'Network Head of the Year' award and Prasanth Kumar of Mindshare India won the Agency Head of the Year. Rising Star of the Year Award was secured by Bharati Shetty , Madison Media. Isobar India's Shekhar Mhaskar and Gopa Kumar, FoxyMoron's Pratik Gupta and Suveer Bajaj and Rajiv Dingra – WATConsult were among other winners. Prachi Karan of Isobar India also took home the 'Client Lead of the Year.'
The 4th Edition of Media ACE Awards held on October 16 showcased award-winning work for the period July 2017 to Aug 2018. It recognized Indian Media Agencies for their contribution to the industry and the professionals behind the growth of these agencies.
Below is the complete list of winners:
exchange4media Group Service
The campaign, conceptualized by The Mob, takes the unique strengths and beliefs that the brand has built for itself over the years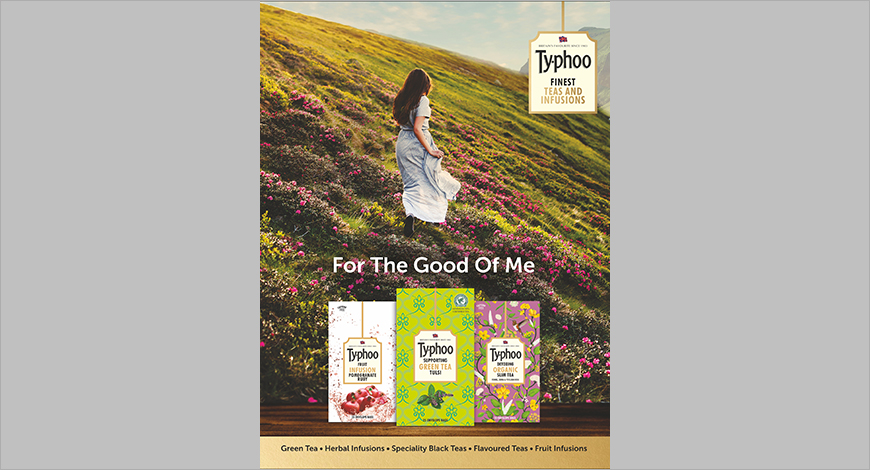 Typhoo Tea- the British tea brand recently launched a new ad campaign "For the good of me". The campaign focuses on knowing the benefits of what we consume and conscious eating. With the usage of scenic beauty, the brand has communicated a clear message of accepting only what's good for you.
The campaign, conceptualized by The Mob, takes the unique strengths and beliefs that the brand has built for itself over the years and depicts it in snapshots of people reconnecting with nature. Different elements of the campaign highlight the unique variants in the range through images reflecting the usage and mood. The motive behind this campaign is to make the audience aware of the latest range of Typhoo- The Herbal Organic Range, among the other variants that the brand offers.
Speaking about the new campaign, Subrata Mukherji, Business Head, Typhoo India, said, "Typhoo as a brand has a legacy of over 100 years and has always been synonymous to nature's goodness and healthy living. Organic and sustainable living is the need of the hour and we always strive to be ahead in the business by providing what's best for our customers. We use 100% natural ingredients in our teas and our motto is to communicate the same through this campaign. We have received a lot of appreciation on this and we look forward to more such communication happening from the brand's end through the same medium."
Currently, the ads have started coming in print media. The brand is planning to expand this communication through digital and OOH media along with some innovative displays to bring the product story alive at retail platforms.
exchange4media Group Service
India winning big at Cannes Lions three years in a row definitely speaks volumes about the creative juices flowing in the healthcare advertising segment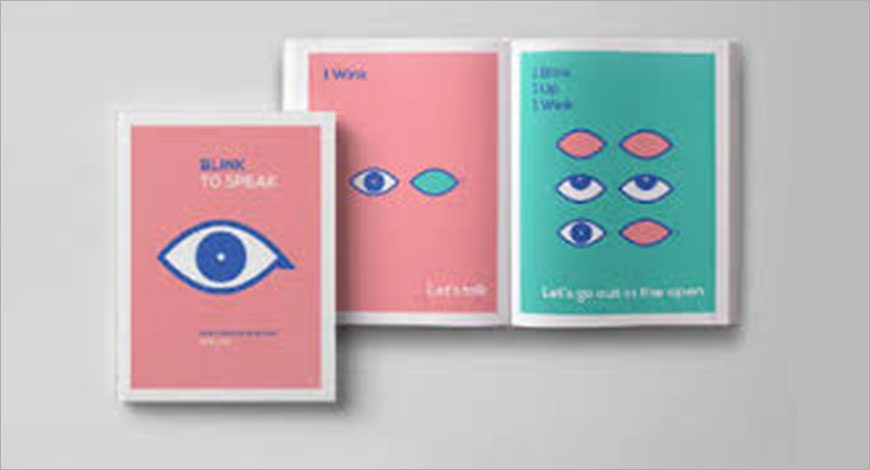 When Mumbai-based independent Medulla Communications bagged the Healthcare Agency of the Year at Lions Health in 2016, it was a first for the nation as well as the agency. Led by Praful Akali and Amit Akali, the agency that year bagged seven Pharma Lions in all — two gold, two silver, and three bronze. Their work on 'Last Laugh' for the Indian Association of Palliative Care got the Gold home. And with that win, the agency not only put India on the global map but also took health advertising in the country to another high.
At Cannes Lions, last year, McCann Health won a Grand Prix for Good in the Pharma category for 'Immunity Charm' followed by TBWA\India securing the Health Grand Prix for Good for 'Blink to Speak' this year. Winning big three years in a row definitely speaks volumes about the creative work coming out of this segment. We asked the healthcare heroes what this really means…
Shining on
Praful Akali, Founder and Managing Director of Medulla Communications, feels that India was already arriving on the global healthcare stage. "This year was like a massive ceiling to that because we won the second Grand Prix in a row at the Lions Healthcare. People are really respecting India for that. This year, the folks at the New York Festivals Advertising Awards were like we do live judging sessions everywhere, can we host one in India?"
Medulla Communication CCO Amit Akali signals that healthcare is the only category where India has been agency of the year. "India is definitely looked at from an award-point of view. From the non-award-point-of-view too, agencies are integrating health in everything they do."
Susan Joshi, Co-Founder, Havas Life Sorento, echoes the sentiments. "More and more brands are getting health at the centrestage of everything they do," she states.
Reminiscing old times when the category was just establishing its roots, Joshi says, "The first time when we won an award in 2000, it was for Prescription Club where some pharma agencies participated. And now, the whole space of awards has changed a lot. It has become much bigger and purpose-driven. The stature has gone up. So the kind of work that is participating has also gone up."
From 'deficiencies' to democratization
Akali (Amit) points out that since Cannes started healthcare, we started to get more democratised in a way that a lot of mainline agencies also started entering healthcare. "Healthcare has become an important category for India in the past 4-5 years. In healthcare, there is a pharma section and a healthcare section. And as you know, pharma healthcare this year was won by TBWA which is a generalised agency."
Over time, to cater to rising demands, agencies launched separate healthcare wings. Last year, independent agency Sorento got acquired by Havas.
Joshi explains that going global suddenly became very important but Cannes was the game-changer. "Cannes has set the benchmarks for many people in India. And that has changed the way healthcare communications is done," says Joshi.
Rajesh Rai, Senior VP and Executive Creative Director, McCann Health, feels that not just the work in the category but the way juries judge the category that has dramatically changed, and this has been a big driver of growth. "Healthcare is really being looked up at now. When we started off, there were only two award shows. The juries here were not able to look at healthcare the way-- the understanding of the category and the understanding of the advertising part. The right mix of it is important, which is now there and this has fostered better creativity," says Rai.
Akali (Praful) opines that Indian healthcare advertising now is actually better than the best. He feels that we're a big market for these advertising companies. "As for the wins at Cannes, it's been third year in a row for India. So, in fact, people are trying to understand what is it that is winning us all these awards," he says.
Correspondent, exchange4media, Mumbai Misbaah reports on advertising industry. Based in Mumbai, she interviews industry leaders in the creative, advertising and marketing space, reports news updates in the ad space. She drives the 'Chillout' section, and regularly reviews ad campaigns. In the past she has reported on mainline news, travel and lifestyle.
Moving over synthetic families wearing silk garments and plastic smiles that are seen in most Diwali ads, Saregama Carvaan with its festive campaign has brought in a point of view with its recent ad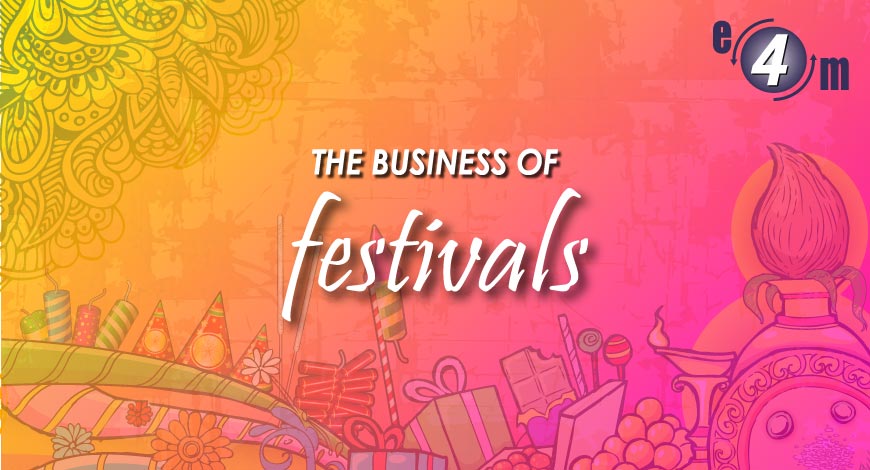 As Diwali inches closer, brands offer a variety of ads on the platter. However, usually the creative communication over the years has been high decibel and mostly about deals. Moving over synthetic families wearing silk garments and plastic smiles that are seen in most Diwali ads, Saregama Carvaan with its festive campaign has brought in a point of view with its recent ad. Resolving the conflict between 'noise and music' the spot shows how the 'noisy' side of the festival can be replaced by music.
Resolving the conflict between 'noise and music'
Ajit Kumar, Vice-President – Sales & Marketing, Saregama India Pvt Ltd said that the brief to The Womb team was to create an ad which is clutter breaking and have the essence of huge nostalgia which the product carries. According to Navin Talreja, Co-Founder, The Womb, the challenge was to find a unique point of view and a distinct voice for the brand amidst all the Diwali sameness. "The festive season is gifting time and many brands leverage the same. Shor ya sangeet' came from there and we believe that this platform can be owned only by a soulful music brand like Saregama Carvaan," he stated.
Kawal Shoor, Co-Founder, The Womb, added, "Carvaan's primary audiences are young, working sons and daughters – to buy Carvaan for their parents and elders. And the modern young workforce in India has a progressive mindset, unconstrained by the baggage of the past. To appeal to the young, Carvaan needed a young, progressive point-of-view. 'Shor ya sangeet' is our attempt to suggest that there can be a more meaningful way to connect with the young other than using yo-kids, high-fives, and all the stereotypes marketing uses to make brands youthful. Everyone has a soul, and the youth, more so. And it helps that Carvaan's point-of-view also connects beautifully with the elderly."
Prakash Varma – Director, Nirvana Films, concluded, "Carvaan is a special product, and this one is a special film. To make a simple film is rare. I am blessed to have this opportunity. The idea is sensitive but effective. And the choice of the dog makes it even more special, as 'indies' are truly beautiful, and need to be celebrated. A special thanks to Navin, Kawal, Akshat and Heval at The Womb. And none of this would be possible unless creative leaders like Vikram Mehra see the beauty in a simple, effective message."
Sparkly or not?
The ad execution is beautiful and brings a string of emotions with it. It breaks the clutter of the conventional Diwali communication by raising an interesting question of choosing between 'noise and music'. Showing how the noise can scare animals and be substituted by music instead makes the ad endearing, genuine and relatable. The strong insight it stems from and the way it communicates to its target audience, like the brand's previous campaigns, can fetch it 'top-of-the-mind brand recall'. The beautiful brand storytelling and the way the product is integrated in the ad makes it hit all the right musical notes!

Correspondent, exchange4media, Mumbai Misbaah reports on advertising industry. Based in Mumbai, she interviews industry leaders in the creative, advertising and marketing space, reports news updates in the ad space. She drives the 'Chillout' section, and regularly reviews ad campaigns. In the past she has reported on mainline news, travel and lifestyle.
Nokia's print campaign with Alia Bhatt went live on October 12 to mark the festive season.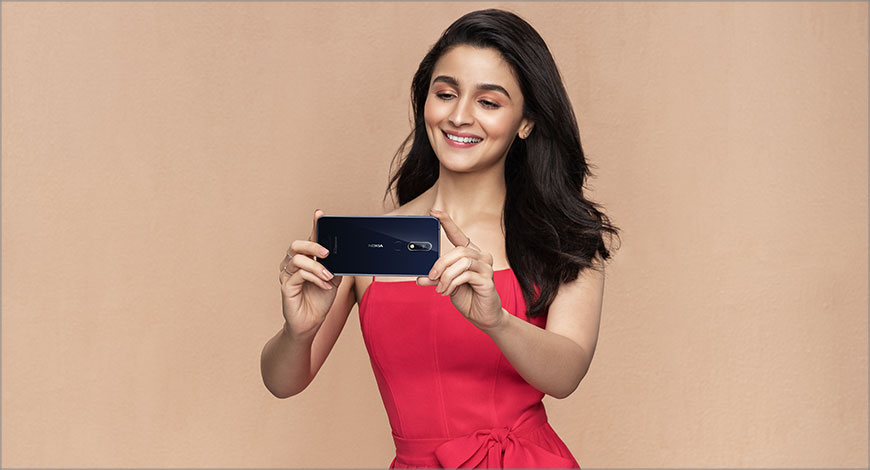 HMD Global, the home of Nokia phones, on Monday announced that actress Alia Bhatt will be the face of Nokia phones in India.
In a statement, the company said that Bhatt connects strongly with today's generation of Indians who are multi-dimensional, multi-faceted and multi-achievers. Her success and her personality therefore make her align perfectly with Nokia phones and with HMD-Global, itself a young, entrepreneurial brand, the statement said.
Announcing the association, Ajey Mehta, Vice President and Country Head – India, HMD Global, said, "We are really excited to have Alia Bhatt as the face of Nokia phones. She is one of the brightest stars of Bollywood and it's great to have her on board with us. Her commitment to her work coupled with her perfection in her craft of acting, is in alignment with our approach to mobile making. I am confident that in the coming together of Nokia phones and Alia Bhatt, we will further enhance the excitement around our new launches for our fans.
Alia Bhatt said, "I love the experience of using my Nokia smartphone and flaunt it at work, with friends and my family. It feels so premium in my hand and the craftsmanship is perfect. And what's great is that with the reliability of a Nokia phone, its distinctive design and great overall experience, I get to be me, do my work and have fun without needing to worry about anything else. I'm delighted to be the face of Nokia phones."
Diwali campaign
The Nokia phones print campaign with Alia Bhatt went live on Friday (October 12) to mark the festive season. Fans will see the campaign across print and television commercials as well as retail outlets.
The campaign takes an affectionate and light-hearted look at the unique role played by a young person (and her Nokia smartphone) in making Diwali celebrations with her loved ones truly special.
Talking about the campaign, Ajey Mehta said, "The young generation is relied upon by their loved ones for so many things that they do with just a few clicks on their phones – from paying a bill to capturing memories. This insight is at the core of our campaign and helps make Nokia phones relevant for these young consumers."
exchange4media Group Service
National Award winning actor endorses Bathsense by Asian Paints in TVC conceptualised by Madison BMB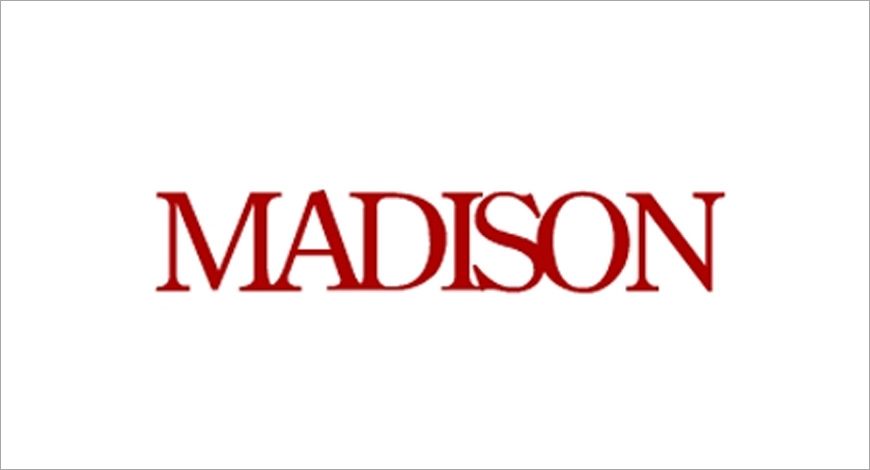 To introduce its new bathroom offerings named Bathsense in India, Asian Paints has launched a 360 degree campaign, centred on a series of TVCs for North India. The TVCs were supported by an outdoor, print, digital and radio campaign, various activations and other point-of-sale elements for dealers, plumbers and customers. The entire campaign was conceptualised and created by Madison BMB, a unit of Madison World.
The concept of the campaign, including its tagline 'Bathrooms that understand you', came from an insight that today bathroom products come in endless shapes and designs, but what one wants is a bathroom that smartly understands his/her expectations, including qualities such as hygiene and durability. The campaign uses both quirkiness and simplicity to talk about how Bathsense products understand the user, even if the outside world might not with the repeated use of the phrase 'Isse pata hai' (this understands me). The phrase is also utilised in other elements of the campaign to provide continuity with the films. The story called for a central character who could simultaneously be charming, easy-going, funny and classy which is why actor Rajkumar Rao was chosen for the North Indian (Hindi) film. His interaction with the products is showcased across all elements of the campaign, including print, hoardings and catalogues.
Regarding the campaign, Pragyan Kumar, Vice President, Asian Paints Home Improvement, says: "At Asian Paints, we have always strived to cater to the ever changing needs and wants of the consumer. Brand Bathsense is another step on that front. Apart from having great designs that look beautiful, Bathsense is committed to provide innovative solutions to problems that have remained unanswered for long. We strongly believe that the "Isse Pata Hai" campaign will help us seed Brand Bathsense in the market and establish clearly to our customers that we are here to offer solutions that truly understand them."
Raj Nair, CEO and Chief Creative Officer, Madison BMB, says "In today's day and age, it seems almost old fashioned to find a brand's virtue in the brand's features themselves. Having said that, when we realised that the features of brand Bathsense were as distinctive as they were, we thought why not build the proposition around the features themselves. Hence Bathrooms That Understand You packed with features that solve everyday issues in the bathroom was born. Then came the added bonus of Rajkumar Rao who with his performance has made the campaign more memorable. Plus the music in the films is extremely quirky and catchy. In fact, seeing the instantaneous positive response of the dealers at the launch was an incredibly satisfying conclusion that should resonate well with consumers too."
Kim Solomon, COO, Madison BMB, says "The campaign presented us with a one-of-a-kind opportunity to do something in the bathroom communication space that has never been done before. We wanted to set a precedent that could be proudly added to the hallmark of excellence that Asian Paints ads and campaigns have always been known for. We're very happy to have exceeded all our expectations."
CREDITS
Raj Nair, CEO & Chief Creative Officer
Kim Solomon, COO
COPY
Shomo Sen (ACD), Raj Nair
ART
Vallabh Yeolekar (CD)
ACCOUNT MANAGEMENT
Sanferd Romos
DIRECTOR
Harsha Rao
PRODUCTION HOUSE
Black Picture Co.
exchange4media Group Service