On the 'Rise': Mahindra takes a leap - Pitch Report
Brand Mahindra epitomises what its customers want – a company that empowers them to 'Rise' with a new positioning.
(Principal Correspondent, Pitch Magazine)





Accepting no limits, alternative thinking and driving positive change; These are the three brand pillars of 'Rise' – the new positioning of Mahindra Group. The group that was one of the winners in the Globetrotters Category in the Pitch Top 50 Marketers Awards 2010, has made a shift from its old positioning – 'Indians are second to none' – for the reason that today the group has a presence in 79 countries across the globe and has a workforce consisting of foreign nationals in excess of 10 per cent.
For Ruzbeh Irani, Executive Vice President, Corporate Strategy, Chief Brand Officer, Mahindra Group and Member of the Group Executive Board, ''Rise'' sums up the aspirations of Mahindra's stakeholders and employees. "When we speak to customers across the world, all of them express a strong sense of optimism about the future and share a common desire to 'Rise', to succeed and create a better future for themselves, their families and their communities. And brand Mahindra epitomises what its customers want – a company that empowers them to 'Rise'," he says.
Also, the group that was primarily an engineering centric company – tractors and farm equipments – till the 1990s, today has a presence not only in automobiles but in service lead sectors like IT and retail as well. The idea is to give one face and one core brand value to the various businesses of the 65-year old and worth Rs 33,000 crore.
'Rise' isn't just a word for Anand Mahindra, Vice Chairman and Managing Director, Mahindra Group. "It is a rallying cry, which enables people to unify around shared ideas, values, principles, a way of life or a common goal," he says, adding, "It is a call to see opportunities where others can't and to set an example for the world."
However, experts are of the view that just an aesthetic change in terms of brand logo, tagline etc. can never help a brand unless the change is strongly inculcated internally. Unnikrishnan, Managing Director, India, Brand Finance (a global brand-evaluation company), warns, "The real challenge for Mahindra will be how they deliver on this aspiration of 'Rise'. The role of employees will be very critical in this. Most of the time corporates make these grandeur statements but they fail to deliver at the customer touch points. In such cases they remain just an aesthetic change."
Ashwini Deshpande, Director, Elephant Strategy & Design, agrees, "For any rebranding or positioning exercise to be successful it is very important that the consumers experience the change that you are promising." Thus, it is very important for brands to review the rebranding exercises in order to ensure its impact and effectiveness on the stakeholders and measure the returns on those valuable marketing bucks spent.
And Mahindra doesn't seem to be off-mark. The group has also launched a new core purpose for the group: "We will challenge conventional thinking and innovatively use all our resources to drive positive change in the lives of our stakeholders and communities across the world, to enable them to 'Rise'."
This is a change not planned overnight. Mahindra Corporate Brand Council gave this task two years back to the New York based advertising agency, StrawberryFrog. The agency conducted an anthropological and semiotic research across the globe and that's how the positioning of ''Rise'' was arrived at.
According to Dr SR Singhvi, Professor of Marketing, IMI, and formerly with MDI and IIM Indore, "Rebranding comes with a cost, which can be from monetary to emotional, and has affects from within the organisation to the consumers."
This rebranding will cost Mahindra a hefty Rs 120 crore over the next three years.
Interestingly, the last five years have seen many Indian corporate giants opting for a makeover or a new corporate identity. Goliaths like Godrej, Bajaj, Dabur, etc. have all opted for a new brand personality. And this list has grown even thicker and faster over the past 12 to 14 months with brands like Airtel, HDFC Life, Horlicks, Taj Group, Jagran, Star Plus etc. opting for a new avatar.
Commenting on Mahindra's repositioning, Naresh Gupta, National Planning Director, Cheil Worldwide, says, "It seems like a clarion call given to the entire organisation that this is the way how we will be doing business and this is the philosophy we will be following from now on."
Gupta's point seems valid as the group stresses that the idea behind this new brand positioning is to unite the Mahindra workforce as a group of passionate individuals and unconventional thinkers who create world-class offerings and aspire to greatness.
 
Read more news about (ad news, latest advertising news India, internet advertising, ad agencies updates, media advertising India)
For more updates, be socially connected with us on
Instagram, LinkedIn, Twitter, Facebook & Youtube
L&K Saatchi & Saatchi wins Audi's creative & digital pitch
The incumbent agency handling the account was BBH
exchange4media has learned from reliable sources that L&K Saatchi & Saatchi from the Publicis Groupe has won the German luxury automobile brand, Audi's creative and digital pitch in India. The pitch is believed to have been called towards the end of last year. The incumbent agency handling the account was BBH.

Earlier in 2021, L&K Saatchi & Saatchi had bagged the retail communications mandate for Audi wherein it supported the automobile manufacturer's dealer network across India in its marketing initiatives.

exchange4media reached out to Audi, BBH and L&K Saatchi & Saatchi for a quote, but none was available at the time of filing the story.
Read more news about (ad news, latest advertising news India, internet advertising, ad agencies updates, media advertising India)
For more updates, be socially connected with us on
Instagram, LinkedIn, Twitter, Facebook & Youtube
Maaza's new film with Amitabh, Nagarjuna & Pooja Hegde talks about kindness
The 'Aam Wali Dildaari' campaign has been conceptualized by Ogilvy India as a part of OpenX from WPP
Maaza, Coca-Cola India's homegrown mango drink, has unveiled its new 'Aam Wali Dildaari, Bina Naam Wali Dildaari' campaign.
The latest campaign features veteran actor Amitabh Bachchan and renowned actress Pooja Hegde, along with south-Indian superstar Nagarjuna, recently on-boarded as the new face of the brand. With this new campaign, Maaza extends its spirit of benevolence and encourages anonymous acts of kindness to spread joy and happiness. The campaign further highlights the fulfilling mango experience that brings out one's selfless personality.
Maaza has been sharing the goodness of rich and juicy Alphonso since 1976. Believing that true generosity seeks no credit, nor any reward or fame; through its latest campaign, Maaza urges its consumers to anonymously spread joy, with acts of compassion and generosity, the company said.
Announcing the launch of the new campaign, Ajay Konale, Director Marketing, Nutrition Category, Coca-Cola India and Southwest Asia said, "Maaza is a heritage Indian brand- since 1976 and has been India's most loved mango drink for decades. The brand has become synonymous with the unparalleled taste of real mangoes and has witnessed phenomenal growth. Through our latest campaign 'Aam Wali Dildaari, Bina Naam Wali Dildaari', we aim to spread the message of true happiness and joy through selfless generosity, that seeks no reward or recognition. We are also humbled to have Mr. Bachchan, Ms. Pooja Hegde and Mr. Nagarjuna onboard with us to bring alive this philosophy of selfless generosity"
The light-hearted storytelling in the TVC depicts Amitabh Bachchan/Nagarjuna as a passionate Maaza lover while Pooja Hegde is an inquisitive kind citizen who loves to take part in social service activities. The two ad films portray the spirit of Indian citizens who like to indulge in the act of generosity by contributing to society. It also highlights the message of how true generosity comes with anonymity.
Pooja Hegde said, "I am proud to be associated with Maaza for over a year now. The brand's philosophy of true generosity and acts of kindness is something I personally relate to. The brand brings nostalgia and takes me back to my childhood days of enjoying fresh mangoes and sharing joyous moments with my loved ones."
This campaign has been conceptualized by Ogilvy India as a part of OpenX from WPP.
Commenting on the creative insight behind the campaign, Sukesh Nayak, Chief Creative Officer, Ogilvy India says "This campaign brings out the beauty of anonymous generosity. The idea came from the insight on how even though culturally we are a land of generous people; we also love talking about it. But true generosity and happiness come through selfless, giving which is far sweeter. And that's what we should inculcate in our lives too. What better than having our brand ambassadors like Mr. Bachchan and Mr. Nagarjuna along with Ms. Pooja Hegde to spread this message."
Read more news about (ad news, latest advertising news India, internet advertising, ad agencies updates, media advertising India)
For more updates, be socially connected with us on
Instagram, LinkedIn, Twitter, Facebook & Youtube
boAt celebrates India's indomitable spirit with a campaign
The campaign, titled Rock'In India campaign, narrates how we are ushering in a new era of 'Make in India' products
Audio and wearable brand boAt has released a new campaign titled Rock'In India. The film narrates how the country is ushering in a new era of 'Make in India' products, the power of Indian-ness and why it distinguishes us from the rest of the world.
"The brand is building an enabling ecosystem that will rapidly transform India into a manufacturing hub for new-generation wearables with minimal dependence on foreign countries. Defying the conventional norms, the homegrown brand boAt has manufactured more than 10 million (1 crore) products (wearables) in India under the 'Make in India' initiative. The design & engineering prowess will establish the brand globally now," the company said in a statement.
India's growth story has been made possible by the undefeated spirit of the people. boAt salutes individuals like Athlete Hima Das and more who are #BreakingStereotypes and driving #DoWhatFloatsYourboAt philosophy. The stereotypical beliefs expected from girls never restrained the 'Dhing Express', Hima Das an Indian sprinter from achieving her desires. She became the first Indian woman — indeed the first ever Indian athlete — to win a gold medal in any format of a global track event at IAAF World U20 Championships when she clocked a speed of 51.46 seconds.
The brand has also designed and published a unique & interactive print ad with a special QR code. To interact with it, readers can scan the QR code placed at the centre of the ad. Once activated, the creative ad draws attention to the power of Indian-ness and marks boAt's 1 Crore 'Made in India' product milestone.
Aman Gupta, Co-founder, and Chief Marketing Officer at boAt said, "boAt has proved naysayers wrong by successfully undertaking the design, engineering, and manufacturing of wearables in India. Today, 90% of our wearables are manufactured in India. We are grateful to the Govt. for putting in the right policies and support system that is helping in upgrading and providing the catalyst needed for wearables growth in the country. With this campaign, we want to reinforce our commitment and will continue to invest in 'AatmaNirbhar Bharat'."
Read more news about (ad news, latest advertising news India, internet advertising, ad agencies updates, media advertising India)
For more updates, be socially connected with us on
Instagram, LinkedIn, Twitter, Facebook & Youtube
A slow start to 2023 for the ad industry
While the year may have begun on a muted note for advertisers, the industry hopes that the IPL season infuses some momentum into the spends
With the festive season coming to an end and brands cutting their ad budgets, it's not exactly the perfect beginning to a new year that media agencies had hoped for. Going by the industry veterans, there is a drop of up to 10-12% in the business in January. Experts say the real heat of a possible recession has started to show now as the festive season has officially come to an end.
"Factors like war, recession and drying up of funds have been on for quite some time but thanks to the festive season and, prior to that, events like T-20 World Cup and IPL we did not feel the heat so much. But now some brands have just completely withheld their spends and things look quite bleak for us in this quarter," said a senior agency executive.
Most believe the tough times are going to last till the end of the first quarter. "We are pinning some hopes on IPL to bring back momentum into the spends but overall, even the event may get impacted due to the slowdown," said another media planner.
Increase in cost of raw material
January 2023, when compared to the same month last year, has been significantly down. "Post Covid outbreak, January 2022 showed significant growth. That was the time all agencies made big predictions for the ad industry. No one had thought of a possible war hitting the world soon leading to an increase in raw material prices. Also, China is still struggling with Covid led pandemic which further has increased the cost of raw materials. All these factors have led to cautious behaviour forcing the industry to cut on ad budgets," said another senior executive.
Experts believe both the FMCG and consumer durable sector is likely to get affected if the situation in China continues to worsen. "The companies are watching how the situation pans out in China once their festival season is over in early February. If the rise in infections persists leading to another lockdown or shutdown of factories, it is likely to impact raw material cost required for making televisions, smartphones, and summer appliances such as air conditioners and refrigerators in the April-June quarter," shared another expert.
More trouble for agencies with start-up clients
The drop is believed to be almost to the tune of 18-20%, for agencies that handle start-up clients. They have believed to cut their ad budgets almost to nil. "They were one of the bigger spenders until last year. Now that they are struggling to show a decent top line, they are cutting significantly on advertising budgets."
As per a report by PricewaterhouseCoopers (PwC) there is a 52% decline in funding in CY22.

"There is a market pullback by VC funds that are picky about their investments. Hence there is a drop in ad budgets," said a marketer.

Recession fears
Recession fears have had a significant impact on the Indian media industry. "As companies and businesses face financial difficulties, they have reduced their advertising budgets, which is a major source of revenue for media companies. This has resulted in a decrease in overall ad spend on traditional media such as television, print and radio, as well as a shift towards more cost-effective forms of advertising, such as digital media," shared a media planner.
Experts feared that in addition to the reduction in ad revenue, the recession may also lead to a decrease in consumer spending on media products and services, further exacerbating the financial challenges faced by the industry.
"This is a challenging year for us ahead. Indian media companies may have to adapt to the new economic reality by finding ways to reduce costs, diversifying their revenue streams, and focusing on digital platforms. They may also have to be more creative and innovative in order to attract and retain customers," added another media expert.
Read more news about (ad news, latest advertising news India, internet advertising, ad agencies updates, media advertising India)
For more updates, be socially connected with us on
Instagram, LinkedIn, Twitter, Facebook & Youtube
Fujifilm India's instax unveils 'keep it alive' campaign
The campaign has been launched in collaboration with Cheil India
Tonic Worldwide wins digital mandate for Waman Hari Pethe
The account will be handled out of the agency's Mumbai office
Tonic Worldwide has won the digital mandate for Waman Hari Pethe, the Mumbai-based Jewellery brand with a legacy of 114 years.
Speaking on the new win, Chetan Asher, Co-founder & CEO, Tonic Worldwide, says, "We are excited to partner Waman Hari Pethe in its vision to reach the digital audience with WHP, the digital brand that will cater to the younger generation. This TG is increasingly getting more interested in the category. With our digital first approach to brands and the understanding of e-commerce funnels, we wish to put the brand in the TG's top consideration. Our specialist arms GIPSI, Twip and Yellow Labs will play an important role along with our Media expertise in realising this vision."
On the collaboration, Dr. Aditya Pethe says, "With this new venture we are looking at creating an online brand identity for WHP Jewellers that will have pan-India resonance. Our aim is to expand The Waman Hari brand to include a larger group of patrons especially the younger generation through relatable and trending content. We are looking forward to this new journey."
The account will be handled out of the agency's Mumbai office.
Read more news about (ad news, latest advertising news India, internet advertising, ad agencies updates, media advertising India)
For more updates, be socially connected with us on
Instagram, LinkedIn, Twitter, Facebook & Youtube
Mascot Monday: The Lijjat Rabbit's hop to fame
How the co-op created a long-lasting legacy with its buck-toothed superstar
An anthropomorphic bunny enjoying papads in the company of humans may seem like something out of a fever dream. But ask any millennial or a gen xer and they will tell you about one of the most perplexing yet fascinating ads of their youth. In the early 80s, plucky little co-op and a master puppeteer came together to create one of the most unforgettable mascots India had ever seen -- the Lijjat Rabbit.

In today's edition of Mascot Mondays, we pay tribute to Lijjat's leporine superstar who made us look forward to commercial breaks and got us excited about the humble papad.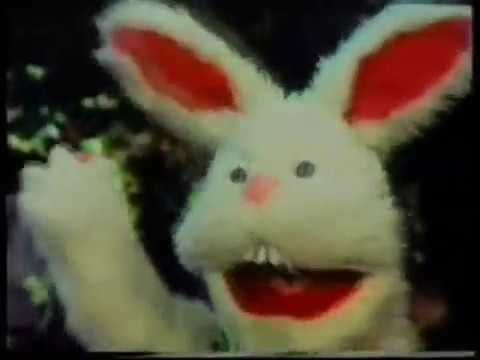 The rabbit's tale

A brand synonymous with "papads" in India, Shri Mahila Griha Udyog Lijjat Papad is a success story in more ways than one. It's an enduring symbol of female entrepreneurship and empowerment, raking in upwards of $224 million in revenue yearly. Its immaculate success model notwithstanding, Lijjat also owes a part of its success to its brilliant ad campaigns and its unforgettable mascot.

Prior to 1980, Lijjat believed that the best promotion was through word of mouth. The co-op rather focuses on the quality of the product than spending huge amounts on ads.

However, its success also made way for many fraudsters to sell fake Lijjat papads in the market. To counter the menace, the company felt it was perhaps time to go big on branding. Lijjat's packaging already had a trademark picture of a boy eating papad, but the co-op wanted more.

Actor Appi Umrani worked closely with Lijjat and was determined to shoot an ad for the co-op on a modest budget. Impressed by ventriloquist Ramdas Padhye, who performed on Doordarshan with his puppet Ardhavatrao, Umrani approached the puppeteer to gauge his interest in creating a character for the Lijjat.

Padhye, who initially pitched middle-class human characters for the ad, was convinced that a bunny muppet would do the trick. However, the folks at Lijjat needed convincing. "Why would a rabbit eat papad?" was the question.

A few days later, Padhye hauled a big bunny muppet to the Lijjat office. The large anthropomorphic rabbit with white fur, beady eyes and buck teeth wore a satin green bow over a black vest. Only after seeing the ventriloquist's creation, did the Lijjat executives agree to cast the mascot.


Muppet becomes a star
As bizarre as the concept of a papad-munching bunny was in theory, in practice, it was a hit. As soon as the ad was aired, viewers were instantly captivated by the muppet.
Padhye, who voiced the Lijjat bunny, also gave him a distinct "eh he he" laughter, which went on to become iconic in its own right.

After his successful TV debut, the bunny was inducted onto the Lijjat packaging right next to its original mascot "Babla", and the muppet has stayed put on the cover ever since.


He even went on to wed Mrs Bunny who has also appeared in commercials alongside her husband. Eventually, the family grew and the Bunnys welcomed a baby bunny.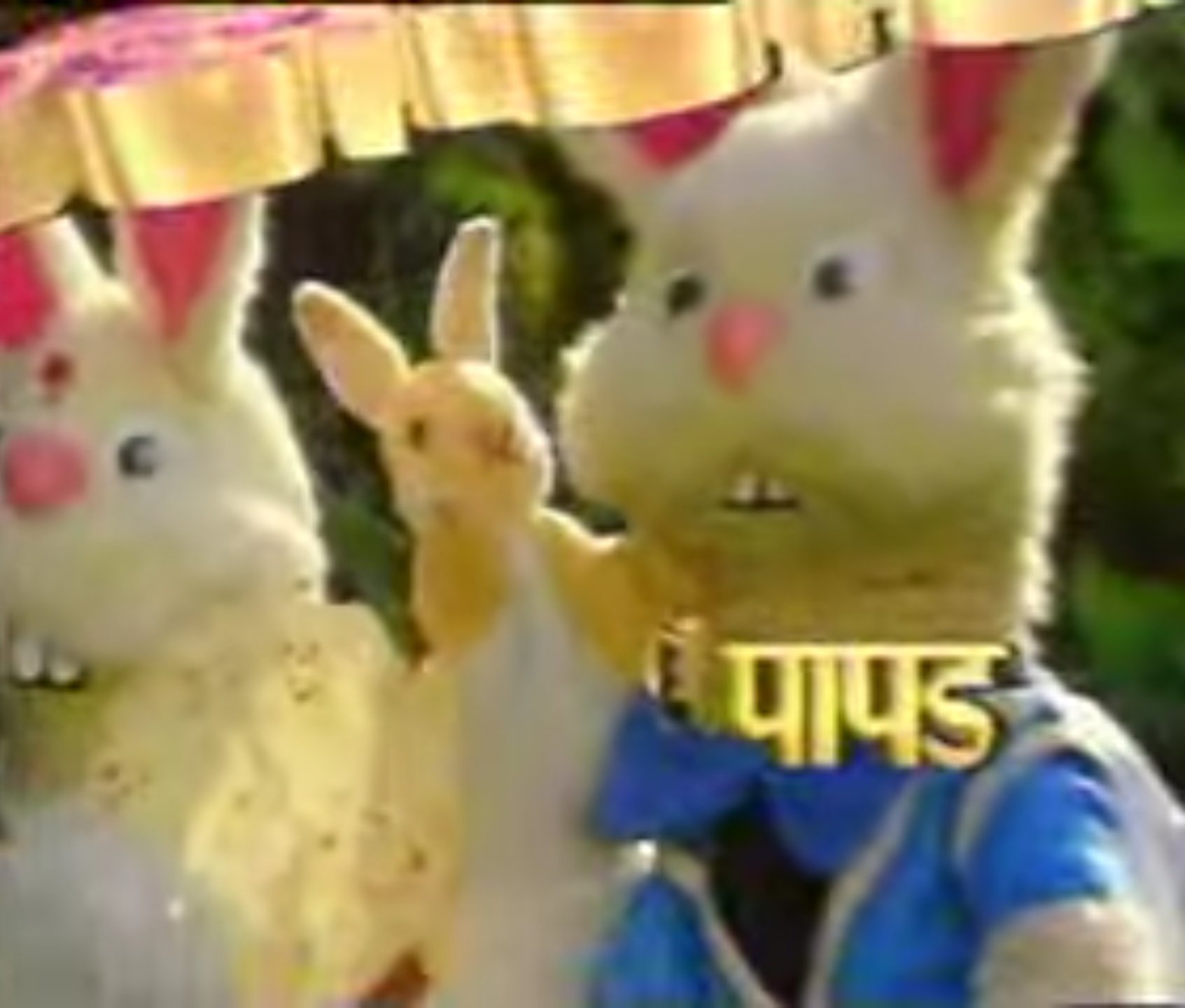 In 2003, actress and model Shweta Tiwari had the honour of starring alongside the rabbit couple in a Lijjat ad.






While most millennials and gen xers have fond memories of the muppet, some were terrified of the giant bunny. An unintended consequence of the ad was that it stoked fear in the minds of kids. Pupaphobia or fear of puppets arises from their uncanny life-like appearance that makes people feel uncomfortable. Some also blamed the rabbit's giggle as a trigger. Redditors discussing Indian nostalgia on the forum have described the bunny as a "demon rabbit", "creepy" and "straight from hell."

That aside, it can't be denied that the giant rabbit bunny from the papad commercial is one of the greatest ad legacies of India. Despite being on a shoestring budget, Lijjat created for itself a mascot that ensures great brand recall decades after its debut.

Every time we see him on TV, the Lijjat Bunny leaves us jonesing for some crispy papads and tempting us to sing along to "kharram khurram."
Read more news about (ad news, latest advertising news India, internet advertising, ad agencies updates, media advertising India)
For more updates, be socially connected with us on
Instagram, LinkedIn, Twitter, Facebook & Youtube